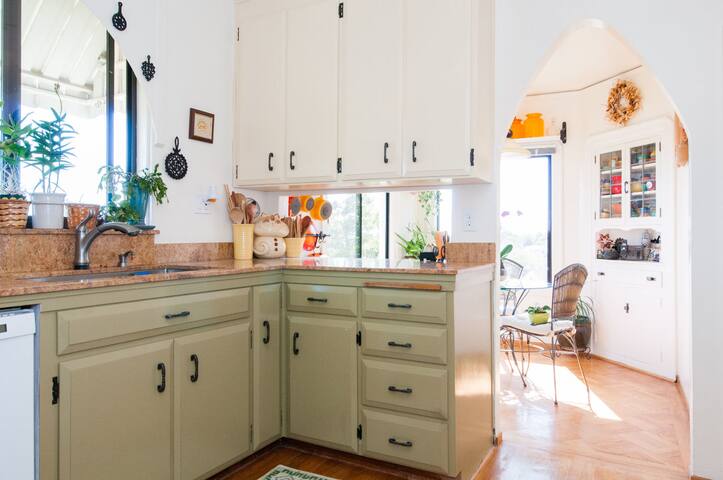 Über dieses Inserat
This budget SEMI-PRIVATE guest room is a great value for the hardened traveler who is flexible about privacy and noise from upstairs (this is a MUST!). When you are here, you have the room to yourself! Comfort with the host entering the room for emergencies OR when you are not there is required. See detailed description below.
---
---
---
This budget SEMI-PRIVATE guest room is a great value for the hardened traveler who is flexible about privacy and noise from upstairs (this is a MUST!). When you are here, you have the room to yourself! Comfort with the host entering the room for emergencies OR when you are not there is required. See detailed description below.
This budget SEMI-PRIVATE guest room is a great value for the traveler who is flexible about privacy.
The room is quite large room and is NOT shared with other guests. However, it is central to some of the mechanics of the the house, e.g. furnace, water heater and household storage areas, and the host may need to access these connected areas during your stay. In the winter time, when the furnace is running, it can sound a little bit like a wind tunnel. The furnace is shut off during sleeping hours - 10 PM to 7 AM. This room is on the lower floor, so if you are a light sleeper or sensitive about noise (e.g. creaky floors, footsteps, etc.), please consider one of the other rooms available.
There is a queen size bed, which has a very nice firm mattress.
The House: There are a few steps to the front door and inside there is a sunken living room (two steps). The (shared) bathroom, kitchen and other accessible spaces are on the main floor.
Relax in the living room, prepare food in the well-appointed kitchen (or pack a lunch to take on a Bay Area adventure), eat in the breakfast nook (with a view of the Bay and San Francisco - my favorite!), watch a movie or network show in the den (DIRECTV with tons of channels). Please note that the Shared Bathroom is the main one for the house.
Kitchen: There is access to the usual pots, pans, plates, utensils, glasses and tableware. Space in the refrigerator, freezer and cupboard is usually available if you would like to store food. Please let the host know your needs.
For those who need caffeine in the morning, you may bring and make your own using the coffee grinder and French press. Or check with me, I may have some Peet's Coffee on hand. ;-)
WiFi: We have WiFi available or you may plug into the internet using the LAN connection in the Den.
Washer and Dryer: Access available only for guests staying 2 weeks or more. Bring your own laundry detergent etc.
ALERT: California is experiencing a water severe drought. If possible, please wait and do laundry when you return home.
Note:
* No landline - You must have a cell (mobile) phone
* This is not a good house for people who are mobility impaired.
* This is one of three rooms offered on Airbnb, so in addition to the host, there may be one or two guests in the home in a separate bedroom room.
This is my home - where I rest my head and feed my body and my soul. My hope is that you find it a comfortable place to relax and lay your head.
Interaction with guests depends entirely on the their preference. Meeting and getting to know new people and enjoying great conversation is always welcome. Your privacy will always be respected.
When possible, the host will be in the home at the same time as guests, life and work schedule permitting.
If you have time and a little competitive spirit, let's play a few hands of cards, Cathedral, or Shuttles.
Please feel free to ask questions, for recommendations or directions.
Mottos to live by:
Leave it better than you found it.
It's never wrong to do the right thing.
If at first you don't succeed, try, try again... which may now have been superseded by...
Do. Or do no. There is no try.
This Spanish Revival home is located in the friendly Oakmore Neighborhood in the Oakland Hills with attractive and architecturally diverse homes. It is near Piedmont, Glenview (1-mile, 20-minute walk), Montclair Village (1.5-miles, 30-minute walk), and Lakeshore Ave. (2.3-miles, 1-hour walk). All feature shopping, restaurants and other services. A small neighborhood grocery, Rocky's Market, is a 5-minute walk from the house. The nearest comfort food is Red Boy Pizza!
It is highly recommended that guests have a vehicle or arrange for transportation. Please plan and confirm distances and commute times. The following list is meant to be a general reference guide.
Guests that are interested in commuting to San Francisco, please note that public transportation is available and takes approximately 56 minutes (see Public Transit below for further details).
Getting here by car:
- 20 minutes (without traffic) or 11 miles from Oakland Airport and
- 40 minutes (without traffic) or 27 miles from SFO.
From here it is:
- 12 miles to San Francisco
- 4 miles to Downtown Oakland
- 7 miles to Downtown Berkeley
- 24 miles to San Rafael
- 14 miles to Walnut Creek
- 36 miles to Menlo Park
- 44 miles to San Jose
- 1.8 miles to Highland Hospital
- 3.1 miles to Holy Names University
- 3.3 miles to Mills College
- 4.7 miles to California College of the Arts
- 5.3 miles to Pixar Animation Studios
- 5.8 miles to University of California, Berkeley
- 44 miles to Half Moon Bay
- 141 miles to Big Sur
- 152 miles to Yosemite - Big Oak Flat Entrance Station (Hwy-120) or 199 miles to Yosemite Village via Hwy-140
Public Transit:
NEAREST BUS STOP - is located at St. James and Park Blvd. and is a short 5 to 10 minute walk from the house.
The commute to San Francisco via bus and BART, is approximately 56 minutes to the Embarcadero Station (1st SF stop). Take the AC Transit 18 Line to the 12th St/Oakland City Center BART Station (For departure and arrival times, go to: Nextbus ACTransit 18-Line)
OR
Take the AC Transit V Line. This is a Transbay Bus to San Francisco that goes over the Bay Bridge to the Transbay Bus Terminal in SF (For departure and arrival times, go to: Nextbus ACTransit V-Line). 50 minutes.
- Go to the BART website for train times.
- G@@gle Maps also has information about public transit times. Select the Public Transit option (the icon looks like a bus), enter the Departure Time (Note: certain bus lines only run during commute hours), the Departure Address as St. James and Park Blvd., Oakland, CA, and the address of your destination or San Francisco BART Station, and view the options and travel times for getting to San Francisco.
Other transportation options:
- For daily commuters to SF, adventurous or fearless types may want to try Casual Carpool, which is 1/2 block from the St. James and Park Blvd bus stop. Riders line up at the Casual Carpool Stop (there is a street sign at the location). Drivers stop to pick up a at least two riders, so that they may use the carpool lane for the bridge. Check with the driver about being dropped off at the SF Transbay Bus Terminal or other location.
- Bring your bike and ride to the Ferry which leaves from Oakland's Jack London Square to San Francisco. (You may park it securely in the garage) go to the San Francisco Bay Ferry website for information.
Local Transportation Apps:
There are also several ride sharing or car rental apps you may want to check out: Carma, Lyft, Turo (formerly RelayRides), Sidecar, Uber and Zipcar.
- Easy 5 minute drive to access local freeways.
- Parking is available on the neighborhood street.
For those folks that have severe pet allergies - there are no pets living in the home, however, dogs and cats have visited over the years.
(Please do not bring your pet)
- Sheets & Towels: Host will change sheets and towels weekly (or at the host's discretion)
- Trash bins in Guest's room will be emptied on Saturday or Sunday.
- Open Windows (or closed windows) in Guest's room may be closed (or opened) at the hosts discretion due to hot, cold or inclement weather in order to promote cooling, to prevent heat loss, or to protect the house from rain - depending on the season.
The temperature in this room is generally on the cool side.
Seeing the Sites?!
Visiting Alcatraz - Tours sell out during the summer months. BOOK IN ADVANCE - Check availability online and get your tickets!

Visiting From Outside the USA?
Outlet Adapter: For those visiting from outside the USA - REMEMBER to bring an plug adapter. There are different types of electrical wall outlets all over the world. You will need an adapter, unless your country has the same outlet configuration as the USA. Adapter plugs do not convert electricity, they simply allow your device's plug to fit into a foreign outlet.
Arriving early or Leaving Late and Need a place to store luggage?
In San Francisco
- The California Welcome Center located on Level 2 at PIER 39 offers luggage storage between the hours of 9 am to 7 pm. The cost is $5 per bag. (check the Pier39 website in the FAQ section for updated info on luggage storage)
---
Nicht für Haustiere geeignet
Keine Partys oder Veranstaltungen
Nicht für Kinder geeignet (0-12 Jahre)
Der Check-in ist jederzeit nach 18:00
Built in the 1930s, this old Spanish Revival has her quirks. Please treat her gently.
To speed up your reservation confirmation:
1) Profile Photo (https://www.airbnb.com/help/article/67/why-do-i-need-to-have-an-airbnb-profile-or-profile-photo);
2) Verified ID badge (airbnb.com/verify)
3) Complete Profile description and references (if you have no reviews);
4) You have read the Description section: GETTING AROUND
5) You have read the HOUSE RULES (below), and
6) Your inquiry includes an acknowledgement that you have read both the Getting Around section and the House Rules.
HOUSE RULES:
(Ugh! As much as I dislike calling them "rules," I find that it helps when we understand the boundaries, so that we may both have a pleasant experience. They also help to keep costs down and allow me to offer lower rates.)
Please...
- Short Term Parking in the driveway is permitted for unloading your vehicle. Please park your car in one of the available spots on the street. The host will provide information regarding the best places to park and help keep up good relations with the neighbors.
- Remove your shoes when you enter.
- KEY TABLE: Leave keys on the table by the door to indicate that you are in the house. (This will make more sense when you are here...)
- Exceptions for Check-in or Check-out times are possible if arranged for and confirmed at least 24 hours in advance through Airbnb-Messaging (convo) with the host. Fees @ $50 per half hour will be charged for unconfirmed Late Check-outs. No exceptions.
- Eating is allowed Only in the den, dining room, kitchen, or breakfast nook.
- Keep or store food in the Kitchen (please, not in your room). Space is available in the refrigerator, freezer, cabinet and a basket on the counter for fruit etc.
KITCHEN:
* Place in the dishwasher (please try to refrain from rinsing), dishes, flatware, etc.
* Pots and pans should be hand washed and may be left on the stove to dry and then put away later.
* Knives, wooden utensils and wooden cutting boards must be hand-washed.
* Wipe down counters, stove, tables and clean up any food crumbs or droppings in the microwave or on the floor and generally leave the kitchen clean for the next person.
* Use a splatter screen when frying food.
ECO-CONSCIOUS:
- Conserve Water. California is experiencing a severe drought. Use water sparingly, e.g. turn off water when washing pots or brushing teeth and take quick showers.**
- Conserve Electricity. Turn off lights when you leave a room or the house.
- Recycle. In Oakland, the majority of waste is recycled. Glass bottles and jars, cans (aluminum, bi-metal etc.), certain plastic containers, cardboard (e.g. cereal boxes), and newspaper should be placed in the kitchen recycle bin. (Please check the reference sheet in the kitchen if you have questions)
- Compost. All food waste goes in the collection container at the kitchen sink. Cardboard and paper food containers (e.g. pizza box, Chinese food box, etc.) may be deposited in the green waste bin outside next to the garage.
HOUSE MECHANICS:
- Window open = blinds open! You are welcome to have open windows. However, winds can come up quickly. When windows are open, blinds must be pulled up to prevent them from becoming sails and causing breakage or being damaged. (e.g. broken windows)
- Quiet after 10 pm: This includes use of the kitchen. Do not walk through the dining room at night.
- Step softly/lightly. Step softly, especially at night, and gently close doors, cabinets, and drawers. Noise carries through the house. (Hint: If you can hear your footsteps, so can everyone else)
- 24-hr access. If you do come in late, please be mindful and keep noise to a minimum.
- Towels and Linens: Please be respectful of bed sheets and towels. Makeup/foundation, face medications/creams, and tanning products will stain sheets and towels. Please avoid using regular hand/bath towels with all skin products. Guests are not to wash laundry belonging to the host. Unsalvageable sheets or bath towels will be charged to the guest.
- Long term guests note: bed sheets and towels will be changed weekly or at the hosts discretion.
- In the winter, the house can get chilly, as the heat is turned off at 10PM, and during the work week, the heat is off during the day.
ET CETERA, et cetera, ETC.:
- No strong fragrances, perfumes or strong aftershaves, as these tend to linger. It is preferred that you do use them, but if you must, please apply them in the bathroom only and not in the guest room.
- No smoking (including e-Cigarettes).
- No candles.
- No incense.
- No curries or cooking with other strong seasonings or foods that linger.
- No overnight visitors.
- No parties, no dinner guests, no entertaining.
- Visitors, Meet-ups, etc. that will be in the house must be arranged and confirmed with the host at least 48-hours in advance.
- For the security of the other guests and the property, visitors that have not been approved by the host, are NOT ALLOWED in the house.
- No space heaters.
- No pets.
Safety & Security: Guests are required to make sure the house is secure, lock doors and windows, and set the alarm when leaving the house.
Cleanliness: Guests are required to keep the house clean and habitable. If you notice anything that needs attention, please inform the host immediately.
The furnace is shut off during sleeping hours - 10 PM to 7 AM. Let the host know if you need extra blankets.
Privacy, Please: The host's quarters, storage areas and other guest's rooms are off-limits.
Please review the House Manual upon acceptance of your reservation.
Please let the host know if you have questions.
Enjoy your visit. :-)
---------------------------------------------
*Please let the host know immediately if you do experience a spill, so that any damage may be mitigated or avoided.
**PLEASE NOTE: California is experiencing a severe drought. Fines imposed for excessive water use - therefore, tub baths are not permitted. Please limit showers to a maximum of 8 minutes.
---
Streng
Wenn du bis zu 7 Tage vor deinem Aufenthalt stornierst, erhältst du eine Rückerstattung über 50 %, plus die Service-Gebühren.
---
---
Der Mindestaufenthalt in dieser Unterkunft variiert.
Preis-Leistungs-Verhältnis
Staying at Karin's was a great experience. The house is beautiful and cozy in a quiet neighborhood with scenic views of the Bay Area. It is also very conveniently located with a great village grocery just down the block, and the town of Montclair about 10 minutes away by bike. Karin is a warm and attentive host and getting to know her and the other guests was wonderful.
---
Karin is an absolute Air BNB pro. She walks through all amenities with you and the basic house rules; and if you forget, there are post-it's all over with reminders (i.e., internet log-in, key table, etc.). She was very responsive to all messages and requests, and let me know any time there was a new guest arriving for one of the other rooms in the house. Clean and quiet. The room is exactly as it is described in post.
---
Karin was a great host. We shared our Chinese dishes with her and she shared her wine with us. We enjoyed our stay there. It didn't bother us, but the house is a little older and so the floor is creaky. Our bedroom was under the upstairs bathroom, and we could hear the sound from above. The house is on a hill so we had a beautiful view of the city. It's also very close to a trader joes and a Walgreens and Karin has a very complete kitchen so we could cook anything we wanted, which was great.
---
Oakland, Kalifornien, Vereinigte Staaten

·

Mitglied seit Februar 2014
My desire was to create a place that feels warm and comfy - a place where others will find a good spot to relax. I am an artist and Do-It-Yourself-er by night and an Executive Assistant by day. I love to find old things and fix them up. Occasionally I create small watercolor landscapes or go for a drive in my vintage VW Beetle. Oakland is my hometown, so I know a little history about the local neighborhoods and the Bay Area. If you are looking for a quiet place to rest, look no further. ;-)

Please see my three listings:
Lovely Spanish Revival Private Room - https://www.airbnb.com/rooms/2396712
Spanish Revival Small Private Room - https://www.airbnb.com/rooms/6000201
Spanish Revival Semi Private Lrg Rm - https://www.airbnb.com/rooms/11553790

Antwortrate:
100%
Antwortzeit:
innerhalb einer Stunde
Genaue Informationen zum Standort erhältst du, nachdem eine Buchung bestätigt wurde.
Entdecke weitere Möglichkeiten in und um Oakland
Noch mehr Unterkünfte in Oakland: