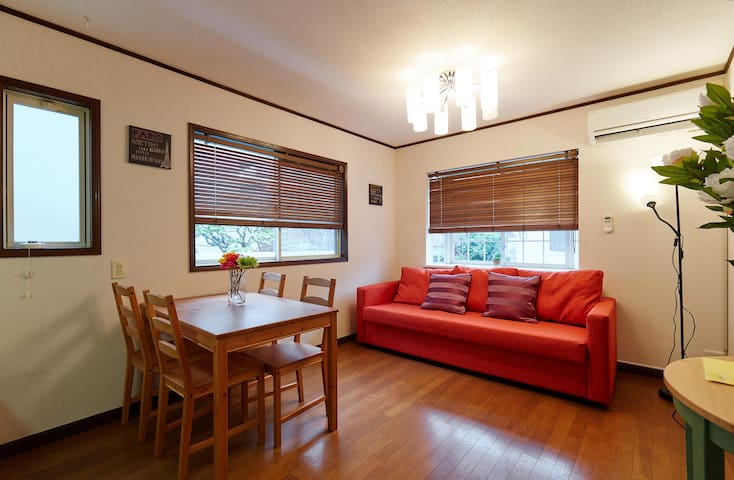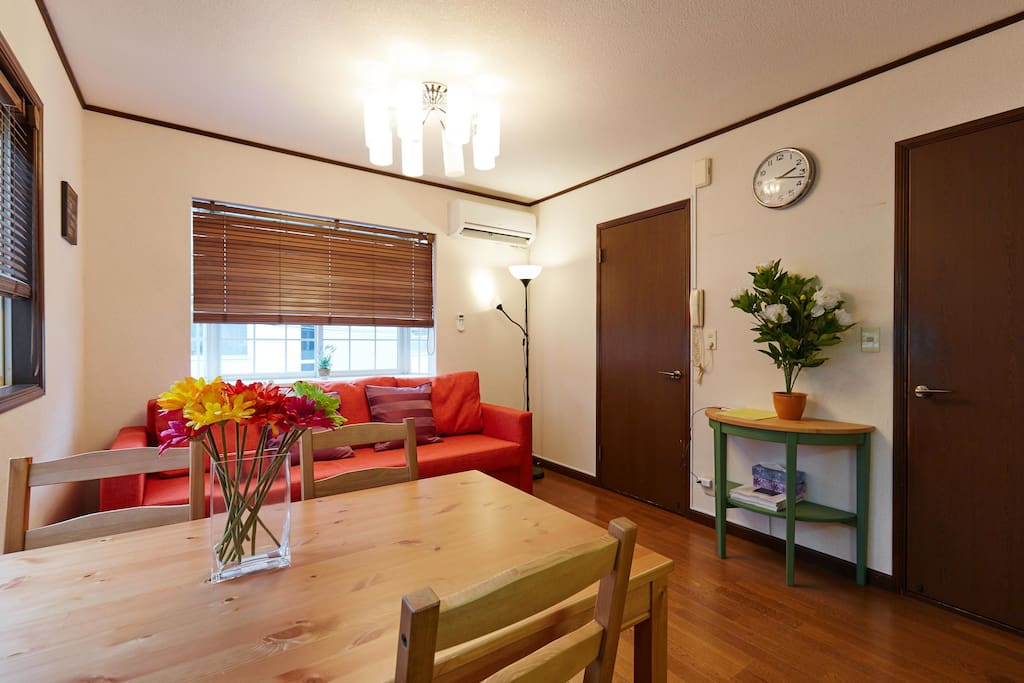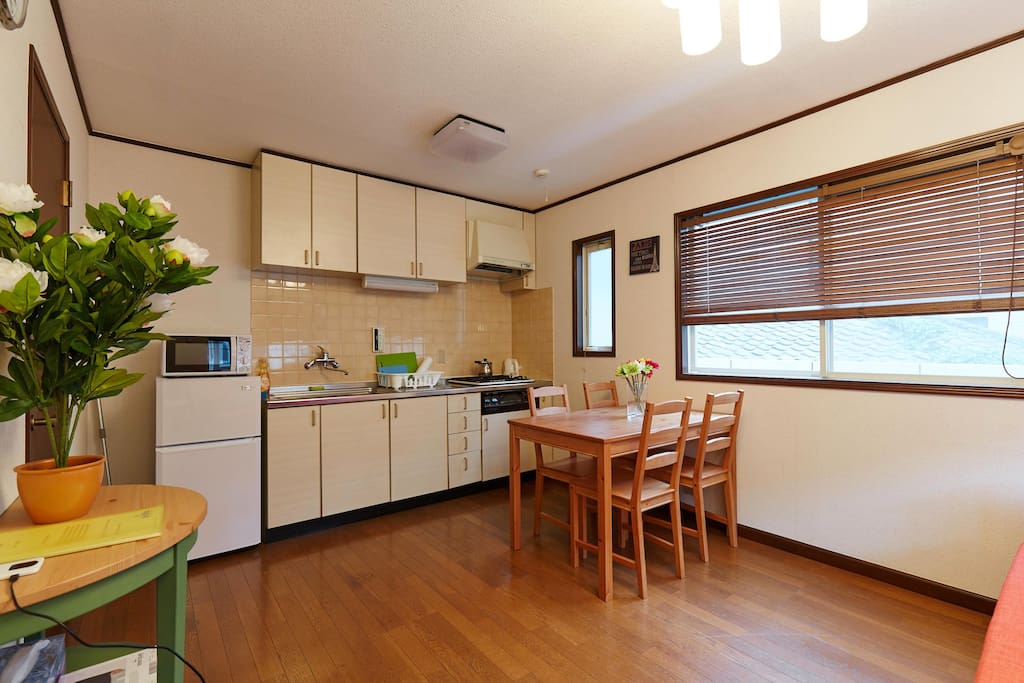 ROPPONGI Private 2 BR House near HILLS and MIDTOWN
Seien Sie versichert, dass Sie in guten Händen sind mit dem MOST EXPERIENCED Host in ganz Tokyo: 5000 + positive Bewertungen! Alle meine Plätze sind für einen Selbst-Check-in eingerichtet, also mit meinen detaillierten Richtungen, sind Sie garantiert ein SMOOTH CHECK-IN haben. Mein Team und ich sind IMMER online und vor Ort, um Ihnen bei Bedarf zu helfen. Wenn Sie aus irgendeinem Grund nicht mit Ihrer Wohnung bei der Abreise zufrieden sind, sind Sie herzlich eingeladen, zu einem anderen meiner 100+ Tokyo Listings sofort zu bewegen. ZUFRIEDENHEIT GARANTIERT!!
Rest assured that you are in good hands with the MOST EXPERIENCED host in all of Tokyo: 5000+ positive reviews! All of my places are set up for a self check-in, so with my detailed directions, you are guaranteed to have a SMOOTH CHECK-IN. My team and I are ALWAYS available online and on the ground to help you out if needed. If for any reason you aren't satisfied with your apartment upon checkin, you are welcome to move to another of my 100+ Tokyo listings right away. SATISFACTION GUARANTEED!!
Der Wohnraum
WILLKOMMEN ZU MEINER LISTE - Im Folgenden finden Sie eine detaillierte Zusammenfassung der Einheit und Umgebung. Ich habe auch Antworten auf viele häufig gestellte Fragen gegeben, um den Buchungsprozess zu erleichtern und Ihren Aufenthalt angenehmer zu machen. Bitte überprüfen Sie diese Informationen, um sicherzustellen, dass diese Liste alle Ihre Bedürfnisse erfüllt. Mein Kalender ist IMMER AUF DATUM! und INSTANT BOOK steht zur sofortigen Sicherung Ihrer Reservierung zur Verfügung! Ich bin ein erfahrener Gastgeber (4 und ein halbes Jahr), der sich weiterhin bemüht, Ihren Aufenthalt bequem und angenehm zu machen. Mein Team und ich haben über 90 Einträge in TOKYO. Einschließlich in BANGKOK, MANILA und HONG KONG. Das ist in NISHIAZABU !! Sie werden es nicht in irgendwelchen Führern sehen, aber es ist eine fantastische Gemeinschaft in der Mitte aller Aktion !! Es ist ein wichtiger Übergang von ROPPONGI, die ein ausländischer freundlicher Bezirk ist bekannt für seine lebendige Nachtleben mit vielen tollen Restaurants und viele tolle Einkaufsmöglichkeiten. ~~~ DIE WOHNUNG ~~~ Diese Wohnung hat eine schöne große Küche mit einem Doppel-Herd. Eine viel besser als durchschnittliche Küche für Japan! - 2 Schlafzimmer / 1 Küche-Esszimmer mit 4 Betten plus 1 Futonbett - Insgesamt 5 Schlafplätze für maximal 7 Personen. (Inkl. Bettwäsche) - Küche (beinhaltet 3 Brenner Herd, Kühlschrank, Mikrowelle, Wasserkocher, grundlegende Kochutensilien, Geschirr, Gläser und Besteck) - Privates Badezimmer (beinhaltet sehr heiße Dusche, Fön, Handtücher und Toilettenartikel) - TOILETTE UND DUSCHE sind in getrennten Räumen. Ein Luxus in Tokio. - Klimaanlage / Heizung mit Fernbedienung - Kostenlose Portable Wi-Fi - Fön - Tisch und Stühle - Alle Bettwäsche, Handtücher und Toilettenartikel zur Verfügung gestellt. - 2ND Etage Wohnung. - Münzenwäsche 1 Minute weg - Late Night Check-in Willkommen - nur 7 min. Gehen Sie von ROPPONGI STATION DIRECT BUS zu Roppongi Hotel in der Nähe von NARITA Flughafen. ~~~ CHECK-IN & CHECK-OUT ~~~ (Für Ihre Bequemlichkeit bieten wir Selbst-Check-in / Check-out mit einer Kombination Schlüssel Lockbox, um Ihnen die Eingabe in das Gerät, sobald Sie ankommen.) CHECK-IN: 4PM oder jederzeit nach. Late Night ist immer OKAY! CHECK-OUT: 12PM NOON oder jederzeit VORHER Weitere Informationen finden Sie unter HÄUFIG GESTELLTE FRAGEN: - Früher Check-In / Late Check-Out - Transport zum / von der Wohnung ~~~ MOBILE WIFI UNIT ~~~ KOSTENLOS !!! Bleiben Sie CONNECTED 24/7 während in TOKYO !! Taschengröße, PORTABLE Wi-Fi ROUTER INKLUSIVE !! Klein, leicht und leicht zu tragen mit dir Kann mit Ihrem Smartphone, Tablet, Laptop, etc Keine Notwendigkeit, ein Telefon zu mieten oder eine SIM zu kaufen! Warten in der Wohnung für Sie bei der Ankunft Data Unlimited (kann verlangsamen, wenn Sie viel herunterladen) ~~~ NAHE DER WOHNUNG ~~~ VON DER WOHNUNG --- GEHEN: Roppongi statio (URL HIDDEN) --- 10 Min Roppongi Hill (URL HIDDEN) --- 7 Min Hiroo statio (URL HIDDEN) --- 15 Min Omotesando Station --- 15 Min Gaienmae statio (URL HIDDEN) --- 10 Min Shibuya sind (URL HIDDEN) --- 25 Minuten (10 Minuten mit dem Bus) Gonpache Restauran (URL HIDDEN) --- 2 Min (Seite des Indoor-Kampfes im Film Kill Bill Vol. 2) ~~~ AREA ~~~ Nishi-azabu ist nur ein toller Ort. Es ist zwischen Shibuya und Roppongi, die 2 Orte, die Sie jeden Abend essen wollen, um Abendessen zu essen und genießen Sie diese tolle Stadt. Hochwertiger, bequemer und sehr zentraler Bereich. Wenn Sie spät in Roppongi bleiben wollen, ist dies der Ort zu bleiben, da Sie nicht brauchen ein Taxi. Tatsächlich können viele Orte, die du gehen möchtest, von hier weg gehen! Die Wohnung ist eine Minute Wohnung von Nishi Azabu Kreuzung und ein 10-12 Minuten zu Fuß nach Roppongi und 8 Minuten nach Roppongi Hills. Es ist innerhalb von 2 Minuten von 2 großen Nachtclubs (Muse und Eleven) und viele tolle Restaurants. Es ist innerhalb von 15 Minuten zu Fuß von über 50 Bars / Clubs und 100's von tollen Restaurants! ROPPONGI: Ein toller Ort für Nachtleben, Restaurants und Unterhaltung und ist nur 10-12 Minuten zu Fuß von hier. SHIBUYA: Ist der Times Square von Tokio und sehr hell, aufregend und voller interessanter Orte und Leute. Es ist 10 Minuten mit dem Bus. Es gibt eine Bushaltestelle an der Ecke 2 Minuten von der Wohnung, die Sie dorthin oder irgendeine andere Richtung nehmen wird, die Sie gehen möchten. Wenn du spät auskommst und den Zug vermisst, mach dir keine Sorgen. Taxi nach / von Shibuya für 1000 ¥ und zu Fuß von Roppongi. LISTE: I HABE 2 Einträge in der Nähe von einander in der Nishiazabu / Roppongi Bereich! Also lass es mich wissen ob du eine große Gruppe hast oder ein paar Plätze brauchst !! FREIER REISEKONZERT (** NEU **)! Exklusiv für die Buchung mit Will! Haben Sie Fragen zu Ihrem Aufenthalt in Japan? Ein professioneller Reise-Concierge-Service kümmert sich darum! Erfahrene Reiseexperten sind nur ein Text weg. Flick ihnen einen Text zu jeder Zeit und sie bieten ihre Insider Beratung kostenlos! Exklusiv für die Buchung mit Will! Der fachbasierte Service umfasst eine Vielzahl von Aspekten - Vorreise: Flug / Aktivitäten / Autovermietung, Reiseplanung, Reisepakete, etc. On-the-Road: Restaurant buchen, Shopping Rabatt, Transportunterstützung und Instant übersetzung, etc. ~~~ HÄUFIG GESTELLTE FRAGEN ~~~ 1) IST DIE EINHEIT VERFÜGBAR? Aus Gründen der Bequemlichkeit ist mein Kalender IMMER UP-TO-DATE. Fühlen Sie sich frei, INSTANT BOOK zu benutzen, falls vorhanden oder senden Sie eine Buchungsanfrage mit Ihrer ersten E-Mail. Wer zuerst kommt, malt zuerst. LAST-Minute Buchungen sind in der Regel kein Problem. 2) KANN ICH ÜBERPRÜFEN UND ODER KONTROLLE AUS LATE? CHECK-IN: 4PM oder jederzeit nach. Late Night ist OKAY! CHECK-OUT: 12PM NOON oder jederzeit VORHER Eine Höflichkeit 1-2 Stunden kann nur verfügbar sein, wenn Sie innerhalb von 24 bis 48 Stunden nach Ankunft oder Abreise gefragt werden (das ist, wenn ich weiß und es ist nicht garantiert) mehr als dies erfordert eine Gebühr oder für Sie, um eine weitere Nacht zu buchen. BAGGAGE HOLD: Ich empfehle die Verwendung von Münzfächern an einer nahe gelegenen Station. Viele Hauptstationen haben Schließfächer groß genug für Full-Size-Koffer. Wenn nicht mehr als 3 Stunden vor dem Einchecken, können PACKED Taschen im Gerät verstaut werden. RULE: Benachrichtigen Sie mich davon und lassen Sie den KEY in der Schlüsselblockbox für den Reiniger. Beim Abreisetag gibt es wegen der Vorbereitung des Gerätes für eingehende Gäste kein Gepäckaufbewahrung. 3) WIE HABE ICH DIE WOHNUNG ZUGANG? RICHTUNGEN: Die Adresse und die hervorragenden Anfahrtsrouten vom nächstgelegenen Bahnhof (en) sind in Ihrem BESTÄTIGUNGSRECHT vorhanden, sobald Sie bezahlt haben und bestätigt wurden. EINTRAG: Eine COMBINATION KEY LOCKBOX wird bei Ankunft und Abreise verwendet. Detaillierte Informationen zu meinem SELBST-Check-in-Verfahren finden Sie im Abschnitt DIRECTIONS Ihrer CONFIRMATION ITINERARY. W-lan: Der tragbare Router und PASSWORT werden bei der Ankunft in der Wohnung sein 4) KANN ICH ZUSÄTZLICHE LEUTE ODER BETTEN HINZUFÜGEN? Diese Einheit hat maximal 5 Betten: --- 1 Doppelbett. (140cm x 200cm) --- 2 Einzelbett (100cm x 200cm) --- 1 Doppel-Schlafsofa. (140cm x 200cm) --- 1 Einzelfutonbett (100cm x 200cm) Bitte beachten Sie: Bettgrößen können NICHT geändert werden Es beherbergt (schläft): -1 bis 4 Menschen mit viel Platz. -5 Bedeutet, dass jeder sein eigenes Bett oder Futonbett haben kann. -6 Macht es ein wenig überfüllt / teilen Betten. -7 Bedeutet einer von euch auf dem Futon auf dem Boden (URL HIDDEN) 5) GEHEN SIE FÜR KINDER? Alter 2 und unter frei, wenn sie ein Bett teilen oder Sie bieten Schlaffläche Alter 3 und mehr werden als Gäste gezählt Bitte beachten Sie: Babybetten sind nicht verfügbar 6) WIE IST DAS AUS DEM FLUGHAFEN? Nächster Bahnhof: ROPPONGI (7 Min. Fußweg) 2 Zuglinien: HIBIYA Linie (graue Linie) (URL HIDDEN) OEDO Linie (rosa Linie) DIRECT Züge zu vielen Orten in der Stadt einschließlich Shinjuku, Ebisu, Ginza, Akihabara und Ueno! AUS NARITA FLUGHAFEN: MIT DEM ZUG: 79 Minuten --- Fare --- 2.670 ¥ NARITA Flughafen zur ROPPONGI Station über Transfer bei UENO. BY SLOW TRAIN: 89 Minuten --- Fare --- 1.380 ¥ AUS HANEDA FLUGHAFEN: MIT DEM ZUG: 28 Minuten --- Fare --- 670 ¥ TOKYO-MONORAIL zum Hamamatsucho / Daimon Station. --- OEDO Linie zur ROPPONGI Station LATE NIGHT: Letzter Zug um 12:10 Uhr Ankunft von Roppongi Station um 12:48 Uhr FLUGHAFEN LIMOUSINE BUS: Verfügbar für Shibuya um 12:50 Uhr LETZTER BUS: Verfügbar für Shibuya um 2:20 Uhr Dann brauchst du ein Taxi um ca. 1500 Yen. ZUG INFORMATIONEN: Überprüfen Sie die Websites Hyperdia oder Jorudan Züge in Japan BUS INFORMATIONEN: Suche Flughafen Limousine Bus Japan (nicht so schick wie es klingt) 7) WARUM IST DER PREIS UNTERSCHIEDLICH ALS ICH BIN BERECHNET? Der Gesamtpreis besteht aus drei Teilen: 1. Nächtlicher Preis x Anzahl der Nächte (plus jede nächtliche Gebühr für zusätzliche Gäste, wenn zutreffend) 2. Reinigungsgebühr (einmalige Gebühr) 3. Servicegebühr (einmalige Gebühr und gesammelt durch Airbnb, typischerweise zwischen 6 und 12%) Wochenpreis: Der Preis kann auf der Grundlage von Höchstferien und Sonderveranstaltungen schwanken. Geben Sie in Ihre spezifischen Termine, um den aktuellen Preis für diese Tage zu sehen. 8) IST DER PLATZ WÄHREND MEINEN AUFENTHALT? Es ist professionell gereinigt vor Ihrer Ankunft und ein
WELCOME TO MY LISTING - Below is a detailed summary of the unit and surrounding area. I have also provided answers to many frequently asked questions to ease the booking process and make your stay more pleasant. Please review this information to ensure this listing meets all your needs. My calendar is ALWAYS UP-TO-DATE! and INSTANT BOOK is available to immediately secure your reservation!
I am an experienced host (4 and a half years now) who continues to strive to make your stay convenient and enjoyable. My team and I have over 90 listings in TOKYO. Including some in BANGKOK, MANILA, and HONG KONG.

This is in NISHIAZABU!! You won't see it in any guidebooks but it's a fancy community in the middle of all the action!! It's one major crossing down from ROPPONGI which is a foreign friendly district renowned for it's lively nightlife with plenty of amazing restaurants and lots of great shopping.

~~~ THE APARTMENT ~~~
This apartment has a nice big kitchen with a double burner stove. A much better than average kitchen for Japan!
— 2 Bedroom / 1 Kitchen-Dining with 4 Beds plus 1 futon bed - Total of 5 sleeping surfaces that sleeps 7 people maximum. (Includes linens)
— Kitchen (includes 3 burner stove, fridge, microwave, tea kettle, basic cooking utensils, dishes, glasses, and silverware)
— Private Bathroom (includes very hot shower, hairdryer, towels and basic toiletries)
— TOILET and SHOWER are in separate rooms. A luxury in Tokyo.
— Air Conditioner / Heater with Remote Control
— Free Portable Wi-Fi
— Hair Dryer
— Table and Chairs
— All linens, towels and basic toiletries provided.
— 2ND Floor apartment.
— Coin Laundry 1 Minute Away
— Late Night Check-in Welcome
— Only a 7 min. walk from ROPPONGI STATION
DIRECT BUS to Roppongi hotel nearby from NARITA Airport.

~~~ CHECK-IN & CHECK-OUT ~~~
(For your convenience, we provide self check-in/check-out using a combination key lockbox to assure you entry into the unit the moment you arrive.)
CHECK-IN: 4PM or anytime AFTER. Late Night is always OKAY!
CHECK-OUT: 12PM NOON or anytime BEFORE
See FREQUENTLY ASKED QUESTIONS below for more details on:
— Early Check-In / Late Check-Out
— Transportation To/From Apartment

~~~MOBILE WIFI UNIT~~~ FREE!!!
Stay CONNECTED 24/7 while in TOKYO!!
Pocket size, PORTABLE Wi-Fi ROUTER INCLUDED!!
Small, light, and easy to carry around with you
Can USE with your smartphone, tablet, laptop, etc
No need to rent a phone or buy a SIM!
Waiting in the apartment for you upon arrival
Data Unlimited (may slow down if you download a lot)

~~~ NEARBY THE APARTMENT ~~~
FROM THE APARTMENT --- WALKING:
Roppongi statio(URL HIDDEN) --- 10 mins
Roppongi Hill(URL HIDDEN) --- 7 mins
Hiroo statio(URL HIDDEN)--- 15 mins
Omotesando station --- 15 mins
Gaienmae statio(URL HIDDEN) --- 10 mins
Shibuya are(URL HIDDEN)--- 25 mins (10 minutes by bus)
Gonpache Restauran(URL HIDDEN) --- 2 min
(Site of indoor fight in the movie Kill Bill Vol. 2)

~~~ AREA ~~~
Nishi-azabu is just an awesome location. It's between Shibuya and Roppongi, the 2 places you want to be every evening to eat dinner and enjoy this awesome city. Upscale, convenient, and very central area. If you want to stay out late in Roppongi, this is the place to stay as you will NOT need a taxi. Actually, many places you may want to go are walkable from here!
The apartment is one minute flat from Nishi Azabu crossing and a 10-12 minute walk to Roppongi and 8 minutes to Roppongi Hills. It is within 2 minutes of 2 great nightclubs (Muse and Eleven) and many awesome restaurants. It's within 15 minutes walk of over 50 bars/clubs and 100's of great restaurants!
ROPPONGI:
A great place for nightlife, restaurants, and entertainment as well and is only a 10-12 minute walk from here.
SHIBUYA:
Is the Times Square of Tokyo and very bright, exciting, and full of interesting places and people. It is 10 minutes by bus. There is a bus stop on the corner 2 minutes from the apartment that will take you there or any other direction you want to go.
If you stay out late and miss the train, don't worry.
Taxi to/from Shibuya for 1000¥ and walk from Roppongi.
LISTINGS: I HAVE 2 listings near each other in the Nishiazabu/Roppongi area!! So let me know if you have a big group or need a couple places!!

FREE TRAVEL CONCIERGE (**NEW**)! Exclusive for booking with Will !
Got any questions about your stay in Japan? A professional travel concierge service will take care of it! Experienced travel experts are only a text away. Flick them a text anytime and they'll offer their insider advice for FREE! Exclusive for booking with Will !
The expert-based service covers a variety of aspects --
Pre-trip: flight/activities/car booking, trip planning, travel packages, etc.
On-the- road: restaurant booking, shopping discount, transport support and instant
translation, etc.

~~~ FREQUENTLY ASKED QUESTIONS ~~~
1) IS THE UNIT AVAILABLE?
For convenience, my calendar is ALWAYS UP-TO-DATE.
Feel free to use INSTANT BOOK if available or submit a booking request with your 1st email. First come, first serve. LAST-minute bookings are usually not a problem.


2) CAN I CHECK IN EARLY AND/OR CHECK OUT LATE?
CHECK-IN: 4PM or anytime AFTER. Late Night is OKAY!
CHECK-OUT: 12PM NOON or anytime BEFORE
A courtesy 1-2 hours may be available ONLY if asked within 24 to 48 hours of arrival or departure (that is when I will know and it is NOT guaranteed) more than this will require a fee or for you to book another night.
BAGGAGE HOLD: I recommend using coin lockers at a nearby station. Many main stations have lockers big enough for full size suitcases. If no more than 3 hours before check in, PACKED bags can be stowed in the unit. RULE: Notify me of this and leave the KEY in the key lockbox for the cleaner. On check-out day there is no baggage hold available due to the preparation of the unit for incoming guests.

3) HOW DO I ACCESS THE APARTMENT?
DIRECTIONS:
The address and excellent walking directions from the nearest train station(s) are provided in your CONFIRMATION ITINERARY once you have paid and been confirmed.
ENTRY:
A COMBINATION KEY LOCKBOX is used at arrival and departure. Detailed information for my SELF check-in procedure will be provided in the DIRECTIONS portion of your CONFIRMATION ITINERARY.
Wi-Fi:
The portable router and PASSWORD will be in the apartment when you arrive

4) CAN I ADD EXTRA PEOPLE OR BEDS?
This unit has a maximum of 5 beds:
---1 Double Size Bed. ( 140cm by 200cm )
---2 Single Bed (100cm by 200cm)
---1 Double Size Sofa Bed. ( 140cm by 200cm )
---1 Single Futon Bed (100cm by 200cm)
Please Note: Bed sizes can NOT be changed
It accommodates (sleeps):
—1 to 4 People with plenty of space.
—5 Means everyone can have their own bed or futon bed.
—6 Makes it a bit crowded / share beds.
—7 Means one of you on the futon on the floor(URL HIDDEN)5) DO YOU CHARGE FOR CHILDREN?
Ages 2 and under free if they share a bed or you provide sleeping surface
Ages 3 and up are counted as guests
Please Note: Baby cots are not available

6) HOW DO I GET THERE FROM THE AIRPORT?
Nearest station: ROPPONGI (7 min. walk)
2 Train Lines: HIBIYA Line (grey line)(URL HIDDEN)OEDO Line (pink line)
DIRECT trains to many places in the city including Shinjuku, Ebisu, Ginza, Akihabara, and Ueno!

FROM NARITA AIRPORT:
BY TRAIN: 79 minutes--- Fare---2,670¥
NARITA Airport to ROPPONGI Station via transfer at UENO.
BY SLOW TRAIN: 89 minutes--- Fare---1,380¥
FROM HANEDA AIRPORT:
BY TRAIN: 28 minutes--- Fare---670¥
TOKYO-MONORAIL to Hamamatsucho / Daimon Station.
--- OEDO Line to ROPPONGI Station
LATE NIGHT: Last train at 12:10am
Arrives Roppongi Station at 12:48am
AIRPORT LIMOUSINE BUS: Available to Shibuya at 12:50am
LAST BUS: Available to Shibuya at 2:20am
Then you would need a taxi at about 1500 yen.
TRAIN INFORMATION:
Check websites Hyperdia or Jorudan Trains in Japan
BUS INFORMATION:
Search Airport Limousine Bus Japan (not as fancy as it sounds)

7) WHY IS THE PRICE DIFFERENT THAN I AM CALCULATING?
The total price is composed of three parts:
1. Nightly price x # of nights (plus any nightly charges for extra guests when applicable)
2. Cleaning fee (one-time fee)
3. Service fee (one-time fee set and collected by airbnb, typically between 6 and 12%)
Weekly Price: Price may fluctuate based on peak holidays, and special events.
Enter in your specific dates to see the current price for those days.

8) IS THE PLACE CLEANED DURING MY STAY?
It is professionally cleaned prior to your arrival and after your departure.
For your privacy, no one enters the house during your stay except for you and your group.
For cleaning concerns, email me immediately upon arrival and we will come to resolve them.

9) ANY QUESTIONS I MISSED?
Please email me on the airbnb website. Click on 'Contact Host' to send a message.
CHEERS AND HOPE TO HEAR FROM YOU SOON!!!
Will
---
---
Zusätzliche Personen 12 € / Nacht bei mehr als 4 Gästen
Wochenendpreis 123 € / Nacht
Kommuniziere immer über Airbnb
Um deine Zahlung zu schützen, solltest du niemals außerhalb der Airbnb-Website oder -App kommunizieren oder Geld überweisen.
Erfahre mehr
---
Schlafzimmer 1
1 Doppelbett
Schlafzimmer 2
2 Einzelbetten, 1 Matratze auf dem Boden
Gemeinsam genutzte Räume
1 Schlafcouch
---
Nicht für Haustiere geeignet
Keine Partys oder Veranstaltungen
Die Check-in-Zeit ist 16:00–02:00 (next day)
Eigenständiger Check-in mit lockbox
1. The apartment will be all yours so please take good care of it.
2. Please be quiet and discreet. Very important to respect your neighbors in Japan as everyone lives close together! Absolutely no partying in the unit. Please enjoy yourself outside and make new friends.
3. You must turn off the air conditioner/heater when not there.
4. Please take off your shoes when you enter.
5. NO SMOKING inside the apartment. Outside on the balcony is fine. Standing and smoking in front of the building entrance is not allowed. Please dispose of your buds properly. Do not put in recyclable cans or bottles.
6. SELF CHECK-IN: For your convenience and privacy this is a self-catering unit. It is your responsibility to find the place. Don't worry because I give very detailed and accurate directions in the confirmation.
7. This is NOT a HOTEL: As such, you cannot ask anyone in the building for assistance. My team and I are always available between the hours of 7 AM and 1 AM via Airbnb messaging. Phone calls are typically unanswered due to the Japanese culture of answering phones in public.
8. BEDS: By booking, you acknowledge the total number of beds and bed sizes. Please read carefully to make sure your party will be comfortable with the available accommodations.
9. DEPOSIT: We don't take a deposit, but you will be held liable for any damages. Please report any damages as soon as they occur. Honesty is the best policy and will be rewarded.
10. CLEANING: The place is professionally cleaned before your arrival. Our standards are very high, but if you have any concerns contact us upon arrival.
11. YOU MUST separate the trash*** #1 VITAL thing in Japanese culture!!
Trash is divided into categories and put in different bags.
Please separate your(URL HIDDEN) burnable, recyclables (cans, plastic bottles, glass), and non-burnable items.
Please put these in separate bags. Using any clear plastic bag is okay in Tokyo.
---
Der Mindestaufenthalt in dieser Unterkunft variiert.
---
Preis-Leistungs-Verhältnis
We stayed here for a few days. The neighbourhood is nice and calm and the location allows you to visit Tokyo in all directions. Will gave clear directions (photos) to find the house from Nogizaka although we used the Roppongi station most of the time. A supermarket,coffeebar and great shop for bread were all near. Both bedrooms were very comfortable and the couch I(extra bed) n the living room was ok too. We can recommend people to book this address.
---
Nice to meet you. My name is Will. I am a host about to have my 6 year anniversary and one of the original hosts in Tokyo. When I started there were only 54 listings in all of Tokyo. Now, there are thousands! I love hosting on airbnb and it is my life. It is tons of fun and there are new surprises every day! I have met so many interesting people as a host and I look forward to those I will meet in the future.

I am a sports fan, reader, movie goer, and I like to try new things. I play golf, basketball, and just about any sport you can think of. I love ramen, yakiniku, yakitori, and shabu shabu here in Japan. I love to try pizza all over the world when I travel.

Relationships are the most important thing for me in my personal life as well as business. I like to go out and have a good time with my friends and meet new people.

I have learned so much from my over three years as an airbnb host and I am pleased to say I have most questions answered for you before you ask them, whether it be in the description of the listing or in the detail I supply you with at confirmation. Still, I am always thinking of ways to make the guest experience more comfortable, efficient, and hassle free. This is my goal as a host. I will continue to get more places every month so I can host more travelers. I want everyone to see Tokyo at least once!

Tokyo is a great place to come and people from all over the world visit here making it a truly international city. I love Tokyo and seeing the amazing sights and people. It is a great place to explore and every day can be different. This is an awesome destination for walkers and wanders filled with friendly people, tasty restaurants, and plenty of lights. My tip is to make the initial contact with Japanese people because they are typically shy at first. They will be happy to try to practice their English with you.

Hope I can host you soon! May your trip to Tokyo be as amazing as my 11 years here has been!
Sprachen:
English
Antwortrate:
100%
Antwortzeit:
innerhalb einer Stunde
Entdecke weitere Optionen in und um Minato-ku
Noch mehr Unterkünfte in Minato-ku: