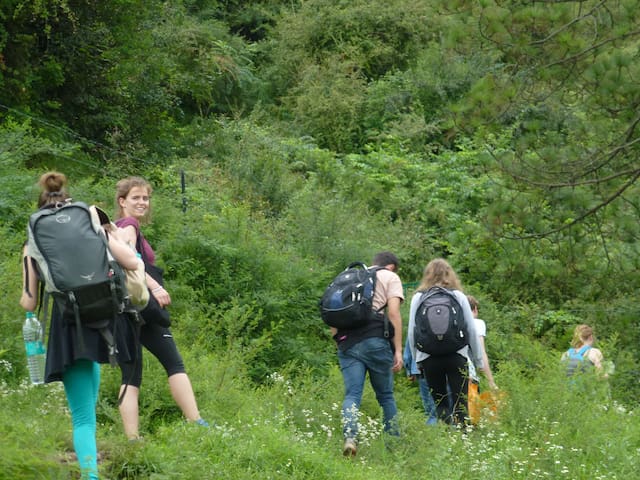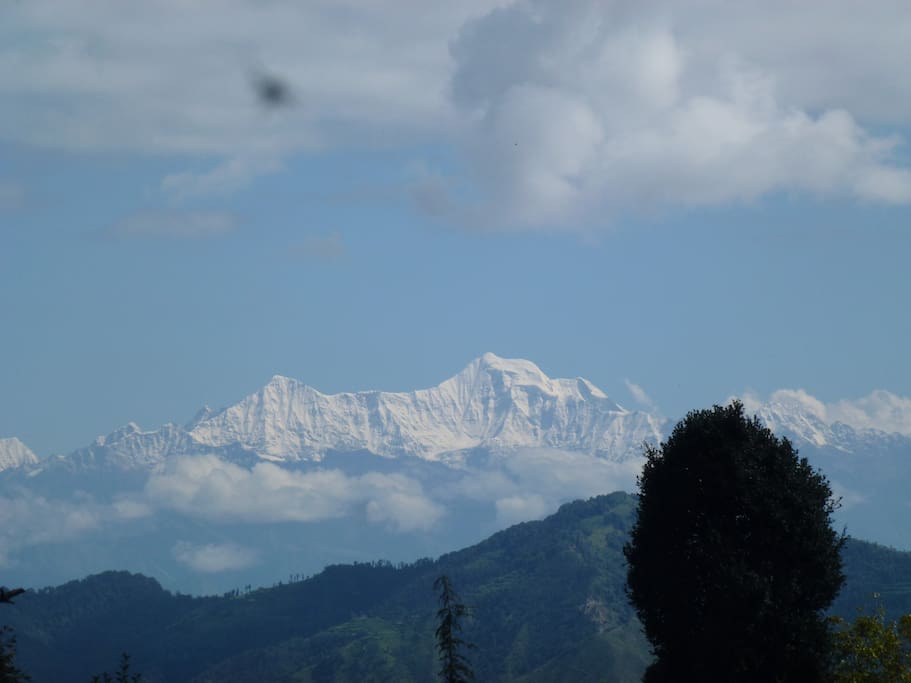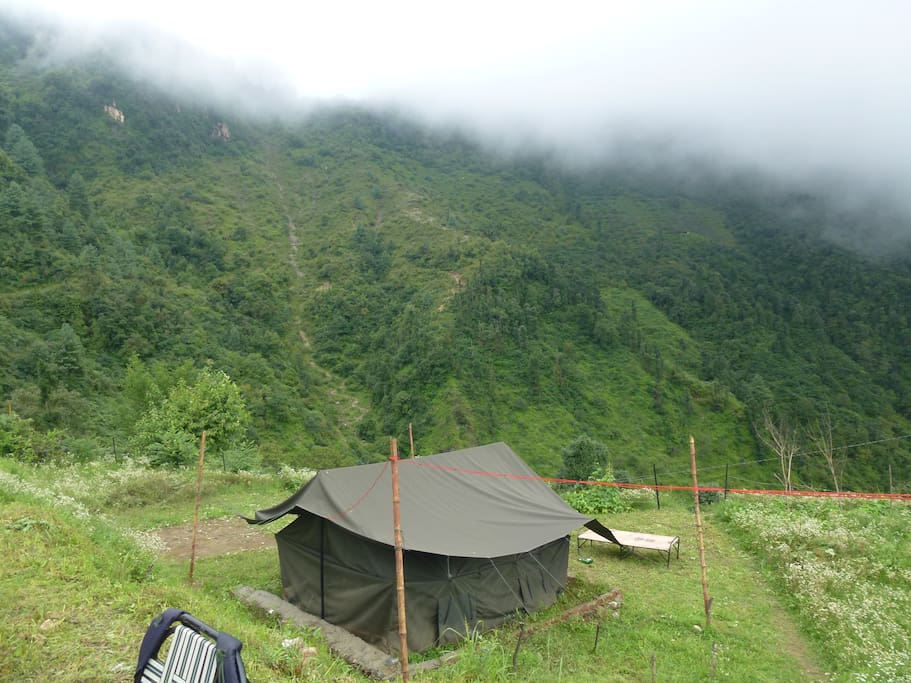 Hi
this property lies in one of the most beautiful settings in the country in the hill station of Dhanaulti. Very close to the eco park and hidden away from the main road with absolutely wonderful views and lying amidst apple orchards. It has a 360 degree view which no other place has in Dhanaulti and provides you complete freedom and privacy. This listing is for Tented accommodation we have on site . We also have a cottage which is a separate listing here on AIRBNB.
Der Wohnraum
You probably cannot get a better space in the whole of Dhanaulti. Something to be experienced. Huge spaces with your own gardens and apple orchards. Direct views of the snow- clad upper himalayas and especially at nights and in the evenings this places acquires a magical feel. For the price on offer this is a huge bargain with acres of space to call your own.Suits larger or small groups, couples, singles, people out to spend a nice healing time in the mountains..
This property is one of the best in the whole of North India and especially in Dhanaulti Mussoorie area. A traditional camping site and cottage with huge open spaces and right in the middle of nature. The best sunset and sunrise points in dhanaulti are literally at arm's length, very close by. The best trails and mini- treks start from here. So really you do not have to go anywhere.This space encompasses the best of what dhanaulti has to offer. Even the path that leads to the land is something to be cherished. Going through forest land with unbelievable views of the Himalayas and passing through apple orchards, farmland and a beautiful stretch of forest land. The path goes down the mountain but is easy to traverse. It takes 10 minutes to 20 minutes for people to come to our resort depending on their speed, fitness and adaptability.But I would still suggest that our property is not perhaps suitable for under 5 year olds or those over 60 or those that find it a problem to walk even a little bit. For those wanting to experience the best of dhanaulti, it's beautiful natural trails this is the place to be. The parking is on the road above and it is safe and looked (URL HIDDEN) may take a little more time to go up. But all in all it is worth it. And people actually love doing it because of what it offers a apart from what our property has to offer to guests. We believe in giving a personal touch to our guests and we receive guests from home and abroad. And I can assure you that everyone who has been here loves it and wants to come here again.
Zugang für Gäste
the gardens and all the space inside the property.
Interaktion mit Gästen
we will be there to help you with anything. You would not feel left out or empty.The biggest thing that we bring out is our love towards you. This is not just about money but we want you to lave as friends for life. Our space is sacred and with that energy and we want to share some of that with you . If you understand and connect with that energy then it will lift you and give you a lot. This is a traditional camping site as it was meant to be when first the culture of such places started. This is not meant to be a hotel but we have more luxuries than probably other camps. A choice of organic food, lots of activities ,enormous space and a rea personal touch. For those that understand and connect with this space then probably there is none better than thus. And you will surely find it out when you are here. This is about people and we want to have everyone here with open hearts and souls and of course once in a while we have someone with closed souls. And then it is next to impossible for them to feel the love for this space. We believe in loving and caring for everyone and dont believing in hating or hitting out at anyone.If someone does not understand they dont- no problems with that but it is very important to keep the respect going and love. Because this is the thing that helps people and inspires us to do more for you. Just a case in example - we had a group of rowdy guests the other day- did so much for them and yet they left almost everyone here tearful despite all that we did. But this happens. We only wish well towards everyone.
Weitere wichtige Infos
The path to the camp is a 10 to 15 minute walk. How it's supposed to be for a perfect nature camp. The path in itself provides awesome views of the whole area and the himalayas and probably this is the best thing about our camp. It has almost no level of difficulty as people of all ages come here. But for those unwilling to connect with nature and the beauty of this space it would probably be too much. In essence a nature camp is not a camp without a path like this. Im going into detail into this because a guest who was here left a review which is not true and honest. And i just want to give you a few accurate details. This path to the camp itself is the biggest reason why everyone comes here. Waterfall , apple orchards, rare species of floa and fauna. Im sure you cannot find this anywhere else here. But of course if someone is like completely drunk, half drugged and falling over then you wont be able to appreciate or even be in a position to enjoy the beauty of this. These above lines are specifically for our guests who were here the last week and arrived completely drunk and out of their senses. This is the first time we ever had guests like these but we are lucky. We always have people who know the kind of place they are going to and can see the beauty of that space. As they say its all in the eyes and the space wthin.
---
Kostenloser Parkplatz auf dem Grundstück
---
Nicht sicher oder ungeeignet für Kinder (0–12 Jahre)
Der Check-in ist jederzeit nach 15:00
---
I would have given negative rating if there was an option. The photographs of this place are misleading as there is no cleanliness around. The worst part is that the washrooms are even more pathetic and even after multiple requests, it wont get cleaned. The camp is definitely not easily accessible and the 1.25km trek certainly takes a lot more time than 10 mins which the host claims and there are no sign boards as well. The dinner is pathetic as well and
---
My biggest qualm with the stay was that the host, Amit, had been utterly dishonest. I wouldn't have had been bothered a bit by anything had Amit had the decency to share crucial details beforehand. The camp is not anything that you'd call 'easily accessible'. Amit will tell you about a 'little trek' to reach the camp but that dosent quiet prepare you for the 1.25 km long descent down a near 45 degree slope to go halfway down the mountain. He'd also claim that it would take 10 minutes to walk to the camp from the road but that's gravely misleading. A local would do it in 10, someone who's not a local but a fit individual would take 20 and anyone who hasn't discovered their enthusiasm for exercises/fitness yet can end up spending 40 minutes to an hour trying to climb up to the road. There are no markings and no sign boards to guide you, every other camp around had numerous big boards but Amit, I guess, has a knack for anonymity. The dinner at the camp was atrocious. We just had it there once and got stuff packed from elsewhere to eat for the rest of our stay. The breakfast wasn't too bad but the horrors at dinner kept us from taking our chances with lunch for the remainder of our stay. Everything is going to be charged for additionally when you leave. It's not just his greed that pissed me off, it was the very breakup of our parting bill. When asked prior to our stay about the feed arrangements, Amit had replied saying that food for 4 people, for a day would cost Rs. 600. In the parting bill, just the pathetic dinner itself was charged at Rs. 600 for 4 people. So for a rough estimate, Amit will charge you thrice the amount for whatever he initially lies about. Don't ask for anything extra cos he's gonna charge you an obnoxious amount for it. A campsite bonfire which required just collecting the twigs and branches lying around to be lit was a line item that apparently costs Rs. 500 in the parting bill. The worst part is that Amit would keep mum about any additional charges and continue to provide just so that he can rip up a fatter bill for when you leave. The host is misleading, inconsiderate, greedy and a sorry disappointment. The place is special but I wouldn't go there a second time cos Amit just ruins the serenity with his self.
I feel really sad at having to write this. I pray no one ever has to do that again. If only the review was even half honest. This has been by far the worst experience in my life as far as hosting is concerned. This is a completely wrong and dishonest review. I do not mind bad reviews and honest reviews because we are always looking forward to improving ourselves and getting better. But the review from akshay is a complete lie. It belittles the efforts of all of us here who work day and night seeking to give our best to all those that come here. It also spoils the energy of all those who have left a review and have had a truly memorable experience here. But we cant change certain things, cant change certain people. Right from the moment Akshay and his group came they started being utterly disrespectful towards everyone here. They did not even understand the essence of a camp or even understand what a camp is all about. And completely annihilated the energy of the place with their drinking and other stuff they started doing. I understand drinking..most people who come here do that but they don't fall down. And fall down in their language and behaviour and everything else. They told us they would come at 6 in the evening and they arrived at 12 in the night. All camps close at 9 . The food in every camp is not served after 9: 30. And yet i went to the road personally to greet them when they arrived. Can you imagine? 12 in the night in a place like dhanaulti and in a nature camp. They arrived completely drunk and falling down by themselves. Brought them to our property and asked them for the food. And bear in mind that the cook and helpers go to sleep after 11. They asked me to wait whilst they spent time getting over their hangover and getting back to their senses. I served them food and they left it like that coming to eat after half an hour. Can you imagine that? in the night in a cold place it is only natural that the food will get cold. Everyone who has been here has appreciated the organic stuff we create here and always happy to make aything else that the guest may want us to prepare. They threw away that food and the next day the same thing happenned. They called me late in the night next day and asked for the bonfire to be put up. Again we went the extra yard and tried to do our best even though this again was against the rules and timings of all the camps here. On top of that they were very very rude and disrectful. I guess that happens sometimes to some people who cant digest their drinks.The next morning again they created a ruckus, were very rude to the cook and abusive. We had had enough by then. And that is when i decided to charge them for the campfire which we DONT CHARGE from anyone. We DONT CHARGE even for 2 complementary teas and snacks every day for every person. WE DONT CHARGE for taking people to local treks, we dont charge for a lot of other things.And on top of that we give our tents which are better than others here - we give the tents for less than half the price that others charge. What else can we do. Our customers are our friends first but Akshay and his group were far away from that. It is when i lost patience with their behaviour and the fact that they were rude to the poor helper that i decide to charge them which they didnt give. And about the food. We gave them fully organic food with vegetables, dal, rice, assortments and no cap on how much they ate for just rs 150 a person. And i had informed them about this beforehand. Next day they again threw away all the food that they had brought from outside because they were not even in a position to eat because they were too drunk. I do not know what else to say. Never in my life i have seen such immature, disrespectful, rowdy group of people who were finding it difficult just to stand on the ground. For everyone else before and everyone else after this pathetic group of people we have and will continue to have a lot of things which are gratis/free in our campsite. I assure you and you can inquire yourself and experience in other camps. No other camp even comes close to what we offer in this price and also by way of a lot of other things we do. The walk is indeed 15 minutes and this walk or path is exactly one big reason why a lot of people want to come here.And it is a very healing walk with very less degree of difficulty but of course not advisable if someone is completely drunk like Akshay and hi group were. You have a variety of flora and fauna and wonderful views of the snow clad upper himalayas which are visible from only 3 places in the whole of dhanaulti. Our camp has the perfect essence of a nature camp. A camp has no meaning if it lies on the road. It is not a campsite then- it is better to go and stay in a hotel or guest house in that case. About the signboards- we cannot have signboards right through. Instead we personally greet and pick up our guests. We make them feel loved and attended to. We go beyond our limits to offer all we can because making money is not just our whole purpose. We believe in making friends for life. And that is what everyone experiences here and feels when they come here. I hope and i am sure that whosoever comes here in the future will see through the utter dishonesty of the above review left by this group. I wish them light so that they can have the right senses to see through the beauty of things and people but i would not recommend them to anyone unless they go through a transition. I have travelled the world, worked and lived in 4 continents and yet have no ego, always willing and wanting to learn - never focus on just money- made friends everywhere and host so so many people here from differrent countries and yet this is the first time i have encountered a group of people like that. I just wish them happiness and growth but please do not take a chance of hosting them.
---
I'm a simple open-minded happy person willing to go the extra yard for my friends and guests. A semi-professional mountaineer and a relationship counsellor and motivator. A friend's friend who is always trying to make a create a happy experience for everyone around. Well, after…
Antwortrate:
100%
Antwortzeit:
innerhalb einiger Stunden
Entdecke weitere Optionen in und um Dhanolti
Noch mehr Unterkünfte in Dhanolti: