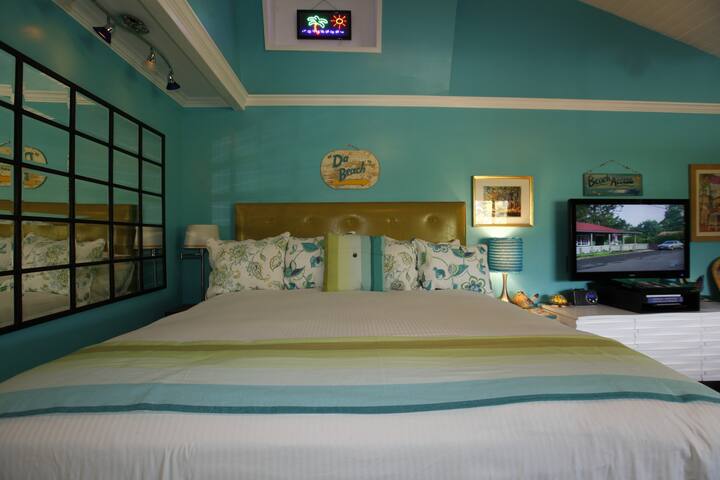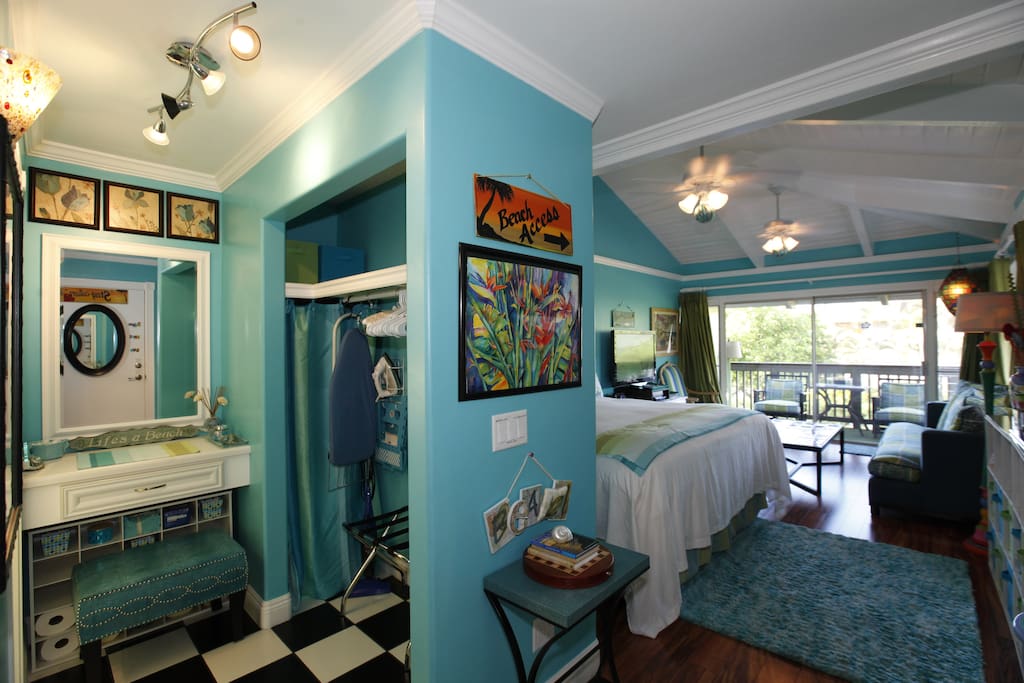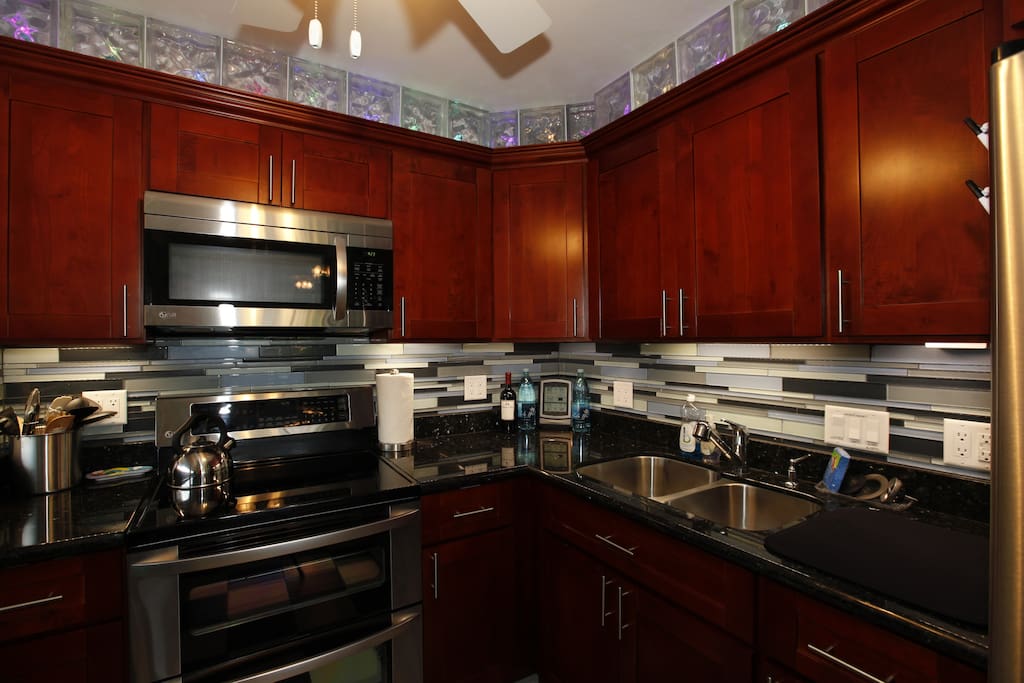 *****Tracy's Tropical Treasures were VOTED the #1 Vacation Rentals in all of Maui*****
I own 4 Tropical Treasures in Maui and manage multiple others. Tracy's Tropical Treasures were named the #1 Maui Vacation Rental in 2016. I have 4 units to choose from.
For award information, simply go to Tracy's Tropical Treasures and look under the tab "Awards". Tracy's Tropical Treasures also made the shortlist of "Radical Businesses in the 50th State". This article can also be found under Awards.
Der Wohnraum
WELCOME TO TRACY'S TROPICAL TREASURE #2 IN MAUI, "THE CORNER PENTHOUSE."
We are super excited that TRACY'S TROPICAL TREASURES were named the #1 BEST VACATION RENTAL IN ALL OF MAUI.
Tracy's Tropical Treasures are also SOME OF THE ONLY LISTINGS IN ALL OF MAUI TO EARN *5* OUT OF *5* STARS IN ALL 7 AREAS ON AIRBNB! In addition, they have also earned *5* out of *5* stars in all 7 areas on Flip Key and a perfect score on TripAdvisor, too.
Don't delay, book today, our guests love it, and we have been Superhosts on Airbnb every single quarter for over 4 years!
* Our nightly rates already includes all Hawaii State tax! So no additional taxes will be added.
*****If you want additional information or require assistance during your stay, I can be reached anytime by Telephone or Text at area code 808 then 283 then 3987.*****
Super easy and "lightning fast" check in, just enter your "secret code" and open the door. Even faster check out, just close the door behind you. Flight delays and/or late arrivals are never a problem when you stay at Tracy's Tropical Treasures!
If your dates are not available, please check the other 3 units we own. They are also listed on Airbnb; TRACY'S TROPICAL TREASURE #1 IN MAUI and TRACY'S TROPICAL TREASURE #3 MAUI. In addition, my newest unit, Tracy's Tropical Treasure #4, is set to open for business on 10/25/2017. It is remodeled from top to bottom and fully loaded. I also manage other units at the same complex and throughout Maui so I'm happy to help with all of your travel needs. ;)
Tracy's Tropical Treasures are all owner operated and owner managed, so no middle man management companies involved.
Tracy's Tropical Treasure #2:
Experience the ultimate in comfort, luxury, and style with a FULLY LOADED, LIGHT AND BRIGHT, ROMANTIC AND FUN, CORNER MAUI PENTHOUSE (containing a floor area of 665 SF, including an extra large lanai of approximately 210 SF).
This is the third largest unit in the whole complex! It is a second story, walk up TOTALLY PRIVATE condo with awesome cathedral ceilings and its own private walkway entrance. Please note that because the building has only two stories, there is not an elevator.
This luxurious penthouse unit is located right on the corner, so you really only have neighbors on one side. This is an extra special unit because there are only two units in the entire condo complex with 3 sets of windows, and this happens to be one of them! Our favorite feature, however, would have to be the extra large, 200+ SF, L-shaped, fully carpeted, wrap around lanai. Again, this is a unique feature that only six units have, all other lanais in the 118 condo complex only have 70 SF of space. Think of this extra special space as an extended living room/dining room/lounge area! There's even an extra fridge outside. It's totally awesome!
IN ADDITION, THIS CONDO IS LESS THAN 300 FOOTSTEPS AWAY FROM THE OCEAN, BEACH, AND A BEAUTIFUL PARK WITH FREE PARKING, OUTDOOR PICNIC TABLES, BBQ GRILLS, AND EVEN SHOWERS. NOW THAT'S WHAT I CALL TRUE PARADISE!!!!
Stay in our newly renovated, deluxe PENTHOUSE STUDIO, and save your hard earned money for fun Maui activities/tours, unique boutique shopping, and fabulous fine dining!
Book today, and enjoy $45,000+ in "top to bottom renovations" including brand new, top of the line furnishings throughout. Our coastal décor is artsy, trendy, and features stylish, designer, high-end pieces, and top-of-the-line luxury items.
In addition, it is FULLY STOCKED with EVERYTHING YOU WILL NEED to completely enjoy your Maui vacation at the BEST POSSIBLE PRICE, THUS SAVING YOU EVEN MORE MONEY AND ACKNOWLEDGING THAT YOUR TIME IN PARADISE IS PRECIOUS....
We will happily handle the shopping, stocking, cleaning, and other important details so that your Maui vacation can be truly special, extra romantic, and extremely relaxing. We have been in the Hospitality Industry for over 25 years, and it's really how we live our lives. PAMPERING OUR GUESTS IS OUR NUMBER ONE PRIORITY! PLEASE TAKE THE TIME TO READ OUR REVIEWS FOR THE PROOF.....
RESORT LIKE AMENITIES include a high powered air conditioning system, 4 ceiling fans, keyless entry, twin bathrobes, triple sheeting with very soft and luxurious custom bedding, Cariloha Resort 100% bamboo bed sheets: $259 sheets, 1200 thread count designer duvet cover, a super comfortable, ultra plush, king sized pillow top mattress (almost every single one of my guests say this bed is the BEST BED they have ever slept on!), 100% bed bug protection, pollen protection, and dust mite protection through very expensive and advanced zippered allergen barrier mattress and box spring fabric encasements that are also 100% pesticide and chemical free, tons of fluffy and fresh down filled pillows, two extra large (46" and 52") Sony flat screen HDTVs, sparkly granite with under cabinet lighting, glass blocks with rainbow, ambient lighting above kitchen cabinets, romantic mood lighting above the crown molding in both living room and bedroom area. In addition, this unit has one of the largest lanais in the entire complex. For your added comfort, the lanai has been carpeted and even has a separate refrigerator outside. The condo also comes with high speed wireless internet and two DVD players (including Blu-ray, Netflix, Hulu, other Video Streaming, plus a USB port for playing flash drives). There are over 150 awesome DVD/Blu-ray movies (all genre types, including new releases), a Boston AM/FM acoustic stereo system with optional Ipod hookup (including the IPod cord), Cable TV with 80 channels, and even a built in digital safe that lets you choose your own code.
As a special bonus, you will find a large collection of informative Maui books, an assortment of interesting Maui magazines, several creative & fun card and/or board games, the Special Edition Map Book for Maui County, and a very popular Hana "Road Tour" CD that you can help yourself to during your vacation.
For your convenience, there is also a very affordable coin operated laundromat on site with 20 full-size machines; cost is only $1.25 per load to wash and $1.00 per load to dry. In addition, there is also a large, portable clothes drying rack inside the unit.
We also provide plenty of fresh, soft, oversized bathroom and beach towels, hand towels, and wash cloths. You will also find beach chairs, beach bags, pool toys, a beach umbrella, a beach badminton set, a beach paddle ball set, coolers, tennis rackets, tennis balls, yoga mats, a luggage rack, an iron/ironing board, a hair dryer, a fully stocked First Aid Kit, a Sharper Image Sound Soother Machine that features 20 digital, calming sounds to help you experience maximum relaxation throughout your stay. There is even an insulated, custom picnic basket and special cooler for your car that plugs into your cigarette lighter (keeping everything inside chilled for hours and hours).
Last but not least, other useful items stocked on site include paper towels, toilet paper, garbage and Ziplock bags, dish soap, kitchen sponges, plus toiletries like Q-Tips, cotton balls, shampoo, conditioner, soap, shower gel, sunscreen, Aloe Vera, and even lotion. The list just goes on and on. The premier location, coupled with the over abundance of amenities we provide, hopefully will make Tracy's Tropical Treasure #2 the TOP CHOICE for your Maui Vacation!
I absolutely hate checking into a new place that is not already stocked with supplies, don't you? That will never happen if you stay at Tracy's Tropical Treasure. SAVE TIME AND MONEY BY BOOKING NOW....
I just can't understand why anyone would want to pay triple the price to stay in a cramped hotel room without the convenience of a fully stocked kitchen with full-size appliances. Did you know that almost all hotel rooms in Maui are under 300 square feet?
Also, with our 665 square foot penthouse (including an extra large lanai), on-site parking, unlimited AC, cable TV, an in room safe where you choose the code, the mandatory Hawaii State Tax of 13.42%, and unlimited WIFI have already been conveniently factored into your daily rate. There will never be any last minute surprises! Don't you just hate that, I know I do. In Maui, unexpected fees can add up fast, especially when most places charge $25 per day for parking plus additional (hidden) resort fees, and even daily fees for WIFI and the use of the in room safe. Give me a break!
My fees are totally upfront: the mandatory accommodation tax in the state of Hawaii of 13.42% that everyone (no matter where you book) has to pay has already conveniently been factored into the daily rate. So, there is just a departure cleaning fee of $135, plus Airbnb charges a small service fee (roughly 9%) for using their site. That's it!
Don't take chances, I've got the place you've been searching for at the BEST POSSIBLE PRICE WITH THE LEAST AMOUNT OF HASSLE. THIS IS IT, FOLKS!
Still not convinced....
The BEACH, a nice PARK, and Maui's only WHALE EDUCATION CENTER, complete with viewing telescopes, are directly across the street (JUST (URL HIDDEN) LESS THAN 300 STEPS FROM YOUR FRONT DOOR, YOU CAN NOT ONLY BE AT THE BEACH, BUT YOU CAN ACTUALLY BE IN THE OCEAN). How cool is that?
In less than 60 footsteps, you will find the pool with restrooms, an extra large, outdoor jacuzzi, a barbecue area with picnic tables, an outdoor shower area, tennis courts, and tropical, lush courtyards bearing fruit trees that offer TOTALLY FREE limes, bananas, avocados, and papayas. Help yourself!
This condo is situated in a perfectly central location. It is within easy walking distance (less than 1 mile) to EVERYTHING: shops, restaurants, beaches, public parks, grocery stores, gas stations, kayaking, surfing, snorkeling, wind surfing, fishing, the "Triangle Night Life", medical facilities: you name it! It's all literally around the corner. In addition, you are just minutes away from Wailea, and only 10 miles from the airport in Kahului. For your convenience, there is also a bus stop within 150 feet from your front door.
You will be DIRECTLY ACROSS THE STREET from one of the most popular wind surfing beaches in all of Maui. It's truly a very peaceful and romantic setting which is conveniently located in the back of the complex, away from noisy traffic.
Once a regular destination for Hawaiian royalty, Kihei is home to some incredible views and six miles of stunning beaches. In addition, it is a KNOWN FACT that sunny Kihei has the best climate in all of Maui – warm weather year-round with the lowest precipitation on the Island! Kihei is also known as the pivoting point to all Maui activities. With six miles of sun-kissed beaches, it's no secret why Kihei has boomed into the island's largest tourist destination!
Your fully equipped, heavily stocked, ULTRA FABULOUS GOURMET KITCHEN FIT FOR A CHEF includes brand new, full size, stainless steel appliances, including a double oven, beautiful, dark, cherry wood cabinetry, under cabinet lighting, and emerald star granite that sparkles in the Maui sun. There is also a microwave, convection oven, plenty of cookware, a coffee maker, a coffee bean grinder, a 4-cup espresso (steam) machine, a blender, a toaster, a rice maker, a food steamer, a crockpot, a full set of knives, and a variety of BBQ accessories. In addition, basic kitchen supplies including an assortment of hot teas, salt, pepper, over 20 different spices, aluminum foil, saran wrap, coffee filters, and zip lock bags can all be found on site.
The custom designed BATHROOM features beautifully tiled walls with hand painted flowers and a fun black and white (checkerboard) tile floor. My favorite feature, however, would have to be the vanity mirror with fluorescent lighting on all four sides. It is the exact same mirror in all the suites at the Four Seasons Manele Bay. For your convenience, there is also a separate vanity/desk area (adjacent to the bathroom), just in case both people want to get ready at the same time.
The very private, extra large, carpeted LANAI is totally awesome! For your comfort, it is equipped with a dining table and chairs, two additional tall chairs with full back and foot rests, a very spacious 5 cubic foot refrigerator, two more full-sized, cushioned lounge chairs with an additional table, 3 lamps, plus a 7 foot long teak couch with a plush mattress and plenty of pillows: perfect for resting, reading, catching the sunrise, surfing the internet, or merely just watching the beautiful palm and monkey pod trees gently sway in the refreshing Maui trade winds.
Besides the beautiful Kalepolepo Beach, rated 4.5 out of 5 stars, located directly across the street (less than 300 footsteps away), you are also less than two blocks away from another beach, the WORLD FAMOUS Sugar Beach – the only FIVE-MILE BEACH WALK in all of Maui!
Isn't it about time to experience the true feeling of peaceful Hawaii? WELL, THIS IS IT, FOLKS!!!
At these bargain rates, days are going fast, so please don't wait to pay. Check the calendar and if it's open, please pay right away…that way you are guaranteed your dates. The first one to pay secures the dates, so don't delay, as we experience multiple emails each day.
If you have any questions, feel free to email me anytime. I will answer all questions within 24 hours - GUARANTEED!
Sorry, but no smoking allowed INSIDE the condo or on the lanai.
ALSO, THIS CORNER PENTHOUSE SUITE IS LIMITED TO NO MORE THAN TWO PEOPLE. Sorry, this is a condo association rule, and unfortunately, we cannot make any exceptions.
Oh yeah, there is plenty of free parking right outside the front door.
As a special bonus, daily maid service and/or mid stay cleans are available for an additional fee. All information is conveniently displayed inside the condo.
THE TROPICAL VIBRATIONS & MAGIC OF MAUI AWAIT YOU...
After booking, always remember to consult your local insurance provider about the benefits of travel insurance.
If you are traveling with a group, it may be possible to book all 3 of my units in the same complex at the same time. They are within 100 footsteps of each other. :)
I am looking forward to speaking with you and sharing my ALOHA spirit. Thank you for taking the time to read my property description!
Mahalo nui loa! Malama pono,
Tracy O'Reilly
This IS a LEGAL vacation rental. ;)
Interaktion mit Gästen
Besitzer wohnt in der Nähe (verfügbar aber unsichtbar). ;)
Owner lives nearby (available but invisible). ;)
---
Diese Unterkunft verfügt über die grundlegende Ausstattung für Geschäftsreisende.
---
Familien- / kinderfreundlich
Kostenloser Parkplatz auf dem Grundstück
---
Gemeinsam genutzte Räume
1 Doppelbett (1,80 × 2 m), 1 Sofa
---
Nicht für Haustiere geeignet
Keine Partys oder Veranstaltungen
Nicht sicher oder ungeeignet für Kinder (0–12 Jahre)
Die Check-in-Zeit ist 15:00–00:00
Eigenständiger Check-in mit keypad
• Check-in time is 3PM.
• Check-out time is 10am.
Please email me your flight arrival and departure times. Thank you in advance for doing this step!
Welcome to Unit 222
You will find detailed driving directions and check in procedures on your Airbnb page under the heading "My Trips." ;)
Please do not smoke inside the condo or on the lanai. If you smoke, it must be in the designated smoking area outside by the garbage receptacles. $150 minimum fine will be imposed if unit has to be ionized for cigarette smells.
After your reservation is accepted, please make sure you have a phone number in your Aibnb profile, and send me a quick e-mail providing your arrival and departure times into Maui.
Check in is anytime AFTER 3PM
Check out is anytime BEFORE 10AM
It is a keyless entry. Your code to enter is totally unique to you, so you can feel extra safe and secure! Your personal code will be the last 4 digits of the phone number you have registered with AIRBNB. :)
PLEASE NOTE: EARLY ARRIVALS AND LATE DEPARTURES ARE NOT AVAILABLE as new guests almost always arrive the same afternoon that current guests depart which makes for a very tight timeline for housekeepers to work within. LATE ARRIVALS AND EARLY DEPARTURES ARE NEVER A PROBLEM AS IT IS A KEYLESS ENTRY.
THANKS IN ADVANCE FOR YOUR UNDERSTANDING ABOUT NOT ARRIVING EARLY AND/OR NOT DEPARTING LATE.....
There is a $25 fee for forgetting to return the Pool/Laundry key.
There is a $25 fee for forgetting to return the Condo Deadbolt key.
There is a $25 fee for forgetting to return the Parking Pass.
There is a coin operated laundromat with 20 machines on site. The cost is $1.25 to wash and $1.00 to dry.
The Security Deposit is only an authorization on your credit card and will automatically be canceled within 48 hours of your departure by AIRBNB (providing that there is no damage).
I sincerely hope that your vacation in Maui is AMAZING!
Aloha,
Tracy O'Reilly
---
Preis-Leistungs-Verhältnis
It was very easy to access the condo exactly as described from Tracy. The condo itself has very warm and friendly atmosphere with a feeling of coming home. Inside is really everything whats thinkable, including a detailed and helpful description of shopping and dining tipps nearby. The neighbors we meet were all very friendly to us. We enjoy walking at the beach which is a minute away on the other side of the road and mostly with only a few people.
---
Tracy quickly responded all my questions. The description of the place was exactly as described, extremely well organized and with all the gadgets you might need to have a pleasant stay. The location is great as the front beach was perfect to watch the sunset and for long walks. We liked the shower with the changing colour lights and the light panel above the bed as we do not have such gadgets in Germany. Tracy is an excellent host and she has a binder in the condo with all information needed about supermarkets and restaurants.
---
It's a cute little studio apartment and she has provided a lot of amenities. We made use of yoga mats, workout dvds, beach towels, pool noodles, and the many kitchen appliances. There is so much more she has there. We also used the coin operated laundry on site and appreciated the free parking. Note though: there wasn't a dishwasher. I would say the downside was that I didn't love the area the condo was in. You can't see the beach from her place and the beaches across the street weren't that great. We traveled down to Wailea to beach. Keep in mind I'm a spoiled Californian that lives right by Manhattan Beach so maybe I'm just being a snob. I'd say if this is your first time going to Maui stay in Wailea instead.
---
This place was fabulous! Tracy has done an amazing job at decorating it and all the beautiful choices she made! The back splash in the kitchen! The Tiffany's-like blue colored walls! The high quality of the linen! The comfortable bed! The large lanai was wonderful and the area was quiet. A good location that was away from the higher traffic area, yet easy to get to places. Very very nice stay.
---
Hawaii, Vereinigte Staaten
Mitglied seit Februar 2009
Aloha from Maui! Congratulations on your decision to book a vacation in sunny Maui, Hawaii; the #1 island in the world for over 25 years. :) I would be honored to help you choose accommodations in Maui that fit your needs, desires, and budget. I own a property management …
Sprachen:
English
Antwortrate:
100%
Antwortzeit:
innerhalb einer Stunde
Entdecke weitere Optionen in und um Kihei
Noch mehr Unterkünfte in Kihei: