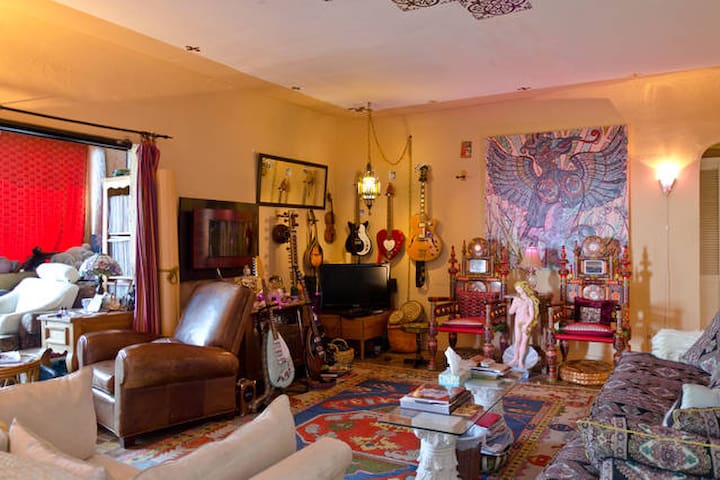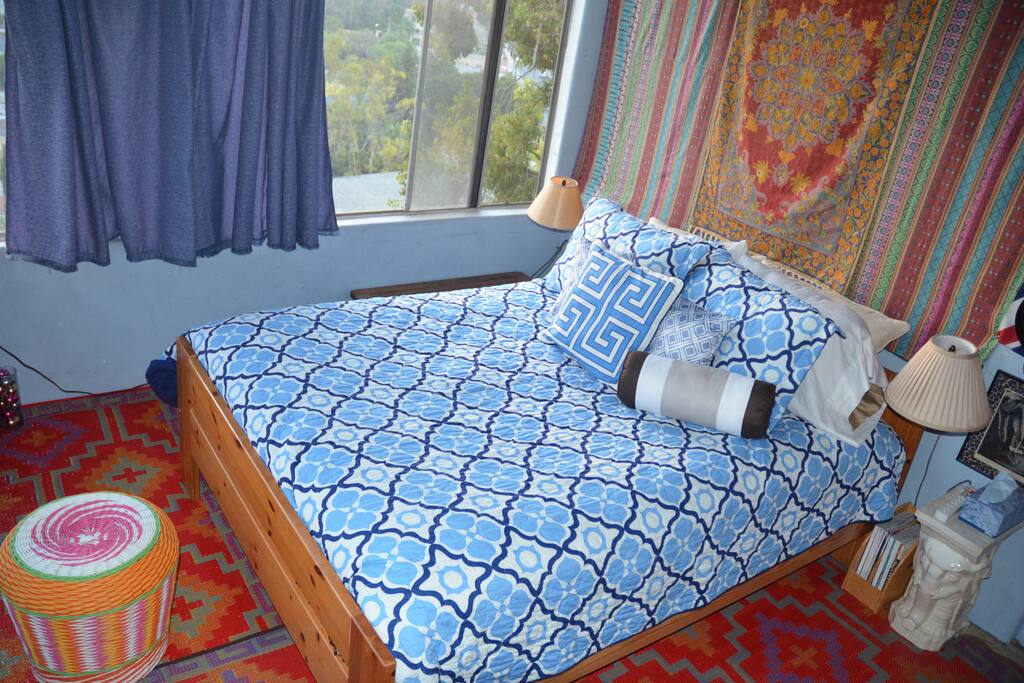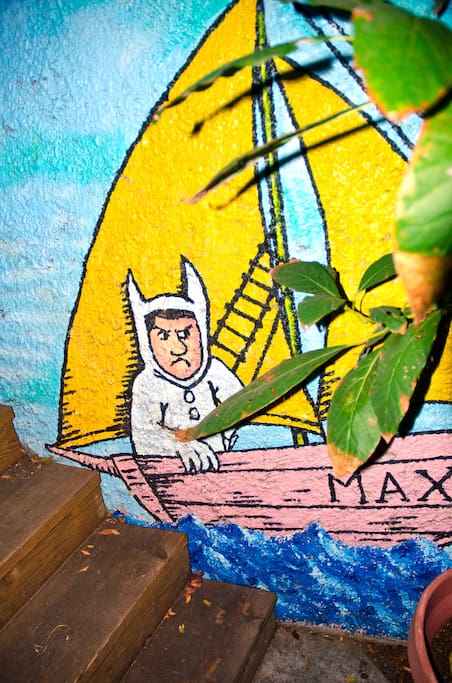 Über dieses Inserat
Welcome to our groovy 1925 Spanish-Moroccan Silver Lake house! You'll Love: spacious, walk to clubs, shops, eats, views, own minifridge. Dig our amenities: window-installed air conditioner for hot summer nights, squeaky clean shared bath, instruments, movies, ROKU TV, rooftop deck w/ fabulous city views, Zen garden w/ murals! Chill out!
---
Art des Bettes: Richtiges Bett
Art des Zimmers: Privatzimmer
---
Kostenloser Parkplatz auf dem Grundstück
---
Zusätzliche Personen: 5€ / Nacht nach dem ersten Gast
Wochenendpreis: 79€ / Nacht
---
Welcome to our groovy 1925 Spanish-Moroccan Silver Lake house! You'll Love: spacious, walk to clubs, shops, eats, views, own minifridge. Dig our amenities: window-installed air conditioner for hot summer nights, squeaky clean shared bath, instruments, movies, ROKU TV, rooftop deck w/ fabulous city views, Zen garden w/ murals! Chill out!
Welcome to our groovy 1925 Spanish-Moroccan Silver Lake house! You'll be in one of our private bedrooms. Love: spacious for two,walking distance to best clubs, shops, eats, unbelievable views, equipped kitchen, your own minifridge. Dig our amenities: shared bath, instruments, movies, ROKU Streaming TV, rooftop deck, harem tent! Chill out!
Please note: If you send us an inquiry after business hours, it may be mid-morning before we see it and have an opportunity to respond. We have enabled Instant Book so you can complete your reservation without needing an immediate response from us. After business hours we may not be checking the website, so send us a note, but go ahead and book after hours.
We have a flexible policy regarding late check in, and are usually up until midnight or 1 am, however, early check in may not be possible due to the amount of time required to launder and change out the spaces. Check in is at/after 4pm. Suggest grabbing a meal or a drink locally and giving us adequate time to make your room up. Thanks!
We love our hillside Spanish-Moroccan home in the epicenter of the Silver Lake-Echo Park matrix, with colorful exterior murals and amazing views from the rooftop deck or your 'real' bed with spring coil mattress! Guests tell us their bed is the best Airbnb bed they've ever slept in. Take in the city lights or the sunset nightly from your Queen-sized perch or the outdoor living area on the rooftop deck, kitted out w Adirondack chairs for lounging, a high dining table, or low, for enjoying a meal with a view.
Your room at our place has a super-comfy queen-size bed, freshly-laundered 400-count 100% luxurious cotton sateen sheets, bolsters, throws and sham pillows to prop up for TV or skyline views, Egyptian cotton blankets, velour and polarfleece blankets for chilly months, a wardrobe of duvets to keep your bed looking sharp, a minifridge, water heater, premium coffee, teas, and wireless internet. We offer Roku w HBO and Hulu, all streaming, or borrow our screeners and DVDs to view on your laptop. There's magazines in the living room, so always something to read. Help yourself to anything you like.
Best of all, you've got a Million Dollar View!
Outdoors, you'll find two fabulous spaces to chill out. Just off the kitchen/dining area there's our cool, shady cactus Zen garden, where you can enjoy the wall mural from Maurice Sendak's popular 'Where The Wild Things Are' book, an excellent place to have a smoke or a cool drink, or head up the steps to the rooftop deck for stellar views!
Book with confidence allergy sufferers! We are a pet-free property.
There's no parking restrictions in our immediate neighborhood.
Thanks for your interest! :)
Guests should consult House Rules in advance and ask their guests to read them also. Wifi password is listed under House Manual, the signal is called VIX. Password is my 10-digit phone number (last 10 digits).
There's musical instruments available to noodle on, plush cotton robes and stylish towel sets, rooftop deck access, walk to all the attractions that make Silver Lake one of the top ranked places in the world to live/play/work/visit.
Please note: the California drought has taken a toll on our water reserves and our governor has instituted water rationing. Please be considerate of our new water restrictions. The bath has complimentary soap, shampoo, conditioner and washcloths. Please enjoy!

Your room has tv with Roku premium channels as well as free programming available through the Roku platform. Enjoy!
The kitchen is fully equipped, and you may use our pans to prepare a light meal, please clean up after yourself. Please use the kitchen with deference to the hosts, and anticipate meal prep as occasional and brief. We provide coffee/tea in your room, but we don't serve a hot, cooked meal.
The rooftop deck is where you can enjoy the stereo speakers piped up from the house, lounge and take in the views, or grill something on our new gas barbecue. Please keep the common areas of the house as tidy as you found them.
We are quite fun and funny.
We love the Arts.
We love hanging out with our guests, and sharing our first-run screeners, which you may borrow to watch while staying with us.
Airbnb is fundamentally different from a hotel. We do not permit our guests to host parties or disturb residents by staying up all night. You are a guest in someone's home. You are responsible for cleaning up after yourself, particularly in shared spaces like the bathroom. We do not provide maid service, cleaning fees insure you arrive to a clean space which you must maintain for other guests, so everyone enjoys their experience equally.
Fitting into your host's household gracefully requires sensitivity and considerate behavior. Be sure you read and understand the spirit of House Rules. Be aware that you and the other guests staying here are Sharing the Space with homeowners who are hosting you and treat their space with respect.
We often have requests for recommendations, and are happy to share our knowledge of the area. To enrich your experience, and facilitate your ability to navigate around town, we suggest you download these apps:
DOLA
YELP!
Citymapper
GOMETRO
GROUPON
DOLA is great for comparing events you may want to catch, including rock gigs. You can buy your tickets thru their portal or save on the fees and buy at ticket window if you feel lucky. Yelp! provides user-reviews of restaurants and local businesses. Be sure you scroll thru the pictures for menu items and pricing.
Citymapper provides up to the minute info on public transit, travel times, walking routes and traffic.
GOMETRO is LA's public transit site and can help w Oyster cards, etc.
be sure you Chaco out Groupon for locals deals on good, services and DISCOUNTED meals.
We are happy to chat, and usually greet you when you return in the evening to ask you how your day went and share a moment. We don't expect you to engage in a long exchange, so don't feel obligated. :)
If you want to hang out with us, you are welcome to join us if we're doing something communal. We also like our solitary pursuits, like reading or noodling on guitar.

Please use discretion when inviting another person to stay at our house. Your profile is all we have to base our decision on, and all guests sleeping in our home need to check-in with you. New friends not booked in advance with us should host your romantic adventure at their place.
One of us is usually around to supply you with directions, suggest points of interest and our favorite shops, restaurants and destinations, and local history. Please check out my Guidebook for local recommendations of restaurants, shopping and points of interest.
https://www.airbnb.com/manage-listing/1606014/guidebook
ALSO a general disclaimer:
You will hear the TV and music we play, until about midnight, or a tad later. We aren't loud, but we will use the living room daily.
We cannot guarantee our schedules will meet your expectations for silence in the evening. :)
Ambient noise should be expected.
We provide earplugs, but the house is generally active until midnight and if you need quiet before, you will have to adjust your schedule to avoid aggro. Please let us know if you would like earplugs, or check under your TV for a fresh pair. :)
We strive to accommodate you, our guests while maintaining our lifestyle.
FILM STUDENTS~> *We also have film students and indie producers contact us to ask about renting out our home as a location. We do occasionally allow film crews to shoot for a few days, but plan on paying a daily rate comparable to location fees, not our hotel rate.
Film shoots must not conflict with bookings for guests so please allow for vacancies to open.
Keep in mind your film shoot necessitates me freeing up my hotel booking schedule and location fees are commensurate with cost of lost hotel revenues for all of our listings here, plus costs associated with a large crew on site displacing the homeowners from our space for 12 hours. Film shoots are accommodated only in 12-hour increments, either 7am-7pm, or noon-midnight.
Location fees start at $350/day for student films and go up to $500/day for indies, depending on the number of areas you will use to film, and are not booked thru Airbnb.
Studio TV/films rate $1500/day. You must provide your own insurance indemnifying my home and present policy at time of booking, along with a limited contract stating terms.
Thank you for reading this section in the light of our good intentions for a pleasant stay! :)
Silver Lake is an artist's enclave that has always enjoyed a secret cachet. Now the secret's out!
Our little neighborhood has 'come up' the past 20 years, and become a music Mecca as happening as Austin TX and as bohemian as Greenwich Village or the East Village in NYC.
We have groovy farmer's markets twice a week where you can buy organic veggies and fruit, and shop handmade artisans' wares.
The first movie studios in Los Angeles were in Silver Lake!
Many of the original structures have been converted for alternative use.
The Charlie Chaplin studio is around the corner, and now is a storage facility.
Walt Disney's first studio is a specialty grocery store!
The Laurel and Hardy movies were filmed on Silver Lake streets, and the 'Music Box Steps' where the duo famously repeatedly pushed a piano up a steep staircase is memorialized at Sunset Blvd and Micheltorena just past the Free Clinic.
Nearby 'Red Hill' in Echo Park has the highest concentration of restored Victorian homes in LA, and was the original home to writers working in the early studio-system, and became known as 'Red Hill' for the concentration of blacklisted writers who refused to name names during the McCarthy hearings.
The steepest streets in California: Fargo and Baxter, are a few blocks north, just off the 2 FWY terminus if you want to conquer a mountain, but have the time for a hill.
Lately, our neighborhood has undergone gentrification, which has made it a desirable destination for artists, actors, film professionals and music lovers worldwide.
World-class dining waits around every corner and along any main drag.
We love all the Mexican restaurants for their generous portions and authentic cuisine, but there's global cuisine of the highest caliber walking distance from us.
You can park on the neighboring streets near our house without fear of vandalism, tickets, or towing.
Silver Lake, as you probably are aware, has the best nightlife in all of LA.
All the best touring bands stop to gig here at one of the world-class dive-bar destinations, like The Echo, The Echo Plex (just downstairs, and recently host to The Rolling Stones kick-off of their west coast leg), Silver Lake Lounge, The Satellite (formerly Spaceland), El Cid, Los Globos, or any of the dozen or so nearby record stores and galleries that offer free in-store appearances.
Great shopping is around every corner, La Luz De Jesus gallery has mind-blowing happenings and art openings we can hippen you to, and it's also a kitch and collectable shopping must-see.
Did I forget anything?
AT LAX:
Clever Travel Hacks for Surviving LAX
It's the sixth largest airport in the world. A 70's era loop of traffic and chaos. Drivers are brutal. Travelers are confused. Parking is near impossible, and when you do manage to find a spot, it's not only the price of a modest Midwest home, but inevitably, it's as far away from your ticketing area as possible. And think about this: LAX has nine separate terminals; Dante's hell has nine separate circles. Coincidence?
Fortunately, you've come to the right place. We've collected the best secrets from frequent fliers for dealing with the madness. Buckle up, we're ready for takeoff.
1. Cheap Parking
Forget the middle lots. Try Park 'N Fly instead. It's walking distance to Terminal 1. And if you happen to have a Southwest frequent flyer card, you can save 15% at checkout.
2. Skip Security
Yep, you don't have to deal with those lines. Just apply for a TSA Pre® for $85, or go all out and spend $100 for Global Entry. You get expedited Customs & Immigration, fingerprint-readable kiosks get you to the front of immigration and customs' lines when entering the U.S., and Pre saves you the hassle of removing your liquids, keys, laptops and other accoutrements.
3. Great Food
Bet you never thought you'd see those words in the same context as LAX, right? We like ink.sack and 800 Degrees at Tom Bradley International Terminal, El Cholo in Terminal 5, Gladstone's 4 Fish in Terminal 3 and Pink's Hot Dogs, which is outside security in the Bradley Terminal. But many frequent travelers will tell you the best food is in Terminal 7. B Grill by Boa Steakhouse has a fantastic menu. Try the Camembert Hamburger!
4. Unlimited Drinks
Most airline lounges are expensive, depressing places, where the highlight is day old pretzels. We recommend heading over to Terminal 3, where you can visit the Virgin America Loft. For $40, you'll get free Wi-Fi, snacks like soba noodles and shrimp Caesar salad and all-you-can-drink cocktails. Try the Mile High Margarita!
5. Avoid Airline Connection Buses
It's a hassle to travel from one terminal to the next. But if you're heading from a low-numbered terminal to a higher-numbered terminal, say from 2 to 8, you don't have to wait endlessly for one of the Airline Connection buses under the blue signs. Instead, take any of the LAX buses. They stop at each terminal, too. Just don't take one if you're going from a high-numbered terminal to a low-numbered terminal, or you'll end up parking in Lot C or Cleveland or somewhere.
6. Shorter Security Lines
Flying United? Skip security at Terminal 7 and head to Terminal 6 instead (they're connected, don't worry.) The lines at 6 tend to be much shorter. Remember to walk along outside the terminal, or TSA reps will direct you back to the longer lines. The same holds true for American's Terminal 4. Maneuver past the airline rep at the Eastern end of the terminal monitoring boarding passes for Priority Access (we do it by saying our companions have Pre and went ahead of us), and you can get in a usually much-shorter security.
Uber has special credentials for entering LAX for pickups. But if you head to one of the hotels on Century Boulevard (there are plenty of free shuttles), you can call Uber from there, and save yourself from having to book a regular Uber car. The Sheraton is your best bet, namely because its beer bar has more than 100 different brands and another dozen or so on tap.
***8. Head East for a Mere $8
Heading to the eastern parts of LA? Yes...
Take the FlyAway shuttle to Union Station. It only takes about 45 minutes and costs a reasonable $8. Then catch a taxi or Uber from there.
9. Flight Delayed? Time for In-N-Out!
Rather than sit around fuming, indulge in LA's favorite guilty pleasure. Take the Parking Spot shuttle to Sepulveda, and boom, you're there.
10. Avoid Traffic
You can use LAX's levels to your advantage. Think about which level people are more likely to be on at each time of the day (mornings will be heavier on departures, for example), and use the opposite. Bonus tip: On the upper levels the police won't bug you as much to move along.
11. Secret Passages
When you have to move from one terminal to another, it can be a colossal headache with having to go through security multiple times. But at LAX, many terminals are actually connected behind security through walkways or tunnels. Terminals 5 through 8 can all be accessed from behind security, so that includes United/Continental, Delta and (soon) Alaska Airlines as well as some smaller operators. Though there is a tunnel between American's Terminal 4 and Terminal 5, it's not open to the public.
LOOKING FOR A RIDE, or RENTAL?
Everyone in LA drives! Ride sharing is a hot new trend. People with cars pick you up and drive you or lend you their car for a fee.
Both services are licensed, bonded and insured, so you can rent with confidence.
Head East for a Mere $8
TRAVEL TO MY PLACE ON THE CHEAP:
Heading to the eastern parts of LA? Take the FlyAway shuttle to Union Station. It only takes about 45 minutes and costs a reasonable $8. Then catch a taxi or Uber from there.
DIRECT DEPOSIT:
We recommend renting a car (try relayrides via the web), or catch a 'Super Shuttle,' 'Prime Time' or similar vans for a lift from the airport, check around the curbs at terminal- to our place for between $35-50, depending on how many stops and passengers the van has when you depart. Fly Away Shuttle from LAX takes you to Union Station in Chinatown for $8. This is your most affordable option by far. Uber to my place from Union St.
Or use uber, or lyft, for a private taxi, or relayrides to rent a privately owned car. Download their smart phone apps!
These are internet services and are searchable. And don't forget to download Yelp! for advice on restaurants.
Rush Hour in and around LA is shocking to a lot of our guests and with careful planning you should be able get around it. Factor in two rush hours of 5-hour duration morning and afternoon and avoid driving during them whenever possible. Instead choose activities that will amuse you until afterwards like watching a sunset or spending Happy Hour with a cocktail and appetizer. Morning Rush Hour is 5:30 am-9:30am. Afternoon gridlock stretches from 3pm-7pm. Plan accordingly.
PUBLIC TRANSIT: Buses are nearby on Sunset and subways at Santa Monica Blvd, and along Beverly, Vermont, Hollywood Blvd in the heart of Hollywood near Vine Street and can take you downtown, to Long Beach, Union Station to catch an Amtrak train, or out to the San Fernando Valley, where the major movie studios located in former orange groves.
Amusement parks like Universal in Studio City are a few exits up the 101 FWY, Disneyland and Knott's are down the 5 FWY 30-45 minutes south, providing you allow for rush-hour traffic to clear.
Magic Mountain is north on the 5 FWY 30-45 minutes, and be sure you take in Venice Beach, west on the 10 FWY for it's wacky street-merchants and performers populating the 'Strand' along the sand's edge.
HOLLYWOOD SIGN: It's difficult to find and impossible to park near so take note.
Start at LAKE HOLLYWOOD PARK
3160 North Canyon Dr.
If this view is enough, you're done!
Want to get closer? Get out and hike!
Walk up Mulholland Dr. to Durand Dr. to Legdewood Dr. To Rockcliff Dr. to Deronda Dr. at intersection of Mulholland. Look for the white arched wall marked 6010 and pass under the arch and walk up the path. Look for signage to the Mt. Lee Trail. More photo ops available on Trail, or continue on to Mt. Lee Summit which will take you above and behind the Hollywood Sign.
Snap selfie.
RENT A BIKE! There's bike paths everywhere in Silver Lake, great wilderness hikes, and a walking trail around our lake, and bike paths along LA's famous beaches, and places to rent bikes for the day/week nearby.
OR WALK: Silver Lake's hilly terraces have dozens of secret public stairs every few houses that lead to the main streets downhill, they are public & better than a Stairmaster! Web search for 'Secret Stairs of Silver Lake.'
The trail around Silver Lake reservoir and its park are popular and a nice 3.3 mile walk/jog roundtrip. Sunset Junction shopping and our amazing nightclubs are an easy walk so long as you remember the uphill pitch at the end and wear appropriate footwear! There's a shortcut at Silver Lake Bl. and Berkeley that will shave a mile off your walk to Sunset Junction and deposit you at Micheltorena primary school a short distance from the Music Box stairs on Sunset Bl. Your smartphone maps app will help you navigate the area on foot as well as by car.
DRIVERS: AVOID sitting in your parked car for extended lengths of time. 'Puff' in our private spaces here -not in your car.
LA cops give no quarter to drivers drinking or puffing in their car so be aware, a DUI is a drag.
Should you encounter police, be polite and smile.
It's a big city, be street-smart!
Don't leave valuables in your car.
On main streets, like Sunset Blvd. there's a new pay-by-credit-card street parking policy so you don't need to carry a pocketful of coins or check your watch, but you should check for signs when venturing into the shopping districts to avoid unpleasant surprises!
Look for a sign with a large P. Often this is your only indication that the street has a payment required and look for the credit card pay station. These areas have had meters removed, and so 'look' free, but are heavily patrolled and can entail hefty fines.
But once you get into our neighborhood, a lot of these shopping districts can be walked to from our house, or hop a bus, or subway and hoof it.
If you'd like to bus it, download the Go Metro LA app from iTunes or Android for bus and subway schedules and prepaid TAP cards. Bus stops are just down the hill and can be hopped to subway stations to take you further afield. You ought to thoroughly plan public transit excursions in advance for for best results.
ONE MORE THING FOR DRIVERS:
It cannot be overstated that LA is an extremely expensive city for drivers. Parking tickets routinely run $93, and the city is making budgetary ends meet by towing cars at $270 a pop. Add in an extra $190 per day they have you impounded and a simple oversight of not checking posted restrictions could ruin your trip. Cars that have been towed Always have a parking ticket attached to the windshield wiper.
Scout the street for signs and use a parking lot when possible. Never ever imagine an extra 15 min won't hurt. Tow trucks circle blocks waiting for the curfew, which is often 3-4 pm on city streets.
$5 to park in a lot could save you $500. No exaggeration.
IN MY HOOD:
Beware if you are trying to access the Glendale 2 Fwy north or the 5 Fwy from our place at the corner of nearby Berkeley at Glendale Bl, where you make a left turn at the Arco gas station, Be Aware! This left turn looks legal but may cost you hundreds of $$$.
After 4 pm it becomes a 'no left turn' speed trap. A cop often is lying in wait just up Glendale Bl waiting for the strings of autos turning left off Berkeley onto Glendale Bl going north towards on ramps. He will step into the middle of the intersection and flag down all the vehicles unwittingly turning at what looks like a legal left. This is a 'rush hour' ticket and its expensive! Keeping an eye peeled at the light is best strategy.
A work-around is to continue thru the light and either make a left up the steep little street behind Glendale called Allesandro, and come down the hill past the speed trap. Or turn into the corner strip mall and wait thru another light at the same corner.
Or use a different route out of the neighborhood using Scott, or Montana. I've petitioned the local city reps, but this corner is a cash cow for the city and they aren't about to give up the revenue. CAVEAT!
Take the FlyAway shuttle from LAX to Union Station. It only takes about 45 minutes and costs a reasonable $8. You'll be super close to us and near Sunset Blvd, our cross street. Chinatown and Olvera Street are walking distance.
Have lunch at Phillipe's French Dip sandwich across the street- I recommend the lamb and blue cheese w the spicy mustard.
Then catch an Uber to our place from there.
We have a long set of stairs leading down to our house- great for privacy, but please use caution! Although it's rare that we have rain in LA, the stairs will be slippery if we do, and you will need to be smart about taking extra precaution to avoid potential injury. Please don't use the stairs in a rush! We want to enjoy your stay with us!!
Non U.S. citizens: be aware we have different traffic laws here. Always park you car in the same direction as the other vehicles when choosing street parking. This will prevent your car from being cited with a ticket or towed away. Read signs for possible parking restrictions and do not expect the area is not patrolled for violations. Check out more caveats in my 'Getting Around' section.
TIPPING: A good rule of thumb when tipping is $3-$5 for a taxi, Uber, or Lyft, $1-$2 each time the server comes to the table to deliver food or drinks, or 20% of the bill if you're happy with the service, whichever is higher. While in a bar, tip $1-$2 per round, each time a drink is ordered. Hair salons or massage $10-$20. It allows service workers to live here.
Los Angeles has the third highest cost-of-housing in the country, just behind New York City and San Francisco. Wages here are not commensurate with our cost of living, so Always Tip Generously.
BEST SPA: Try nearby Beverly Hot Springs for a soak and service. Real geo-thermal water rich with minerals makes Beverly Hot Springs the best spa in LA.
Tue-Wed-Thur they have 'Happy Hour' pricing before 2pm, with deep discounts on massages, facials, etc. Admission is free when you purchase a service, $30-$40 if you just go to 'take the waters.'
**Book w confidence! The bathroom is always clean when you arrive. Common areas outdoors are swept and maintained to our high standards. Trash is removed as needed and the kitchen sink is free of dirty dishes and debris.
Thank you again!
---
Nicht für Haustiere geeignet
Keine Partys oder Veranstaltungen
Nicht für Kinder geeignet (0-12 Jahre)
Die Check-in-Zeit ist 16:00 – 23:00.
• Check-in time is 4PM - 10PM. You must arrange a time in advance as we are not always home, and have busy schedules.
• No parties or events
• Not suitable for sick guests, pets, or small children, toddlers.

REASONABLE EXPECTATIONS:
ARRIVAL: Consult a map app to ensure you aren't at my neighbor's house at 1515 Angelus. It happens constantly.
Sick guests should contact me prior to check in so we can arrange a refund.
We do not check guests in after 11pm, so plan accordingly. My phone goes into 'sleep mode' at 11pm and I will not receive texts or calls until 10am the following morning. Please do not contact me about your early arrival in the morning. Check in is @4, and there will be a guest in your room till noon. All cleaning, laundry, and my personal appointments take place between noon and 4. Respect our schedule.
If you Must leave your baggage, open the gate to property and either stash it behind the wooden fence to the right of the gate or bring downstairs into courtyard by murals. If you have a car, please keep your things with you until check in.
It's a shoe-free household so leave your shoes at the door.
My son's unit downstairs is not part of your Airbnb experience and you should respect their privacy.
We do not permit our guests to host parties or disturb residents by staying up all night. Be cool!
NO third party bookings accepted via Instant Book. Guests must be the Airbnb account holder.
PARKING: Do not displace me from my parking spot in front of the gate. Residents park on Silverwood Terrace and you must respect the limited availability of parking and not displace them. Park around the corner on Angelus where parking is plentiful.
You must obey all traffic laws when parking in our neighborhood. Never park your car facing the wrong direction, you will be towed and ticketed by the city. Your car must be parked facing the same direction as traffic travels. Ignore this at your expense!
The Details:
1) You break it, you buy it:
Bottom Line: your security deposit is there in case you break or wreck something.
That said, Airbnb doesn't actually charge you for your deposit unless a claim for damages is filed after the fact.
No Harm, No Foul
2) Bathroom Etiquette:
Leave No Trace-
This is our most important area as the bathroom is a shared space. Thx.
If you lift the toilet seat, lower it again so the bathroom is in satisfactory condition for the next person. This is more important than you might think! If you decide to use the bidet, be sure to wipe the toilet seat dry after.
Due to severe California drought, we must ask you and your guest to limit bathing to once per day. There are excellent Korean spas we can direct you to if you're craving more water than that, but the DWP has placed severe restrictions on our water use, and we expect you to behave sustainably while rationing is in place.
Please be extremely considerate of the household if you use the bathroom in the middle of the night. Care should be taken not to wake sleeping residents by walking on tip toes and closing doors softly.
Use the matches on the toilet tank to freshen the room, incense or air freshener. It's crucial the bathroom be in clean condition for everyone who is using it.
We leave you a terry cloth bath mat draped over the tub, place it on the floor prior to stepping into the shower, and Return It to the tub before exiting. Soaking the mat will leave it wet for the next person, please be considerate and dry off prior to stepping out!
The shower curtain stays inside the tub when you bathe- placing the curtain outside the tub soaks our rugs and floor.

Please select from the clean towels folded in stacks or the towels we provide in your room. Don't ever share our personal towels!
Personal toiletries may be placed in a basket next to the sink for the duration of your stay. One basket per room, please. We provide soaps and shampoos in a bowl next to the shower where towels are stacked.
3) Security:
Both the front and sliding glass/screen doors are locked at all times.
The sliding glass door off the kitchen cannot be secured from outside so please enter and exit by the front door and always take your key with you, just like a hotel.
Please get in the habit of coming and going through the front, wooden door in the living room and avoid taking the shortcut through the kitchen.
4) Kitchen:
Use common areas such as the kitchen with deference to permanent residents: microwave and coffee maker are encouraged but please avoid preparing meals here, our most successful guests anticipate eating the majority of their meals elsewhere.
We offer you a bedroom with a mini fridge, coffee maker and use of a microwave. These are standard motel amenities, our kitchen is for our daily use.
When our nightly rates drop below $80/night, we suggest you bring own bottled water for your daily needs, and plan on paying $5/per load of laundry.
If you plan on bringing home to-go food, please eat it immediately, no long-term storage. Please, NO to-go Korean food leftovers. These are rarely eaten and extremely stinky to dispose of.
6) Afterhours:
Outdoors we ask you to use soft voices after 11 pm but are welcome to hang out and enjoy the views as late as you like.
Please remove shoes once inside so our son who has his own apartment downstairs is not disturbed by sound of heels on our wood floors.
While inside, suggest use of soft shoes or bare feet.
7) Your Room:
You must shut off the air conditioner or fireplace/space heater in your room prior to using the water heater for coffee/tea. Each appliance draws a lot of current and using both will pop the circuit breaker.
If this happens, it Will Not Fix Itself. You must tell me and I will go to the box and trip the breaker.
Please help us keep our household expenses manageable so we can continue to keep our rates low. TURN OFF the LIGHTS, AIR CONDITIONER and Heater in Bathroom, & Your Bedroom When You GO OUT for the day.
Please make your bed upon rising.
It's just easier to look at a made bed, and we provide you with lots of pillows which we dislike seeing on the floor. Also, no sex on top of the comforters. ;) Our washers don't comfortably accommodate fluffy comforters, and really that's what your sheets are for.
Smoking is not permitted in your room.
We expect you to responsibly dispose of used condoms in the trash basket provided.
Seriously, don't leave them in bedding for us to handle.
~> Wet glasses and bottles leave rings on our antiques, spoiling them. Always use wooden coasters when placing bottles or other wet glasses on the desk or teak table. Coasters are on the desk, in a carved rocker.
Avoid using your face creams with benzoyl peroxide before bed, please. They leave bleach spots on our pillowcases, spoiling our bedding. Please reserve strong facial lotions for daytime use and wash off before retiring. Likewise, we appreciate your cleaning your hands before using our musical instruments. Thanks!
There's a clothing rack in your room to hang your towel, or you can pop them into the dryer for a few minutes. Wrinkled clothing is easily remedied by popping into the drier with your damp towel for a few minutes- remove promptly!
8) Laundry:
If you would like to do one (1) load of laundry per week while you're staying with us, we will provide the liquid soap, and fabric softener. Please don't start a load of laundry late at night. The machines are above my son's bed and the noise will keep him awake.
9) Smoking:
We are a 420-friendly home, but would appreciate you smoking in one of our lovely outdoor spaces, and cleaning up your own stubs. While we permit 420 smoking, we do not provide it.
Ashes and butts will blow freely around the property if not removed after use. We don't smoke tobacco and don't like to handle your cigarette butts, so please take responsibility for your own. Likewise, bring your empty bottles and cans in and place in recycling containers.
Airbnb is about personal responsibility and sustainability.
Thanks for staying with us, and we appreciate you taking care of our home!
Vic & Mark
---
---
1 Nacht Mindestaufenthalt
Ab dem 1. März 2017 - 31. Mai 2017 beläuft sich der Mindestaufenthalt auf 1 Nacht.
Preis-Leistungs-Verhältnis
Los Angeles, Kalifornien, Vereinigte Staaten

·

Mitglied seit September 2013
Hi! I'm Victoria, an indie filmmaker and musician/performer working on a self-financed rock musical with my partner Mark, who also lives with me part of the week, when he's not flying with the airlines.
Mark is a DGA member and an assistant director for 28 years.

We both love to collect guitars, exotic instruments and gear.

We also love our neighborhood and understand why you want to visit!

Silver Lake is the center of gravity for artists and free thinkers, yogis and performance artists, writers and musicians, foodies and vegans, and a magnet for every underground subculture.

We are locals steeped in the underground ethos of our neighborhood and the rock and performance art community we inhabit and nurture.

I spent the 90s putting on local events that combined various sub-cultures into themed parties called The Big Bang with my then-partner Greg Shaw, a rock journalist, indie record company legend, and music fanatic.

These days I'm usually home finishing editing our film with my partner Mark.

Please don't hesitate to ask if there's anything we can do to help make your stay memorable.

Thanks for reading my bio and we look forward to meeting you,
Victoria & Mark


Antwortrate:
96%
Antwortzeit:
innerhalb einer Stunde
Genaue Informationen zum Standort erhältst du, nachdem eine Buchung bestätigt wurde.
Entdecke weitere Möglichkeiten in und um Los Angeles
Noch mehr Unterkünfte in Los Angeles: