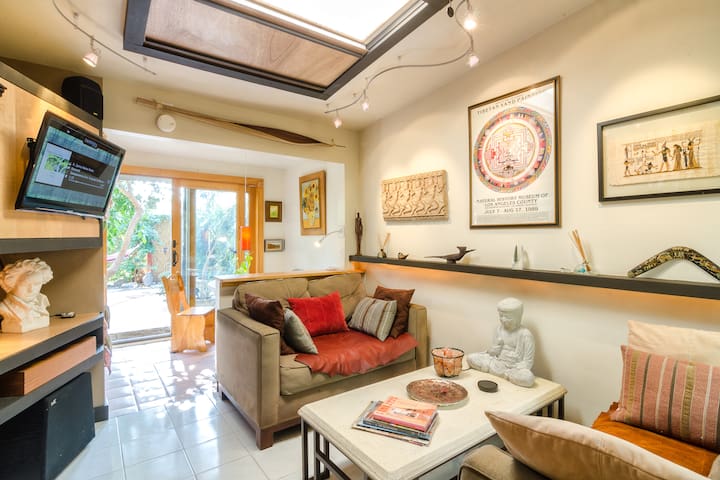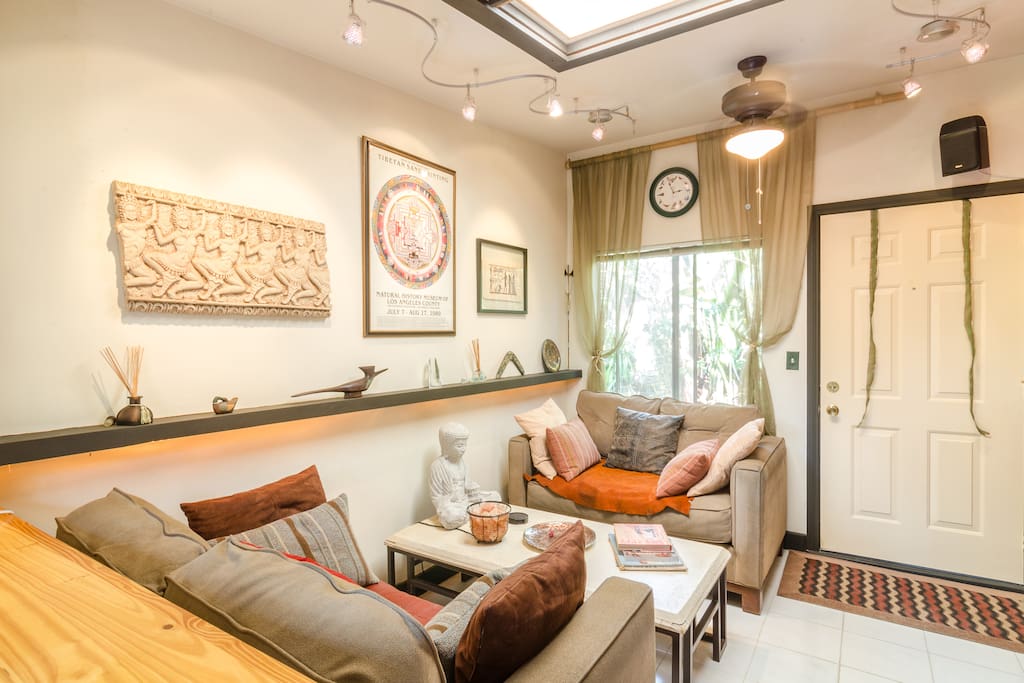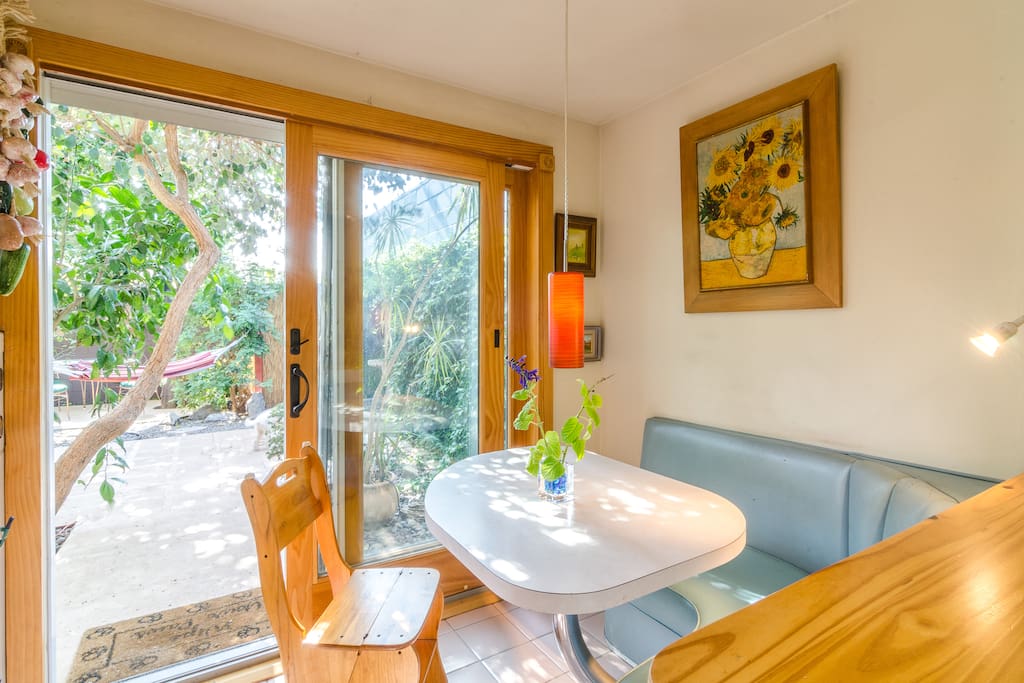 Zen Isle Ambiance +Lively Downtown.
Zen Isle Ambiance +Lively Downtown.
Kühles Haus mit einem Schlafzimmer mit 2 Innen- und 1 Außenkamine, Oberlichter, schöner Garten, Wasserbrunnen, Außendusche, Hängematte, Musik überall. 7 'Theater, Gourmet-Küche, Platz für 2 + 2 auf der Luft, ruhige Straße kurzen Spaziergang zu lebendigen Innenstadt.
Cool one bedroom house with 2 indoor + 1 outdoor fireplaces, skylights, beautiful garden, water fountains, outdoor shower, hammock, music throughout. 7' theater, gourmet kitchen, accommodates 2 + 2 on air, quiet street short walk to lively downtown.
Der Wohnraum
Erleben Sie meine Zen-Insel wie Ambiente, die ein zertifizierter Kolibri und Monarch Schmetterling Lebensraum im Herzen der lebendigen Culver City ist. Machen Sie Ihre Mahlzeiten in meiner voll ausgestatteten Gourmet-Küche, während Sie Musik durchlaufen, einschließlich der Hof und stellen Sie die Beleuchtung Ebene mit der Fernbedienung. Speisen Sie in den 50er-Stand, während Sie das Feuer des Wohnzimmers Kamin oder draußen in den gut beleuchteten Garten mit dem Kamin neben dem Esstisch oder, Sie sind nur einen kurzen Spaziergang zu feinen Restaurants und Nachtleben. Wenn Sie in einem Film auf dem 7-Fuß-Film-Bildschirm im Schlafzimmer oder einfach nur im Bett liegen entspannen Sie sich den Rücken und genießen Sie den Blick auf die Feuer Flammen und beobachten Sie die Sterne durch die Oberlicht, die geschlossen werden können, wenn Sie lieber eine Dunkelheit Platz. Ferngesteuerter Kamin und Beleuchtung; Lichter können eingeschaltet, abgeblendet und mit einer Fernbedienung versorgt werden.
Experience my Zen island like ambiance which is a certified hummingbird and Monarch butterflies habitat in the heart of lively Culver City.
Make your meals in my fully equipped gourmet kitchen while you enjoy music thru-out including the yard and set the lighting level with the remote control. Dine in the 50s booth while viewing the fire of the living room fireplace or out in the well lit garden with the fireplace next to the dining table or, you are only a short walk to fine dining and night life. If you are staying in, enjoy a movie on the 7 foot movie screen in the bedroom or just lay in bed relax your back and enjoy the view of the fire flames and watch the stars thru the skylight which can be closed if you prefer a dark space. Remote controlled fireplace and lighting; lights can be turned on, dimmed and off with a remote control provided.
Zugang für Gäste
Sie mieten das ganze Haus, es ist sehr privat und nichts ist geteilt, außer der Gehweg. Es gibt einen Vorgarten Sitzecke von einem Wasser fallen Brunnen, der Hinterhof ist sehr privat. Es gibt Yoga / Übungsmatten, Außendusche von der duftenden Zitrone Verbena, dort ist ein Kamin an der Dusche, eine Schaukel, eine Hängematte am Wasserbrunnen, eine kleine Propanbarren. Es gibt Obstbäume im Grundstück und ich ziehe es vor, dass Sie die Frucht nicht abholen, ich werde Ihnen mitteilen, was Obst in der Saison ist, frisch im Essbereich gepflückt. Das Haus ist mit einem Projektor und einem 7-Fuß-Bildschirm, Netflix oder Blue-ray-Filmen ausgestattet, der schöne Surround-Sound-Receiver hat Lautsprecher in allen Zimmern inklusive dem Hof, können Sie Ihren MP3-Player mit der mitgelieferten Mini-Steckverbindung verbinden. Sie können lokal von Luft-TV-Kanälen auf dem 32 "HDTV im Wohnzimmer, die auch von der Speisekabine aus gesehen werden (URL HIDDEN) gibt 2 Innen-Öko saubere Brennen Kamine, eine sehen durch leben und Schlafzimmer und die zweite eine elektrische Fernbedienung auf Der Fuß des Bettes, die gemütlichen Flammen können ohne Erhitzung für das ganze Jahr über genossen werden.Dies wurde vor kurzem hinzugefügt und nicht auf den Fotos.Im Haus hat drei Arten von Heizung, elektrische strahlende und keramische Konvektion für die bequemste 100% Saubere, nicht verschmutzende, allergenfreie Umgebungsluft und auch ein 98% sauberes Konvektionsgas für ein schnelles Aufwärmen.
You are renting the whole back house, it is very private and nothing is shared except the walkway. There is a front yard sitting area by a water fall fountain, the back yard is very private. There are yoga / exercise mats, outdoor shower by the fragrant Lemon Verbena, there is a fireplace by the shower, a swing, a hammock by the water fountain, a small propane bar-bq.
There are fruit trees in the property and I prefer you don't pick the fruit, I will provide you with whatever fruit is in season, freshly picked in the dining area. The house is equipped with a projector and a 7 foot screen, Netflix or blue ray movies, the nice surround sound receiver has speakers in all rooms including the yard, you can connect your mp3 player with the provided mini plug connection. You can watch local of air TV channels on the 32" HDTV in the living room that can also be viewed from the dining booth. There are 2 indoor eco clean burning fireplaces, one see thru living and bedroom and the second a electric remote controlled at the foot of the bed, the cozy flames can be enjoyed without heating for year around use. These were recently added on and not appearing in the photos. The house has three types of heating, electric radiant and ceramic convection for the most comfortable 100% clean non polluting, allergen free ambient air and also a 98% clean. convection gas for a quick warm up.
Interaktion mit Gästen
Ich bin in der Nähe von nur einen Anruf entfernt, um sicherzustellen, dass Ihre Bedürfnisse erfüllt sind. Um Ihre Ladung zu lindern, ist das Haus mit einem Fön und Haare Lockenstab ausgestattet, zusammen mit einem Bügeleisen und Bügelbrett, das in der Waschküche eingebaut ist. Nicht mehr verlorene Schlüssel, der Keyless-Eintrag wird mit Ihrem persönlichen Türcode beim Check-in programmiert. Ihr Pass oder grüne Karten-ID ist für den Check-in erforderlich
I will be available near by only a phone call away to make sure your needs are met.
To ease your load, the house is equipped with a hair dryer and hair curling iron, along with a clothes iron and ironing board wich is built-in in the laundry room.
No more lost keys, the keyless entry will be programmed with your personal door code at check in. Your passport or green card ID is required for check-in
Weitere wichtige Infos
Öffentliche Verkehrsmittel 500 Fuß entfernt auf Culver Blvd oder Braddock Drive. Metro Trip Planner ist das beste Tool: (Website versteckt) _pub_start.php Culver City Green Bus: (Website versteckt) Santa Monica Blue Bus: (Website versteckt) Culver City Down Town Culver City ist der neue Hot Spot in der West Side von Los Angeles Bereich. Sie sind nur 5 kurze Blocks entfernt. Es gibt eine Menge los, so definitiv grasen diese Website für Restaurants, verwöhnen wie Massagen, Yoga, Schönheitssalon und vieles mehr: (Website versteckt) Ein malerischer Ort für Leben Musik und ein Cocktail ist das Culver Hotel bei 9400 Culver Blvd. Filmstudios und TV Shows Culver City ist Film Land. Sony Studios und Culver Studios sind die wichtigsten und es gibt mehrere Postproduktionen Studios. Sony Studios: Sie filmen Hauptfilme und TV-Shows, die Sie anfordern können, Teil des Publikums zu sein (im voraus von Ihrem Zuhause zu buchen) in Shows wie: Wheel of Fortune und Jeopardy Call (Telefonnummer versteckte) Freikarten, für Queen LaTifah kostenlos Tickets besuchen (Website versteckt) für TV zeigt Ihnen Sony Studios an der 3982 Overland Ave. Culver City, CA 90232 Tor. Sie können eine Tour von Sony Studios besuchen (Website versteckt) Culver Studios: Sie bieten keine Tour an, aber schauen Sie sich ihre Geschichte an, es ist sehr interessant (Website versteckt) Sehen Sie sich auch an: (Website versteckt) Auf der anderen Straßenseite vom Haus auf Jackson Ave, hatten die Studios kleine Bungalows, die Ankleideräume waren, über die Straße war Laurel und Hardy's. TVTickets: Besuchen Sie diese Website, um kostenlose Eintrittskarten für die Aufnahme von TV-Shows an verschiedenen Orten in Los Angeles (Website versteckt) Museen Sony Museum: (Website versteckt) Clayton Museum: (Website versteckt) (versteckte Website) Getty Center ist ein Muss Besuch, es ist kostenlos, aber Sie zahlen für das Parken, aber wenn Sie mit der Buslinie Metro Rapid Line 761 ankommen, erhalten Sie komplette Route Informationen aus der Los Angeles County Metropolitan Transportation Authority (METRO): 323-GO-METR (Telefon Nummer versteckt)) oder mit dem METRO Trip (E-Mail versteckt). - Sehen Sie mehr an: (Website versteckt) .3x6Dzog7.dpuf Für die Getty Villa: Metro Bus 534 Haltestellen am Coastline Drive und Pacific Coast Highway - Sehen Sie mehr unter: (Website versteckt) .ERuAQ47g.dpuf müssen Sie kostenlose Eintrittskarten im Voraus und für ein Zeitfenster, für kostenlose Tickets bestellen: mailen Sie uns (E-Mail versteckt) oder anrufen (Telefonnummer versteckt). Parks und Erholung Es gibt viel nur einen kurzen Spaziergang zu Down Town Culver City so deffinatelly grasen diese Website (Website versteckt) Auch für Erholungsaktivitäten und Übungen, die von der Stadt Culver angeboten werden Stadt wie Lap Schwimmen in der olympischen Größe Pool, Tennis und verschiedene Klassen (Website versteckt) der Pool ist 5 Blocks entfernt (Website versteckt) _swim.aspx Auf dem Pazifischen Ozean Erholung: (Website versteckt) Whale Watching Touren: (Website versteckt) (E-Mail versteckt) ml Besuchen Sie das Hollywood-Zeichen: (Website versteckt) Theater & Filme Die Ivy Substation: (Website versteckt) Kirk Douglas Theater: http: // (E-Mail versteckt) / Tickets / Saison-Tickets / Kirk-Douglas-Theater / Pacific Theatre Culver Stadium 12 (Website versteckt) _movietimes? Tspstate = 5 & wss = t125x125link Kunstgalerien WWA Galerie: (Website versteckt) Culver City Art District: (Website versteckt) Kunstszene: Schau dir den Kalender dieser Website für alle Culver City Öffnungen an und wenn du mehrere Öffnungen im selben Datum siehst, dann gehst du Bar in der Hoffnung, dass ich die Galerie hoffe, wo man die Künstler treffen kann, aber vorsichtig, weil sie dir Wein anbieten und du kannst enden Up ziemlich betrunken nach dem Besuch ein paar Galerien und wer weiß, was Sie kaufen werden :) Diese Web-Seite umfasst viele Bereiche so suchen für die Culver City adressierte Galerien (Website versteckt) Restaurants Tender Greens ist ein Fast-Food-Restaurant mit einem großen Unterschied, sie servieren Bauernmarkt frisches Essen in einer ungezwungenen Atmosphäre zu sehr erschwinglichen Preisen. Check it out (Website versteckt) Akasha, Gourmet Bio Essen nur einen kurzen Spaziergang entfernt. Sie können über Barbara Streisands Chef Akasha und ihr Restaurant (Website versteckt) Ford's Tankstelle, leckeres Gourmet Essen. Es ist im Besitz von Harrison Fords Sohn Ben, können Sie über ihn lesen auf der Team-Seite ihrer Website http: // (E-Mail versteckt) (URL HIDDEN) Rush Street diese (E-Mail versteckt) und toller Ort, um Sport zu sehen in ihrem zweiten Stock Zimmer, die eine große Außenterrasse hat. (versteckte Website) Flasche Rock, wenn Sie Wein mögen, haben sie eine riesige Auswahl an Weinen, wählen Sie eine Flasche, sie öffnen es und Sie können ein Glas oder das ganze kaufen Flasche zu trinken oder Sie nehmen heraus. (versteckte Website) City Tavern: (E-Mail versteckte) Mikrobrauerei haben sie auch eine Vielzahl von Weinen (Website versteckt) Märkte Bauernmarkt jeden Dienstag von 15.00 bis 19.00 Uhr Main St zwischen Venedig Blvd und Culver Blvd ist geschlossen, damit die Landwirte ihre frisch gepflückten Produkte verkaufen können Jackson Market & Deli ist nur 250 Meter entfernt. Dies ist eine gemütliche Nachbarschaft kleinen Ort mit einem schönen Speisesaal in den Rücken, die einen Wasserfall mit Coi Fisch hat. Sie servieren gesunde, frisch gepresste Säfte, Frühstück, Crepes, Salate und vieles mehr. Sie sind sehr bekannt für ihre Sandwiches. Schauen Sie sich ihre Website (Website versteckt) Sie können Ihr Frühstück zu bestellen oder haben es geliefert Trader Joe's: Es ist mein Lieblingsmarkt für Käse, Weine, Bier und wirklich alles, was sie dort verkaufen. Sie haben leckere vorgefertigte verpackte Salate für Ihre Bilder oder Sie wollen einfach nicht zu kochen (Website versteckt) Krankenhaus 4 Blocks entfernt (Website versteckt) Feuerwehr / Sanitäter 4 Blocks entfernt
Public Transportation
500 feet away on Culver Blvd or Braddock Drive.
Metro Trip Planner is the best tool: (website hidden)_pub_start.php
Culver City's Green Bus: (website hidden)
Santa Monica Blue Bus: (website hidden)
Culver City Down Town
Culver City is the new hot spot in the West Side of Los Angeles area. You are only 5 short blocks away. There is a lot going on so definitely browse this website for restaurants, pampering like massages, yoga, beauty salon and more: (website hidden)
A quaint place for life music and a cocktail is the The Culver Hotel at 9400 Culver Blvd.
Movie Studios and TV Shows
Culver City is movie land. Sony Studios and Culver Studios are the major ones and there are several post productions studios.
Sony Studios: They film major movies and TV shows which you can request to be part of the audience (book in advance from your home) in shows like: Wheel of Fortune and Jeopardy call (phone number hidden) free tickets, for Queen LaTifah free tickets visit (website hidden) for TV shows you enter Sony Studios at the 3982 Overland Ave. Culver City, CA 90232 gate.
You can take a tour of Sony Studios visit (website hidden)
Culver Studios: They don't offer a tour but look at their history, it is very interesting (website hidden) Also look at: (website hidden)
Across the street from the house on Jackson Ave, the studios had little bungalows that were dressing rooms, across the street was Laurel and Hardy's.
TVTickets: Visit this web site to get free tickets to attend the filming of TV shows at various locations around Los Angeles (website hidden)
Museums
Sony Museum: (website hidden)
Clayton Museum: (website hidden)
(website hidden)
Getty Center is a must visit, it is free but you pay for parking but if you arrive by bus line Metro Rapid Line 761, Get complete route information from the Los Angeles County Metropolitan Transportation Authority (METRO): 323-GO-METR(phone number hidden)), or use the METRO Trip (email hidden). - See more at: (website hidden).3x6Dzog7.dpuf
For the Getty Villa: Metro Bus 534 stops at Coastline Drive and Pacific Coast Highway - See more at: (website hidden).ERuAQ47g.dpuf you do have to order free tickets in advance and for a time window, for free tickets: email us at (email hidden) or call (phone number hidden)(URL HIDDEN)Parks and Recreation
There is a lot going only a short stroll to Down Town Culver City so deffinatelly browse this website (website hidden)
Also for recreation activities and exercizing offered by the city of Culver
City such as lap swimming in the olympic size pool, tennis and various classes (website hidden) the pool is 5 blocks away
(website hidden)_swim.aspx
On the Pacific Ocean recreation: (website hidden)
Whale watching tours: (website hidden)(email hidden)ml
Visit the Hollywood Sign: (website hidden(URL HIDDEN)Theater & Movies
The Ivy Substation: (website hidden)
Kirk Douglas Theater: (URL HIDDEN) hidden)/tickets/season-tickets/kirk-douglas-theater/
Pacific Theaters Culver Stadium 12 (website hidden)_movietimes?tspstate=5&wss=t125x125link
Art Galleries
WWA Gallery: (website hidden)
Culver City Art District: (website hidden)
Art Scene: Look at this website's calendar for all Culver City openings and if you see several openings in the same date, then you go bar hoping I mean gallery hoping where you can meet the artists but careful because they offer you wine and you can end up pretty drunk after visiting a few galleries and who knows what you will buy :) This web page covers many areas so look for the Culver City addressed galleries (website hidden)

Restaurants
Tender Greens is a fast food restaurant with a huge difference, they are serving farmer's market fresh food in a casual atmosphere at very affordable prices. Check them out (website hidden)
Akasha, gourmet organic food only a short stroll away. You can read about Barbara Streisands's Chef Akasha's and her restaurant (website hidden)
Ford's Filling Station, delicious gourmet food. It is owned by Harrison Ford's son Ben, you can read about him on the Team page of their web site (URL HIDDEN) (URL HIDDEN)
Rush Street this (email hidden) and great place to watch sports in their second floor room which has a great outdoor patio. (website hidden)
Bottle Rock if you like wine, they have a huge selection of wines, you select any bottle, they open it and you can buy a glass or the whole bottle to drink in or you take out. (website hidden)
City Tavern: (email hidden) microbrewery they also have a variety of wines (website hidden)
Markets
Farmer's Market Every Tuesday from 3 pm to 7 pm Main St between Venice Blvd and Culver Blvd is closed so that local farmers can sale their freshly picked produce
Jackson Market & Deli is only 250 feet away. This is a cozy neighborhood little place with a nice dining patio in the back which has a waterfall with Coi fish. They serve healthy freshly squeezed juices, breakfast, crepes, salads and more. They are very well known for their sandwiches. Look at their web site (website hidden) You can order your breakfast to go or have it delivered
Trader Joe's: It is my favorite market for cheeses, wines, beer and really everything they sale there. They have tasty pre-made packaged salads for your pic-nics or you just don't want to cook (website hidden)
Hospital 4 blocks away (website hidden)
Fire department / paramedics 4 blocks away
---
Schlafzimmer 1
1 Doppelbett (mind. 1,50 x 2 m), 1 Einzelbett, 1 Luftmatratze, 1 Matratze auf dem Boden, 1 Kinderbett
Gemeinsam genutzte Räume
1 Luftmatratze, 1 Hängematte
---
Art des Zimmers: Ganze Unterkunft
Eigenständiger Check-in: Codeschloss
---
---
Zusätzliche Personen 43 € / Nacht nach dem ersten Gast
Wochenendpreis 172 € / Nacht
Kommuniziere immer über Airbnb
Um deine Zahlung zu schützen, solltest du niemals außerhalb der Airbnb-Website oder -App kommunizieren oder Geld überweisen.
Erfahre mehr
---
Nicht für Haustiere geeignet
Keine Partys oder Veranstaltungen
Nicht sicher oder ungeeignet für Kinder (0–12 Jahre)
Die Check-in-Zeit ist 17:00–00:00
Greetings and Welcome to my Zen Ambiance Sanctuary in the middle of Lively Culver City. Check in is 5pm or after, you are welcome to drop your bags sooner if you like and I can rext or call you when ready. Please call me or text me with your arrival time with at least 30 minutes advance notice so we can meet and greet at the property, for check-in and house orientation on features, amenities and what to do in case of emergencies and if you like, my local know ledge of the neighborhood and my favorite places. Provide you parking permits, show you how to operate the media center/theater projector and music zones, remote control lighting and appliances..
Lastly to ease your stay as though your concierge, I welcome your calls or texts anytime if you forget how things work or need any gear for cooking or your picnic or beach outings or city services, I lived in the area for 40 years. I am looking forward to meeting you and help see that you have........Cheers and good times during your stay.
And now the Rules:
a. No loud music after 10pm or before 9am.pm,
b. No smoking inside, there is ash trays in the back yard.
c. No parties allowed without host approval.
d. Attend orientation at check-in. The house is feature filled with amenities for your enjoyment, the orientation is so that you don't have to be figuring out how things work but so you get to enjoy them without delay or frustration. I realize is a lot to remember but ....remember the concierge? Just call or text, I will walk you thru anytime.
What to do in case of various emergencies and evacuation exits will be covered for your peace of mind.
e. The house is photo inventoried, please replace items you use to its original place as it will expedite check-out, weather you are present or not.
f. Damages: Accidents happen sometimes. Don't wait until after you leave, the sooner you report any damages the quicker we can agree on a settlement or replacement.
g. No bicycles allowed inside the house. A cable to attach your lock is provided outside by the 3 Buddha Fountain.
h. No coals, amber or flame producing devices allowed other than what the house comes equipped with. A Low light mood ambiance lights are included in the house including LED candles, NO live candles are allowed nor incense wich burns with coals like the one from Dubai, some other may be allowed, ask me for a designated place if allowed.
i. If you Instant Book for same day check in, call me by 10 am if not able to, check in time will be later,, I have to have the time to clean for your arrival.
J. Passport, green card or state ID required for check in.
K. A courtesy visitor parking permit will be provided to place on the dash driver side, readable while standing outside the vehicle, it removes the 2 hour 8an to 6pm parking restriction in front of the property, you still have to observe street cleaning schedule, from 9am to 11am, Wednesday opposite side and Thursday property side.
L.-Please turn off all lights, media equipment off when not in use specially when you leave and lock the door. You may leave one light on inside so you don't enter to a dark house, all exterior lights are on motion or darkness sensors This will not be an issue once the solar system goes up, so it is not about money but pollution. Let's do it for the planet.....I practice a "low carbon footprint" in my life .
Not a rule but you may want to chose it as, contemplate on this: Each moment we get to chose to accept it or reject it, to be happy or sad. No one's words and no thing can change that, unless you chose to let it and you go with others perceived reality, you then dive with their misery. Doesn't mean be aloof instead have emphaty and enthusiastically perhaps share the following message I was blessed with by
an enlightened man, a modern day Budha-Guru-teacher who in a note wrote me: "Live each moment as though you wished it."
As an exercise ...What If for one day your goal is to make every contact a good positive contact no matter who you come in contact with, no matter the social status. Failure is not an option. At the end of the day write down your experience. Look at what you drew and got in touch within your self to succeed.
Cheers and good times.
---
---
---
Der Mindestaufenthalt in dieser Unterkunft variiert.
---
Culver City, Kalifornien, Vereinigte Staaten
Mitglied seit Januar 2012
I am a 50 something friendly and caring guy. I practice Eastern teachings as a way of life. I like nature and outdoor activities. I am a sailor and I volunteer with the US Coast Guard assisting the boating community. When in the city, I like the arts, galleries, plays, movies, concerts. I like classic convertible cars.
As a host I like happy and relaxed people. You will be staying in my little sanctuary within the down town area of Culver City
Sprachen:
English, Español
Antwortrate:
90%
Antwortzeit:
innerhalb einer Stunde
Entdecke weitere Optionen in und um Culver City
Noch mehr Unterkünfte in Culver City: