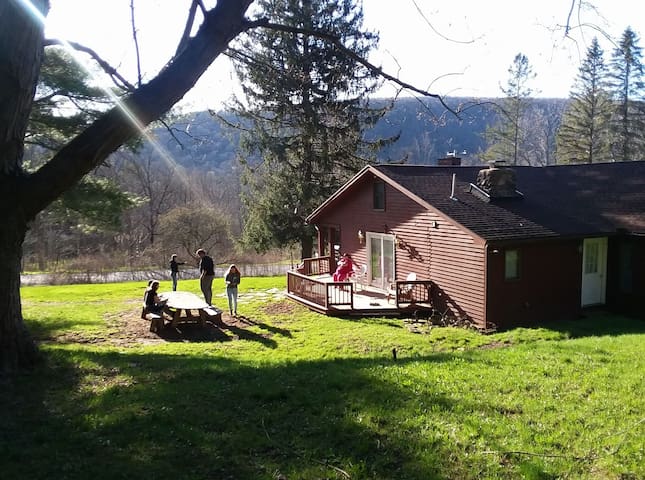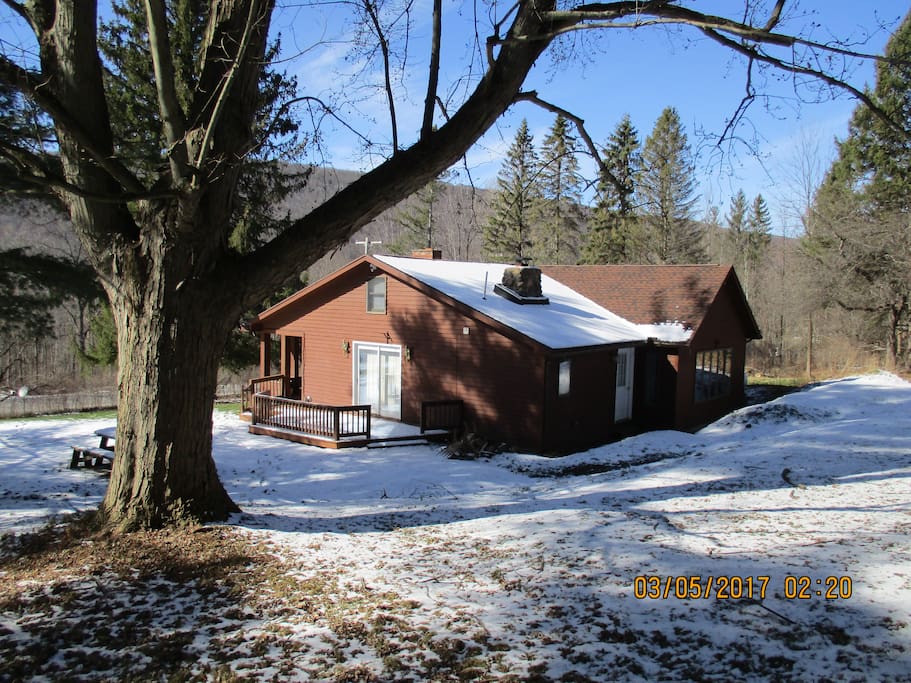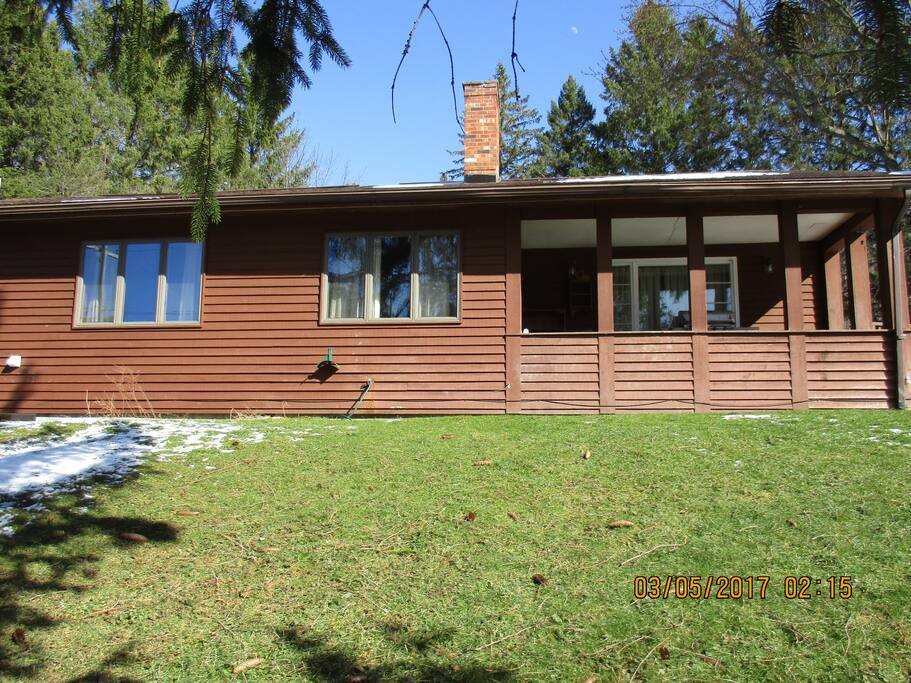 Sportsmans Paradise Lodge nestled on 3.5 acres of land located in the beautiful Finger Lakes Region. Property has spring fed pond for swimming and fishing. Across the street from lodge is 6,684 acres of NYS land for hunting and fishing on Canadice and Hemlock Lake. Also ideal for family gatherings, weekend getaways and/or weekly or monthly vacation rental. This picturesque area offers privacy and a great place for nature lovers.
Der Wohnraum
Great lodge for Outdoorsman (hunting, fishing & hiking). Excellent Family Getaway with plenty of nearby tourism attractions. Guest can bring their own ATV's, snowmobiles, bicycles, skis, small boats w/o motor, canoes, etc.
There is also access for bigger motor boats and swimming at the other nearby lakes. The Lodge is fully furnished, including bedding, towels & a large full-functioning kitchen with all the appliances & conveniences of home. This lodge is equipped with Land-Line Phone, Internet Wi-Fi & Satellite. This lodge sleeps 12-15 people. There are 2 bedrooms on 1st floor. The 2nd Floor has 3 bedrooms with a total of 7 beds. The 2nd floor has low ceilings with open floor plan. There are 2 family rooms with couches and one of the couches pulls out to full size bed. There is also a laundry room, front porch, side patio and gas grill.
Zugang für Gäste
Eigentum hat schöne Frühling gefüttert Teich für Angeln und Schwimmen. Teich beginnt flach, aber schnell fällt zu tiefen Gewässern. Lebenswesten sind in der Nähe von Teich erforderlich. Gäste können auch Zugang Canadice Lake 1/4 Meile von Lodge für Angeln und kleine Boote. Gäste können auf 6,684 Hektar NYS Jagd Land über die Straße von Lodge zugreifen.
Property has beautiful spring fed Pond for both fishing and swimming. Pond starts out shallow but quickly drops to deep waters. Life vests are required near pond. Guest can also access Canadice Lake 1/4 mile from lodge for fishing and small boats. Guest can access 6,684 acres of NYS Hunting Land across the street from Lodge.
Interaktion mit Gästen
Ich werde auf dem Gelände sein, um die Gäste bei der Ankunft zu begrüßen. Die Gäste müssen sich vor dem Betreten der Räumlichkeiten anmelden. Ich werde telefonisch 24 Stunden während der Gäste zur Verfügung stehen. Ich werde auch kommen, um dich zu sehen, wenn du abfährst.
I will be on premises to greet guests upon arrival. Guests must sign waiver before entering premises. I will be available by phone 24 hours throughout guests stay. I will also arrive to see you off when you depart.
Weitere wichtige Infos
Bei der Ankunft: Die Gäste müssen den Verzicht auf entstandene Schäden oder Verletzungen melden HAFTUNGSAUSSCHLUSS UND ANNAHME VON RISIKO VORSICHT: LESEN SIE VOR DEM ZEICHEN! Dieses Dokument wirkt sich auf Ihre gesetzlichen Rechte aus und wird Ihr Recht zu verklagen! Ich, _____________________________________________ ("Mieter"), unterschreibe freiwillig diese Freigabe der Haftung und Übernahme von Risikoabkommen zugunsten von Charlotte Gray-Jones ("Vermieter") in Erwägung für die Möglichkeit, die Vermieter-Einrichtung, Grey Goose Lodge, bei 6915 zu verwenden Canadice Lake Rd, Springwater, NY 14560. Unter Berücksichtigung des Mietvertrags unterzeichnet von Vermieter und Mieter unter _________ (Datum), Mieter, unter Unterzeichnung unten, hiermit verzichtet und freigibt Vermieter, seine Eigentümer, Agenten und Mitarbeiter aus jeglicher Haftung und / Oder Schadensersatzansprüche für Personenschäden, Sachschäden oder Todesfälle, die sich aus der Benutzung des Betriebs des Mieters ergeben können, unabhängig von der Ursache, auch wenn diese Ursache in irgendeiner Weise durch die Handlungen oder Handlungen des Vermieters oder der Angestellten in der Anlage verbunden sein kann , Anpassung, Inspektion, Instandhaltung und / oder Vermietung der Anlage oder von der Nutzung dieser Anlage durch den Mieter. Der Mieter haftet für Schäden, die sie oder ihre Gäste verursachen können. Diese Eigenschaft in NICHT für die Verwendung von nicht autorisierten großen Parteien bestimmt. Undersigned ist sich bewusst, dass der Kamin zu diesem Zeitpunkt nicht funktioniert und jeder Versuch, ihn zu benutzen, kann zu Schäden und / oder Zerstörung von Eigentum führen. Mit der Unterzeichnung unten akzeptiert der Mieter die Gesamtverantwortung für alle Verletzungen oder Schäden jeglicher Art, die aus irgendeinem Grund in der Benutzung der Anlage entstehen können, und es ist die Absicht des Mieters, den Vermieter für irgendeine Verletzung, die der Mieter oder jedermann erleidet, zu verurteilen Sonst, unabhängig von der Ursache, bei der Verwendung der oben beschriebenen Anlage. Ich, der Unterzeichner, erkenne an, dass ich diese Freistellungserklärung sorgfältig gelesen und übergegangen bin und den Inhalt (beide Seiten) verstanden habe. Ich bin mir bewusst, dass ich mit der Unterzeichnung dieses Release auf bestimmte gesetzliche Rechte verzichte, einschließlich des Rechts, den Vermieter aus irgendeinem Grund zu verklagen. (Fortsetzung mit vollständigen Details auf Seite 2) Unterschrift des Mieters: ________________________________________ Datum: _________ Gedruckter Name des Tenantes___________________________________________________ Vermieter Unterschrift ______________________________________________________ RELEASE & WAIVER DER HAFTUNG UND INDEMNITY VEREINBARUNG IN DER ERWAEGUNG für die Zulassung von Räumlichkeiten und Eigentum für Ferienvermietungen oder andere Zwecke, der Unterzeichnete, für sich selbst, Gäste, Kinder, Erben und nächste Angehörige, anerkennt, stimmt zu und Stellt fest, dass er / sie sofort eintritt und wird sofort nach dem Eintritt, und wird kontinuierlich danach, gründlich inspizieren diese Bereiche und seine / ihre fortgesetzte Präsenz stellt eine Anerkennung, dass er / sie hat Haus, Deck und ganze Eigentum geprüft und er / sie findet und akzeptiert solche Bereiche als sicher und vernünftigerweise für die Zwecke seiner Benutzung geeignet, und er / sie weiter zustimmt und garantiert, dass, wenn er zu irgendeinem Zeitpunkt etwas fühlt, dass er / sie und alle Gäste sofort verlassen werden Bereich und beraten angemessene Personen. DAS UNTERSTÜTZT DURCHGEFÜHRT, WAIVES, DISCHARGEN UND BEGRÜNDEN NICHT ZU DEN AUSSER, Besitzer, Charlotte Gray-Jones persönlich, alle für die Zwecke, die hier als "Freisetzungen" bezeichnet werden, von jeglicher Haftung gegenüber den Unterzeichnenden, den Gästen, den Vertretern, den Zuweisungen, den Erben und dem nächsten Für jeden Verlust oder jede Beschädigung sowie jegliche Forderung oder Verlangen aufgrund von VERLETZUNG an die Person oder das Eigentum oder die Todesursache des / der Unterzeichneten oder der Gläubigen, sei es durch Fahrlässigkeit der Freisetzungen oder anderweitig, während in oder auf das Gebiet. DAS UNTERSTÜTZT DURCHGEFÜHRT UND VERLETZT UND HALTET HARMLESS die Freigaben und jede von ihnen aus jeglicher Verlust, Haftung, Beschädigung oder Kosten, die sie aufgrund ihrer Anwesenheit in oder auf dem Gebiet auftreten können und ob durch die Fahrlässigkeit der Freisetzungen oder anderweitig verursacht wurden . WARNUNG: Die Benutzung des Teiches zum Schwimmen, Kanufahren und Angeln trägt ein Risiko, das zu schweren Verletzungen oder zum Tod führen kann, und die unbeaufsichtigte Nutzung durch Kinder ist verboten. Alle Personen müssen Lebenswesten tragen, wenn in oder um den Teich. Warnung, Teich hat tiefe Drop-off. Nie jagen, fischen, schwimmen, Teich benutzen, im Freien grill oder brennen Feuer, während unter dem Einfluss von Drogen oder Alkohol. Die Benutzung von Außengrill und / oder Lagerfeuer erfolgt auf eigene Gefahr. Verwenden Sie einfach Grill, wenn Sie mit Propangrills erfahren sind. Kinder müssen zu jeder Zeit überwacht werden; drinnen draußen. DAS UNTERSTÜTZT DURCH DIE VERLETZUNG VON KÖRPERVERLETZUNG, TODES- ODER EIGENTLICHEN SCHÄDEN aufgrund der Fahrlässigkeit der Freisetzungen oder anderweitig in oder auf dem Gebiet. DAS UNTERSTÜTZT bescheinigt hiermit, dass er / sie und Gäste (sie) eine ausreichende Versicherung haben, um jegliche Verletzung, Krankheit oder Beschädigung zu decken, die in oder auf dem Gebiet verursacht oder erlitten werden kann, oder dass sie die Kosten eines solchen Schadens oder einer Verletzung tragen. Der Unterzeichner weiter Er / sie / sie haben keine medizinischen Bedingungen, die die Nutzung von Teich, Schwimmen, Kanufahren, Wandern, Treppensteigen usw. beeinträchtigen würden oder auch die Kosten aller Risiken, die direkt oder indirekt durch solche entstehen können, übernehmen und tragen Bedingung und ausdrücklich anerkennt, dass solche körperlichen Tätigkeiten gefährlich sind und das Risiko schwerer Verletzungen und / oder Tod und / oder Sachschäden beinhalten. Einschließlich; Wenn sie ihre eigenen ATVs, Schneemobile, Langlaufski, Kanus usw. bringen. DIE UNTERNEHMEN HABEN LESEN, VERSTÄNDNIS DIE RISIKEN UND UNTERNEHMEN DIE RELEASE UND WAIVER DER HAFTUNG UND INDEMNITÄTSVEREINBARUNG und stimmt ferner zu, dass keine mündlichen Darstellungen, Aussagen, Oder Anreize abgesehen von der vorstehenden schriftlichen Vereinbarung getroffen worden sind. Stornierungen: Auch unter Angabe, dass Sie überprüft haben und stimmen Sie den Bedingungen und Richtlinien über Stornierungen. Der Unterzeichnete muss mindestens 7 Tage im Voraus kündigen. Strenge 50% Erstattung bis 1 Woche vor Anreise. Sie müssen die Wohnung und das Eigentum in der gleichen Bedingung wie bei der Ankunft verlassen. Wenn es irgendwelche Ungewissheiten gibt, erwerben Sie bitte einen der Urlaubsschutzpläne von airbnb.com. Optionen werden angeboten, um Schutzpläne bei der Reservierung zu kaufen. Bugs und Schädlinge: Wir können die Anwesenheit von Schädlingen, Insekten und Tieren nicht kompensieren. Wir bitten auch, dass alle Gäste die Natur respektieren, die du nicht tierst. Straßenbedingungen: 4-Rad-Antrieb in Winter- / Schneemähren empfehlen. Wir erstatten uns wegen der Wetterbedingungen nicht zurück. Verhaltenskodex-Regeln müssen von allen Gästen gefolgt werden: In angemessenem Verhalten / Verhalten beinhaltet und nicht beschränkt auf Gewalt, mündlichen oder körperlichen Missbrauch, verletzen einen Teil dieser Vereinbarung, handeln oder handeln, die die Sicherheit für andere bedrohen, laute Musik, repetitive Lärm, das andere stört, ärgerlich für andere oder unberechtigte Dienste, Programme oder Versammlungen. Die Gäste werden gebeten, zu gehen und keine Rückerstattung. Mit der Unterzeichnung erklären Sie sich mit diesen Bedingungen einverstanden. UNTERSCHRIFTSDATUM:__________________
Upon Arrival: Guests must sign waiver for damages caused or injuries incurred
RELEASE OF LIABILITY AND ASSUMPTION OF RISK CAUTION: READ BEFORE SIGNING!

This document affects your legal rights and will bar your right to sue! I, _____________________________________________ ("Tenant"), voluntarily sign this Release of Liability & Assumption of Risk Agreement in favor of Charlotte Gray-Jones ("Landlord") in consideration for the opportunity to use the Landlord's facility, Gray Goose Lodge, located at 6915 Canadice Lake Rd, Springwater, NY 14560. In consideration of the Lease Agreement signed by both Landlord and Tenant on _________ (date), Tenant, by signing below, hereby waives and releases Landlord, its owners, agents and employees from any liability and/or claim for personal injury, property damage, or death that may arise from Tenant's use of the facility regardless of cause, even if such cause can be associated in any way by the acts or failures to act of the Landlord, or employees in the installation, adjustment, inspection, maintenance and/or rental of the facility, or from Tenant's use of this facility. Tenant is liable for any damages that they or their guests may cause. This property in NOT intended for use of unauthorized large parties. Undersigned is aware that fireplace is non-working at this time and any attempt to use it may cause harm and/or destruction of property. By signing below, Tenant accepts total responsibility for any and all injuries or damages of any kind which may result from any reason in the use of the facility, and it is the Tenant's intention to HOLD HARMLESS the Landlord for any injury sustained by Tenant or anyone else, regardless of cause, while using the above described facility. I, the undersigned, acknowledge that I have carefully read this release of liability / assumption of risk and understand its contents (both pages). I am aware that by signing this release, I am waiving certain legal rights, including the right to sue the Landlord for any reason. (Continued with full details on Page 2)
Signature of Tenant:________________________________________Date:_________
Printed Name of Tenant___________________________________________________
Landlord Signature ______________________________________________________
RELEASE & WAIVER OF LIABILITY AND INDEMNITY AGREEMENT IN CONSIDERATION for being permitted to enter premises and property for vacation rental or any other purpose, the undersigned, for himself/herself, guests, children, heirs, and next of kin, acknowledges, agrees, and represents that he/she has or will immediately upon entering, and will continuously thereafter, thoroughly inspect such areas and his/her continued presence constitutes an acknowledgment that he/she has inspected house, deck and entire property and he/she finds and accepts such areas as being safe and reasonably suited for the purposes of his/her use, and he/she further agrees and warrants that if, at any time, he/she feels anything to be unsafe, he/she and all guests will immediately leave the area and advise appropriate persons. THE UNDERSIGNED hereby RELEASES, WAIVES, DISCHARGES AND COVENANTS NOT TO SUE Owner, Charlotte Gray-Jones personally, all for the purposes herein referred to as "releasees", from all liability to the undersigned, guests, representatives, assigns, heirs and next of kin for any and all loss or damage, and any claim or demand thereof on account of INJURY to the person(s) or property or resulting in DEATH of the undersigned or guests, whether caused by negligence of the releasees or otherwise while in or upon the area. THE UNDERSIGNED hereby AGREES TO INDEMNIFY AND SAVE AND HOLD HARMLESS the releasees and each of them from any loss, liability, damage, or cost they may occur due to their presence in or upon the area and whether caused by the negligence of the releasees or otherwise. WARNING: Use of pond for swimming, canoeing and fishing carries risk that may result in serious injury or death, and unsupervised use by children is prohibited. All persons must wear life vests when in or around the pond. Warning, pond has deep drop off. Never hunt, fish, swim, use pond, outdoor grill or build bonfires while under the influence of drugs or alcohol. Use of outdoor grill and/or bonfires are at your own risk. Only use grill if you are experienced with propane grills. Children must be supervised at ALL times; indoors & outdoors. THE UNDERSIGNED hereby ASSUMES FULL RESPONSIBILITY FOR RISK OF BODILY INJURY, DEATH OR PROPERTY DAMAGE due to the negligence of the releasees or otherwise while in or upon area. THE UNDERSIGNED hereby certifies that he/she and guests (they) have adequate insurance to cover any injury, illness or damage that may be caused or suffered while in or upon area, or else agrees to bear the costs of such damage or injury. The undersigned further that he/she/they have no medical conditions which would interfere with use of pond, swimming, canoeing, hiking, climbing stairs, etc. or else assume and bear the costs of all risks that may be created, directly or indirectly, by any such condition and expressly acknowledges such physical activities are dangerous and involve the risk of serious injury and/or death and/or property damage. Including; if they bring their own ATV's, snowmobiles, cross-country skis, canoes, etc. THE UNDERSIGNED HAS READ, UNDERSTANDS THE RISKS, AND VOLUNTARILY SIGNS THE RELEASE AND WAIVER OF LIABILTY AND INDEMNITY AGREEMENT, and further agrees that no oral representations, statements, or inducements apart from the foregoing written agreement have been made. Cancellations: Also, stating that you have reviewed and agree to the terms and policies regarding cancellations. Undersigned must cancel at least 7 days in advance. Strict 50% refund up until 1 week prior to arrival. You must leave lodge and property in the same condition as when you arrived. If there are any uncertainties please purchase one of the vacation protection plans offered by airbnb.com. Options are offered to purchase protection plans when reserving. Bugs and pests: We cannot compensate for the presence of pests, insects and animals. We also ask that all guests respect nature that you Do Not feed wildlife. Road conditions: Recommend four wheel drive in Winter/snow months. We do not refund due to weather conditions. Code of conduct rules must be followed by all guests: In appropriate conduct/behavior includes and not limited to violence, verbal or physical abuse, violating any part of this said agreement, act or acts that threaten the safety to others, loud music, repetitive noise that disturbs others, annoying to others or unauthorized services, programs or gatherings. Guests will be asked to leave and no refunds. By signing, you agree to these terms and conditions.
SIGNATURE:_____________________________________________ DATE:__________________
---
---
Kommuniziere immer über Airbnb
Um deine Zahlung zu schützen, solltest du niemals außerhalb der Airbnb-Website oder -App kommunizieren oder Geld überweisen.
Erfahre mehr
---
Schlafzimmer 1
1 Doppelbett (1,80 × 2 m)
Schlafzimmer 2
1 Doppelbett, 1 Etagenbett
Schlafzimmer 3
1 Doppelbett (mind. 1,50 x 2 m), 2 Einzelbetten
Schlafzimmer 4
2 Einzelbetten
Schlafzimmer 5
2 Einzelbetten
Gemeinsam genutzte Räume
1 Schlafcouch, 1 Sofa
---
Nicht für Haustiere geeignet
Der Check-in ist jederzeit nach 15:00
- Must be 25 years of age or older to rent
- Please Remove shoes before entering house
- Please smoke outdoors and use ashtry to prevent fire hazard
- Please leave lodge and property as clean as when you arrived
- Life vests must be worn on or around pond
- Children should be accompanied by an adult at all times
---
---
1 Nacht Mindestaufenthalt.
---
Preis-Leistungs-Verhältnis
Excellent place. Location is beautiful with very beautiful house. Charlotte was always reachable on phone. All beds, blankets and entire house was clean. We were 15 adults and all were accommodated nicely. Great kitchen with big dining table. She also arranged bonfire. Check in and Checkout process is very easy. Will stay again if I visit that area.
Hi Arpan, I want to thank you and your friends for being my guests! I appreciate how clean and well-kept you left the place. Let me know when you are ready to return. I want to offer a discount to my star guests on future bookings. Thank you again and hope to see you soon! Best Regards, Charlotte
---
The Gray Goose Lodge is the perfect house for a weekend getaway! We had 15 adults in the cabin and were very comfortable. The kitchen space is easy to bring large groups together, the sleeping arrangements are well spread out and leave you with a lot of room for socializing and relaxing. Charlotte is also very helpful to work with. She gave us very clear instructions, made adjustments to (SENSITIVE CONTENTS HIDDEN) maps directions, left us firewood, and gave a full tour of the house and surrounding accommodations (kayaks, paddle boards, restaurants, etc.) Everyone in our group was raving about the location and comfort of the stay!
Hi Jarinete, It was a pleasure having your group as my guests. I am so happy that you all enjoyed yourselves. Thank you for taking such good care of the property. There are so many interesting events, attractions, and things to do in the Finger Lakes region. Next time, explore the lakes, concerts, wineries and much more. I have many more improvement plans for Gray Goose Lodge that you will love to see on your next visit. I would like to offer you a discount on your next booking with us. Thank you, Charlotte
---
We had a fantastic time spending the weekend at Gray Goose Lodge for my bachelorette party! It was a perfect spot for my friends from around NY to gather and spend the weekend. The house was great and slept all 9 of us comfortably. The large kitchen became a gathering place for us throughout the weekend. We spent Saturday enjoying the region, visiting a handful of wineries that were all within 20 minutes. The fire pit is great for a large crowd. Neighbors are far enough away that you can laugh and enjoy the property without disturbing anyone. Charlotte was an amazing host! She responded so quickly to all my questions and even provided some referrals for wineries in the area.
Hi Sara! I am so happy you and your friends enjoyed your stay here. I am pleased that the wine tasting information I provided was useful and you were able to visit the neighboring wineries. I am always updating and adding more furnishings to this cottage to supply all the amenities of home. I want to provide a cozy and comfortable cottage atmosphere for all visitors. You were amazing guests. You left the place looking wonderful. And thank you so much for removing the bedding from the beds that were slept in. It wasn't necessary but you made laundry and bed dressing so much easier for me. I normally just wash all the bedding just in case. Your group went above and beyond. I look forward to seeing you and your friends here again! I would like to offer you a discount on your next stay. Sincerely, Charlotte
---
We had a lovely get-together with friends and Charlotte's place made for a relaxing backdrop. Charlotte herself was very a gracious hostess, and we had good communication throughout. The property is well-maintained and just a fabulous place to sit outside and relax, have a campfire, or see the stars on a clear night. My review is an enthusiastic 5 stars: to be sure, the house has some quirks, but for our group of 14 adults that's what made it memorable. The house is not a modern showpiece -- it is rustic and homey. It's reminiscent of a mountain cabin. The peak of the ceiling in the upstairs bed"rooms" -- as in, the TALLEST point -- is 5'4". Most of the beds are upstairs, so if you need more than what's on the main floor (a king, a queen sofa bed, and a full bunk bed with an upper twin that should only be used by small children) plan to duck! You should also know that the water from the tap smells of sulfur. It just happens some places. Nothing you can really do about it. We brought our own water to drink, and Charlotte provides a water cooler in the kitchen as well. Be prepared when showering though. If you aren't used to it, you will be taken aback. If the weather permits, definitely plan to use one of the fire pits for a campfire or bonfire. There is plenty of cut brush to burn but bringing a cord of firewood with you wouldn't be a bad idea. If you have kids, or adults who think they're kids, they can enjoy hunting for snails, frogs and toads near the pond, or bring a fishing rod and catch some small fish. Thanks, Charlotte, for a fun stay and some great memories!
Hi Karen, I am so glad you enjoyed your stay! And I am thrilled that you plan on coming back again next year! I have updated and added more information on airbnb.com a few weeks ago. I did mention the upstairs is cottage style with low ceiling and open floor plan. I also included info that the area is supplied with well-water. My neighbors drink and use the well water. My water has been tested and approved. I supply fresh gallons of water as well as 5-gallon water dispenser for folks that are not used to well-water. I do appreciate all your feedback because my goal is to make everyone's stay as enjoyable & memorable as possible. I appreciate that you took great care of my property and thank you for the wonderful review. I look forward to seeing you again next year! Thank you, Charlotte
---
Charlotte's place is a great cottage in the Finger Lakes. She was easy to communicate with. We had a good family vacation there. But, I do think the description should mention that the rooms/ beds upstairs have no doors and low ceiling. I loved the idea of attic space but found it quite impractical when I hit my head on the ceiling both mornings. The tap water smells of sulphur quite a bit...but it's a cottage. I just think it should be mentioned...shouldn't be a deal breaker.
I am glad you had a great family vacation here. I am happy that the spacious lodge and fully equipped amenities of home added comfort to your stay. I did update the website weeks ago regarding the cottage style, low ceiling, open floor plan on 2nd floor. I appreciate your feedback so I can utilize all information to make needed changes. My goal is to use all suggestions so that everyone's stay here is enjoyable and comfortable as possible. This area has a well water source which neighbors drink from. This lodge has been inspected and tested for drinking. Most people are not used to well water which is why I supply multiple gallons of drinking water and also supply a 5-gallon free standing pure water dispenser. I am glad you took advantage of the water I provided. Thank you again for being my guest. I look forward to seeing you and your family again! Sincerely, Charlotte
---
Beautiful location, with plenty of beds and space. Kitchen and bathrooms worked great. Charlotte was a pleasure to work with and even met me in person to walk us through the house. This is great for people with lots and lots of children as the bedrooms on the second floor are really meant for children or you'll be ducking quite a lot.
I'm glad you enjoyed your stay! Thank you for leaving the place in great shape. Sorry about the low ceilings in 2nd floor bedroom. I had a friend place the ad for me on airbnb.com, unfortunately she left out the information about 2nd floor having low ceiling and open floor plan. I appreciated your feedback and have since updated this information on my ad. I am new at renting this place out and all suggestions are welcome so that I can make changes that need to be done. I want to make everyones stay as comfortable and enjoyable as possible. Thanks and I look forward to seeing you again!
---
A group of 8 of us visited Charlotte's home for 4th of July weekend. Prior to our stay, Charlotte answered every question I had. Upon our arrival, Charlotte met us at the home to give us a tour and explain it's many features. She was pleasant, inviting, and very accommodating. The house was great. Plenty of rooms, plenty of beds, a great sound system for any music. The kitchen was enormous - plenty of room to cook and socialize. The outdoor seating area accommodated our entire group. The multiple fire pits were great at night. The house was very clean and comfortable. The surrounding area was extremely private, but there are restaurants, grocery stores and other activities within 10 minutes. Overall, we had a tremendous time at Charlotte's home. If you are looking for a secluded, clean, and comfortable family-friendly location then Charlotte's Gray Goose Lodge is perfect.
Kyle thank u very much for great review. I'm really glad your group had such a great time. There a lot to do around there. The wineries r near by also hunting across street 6500 state land to hunt on between Canadice lake and hemlock lake Ice fishing. I hope u guys went kayaking down the street. If u didn't u can try it next time. U guys did a fantastic job taking care of my house. Hope to see your group again. Thank u for feeding my wild cats. I just removed 3 kittens off porch day before u arrived there's 2 more Took them to Lollypop farm. I hope everyone had a safe trip home. Thank u for booking with me. Charlotte
---
Antwortrate:
100%
Antwortzeit:
innerhalb einiger Stunden
Entdecke weitere Optionen in und um Springwater
Noch mehr Unterkünfte in Springwater: