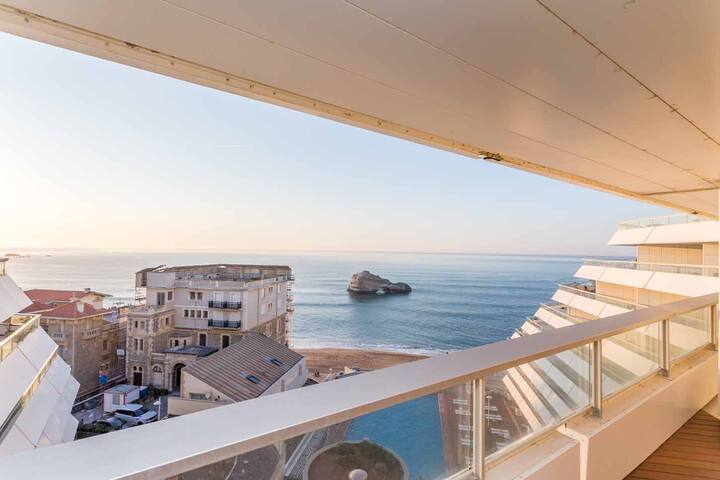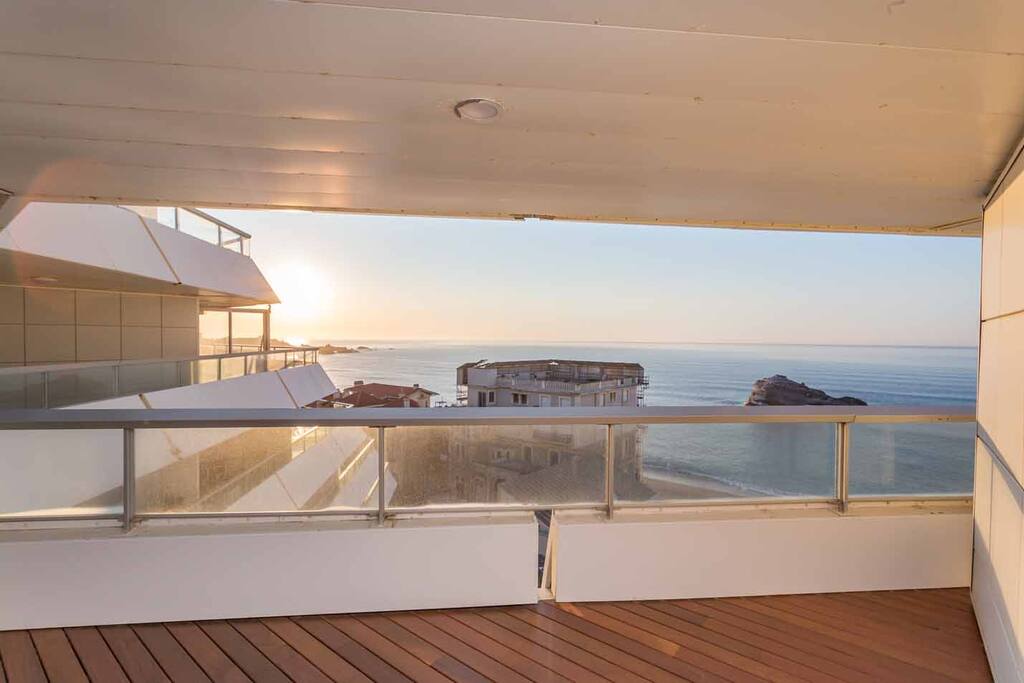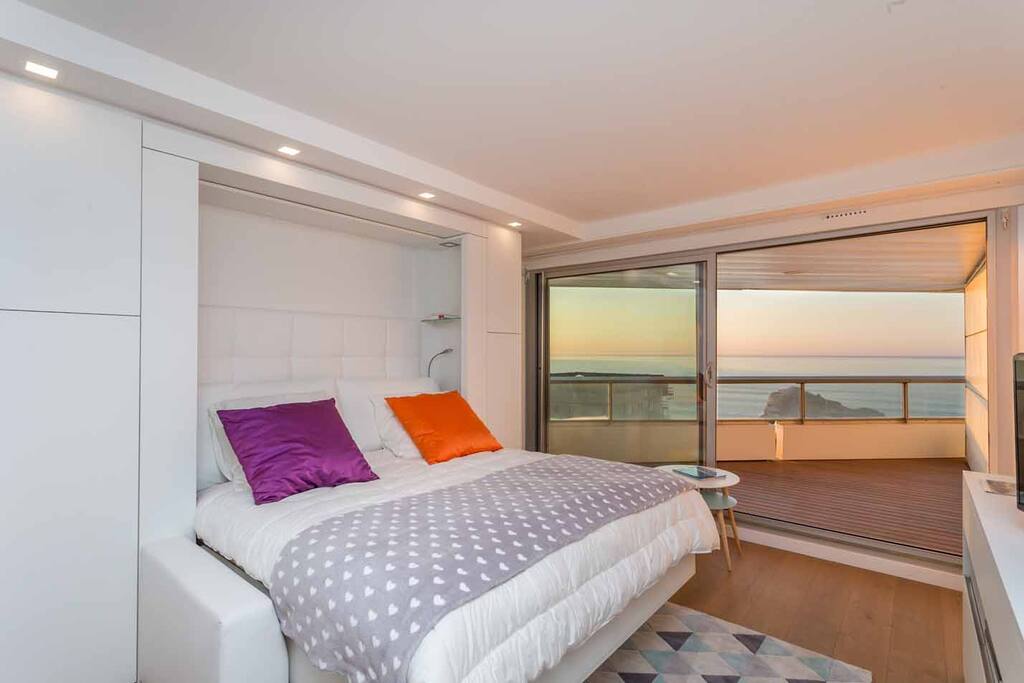 Ideal location above the beach of Miramar in Biarritz for this studio of approximately 40 sq.m entirely renovated with sea view. A bright and open living room with opened kitchen, dining area, double bed 160 x 200 cm, all overlooking a terrace of about 9 sq.m over the sea. 1 walk-in shower room, 1 separate toilet. a bed of 90 cm at the entrance. Walking distance to city center and beach. Internet wifi. For rent in all seasons for 3 people
---
Gemeinsam genutzte Räume
1 Doppelbett (mind. 1,50 x 2 m), 1 Einzelbett
---
---
Zusätzliche Personen Keine Gebühr
Kommuniziere immer über Airbnb
Um deine Zahlung zu schützen, solltest du niemals außerhalb der Airbnb-Website oder -App kommunizieren oder Geld überweisen.
Erfahre mehr
---
Nous vous demanderons de signer un contrat de location qui contiendra ces conditions / We're going to ask you to sign a contract with these conditions :
CONTRAT DE LOCATION MEUBLEE SAISONNIERE / FURNISHED SHORT TERM RENTAL AGREEMENT
CONDITIONS GENERALES / GENERAL TERMS & CONDITIONS
1/ REGIME JURIDIQUE DU CONTRAT / LEGAL FRAMEWORK OF THE CONTRACT
La présente location est conclue à titre de résidence provisoire et de vacances. Les locaux ne pourront être utilisés à titre d'habitation principale ou même secondaire et le locataire ne pourra y pratiquer aucune activité commerciale, artisanale ou professionnelle. En conséquence le contrat sera régi par les dispositions du code civil ainsi que par les conditions prévues aux présentes. / /This property is being rented as a temporary vacation residence. The premises may not be used as a primary or even secondary residence and the tenant may not engage in any commercial, handicraft, or professional activities. As a result, the contract will be governed by the provisions of the French Civil Code, as well as those set out in this document.
2/ DUREE / DURATION
Le bail cesse de plein droit à l'expiration du terme fixé sans qu'il soit besoin de donner congé. La location ne pourra être prorogée sans l'accord préalable et écrit du bailleur ou de son représentant. / The lease will cease automatically at the end of the period set forth, without further notice. The lease may not be extended without the prior written agreement of the lessor, or his or her representative.
3/DEPOT DE GARANTIE / SECURITY DEPOSIT
Un état des lieux du bien loué sera donné au locataire à son arrivée, ce dernier doit notifier l'agence au plus tard 24h après son arrivée de toutes divergences. / A walk-through inventory including any existing imperfections will be given to the tenant on arrival. The client should check this inventory and any differences should be reported to the agency no later than 24 hours after arrival.
Le dépôt de garantie a été créé pour répondre aux dégâts qui pourraient être causés aux biens loués ainsi qu'aux objets mobiliers et immobiliers pendant la durée de la location. Tout objet perdu, cassé, détérioré ou abimé devra être remplacé ou remboursé au propriétaire à sa valeur de remplacement par le locataire qui s'y oblige. Si le montant du dépôt de garantie est insuffisant, le locataire s'engage à régler la difference. / The security deposit is used to cover any damage that may be caused to home furnishings and immovable property for the duration of the rental. The tenant is obliged to replace (or reimburse the lessor for) any lost, broken or damaged objects at their replacement value. If the amount of the deposit is insufficient, the tenant will be liable for the difference.
Un depot de garantie par pré-autorisation de paiement sur carte bancaire sera demandé au locataire à son arrivée. / A deposit by pre-authorisation of payment on credit card will be asked to the tenant when he arrives.
Il peut aussi être utilisé pour couvrir les diverses dépenses non comprises dans le présent contrat. / It can also be used to cover outstanding amounts due for expenses not included in this contract.
Après restitution des clés, en l'absence de dégradation constatée dans l'état des lieux contradictoire et dans le mois qui suit, le dépôt de garantie sera intégralement restitué ou annulé au plus tard un mois après le départ. En cas de dégâts, le dépôt de garantie sera restitué, déduction faite des réparations, au plus tard dans les 60 jours qui suivent le départ des locataires. / After the keys are handed back, if no damage is noted in the final comparative property inspection report made by the parties and during the following month, the security deposit will be returned or cancelled in full no later than one month after departure. In case of damage, the security deposit will be returned no later than 60 days after the tenant has left, minus any deduction for damage.
La restitution des clés, en fin de location, n'emporte pas renonciation du propriétaire à des indemnisations pour réparations locatives, s'il prouve que les dommages sont le fait du locataire. / The return of the keys to the lessor, at the end of the lease does not prevent the lessor from being reimbursed for any damage if it is proved that the damage was caused by the tenant.
4/ ASSURANCE / INSURANCE
Le locataire doit être OBLIGATOIREMENT assuré par une compagnie d'assurance contre les risques de vol et vandalisme de ses effets personnels, contre les dégâts d'incendie, dégât des eaux, bris de glace, responsabilité civile, tant pour ses risques locatifs que pour le mobilier donné en location, ainsi que pour le recours des voisins et en justifier au plus tard trente jours avant début de la location. / The tenant MUST take out an insurance policy against the risks of theft, fire, water damage and broken glass. This policy must cover tenant's risks and the furniture included in the rental, as well as third party liability as defined under French law. A copy of the policy must be provided no later than thirty days before the start of the lease.
5/ OBLIGATIONS PRINCIPALES DU LOCATAIRE / TENANT'S OBLIGATIONS
En conséquence de la liberté de jouissance des locaux leur détention et la garde juridique des lieux sont transférées au locataire avec l'obligation d'en user paisiblement, de payer le prix du loyer convenu et de restituer les lieux en bon état. Le locataire est par ailleurs tenu de: / The tenant is hereby transferred the right to freely enjoy and occupy the premises with the only obligation being to occupy said premises in a peaceful manner, to pay the agreed rent, and to hand back the property in good condition. The tenant is therefore obliged to:
- Respecter le nombre maximal de personnes occupant les lieux indiqué à la réservation. / Not exceed the maximum number of occupants as indicated at booking.
- N'occuper les lieux que « bourgeoisement », uniquement à titre de résidence provisoire et de plaisance, à l'exclusion de l'exercice de tout commerce, profession ou industrie. / Only occupy the property on basis of use as a temporary residence and for leisure, and excluding from practicing any commercial, professional, or industrial activities.
- Ne rien faire qui de son fait, du fait de sa famille ou de ses relations, puisse nuire à la tranquillité du voisinage ou des autres occupants. En cas de location dans un immeuble collectif : se conformer en qualité d'occupant des lieux, au règlement intérieur de l'immeuble dont il prendra connaissance par voie d'affichage ou sur communication du bailleur. / Not do anything which, by his doing, or that of his family, or relations, would upset the tranquillity of the neighbours or other occupants. Obey the internal rules, in the event of renting a communal property as occupant of the premises, which will take note of, either via the notice board or by the lessor's communication.
- Occuper les lieux personnellement, et ne pouvoir en aucun cas sous-louer, même gratuitement, ni céder ses droits à la présente location, sauf accord écrit du propriétaire (ou de l'agence). / Occupy the premises personally and must not, under any circumstances, sublet the property, even for free, nor assign her or her rights to the rental wihout a written agreement from the owner (or agency).
- Les locataires seront tenus responsables pour tout accident qui pourrait survenir dans les lieux loués, notamment dans la piscine. Les enfants sont sous l'entière responsabilité des parents / Le propriétaire ne peut être tenu pour responsable de tout dommage quelconque subi par le locataire ou tout occupant de son chef durant sa période d'occupation des lieux. / The tenants will be fully responsible for any accident that may occur on the premises, particularly in the swimming pool. Parents are fully responsible for their children. The owner may not be held liable for any damage of any kind suffered by the tenant or any occupant during the period the premises are occupied.
- Répondre des dégradations et pertes survenant pendant la durée du contrat dans les biens dont il a la jouissance exclusive. / Be responsible for any damage or loss that may occur during the contract period to the property of which he or she has exclusive use.
- N'entreposer sous aucun prétexte des meubles meublants, exception faite pour le linge et menus objets. Ne faire aucune modification ni changement dans la disposition des meubles et des lieux. / Not store any furnishing items for any reason whatsoever, except for laundry and small objects. The tenant must not modify or make changes to the room layout or placement of furniture.
- N'introduire aucun animal familier dans les locaux loués sans autorisation préalable et écrite du propriétaire (ou de l'agence), et seulement si ledit animal ne cause aucun dégât à l'immeuble, ni aucun trouble de jouissance aux occupants de celui-ci (art 10, loi n°70-598 du 9 juillet 1970). / Do not bring any domestic pets without the express and written permission of the owner (or agency), any such permission granteed beeing subjet to the condition that the animal does no damage nor inconvenience the neighbours.
- Respecter la stricte interdiction de fumer à l'intérieur des locaux / Respect that it is striclty forbidden to smoke inside the premises.
- Laisser exécuter pendant la location, dans les lieux loués, les travaux dont l'urgence manifeste ne permet pas leur report. / Allow the undertaking of works on the property that by their obvious emergency can not be delayed.
- Informer immédiatement l'agence de tout sinistre et des dégradations se produisant dans les lieux loués même s'il n'en résulte aucun dommage apparent. / Not bring any pets on the premises without the express written consent of the owner (or agency), and only if said pet causes no damage to the building and does not disturb the peace of building's occupants in accordance with Art.10, Law no. 70-598 dated July 9, 1970.
- En cas d'absence de la propriété de jour ou de nuit, le locataire doit veiller à fermer : porte, fenêtres, volets, et enclencher le système d'alarme le cas échéant. Faute de quoi, la compagnie d'assurance pourrait engager la responsabilité du locataire en cas de vol ou dégradation des lieux loués en absence. / In case of absence during the day or at night, the tenant must lock all doors, windows and shutters, and activate the alarm system where applicable. If not, the insurance compagny may hold the tenant liable in case of theft during the tenant's absence.
- Entretenir les lieux loués et les rendre en bon état de propreté et de réparations locatives, si tel n'est pas le cas un supplément sera déduit du dépôt de garantie pour la remise en état (montant forfaitaire minimum 200 €). / Maintain the premises and leave it clean and in good working order. iI this is not the case, additional charge will be deducted from the security deposit (minimum lump sum of €200).
- Prévenir impérativement au moins trois jours à l'avance de l'heure de son arrivée et de son départ. / Give at least three days notice of the time of his or her arrival and departure.
- En cas de troubles anormaux au voisinage ou au proche environnement, en cas de dégradation des lieux loués ou des éléments d'équipement ou en cas de comportement contraire aux bonnes mœurs ou à la loi dont le propriétaire serait informé, celui-ci sera fondé à mettre fin à la période de location en cours, de façon anticipée et de solliciter le départ du locataire sans indemnité de remboursement total ou partiel du loyer au profit du locataire. / In case of abnormal disturbances to neighbors or the surrounding environment, damage to the rental property or its furnishings and appliances, or in case of behavior that is contrary to accepted principles of morality or French law, of which the owner has been informed, the latter will be entitled to immediately terminate the current rental period and to request that the tenant leave the premises with no right to any refund of any part of the rental price.
6/ OBLIGATIONS PRINCIPALES DU PROPRIETAIRE / OWNER'S OBLIGATIONS
Il est tenu de : / The owners is required to :
- Délivrer le bien, ainsi que ses dépendances et annexes en bon état d'usage et de réparations, ainsi que les équipements et appareils électroménagers devront être aux normes en vigueur et en bon état de fonctionnement. / Deliver the property and any, outbuildings and annexes in good working order. The equipment and household appliances must comply with current safety standards and be in good working orderand in good working order.
- Assurer au locataire la jouissance paisible des lieux loués et le garantir des vices et défauts de nature à y faire obstacle. / Ensure the tenant's right to occupy the premises peacefully and ensure that there are no undeclared problems that will inconvenience the tenantduring his or her stay.
- Ne pas faire visiter le bien en dehors des heures de ménage prévues dans le présent contrat dans le cas où le bien serait mis en vente. / If the property is for sale, not arrange any property visits other than for cleaning purposes during the times set out in this contract.
- Assurer l'entretien de la piscine et du jardin, le cas échéant, et s'acquitter des frais corrélatifs et nécessaires. / Ensure that the swimming pool and garden are maintained properly, and to pay the related costs.
- Sauf urgence manifeste, ne pas effectuer de travaux dans les lieux loués pendant la durée de la location ; le locataire aura droit à une compensation à la hauteur du préjudice subi. / Not to carry out any repairs or works on the property during the rental period except in an emergency. The tenant will have the right to raisonnable compensation in case of any inconvenience suffered as a result of such repairs or works.
- Avoir installé un dispositif de sécurité répondant aux normes en vigueur pour toute piscine enterrée et non close, privative à usage individuel ou collectif. (Art. L128-2 alinéa 2 – nouveau du CCH (loi n°2004-1 du 2.01.04 Art. 19)). / Not carry out any repairs or work on the property during the rental period except in an emergency. The tenant will have the right to reasonable compensation in case of any inconvenience suffered as a result of such repairs or work.
- Remettre au locataire sur demande une copie du constat des risques d'exposition au plomb, de l'état des risques naturels miniers et technologique, du diagnostic de performance énergétique. / Provide if requested, a copy of the following: the lead-safe certificate, the report on the state of natural, mining and technological risks and the energy performance certificate.

7/ ELECTION DE DOMICILE / DOMICILIATION
Pour l'exécution des présentes les parties font élection de domicile à leurs adresses respectives indiquées dans le présent contrat. / Both the owner and the tenant elect domicile at their respective adresses indicated on the present contract.
---
---
---
5 Nächte Mindestaufenthalt.
---
Notre équipe est à votre disposition pour vous accueillir, s'assurer que votre location se passe au mieux, faciliter votre séjour et vous guider dans la découverte de la côte basque... a très bientôt !
Antwortrate:
70%
Antwortzeit:
innerhalb eines Tages
---
Name des Unternehmens
:
SAS APTD - Barnes côte basque location
Entdecke weitere Optionen in und um Biarritz
Noch mehr Unterkünfte in Biarritz: