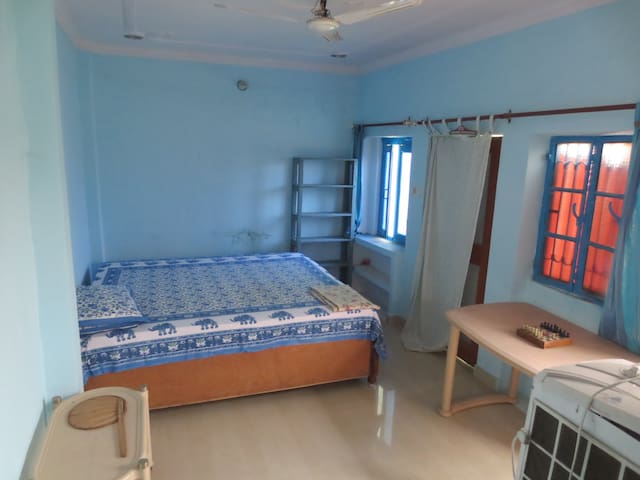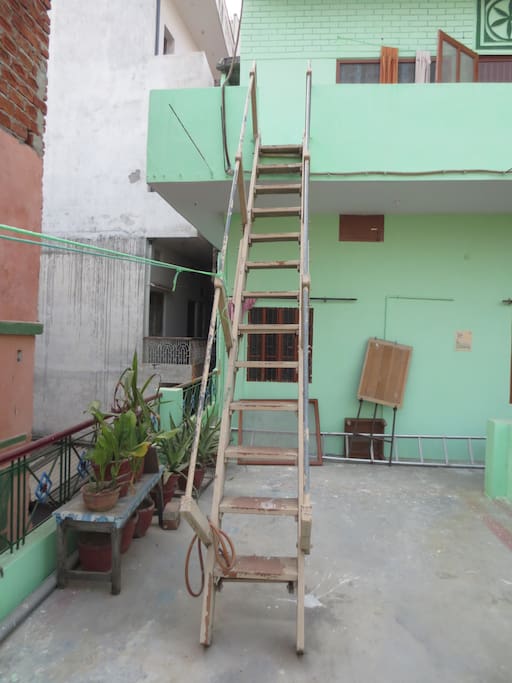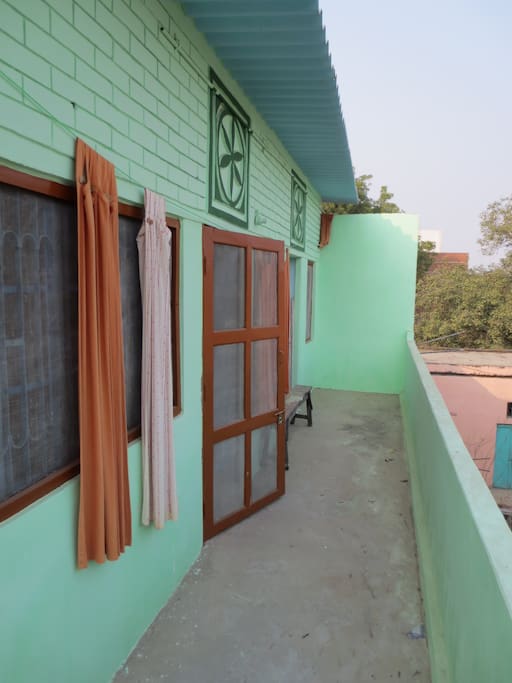 Amenities: Kitchen with refrigerator and stove, fan/ swamp cooler, western toilet and hot water.
You won't be sharing any walls in this unit! A very cool & narrow ladder takes you to the third floor of the home where you have gorgeous views of the Ganga and surrounding Nagwa neighborhood.
Familien- / kinderfreundlich
Zusätzliche Personen Keine Gebühr
Kommuniziere immer über Airbnb
Um deine Zahlung zu schützen, solltest du niemals außerhalb der Airbnb-Website oder -App kommunizieren oder Geld überweisen.
1 Nacht Mindestaufenthalt.
Preis-Leistungs-Verhältnis
Staying at Virendra's house was a very pleasant experience. I liked everything about it and have no complaints. It was safe and secure and even serene with it's view of the Ganges. The proximity to Assi ghat was perfect we couldn't have chosen a better location for our first trip to Varanasi. The apartment was private and peaceful. I even appreciate that Virendra and his wife took care to provide us with small detail things for our convenience such as towels, bags for trash, a bottle of mineral water, etc. I would definitely be returning here for any future trips to Varanasi. Everything was exactly as described and the warmness and kindness of Virendra and his wife made us feel welcome.
---
約一週間の滞在予定だったが数日で切り上げた。 部屋には鍵がなかった。その旨を伝えるとこれを使うようにと壊れた錠を渡された。仕方ないので自前のスーツケース用の小さな南京錠を使ったが、この一件は私に彼らのセキュリティ意識の低さにたいする危機感を植え付けた。鍵について事前にやりとりしていたが、満足な返事のないままチェックインを迎えていた。事前に錠・鍵のない事を伝えてもらえていたら良かったのだが。文化の違いもあるだろうが、安全に関わるので私は少々神経質になった。 airbnbのサイト内で一切彼の物件がゲストハウスである事は書かれておらず、これも私を困惑させた。チェックインするとゲストハウスである事を理由に宿帳への個人情報記入とパスポートコピーを要求された。他のairbnbユーザーのブログでこうした行為への問題について読んでいたことと、彼ら自身のセキュリティ意識に問題があると感じていたのとで「airbnbを使っている以上彼らに問い合わせをしたい」と伝えた。airbnbからの返事を待っていると、彼らから「なぜ報告をしてこないのか」と一方的にこちらの怠慢であるかなのようなメッセージを受け取った。あまり気分のいいものではない。 彼のセキュリティ意識の他にairbnbのシステムへの疑問も今回の問題に影響を与えている。ホストにゲストがこうして個人情報を直接与えなくてはならないのなら、どうしてairbnbにパスポートのコピーを渡し、認証しなくてはいけないのか。もしこうしてセキュリティ意識の低いホストに仕方なく個人情報を渡したとして、何かあってもairbnbは責任を持たないだろう。airbnbはホストがゲストにパスポートのコピーなど個人情報を要求する場合は、ホストに対しゲストを承認する前にその旨をゲストに伝えさせることを義務付ける必要があるのではないだろうか。 おかげで私の休暇は最悪なものとなった。時間もお金も無駄にして、共にいた友人との関係もギクシャクした。 鍵のないゲストハウスに問題を感じない方がどれほどいらっしゃるかはわからないが、セキュリティというものに割と寛容な意識をお持ちの方には問題のない宿だと思う。主人と奥様は人間的には悪い方ではないし、これも文化の違いだとポジティブに捉えられる方なら滞在を素晴らしいものにできると思う。そうでないがそれでもここに泊まりたい方は十分な時間をかけて事前に彼とやりとりをおこない、納得のいく言葉をairbnb上でもらってからチェックインを迎える事をお勧めする。 部屋自体はこの値段でこれだけの部屋に泊まれる場所はそうないと現地の人間が言っていたので良い物件なのだと思う。 ※ホストは日本語が読めないはずなので、airbnbスタッフがこれを英語に訳しホストに確実に私の意見を伝えてくれることを希望する
Hi all,Tomomi was our guest but unfortunately the experience with her was not the way we expected as a host.we try our best to make our guests stay memorable and comfortable,and really want them to feel like home away from home,but unfortunately we did not have such experience with Tomomi.Every foreigner/ tourist who have traveled out of their country must be knowing this FRO rule to provide their passport photo copy to the guest house/private guest house/Hotels etc once they arrive .I explained the need of this local FRO rule to miss Tomomi but she did not provide us the photo copy even after several reminders .Unfortunately it was very difficult to communicate with Ms.Tomomi .I tried to talk to her but every time I tried to talk to her (knocked at her door )either she was still asleep until very late (1:00 /2:00p.m.) or sent her boy friend out to talk .She sneaked out without leting us know .Once she came down stairs to talk but she was not willing to listen patiently or with trust .Her answers were a kind of rude .She seemed to be a nice person but I think she was also very suspicious and confused about the registretion etc. She left the guest house suddenly without any information or warning when I was not at home.She did not leave any written reason as well .The only thing she told my wife was that her boy friend will come .we kept waiting for him but he didn't come for several days .When we decided to clean the room after two days of wait, we found there was a small bottle of red leble whiskhy dirty socks and a cople of (URL HIDDEN) Tomomi had asked me several questions before she came to us , and the key question was also one of them which I had answered .She had asked if she has to leave the key with us when she goes out .My answer was that You keep your key/s with you When she came I asked her to lock her room but she did not have her own lock but probably there was something wrong with the lock we provided to her. .(on our part we also specifically I did not tell her to bring her own lock, .(Our mistake) I asked her to buy her on lock from the city but she said she has a small lock that she has put on .I said ,that is also fine . But we should also make it clear in advance that the guest should have his/her own lock for or we we will buy them a new lock and they can keep the key .We want to have a policy of having the guest ( his/her) own lock and key .I don't know whether this is a good policy or not ?just for being extra safe. I hope we don't have to deal with such problems again .We want to be nice and welcoming to our guests to keep up with airbnb good will and ours as well .want to make memorable stays with homely feeling . warmly . Virendra/host
---
Virendra told us in advance that Varanasi would be hot in June. I replied "We must be crazy!". Yes, we are crazy. But Virendra's house is a sanctuary in a busy city. He made us feel like family from the moment we stepped through his front door. He gave us thorough instructions to find his house from the airport. He even sent a translation for the taxi driver. His home is tucked away in a back street but it is the perfect location in Varanasi. It is close to everything except the airport. Virendra and his family went above and beyond to make our stay as comfortable as possible. June might not be the best time to visit Varanasi, but Virendra's home is certainly the best place to stay.
---
Welcome to the Kashi, the City of Life . It is also known as Banaras or Varanasi. Varanasi is one of the world's oldest cities and one of the holiest in India. Whether you stay for a few days or a few months, to really understand your surroundings, staying with a local family is essential. And if you are staying with a local family, why not Varanasi's most well known Hindi Gurus? You are welcome to take Hindi classes with Virendra Singh while staying with him and his wife. Virendra Ji has been teaching with a well established university in the United States for over 30 years and continues to now, but don't worry, he will have time for you…he always does.
The Singh residence is located near Assi Ghat, in the Nagwa neighborhood. There are multiple levels to their lovely home. Most rental rooms are on the second floor, but there is one on the ground floor (most suitable for a family) and one on the third floor! The second floor rooms share an amazing rooftop with a cozy sitting area that overlooks the Ganga. The Singh's also have a washing machine that is available for use as well! You can dry your clothes on a clothesline on the roof. There is internet in the house and also, plenty of cyber cafes in the Nagwa neighborhood. Nagwa has less of the hustle and bustle of Assi so it is a nice getaway. It is also close to the Lanka neighborhood which is home to Banaras Hindu University where u can buy all necessary things.This guest house will try its best to make u feel home away from home as Singh family want their guests trip memorable and relaxed in a very good n healthy way.

Sprachen:
English, Hindi
Antwortrate:
67%
Antwortzeit:
innerhalb eines Tages
Entdecke weitere Optionen in und um Varanasi
Noch mehr Unterkünfte in Varanasi: