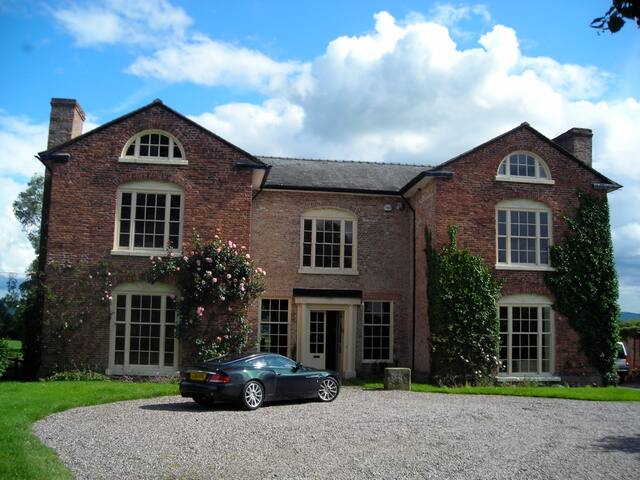 A charming, welcoming, warm, comfortable, atmospheric and characterful property, tastefully decorated and furnished. Built in 1682. Equally suited as a place to relax, in peace and tranquility, or to party and have a great deal of fun; or both.
Der Wohnraum
The Hall is perfect for family get-togethers, birthday/anniversary celebrations and generally for both relaxing and entertaining, and is very child-friendly.
Please note that Llandrinio Hall is available all year round. For Christmas and New Year we only rent full weeks. The same applies during the Summer School Holidays, from Saturdays to Saturdays. At all other times, just a two-day minimum stay applies (three nights for half-term and Easter weekends). The price system on this website (a touch inflexible) is set for weekend stays and is not configured for full weeks, so please just enquire and we're happy to quote. We also offer half-days, so, rather than checking out at the usual 10am, you can extend to 6pm at a half-day rate.
Llandrinio Hall was built in 1682 during the reign of Charles II near the site of a former hall that can be traced back to 1589. It has a well-documented history as an important Montgomeryshire house that was the centre of a large estate throughout the 17th, 18th and 19th centuries. During that time its owndership passed through just three families, but they boasted amongst their numbers the nephew of the Bishop of St Asaph, four high sheriffs of Montgomery and various relatives of the great parliamentarian Sir Robert Peel.
The hall is approached via an impressive avenue of lime trees and stands against the backdrop of the Breidden Hills. Many of its original features have been retained, including two oak Carolean (ie dating from the reign of Charles ll) staircases at either end of the house and a wealth of oak timbers and polished oak floors. Having been recently fully renovated, nowadays the spacious rooms strike a balance between their fine original features and more modern style details: a Steinway baby grand piano in the Drawing Room; Billiard Room with a full-sized snooker table; Cinema Room with 65" HD plasma television and Bose home theatre surround sound system; an impressive walk-in Shower Room/Wet Room; an Emperor-sized four-poster bed. There are open fires in the Billiard Room and Cinema Room and a wood-burning stove in the Drawing Room. The state-of-the-art sound system enables fingertip music/radio control throughout the house and into the garden. Together with its fully equipped kitchen, its light and romantic conservatory and spacious dining areas, Llandrinio Hall is an impressive and atmospheric setting for relaxing and entertaining guests in style.
You will find this charming, welcoming, warm, comfortable and atmospheric property to be aesthetically appealing and tastefully decorated and furnished. The whole place has been engineered for comfort and pleasure. The hall is equally suited as a place to relax in peace and tranquility, or to party and have a great deal of fun; or both.
It is also an exceptionally child-friendly place. Obviously the Cinema Room is an attraction (with its comprehensive DVD/Blu-Ray collection), as are the grounds, complete with a massive trampoline, purpose-built tree-house, giant outdoor chess set within its own private walled garden, and an acre of orchard to the side in which to roam and play. There is also a host of children's toys, games, puzzles, a DVD with wide-screen TV in a separate room, a large collection of children's DVDs, table football, table tennis.
The property is fully-equipped throughout, including broadband wifi internet, Freeview TV channels, a full burglar and fire alarm system, comprehensive kitchen facilities, comfortable beds, a library of books, a library of children's books, 3 showers and 2 baths. Altogether, it's a very beautiful and idyllic, peaceful and tranquil home, or home-from-home.
With regard to your stay, we try to think of everything: feather and down duvets and pillows, because they're the softest and the nicest (yet man-made available for allergy-sufferers); feather and down mattress toppers, to make comfy beds just … even more comfy; we do not use energy-saving lightbulbs or even LED, just warm tungsten and halogen, because it's so much warmer and more natural; there is entertainment in the form of books and DVDs/Blu-rays scattered around, that have been thought about (England/Wales/Countryside/Manor House-focussed); ornaments and pictures create an atmosphere, so all these have been considered, to help settle, amuse, enlighten and enhance your stay; no supermarket 'basic' or 'essential' items are supplied, but just what works best (like Andrex); towels are 100% cotton and plump; bedding is 100% cotton and mostly from John Lewis (you'd be stretched to find a man-made fibre in the apartment); floors are original; there are always rugs; there is always plentiful hot water; heating is always efficient; kitchen equipment is extensive; cutlery and crockery is elegant; and there is nothing that might aesthetically offend.
Outside catering for parties can be arranged (please enquire).
Weitere wichtige Infos
Of benefit to the budget-conscious traveller, the Hall is also available through the 'Holiday Lettings UK' website, property number 51999.
OUR RENTAL GUEST COMMENTS:
We had the most fantastic Christmas in Llandrinio Hall with all our family,
it couldn't have been better. The Hall suited our needs perfectly and all agreed we had just the best time. You asked in your e-mail for any suggestions or comments, but honestly we couldn't fault it. The linen and the towels were all good, the kitchen very well equipped. The big bonus was the great walk in shower, which is so efficient and made shower time, along with the other 2 bathrooms a very speedy process for 15 people. We really did have the best time in your lovely home, it was just so welcoming with all the lovely Christmas touches you had put in place and the tree looked so pretty. With very best regards,Valerie Will and Family
We had a lovely time at Llandrinio Hall. The house was perfect. It easily accommodated our whole party with plenty of space for us to relax and enjoy our weekend break. We thoroughly enjoyed sitting out in the garden in the afternoon, watching the sunsets (even in October it was warm enough!) and sitting by the fire in the evening in the lounge. Our favourite room was by far the kitchen: this is the first time that we have stayed anywhere that has been able to fit our entire group around a table; perfect! The house was easy to find but also secluded enough we did not feel overlooked. We will definitely check out your other properties for our next trip. We would highly recommended a stay at Llandrinio hall for any large group. We felt as though we were staying in a National Trust stately home property; it was truly stunning! Hopefully we will return for another reunion next year. Rebecca Welsh
We had an absolutely wonderful time. What a fabulous house for my 50th birthday party! It was truly such a special place to be - a fantastic fun-filled house to party in. There were 14 of us, all adults - music lovers, art lovers, film lovers, food lovers - and we could not have been in a better place! Very best wishes, Sue Richardson
I just wanted to say that we had a fantastic stay at Llandrinio Hall for my 40th. All the adults and the children were gushing in their praise. I had several conversations about what a great place it would be to come back to year after year as the children grow up and for our geographically dispersed group to meet up. Alec and Veronica were so hospitable and made us feel right at home with wonderful catering and local gossip. The house is magnificent, the views spectacular, and we loved it. Hope to return next year. Cheers, Tom Liptrot
Many thanks for letting us stay in your beautiful home! And particular thanks to your children for sharing their many lovely toys and books with our children. My favourite things were: the tree lined drive; the view to Rodney's pillar; the wide old floorboards; the attic rooms; the piano; the heating! My children were very reluctant to leave and we are all hoping to stay again. Sarah Rusbridge
We had a great time, the house was perfect for us. Particular bonuses were: garden, toys, books and DVDs for the children (things to keep them entertained is the key to a relaxing holiday!); the well equipped kitchen allowed for proper comfortable cooking, and the place had a very relaxed feel in general - which helped allow us to relax. Nice to be surrounded by lots of lovely books, including the cookbooks. My wife and I couldn't think of any suggestions for improvement! Sudip Nandy
We had a wonderful time we had in your lovely home! Thank you! We had just the right amount of space for our 4 families and felt quite at home. Kari
We just loved our stay at Llandrinio Hall. It is just perfect for a family get-together and we were sad to leave. Relaxing in the garden each morning with a cup of coffee was been a joy. We have had our own mini-Olympics, with table tennis, trampolining and badminton. Alison Fletcher & Family
We had the most marvellous time at Llandrinio Hall. My friends and I often book large holiday homes and without a doubt this was the most lovely. We were blessed with very fine weather, which meant that we were able to take full advantage of your beautiful gardens and we were able to stay outside on a couple of evenings until at least 10pm. The rooms are spacious and comfortable and we spent most of our indoor time in the hall and kitchen, simply enjoying each others company and laughing to an enormous degree! One of my friends organised a 'treasure hunt' around the house and garden, which helped draw our attention to parts of the building and decoration which we may not have noticed on our, too brief, stay with you - which was huge fun. Sue and her husband met us on our arrival and made us extremely welcome and it was nice to meet Alec and Veronica just before we departed. Everyone would love to spend more time in your part of the world. Sarah Ley
What can I say, other than 'Wow?!' The Hall is stunning - you have created a real home-from-home for your guests and each and everyone of us were thrilled with everything! I particularly liked the vine-shaded conservatory that opens onto the lawned rear gardens, with rose borders and formal yew hedging. Other garden features we appreciated were: the family-sized trampoline; tree house; BBQ. With stunning uninterrupted views of the Breidden Hills, it really is the perfect place to relax, unwind and/or to entertain guests. Brian Priest
We had a wonderful weekend. Your house gave us the space and facilities for four couples and a selection of our children to have an enjoyable and relaxing time. The meal that Alec and Veronica provided on Saturday night was delicious. The golf at Welshpool and Oswestry was enjoyed. The children enjoyed all that the house and garden offered and were reluctant to go out. Overall, we all agreed that Llandrinio Hall had suited us far better than the alternative of a hotel and we are trying to think of an excuse to do it again. Ann Saunders & family
We really enjoyed our stay at Llandrinio Hall. It was an excellent venue for the family celebration of my husband's 60th birthday. The garden was a superb size for children and adults to play a variety of games. The adults enjoyed watching the highlights of the Olympics on the large screen during the first week. The kitchen was a great size to work in and have everyone sitting round the table for a meal. And the pianists amongst us played a few duets, so something for everyone. There was just the right amount of space for people to join in or do their own thing. In fact, apart from taking the dog for walks in and around the village, we were happy to spend our time at the Hall. We also had a few family table tennis tournaments, raising the competitive spirit. Paula Crosbie & Family
We had an amazing time, a fab time - the pictures did not do the house justice! Really fell in love with it. I celebrated my 40th birthday there and Alec and Veronica did the catering - it was a fantastic night, and they are just the loveliest people. Nothing was too much trouble. The house was so comfortable and not like most holiday lets! We did not want to leave and certainly hope to return one day. It far exceeded our expectations. Thanks so much. Fleur Challis
It was truly a wonderful experience staying at Llandrinio Hall, for all of us (10), over the bank holiday weekend. We thoroughly enjoyed our stay. The house was immaculately tidy and we were proud to be part of the historical mansion. Honestly, 4 nights was simply not be enough; we would have loved to stay longer than that. I take pleasure on behalf of my family and my friends, in conveying our happiness and thanks for the nice way we were treated at the Hall. Special thanks to Alec and Veronica for their help. We would highly recommend that others experience the amazing place, providing entertainment to all ages from 6 to 60. All-in-all, it was a fabulous place to spend the holiday period. We liked the whole house, including the entertainment for adults and kids in the form of snooker, table tennis and the trampoline, plus the sports gear, the amazing Bose sound system, the sprawling kitchen and dining facilities, TV lounge and music room, the shower room and the king size bedrooms. Warm regards, Ramesh Ramaraju & Family
Llandrinio Hall is a beautiful place with fantastic facilities. We had no problems finding something to keep everyone amused and the whole family enjoyed their stay. A truly wonderful experience, from the first sight of the Hall approaching up the driveway, to saying goodbye. Totally unique. The photographs on the internet don't do this place justice at all; no fault of the photographer, it just has to be seen to be believed. Oh and the most important part: loads of dishes if you are planning to cook Tapas! I enjoyed the weekend so much, I've already booked for the whole family for next spring, and I'll come back with this mob again also. Thanks again, Darren Hunt & Family
We had a wonderful time last weekend at your house - such a beautiful place to stay. It was a perfect place for such a large group, and we really appreciated all the facilities (and enjoyed piping through odd music to people halfway through their showers - rather childish, but we never seemed to grow tired of it). We can highly recommend the area for an activity weekend - great mountain biking at Coed Llangdella and an enjoyable afternoon karting at the circuit near Chester. Alec was more than helpful with the handover of keys, and great at filling in on the history of the house, too. A handy tip it might be worth passing on - Tesco will do an evening home delivery of shopping to the house for future guests - we had a van turn up with all our provisions about 10 mins after we arrived on the Thursday night, which then means you're free to enjoy the weekend without worrying about heading out for drinks/food first thing after arriving or having to stop and do a shop on the way. I hope I manage to find another excuse to book again in the future - one of our party's wife has already booked in November for a weekend (Shona Hares), and I expect you'll find a few of us will be in contact again in the next couple of years. Thanks once again for a great weekend. Regards, Tim Watsham & Guests
We had a fantastic time in your lovely home. It was even better than advertised on your website. I can't tell you how fun it was to help one of our older guests onto the trampoline. She and I laughed like hyenas as I tried to gently guide her to bounce up and down. The bedrooms were great, the bathrooms very nice, the kitchen so spacious - we were able to fit 16 people for Sunday lunch. We were really pleasantly surprised at the huge number of plates, glasses & cutlery. Absolutely brilliant! Also, lots of pots, pans, and casserole dishes. We've stayed at several villas in France, Italy & Spain and you've definitely offered the best kitchen for entertaining. We had a singalong on Saturday night, so thanks so much for the piano. And we had a nice cozy couple of nights with open fires. Needless to say, the cinema room was a huge hit with the under 19-year-olds and the sound system was just as popular with the rest of the party. The trampoline as I say above, was hugely popular. We all couldn't stop laughing and it will certainly go down in history as the best way to get grumpies to smile! Really, it was a total pleasure from start to finish. Many thanks again to you, and Alec (for all his support & assistance) for a fantastic stay at Llandrinio Hall. Best wishes, Linda & Geraint Ditchburn
We had a fantastic weekend at Llandrinio Hall, thanks. It's an incredible house! We definitely hope to return in the near future. We frequently stay in large country houses and this is the best one yet; the house has it all! Thanks a lot. Susan Ryan
Just a quick message to say how much we enjoyed our stay at Llandrinio Hall over Christmas. It is a fabulous house and will be remembered by all for a very long time. The children (and a few of the adults) enjoyed the trampoline, and we had a great game of hide and seek at night in the garden. The cinema room was a huge hit. All in all, we thought it great value for money, and hope to book again for the future! Kind Regards, Fiona Stephenson & Family
We had a truly memorable stay at Llandrinio Hall over New Year. We are all still suffering from withdrawal symptoms. The house was amazing - beautiful, spacious, kid-friendly. We loved the wet room, the cinema room, the table tennis, the trampoline, the billiard room, the piano etc etc. So nice to be in a house where there was no shortage of crockery, pans, cutlery etc. We had a fantastic week, many thanks. Frances Rivers & Family
We've enjoyed a fantastic weekend. Everyone loved the place and all the activities, both in the house and locally. The house provides a beautiful setting, and, although grand in stature, has a very homely feel. I couldn't imagine a better location for a gathering of friends and family. Paul Morris & Sarah Milne
We had an amazing (albeit far too short!) weekend at Llandrinio Hall. The house is perfect for gatherings of family or friends. There is so much to do to keep everyone occupied. The kitchen is absolutely perfect for cooking/eating/socialising (and comfortably sat 16). The snooker, darts and table tennis kept the males occupied and the television/games room is ideal for taking time out and relaxing. The photos do not do it justice - it is much bigger & more impressive 'in the flesh'. The wet room was the talking point of the weekend & the garden is truly magnificent. We hope to re-book in the near future. Rhian Wooley
16 of us stayed for a long weekend in Llandrinio Hall in March and one of my children actually burst into tears when it was time to leave - we'd had such a wonderful time, she couldn't bear the thought of driving away. To be honest, I felt the same way! The house is beautiful - I especially loved the huge old windows and the wide wooden staircases - and the children had great fun with the treehouse and trampoline in the garden. What made Llandrinio Hall such a special place to stay was that it felt as if we were staying in a friend's house - there were so many books and games and lovely pictures around the place, that it was like a home, not just an impersonal building. The weather was great but even if it had poured down solidly the whole weekend, nobody would have minded - the house was so comfortable and well-equipped with its snooker room, cinema room and games room, that there was something to keep everybody entertained. We have already booked to come back again next year - I can't wait! Thanks again, and all the best, Sue Mongredien
Just a quick note to let you know that we all had a brilliant time at Llandrinio Hall and very much appreciated the obvious care and attention to detail that you have lavished on the house and grounds. A highly satisfactory weekend and everyone agreed that it is the nicest house we have stayed in so far (this is the fourth time we have gone away together for the May bank holiday). Many thanks, Graham and Liz Sturgess
We had a fantastic time at Llandrinio Hall. It was everything we had hoped for. The house is amazing and in a beautiful setting, with the most of the beautiful garden with a fantastic view; it was idyllic. The views are amazing. We were there for the village carnival on the Saturday and there was a fete on the common, which was nice. The pub was a good stopping place for a drink on the walk back to the Hall. The children enjoyed sleeping in the rooms in the eves and exploring the garden, playing rounders and making friends with the cows in the neighbouring field. All the bedrooms on the first floor were of equal size and were all very nice. This meant all couples were happy in their room, which we allocated by picking room numbers from a hat. The kitchen was fantastic and well equipped, with plenty of everything you could possibly need and room for everybody to help without it being a case of 'too many cooks'. My favourite room was the drawing room, in which some of us relaxed with a wine after dinner, whilst others watched DVD's in the cinema room. Some of us even had a play on the piano. We had such a perfect weekend that nobody in our party wanted to go home. We even bought a syndicate lottery ticket on the Saturday night and planned to buy the house if we won! Kind Regards, Linda Hynan
We had an absolutely wonderful stay at your beautiful hall and we have all fallen in love with it. It was a great place to hold a large party, as there was something for everyone and we could have stayed for weeks. Our group included people from 4-83 and we all had something to entertain us. The area is beautiful, the garden a dream and every room was beautiful. We are all planning when we can stay again. Thank you so much, Suzanne Al Kaddah
We had a great week and the weather was very kind to us. The house and gardens are lovely. We hadn't realised how old the house was, and gives the place a lot of character. Our daughter especially loved the attic room with the curtains across the entrance. The cinema room was a big hit, and 4-player Mario Kart on the big screen was lots of fun! Trampoline - brilliant! It was great to be able to sit 10 around the table in the sun room, and around the kitchen table very comfortably. The bread maker and the blender were also used quite a bit (good bread) - thanks for those! All the rooms were great, fantastic views from all windows, and very spacious. The walk up to Rodney's Pillar is very rewarding and I would recommend that to the next visitors. The housekeepers are very friendly and helpful. Shrewsbury is really nice and good for shopping. The piano is great and wonderful to have this in the house. Walk-in shower room amazing! Thanks again. We will certainly return next time we all want to meet up for a holiday. Jenny Jones
We had an absolutely fabulous stay at Llandrinio Hall. We booked it as somewhere for the whole family to get together, to celebrate my Mum's 60th birthday. She arrived at the Hall thinking my Dad had taken her to stay at a country hotel, only to be met by all her family! Mum, like the rest of us, was blown away by the Hall. Not only was it able to accommodate the whole family, 14 in total, it is a beautiful setting; a real home from home. We loved the grandeur and history of the property, which made us feel extremely special. But more so we enjoyed the personal touches around the house, and the attention to detail, which meant there was something for everyone and there was never a quiet moment. It was constant activity, and we all developed a competitive edge: table tennis, snooker, darts, even the trampoline got the most inactive of us out of our seats; even my Nana got involved and was playing the XBox at one point! The weather was gorgeous, and in all honesty, whilst we did venture out, we were all keen to get back to the Hall and enjoy some time sat in the garden with a glass of wine, admiring the splendid setting and scenery. Everything was fantastic. We even thought about how we could all pool our financial resources so we could make an offer on the place if you ever sell up! Kind regards, Jessica Nash
Have just got back from Llandrinio Hall, which is a very impressive building and has very well kept grounds. It is beautifully furnished and full of very interesting artifacts (stuffed piranhas, a turtle on one wall, beautiful carpets). In our group were 5 teenagers/young adults and there was so much for them to do - the biggest snooker table I have ever seen, table tennis, darts, Xbox with huge screen, trampoline). The property had fantastic views and there was a great walk nearby. I have to say it is a great place for a family get-together. We found the local pub very friendly, too. Jenny Mottram
I was a bit concerned before our trip to Llandrinio Hall at the beginning of November. Everybody was looking forward to it so much – would we be disappointed? I needn't have worried; it was even better than we had hoped. Jan Greasly

The house was beautiful and comfortable with plenty of space for our party of eight to spread out. The huge kitchen was one of the best equipped I have ever seen and all the fitting and furnishings throughout the house were of a really high standard. Our four-year-old grandson loved the trampoline and the table football and we appreciated having a variety of toys to keep him amused. The billiard table and darts kept the competitive ones happy, and the only problem with the cinema room was choosing what to watch. Some of us managed to drag ourselves away from the house for a few hours (others refused point blank to leave!) for a short trip to Shrewsbury, where there are lots of unusual shops, as well as the larger national chains. We had a great welcome from Alec and Veronica and they provided a fantastic meal on the Friday night for an 80th birthday celebration using local meat and tasty homegrown veg. They then washed up while we relaxed in front of the log fires. I've been trying to think if there is anything that could have improved our stay - and can't think of a single thing! We'll remember our perfect trip to Llandrinio for many years to come, and are already thinking of other occasions we could use as an excuse to come and stay! Many thanks, Pat Jones
Fifteen of us (ranging in ages from 6-80) stayed for a long weekend at Llandrinio Hall to celebrate my father's 80th birthday, and not once was anyone bored. The hall was much more than any of us expected. From the moment we drove up the long driveway to investigating each themed room that we went into. It felt homely, it was beautifully decorated and so well equipped. It was a pleasant surprise to find so many utensils, so much crockery/cutlery and everything else that you would find in your own home. All of us managed to sit around the kitchen table at meal times, to chat and to play games, which was fantastic. We loved the table tennis, cinema and snooker rooms equally and we were amazed at how many toys/games/DVDs and books were there to keep everyone occupied. The sound system was a definite bonus having music playing in each room. We hardly ventured out other than for Sunday lunch at the Punch Bowl pub (10 minutes walk away). Everyone had a fantastic home cooked roast dinner at an excellent price. We all would definitely like to return to Llandrinio Hall at some point, hopefully for a longer duration. If you are in any doubt as to whether to book this, I can assure you that you will not be disappointed. Lynn Howard & Family
Diese Unterkunft verfügt über die grundlegende Ausstattung für Geschäftsreisende.
Zusätzliche Personen Keine Gebühr
Kommuniziere immer über Airbnb
Um deine Zahlung zu schützen, solltest du niemals außerhalb der Airbnb-Website oder -App kommunizieren oder Geld überweisen.
Schlafzimmer 1
1 Doppelbett (1,80 × 2 m)
Schlafzimmer 2
1 Doppelbett (mind. 1,50 x 2 m)
Schlafzimmer 3
1 Doppelbett (mind. 1,50 x 2 m)
Schlafzimmer 4
1 Doppelbett
Schlafzimmer 5
1 Etagenbett
Schlafzimmer 6
1 Doppelbett
Schlafzimmer 7
2 Einzelbetten
Schlafzimmer 8
1 Doppelbett (mind. 1,50 x 2 m)
Der Check-in ist jederzeit nach 16:00
Please email us re pricing, if anything is unclear. Alternatively, visit the 'Holiday Lettings UK' website, property number 51999.
2 Nächte Mindestaufenthalt.
I work in film and television, as Producer and Executive Producer (The Machine, Clubbed, Romans 12:20, LA Slasher, Dartmoor Killing, Let's Be Evil etc), plus run a UK-based angel investment network.

We are a family of 6 (kids 21, 19, 7 and 4) and travel extensively, in the summer to the south of France/Corsica, every year to Venice, skiing in winter in the Alps, with the occasional foray to the States (LA, NYC) and the Far East (Thailand).

We always rent self-catering accommodation, so we trust we provide what we appreciate when we travel: places that are comfortable, extensively equipped, centrally located, and into which you can settle down and feel 'at home' immediately upon arrival.

We can handle 'bundle deals' for European trips that involve stays in London, the British countryside, Bath and Venice. Just enquire.

We look forward to welcoming you.
Sprachen:
English, Русский
Antwortrate:
100%
Antwortzeit:
innerhalb einiger Stunden
Entdecke weitere Optionen in und um Llansantffraid
Noch mehr Unterkünfte in Llansantffraid: