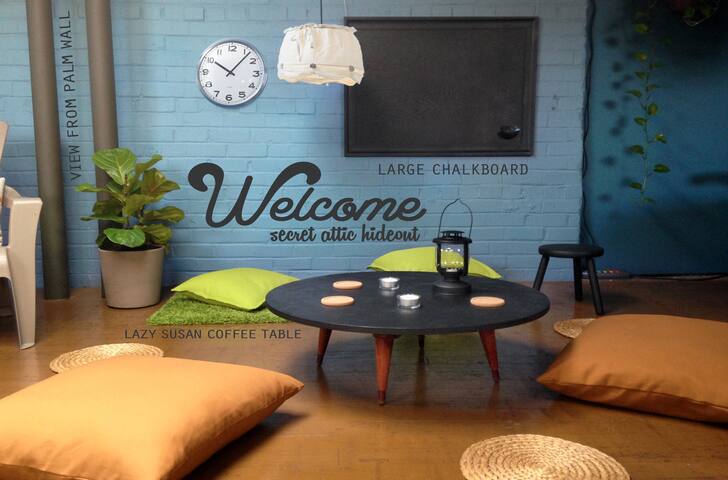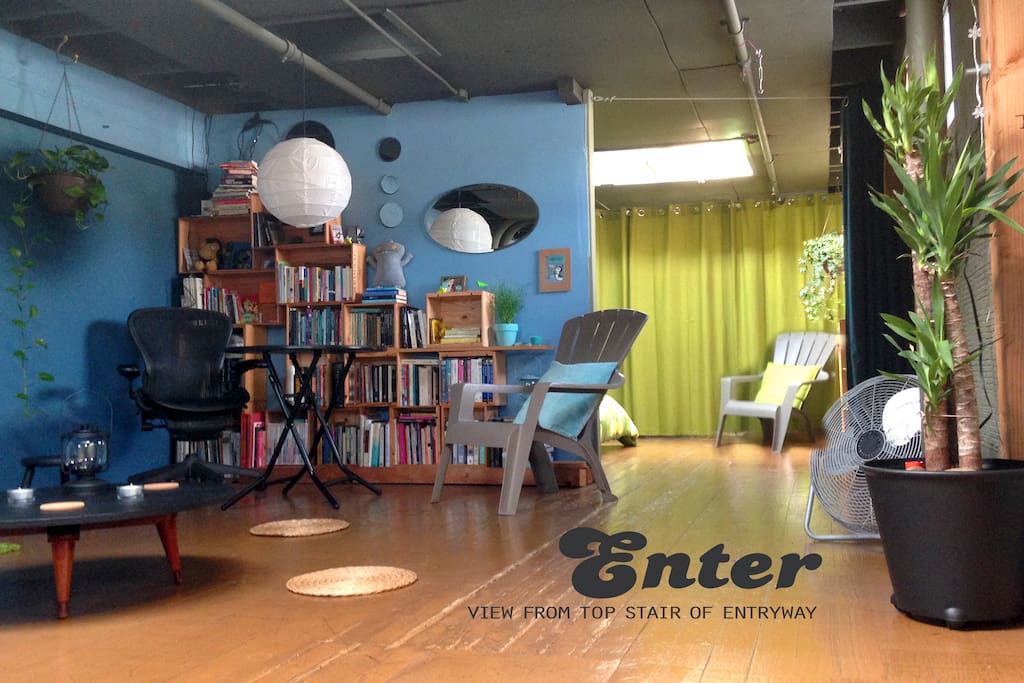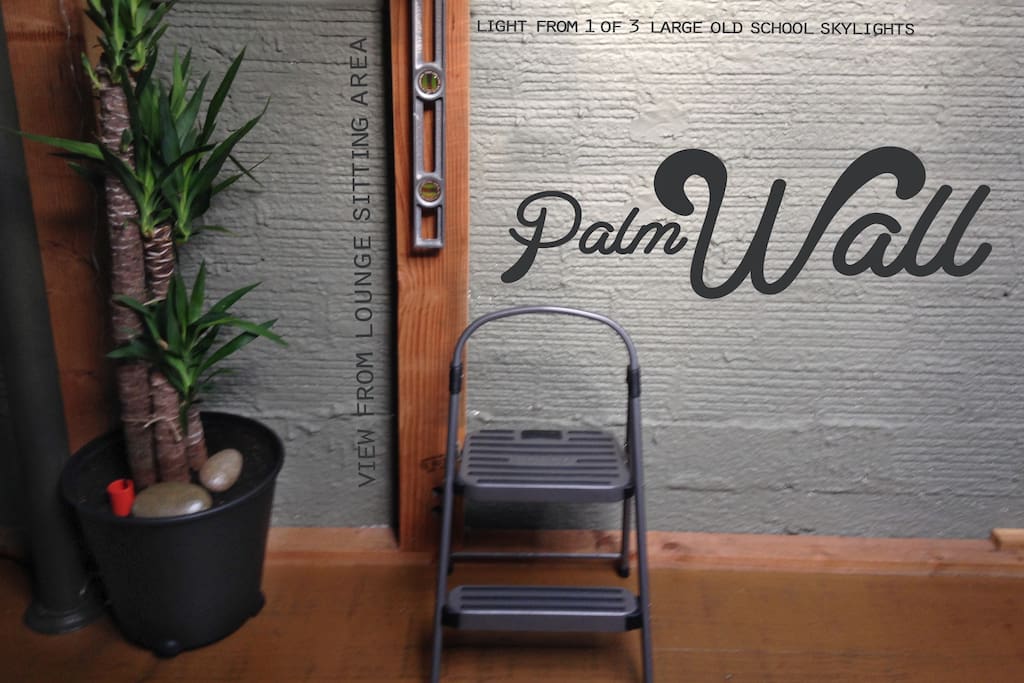 Der Wohnraum
welcome to the attic!
SPECiAL NOTE (must read): the attic space is for our more long term stays. we screen more than the average airbnb hosts. we really want people staying, who want to be here. as you'll see in the reviews. we want everyone (including us) to feel good about the stay.
for this reason, please do not request stay on first contact. we put much LOVE / work into this unique space. there has to be a back / forth (interview) process. it's not just about you liking the space. it goes both ways.
musts in our screening list:
1. must be easy going, considerate, flexible and friendly.
2. must LOVE dogs. the building is full of them.
TiP: helps if you give a brief sentence (or two) as to why you would want to specifically stay here.
okay here we go with the description…
billy and i live in an old cardboard box factory, in north oakland. with three dogs and a handful of fish.
BUiLDiNG
although the studio space (along with our main loft space) is exactly like the pic tours, the building is raw (authentic) artists live / work community. aka. people live / work here. you can read guest reviews to get more of the experience.
we live downstairs in the main loft, with the animals. (for more details check out our "super loft adventure" listing).
we also rent this attic space, which functions as a secret getaway / home office / workshop / art studio / guest space.
the attic is an AWESOME space, with lots of light and air. there are three large skylights, and 5 half-height windows that face the oakland hills.
it's a private space with it's own private entrance. we do have books, clothes, tools, etc up there, and occasionally pop up to grab things, but we won't be living up there with you. you'll have the space to yourself.
LOUNGE: check out the spacious lounge area. included: fun lighting, cozy comfy seating, lots of LiVE (oxygen giving) plants, a custom made mid century lazy susan coffee table, a large framed chalkboard and more! see tour pics for complete visuals.
MiNi STUDY (library): a little study / offbeat library nook, with table and super supportive aeron chair -- WOW! see pics in tour for complete visual.
THE GREEN ROOM: the large bedroom space with a giant old school skylight above a super cozy bed. includes: lots of dresser / storage space and fun lighting for all modes: nightlight world globe, reading light, paper lantern dimmer-able ambient. see pics in tour for complete visuals.
KiTCHEN: cool retro sink (which we plumbed and put in ourselves), a mini fridge, a kettle, a hot two burner hot plate, and a super stylish clean efficient toaster oven.
(for more details check out our "super loft adventure" listing)
BACK STORAGE /OFFiCE/WORKSPACE: big desk, WiFi, and wireless speakers. big work table -- functions as a workbench or standing desk. small work table, functions as a mini desk.
LAUNDRY: we have our own front-loading washing machine in our downstairs space that you are welcome to use. we usually air-dry our clothes on a clothesline or drying rack, but there are also shared coin-op dryers in the building that you can use.
BATHROOM: (highly important!) if you are naturally a bathroom / shower lounger, (since there is not one in the actual space) this is probably not the space for you.
You have two bathroom options:
1) our building has a big, clean, shared half bath (no shower) down the hall from the attic. (~60 feet). this bath is used by you and a couple folks who rent art studios in the building. see pics of half bath in the tour.
2) downstairs, we have a big, clean, private full bath, (with a tub). that bath room is a bit more of a trek. probably 300 feet, including a treacherous 40 feet OUTDOORS, thru an enclosed parking area / garden / courtyard / communal hangout space. see pics at our "super loft adventure" listing pic tour.
option (2) is great in the morning or at the end of the day, when you want to take a hot shower or a relaxing bath. option (1) is great in the middle of the night, when you really need to pee, and don't feel like walking that far.
COMMUTE… here's a few transit notes. we're about a 15 minute walk to BART, then a 20 minute ride that pops you up in downtown SF. billy does it everyday for work. not too long for a day's adventure (work or play) in SF.
if not up for the walk to BART, there is a trans bay bus across the street.
CAL BERKELEY: about a 20 minute bike ride. 10 minute lyft.
LiKE DOGS? the building is a dog building. many tenants have them and they come in all shapes, sizes, breeds and ages. plus... we have three of our own that you will encounter anytime you come down to the main loft to visit. see "super loft adventure" for pics and past guest reviews of the girls (aka. pups). if you like or LOVE dogs, you'd get your fix here!
---
---
Zusätzliche Personen 22 € / Nacht nach dem ersten Gast
Kommuniziere immer über Airbnb
Um deine Zahlung zu schützen, solltest du niemals außerhalb der Airbnb-Website oder -App kommunizieren oder Geld überweisen.
Erfahre mehr
---
Außerdem musst du Folgendes beachten:
In diesem Haushalt lebt mindestens ein Hund
---
---
2 Nächte Mindestaufenthalt.
---
Preis-Leistungs-Verhältnis
I had a great stay in the attic. First of all Bren and Billy are just awesome people; very welcoming and always in for a fun conversation. But the best thing about the warehouse is that not only Bren & Billy--but also their neighbors--are unbelievably cool people, with which I spent a great time. The rooms are just as beautiful and creatively decorated as seen in the pictures and I enjoyed cuddling with the cats and dogs whenever I went to the loft. Having the restroom downstairs and the shower in the loft have never been a problem to me. The only real minus about the attic was that there was sometimes noise from the streets at night. I would definitely stay here again!
---
Bren and Billy are great people and perfect hosts! The best airbnb experience I've ever had... and probably the best I will ever have! You should definitely take some time to chat with them while sharing nice bottle of red wine around the fireplace. The other hosts (two dogs, two cats, a turtle, a gerbil, fish, and probably hens soon...) are very cool, friendly, and beautiful. The attic is an awesome place to stay. It's very large, you have a lot of space to study or work. It has everything you need... and in case you actually needed something else, I'm sure Bren and Billy would figure something out for you! The garden is also a cool place to relax after a long day. Basically, everything looks exactly as on the pictures (cool, right?!!). I'm from Europe, and it was my first stay in California. Thanksfully I found that heaven where I felt at home. I would totally come back to their place if I was to stay again in the bay area. Very highly recommended!!!! Nick.
---
I stayed in the secret attic hideout for one month, and really enjoyed it! I used my time there to study for a big exam, and it was the perfect space.The attic and both bathrooms look just as they do in the pictures, and all are clean and well stocked. The kitchen area has all the basics needed to make your own meals, and there are shops and restaurants within walking distance. There are shelves of awesome books to read next to the office area, and a big comfy office chair. The sitting area with cushions is perfect for binge watching netflix. The bedroom area is separated by a wall and curtain to close it off from the main space, if desired. The bed is very cozy, with a fluffy and warm down comforter. There is also a speaker system in the bedroom you can plug into. The entire space is full of plants and there are 3 windows you can open, and two big skylights. The bathroom is down the stairs and around the corner, but I never saw anyone else use it. The shower is a little further, with a brief walk outside, and has a spa vibe. Billy and BReN are awesome hosts who really go out of their way to make you feel welcome and taken care of. BReN makes delicious food, and every now and then would hand me something yummy to bring back when I came down to shower. Both were easy to reach if I had any questions, and quick to reply. The girls (dogs) are adorable, and it was an added bonus getting some puppy love every day. The building is very dog friendly, and barking was never an issue - if you love dogs, you will really enjoy it here. Parking was pretty easy to find - I always managed to snag a spot very close to the building, usually right out front. Bart is also within walking distance. Overall, the secret attic hideout is a great place to stay, and I would definitely stay here again!
---
My stay with Bren, Billy, Parker, Maisy and Madison has been an absolute dream. The loft is an amazing space in a fantastic area that is close to Berkeley, Downtown Oakland or even SF if you want to head into the city. More importantly however Bren and Billy really took me in like a family member. Bren is a born hostess and any time spent with the two is time spent well. Whether for a movie night, an urban camping experience, an amazing hike or a jewelry workshop-- the two have become real friends to a Bay Area newbie like me and have showed me the best of times. I will be quick to return after my departure! If you are looking for a home away from home in the Bay, you are in the right hands and I could not recommend a stay with B&B more highly. Thank you for everything xx
---
I absolutely loved staying with BReN, Billy, Parker, Maisey and Madison! The neighbourhood was great, really handy for getting around the area, close to BART (15 mins or so) and bus stops and close to plenty of shops and restaurants. The attic itself is exactly like the pictures on the listing. It's a super cool place to stay, with plenty of space for chilling out, working and eating. The bed was super comfy, with really great pillows and duvet (which I miss terribly!), and BReN provided lovely clean sheets every two weeks. I absolutely loved sleeping under a skylight as well, one of the advantages to being in an attic! As mentioned in the listing, the shower situation was a bit unusual, but I didn't find it an issue at all, in fact it was lovely to be greeted by Parker in the morning! Having to pop outside to get to the shower was completely fine since the weather is so lovely in the Bay area. BReN and Billy were so lovely and welcoming, they went out of their way to make sure I had everything I needed, as well as inviting me down for some amazing food every once in a while, and always sent me back with leftovers! The dogs were a bonus for me, they are lovely and friendly and welcoming (it's their home too!) and I am missing them terribly. All in all I would definitely recommend the secret attic hideout to anyone looking for a place to stay in the Bay area :)
---
Bren and Billy have been absolutely amazing hosts, and the secret attic hideout is a brilliant place to stay. It's huge, very nicely decorated and cosy, and overall probably one of the nicest places I've lived. The attic is sometimes a bit noisy due to downstairs neighbours; But even though I'm usually very sensitive to noise at night, this has never bothered me when trying to sleep. (I'm not sure if the noise always stopped when I went to sleep, or if the back area with the bed is quieter than the front.) If you like walking, it's about 30-45 minutes to downtown Berkeley and the UC campus. The toilet downstairs and shower in the loft are less of a hassle than one would think, and in fact a quick chat with Bren and saying Hi to the dogs in the morning has been a great way to start the day. On that note, the three girls are absolutely lovely - and this is coming from someone who's not usually that big on dogs. Both Billy and Bren have become good friends, inviting me down regularly for dinner and just all around being a regular (and awesome!) part of my life while staying with them. I unreservedly recommend staying with them if you get the chance. Also comparing to other long-term rentals that friends in the area have gotten via airbnb, this is by far the nicest place and best deal I've seen, plus it comes with amazing hosts.
---
I had an awesome time staying at the "secret attic"! Bren, Billy and their three girls (dogs) are absolutely lovely, super nice and accommodating :) (their turtle, fish, and new snails are pretty great too!) The attic space is exactly as pictured and everything is as described, plus with little extra touches like having a welcome message for me written on the whiteboard and Bren made me a cute little soap cube! The space is quite self-contained, perfect for what I needed while transitioning to the Bay area, and then when my circumstances changed it was easy to work out an arrangement with Bren and Billy for extending my stay. I think everything you need to know about the place is pretty well described already in the listing and I have no complaints or anything. Would definitely recommend :)
---
hi. here are some personal details of us...

humans:
BiLLY: a coder. easy going.
BReN: a freelance designer/cook. worker bee.

canines:
PARKER POSEY: a sweet 8 year old weimaraner. slightly neurotic.
MADiSON: a bright 5 year old (non yappy) chihauhau. scary smart.

other:
NOAH: yellow bellied slider turtle. not affectionate. keeps to himself.
OLiVE: an awesome gourami fish. likes to swim.

CONNECTiViTY
we have fast (reliable) wifi to stream / download music, movies, television, etc.
we like all kinds of music and movie genres. love, love documentaries.

billy likes to stream all kinds of lectures (physics, mathematics, economics, etc).

my favorite shows i stream are: house of cards (netflix version), tons of BBC, indie films and just about any/all documentaries i can get my hands on.

my favorite music / news stream is KCRW (a killer public radio station out of santa monica).

FOOD
we love food. i love to cook. my dream someday is to have my own BnB and / or mini food truck.

the past few years we've been into urban gardening and growing our own herbs (and some vegetables / greens) to harvest. dream some day is to build a chicken coop and hopefully acquiring some happy little laying hens. nothing like hen to kitchen eggs.

guests have access to garden harvesting and kitchen which includes big fridge, industrial steel counter, gas stove, cook book library and mini breakfast bar.

first two nights of stay, we offer 7:00AM - 8:30AM fresh french press coffee and super-tasty lemon thyme scramble with toast upon request.

special note: although we eat meat from time to time, we can also be vegetarian / vegan friendly.

check out our local guidebook for our favorite food / wine places we like to hang out at.

GREEN
we have a laundry / waste management area.

laundry includes energy saving front loader washing machine. we line / rack dry (access to coin dryers in building).

waste management includes: recycling paper, metal, plastics and composting. we have an awesome two tier compost bin. our worms are high producing and are important household members. the abundant parking lot garden is evidence of their work.

ANiMALS
we love our animals. you don't have to love them, but you need to be dog friendly to stay here. part of the adventure is having access to our awesome loving dogs.

canine friends are welcome in our loft space, as long as they are potty trained and socialized.

we have easy potty access and poop bags. there are a number of great local off leash dog parks that we take our girls to daily.

(two notes on dogs: 1) we can only have dogs in our loft space, not in our attic space 2) we aren't set up to do doggie day care. if you are here with your dog, you won't be able to leave them here unattended. but there are several good dog-day care spots nearby.

we are kid friendly as long as they don't bite and are socialized -- he he he.

HUMOR
airbnb suggests sharing a life motto? we don't really have one. we do love a good sense of humor though.
Antwortrate:
100%
Antwortzeit:
innerhalb einiger Stunden
Entdecke weitere Optionen in und um Oakland
Noch mehr Unterkünfte in Oakland: