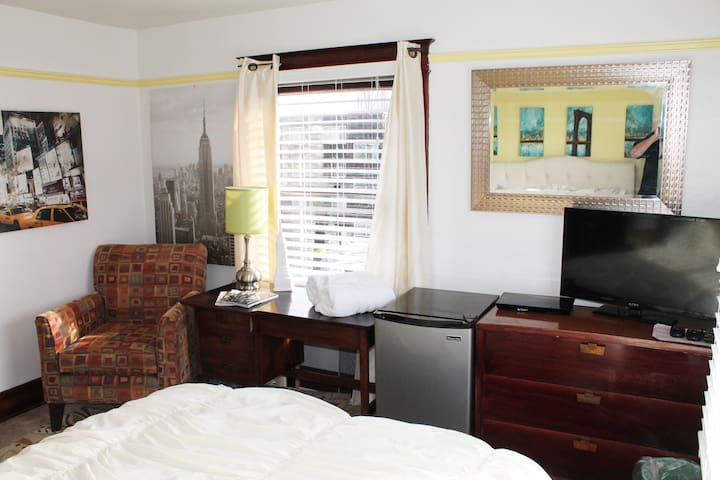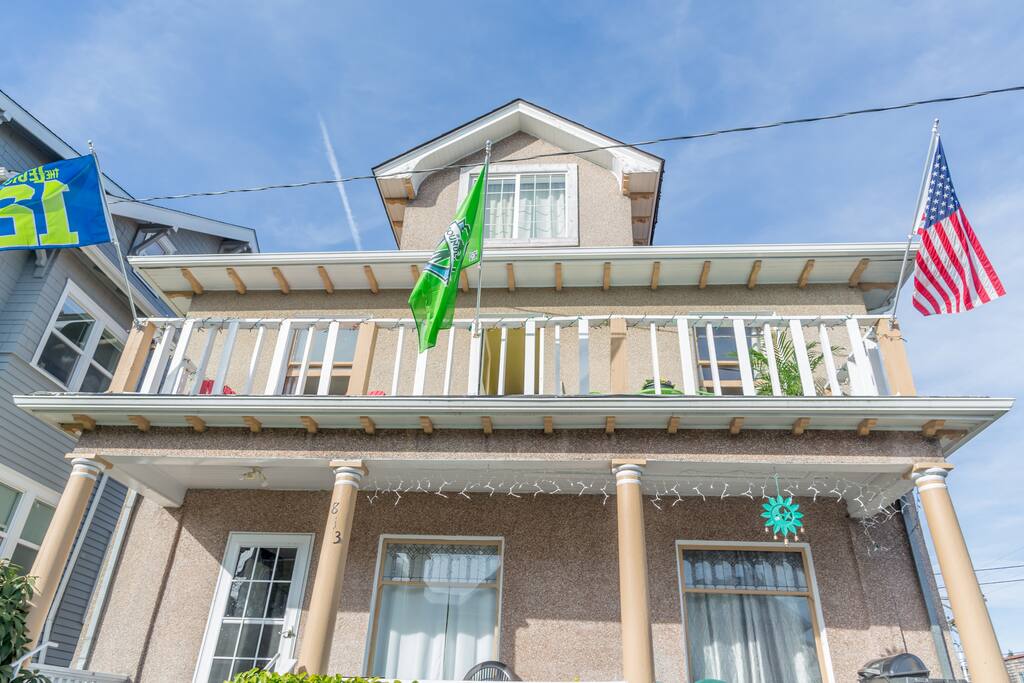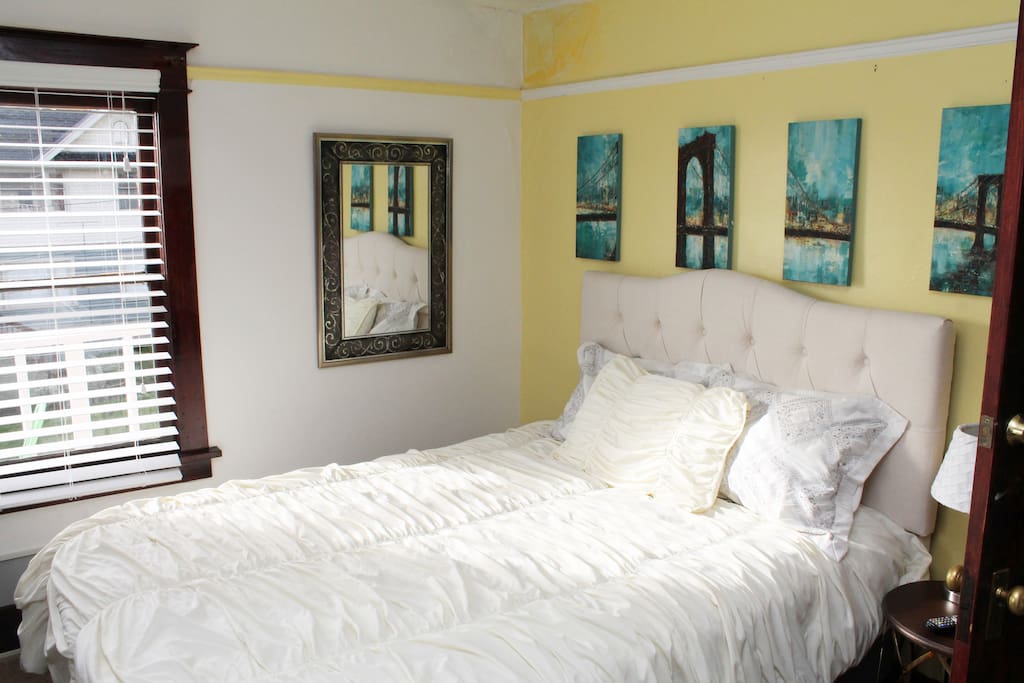 Amazing view from a private room
2 Gemeinschafts-Badezimmer
2 Gemeinschafts-Badezimmer
Check in is 3pm to 10pm
Bright and cheery bedroom in a private home. This room shares a bathroom Close to Downtown Tacoma, across the street from Tacoma General, Mary Bridge Children's Hospital and Group Health
Closet
Mini Fridge
Microwave
Shared bathroom.
Cable TV
Free WiFi
Desk
Music Dock
Nice deck
Der Wohnraum
Bright and cheery bedroom in a private home with an amazing view of Mt Rainier located on the second floor. We tried to go with a New York theme.
This is not a hotel room, this room is a standard American Bedroom at 11x12 feet with a closet. We pack in a lot of amenities at a super amazing price. We have larger rooms available at a larger price
This bedroom has a brand new queen size bed with
Closet
Mini Fridge
Shared bathroom.
Cable TV
Free WiFi 30mbs
Desk
Music Dock
Nice deck
Bath Robes in closet for use during your stay.
***Shared bathroom with shower and claw foot bathtub, toilet and sink. Another shared bathroom off the kitchen. Comes complete with a desk with hi speed wireless internet. Our home is located close to the Downtown area of Washington's second largest City there are city noises traffic, sirens etc but normally very quiet at night. Its the price you pay to be close to everything
Zugang für Gäste
We will be going pet free for at least the busy summer season but will be revisiting this in the fall.
Welcome to Casa di Camandona we have prepared this guide to keep order and a great environment in the home. We are not the police but do find that some simple common sense rules can make for a peaceful stay Jimmy
The house is a very large Victorian House started in 1888 and completed in 1900 for a local lumber Baron and his family. I live in the former servant's quarters in the basement with "Rebel" my Malinois (Belgian Shepard)
We are located across the street from Wright Park one of the city's premiere parks with running trails, walking paths, fountains a kid's water park area and too many other things to list. There are hundreds of restaurants, fast food and bars all within a short walk of the house.
I am providing budget-oriented, sociable accommodations in a clean, quiet comfy home with a small European Hostel feel for those with a gusto for something fun and different. There can possible be up to ten guests staying here but there are normally 2 or 3 at most and never feels too much. Feel free to be social or not, its 100% up to you.
We are in an ethnically diverse neighborhood, you are going to see White, Latin, Asian and Black neighbors walking around as we have a huge park across the street. The front porch is a great place to relax with a beverage and watch the local Tacoma characters.
We are constantly striving to improve the guest experience so any suggestions good or bad are taken very seriously.
We practice Buy American at the house so you may notice that most all of the appliances are "Made in America" and we try to make sure as much as possible is. Also the house is 80% led smart lighting and we are shooting for 100%.
I have been hosting over three year now and I find it exciting and very fun, other than washing all those linens
Please feel free to contact me if you would like any specific information
What to expect:
In your room:
Red Front Door Key / Bedroom Key
Less than one-year-old queen sized bed firm, but not so firm
Deluxe Linens
At least three pillows
Alarm Clock
Bedside Charging Dock (it lights up, feel free to unplug if it annoys you)
At least 32" TV with cable tv and Netflix
Desk
Chair
Dresser
Mini fridge
Closet with hangers
Bathrobe in closet
Bath towels and washcloths, extras in bathrooms or 2nd floor linen closet
Day arriving:
Please contact me with an approximate arrival time in the morning. If I don't hear from you I will meet you at that time. If you are not sure please contact me and just let me know a window like 6 to 7pm so I can start to organize my day.
If I am not at the house, I will be at my office which is only a couple blocks away
I try to greet all guests in person at the front door and provide a quick tour of the house. Give you a set of keys (one to the bedroom and the red one to the front door. Answer any questions you have then let you go from there.
If I cannot meet you I will either leave the keys in the lock box on the window sill by the fountain on the front porch or arrange for someone to meet you. Please feel free to grab a cold beverage from the fridge in the main kitchen.
Checking out:
Please make sure windows are closed
Place the keys by the tv in your room
Message me that you are checking out
Have a great journey and I hope we see you again
Long-term Guests more than two weeks:
We serve a real need for longer term guests that need clean affordable temporary housing. We have had many guests stay one, two even three or more months here and I feel that they are family. That being said I give a very good monthly rate but to do that I need you to cooperate.
Housekeeper will clean room every other week if you like.
Please take your trash out to the dumpster (don't stack it in the kitchen)
After washing and drying dishes put them away, don't leave them in dish rack or dishwasher and rinse out the sink.
Vehicle storage is available free of charge at a building I own three blocks away, access is Monday -Saturday 7am till 6pm, no Sunday access. Dry storage is also available for 85. A month same hours three blocks away
Wi-Fi-we have a very fast 30mbs internet in the house the ALL New netgear93 password is rebel98405 top of the line router can handle up to 50 connections.
Please keep in mind I am not a computer tech so I will be little help. If for some reason you are not connecting, try forgetting the Wi-Fi network then relogging on or try rebooting your gadget
***** Also our Internet service provider is very aggressive at using peer to peer illegal sharing of copyrighted material eg. Bitorrent, popcorn time etc. please don't use them they will call me within 6 hours. They have threatened to permanently shut off our service due to guests downloading illegal content. If you don't know what I'm talking about, great! Even better
Safety
Please do not use any extension cords on space heaters, microwaves, irons or anything that pulls a lot of amps
We have a mix of hard wired linked fire alarms and smart Wi-Fi smoke carbon monoxide detectors located around the house. If for some reason one of the alarms goes off, please exit the house and rally across the street in front of the apartments so I can do a check. The smart detectors will say what the alarm is and the location of the alarm.
For more detailed information, please consult the safety card in your room or the info book in book shelf in the parlor
Smoking:
If you smoke please do so on the main floor porch or the little garden with the fountain. This includes marijuana and vapors which are legal to smoke in Washington State (there is a detailed guide to responsible use of marijuana in our guest guide located in your room as well as on book shelf in Parlor)
Quiet Times:
Quiet times mean music and tv should not be heard outside your room. No long showers, other guests want to brush their teeth and get ready for bed
10pm to 8am weekdays
11 Friday to 9am Saturday and Sunday
If you have an issue please contact me ASAP (PHONE NUMBER HIDDEN) so I can address the situation.
Pets:
Not currently accepting pets
Guests:
We welcome your guests but they must leave by 10pm 7 days a week, and no overnight guests.
Laundry:
Please no laundry started after 7pm Daily and 11am-3pm Sunday as that's the day the housekeeper comes. Limit one load per day please
Located in the basement via the first door on the left entering the kitchen
Washer 6 quarters
Dryer FREE
Ironing Board
Iron
Steamer
Tide Laundry Soap
Shout Stain Remover
Dryer Sheets
Bathrooms:
Main Floor off kitchen-Full bathroom with shower modern bathtub (easier to get in and out then the claw foot tub on 2nd floor) and toilet
Also first aid items in cabinet, tums, aspirin, ibuprofen, band aids, qtips, dental pics, cotton balls, single use toothbrushes
2nd Floor Full bathroom with old school claw foot bathtub, shower sink and toilet Also first aid items in cabinet, tums, aspirin, ibuprofen, etc.
3rd floor in loft when not occupied has sink, toilet and GIANT soaking tub

Linen Closet 2nd Floor
Lots of local oriented books, bestselling Iron
Sheets
Pillow Cases
Towels
Washcloths
Toilet Paper
Comet
Windex
Carpet Fresh
Pet Cleaning Supplies
Paper Towels
Hand soaps
Garbage bags
Stairs Storage:
Full Size Ironing Board
Vacuum
Parlor Living Room Area
Dining Room Table
This is my pride and joy so please treat her good. This set was hand carved by great American craftsmen. Feel free to set up shop here or eat a meal. Just do not take off the table cloth or the protective mats
Lights
The lights in the Parlor / Living room are low wattage leds that are computer controlled and set to do different color scenes throughout the day and night. This is to enhance the guest experience so please don't fiddle with them. You cannot change the colors
Magazines enjoy and read some interesting articles, feel free to add yours to share or take one for your flight home
People
Vanity Fair
Martha Stewart Living
National Geographic Traveler
Inc
Fast Company
Sunset
Bon Apetit
Many others…..
Books:novels and light reading please don't take these as they can be really hard to replace
Weird Washington
Hidden History of Tacoma
Best local Tacoma Hikes
Birds of the Puget Sound
Bicycling Seattle Tacoma
History of Wright Park
Best Easy Day Hikes Tacoma
Hidden History of Tacoma
Quirky Seattle Sights
Day Hiking: Mount Rainier National Park
Top Trails: Olympic National Park and Vicinity: Must-Do Hikes for Everyone
Fresh Fruit & Snacks-please enjoy the fresh fruit and snacks located on the bookcase
Living Room TV We have Hulu and Netflix on this 60" TV, Showtime and HBO GO on the ROKU as well as an XBOX ONE to play your games or watch a blue ray
Board & card games under coffee table in living room
Operation
Scrabble
Monopoly
Cribbage
Cards against humanity
Poker cards
UNO
Trivial Pursuit
Jenga
Playing Cards
Cribbage Board

Mail & Packages
Sure you can have mail and packages sent here 813 S. 7th Street Tacoma WA 98405
Mail normally gets here early afternoon Monday-Saturday
Amazon Prime Member? We are eligible for Amazon Prime Same Day delivery which means if you have a prime membership and order eligible products they will be delivered to the house that day by 8pm. And yes it really works, don't ask me how.
Business Stuff
HP 8620 Office Jet Pro Printer
Wireless Print from anywhere in house: Instructions on printer and in house guide
Scan
Copy
Print
Please limit copies
Stapler
Paper Clips
Note Pads
Glue
Kitchen:
Open 8am to 8pm
you can make coffee 5am to 10:30am
This is a community kitchen please be respectful of other guests. This means if the item is not yours or on the list please do not use it.
We provide items for a light continental breakfast 8am to 10:30 am cereal, milk, juice, yogurt, fruit, toast and coffee. This stuff is not for lunch or dinner you are expected to provide these items yourself or go out to eat at one of the amazing bars or restaurants a short stroll away
Lunch and Dinner are NOT included in your nightly fee
****Cooking allowed 8am to 1030 am and 4pm to 730pm. We need time to clean the kitchen and bathroom and it is impossible if someone is trying to cook. We do make exceptions for long term guests two or more weeks as they tend to work crazy hours
****Also please clean your dirty dishes promptly and no hoarding of kitchen items in guest rooms. Also rinse out bits of food from sink after washing dishes as this is the number one comment from other guests
Feel free to put your dishes in the dishwasher as long as the CLEAN light is NOT ON, as the load has finished being cleaned and waiting to be emptied. Feel free to earn some good Karma by putting the clean dishes away. The soap pods are under the sink
Refrigerator / Freezer:
Help yourself to a beverage, fruit or yogurt for breakfast 8am till 1030am
Condiments are free for all to use, feel free to leave yours
Brita Water pitcher-please fill it up if its low (good Karma)
Bottom bin is mine please don't use this food even if its not marked.
Ice Machine in bottom drawer freezer please make sure its closed
If you need more ice to fill up your ice chest as I have a large ice maker in my apartment in the basement. ***If you have a giant ice chest I have a huge ice machine at my catering company three blocks away don't hesitate to ask.
Dishwasher:

Stove Oven / Oven:
Read stove display for instructions
This is a glass top stove so please only use the pots and pans that we provide as these are rated to NOT scratch the glass cooktop.
******Also plates or other items will scratch the surface so please don't put these on top

Microwave:
Pretty straight forward please cover food and wipe out spills promptly
Keurig Coffee Maker in the kitchen-ask Jimmy for k cups or bring your own
French Press
Tea Pot
Toaster
Microwave
Stove
Oven
Toaster
Electric Hot Water Kettle
Dishtowels
Wash Cloths
Hot pads
Asst. Cereals
Milk
Beers-not always but we do try
Jams
Real Butter for toast NOT to cook with
Fresh Fruit
Fruit Yogurt
Bread
Sugar
Salt & Pepper Shakers
Splenda
Creamer in fridge
Coffee
Tea
Hot Chocolate
Under Sink
Dish Soap
Bleach
Rubber gloves
Sponges
We recycle here at Casa di Camandona
Kitchen Garbage can Left side garbage Blue Right Side-Recycl(URL HIDDEN)Feel free to leave wine bottles and pizza boxes and I will take them out
Garbage on Curb:
Brown Bin-Yard waste and food scraps
Blue Bin Large-plastic, paper other items. There is a complete list on bin
Green Bin-Garbage-Garbage
Small Blue bins -Bottles & Aluminum Cans emptied & no caps, batteries in plastic bag
Sauna:
Coming soon still writing rules

If you bring a bicycle, please contact me about best practices for storing it
Take Rebel for a walk (no I am not kidding) most people in the neighborhood know him and he makes a great companion for single guests that want to take a stroll in the park.
Interaktion mit Gästen
I am gone most of the weekend at the business that I operate two blocks away. But I do spend a lot of time around the house during the week.
Also there are a couple of permanent tenants that are retired and on fixed incomes.
***I have Five rooms listed on airbnb but normally only one or two are booked.
"Amazing view from a private room"
"Great view from a large loft"
"Bright room with view towards park"
"Large Private Room on Main Floor"
"nice cozy room across from park"
Weitere wichtige Infos
In the Bathroom off kitchen and 2nd Floor we have:
Band aides
Tums
Aspirin
Peroxide
Cotton swabs
Q tips
Single use tooth brushes
Ear plugs
Single use dental Picks
Assorted soaps and shampoos
There are cleaning supplies located:
Under the kitchen sink
2nd floor linen closet
Extra Linens:
Linen Closet on 2nd floor as well as the laundry room
All Beds are same size*****
Blankets
Fitted sheets
flat sheets
pillow cases
towels
wash cloths
kitchen towels
bar towels
---
Kostenloser Parkplatz auf dem Grundstück
---
Kommuniziere immer über Airbnb
Um deine Zahlung zu schützen, solltest du niemals außerhalb der Airbnb-Website oder -App kommunizieren oder Geld überweisen.
Erfahre mehr
---
Schlafzimmer 1
1 Doppelbett (mind. 1,50 x 2 m)
---
Nicht für Haustiere geeignet
Keine Partys oder Veranstaltungen
Nicht sicher oder ungeeignet für Kinder (0–12 Jahre)
Die Check-in-Zeit ist 15:00–22:00
Eigenständiger Check-in mit smart lock
As a good percentage of guests staying at Casa Camandona (25%+) are partaking of our liberal pot laws I felt the need to address this straight up. I don't mind if you smoke pot on the front porch or in the yard. But please keep in mind the other guests and be discreet. I have prepared a guide in each room that will help you.
Smoking:
If you smoke please do so on the main floor porch or the little garden with the fountain. This includes marijuana and vapors
Quiet Times:
10pm to 8am weekdays
11 to 9am Friday & Saturday
If you have an issue please contact me ASAP so I can address the situation.
Pets:
We are not accepting pets at this time
Guests:
We welcome your guests but they must leave by 10pm 7 days a week, and no overnight guests.
Laundry:
Please no laundry started after 7 pm or Sunday 11am till 3pm as the housekeepers come at that time.
Please only a one load per day max
Located in the basement via the first door on the left entering the kitchen
Außerdem musst du Folgendes beachten:
Treppensteigen ist erforderlich - one flight to main floor, 2 flights to 2nd floor three flights to loft
Lärm-Potenzial - house is in 2nd largest city in Washington expect city noise. this is not the country
Haustier(e) leben im Gebäude - Rebel-Belgian Shepherd, smaller than German Sheperd
---
---
1 Nacht Mindestaufenthalt.
---
Preis-Leistungs-Verhältnis
Initially we only considered Tacoma because Seattle was proving an expensive stay before we hit the road down the coast. But we were very happy we booked in with Jimmy. Tacoma it's self was a great place to explore and Jimmy's place was a fantastic base to do this from. An incredibly laid back and welcoming host, we felt at home from the moment we arrived. The bedroom had a great view of Mt Rainier and the bed was one of the most comfy we've slept in on our travels! Fluffy towels, slippers, toiletries, ice cold water and a delicious breakfast; a proper 5* experience!
---
Tacoma, Washington, Vereinigte Staaten
Mitglied seit März 2014
Casa Camandona
I operate a local catering company in Tacoma that keeps me pretty busy.
The house is a very large Edwardian House started in 1888 and completed in 1900 for a local lumber Baron and his family. There are 7 bedrooms and 4 full bathrooms on 4 floors. I live in the former servant's quarters in the basement with "Rebel" my Malinois (Belgian Shepard) .
Our house is located very close to the Downtown of the second largest city in Washington. There are city noises and that is part of the airbnb experience, if you need it totally quiet you should stay in the country.
We are located one short block from Wright Park one of the city's premiere parks with running trails, walking paths, fountains a kids water park area and too many other things to list.
The house is located 22 miles south of SeaTac Airport a short 27 minute drive with no traffic and 34 miles from Downtown Seattle which is about 40 mins, but can be longer with traffic
There are hundreds of restaurants, fast food and bars all within a short 15 min walk of the house. The house is rated 91 out of 100 on walkscore making us a "Walkers Paradise" which means daily errands do not require a car. We also have Uber, Lyft, ZipCar, on the main #1 Bus line serving most of Tacoma. Four blocks from the express bus to Downtown Seattle, you can be in Seattle in about an hour for only 3.50
I am providing budget-oriented, sociable accommodations in a clean, quiet comfy home with a small European Hostel feel for those with a gusto for something fun and different.
We are close to University of Washington Tacoma, University of Puget Sound, Bates Technical College, Evergreen College Tacoma and Annie Wright Private School
There can possible be up to ten guests staying here but there are normally 3 or 4 at most and never feels too much. Feel free to be social or not, its 100% up to you.
We are in an ethnically diverse neighborhood, you are going to see White, Latin, Asian and Black neighbors walking around as we have a huge park across the street. The front porch is a great relaxing place to relax with a beverage and watch the local Tacoma characters.
have been hosting almost 4 years year now and I find it exciting and very fun, other than washing all those linens

Please feel free to contact me if you would like any specific information

Sprachen:
English
Antwortrate:
100%
Antwortzeit:
innerhalb einer Stunde
Entdecke weitere Optionen in und um Tacoma
Noch mehr Unterkünfte in Tacoma: