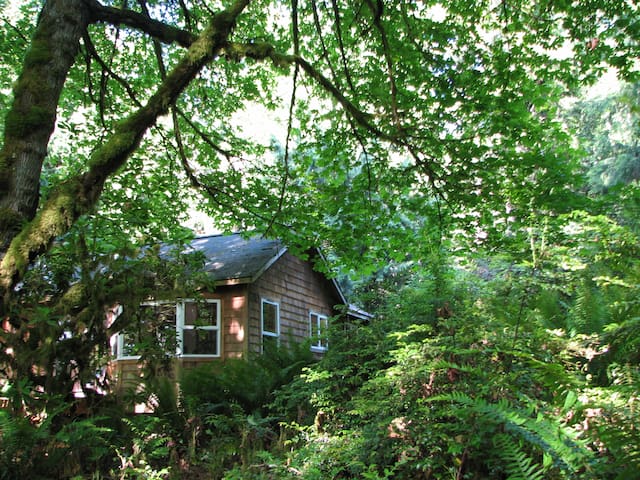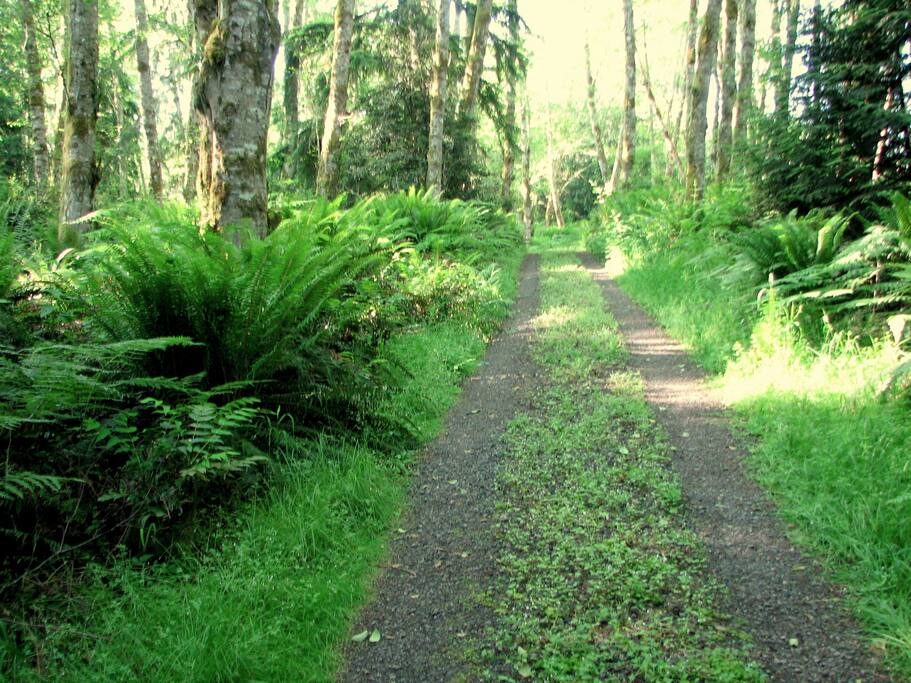 Magical Forest Cottage Retreat
Give your inner Self a healing gift: Olympic National Park hikes; the Olympic Music Festival; Port Townsend's quiet charms; a multitude of local organic farms, farm stands and markets to visit. Or come to write, draw, compose or meditate in solitude.
Der Wohnraum
Listen to the forest: that is all you will hear! The cabin is at the end of a private drive in the middle of fifteen acres of silent untouched forest. A huge maple tree is your closest neighbor. Ferns fill the valleys, old cedars crown the ridges.
The house is light and airy, with vaulted ceilings, large windows and several skylights, hardwood, marble and tile floors, cool white walls and warm wood trim. The kitchen and bath are clean and well laid out, with propane gas cooking and electric water heating. There are thermostat controlled electric wall heaters in the living room, dining room, and bedroom, so you'll stay cozy warm. (The wood stove is unfortunately not available for use by guests.) Excellent water comes from a deep well. The bed is a double size organic cotton futon from Soaring Heart, on a low wood frame.
The final 1/3 mile of private road is lightly graveled for all-weather access. The 1/2 mile before that is wide and well maintained gravel; and all other local roads you'll use are blacktop.
Zugang für Gäste
Full bright kitchen, equipped for cooking all your meals: full gas stove cooktop and oven, coffee grinder and french press, toaster, blender, pots & pans, dishes & silverware. Dining room with bay window; large comfortable living room with picture window and skylights. French doors to west-facing outdoor deck. One bedroom with firm futon bed. One bathroom with tub/shower, skylight. Utility room with washer & dryer for your use. Stereo system with kitchen and living room speakers, CD player, iPod player, and access to our eclectic and extensive iTunes music library. Pretty dependable Verizon cell coverage (if you must); local-only land-line; no internet, no TV.
Interaktion mit Gästen
The owners or a local host will meet you and give you your keys, show you around, and then come back to help you check out at the end of your stay. Someone nearby is always available by phone for questions or emergencies. The driveway has a locked security gate.
Weitere wichtige Infos
For those with sensitivity to fragrance, low or no odor cleaning supplies and laundry soap are used; the entire property is as chemical free as possible. We request guests to maintain these practices.
Since this is a wild area, do not leave food or garbage outdoors or in your car! You may compost (vegan uncooked) onsite, and leave glass and metals for recycling, but take all other waste with you (otherwise a $25 disposal fee will be applied).
There may be mosquitoes.
WINTER ON THE COYLE:
A winter retreat here is amazing! If you're lucky enough to get a snowfall, you'll see the forest transformed into a fantasy land most people only read about. The stillness gets even deeper. The rich life of the animal residents shows itself in their tracks; but besides them, you will be the first and only people to walk those snow covered paths.
And winter can make life "on the Coyle" challenging: power outages are not uncommon, usually for minutes or hours, but potentially for days. Snowfall can sometimes be deep enough to test your driving ability, on the slope of the driveway or in icy patches on local blacktop roads. In really cold weather, the house stays cozy warm, but long hikes can leave you vulnerable to exposure.
Here's what you need to know about winter in the cottage:
In case of power outage (for more than a few minutes), call us or your local host. Use as little water as you can: the pressure tank holds a good supply, but the well pump won't replenish it, and the underground waste water holding tank won't pump out into the drain field, till the power comes back. The kitchen cooktop burners work fine (just light them with a match), but the oven can't be used. Of course, the electric wall heaters won't work, so the wood stove is your heat source -- and we're not using it, this season -- so when you get cold, it's time to either go to bed or drive to town; and if necessary, we will find you another place to stay until you can comfortably return to the house. (If you wish, you can monitor the outage at the local PUD website, for estimated duration.)
In case of snow, be aware of your own snow driving skill as well as your car's snow-worthiness. Usually we recommend parking your car up at the end of the driveway on the gravel road, at the beginning of a snowfall, until it becomes clear how much snow you'll get. (Local micro-climates can cause snowfall amounts to be very different over short distances: so don't trust even a "local" forecast!)
If you're coming to the cabin in the winter, bring warm clothes and good boots. We want you to be able to spend time outdoors and enveloped in nature, but in comfort and safety.
Come! Sit in the rocker drinking hot chocolate. Watch the snow, listen to the rain. Stare out the window at life. Read something amazing, your book or ours. Listen to music you didn't know existed, or make music that astounds you. Dance! Or close your eyes and sit. Breath. Come home to the Coyle.

---
Kostenloser Parkplatz auf dem Grundstück
---
Kommuniziere immer über Airbnb
Um deine Zahlung zu schützen, solltest du niemals außerhalb der Airbnb-Website oder -App kommunizieren oder Geld überweisen.
Erfahre mehr
---
Nicht für Haustiere geeignet
Keine Partys oder Veranstaltungen
Nicht sicher oder ungeeignet für Kinder (0–12 Jahre)
Help us live lightly, with respect for the house, the forest, and other guests.
•"Leave No Trace:" please leave the house cleaner than you find it.
•No pets, no smoking.
•Accommodates two adults only.
•Please remove shoes indoors.
•Keep garage door closed to keep out curious animals; remove all food and garbage from your car.
•Use roads and trails only: respect the neighbors' privacy and the forest's integrity.
•Please avoid unnecessary fragrances and chemicals.
•No wood stove fires.
Relax and let the forest soak in!
MORE ABOUT HOUSE RULES: "COUNTRY GIRL, CITY BOY"
Betsy grew up in the Port Townsend WA area, sometimes in town and sometimes in the country. Her Dad found 15 acres of woods an hour out of town, and that's where the two of them, along with a family friend who owns a sawmill, eventually built her house. She lived there, off and on, for many years, and it was her nest. She completely understands rural life, and the life of the woods.
On the other hand, John is a city boy used to urban comforts. So here's what he had to learn in order to be comfortable with Betsy in the woods:
"It's hard to remember I can't just go out for a snack. I can't walk down the block, or even drive a few minutes, for coffee or breakfast. There's no little soup 'n sandwich place nearby if I get carried away with research or writing and forget the time. I can't even pop out for some groceries to make lunch. The food available in this area is the best I've ever experienced -- practically everything I want is grown locally and organic -- but it takes way more planning than I'm used to. Don't get me wrong, eating well here is easy! Just a simple picnic is a feast: a roll from the bakery in P.T., some local goat cheese from the "Food From Here" store in Chimacum, bacon if you want it, lettuce from the Red Dog farm stand nearby, some local beer, wine or cider, and blackberries or huckleberries from the clearing just beyond our driveway… But even a picnic does take advance planning. (Fortunately for me, planning and creating excellent food is one of Betsy's joys!)"
To make John happy, we always stock the cabin with plenty of "emergency" food, so there's never a chance of running out. (Guests are urged to use this stock if they've misjudged, or can't get out, or something goes wrong: please don't go hungry! There's also "sharing" food, just for everyone to use, not reserved for emergencies. You're welcome to replenish this before you leave, if it's convenient.)
Other city services John took for granted, until they weren't there:
-- Electricity: a wind storm, especially after a long stretch of good weather, is likely to bring down some trees on electric lines. (Bring flashlights!)
-- Internet & cell coverage: Betsy is happy with no computer or wifi, but John lives connected. Fortunately for him, his Verizon phone's cell and hotspot coverage is pretty good at the cabin. (But you may or may not get voice or data coverage with your phone and carrier; and dense foliage can disrupt GPS signals. Consider printing critical maps and directions before leaving home.)
-- Garbage pickup: John was a little surprised to find out what "throwing something away" implies out here: vegan uncooked compost gets dumped in the woods, a little ways up the driveway; but taking out the garbage and recycling means a trip to county facilities many miles away. (You're welcome to contribute to our compost pile, and to leave paper, glass and tin cans in the house; but please take all other garbage out when you leave.)
Umm: curtains…?
No, no curtains on any of the windows. To a city boy, that could seem just plain wrong. So why no curtains?
Well, mostly because they aren't needed for privacy here, and so Betsy simply never installed any.
But this seems to have a deeper significance, too: just as there is no large clearing around the house for a "yard" -- an area in which nature is modified and tamed so that it can come into proximity with people -- so there is no extra barrier between the inside of the house and the outside, beyond what's necessary for comfort. Living inside, we can't help but see the changing of the seasons, the changing of the light, the changing of the weather, and, slowly, the changing of life into different life. (But you should know that during the summer, the bedroom gets light very early in the morning.)
Then there was the gate -- an old but impressive locked steel gate, a little ways down the 1/3 mile driveway. What was that doing in the middle of the forest…? Again, John had to learn about rural life:
"I finally realized that it's not clear in this part of the country what's a public road and what's a private driveway. That question hardly ever arises in a city, where driveways are a few feet long and lead to a house you can see, and everything else is a public street. Out here, it's a little less clear. There are blacktop and gravel county roads, that's easy. But then there are tiny little public roads, sometimes just dirt. And there are logging roads, some on private land and some on public land. And there are private driveways, with or without names, with no house in sight, that can look way better than some of the public roads. So a gate tells you very clearly: 'end of public road, this is now a driveway'. Nearly everyone has a gate; it helps you understand where you are, and makes it easier to respect people's privacy."
Gates are always closed; so an open gate, like an open car door, invokes way too much curiosity. (Guests, please keep the driveway gate closed and locked, even when you're at home.)

The best part for John was getting to know the life of the forest itself and its creatures:
"Everything is alive, obviously and exuberantly! A pond full of tadpoles busy growing legs. Coyote tracks in the snow. Ravens calling each other together for a romp in the sky. Slugs right in the path by the front door, and sometimes on the door itself. Mice in the garage. Spider webs in the sun on maple branches. The owl we saw catch a mouse right outside the window. A chipmunk hanging upside down eating our huckleberries. Mosquitoes happy to see us heading out for a walk! The slow-motion parade of flowers in the spring -- rhododendron, then foxglove, then fireweed, and grasses, and clover, all shades of the same purple/pink."
(The moral for guests is this: there's lots of nature here, and some of it wants to get in your pocket -- or get in your car, or eat your food, or nibble on you personally, or otherwise be really friendly. Take food and garbage in from your car; bring insect spray if you need it; take your shoes off indoors; keep house and garage doors closed. Keep your camera always with you. Look at everything, slowly and carefully! Be curious and in awe! Don't try to pick a nettle bouquet! But don't worry too much: we don't see poison ivy, poison oak, poison spiders, poison snakes, or anything else really noxious; not even wood ticks. Nettles is about it. And mosquitoes, I guess.)
Außerdem musst du Folgendes beachten:
Treppensteigen ist erforderlich
Einschränkungen bei Annehmlichkeiten - --No wifi or internet service; very limited or no cell phone service. --Futon bed is firm.
---
---
3 Nächte Mindestaufenthalt.
---
Preis-Leistungs-Verhältnis
My husband and I had a very relaxing weekend at this lovely little home in the forest! The property is very quiet and secluded. We had a blast listening to the music John had on his computer. The surround sound in the house was amazing. We both really admired the design of the house. Betsy had told us that she designed and built the house with her Father. We took a small trip to the Chimicum farm stand. It was a fantastic place to get fresh produce and other goodies. We will hopefully get to come back again soon!
---
I loved the quiet and seclusion! And the house is small, clean and well put together, bigger actually than I expected. Not a cabin per say but a small home. This home has been well loved and the site has been left completely natural. Incredible moss and ferns grow below the tall trees. True to their word the home is free of annoying fragrances and chemicals and the bed is very firm. Thank you John and Betsy, I had worry free and truly relaxing stay.
---
I had a wonderful stay in this beautiful and quiet cottage. The perfect place to disconnect to the frenetic world and reconnect with nature and yourself. John & Betsy were very welcoming and available if needed. I would like to thank them again. Be sure that I will contact you if I come back.
---
This cottage is spectacular! So secluded, quiet and calming! My husband and I were looking for a retreat to spend quality time away from our four kids and our business! We couldn't have asked for a better place! John and Betsy were so helpful and accommodating and their place so inviting and peaceful! We spent a day in Port Townsend and another day hiking in the Olympic National Park. Enjoyed the peaceful walks and sitting on the back deck breathing in the fresh air from the magnificent surrounding forest! Absolutely, hands down, we recommend this place to anyone looking for relaxation!
---
Exactly as billed! Extremely secluded for those seeking the quiet, solitude and privacy so rare in our world. Hosts were spot on and gracious with communication and helpful local info. It's apparent they truly love this home and place high value in maitaining it as an oasis for those in need of it's quiet forest charms. I didn't meet John, but Besty's kind, contemplative presence was evident way after she left from the walk-through. A hearty shout out for how clean it was - truly spotless! I also found plenty of cool music to listen too - fun feature, with a speaker in the kitchen for meal prep dancing (hurray for the privacy to be a dork!). Besides oodles of praise to the cottage and hosts, my only hurdle was that there was not closet/drawer space available to unpack my cloths. They do provide a large bench for your case/bag and a coat rack to hang items. The freezer was similarly filled, but there was space in the door and the fridge was clear. Admittedly, these would be no big deal for most, but if unpacking into empty spaces is a part of your vacation ritual, you may find yourself a wee stimmied. BUT personal peaves aside, enveloped as this cottage is by untouched forest beauty, it truly is magical. Thank you John and Betsy!
---
John & Betsy's cottage was a joy to visit. The place is thoughtfully curated and well appointed. We enjoyed the large picture windows overlooking the private forest and walking the long driveway. Port Townsend was not too far to drive and have a nice dinner. It was a perfect spot for our Anniversary retreat. They were great hosts!
---
Sometimes the best way to connect, is to lose all connection. I think that is the best way to sum up our experience at the cabin and I wish that we could have stayed longer. The cabin itself sits amongst moss-covered pines and ferns for as far as the eye can see. You travel down a mossy road through the 15-acre property to like something out of a fairytale. Birds chirp, sun dapples the area, and every sundown was perfect to enjoy with a beer in hand. Inside, it was unbelievably clean and neat. Minimally decorated (much to our liking), comfortable seating around, a kitchen with everything you need to make an easy meal, and a small back deck that's great for morning coffee. Pro tip: Bring your bug spray. You are in the middle of the woods. John & Betsy are lovely, interesting, knowledgable people who have poured a lot of heart and soul into this place--and it shows. Always quick to answer any calls and their directions are invaluable when getting to the cabin. Thanks again for letting us stay here. If you're lucky enough to get a spot here, I'd take the opportunity and run with it.
---
Seattle, Washington, Vereinigte Staaten
Mitglied seit März 2011
John: I'm wildly in love with the magical Forest Retreat where Betsy and I have been living since fall of 2013. However, because of my work we are moving back to my houseboat in Seattle (-it's quite a commute to Seattle from Quilcene). I am a computer tutor, working mostly with seniors and artists; I started my business in 2001, after a previous career in programming. Betsy and I have lived in Edmonds, where we created a new backyard fruit orchard including persimmon, kiwi, fig, goji and sea buckthorn; we've lived at Betsy's house in Quilcene, where we foraged for wild edibles; and now on Lake Union in Seattle, where we will soon start container gardening.

Betsy: My Dad and I built my house in the woods together over twenty years ago, when I was living and working full time on Washington's Olympic Peninsula. I have been a librarian, upholsterer, barista in Pike Place Market, fiber artist (and yes, a carpenter). Now I spend much of my time with the craft of collecting, creating, and testing recipes; and wherever we live or visit, we are serious about buying as much of our food as we can from local farmer's markets.
Antwortrate:
100%
Antwortzeit:
innerhalb einiger Stunden
Entdecke weitere Optionen in und um Quilcene
Noch mehr Unterkünfte in Quilcene: