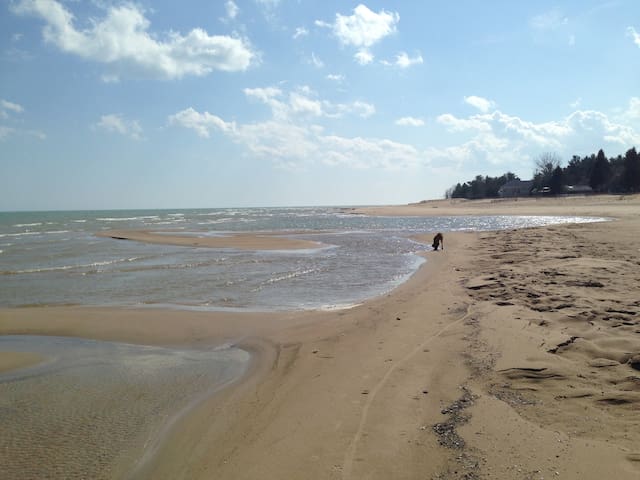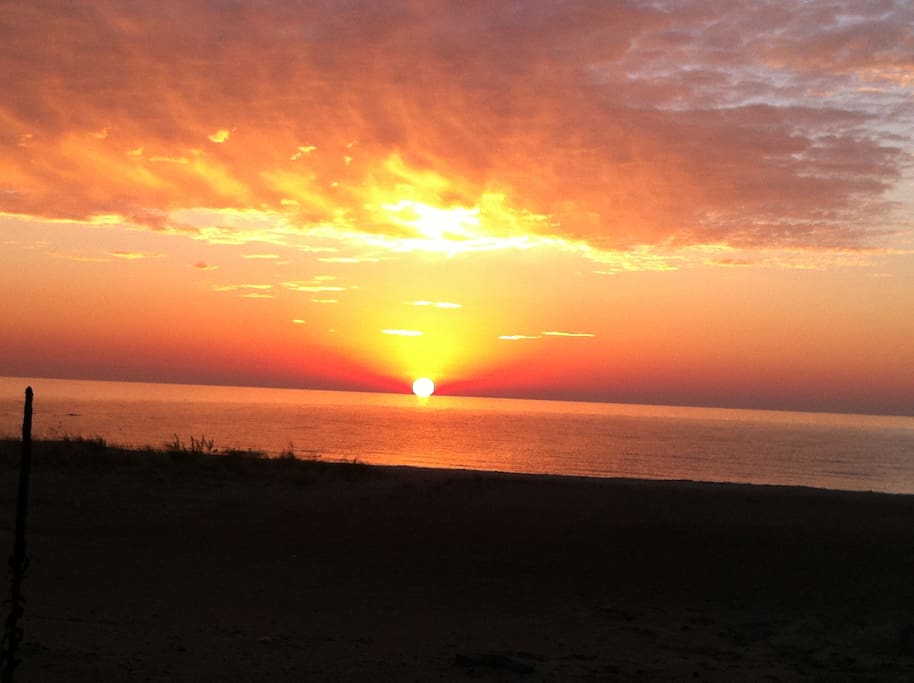 Lake Huron Upscale lakefront home
This is a beautiful sandy beach where you can walk for miles north to Oscoda and south to Ausable point.
Enjoy the gorgeous sunrises and moonrises from the privacy of the deck.
Go for an enjoyable kayak in Lake Huron during the quiet early mornings - you just might see a bald eagel
---
Diese Unterkunft verfügt über die grundlegende Ausstattung für Geschäftsreisende.
---
Schlafzimmer 1
1 Doppelbett (1,80 × 2 m)
Schlafzimmer 2
1 Doppelbett (mind. 1,50 x 2 m)
Schlafzimmer 3
2 Doppelbetten, 2 Einzelbetten
---
---
Zusätzliche Personen 26 € / Nacht bei mehr als 6 Gästen
Wochenendpreis 301 € / Nacht
Kommuniziere immer über Airbnb
Um deine Zahlung zu schützen, solltest du niemals außerhalb der Airbnb-Website oder -App kommunizieren oder Geld überweisen.
Erfahre mehr
---
GUESTS HAVE TO SIGN MY RENTAL AGREEMENT BEFORE ARRIVAL TO MY PROPERTY- BRINGING MORE GUESTS THAN DISCLOSED ARE GROUNDS FOR EVICTION IMMEDIATELY AND LOSS OF DAMAGE DEPOSIT
weekly rentals Sat-Sat in the summer
Rental agreement required plus a copy of your drivers license1934 AUSABLE POINT VACATION RENTAL AGREEMENT.
PLEASE NOTE THAT I DO CHARGE FOR ALL CHILDREN
1934 AUSABLE POINT VACATION RENTAL AGREEMENT
For the purpose of this document, hereafter the person or persons renting the property described below are referred to as Guest or Guest's. The persons owning the property described below, or their designates, are referred to as the Owner or Owner's. This is a vacation rental agreement for 1934 AUSABLE POINT ROAD, EAST TAWAS, MICHIGAN for , 2017 FOR THE DATES LISTED ON RENTAL SITE-AIRBNB//FLIPKEY - for the rental amount of $ WHAT IS LISTED ON /AIRBNB/FLIPKEY/TRIPADVISOR. Guest's signature on this agreement or payment of money or taking possession of the property after receipt of this agreement is evidence of Guest's acceptance of the agreement and Guest's intent to use this property for a vacation rental.
CONFIRMATION OF RESERVATION: To confirm reservation print and read the information below, then sign and return this form along with a 50 % payment within 7 days of receipt.- PAID THROUGH AIRBNB//FLIPKEY
SECURITY DEPOSIT: A $500 security deposit is required to ensure compliance with the terms of the rental agreement. This deposit is held until a determination of condition and contents have been verified and will be returned within 14 days after check-out. Amounts may be withheld to cover damage, unnecessary service calls and unreturned keys. Please report any problems or damage the day of arrival in writing AND CALL THE OWNER AT . If not reported, Owner must assume the damages occurred during Guest occupancy.
CHECK-IN: 4pm day of arrival. CHECK-OUT: 10:30AM. day of departure.
All keys must be returned. If check-out has not occurred by 10:30 PM, the full daily rate may be deducted from the security deposit.
CANCELLATIONS: Once the reservation has been made, if Guest must cancel, notify Owner immediately. All reservations cancelled 60 days or less from rental date, forfeit the entire deposit unless the home is re-rented for the same time period and same rate. Every effort will be made to re-rent the unit, but if it cannot be rented, the deposit will be forfeited. The Owners reserve the right to cancel this agreement at any time prior to Guest taking possession of the property. In such event all payments made by the Guest will be refunded. Owner reserves the right to refuse rental or discontinue occupancy if, in Owner's opinion, any Guest or member of Guest's party is engaging in illegal conduct or conduct harmful to home, premises, surrounding areas (including the lake), neighbors or neighboring
Property. THERE IS A NON-REFUNDABLE $150 APPLICATION FEE, IF THERE IS A CANCELLATION
REPAIRS AND SERVICE CALLS: Owner cannot guarantee against breakdown of air conditioning or other appliances. Please report any non-operative equipment promptly. Owner will make every effort to have repairs done quickly and efficiently. Should a repairman make a call and find that the equipment is in working order and the problem was due to Guest oversight or neglect, the charge for the service will be deducted from the damage deposit. No partial or entire rental refunds will be made due to failure , other appliances or other items beyond our control (such as bad weather, construction in the area, or home not furnished to persoal tastes)
PLEASE CALL OWNER IMMEDIATELY TO REPORT ANY BREAKDOWN OF APPLIANCES, HOT TUB ETC.
MAINTENANCE OF RENTAL: Guest is to keep the property clean, safe and sanitary; dispose of all rubbish, garbage and other waste in a clean and safe manner; keep all plumbing fixtures clean, not deliberately or negligently destroy, deface, damage or remove any part of the property or render inoperable the smoke detectors, be responsible for all damage, defacement or removal of any property inside the property. Guests agree that Owner may enter the premises during reasonable hours to inspect the premises, to make repairs, alterations or improvements. The Owner will make reasonable efforts to contact the Guests prior to entering, including phoning prior to arrival and Knocking before entering. IF THE OWNER HAS DETERMINED THAT THE GUEST IS ABUSING OR DISREPECTING PROPERTY/ AND OR DISRESPECTING THE NEIGHBOURS, THEY HAVE THE RIGHT TO INSPECT PROPERTY-INSIDE AND OUT- AND EVICT GUEST IF THE PROPERTY HAS BEEN ABUSED, DISRESPECTED , AND OR DAMAGED WITHOUT REFUND AND WILL FORFEIT DEPOSIT
NO DAILY MAID SERVICE - Daily maid service is not included in the rental rate.
NO SMOKING: This is a No-Smoking home. Guest's breach of this provision shall be considered material, and shall result in the termination of Guest's tenancy and an additional cleaning fee will be charged to cover the cost of smoke removal and any damages incurred. Please dispose of cigarette butts appropriately.
NO PETS: No pets shall be allowed on the premises unless otherwise specifically permitted in this Agreement. Guest's breach of this provision shall be considered material, and shall result in the termination of Guest's tenancy and the security deposit will be forfeited.
FAMILY GROUPS ONLY: No house parties, fraternities, school, civic groups allowed unless prior approval is received from the Owner. Owner reserves the right to refuse rental to groups with majority under 25. ID's must be furnished upon request. Violation of the above is grounds for expedited eviction without refund AND YOU WILL FORFEIT YOUR DEPOSIT
NO TENTS OR CAMPERS ARE ALLOWED ON THE PROPERTY
PERSONAL PROPERTY: Owner cannot be held responsible for personal property during Guest stay, or items left behind following departure. Please call Owner immediately to report items Guest have left and Owner will make every effort to locate them. INJURIES: Owner is not responsible for personal injuries to Guests any time during the Guests stay. Guest agrees to indemnify and hold harmless the Owner and their families from any liability for personal injury or death or property damage sustained by any Guest (including Guest's Guests) as a result of any cause incurred on the property or while using the provided kayaks, or mountain bikes. The Guest(s) recognize that the property borders a lake and that the water presents an obvious hazard to all individuals. Guest agrees they are using the HOT TUB at their own risk and has consulted with a physician prior to use.
REFUNDS: No refunds will be given due to failure of air conditioning, other appliances or other items beyond our control (such as bad weather, power blackouts, lake treatment or spraying, water shortage, flooding, construction in the area, home not furnished to personal taste, mandatory evacuation of the area due to weather or other potentially dangerous situations. The Guest understands that the accommodation is privately owned and the Owner is not responsible for providing any additional furnishings or equipment not available presently on the premises. Certain areas, such as locked closets are reserved for the exclusive use of the Owner and will not be available for the use of the Guest. All décor and service items in the home are privately owned and provided. Please respect them as Guest would Guest own property. DO NOT REARRANGE FURNISHINGS OR LEAVE ANY FURNISHINGS OUTDOORS (EXCLUDING DECK FURNITURE).
Guest agrees agreement shall not be binding until Owner has received one-half of the gross rent and all checks have cleared the bank. Guest acknowledges that they may not have possession of home until full rental amount has been paid.
I have read this guest occupancy agreement and agree to adhere to the terms stated herein as a condition of my use and all other parties. As agreed the signatory below will be responsible for all monies owed. Maximum occupancy is WHAT YOUR RESERVATION STATES ON AIRBNB/FLIPKEY/ people including ADULTS, CHILDREN AND ALL DAY GUESTS. Violating this rule will result in immediate eviction and NO REFUND, and loss of security deposit
Maximum cars is 4
Guest's Name _______________________________________
List all guests including children- MAXIMUM – WHAT YOUR RESERVATIONWITH AIRBNB/FLIPKEY STATE- MAXIMUM people
.
Guest's Address_______________________________________________________
_______________________________________________________
Guest's Phone _________________________________________________________
Guest's Cell Phone____________________________________________________
Guests email address---------------------------------------------------------------------------------------------------
PLEASE SIGN AND DATE INDICATING YOUR UNDERSTANDING AND AGREEMENT OF THE TERMS OF THIS CONTRACT
Guest's Signature_____________________________________________________date___________________
Rental Amount PAID THROUGH AIRBNB
Hot Tub is $300.00/WEEK OR $150/WEEKEND
CLEANING FEE -- PAID THROUGH AIRBNB//FLIPKEY
Payment due
I HAVE RECEIVED YOUR CHECK FOR $_________________________________ IT IS CK#___________
CARMEN NASELLO SIGNATURE__________________________________________________________
1312 FOXWOOD DRIVE,
MIDLAND, MI
PLEASE ENCLOSE A COPY OF YOUR DRIVER'S LICENSE
INCLUDED FOR FREE:
3 KAYAKS/ 2 MOUNTAIN BIKES/1 standup paddle board
Please ensure all paddles and lifejackets are returned to the garage, and that the kayaks are flipped upside down to prevent them from being flooded.KAYAKS ARE ONLY TO BE USED AT THIS PROPERTY ON LAKE HURON IN FRONT OF PROPERTY-THEY ARE NOT TO BE PUT INTO YOUR CAR AND TAKEN TO ANY OTHER LOCATION. KAYAKS ARE NOT AVAILABLE IN THE OFF-SEASON DUE TO SAFETY REASONS
DIRECTIONS AND THE USE OF GPS
DO NOT USE GPS FOR THE LAST 10 MINUTES OF YOUR DRIVE .TURN RIGHT OFF HWY 23 ONTO AUSABLE POINT ROADHE HOUSE IS ABOUT 1 MILE DOWN THE ROAD ON THE LEFT HAND SIDE CHECK-IN
ON THE DAY OF CHECK IN PLEASE TEXT MY CELL PHONE AT 12:00 PM TO GIVE ME YOUR ESTIMATED TIME OF ARRIVAL. AT THAT TIME , I WILL LET YOU KNOW WHO WILL LET YOU INTO THE HOME OR I WILL GIVE YOU A CODE TO THE LOCKBOX AT THE HOUSE
COTTAGE NOTES
1. Have a wonderful vacation
2. Do Not move furniture around
3. No eating in living rooms/family rooms
4. No wet bathing suits/towels on the furniture or on the floors- there are plenty of hooks in the bathrooms/ bunkrooms and outside
5. Please wipe up any spills on kitchen chairs
6. Do not throw any feminine hygiene products in the toilet
7. Please use paper or plastic plates with children or when outside
8. Please move breakable vases if you have young children and you think they MAY break them 9. Please take all garbage to the curb on Sunday night as garbage comes at 6:30 am AND WHEN YOU LEAVE
10. Please be respectful of neighbours
11. Please put all patio seat cushions in storage bins if it raining AND WHEN YOU LEAVE
12. Please be "green" and turn off lights when not using
13. Leave lid to washing machine open when done
14. PLEASE USE FOOTBATHS PROVIDED ON DECK TO RINSE OFF SAND BEFORE ENTERING COTTAGE
When departing- guests are asked to leave the home in the same condition as it was found. Guests are responsible when leaving to:
15. Tidy and straighten home
16. Place on remotes on TV
17. Remove perishable items from refrigerator
18. Close curtains
19. Close and lock all doors except the the door from the foyer into the garage
20. On the day of departure it would be greatly appreciated if you would start a load of towels
21. Run the dishwasher at least 2 hrs before departure to allow time for it to finish the wash cycle and put away the ITEMS
22. Turn off all lights inside and out
23. Leave all keys IN kitchen ON ORGANIZER HOOKS
24. Make sure front door key is returned to the lock box
25. Sweep floors
26. Clean grills if used
27. PLEASE RETURN KAYAKS/ PADDLE BOARDS TO UPSIDE DOWN POSITION AND LOCK
a. RETURN ALL PADDLES AND LIFEJACKETS TO GARAGE- KAYAKS ARENOT TO BE PUT IN YOUR VEHICLE AND TAKEN TO ANOTHER LOCATION-KAYAKS ARE NOT AVAILABLE IN THE OFF SEASON FOR SAFETY REASONS Each unit is inspected after every departure and guests may be charged for additional cleaning if home is left excessively dirty or the guest fails to meet the listed requirements. Miscellaneous
a. Propane: there are 2 propane tanks: 1-BBQ/ 1-patio table
internet pswd- keegan99
water switch is in green bathroom
hot water tank switch in laundry room
PROPANE TANKS CAN BE TAKEN TO WALMART TO REFILL
Call me with any questions or if anything is damaged: Carmen Nasello-/
Please sign and date indicating your understanding and agreement to above terms
SIGNATURE_____________________________________________________
DATE_______________________________________________________
HOT TUB RULES
PLEASE READ CAREFULLY AS IMPROPER USE WILL RESULT IN FEES BEING CHARGED.
1. MAXIMUM OCCUPANCY IS 6 PEOPLE
2. PLEASE REFILL HOT TUB EACH DAY TO THE LEVEL OF THE HEADRESTS
3. ADD 4 OZ- 1 CAP FULL OF SHOCK EVERY DAY AFTER USE
4. CHECK CHEMICAL LEVELS EACH DAY AND ADD CHEMICALS IF NECESSARY
a. ADD "SPA UP" TO INCREASE PH AND ALKALINITY- 1 CAP FULL b. ADD "SPA DOWN" TO DECREASE PH AND ALKALINITY-1 CAP FULL
5. ABSOLUTELY NO CHILDREN UNDER THE AGE OF 12
6. PLEASE MAKE SURE YOU ARE HEALTHY- NO HIGH BLOOD PRESSURE/NOT PREGNANT ETC
7. NO SITTING/STANDING ON HOT TUB COVER
8. KEEP HOT TUB COVER CLOSED WHEN NOT USING TO PREVENT DIRT AND BUGS FROM GETTING IN.
a. THIS IS ESPECIALLY IMPORTANT IN THE WINTER TO PREVENT OVERWORKING THE HEATER
9. OWNER HAS THE RIGHT TO LOCK HOT TUB IF IT IS DETERMINED THE GUESTS HAVE ABUSED/DISREPESCTED THE HOT TUB- WITH NO REFUND
10. Please turn off jets and lights when not in use
11. SHOWER OFF :
a. ALL SAND, SUNTAN LOTION/OIL, BODY LOTIONS, AND DIRT
FAILING TO DO THIS WILL RESULT IN A CLOUDY DIRTY HOT TUB THAT IS UNHEALTHY…. AND A $200 FEE FOR REPLACING FILTER AND CLEANING ; IF INTERNAL FILTER IS DAMAGED ADDITIONAL FEES WILL BE CHARGED TO THE RENTER ACCORDING TO WHAT THE HOT TUB COMPANY CHARGES
12. PLEASE USE FOOT BATHS TO REMOVE ALL SAND OFF FEET
13. PLEASE TURN DOWN TEMPERATURE TO 90 WHEN LEAVING
Please sign and date indicating your understanding and agreement of Hot Tub Rules
Signature___________________________________Date
winter
---
---
---
Der Mindestaufenthalt in dieser Unterkunft variiert.
---
Preis-Leistungs-Verhältnis
If you want a true getaway spot, with a great view of Lake Huron, a beautiful beach that you can walk for miles (and even see an eagle or two!), and just relax and enjoy peace and quiet--this little gem is for you!!! From the start, Carmen was great to work with. She couldn't do more to make sure we were all set up for the quiet NYE weekend we were looking for. She was very quick to respond, and always made sure we had her contact number should we need help. The house is very cozy and decorated with the beach theme and water in mind. The expansive windows provide an excellent view, and the huge fireplace provided the warmth. There is a great outdoor spa hot tub, which we didn't use because it was cold (and we are wimps) but she had it ready to go. The bed was very comfortable, and everything was included which made it easy. She even offered up her spices and beer if we needed it! The pictures didn't do it justice because it is such a wonderful getaway. Now, we will just have to try it in the summer because the location is so amazing. With her patio, firepit, and use of kayaks--I can only imagine how much fun it would be in warmer weather. The house is exceptionally clean and well taken care of, so you can really sit back and enjoy. Definitely will be returning to share in Carmen's paradise!!
---
We had a wonderful time at Carmenlinda's Cottage, I stayed with 4 other friends for a girl weekend getaway. The views of Lake Huron are simply spectacular. We really enjoyed walking the length of Ausable Point and visiting the lighthouse at Tawas State park which is a short drive away. The kitchen was stocked with all of the utensils and cookware we needed for the weekend and the house was very clean when we arrived which I very much appreciated! There were just a few things that I wish were a bit more forthright on the description page that we would have known before booking: 1. We were charged the full rate even though it was advertised as having discounted rates for fall/winter (we stayed towards the end of September) 2. The 4 beds in the bunk room are OK for children probably, but as a group of adults we found them extremely uncomfortable and ended up having a better sleep on the couch the next night rather than the bed. 3. There are many many house rules (I think it was between 20-30) that in my opinion are a little excessive considering we pay a $100 cleaning fee, including sweeping the floors, washing and putting away all dishes, and a strong suggestion that you start the laundry for towels before you leave. In my opinion, it just seems a lot to ask of guests considering the rate and cleaning fee.
Hello: I am glad you enjoyed your weekend. I take great pride in providing the best amenities. Leather furniture, all new furniture and mattresses did want to respond to your comments about not being forthright. I have pictures of all bedrooms and all the mattresses are new, and great quality . I have a king bed , a queen bed and 2 captains bunks- full on bottom/twins on top. no secret or hidden info. Also September rates are discounted from peak summer rates of $400/night , and were clearly in the quote given to you.( you were not charged full summer rates). Fall does not officially start until October and the rates drop even more at that time As you can imagine when I have put in a huge investment into this property- I need to have rules. Most people don't need them but in over my 4 years of renting I have learned that I would rather haven them written to protect the property. I do ask guests if they would kind enough to throw the towels in the washing machine it would be greatly appreciated. It is not a requirement, but it is something that takes 5-10minutes and assists the cleaning staff for the next guest. All of these cottage notes are emailed to the guest prior to arriving . so everything is forthright. I wish you would have called prior to renting to ask any questions that you may have had. Regards, Carmen
---
This home was beautiful and more than the pictures or text described. I came with seven others, and there were beds for everyone. The patio and beach were perfect for outdoor grilling and relaxing, with plenty of room and chairs for everyone. The kitchen was well-stocked with all the necessary items to make our stay seamless and easy. The kayaks and paddle board that were available were so much fun. We had no issues, and Carmelinda was quick to respond to emails and phone calls when necessary. I would recommend this to friends and would stay here again.
---
Midland, Michigan, Vereinigte Staaten
Mitglied seit Februar 2012
Kiteboarding is the reason I purchased this cottage-
Antwortrate:
100%
Antwortzeit:
innerhalb einer Stunde
Entdecke weitere Optionen in und um East Tawas
Noch mehr Unterkünfte in East Tawas: