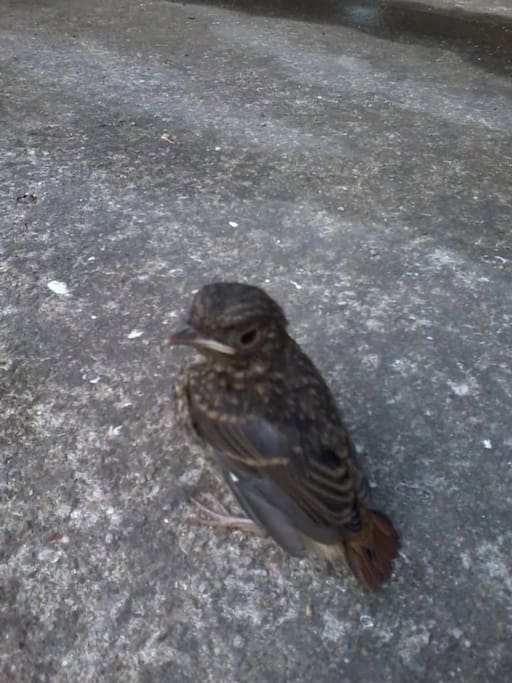 Über dieses Inserat
House more than one hundred years.
The best place for training.
Lake, stream, mountain, sea, no factories and not many tourists,
plz enjoy stars and Korean traditional dance and music concert,
night trekking, korean kendo experience with host. meditation.
local food. traditional market.
Children are also welcome~
---
Art des Bettes: Richtiges Bett
Check-in: Jederzeit nach 12:00
Haustierbesitzer: andere(s) Haustier(e)
Art des Zimmers: Ganze Unterkunft
Eigenständiger Check-in: Doorman Entry
---
---
Zusätzliche Personen: Keine Gebühr
Wochenendpreis: 23€ / Nacht
---
House more than one hundred years.
The best place for training.
Lake, stream, mountain, sea, no factories and not many tourists,
plz enjoy stars and Korean traditional dance and music concert,
night trekking, korean kendo experience with host. meditation.
local food. traditional market.
Children are also welcome~
An old house do not be destroyed during the 1950-53 Korean War

Weak points --
I'm sorry. And no television, Internet and computer
Starbucks Jjimjilbangs, otherwise there was no theater, shopping malls and convenience .
New and not focusing on the original customer's house in Bukchon Hanok Village because it is not a modern Korean traditional Conservatives and Jeonju Hanok Village if you think You can be disappointed.
I don't use internet often, my reply can be late.
you can take a shower, but a little cold, -ground water.
no clock and calendar.
many stores are at rest on Sunday.
if you dont like barking and birdsong baby, i dont recommend here.
------------------------------------------------------------------------------------------------------------------------
Benefits
Close to jeju island. the main island of Jindo Island is warm climate. So in the spring many flowers bloom. not much cars, rain and golf courses and tourists and more wildlife and we can see the valley and lake.
Environment is good.
This is very strong place of traditional music.
Almost every free performance.
there is no nuclear power plants, the tallest building, commercialism,
If u like quiet beach i can tell some places.
- small lake (Five minutes)
Available with their pets, smoking in the floor,
the host has blackbelt of matial arts and used to trained in millitary camp. so if you want, you can experience basic skill of Taekwando or traditional kendo. some people experience 20min and somepeople come for training.
)-no wi-fi
-free entrance and exit to the building
-Shared shower and bathroom with shampoo and body wash
-we don't need air conditioner
-free towel rental
if you have any interests and if you recommand to your best friend, thank you. it donate to 'Save the children' for children of Syria.
you can choose course and you can choose edward's camp fee by yourself.
스스로 정하는 에드워드켐프, 베스트 프렌드가 있으시고 관심이 조금이라도 있으시다면 추천 감사드립니다.
기부는 시리아의 아이들을 위한 아주 소극적인 노력으로서 실행.
air bnb - south korea jindo - traditional korea (to search)
에어비앤비- 진도 - traditional korea

Edward's camp (children and adults에드워즈 캠프 (아동과 성인을 위한체험)

1. learn how to reduce killing insect환경을 위해 박쥐집의 이점과 일회용 컵의 좋은점체험
2. find simple herb and makeing some te 잡초, 잡생각이란게 있을까? 차재료 직접찾기
3. if you can't swim (1hour surviving swimming) 수영을 못한다면 생존수영 과정
4. experience blind 1 hou앞을 못보는 1시간의 귀중한 체험
5. learn how to training just 5mi5분동안 기초 트레이닝으로 자신을 강하게
6. night treking to overcome your fea두려움을 극복하는 밤 마실
7. short meditation in natur 짧은 명상
8. 3+6 = watching stars on the lak호수위에서 별보기 (우리는 그냥 은하계주민임 체험)
9. just try to stop cellphone,coffee,etc
to recognize addiction (at least 1day)최소 하루만 참아서 무엇에 중독되었는지 찾기
10. martial arts without comercializm to
reduce violences/to make whole world DMZ 상업주의를 줄인 무예에 대해 체험
village farmers are real early bird. so they used to wake 5 am.
and there is fake gun shot for rain deer so plz don't be panic. it is country side in korea.

매2,7,12,17,22,27일 지역 전통 시장
신비의 바닷길 축제
sea parting time
2016. 4.7 17:34.8 18:14.9 18::30
이기간에는 너무많은 사람들이 접촉하여 접속을 안할수 있습니다.
진도는 작지 않다
6일 추천지
1
near by billage - bambootree - stream - small lake - woo kon farm
마을 주변 - 대나무숲 - 호수 동물관찰 - 송사리 - 마을 산책
2
east side - won po ri - cerry blosum road - fishing site - Ga gae beach
동쪽 원포리 뻘 - 지막리 벚꽃길 - 용호리 (피싱) - 가계 시닉로드 - 전망대
3
west side -local bread -river - flower field - dong Mt -unknown beach -sunset road
서쪽 -울금찐빵 - 강 - 유채꽃밭 - 세쿼이어길 - 동석산 - 세방작은 해변 - 세방낙조

4
south side -fortress - horses -painter's Pajun - Geum gab beach sunset - music concert
남쪽 석성구경 - 말구경 - 작은갤러리파전- 금갑 / 금요 공연
5
pang mok port - Gwan mae island camping
팽목항 - 관매도
6
north side - Geum gol Mt - Goonae lake - traditional market(2th,7th) -music concert - jindo dog park - evergreen forest - museam - jindo drum experience
북쪽 금골산매트래킹- 군내호 -2,7일시장- 전통공연 - 강아지공원 - 첨철산 - 운림산방박물관 - 체험 /명품관

게스트들께서 추천한 음식집 (인터넷 맛집은 별로라네요)
chao z =옥주서점 옆 만두집
sushi - 터미널뒤 수산시장 이층 횟집
pork - 터미널내 감자탕집 돼지찜
bossam - 군청근처 탁이보쌈 후 냉면집
seafood spicy soup - 진도대교 근처 이순신 해물 짬뽕
진도대교 건너편 토종닭 (한개는 3명이 먹는 분량)
진도군청앞 보리밥
when you take KTX , u should go to bus terminal to change.
but when you take bus, u don't need that.
Directions
*Express Bus
Seoul – Jindo (The bus runs from the Central City Express Bus Terminal at and 16:35 four times daily and the journey takes 5 hours 40 minutes.)
*bus
mokpo - jindo (23times a day / 1hour per trip)
gwang ju - jindo ( 20times / 2hours)
seoul - jindo (6times / 5hours)

*KTX train (recommend)
seoul -mokpo(16times a day / 2:30per trip )

----------------------------------------------------------------------
When you arrive in 목포(Mokpo) by KTX train,
pls transfer to the express bus to 진도(Jindo).
Mokpo to Jindo is about one hour and there are many buses till 6pm.

When you arrive in 진도(Jindo) bus terminal by express bus,
pls transfer to the green bus infront of the terminal. (10 min)
오일시(Oh-il-see) is the final destination, pls check to driver or people,
and when you arrive 오일시(Oh-il-see),
Pls use the map 전남 진도군 고군면 신리길 lli-gil, Gogun-myeon, Jindo-gun, Jeollanam-do, Korea)
When you arrive Oh-il-see, there are 2 super markets,
and my place is about 10 min from there on foot.
In Oh-il-see, there are some markets and small restaurants.
Even if I'm not at home, you can come in freely and take a rest~
I believe that you can find the place, you can see ''Han and Zero'' in front of our house. Zero is my nickname~
if you want beds ,pls reserve 'korea jindo island'
dogs are very friendly, but enter the area without permission, can be aggressive to touch.
We meet rain deer on the street at night.
---
Der Check-in ist nach 12:00.
I borrow a bit of the vessel, spoons, small stove.
Please enjoy local food.
many artists, writers, and martial artist visit
welcome.
Smartphones overuse, too much trash - no welcome.
---
---
1 Nacht Mindestaufenthalt
Preis-Leistungs-Verhältnis
KR

·

Mitglied seit Juli 2014
안녕하세요

다들 언제죽을지 안다는 얼굴들이지만

막상 시험지 앞에서는

막막해지는 어린아이.

같은 새를 보아도

어떤아이는 하품하고

어떤아이는 울고

또 어떤아이는 웃더이다.

나고 죽음은 하늘의 뜻이나

어찌살고 죽을지는 내가 정함

얼마 남지 않은삶

당신이 나의 은인.

덕분에

굽은 등을 펼 수 있었습니다.

모두다 빌린것으로

제갈길, 제자리에...

가질수 없다는것도 알고

이미 가졌다는것도 아니까

매일의 시험을 여행처럼

매일의 여행을 시험처럼

해골 선배들의

씁쓸한 충고처럼

통장의 잔고는 알아도

인생의 잔고는 알수 없으니

서두르지도 않고

미루지도 않으렵니다.


你好

当每个人都知道死去的脸,

事实上,之前的试纸,

孩子变得绝望。

看着同样的鸟

有些儿童被打哈欠

一些孩子在哭泣

此外,一些儿童的是Utodo。

名护死亡雅意空

模组我为什么活着

所剩不多的生命

你是我的恩人。

由于

我们能够部署诸如歪。

那些借大家

Jegarugiru,在地方...

我也知道没有有

它也可以被看作是已经得到

随着测试的每一天的旅程

就像一个测试行程中的每一天

骷髅前辈

正如苦意见

也知道存折的余额

我不知道生活的平衡

不快点


こんにちは

みんないつ死ぬ知っている顔が、

実際に試験紙の前では、

絶望的になる子供。

同じ鳥を見ても

いくつかの子供はあくびして

いくつかの子供は泣いて

また、いくつかの子供はウトドである。

名護死は空の意味や

どうして生きて死ぬは私定める

残り少ない人生

あなたが私の後援者。

おかげで

曲がったなどを展開することができました。

みんな借りたもの

ジェガルギル、所定の位置に...

持つことがないことも知っている

既に持っていたことも分かる

毎日の試験を旅のように

毎日の旅行を試験のように

スケルトン先輩たちの

苦いアドバイスのように

通帳の残高は分かっても

人生の残高はわからないから

急がず



这名称也得罪
怒らもないますよ
Antwortrate:
80%
Antwortzeit:
innerhalb einiger Stunden