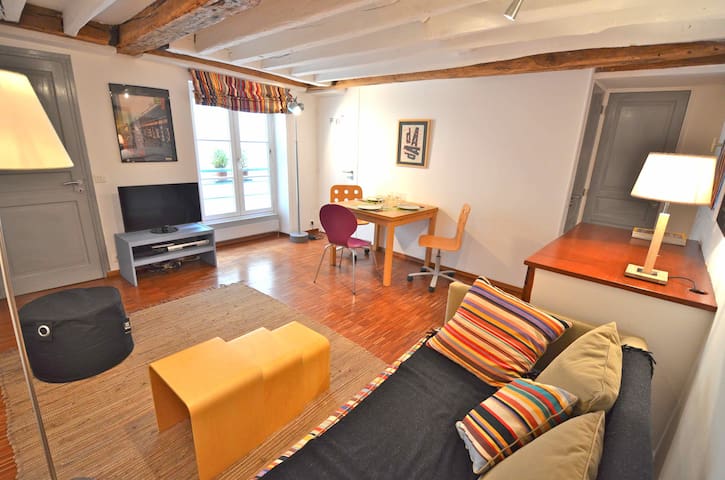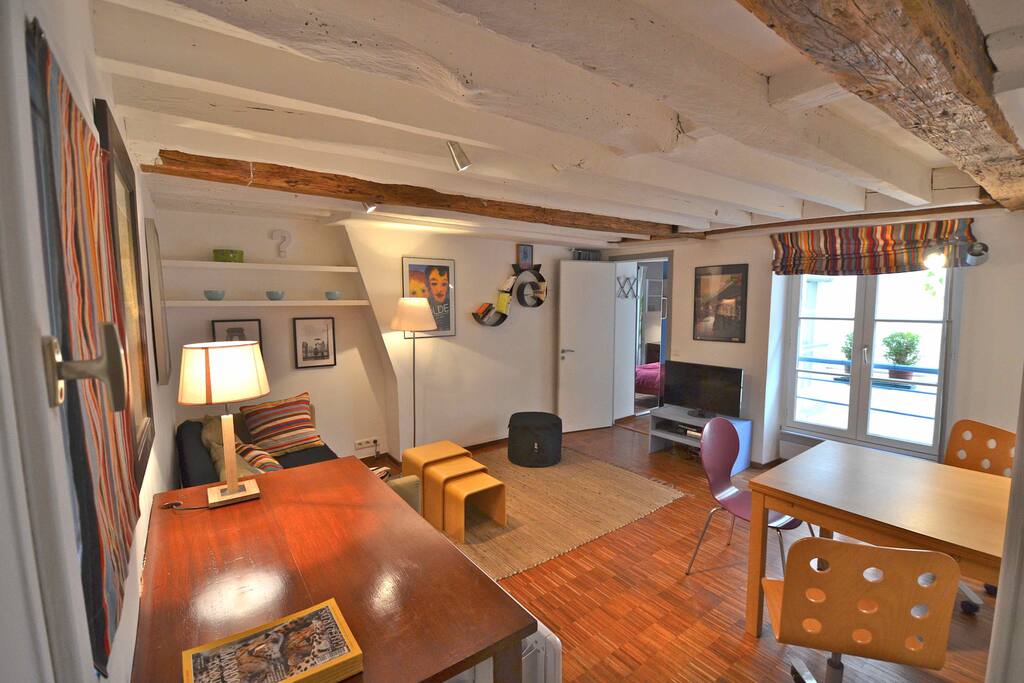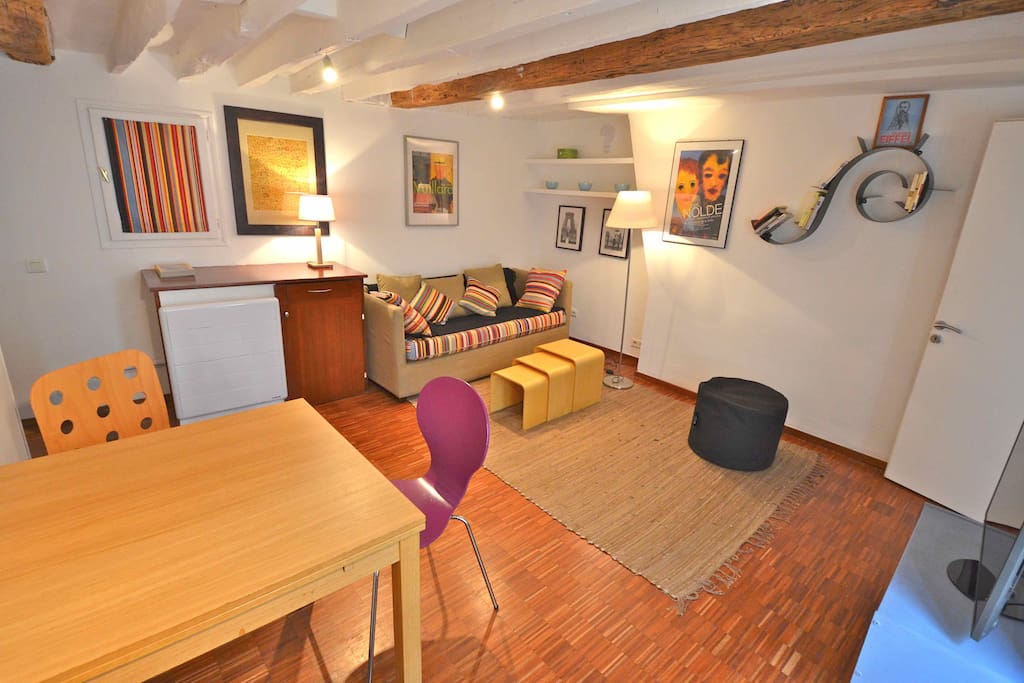 30 sqm apartment for 3 people, 4th floor, with elevator, quiet.
Der Wohnraum
The apartment consists of:
- Living room is equipped with: sofa bed for one adult, a coffee table, HD TV, DVD player, high speed internet, HIFI. Table and four chairs.
- Kitchen open on the living room equipped with a microwave, hob, fridge, coffee maker, kettle, a toaster, a dishwasher, a washing machine and everything you need to cook.
- Bedroom: with a bed of 140 X 200cm, chest of drawers and a dressing.
- Bathroom: with shower, washbasin, hairdryer and WC.
Quiet apartment on courtyard side. The linen is provided. Electric heating.
---
---
Schlafzimmer 1
1 Doppelbett
Gemeinsam genutzte Räume
1 Schlafcouch
---
Der Check-in ist jederzeit nach 14:00
Dépôt de garantie
Airbnb ne prend qu'une empreinte de votre carte bancaire lors de la réservation pour la caution. Si des dommages sont effectués durant votre séjour, nous demanderons à airbnb d'utiliser la caution pour réparer les dommages causés à hauteur des préjudices.
Annulations du fait de Paris Autrement:
Dans le cas ou des impondérables (incendie – dégât – cambriolage etc…) rendraient l'appartement inaccessible, Paris Autrement s'engage à vous reloger dans un appartement de catégorie identique ou supérieur situé le plus proche possible de celui que vous aurez choisi sans que cela change quoi que ce soit en matière de date ou de prix. Dans l'hypothèse où se changement ne pourra se faire, l'intégralité des sommes perçues par nous vous seront remboursées. Paris Autrement ne pourra aucunement faire l'objet d'une demande d'indemnité.
Que comprennent les tarifs proposés ?
Les tarifs proposées s'entendent toutes charges et taxes liées à l'appartement comprises (eau - gaz - electricité - linge de maison - ménage avant votre arrivée – accueil). Aucun supplément ne vous sera demandé, sur la base d'une location standard. Les tarifs ne dépendent pas du nombre de personnes qui occupent l'appartement dans la limite du nombre de personnes que peut contenir l'appartement.
Exemple : Que vous soyez 2 ou 3 dans un appartement qui peut contenir 4 personnes le prix à la nuitée sera le même. Si vous prenez l'option de nos « Service Plus », ils seront facturés en sus.
Durée de la location:
Le nombre de jours de location est d'un minimum de DEUX jours. Pour les séjours de deux jours et seulement un supplément de 75 € TTC vous sera facturé pour les frais inhérents à la rotation plus rapide. Le séjour ne pourra pas excéder le nombre de nuitées indiquées sur le contrat initial, sauf accord écrit de Paris Autrement. Entrées – Sorties Arrivée :
Elle se fait dans l'appartement entre 14h et 20h. Lors de votre réservation nous vous demanderons de nous indiquer précisément votre heure d'arrivée pour qu'un de nos agents puissent vous attendre à l'appartement choisi. En cas de retard nous vous demanderons de nous prévenir afin de nous réorganiser. Avec le contrat, qui vous aura été envoyé, sera joint l'itinéraire et le numéro de la personne à prévenir en cas de retard. Un supplément de 30 € vous sera facturé si l'arrivée doit se faire après 20h, et un supplément de 50 € pour toute arrivée après 22h. Si l'appartement n'est pas occupé la nuit d'avant nous vous offrons la possibilité d'arrivée avant 14h. Merci de contacter nos services si vous êtes concernés, nous nous ferons un plaisir d'accéder à votre demande.
Retard :
Un agent devant vous attendre pour vous accueillir, en cas de retard à l'arrivée, nous vous demandons de nous prévenir le plus tôt possible. Tout retard supérieur à une heure sera facturé 30€.
Départ :
Le check out/remise des clés départ doit se faire entre 8h et 11h. Notre représentant, suivant une heure convenue, vous retrouvera à l'appartement pour un état des lieux et la reprise des clefs. Dans l'hypothèse où l'appartement n'est pas occupé la nuit suivante nous vous offrons la possibilité de rester plus longtemps dans les lieux. Afin de vous organiser n'hésitez pas à contacter nos services qui vous indiqueront ou non la possibilité de rester.
Toute retard ou absence à la remise des clés du départ sera facturé 30 €.
Ménage et état de sortie:
Un service de ménage en fin de séjour est inclus dans la réservation. Cependant l'appartement doit être rendu dans un état convenable. Les ordures doivent être jetées dans les bennes à ordures appropriées. La vaisselle doit être faite. Nous nous occupons du reste. Si l'appartement devait être rendu dans un état non satisfaisant (déchets et poubelles partout, vaisselle pas faite), la somme de 80€ pourra être retenue sur la caution du locataire.
Dimanche et jours fériés:
Nous vous informons que si vous prévoyez d'arriver ou de partir de l'appartement un dimanche ou un jour férié du calendrier français il vous sera demandé un supplément de 30€.
Appartement non-fumeur:
Dans le respect de la santé de chacun, tous nos appartements sont non-fumeurs. Nous vous demanderons donc de respecter ce choix pour un meilleur environnement.
Capacité de l'appartement:
Le nombre de personnes occupant l'appartement ne doit absolument pas dépasser le nombre de couchage indiqué sur la fiche technique du bien loué. Aucune dérogation ne sera donnée. Ceci pour garantir un confort maximum à nos clients.
Utilisation des lieux:
Une fois le contrat de location signé par les deux parties, le locataire s'engage à respecter les règles suivantes : L'appartement ne sera occupé que pour des fins privées durant son séjour touristique ou professionnel. En aucun cas il ne pourra être utilisé pour une activité commerciale, artisanale ou professionnelle.
L'appartement devra être occupé par le signataire du contrat et ses accompagnants dans la limite du nombre de personnes que peut accueillir le lieu.
Le locataire et ses accompagnants s'engagent à ne commettre aucun acte pouvant nuire à la tranquillité des autres habitants de l'immeuble. Les règles de copropriétés sont applicables au locataire.
Dans le cas d'une plainte pour nuisance du voisinage, seul la responsabilité du locataire est engagée.
Toutes les dégradations intentionnelles ou non causées par le locataire durant son séjour lui seront facturées.
Paris Autrement ne pourra être tenu responsable des coupures d'eau, gaz ou électricité, des vols ou dommage d'effets personnels et des nuisances dues au voisinage.
Le locataire a pour obligation de rendre l'appartement dans l'état où il l'a trouvé. Dans le cas contraire, il autorise l'agence à engager à ses frais les dépenses nécessaires pour la libération ou la remise en l'état des locaux.
Security deposit
Airbnb will just take a print of your credit card for the security deposit. If you damage something in the apartment, we will ask airbnb to use your security deposit to replace or fix what you damaged.
Cancellations on the part of Paris Autrement:
If unexpected deteriorations or damages (fire – water damage – burglary, etc…) make an apartment unavailable, Paris Autrement commits to relocating you to a comparable or superior apartment, located as close as possible to the one originally selected, without any changes to rental length, dates or cost. In case a relocation is impossible, the entirety of the amounts received by Paris Autrement will be refunded to you. Paris Autrement cannot be held liable for compensation.
Modifications at your request
As to modifications made at your request, concerning your arrival or departure date, or the choice of apartment. If the modification request is done 30 days before your arrival date, no fee will be applied. Less than 30 days before your arrival , no modification will be accepted.
What is included in our prices ?
Our prices include all taxes and charges related to the apartment, including (Water -Gas- Electricity –household linens- cleaning prior to your arrival –reception- ). No supplements will be asked of you, for a standard rental. Rental prices do not depend on the number of persons occupying the apartment, within the limit of the apartment's stated occupancy.
For example : whether you are two or three in an apartment with an occupancy of four people, the per night cost will be the same. Please note, our optional «special» services are at a supplemental cost.
Duration of rental:
The minimum rental is TWO days. A two day rental minimum fee of 75 € VAT included is applied to cover rapid turn-over expenses. Your stay cannot exceed the number of nights indicated on your rental contract, unless by written agreement with Paris Autrement.
Entries – Exits
Arrivals :
Arrival is handled at the apartment between 2 pm and 8 pm. At the time of your reservation, we ask that you indicate precisly your hour of arrival so that one of our agents can greet you at the premises. In the event of a delay, we ask that you warn us so we may reorganise accordingly. With your contract you will receive an itinerary and telephone number to contact in case of unexpected delays. A 30 € supplement will be billed to you should you arrive after 8 pm, and the fees are of 50 € for an arrival after 22 PM. Should the apartment be vacant the night prior to your arrival, we offer the possibility of entry before 2 pm. Should this concern you, please contact us and we will happily accommodate you.
Delay :
As one of our agent will wait in the apartment to welcome you, in case of delay at your arrival, we ask you to inform us as soon as possible. If delay exceeds one hour, an extra charge of 30 € will be due.
Departure :
Check-out time is between 8 am and 11 am.
Our representative will meet you at the agreed time. A survey of the apartment will be done in your presence. The tenant will at this time return the keys.
Should the apartment be vacant the evening of your departure date, it is possible to request to stay longer in the premises. Please do not hesitate to contact our offices to know whether this option is possible.
Any delay or absence at check out time will be charged 30 €.
Check Out Cleaning:
A cleaning service at the end of your stay is included in your reservation. However, we ask our tenants to throw trash bags in the appropriate bins and to wash dishes before checking out. We take care of everything else. In case it's not done, a 80 € penalty may be taken from the security deposit.
Sundays and bank holidays:
Please note that should you plan to arrive or depart on a Sunday or (French) bank holiday, there will be a 30 € supplement.
No-smoking apartments:
For the health concerns of each and everyone of us, all of our apartments are no-smoking. We ask that you respect this choice for a better environment.
Apartment capacity:
The number of people occupying the apartment must not exceed the number of beds indicated on the apartment description. No exceptions will be made. This policy guarantees our customers maximum comfort.
Use of the premesis:
Once the rental contract has been signed by both parties, the tenant agrees to comply to and respect the following rules : The apartment is for personal use only. The apartment is not to be used for professional or commercial activities of any kind.
The apartment will be occupied by the signatory of the contract and by the people accompanying them and not exceed in number the occupancy indicated in the apartment description.
The tenant and accompanying occupants agree to not make noise or otherwise disturb other tenants and agree to respect the rules common to the building. Should the tenant ignore the rules of the building, they engage their sole responsibility.
The tenant will be financially responsible for any intentional or accidental damages occurring during their stay.
Paris Autrement will not be held responsible for cuts in water, gas or electrical service, or theft or damages involving the tenant's personal effects. Nor will Paris Autrement be held responsible for neighbourhood nuisances.
The tenant will subscribe any insurance necessary for the protection of his goods and his person during the rent. He will also have to be covered for any damage, volunteer or not, for which he could be responsible for, regarding the apartment and of the pieces of furniture, including the cases of fire, damage of water and rob.
The tenant is required to leave the premises in the same condition in which he entered them, and to free them from any personal things. Should this clause not be respected, the tenant allows the agency to proceed to the necessary works. The expenses incurred will be deducted from the security deposit.
---
I use AirBnB a lot for short business trips and if you see my feedback, I am a very "low maintenance" guest. Without fail, I have given positive reviews to my hosts. However, in the case of the Silence apartment, my reviews are mixed. The location of the apartment is very good, between the Marais and Les Halles. The apartment is as described, and comfortable for two people. There is no view or stressed windows, but it looks like the pictures and description. My complaint with the Silencio Apartment, is mainly with the new business model of the proprietor (Ludovic), who manages hundreds of units in Paris as a business on AirBnB. If you look at the "house rules" for any of the apartments under their management, they are extensive and you are required to pay extra if you are late to the key exchange or many other conditions. Very corporate. However, our host was 30 minutes late and we were already supposed to pay €30 to pick up a key on a holiday (NO ONE does this). At least they waived this (we had to ask Ludovic, as the person with the key did not even apologize). We also had NOT toilet paper in the bathroom, which is not so nice after arriving from the airport. We were told that this "was a mistake, as there is always toilet paper and hopefully it was not such a small thing that ruined your stay." We also had a blown light bulb in the bathroom and I left a note about this, but no response. They asked if we wanted a late checkout, which we agreed to (1pm) and the cleaning person let herself in at 11am with no knowledge of a late checkout. All little things, yes... One of the charms of AirBnB is that the hosts are often the owners and take pride in their "guests" having an enjoyable experience. They have bent over backwards for me, one time when my flight was delayed 6 hours. So my summary is, the Silencio apartment is perfectly fine, clean and in a great neighborhood (not exactly the Marais, but almost). But if you want the experience of staying in someone's house, this is NOT it.
---
Nuestra experiencia en Silencio fue muy buena. El Dto. estaba limpio y cumplía con lo prometido. La ubicación era muy buena y tanto Ludovic como Antony fueron muy amables con nosotros. Lo único negativo fue que estuvimos la mitad de la estadía sin servicio de Internet. Antony trató de ayudarnos, pero no pudo. Reiniciamos el modem varias veces, pero aparentemente era un tema del proveedor. Recomendamos el Dto. Gracias!
---
Après plusieurs années d'activités professionnelles dans le tourisme à travers le monde, nous voulons faire de votre voyage à Paris un moment singulier, unique. Le tourisme est une mission que nous avons faite nôtre, conscients du plaisir que nous vous apporterons.
Sprachen:
Dansk, English, Español, Français, Nederlands, Norsk, Português
Antwortrate:
100%
Antwortzeit:
innerhalb einer Stunde
Entdecke weitere Optionen in und um Paris
Noch mehr Unterkünfte in Paris: