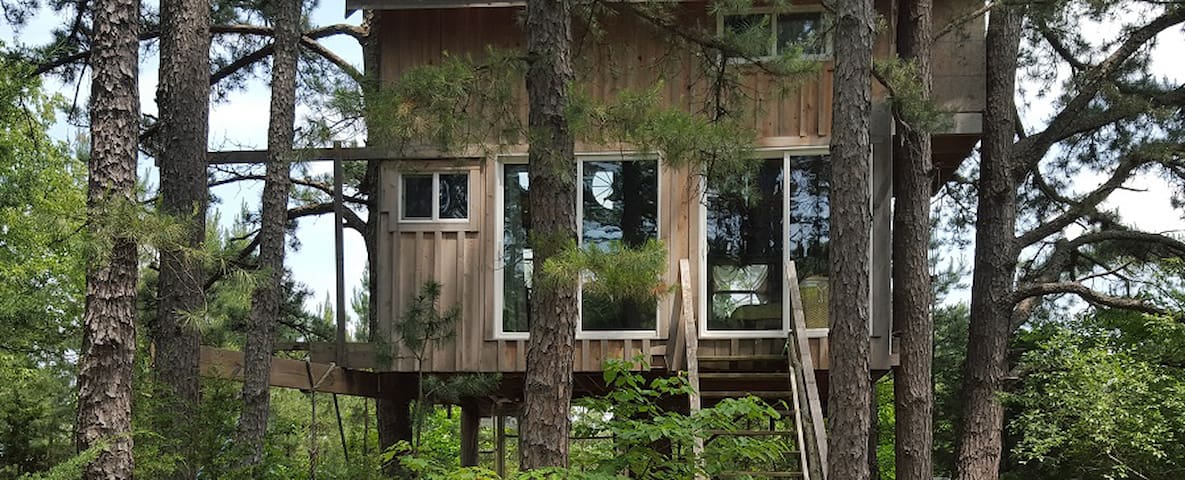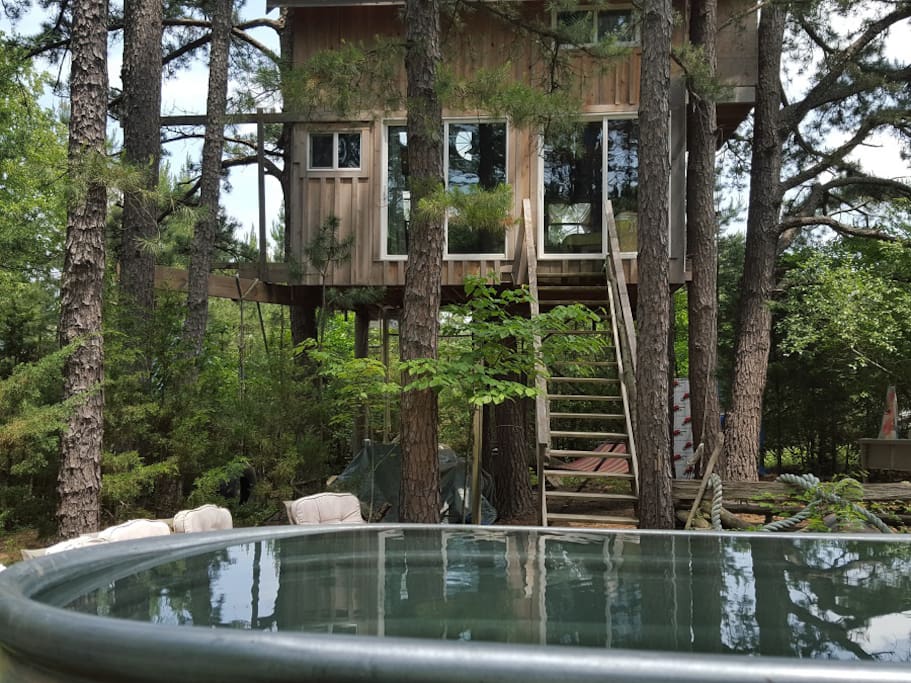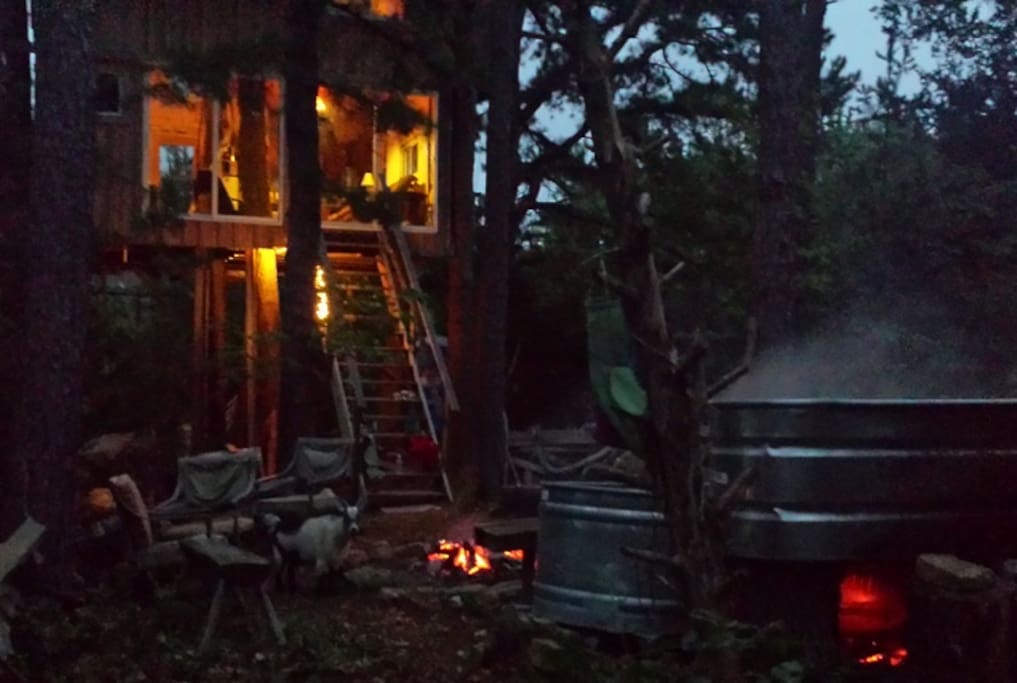 Top 20 Enchanted Treehouse Tiny House Sleeps 8
Dream big in this adorable Treehouse 1 hour to STL. Magic Land cabin in pines sleeps 8 friends/family. 2 story, cute loft, private Sacred Spiritual Sanctuary on 70 acres. Relax, let go, remember your soul, be in Mother Nature with fun free range animals, 3 acre lake, creek, swings, peace. Furnished, roomy, a/c & heat, kitchenette, living room, cold running water, Johnny below, make memories, hike, fish, 3 ac lake, creek. #treehouse #cabin #stlouis #cabinwoods #tinyhouse #fun #surprise
Der Wohnraum
Relax in a beautiful country setting on our 70 acre Safe Sacred Spiritual Sanctuary & Magical 2 story Treehouse Tiny House. Amazingly enchanting tree house with incredible loft. Romantic, peaceful, fun, cozy, woodsy cabin 15' in the air built in 5 pine trees. 2 trees go through the roof that sway in the wind and love to be hugged. Charming, roomy 16' x 18' spaciously decorated space with all you need to make your vacation the best ever. Breathtaking private pine forest, sleeps 8+ with everything you need to make your stay a marvelous experience. fully equipped kitchen, capacity to cook, living room, eating area, propane fireplace and a/c unit on both floors. Outside in your private area you'll find 2 hammocks, campfire, charcoal grille, outdoor tin hot tub, and more. Port-a-potty below treehouse and composting toilet indoors. Roam 70 gorgeous acres with wildflowers, fresh country air and woods. Find your fill of free range loving chickens, adorable dogs, darling ducks, Stella our turkey and a goat named Lilly. Paddle on our a 3 acre lake, fish or feed the catfish. Stroll to the creek, spring, 2 pavilions or swing under our 100 year old oak trees. You'll want to stay forever and wish you had booked more nights.
YOUR GIFTS - We ask that you honor the Native American Spirit of the Land and be mindful of your footprint and connection to the animals. Mother Nature brings gifts to you that remind you about how treasured you truly are. Be ready to see what she will give you. We are excited to meet you so you may soak up the character, unique setting and comfortable atmosphere to feel fabulous on the farm. Our animals are always a huge part of guests enjoyable experience. We have guests and events so there may be other people on The Magic Land and the Tree House area is private. Feel free to roam around and enjoy the Land.
SLEEPING - The Treehouse Tiny House easily sleeps 8+. Our full sized futon on the first floor sleeps 2, and the loft has 1 queen bed, 3 twin beds, 1 air mattress, a hammock and a big bean bag chair. These are already made for you to climb in and sleep. We've added a hammock in the loft and kids love sleeping there with the tree rocking them to sleep. Adults and children love curling up like a cat in our huge Poof chair.
FABULOUS FIRST FLOOR - Our 288 sq. ft. space has just about everything you need for comfort. The first floor has a comfy living room with queen futon that sleeps 2, coffee table and funky leopard shoe chairs. You eat in a neat alcove at a real table with a bookcase full of intriguing books, games and a painting of a Native American by my Mom. The cute kitchenette has coffee maker, hot water pot for tea, microwave for popcorn, fun red convection toaster oven and even a retro reclaimed red 4 burner stove from an RV. We stock the kitchen with paper towels and napkins, coffee, tea, (bring cream), basic dishes, silverware, cooking utensils, pots and pans, you just bring the food, water bottles and paper plates and cups if you don't want to do dishes. We have cold running water in warm months and offer jugs of water in colder months when the lines freeze. ..................................................................................................................................
"OH WOW" LOFT - The loft is everyone's favorite place to hang out. You must be able to climb a 10' ladder to reach the loft space, it's worth it. The Reader's, Writer's, Sleeper's or Lover's Nook with knotty pine and cedar walls reclaimed from the Magic Land is ideal with a great book or your lover. This space nurtures your soul. There are 2 relaxing chairs for deep conversations and 5 twin sleeping spaces, a hammock, big cozy poof chair, little table and bookcase and A/c and little fireplace electric heater. Everyone climbs the ladder and says, "Oh, Wow!"
THE FACILITIES - We have a composting toilet on the 1st floor and a Johnny on the Spot below the treehouse. We don't have a shower yet guests love basking, floating and bathing in our old time hot tub. There may be a possibility to shower in the lodge if the space is available for a small fee.
WHAT'S BELOW? Outside below the Treehouse you'll find a gas grill, the Johnny on the Spot with hand washing station, 2 hammocks and large table and chairs under the Treehouse. Our camp fire with tools and marshmallow roasting sticks is super year round. In warmer and cool months, you'll giggle at the adventure of our old time tin hot and cold tubs. The cool tub is super to dip in on hot days. The hot tub is a compete and memorable experience. You build a wood fire under the tin tub up until it reaches the perfect bath water temperature, put the fire out and climb in to soak under the bright country stars and big bright moon shining through the 80' tall pines. Private location to choose clothing optional if you wish. We provide the towels.
CHILDREN: The space is built for adults and very mindful children over age 10. Because there are risks in being up high with steep stairs, ladder and doors that open to no deck, we ask that you educate your children and orient them to the space. We appreciate well behaved children honor and respect the magic of the Treehouse and animals.
CHECK IN/OUT: Check in is around 3 pm, Checkout 11 am. We ask that you let us know the day before what time you plan to arrive and text us an hour out. If we have the avaAsk about our scheduling to see if you need to alter your check in or check out times. We are flexible depending on rentals.
WHAT TO BRING – FLASHLIGHTS and less than you think. Food, clothes, medication, drinking water if you don't want our amazing tasting well water. Always have hiking shoes, flip flops or slippers for the Treehouse since we are a shoe-less space, rubber boots to walk the creek or if it's muddy, HEADLAMP, snacks, suntan lotion, bug spray, FLASHLIGHTS and changes of clothes and did I say FLASHLIGHT? DO NOT RELY ON YOUR CELL PHONE, they don't have great service here and your battery will drain fast searching for it. Buy a HEADLAMP on your way or at the gas station. You must be able to see on trails at night as we have uneven ground, snakes and bugs.
EASY ACCESS: Parking is Free. You may unload your vehicle in the road just off the Tree House, then park in a parking lot a short distance away.
NATURE CONNECTION: It's like a mini house in the trees. Especially if you are not a camping kind of person you will feel at home. Every view out 25 ways to look out is picturesque, so you feel lots of contact with nature. We do our best to keep the animal/bug encounters and to a minimum as we spray. Some times of the year we have more nature inside. Be mindful as Missouri has poisonous snakes, spiders, ticks, butterflies and beautiful birds just like in your backyard. We are in the wilderness. This is where reality exists, so be alert as you are walking. There are times of the year wasps are active so we provide bug spray and a vacuum. Some times we avoid sleeping in the Lover's Nook.
DRINKING & DRUGS – We never allow drug use on the property - natural or synthetic. We ask that if you need to drink, please be very careful as the stairs are steep and staying alert in the country is wisdom. You will find a natural high here on The Magic Land so allow yourself to be present to the gifts and what your soul wishes to tell you while you are here relaxing in Mother Nature. Try it!
REJUVENATION - Our Tree house Tiny House is enchanting and adorable with everything you need to relax and let go. It's truly magical, unique and cozy. The pine forest whispers to you in the wind. Connect with nature, relax in a hammock under the trees and in the loft. Unplug from stress and social media and remember who you are. It's easy to reconnect with your heart and life purpose when your mind and body are free. Reunite with yourself, your best friends, your teenagers, family, or lover and breathe. It's so peaceful, everyone looks 10 years younger when they head home. We are delighted that guests return again and again and feel better than real family where you are loved and accepted for right where you are in life. Join us. This will forever be a home away from home.
INTUITIVE SESSION - Laura Lynne, Treehouse Wise Woman, offers Intuitive Life Coaching that adds to your transformational experience. The Magic Land is so quiet and relaxing that it's a perfect place to let go of what has been blocking your progress in life. Do you need a getaway and a new perspective? Are you feeling challenged with a relationship or work issue? Laura Lynne's powerful intuitive listening opens new doors. She is also trained in Harville Hendrix, Safe Conversations System which is a clear way to connect with your partner in a new type of communication. She is your facilitator and guides you to new places in your relationship where love is restored and peace returns. Guests return to their life with fresh ideas, joy and happiness again.
GOODIES GALORE: Ask if our Big Country Breakfast is available delivered to the Treehouse for real pampering with rave reviews. It allows you to relax and you'll be full for hours. Check seasonal pricing per person. We often have honey from our hives and ask about taking home some farm fresh eggs from our 50+ free range chickens.
OUT OF TOWN? Want to fly in from somewhere? You'll need a rental car as we are 1.25 hours from Lambert International Airport in St. Louis, Missouri by rental car. Guests even take the train and we are about an hour from Kirkwood, Missouri, Amtrak Station and 55 minutes from Washington, Missouri. We have lots of people traveling through the area who make this the special part of their family vacation.

UNFINISHED BUSINESS: Portions of the interior are still under construction. We have siding to finish, drywall and a few outlets. It does not impact your comfort. Some exterior siding is still under construction and the main building is complete. We will add decks in the future so 2 doors should not be open as they are open to the 15' drop.
EVENTS & NOISES - We have events on the Land and do our best to book the Tree Palace in quiet times. We have drum circles, potlucks, meditations and gatherings on some weekends. Many are open events and others are registered people here for a workshop. Just check in to see if it's something you may join. We are a community, with people coming and going. We have to mow, cut down trees and create firewood, do projects and sometimes due to rain it must happen while you are here so we appreciate your patience. Laura Lynne has healing and Life Coaching sessions with clients and during those times she will be unavailable. We are usually a really quiet space and cannot control if the neighbor is having a target practice day or their dog is barking. We live in the country and we have roosters who think 3 am is morning time, tree frogs sing in the spring, whippoorwills will and owls mate. It's the enlightenment of the place that makes it super special when your open to allow and let.
ABSOLUTELY NO PETS: Our sweet dogs watch over our free range animals. They LOVE people and children and loath other animals. No pets on the property, even in your car, as they are predators to our pups. We are not responsible for any animals left in your car or who enter the property.
WHAT IS CLOSE? Guests who come love to hang out and stay on the land although there is a local little restaurant called The Finish Line in Lonedell, Mobile gas station called Wagner's and Dollar General all about 7 miles away. About 20 miles away is the little town of St. Clair, Missouri and heading the other direction about 21 miles you find Cedar Hill with grocery, hardware and little stores. They close around 8 pm.
OTHER ATTRACTIONS: Most guests really need to relax, let their system let go and stop running so being here really restores your body, mind, heart and soul. Others want a little adventure. Here are the highlights that are nature related within and hour from The Magic Land: Meramec State Park, caves, trails, Meramec river, canoeing. Meramec River access 15 minutes away if you want to go on a float. Elephant Rock State Park, huge granite rock formations emerging from the ground. Johnson Shut Ins, a splendid place to go when it's super hot and you want to climb through big rocks and take a dip in the spring. Zipline outside Meramec State Park. If you want museums in St. Louis City: City Museum is a fun adventurous place, the Arch, History Museum, Magic House for kids, The Science Center and more. We recommend you stay here and let loose. Your being will thank you!
PRIVATE MEMBERSHIP ASSOCIATION: We do not rent to the general public, we only rent in the private sector. As you choose to stay on the Magic Land, $15 of your rental is included to join our Private Membership Association. There is nothing more you need to do other than sign our Release Form upon arrival. Thank you so much.
#treehouse #tinyhouse #airbnb #Missouri #cabin #unique #fun #laugh #getaway #joy #love #beautiful #beauty #loveyoursweetheart #tranquil #peace #magicalretreat #grubville #stlouis #kansascity #chicago #arkansas #illinois #kansas #lonedell #chickens #breakfast #goat #lake #retreat #hiking #creek #unique #spring #beautiful #peaceful #relaxing #retro #reclaimed #lover #vacation #retreat #spiritual #healing #coach #lifecoach #midwest #lifecoaching #transformation #magicland #treehousewisewoman #turkey #lifecoach #couplescoaching #couples #cabininthewoods #cabin #besttreehouse #treehousemissouri #intuitivecoaching #intuitivereading #getaway #bedandbreakfast #bnb #bnbmissouri #missouribnb
Zugang für Gäste
Guest have access to most of the spaces on our 70 acres of Magic Land with the exception of the Main house or Lodge and the A-Frame. These are our living spaces, thank you for respecting our privacy. There are several buildings that need to be taken down, please stay out of those.
PRIVATE MEMBERSHIP ASSOCIATION: We do not rent to the general public, we only rent in the private sector. As you choose to stay on the Magic Land, $15 of your rental is included to join our Private Membership Association. There is nothing more you need to do other than sign our Release Form upon arrival. Thank you so much.
* Beautiful 3 Acre Lake where you may take the paddle boat out or fish
* Walk the Creek - bring your boots it's pretty shallow
* Real live Spring where water bubbles out of the ground
* Pavilion on the Hill - It's so worth the hike up the hill to a completely secluded pavilion built back in 1960 with cedars from the Magic Land
* Pavilion by the Creek - This one has a brick grill where you can gather wood and cook your veggies, burgers or steak. (Its a hike down the hill from the Treehouse. There are chairs to hang out and see all the things we have collected on the land displayed on the table
* A-Frame - The A-Frame was once a church so it feels really good. Everyone who walks in says - Oh, I love this building. In the warmer months it's perfect for yoga or stretching out as it has a padded floor and also an inviting seating area. It's a cool hangout on the back deck too where you may bask in the sunshine
* Hiking trails - We have 70 acres and are always adding new ways to hike
* Cast of Farm Characters - Everyone is so humored and delighted by our sweet and friendly animals. Connecting with our chickens, baby chicks in the spring, ducks, turkey, goat and our 2 incredible dogs Sunshine and Honey Bear brings people amazing joy filled fun.
* Childlike swings that carry you way into the air hanging from 100 year old oak trees. They even make men squeal, we are proud of that.
* And my friend, this is just the beginning. You will find something that sinks deep into your heart to make you feel so loved and welcomed that this will become your home away from home.
We are here if you need anything. Please text, call or ring the doorbell and we will do our best to take care of your needs.
Interaktion mit Gästen
We love people and we respect your privacy. Laura Lynne is an Intuitive Life Coach who warmly, lovingly and openly assists guests to find new tools for relaxing into their belly and heart. She is available for coaching during your stay. She is also trained in Harville Hendrix Safe Conversations Work. It's so easy that couples who are crazy in love choose coaching for the joy of it. Laura Lynne is so easy to talk to and happy to share stories and details about the magical way she built the Treehouse with a talented local carpenter. We are here to interact based on our events. Laura Lynne has coaching clients and may be on calls.
Weitere wichtige Infos
1. No Pets.
2. Mindful smoking only outside (you keep butts), mindful drinking (for safety reasons) and drug free.
3. Only cold running water, no shower.
4. Restroom Johnny on the spot below the treehouse and composting toilet inside the treehouse.
5. Make yourself at home and ask for anything.
---
---
Zusätzliche Personen 17 € / Nacht bei mehr als 2 Gästen
Wochenendpreis 155 € / Nacht
Kommuniziere immer über Airbnb
Um deine Zahlung zu schützen, solltest du niemals außerhalb der Airbnb-Website oder -App kommunizieren oder Geld überweisen.
Erfahre mehr
---
Gemeinsam genutzte Räume
1 Doppelbett (mind. 1,50 x 2 m), 3 Einzelbetten, 1 Schlafcouch, 1 Luftmatratze, 1 Hängematte
---
Nicht für Haustiere geeignet
Die Check-in-Zeit ist 15:00–00:00
RUNNING WATER, TOILETS & SHOWERS: The Enchanted Treehouse doesn't have a shower. We have cold running water in the warmer months and jugs of water in the winter. We have composting toilets on both floors and a Johnny below the Treehouse. The main house has a bathroom with shower that may be available. In winter our water lines freeze so we become a primitive space to live.
ABSOLUTELY NO ANIMALS: Our dogs and farm animals will cherish you, and they see any other animal as a predator, including one left in your car. We are not responsible for scratches or damage to vehicles or pets. Our dogs do bark at night to keep the predators away and often we bring them inside when guests are here.
WHAT TO BRING?: We have all bedding, kitchen supplies and towels for the outdoor hot tub. A gas grill and roasting sticks for the campfire. Bring what food you need and clothing, everything else is provided including coffee and tea. If you love creamer bring what moves you.
LOVE IT & LEAVE IT: We honor all things on the Magic Land and think of this space as a nature preserve, so take as many photos as you wish and please leave the artifacts on the Land. Being mindful of people, plants, insect, animals and the seen and unseen is what we hold as our motto.
THE MAIN HOUSE: We live in the main house down the hill from the Treehouse. Please ring or knock and wait for us to answer the door. We are often working on the Land so listen for the tractor.
NO SMOKING: We are a smoke free space.
There is no smoking in any buildings. There are designated areas below the Treehouse to smoke. $10 for each cigarette butt found on the property. E-Cigarettes are preferred outdoors so everyone may enjoy the fresh clean air of the country.
DRINK & DRUG FREE: Because of the steep stairs, mindful drinking or abstaining is best. We are drug free. Being here is about connecting with the deepest part of you, free from all the outside world and chemical interruptions. You will be asked to leave if any drugs are used on the property.
DISABILITIES: If you are disabled this would not be a great place to get around. Be sure you are a good walker/hiker so that you are prepared for the steep stairs and topography of the hilly Land.
HONOR OUR HOME & SPACE: We are real people just like you and we seek to create the highest and best experience while you are on the Magic Land. Please ask for anything you need. We ask that you treat the space like it was your home. Be comfortable and relaxed, and have the same care and attention that you do in your world. Clean up after yourself.
SCRATCH N DING: Please let us know if anything breaks, things happen and it's better to know so we can take care of it.
QUIET SPACE: We are usually a silent space with no radios. No music unless you are creating it with your drums and guitar, instruments always welcome. The sound of singing, dancing, laughing and talking is in alignment with the breeze of the summer winds and the snowy silence of the pine forest. People come for the silence and you will discover that nature is rarely silent. You are welcome to listen indoors and earphones are best.
PHONE & INTERNET: Cell service is spotty. If you have Verizon there are zones that work. If you need to leave the house number you may for emergencies. Internet is spotty if you have a phone with reception. Be sure you print any tickets or itineraries before arriving.
Außerdem musst du Folgendes beachten:
Dog(s) und other pet(s) live in the house
---
---
1 Nacht Mindestaufenthalt.
---
Preis-Leistungs-Verhältnis
Everybody has to try this experience with staying in a treehouse. Laura Lynn does not disappoint as a host. Her animals added to the experience. It was a amazing experience for my children and my best friends family. We cannot thank her enough for her hospitality.
---
Laura Lynne's property was a joy to stay at for my children and I. This was part of a week long cross country drive to catch the solar eclipse. Her property provided plenty of areas for the kids to explore and roam. Having the numerous animals all about made for random squeals of delight as well. They also had ample time to just lounge and relax in the many beds, hammocks, swing chairs and other cozy spots I found them reading or playing games together when they were back inside the tree house. I also highly recommend you splurge for the additional breakfast option as it was a perfect cap to a wonderful stay. We will certainly be back again when our travels bring us to the region in the future. We hit the road the next day energized and discussing all the experiences from the day before. Salute!
---
WOW! Laura Lynne's treehouse was outstanding! It had very comfortable beds and the best swings were much enjoyed. The hot tub was very relaxing after our long day's road trip. The s'mores were very appreciated.
---
Grubville, Missouri, Vereinigte Staaten
Mitglied seit August 2014
I am an eclectic visionary with a passion for creating Soul Spaces for People and places. As an Airbnb host I love having guests join us on The Magic Land in our Enchanted Treehouse Tiny House and our A Frame. With 70 acres of fun and wonder, my Life Coaching business and 69 animals I stay active. My vision for creating a Sacred Spiritual Sanctuary in the Country and hour outside of St. Louis came to fruition back in 2007. I just celebrated my 10 year anniversary and my where does the time fly. There are many goal to accomplish to create the vision of my dreams.

I love people, animals, connection, coaching, evolving, learning, being alone to recharge my batteries, laughing, playing, teaching, animals, creating and Mother Nature.

On those special occasions I get to travel it's a real delight.

I am so excited to get to meet you and hear what draws you to The Magic Land!

Lovingly,
Laura Lynne
Treehouse Wise Woman
Sprachen:
English
Antwortrate:
100%
Antwortzeit:
innerhalb einer Stunde
Entdecke weitere Optionen in und um Grubville
Noch mehr Unterkünfte in Grubville: