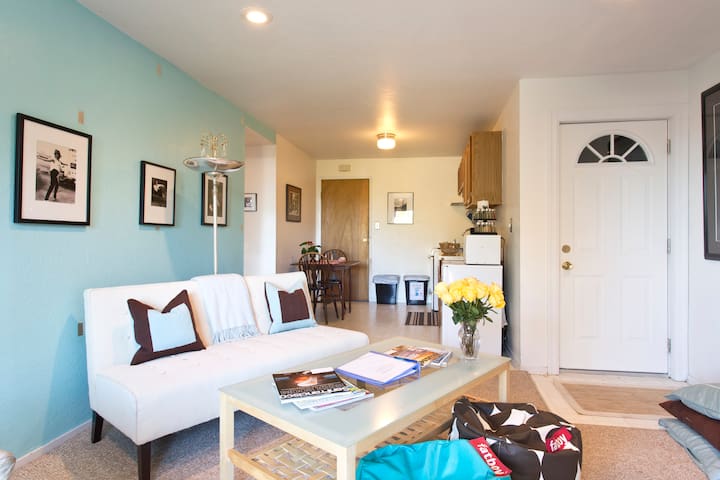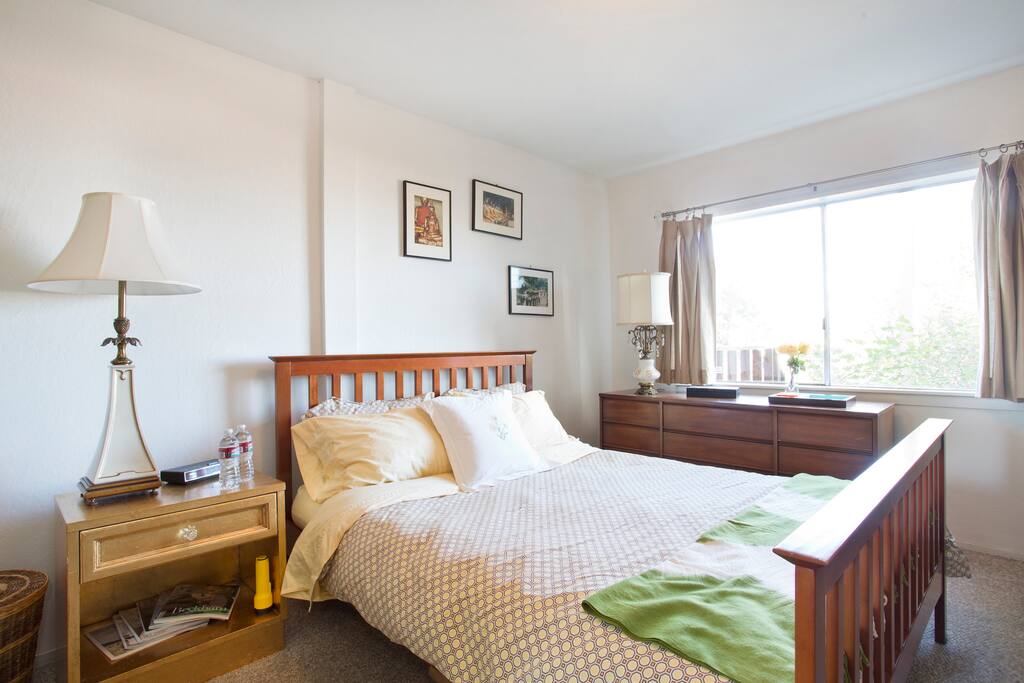 Cozy & Comfy Place w/ Private Entry & Living Space
Cozy & Comfy Place w/ Private Entry & Living Space
Unser Zimmer mit einem Schlafzimmer hat einen Blick auf den Garten und bietet Komfort und Bequemlichkeit. Sie haben Ihren eigenen privaten Eintritt in die Quartiere und Ihren eigenen privaten Wohnbereich, komplett mit separatem Schlafzimmer, Bad, Küche, Wohnzimmer, Terrasse und Garten. Sie können zu Fuß zum Golden Gate Park, tolle Restaurants, Geschäfte und ein Lebensmittelgeschäft. Gäste mit Autos nutzen Straßenparken und andere nutzen die nahe gelegenen öffentlichen Verkehrsmittel. ** Wir lieben Gastgeber für Leute, die San Francisco besuchen. Bitte erkundigen Sie sich. **
Our one bedroom guest quarters has a garden view and offers comfort & convenience. You have your own private entry to the quarters and your own private living area, complete with separate bedroom, bath, kitchen, living room, deck & garden. You can walk to Golden Gate Park, great eateries, shops & a grocery store. Guests with cars use street parking & others use the nearby public transit.
** We love being hosts for folks visiting San Francisco. Please inquire. **
---
---
Wochenendpreis 116 € / Nacht
Kommuniziere immer über Airbnb
Um deine Zahlung zu schützen, solltest du niemals außerhalb der Airbnb-Website oder -App kommunizieren oder Geld überweisen.
Erfahre mehr
---
Schlafzimmer 1
1 Doppelbett (mind. 1,50 x 2 m)
---
The Basics:
- The Sunset District is well-known for its fog and cool climate. We have installed an in-wall heater and portable dehumidifier for your comfort.
- Please turn off the heater when you're not in the quarters and leave the dehumidifier running at all times (if the dehumidifier requires emptying, please notify us and we'll take care of it).
- No items or furniture are allowed within 3 feet in front of & 1 foot to the side of the wall heater.
- Check out is self-service, just drop the key(s) into our mailbox slot – located in our garage door.
- We have a small dog. He is not allowed in the guest quarters during your stay. However, he does frequent the garden and hangs out in the guest quarters when we don't have guests. If you are allergic to dogs, you should not book with us.
- We are non-smokers. There is no smoking allowed inside or on the deck or in the garden. Smoke smell will result in loss of security deposit.
- We do not allow use of candles or open flame. Evidence of open flame will result in loss of security deposit.
- Please turn off all lights when exiting the guest quarters and turn off the entrance hallway lights when not in use.
California is in a drought and subject to water usage restrictions. Please do your best to conserve water (short showers, flush toilet only when necessary, & be prudent when washing dishes).
- No pets, sorry.
- No children, sorry.
-Booking must be made by an adult 21 years or older with photo ID presented at check in. We'll make you feel good by carding everyone, not just the youngins.
-No loud music or partying.
-No removing of items from the guest quarters without permission - we're sharing our belongings for your comfort.
- Please leave the kitchen as you found it. Clean up as best possible. Leaving clean dishes on a drying rack is fine.
-Lost key will result in $50 taken out of security deposit.
-Please use the Internet lawfully while at our house. Illegal use of Internet sharing services (either receiving or sending) of copyrighted content without the copyright owner's permission or any other unlawful use of our wireless is not permitted (e.g. using P2P file sharing networks such as KaZaA, Gnutella, and FreeNet are prohibited). Use of legitimate sharing or streaming services are fine (e.g. Dropbox, (SENSITIVE CONTENTS HIDDEN) Drive, Spotify, Pandora, Netflix, etc.).
-Please check owner's manuals for all appliances and coffee maker if you are unsure how to use them. In the under counter shelves you will find the manuals. You can also text Paul to inquire if you need support.
- San Francisco waste pick up requires that we separate trash, recyclables and compost. Please refer to our guide to help navigate what goes where and when to put your trash in the hallway for our pick up.
___________________________________________________________________
___________________________________________________________________
And now bear with us, here comes some legalese…
___________________________________________________________________
___________________________________________________________________
THE HOUSE RULES AGREEMENT
___________________________________________________________________
To protect your comfort and privacy, and that of Resident Homeowner(s) and/or other occupants, the Resident Homeowner(s) has adopted the following rules and regulations concerning your conduct while staying on Premises. Resident Homeowner(s) reserves the right to post changes or additional rules and regulations related to the health, safety and well being of the guests and the property.
NOISE
1. Guest shall not make or permit any noise which will disturb Resident Homeowner(s) or other guests.
2. Radios, televisions, or any other sound equipment should NEVER be operated to the disturbance of others. Special care should be exercised before 8:00 AM and after 11:00 PM. Guest must comply with the directions of Resident Homeowner(s) and Resident Homeowner(s)'s determination shall be final.
3. Guest is responsible for insuring that disturbing noises are not caused by Guest's visitors.
BUILDING APPEARANCE
4. No foil, signs, advertisements, posters or similar displays, shall be affixed to any door, window or exterior wall without Resident Homeowner(s)'s prior written approval
5. Garbage cans, brooms, mops, cardboard boxes and similar articles are to be kept in assigned areas. Care shall be exercised that such articles are not stored in such a way as to create a fire or safety hazard.
INSURANCE
6. Guest is advised to carry sufficient personal insurance on his/her personal property and to protect him/her for liability to avoid loss due to fire, flood, theft, personal injury or injury to others, or other casualty. Resident Homeowner(s) will not be financially responsible for replacement of any items or for of any items or for guest's property.
KITCHEN USE; UTENSILS
7. Guest may use utensils and kitchen items of Resident Homeowner(s), provided Guest washes them after usage and places them in their proper storage area.
8. Guest shall replace any items Guest loses or damages.
REFUSE
9. In order to preserve the appearance and cleanliness of the premises, Guest shall take care to prevent waste from dropping or spilling on carpeting, concrete and walkways when disposing of refuse.
10. Refuse is to be placed inside designated containers and lids put in place.
11. Guest is responsible for the general cleanliness and sanitation of the premises along with Resident Homeowner(s) and other Guests.
DELIVERIES
12. Resident Homeowner(s) is not responsible for the delivery or acceptance of, damage to or loss of messages, packages, mail or other material left at entrances to the building or elsewhere on the premises.
BUILDING CARE
13. Before washing or cleaning walls, drapery or carpet, consult Resident Homeowner(s) for the appropriate method or for recommended vendors to perform such work.
14. Guest shall forfeit security deposit for any damage caused by the employment of any improper method or vendor and for the cost of redoing the work or restoring damaged articles or property if the method applied or the vendor employed was unsatisfactory.
FURNITURE
15. Guest may not bring furniture or store furniture on premise.
CONDUCT
16. No smoking is permitted in the Premises or in the building or on the grounds in which they are located by either Guest or Guest's Visitors or invitees.
17. Possession and/or use of illegal drugs is NOT permitted by Guests or any visitors or invitees of Guest. Excessive use of alcohol, drunkenness, is NOT permitted by Guest or any guests or invitees of Guest.
18. Any accessories such as towel bars, coat hooks or built-in closet shelves may not be added without Resident Homeowner(s)'s prior written consent. Once installed, they may not be removed even upon vacancy of the premises.
19. Plumbing facilities must be used only for the purpose for which they were designed and constructed.
WALL HANGINGS
20. Adhesive picture hangers of any kind are prohibited. Guest is responsible for the cost of any repairs or painting required as a result of the hanging of pictures or other objects.
PETS:
21. NO pets, dogs, cats, birds or other animals are allowed on or about the Premises, even temporarily or with a visiting guest, without Resident Homeowner(s)'s prior written consent, excepting guide, service or signal dogs pursuant to California Civil Code Sections 54.1 and 54.2. Strays shall not be kept or fed in or around the building. Strays can be dangerous and Resident Homeowner(s) must be notified immediately of any strays in or around the building. If a pet has been in a Guest's area or allowed into the building, even temporarily (with or without Resident Homeowner(s)'s permission) Guest may be charged for cleaning, de-fleaing, deodorizing or shampooing any portion of the building or Premises at the discretion of Resident Homeowner(s) and forfeit security deposit.
UTILITIES
22. Guest agrees to comply with any energy or water conservation programs implemented by Resident Homeowner(s). No Telephone service is provided to Guest. Guest may NOT add additional telephone lines and jacks to the premises, and said installation shall not cause cosmetic or physical damage to the Premises or any other part of the building. Utilities to be included in the booking fee paid are electricity, heat, water, garbage & wireless Internet.
23. MAINTENANCE AND REPAIRS: Guest shall, at Guest's expense, at all times maintain the Premises, furnishings and appliances, if any, in a clean and good condition and shall surrender the same upon termination of approved booking in the same condition as received (excepting normal wear and tear). Guest understands that Guest is responsible for the cost of repair of ALL damages in and/or about the Premises whether caused by Guest, Guest's guests or invitees. Resident Homeowner(s) believes the Premises is in a safe and habitable condition until written notice to the contrary is received by Resident Homeowner(s).
24. ALTERATIONS: Guest shall NOT redecorate, paint, refinish floors, or otherwise alter the Premises or room occupied by Guest in any way. Guest shall not apply adhesive paper to any cabinets, walls, or doors; nor shall Guest hang any plants, planters or lighting fixtures from ceilings or walls; nor shall Guest tack, nail or glue any coverings to floors or walls without prior written consent of Resident Homeowner(s). Guest shall not install nor operate any additional washing machines, clothes dryers, portable dishwashers, deep-freeze units (or other such appliances), pianos, organs, or outside antennae on the Premises without Resident Homeowner(s)'s prior written consent. No plants, planters or plant boxes may be placed directly on floors or on carpets, on window ledges or on fire escapes.
25. Guest may not install a Satellite Dish.
26. Guests may not bring any furniture into premise or surrounding area. Guest may not move in or store furniture in the apartment without prior written approval.
27. LOCKS: Guest shall NOT change any lock or place additional locking devices upon any door or window of the Premises. Keys to the Premises are the exclusive property of Resident Homeowner(s). Guest shall not consign keys to the Premises to any other person without Resident Homeowner(s)'s written consent. In the event that any keys to the Premises are lost, Guest shall be liable for the entire cost of all key and lock replacement, at the discretion of Resident Homeowner(s), as required for the security of the Premises, the building and its occupants. All keys must be returned to Resident Homeowner(s) when Guest vacates, and such return shall designate the actual date and time of termination of approved booking. Guest shall be charged for the cost of new locks and keys if all keys are not returned.
28. DAMAGES TO PREMISES: If the Premises are so damaged by fire, flood or from any other cause so as to render them uninhabitable, then either party shall have the right to terminate this approved booking as of the date on which such damage occurs, through written notice to the other party, to be given within fifteen days of occurrence of such damage; except that should such damage or destruction occur as a result of the conduct or negligence of Guest, or Guest's guests, then Resident Homeowner(s) only shall have the right to termination. Should this right be exercised by either party then payment for the current period shall be pro-rated between the parties as of the date of occurrence of the damage an any prepaid booking fees shall be refunded, along with the Security Deposit, to Guest.
29. ENTRY AND INSPECTION: Resident Homeowner(s) shall have the right to enter Guest's rooms.
30. INTERRUPTION OF SERVICES: Resident Homeowner(s) shall not be liable to Guest or to any other person in damages or otherwise, nor shall Resident Homeowner(s) be in default under this Agreement for any interruption or reduction of utilities or services caused by someone other than Resident Homeowner(s), or by Resident Homeowner(s) due to circumstances beyond Resident Homeowner(s)'s reasonable control.
31. TERMINATION: Resident Homeowner(s) or Guest may terminate the approved booking, in accordance with applicable law and in accordance with Airbnb policies. Upon termination Guest shall completely vacate the Premises and storage areas; and deliver all keys, furnishings, if any, and Premises to Resident Homeowner(s) in the same condition as received excepting normal wear and tear.
GUEST APPROVED BOOKING AGREEMENT / EVICTION WITHOUT JUST CAUSE: NOTWITHSTANDING ANY OTHER PROVISION OF THIS APPROVED BOOKING AGREEMENT, THE PARTIES AGREE THAT THE APPROVED BOOKING CREATED HEREBY IS FOR GUEST TO RESIDE IN THE RESIDENT HOMEOWNER(S)'S GUEST QUARTERS WITH THE RESIDENT HOMEOWNER(S), AND THAT THE RESIDENT HOMEOWNER(S) MAY EVICT THE GUEST PURSUANT TO LAW AND WITHOUT JUST CAUSE.
32. HOLDING OVER: Guest agrees to vacate the Premises by 11:00 am on the termination date of this approved booking. Should Guest fail to vacate by said time the hold-over shall be presumed to be willful and deliberate and Resident Homeowner(s) shall be entitled to damages for the hold-over period, plus such other expenses incurred due to breach of this condition of the Agreement.
33. NUISANCE: Guest shall not commit, nor permit to be committed, any waste or nuisance upon or about the Premises. Guest shall not disturb other Guests in the building containing the Premises or others in adjoining properties. Guest shall also be liable for the actions of his/her guests and/or invitees.
34. HOLD HARMLESS: Resident Homeowner(s) shall not be liable for any damages or injury to Guest, or any other person, or to any property, occurring on the Premises. Guest shall indemnify, defend and hold Resident Homeowner(s) and its Agents harmless from all claims of loss or damage to property and of injury to or death of any person or persons caused by the intentional acts or negligence of Guest, his/her guests, licensees, or invitees occurring on or about the Premises. Guest hereby expressly releases Resident Homeowner(s) and/or Agent from any and all liability for loss or damage to Guest's property or effects whether in the Premises, garage, storerooms or any other location in or around the building, arising out of any cause whatsoever, including but not limited to rain, plumbing leakage, fire or theft, except in the case that such damage has been adjudged to be the result of the gross negligence of Resident Homeowner(s) or Agent.
35. INSURANCE: Resident Homeowner(s)'s insurance does NOT provide for coverage of Guest's personal belongings or personal liability. Resident Homeowner(s) strongly urges and recommends that Guest secure sufficient insurance to protect against losses such as fire, flood, theft, vandalism, personal injury or other casualty. Resident Homeowner(s) will NOT accept liability or responsibility for any losses not caused by its own proximate negligence.
36. LEAD DISCLOSURE: Many homes and apartments built before 1978 have paint that contains lead (called lead-based paint). Lead from paint chips and dust can pose serious health hazards if not taken care of properly. By booking this reservation through Airbnb, this Agreement, Guest represents and agrees that Resident Homeowner(s) has provided Guest with such information. Any known lead-based paint or lead hazards at the Premises, if any, are hereby disclosed as follows: No personal knowledge.
37. GENERAL: The invalidity or partial invalidity of any provision of this Agreement shall not render the remainder of the Agreement invalid or unenforceable. Violation by Guest of any applicable ordinance or statute shall be deemed sufficient cause for termination of approved booking. No oral agreements have been entered into. This Agreement shall not be modified unless reduced to writing. Time is of the essence of this Agreement.
38. MOLD/MILDEW: Guest agrees to maintain the Premises in a manner that prevents the occurrence of, and infestation of mold or mildew in the Premises by taking care to properly ventilate the Premises, operate the dehumidifier at all times, and not to allow water intrusion, dampness, and other conditions that may create mold and mildew.
39. No failure of Resident Homeowner(s) to enforce any term of this Agreement will be deemed a waiver of that term or of any other term of the Agreement. The waiver by Resident Homeowner(s) of any term of this Agreement will not be deemed to be a waiver of any subsequent breach of the same or any other term of this Agreement, nor will any custom or practice which may develop between the parties be construed to waive or to lessen the right of Resident Homeowner(s) to insist upon performance by Guest of all the provisions of this Agreement. The subsequent acceptance of payments by Resident Homeowner(s) will not be deemed to be a waiver of any preceding breach by Guest of any term of this Agreement regardless of Resident Homeowner(s)'s knowledge of such preceding breach at the time of acceptance of such payment. Resident Homeowner(s)'s acceptance of a partial payments will not constitute a waiver of Resident Homeowner(s)'s right to the full amount due nor will Resident Homeowner(s)'s acceptance of amounts due paid late ever constitute a waiver of Resident Homeowner(s)'s right to evict Guest.
40. HOUSE RULES: Guest agrees to abide by any and all House rules, whether made known before or after the date of this Agreement, including, but not limited to, rules with respect to noise, odors, disposal of refuse and use of common areas. Guest has read, understands and agrees to be bound by the existing House Rules attached to and made part of this Agreement.
41. ACCEPTANTCE OF AGREEMENT: Submitting a 'request to book' on Airbnb website constitutes Guest(s) written acceptance of this HOUSE RULES AGREEMENT.
Außerdem musst du Folgendes beachten:
In diesem Haushalt lebt mindestens ein Hund
---
Moderat
Wenn du bis 5 Tage vor deiner Reise stornierst, erhältst du eine vollständige Rückerstattung. Wenn du innerhalb von 5 Tagen vor deiner Reise stornierst, ist die erste Nacht nicht erstattungsfähig, aber die Hälfte der Kosten für die übrigen Nächte wird zurückerstattet.
---
---
2 Nächte Mindestaufenthalt.
---
Preis-Leistungs-Verhältnis
Die Wohnung sieht in 3D noch besser aus als auf den Fotos. Das Highlight ist sicherlich, dass man vom Wohnzimmer aus auf die Golden Gate Bridge schauen kann (was ich mindestens zweimal täglich tat). Die Wohnung ist sauber, hell und ruhig. Sie verfügt über einen schnellen und 100% zuverlässigen Internetzugang. Das Bett fand ich sehr bequem. Die Anreise per öffentlichem Nahverkehr klappt sehr gut; die nächste Bushaltestelle ist eineinhalb Blocks entfernt, die nächste Straßenbahnhaltestelle viereinhalb Blocks. Paul ist ein klasse Vermieter. Als ich ankam, hat er mir alles in Ruhe gezeigt. Als ich später ein paar Tipps brauchte, beantworte er umgehend meine (elektronisch gestellten) Fragen. Pauls Apartment ist ein sehr guter Platz, um San Francisco zu erkunden. Dank der Lage im Inner Sunset sieht man mehr als nur das touristische San Francisco. Ich bin sehr zufrieden gewesen und habe meine Zeit in San Francisco genossen. Paul und sein Apartment kann ich nur weiterempfehlen.
Thanks Christopher for leaving the review in German - no doubt it will be helpful for many German speakers. That said, it was such a nice review, I thought I'd post a translation using (SENSITIVE CONTENTS HIDDEN)'s online translation tool so our English speaking guests could also benefit: "The apartment looks in 3D even better than the photos . The highlight is that you can view from the living room of the Golden Gate Bridge (which I did at least twice a day ) . The apartment is clean , bright and quiet. It has a fast and 100% reliable Internet access. The bed I found very comfortable. The journey by public transport works very well ; The nearest bus stop is a half block away, the next tram stop four and a half blocks . Paul is a great host. When I arrived, he showed me all alone. Later, when I needed a few tips , it will answer immediately my (electronically provided ) issues. Paul's apartment is a very good place to explore San Francisco. Thanks to its location in the Inner Sunset can see more than just the tourist San Francisco. I have been very pleased and have enjoyed my time in San Francisco. Paul and his apartment I can only recommend it." I'm sure a human translator would do a better job, but (SENSITIVE CONTENTS HIDDEN)'s machine translation does OK. Thanks!
---
San Francisco, Kalifornien, Vereinigte Staaten
Mitglied seit Juni 2010
Husband, father, son, dog lover, amateur cook, & pro Niners fan. My wife & I have lived in SF since 1989. Having been Airbnb guests and become 'empty nesters' not long ago, we decided to use the extra space to host Airbnb guests too. It has been a great experience. Happy Travels or as they say in Chinese: "一路顺风" [i.e. "one road, fair winds"].
Antwortrate:
100%
Antwortzeit:
innerhalb einiger Stunden
Entdecke weitere Optionen in und um San Francisco
Noch mehr Unterkünfte in San Francisco: