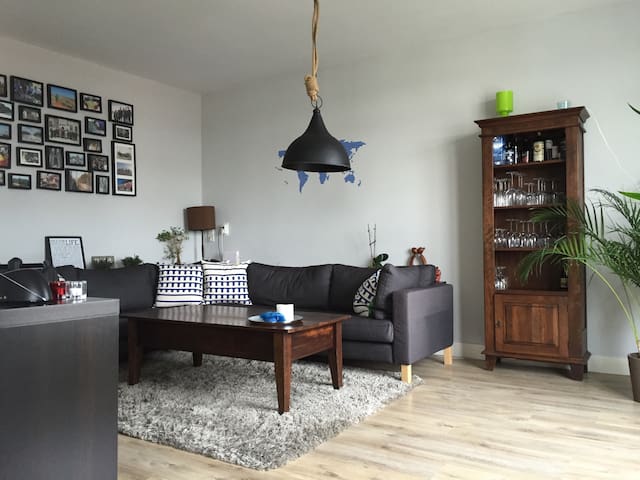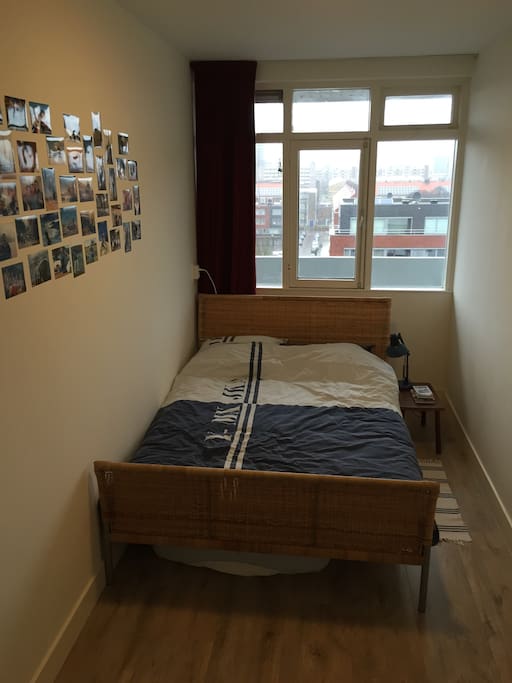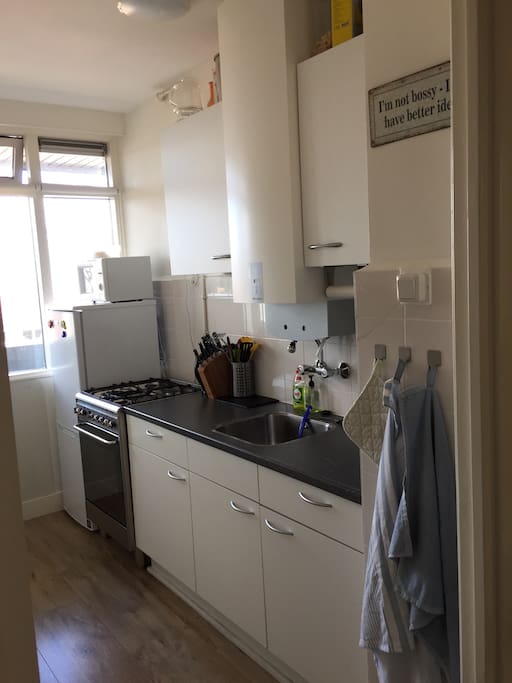 Über dieses Inserat
Are you looking for a nice place to stay just outside center (outside A10 ring)? Comfortable room just 15 minutes cycling from Leidse Square: the heart of the city. Enjoy the facilities in my large apartment, but have private space in your room. Bus 18 stops in front. Realize location is NOT in city center, but in Overtoomseveld near Rembrandtpark (see my many reviews).
Der Wohnraum
Spacious and bright apartment of 84m2 with 1 bedroom, modern kitchen and balcony on the south within a stone's throw from the hip Amsterdam West.
This recently renovated 3-room apartment is located on the 7th (top) floor of an apartment building (with elevator) and has a lovely view over Amsterdam West. The house is spacious, has a large and bright L-shaped living room with plastered walls and sliding doors to the balcony on the south.
The whole house has light wooden floors, with carpets on the floor in the living and bedroom. At the front (north) side of the apartment are two bedrooms and the modern kitchen. Especially in summer this is convenient, since the living on the south can be warm.
There is a separate (floating) toilet and bathroom with brand new rain shower to relax after your time in the city.
Location:
The house is located near the beautiful Rembrandt Park and a short distance from the Kinkerbuurt with several nice coffee shops, restaurants and of course the Halls. It is around the corner from the hip Jan Eef and biking within 10 minutes you are in Jordan.
Special features:
- Elevator
- South Balcony
- Surface area: 84 m2
- Hot water boiler
- Nespresso coffee
- Kitchen for use
- Linnen (bedding and towels) included
- Shower amenities
- Washing machine
- 42" Philips HD 3D television
- Wifi internet
- One bedroom
Zugang für Gäste
You will have access to my bathroom, kitchen, toilet etc. For course you may use my kitchen equipment as well as my television. In the bathroom you may use my washing machine if you would like to.
Interaktion mit Gästen
Normally I communicate with my guests via Airbnb messages. During the week I work from 08.00-17.30h, therefor upon your arrival I normally leave my key on a hidden spot. Easy for you to pick up at any time. After my work I come home and talk with my guests about Amsterdam, country of origins travel experience and so on.
---
Art des Zimmers: Privatzimmer
---
---
Zusätzliche Personen: 45 / Nacht bei mehr als 2 Gästen
Kommuniziere immer über Airbnb
Um deine Zahlung zu schützen, solltest du niemals außerhalb der Airbnb-Website oder -App kommunizieren oder Geld überweisen.
Erfahre mehr
---
Schlafzimmer 1
1 Doppelbett (mind. 1,50 x 2 m), 1 Matratze auf dem Boden
---
Nicht für Haustiere geeignet
Keine Partys oder Veranstaltungen
Check-in-Zeit ist flexibel
Domestic Regulations for the Residences of Owner Association "Postjesweg" in Amsterdam
In these regulations, the following definitions will be used:
-"building" the building mentioned in the title of these regulations
including superficies and basis.
-"communal areas" those areas of the building, including the grounds, that are not intended to be used as separate whole, as per deed of
division.
-"communal matters" all matters that are or will be intended to be used by all owners or tenants or a certain group of owners or tenants insofar as these are not included in the communal areas.
-"private area" the part or parts of the building and the belonging grounds
that is/are intended or will be intended to be used as separate whole.
-"owner" the entitled person to an apartment right.
-"user/tenant" the person other than the owner who has the right to
exclusive use of a private area and partial use of communal areas and/or communal matters.
-"meeting" the meeting of owners
-"association" the owner association "V.v.E. Postjesweg"
-"administrator/manager" the financial and administrative manager
Rules of Conduct
Article 1
1.Every additional construction without the meeting's permission is prohibited.
2.Applying name plates, advertisement expressions, signs, sun blinds, flags, satellite dish, and (other) protruding and disfiguring objects may only be done with the meeting's permission, leaving intact that which has been determined in the deed of division.
Possible permission for the placement of a satellite dish will only be granted when a dish is installed completely within the balcony of the apartment concerned.
3.Permission granted by the meeting may be revoked, unless determined otherwise.
Article 2
1.The owners or users are not allowed to make alterations in and to the building that would endanger the solidity of it or due to which the architectural appearance or the construction would be altered without the meeting's permission.
2.For all private areas, it is prohibited to have or install an open fireplace and to connect a cooker hood to the "shunt" canal.
3.It is not allowed to alter the central heating installation system, to connect additional radiators, or to disconnect radiators.
4.When installing a water heater for hot water provisions, the flue gas outlet must meet the legal requirements and conditions. Permission from the board must always be obtained for the construction of an outlet through the roof or façade. It is recommended to use a boiler for hot water.
5.A hard floor is only allowed when this meets the following conditions:
All available measures must be taken to prevent contact sound.
A sound insulation layer must be installed, following the Housing Act / Building Decree. (Contact insulation index must be equal to 0 decibel / NEN 5077 indicates the measurement method)
The floor may not be placed against the walls in order to prevent contact sound.
In case of complaints about noise pollution that is caused by the "hard floor", this floor must be removed. In case of discussion, the general meeting of members decides.
In case of possible transfer of membership, your legal successor will also have to conform to these conditions; you must therefore indicate these conditions to your legal successor.
Article 3
1.Every owner or user has the right to exclusive use of his/her private area, if he/she takes the division regulations and the Domestic Regulations into account when exercising that right, and if he/she does not unreasonably hinder the other owners and users.
2.The owners or users are obligated to use the private area in accordance with the indicated designation. Use that deviates from this designation is only allowed with the meeting's permission. When granting permission, the meeting may determine that permission can be revoked.
3.In case of alterations in the designation of a private area, art. 5: 119 section 2 of the Civil Code applies. This stipulates that the owner or user is obligated to immediately inform the Owner Association of an alteration. If the alteration leads to an alteration of the insurance premium, this difference is to be paid by the owner concerned or his/her legal successors.
Article 4
1.Producing music or other disturbing sounds is prohibited between 12 am and 7 am. Activities that produce especially disturbing sounds (drilling, hammering, etc.) must be performed between 7 am and 9 pm. On Saturdays, these activities are allowed between 8 am and 8 pm. On Sundays, no activities may be performed that cause especially disturbing sounds without the board's permission.
2.It is prohibited to store toxic, explosive, other dangerous substances in the private areas or to perform activities that could cause danger or hindrance for the other users. Paint and such for household usage, if properly sealed and stored, is allowed.
Article 5
1.Every owner or user is obligated to properly maintain his/her private area. This maintenance includes painting, wallpapering, tiling, the ceilings, the finishing layers of floors, the plasterwork, cleaning and unplugging all sanitation facilities and plumbing, the repair and replacement of hinges and locks on doors and windows, except for those that are located in the outer façade or form the separation between the communal areas and the private areas.
2.Every owner or user is obligated to sufficiently ventilate the house in order to prevent moisture and mold from forming in the house.
3.Every owner or user is obligated to take the necessary care into consideration with regard to the communal areas and/or communal matters, also when the latter are located in his/her private area.
4.If, for performing an action with regard to the communal areas or matters, access to or the use of a private area is necessary, the owner concerned is obligated to grant his/her permission for this. Possible damage arising from this is compensated by the association.
5.If, for performing an action with regard to a private area, access or use of another private area is necessary, the permission of the owner concerned can be replaced by a warrant from the district judge under the application of article 5: 121 of the Civil Code. The district judge can grant a warrant if the cooperation or permission is refused without legal grounds.
6.In case serious damage has arisen or is threatening to arise in a private area, or serious hindrance to other owners or users is threatening to arise, the owner or user must immediately inform the caretaker or manager or secretary treasurer, who will take the necessary measures to repair the damages and/or avert the danger.
7.In case of urgency, the owner or user must take measures him-/herself to repair the damages and/or to avert the danger.
Article 6
Keeping pets in the private areas is allowed. However, the pet owner must see to it that
His/her pet(s) do not cause hindrance to the fellow residents, that they do not walk around
freely (i.e. unattended and without a leash) in the communal areas, and do not soil these. The pet owner is liable for damages arising due to his/her pet.
Article 7
It is prohibited to feed pigeons, gulls, or other birds and animals from the private areas, since the connected dangers with regard to soiling and rodents are not private matters.
Article 8
1.The owners or users of the private areas situated directly below the roof are obligated to tolerate the installations for radio, television, ventilation and such that have been/will be installed on the roof with permission of or on the basis of a decision of the meeting.
2.The owners or users of the private areas must tolerate the connections of gas, water, electricity, radio, and television, including the accompanying meters and installations as well as for all other communal technical installations with accompanying meters and aids, and equipment. All this insofar as these have not been/are not placed in the communal areas.
3.The owners or users of private areas may not alter the existing exhaust and ventilation systems, by any action whatsoever, without permission from the meeting of owners. The boxes in the basement belonging to the private areas must also be kept orderly and must always be locked.
4.No goods may be placed in the walkways, hallways, or aisles. The goods can be removed without warning.
5.Smoking is not allowed in the general areas. This is especially true for the hallways, vestibules, and elevators.
Article 9
1.The owners or users are obligated to refrain from making disturbing noise, unnecessary stay in the communal areas insofar as these are not intended for longer or shorter stays, and placing bicycles, mopeds, garbage bags, or other objects in places that are not intended for this.
2.The walls and/or ceilings of the communal spaces or areas may not be used for hanging up paintings or other objects and installing decorations and such in any way whatsoever without the meeting's permission.
3.The meeting can grant permission for the actions mentioned in the first and second sections and revoke already granted permission.
Article 10
1.Every owner or user is liable towards the other owners or users for the damage applied to the building or the communal matters and for unreasonable hindrance, caused by his/her fault, that of his/her housemates, staff, or visitors on his/her address, and he/she is obligated to take measures or tolerate measures that are intended to prevent damage and/or hindrance, insofar as these measures are reasonable.
In particular, every owner or user is liable for damage to the elevator caused by him/her or by transport for his/her benefit.
2.If an owner or user does not provide for repair or cleaning within twenty-four hours, the manager or secretary treasurer of the association may arrange for this after consultation with the chairman and at the expense of the owner or user being in default.
Article 11
Every owner or user always has the authority to avert immediately threatening danger to the communal areas or communal matters. In that case, he/she is obligated to immediately warn the manager or secretary treasurer.
Article 12
The roof or roofs are exclusively accessible for maintenance purposes.
Article 13
The board is authorized to take measures leading to payment when a member remains in default regarding the payment of his/her part in the service/exploitation costs or contribution for major maintenance. The intended measures may include the involvement of a collection agency or lawyer, however not before the member concerned has repeatedly been reminded to pay (twice at an interval of at least two weeks). Moreover, a member who has not paid that which is owed by him/her on time is in default from the moment that payment should have occurred without a notice of default being required and owes interest from that moment until the moment of payment. Furthermore, all costs to be made by the Owner Association regarding collection are to be paid by the member involved, including all judicial and extrajudicial costs regarding legal aid and process
fees made by the association. (The percentage is equal to the promesse disconto of De Nederlandsche Bank N.V. upon the start of the year concerned increased with 2 percent points.)
Article 14
When selling an apartment right, the administrator/manager has the right to charge compensation (vacating costs) to the association for additional administrative interference. As of the date of notarial transfer, the vacating member owes this compensation to the association.
Article 15.
When checking-out after check-out time, the owner of the house has permission to surcharge EUR 50 for additional services.
Owner Association "Postjesweg" in Amsterdam
Clarification of article 14 of the Domestic Regulations.
Costs charged for the following activities are included in the vacating costs (these activities
are not part of the regular contract):
•Providing information, both in writing and by telephone, to a real estate agent of the seller regarding the association, such as the organization, the financial position of the association, reserves, future plans, etc.;
•Providing information, both in writing and by telephone, to a real estate agent of potential buyers or directly to potential buyers about the association, such as the organization, the financial position of the association, the reserves, the future plans, etc.;
•Sending the annual reports, budgets, minutes, etc. to real estate agents and potential buyers;
•Calculating interim invoices of the service costs and heating costs;
•Providing information to the notary regarding the amounts to be settled with the buyers and the reserves of the association;
•Providing brief information about the association that the notary hands to the buyers upon the transfer of the apartment;
•Providing the entrance set which is sent to the new owners immediately upon transfer to the new owners, including extensive information about the association;
•Adjusting the member administration.
For these activities, a standard rate is charged. Currently, this rate amounts to € 182.25
Including VAT (€ 153.13 excluding VAT). This rate, 337.50 excluding VAT in guilders, was
already agreed upon in 1989 and stated in the management agreement signed on
October 2, 1989. The rate for vacating costs has remained unaltered since this date.
Vacating costs have been included in article 28.7 of the model regulations for division in
apartment rights of January 1992. The deed of division of Owner Association "Postjesweg" was based on these model regulations.
Other Owner Association managers often charge entrance and vacating costs.
---
Streng
Wenn du bis 7 Tage vor deiner Reise stornierst, erhältst du eine Rückerstattung in Höhe von 50 %. Wenn du innerhalb von 7 Tagen vor deiner Reise stornierst, ist die Buchung nicht erstattungsfähig.
---
---
Preis-Leistungs-Verhältnis
Roel war ein supernetter und bemühter Gastgeber. Das Zimmer war wie auf den Fotos beschrieben und das Bett einfach superbequem;) Wir hatten ein eigenes Fach im Kühlschrank und durften die Kaffeemaschine mitbenutzen. Gleich in der Nähe der Wohnung gibt es einen Supermarkt. In die Innenstadt braucht man mit dem Bus (Haltestelle gleich vorm Haus) oder der Tram (10 Minuten Fußweg) in etwa 20 Minuten. Die Parkplätze vor dem Haus kosten €2,40/Std und €14,00/Tag. Es war ein total unkomplizierter Aufenthalt für uns, wir würden die Unterkunft auf jeden Fall weiterempfehlen.
---
Our worst experience (this is our 15th airbnb). If you read other reviews, seems like other people have problems with him too. Big chunk of dust in the room. Had to put your own bed, blanket and pillow cover on smelly pillows and mattress. Listed washer and dryer (there was no dryer) but the washer always had clothes in it so we had to ask for permission (he didn't like that we asked and texted us to pay for the usage and detergent). When asked about the dryer, he said it's under the sink (referring to a hair dryer and not clothes dryer). Kitchen sink (and table) always had dirty dishes so it's not very appealing to use it. Roel and his gf were at home during all of our stay (5 days) so they were most of the time in the living room and kitchen. The walls are thin, especially in the kitchen so having loud voices, we could hear them speak very loudly and singing. After some confrontations, he said he's not doing this for the money but that we are guests in his house. He said we only talked to him when we needed something (we asked permission to use the washer, once only) even though the first day he said to ask him if we need anything. Our other stay were pleasant and we usually socialize with the host when they are receptive (you can check our reviews). Roel said that we are guests in his house and it's not a hotel (but his wifi name is "hotel-k...") and we should approach him because we are in his house. The problem is, we tried to socialize on the first day and the second day, we tried saying hi but he was a bit cold so we assumed that he didn't want to socialize. We stayed quiet and tried not to bother him since he was at home all the time. So accusing us for not talking to him or that it's our duty to talk to him is very strange. What if some hosts are here for work, tired, funeral... Also, as a host, I think he should do the extra step to make his guests welcome at his place. Especially when people are usually not from there with different culture. He will probably reply to this message but we honestly were clean, quiet and didn't want to bother him. After talking to airbnb customer service and posting our conversation, it's great to feel that we are not the only one thinking that Roel was hostile. We could start requesting some refund due to us not using most of the amenities but we just want to forget this place. Some good things: Nicely decorated, good view, friendly neighbors.
Unfortunately sometimes there is no click, it's important to continue to communicate face to face and both show understanding for each other. I am really sorry that you had this experience and want to thank you for your comments and for your time to write your extended review. With these I am able to improve experiences of future guests, thank you.
---
I love to travel and experiencing different cultures: in 2007, I have lived half a year in South-Africa. In 2008 I lived for one year in Beijing, during the Olympic Games. When I travel, I want to know the touristic places before arrival, in order to be able to see as much as possible and to avoid missing the 'hot-spots'. On the other hand, I like the attitude to 'just go and see' as well.

I like to cook, especially Italian cuisine. Furthermore I like to read and going out in bars with friends. Currently I study corporate law at University of Amsterdam while at the same time I have my full time job. The reason why I started with Airbnb is because I like to exchange experiences and gain new insights from other cultures: I can travel around the world to meet new cultures but I can also invite the world in my house to experience the same..
Sprachen:
English, Nederlands
Genaue Informationen zum Standort erhältst du, nachdem deine Buchung bestätigt wurde.
Entdecke weitere Optionen in und um Amsterdam
Noch mehr Unterkünfte in Amsterdam: