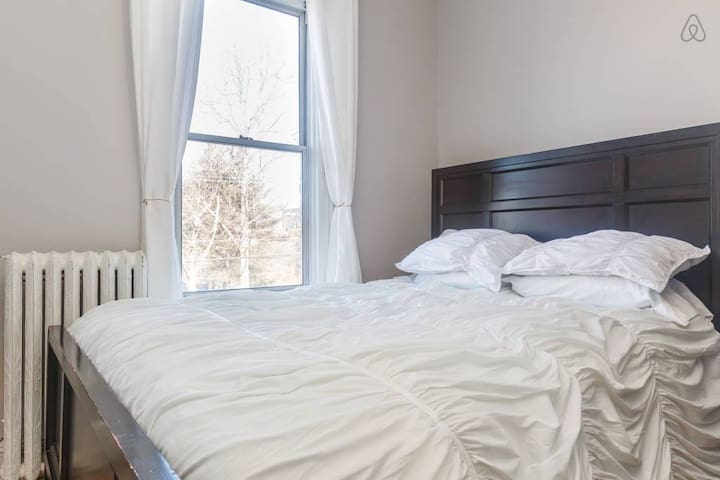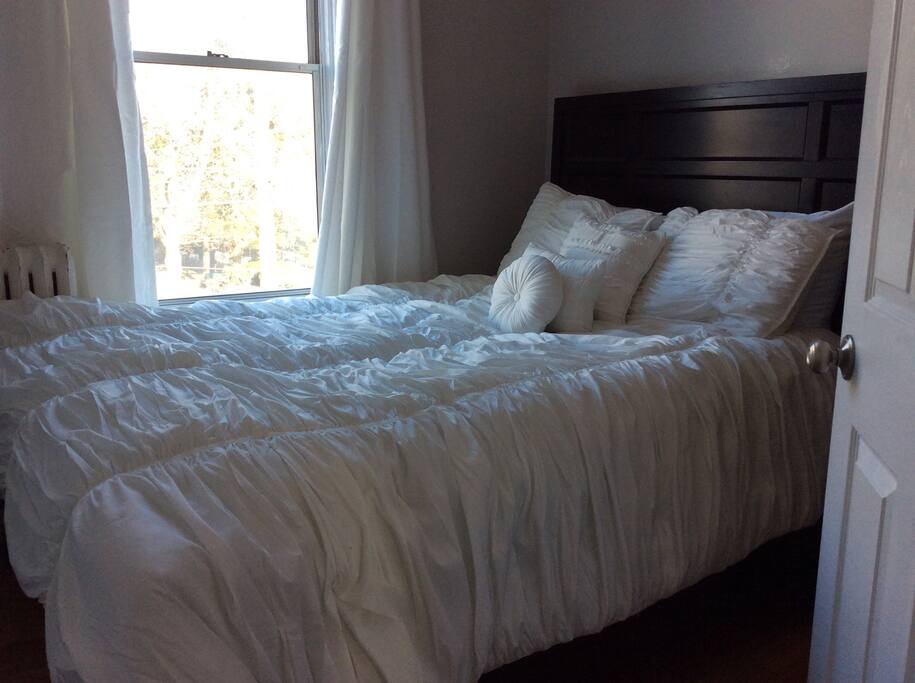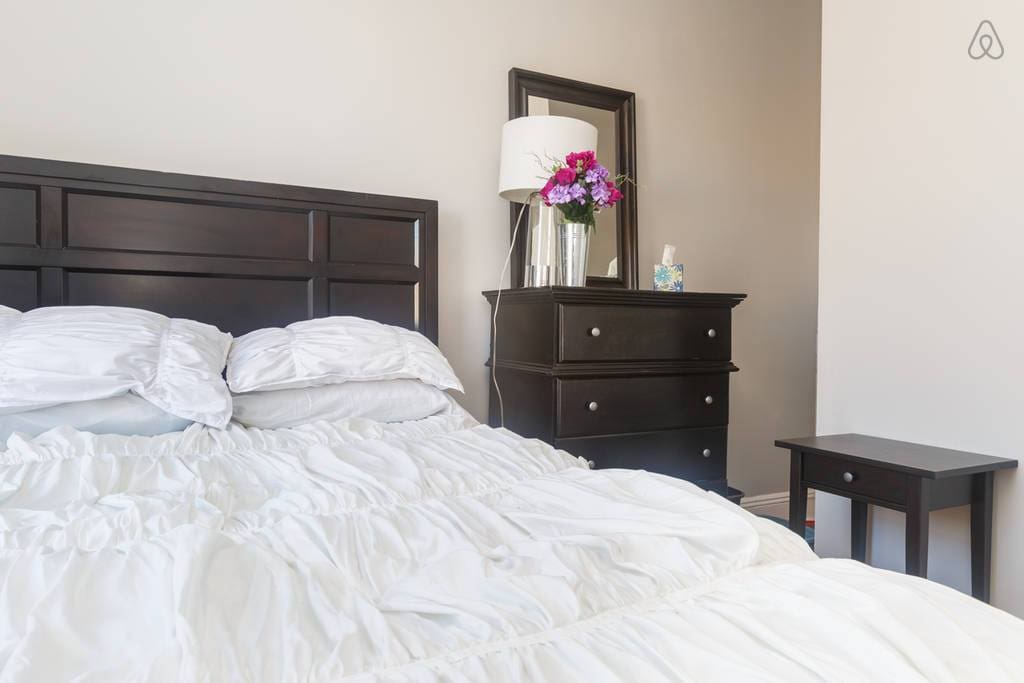 Your Room! 15 min to Time SqNYC
VOR DER ANFRAGE, DIESES ZIMMER ZU BUCHEN, MÜSSEN Sie auf dieser Seite nach unten blättern und lesen Sie unsere ENTIRE "Beschreibung" Abschnitt und ANTWORTEN DIE FRAGEN, die wir dort fragen. Wenn Sie diese Fragen nicht beantworten, wird Ihre Reservierung sofort storniert / nicht akzeptiert. VERFAHREN ZUM AUFENTHALT MIT UNS: 1. LESEN SIE UNSERE BESCHREIBUNG 2. Wenn Sie anfordern, zu buchen, beantworten Sie die Fragen, die wir über Sie fragen. 3. Wir werden auf Ihre Nachricht mit weiteren Anweisungen antworten. 4. Genießen Sie Ihren Aufenthalt!
BEFORE YOU REQUEST TO BOOK THIS ROOM, you MUST scroll down on this page and read our ENTIRE "Description" section and ANSWER THE QUESTIONS we ask there. If you do not answer these questions, your reservation will be immediately canceled/not accepted.
PROCESS FOR STAYING WITH US:
1. READ OUR DESCRIPTION
2. When requesting to book, answer the questions we ask about you.
3. We will respond to your message with further instructions.
4. Enjoy your stay!
Der Wohnraum
Sie müssen auf "+ More" unten klicken, um alle Informationen zu sehen, die ich über Union City, unser Haus und unsere Erwartungen vor der Messaging mir zur Verfügung stelle. In dieser ausführlichen Beschreibung finden Sie die Antworten die meisten Ihrer Fragen. Sie müssen auf die Fragen antworten, die ich Sie hier frage, wenn Sie mir Mitteilung geben, oder Ihre Reservierung wird nicht akzeptiert oder wird storniert, keine Ausnahmen. Ich weiß, es kann schwer sein, ein gutes Zimmer in der Nähe von NYC zu wählen! Also hier habe ich alle Informationen enthalten, die ich, wenn ich Sie wäre, vor der Buchung dieses Zimmers wissen möchte. Ehrlichkeit ist die beste Politik, also versuche ich Ihnen zu sagen, die positiven und negativen von jedem Raum, das ich wissen möchte, wenn ich Sie wäre. Zuerst bitte kopieren und fügen Sie diesen Link, um alle meine 325+ Bewertungen zu sehen: Https://www.airbnb.com/users/show/(PHONE NUMBER HIDDEN)#reviews Wenn Sie daran interessiert sind, meine anderen verfügbaren Zimmer zu sehen, kopieren Sie bitte und fügen Sie diesen Link ein, um die anderen Angebote zu sehen, die ich habe: Https://www.airbnb.com/s?host_id=(PHONE NUMBER HIDDEN) Auf dieser Seite können Sie Ihre Daten und die Anzahl der Gäste eingeben, um zu sehen, welche Zimmer ich zur Verfügung habe. Der einzige Weg, um Ihren tatsächlichen Preis zu sehen ist, um auf die einzelnen Raumseite gehen und geben Sie Ihre genauen Daten dort. ÜBER UNION STADT Union City ist ein verstecktes Juwel direkt über den Hudson River von Manhattan, in New Jersey. Es ist SCHLIESSER in Midtown Manhattan (eine sehr schnelle Busfahrt, während des guten Verkehrs) und wichtige touristische Attraktionen (wie Times Square, Rockefeller Center, Central Park, der Broadway / Theatre District, Grand Central, der Garment District, Tonnen von Museen) als Irgendwo in Brooklyn, Queens und sogar viel von Manhattan. Darüber hinaus ist Union City weitaus ruhiger, erschwinglicher und unserer Meinung nach freundlicher als New York City. WIE ARBEITEN MIT UNS: * Sichere Wohnung mit extrem beteiligt, Ivy-Liga ausgebildete Gastgeber, die sich um Ihre alle Bedürfnisse kümmern. * Echte Heimat, dass Ihre Gastgeber besitzen und Pflege für. * Ideal für Praktikanten, Studenten oder junge Profis. * Busse nach New York City (Times Square) 3 Blocks entfernt. * Busse kommen häufig (alle 2 Minuten während der Hauptverkehrszeit), laufen während des Tages und der Nacht und sind $ 2.75- $ 3.50 pro Reise. Die meisten Busse werden von einem privaten Unternehmen betrieben und erscheinen daher nicht auf "G" -Karten oder anderen Online-Mapping-Diensten. * Supermarkt, Restaurants, Apotheke, Post, Fitnessraum, Kino und schöne Skyline Ansichten alle leicht zu Fuß erreichbar. * Privatzimmer mit Schlüssel. * Sonderangebote für längerfristige Gäste (Rabatt wird automatisch für Aufenthalte über 1 Monat beantragt). * Wir machen Events mit unseren Gästen (Mittagessen, Abendessen, Karaoke), weil wir gerne Leute kennen lernen! * Unvergleichlicher Wert für die Ausstattung und Lage. ÜBER DAS ZIMMER: Pros: * Queen-Size-Matratze in einem sonnendurchfluteten Zimmer mit Blick auf ein wunderschönes Kloster auf der anderen Straßenseite * Original Details und moderne Möbel mit allem, was Sie brauchen können * Kommode und Schrank * Super schnell zuverlässige Wifi. * Wir bieten Bettwäsche, Handtücher, Fön, Bügeleisen, Bügelbrett, Töpfe, Pfannen, Küche und Toilettenartikel. * Vor Ort, kostenlose Wäsche im Keller. CONS: * Dieses Zimmer ist fast ganz vom Bett besetzt, es gibt nicht viel Platz um sich zu bewegen. * Gemeinsame Küche und Bad mit anderen 3 anderen Zimmern (wir sind sehr selektiv und sorgen dafür, dass wir nur sehr nette Gäste wählen). * Kein Schreibtisch / Laptop Arbeitsbereich * Parken verboten Wir wollen, dass du dich so wohl fühlst wie möglich, während du hier bist, also machen wir alles und alles, was wir können, um Ihren Genuss zu sichern. ÜBER UNS: Wir haben gut über 400 Gäste gehostet und haben jede Minute davon geliebt. John und ich trafen uns auf dem College, und wir sind beide Rechtsanwälte. Ich arbeite als Anwalt üben Gesellschaftsrecht bei einer großen Anwaltskanzlei in Manhattan. John verließ das Gesetz, um seine eigene Technologie-Inbetriebnahme Vollzeit zu laufen. Wir lieben Filme, Wein, Reisen und eine gute Zeit. Wir besitzen zwei Hunde (Ted und George) und eine Katze (Hugo). Wir lieben Disney, Karaoke, und unsere Hände schmutzig auf Hausprojekten! Bildung ist in den USA sehr teuer, also verwenden wir das zusätzliche Einkommen, das Airbnb uns zur Verfügung stellt, um Studenten Darlehen von der Schule zu bezahlen. ÜBER SIE / UNSERE ERWARTUNGEN: Wenn du bei uns bleibst, erwarten wir, dass du freundlich, locker und unabhängig bist. Wir erwarten, dass Sie alles über unser Zimmer gelesen haben, und dass Sie verstehen, dass dies eine BUDGET Unterkunft ist, und dass wir extrem konkurrenzfähig für das New York City Bereich sind. Dementsprechend sollten Sie erwarten, ein Budget Erfahrung ähnlich wie in einer Jugendherberge zu bleiben. Sie sollten ein ausgezeichneter Kommunikator sein, und lassen Sie uns wissen, wenn Sie überhaupt etwas brauchen, zu verstehen, dass wir Vollzeitjobs haben, aber sind glücklich, auf Sie aufzupassen, wenn Sie Ihre Notwendigkeiten bekannt machen. Schließlich musst du freundlich und höflich zu allen anderen sein, die bei uns bleiben Haus (unsere anderen Gäste). Da mehrere Menschen im Haus wohnen, sollten Sie erwarten, dass das Bad und die öffentlichen Bereiche ein gemeinschaftliches "lebendiges" Gefühl haben. Wenn Sie schlechte Erfahrungen mit anderen leben, bevor in dieser Art von Situation, sollten Sie betrachten "ganze Wohnung / home" Angebote auf Airbnb oder ein Hotel, unsere Auflistung ist nicht für Sie. Bitte haben Sie auch vernünftige Erwartungen darüber, was Sie für das Geld bekommen, das Sie bezahlen. Erkennen Sie, dass die Dinge in der Gegend von New York City teurer sind als fast überall in den Vereinigten Staaten und vielen Teilen der Welt, und der Wert, den Sie in Ihrer Heimatstadt bekommen, ist anders als das, was Sie hier bekommen können. Wir bieten erschwingliche / Budget-Unterkünfte zu (meist jüngeren) Reisenden. Das bedeutet, dass, versuchen Sie, wie wir könnten, manchmal jemand kann eine schmutzige Schale in der Spüle zu verlassen, oder es wird Haare in der Dusche abtropfen lassen. Wir bieten eine wöchentliche, professionelle Reinigung der gemeinsamen Räume, und zusätzliche Reinigung, wenn Probleme entstehen, aber Sie sollten nicht erwarten, ein wirklich makelloses Zuhause zu allen Zeiten, nur weil dies nicht möglich ist, in einer Gruppe lebende Situation. Wir sind mehr als glücklich zu beheben oder adressieren Sie alle Probleme, die während Ihres Aufenthalts kommen. Unser Ziel ist es, dich glücklich zu machen. Lass uns früh wissen und oft, wie du tust oder ob es etwas gibt, was wir besser machen können, weil wir nicht reparieren können, was wir nicht wissen. UNSERE FRAGEN FÜR SIE: Wir freuen uns auf unsere Gäste, also in Ihrer Nachricht an uns, bitte erzählen Sie uns die folgenden Infos über sich selbst: - Ihr Alter - Wo kommst du her - Was Sie studieren / tun für ein Leben - Was bringt dich nach NY und was wirst du während der Tage machen? - Hast du jemals mit anderen Leuten gelebt? Wenn ja, bitte beschreiben Sie die Erfahrung. - Hattest du Katzen und Hunde? Wenn nicht, magst du sie? ZAHLUNG: Alle Transaktionen erfolgen über Airbnb. Airbnb sammelt die Zahlung, die den Betrag enthält, den wir als Gastgeber erhalten, Airbnbs Gebühr (6 bis 12% der Gesamtkosten) und alle anfallenden Steuern (Airbnb kann eine Mehrwertsteuer für Gäste aus Europa berechnen). Für längerfristige Gäste: Airbnb wird bestätigen, dass Sie die Möglichkeit haben, den ersten Monat der Reservierung zu bezahlen, wenn Sie buchen. Sie werden für Ihren ersten Monat ein paar Tage vor Ihrer Ankunft berechnet. Wenn du eincheckst, gibt Airbnb das Geld für uns aus. Jeden folgenden Monat werden Sie für den kommenden Monat durch Airbnb belastet. Leider haben wir keine Kontrolle über den Abrechnungsprozess oder über Airbnbs Gebühren oder Steuern, so dass, wenn Sie irgendwelche Probleme mit der Abrechnung erleben, nur Airbnb helfen kann. HÄUFIG GESTELLTE FRAGEN: Erlauben Sie Langzeitgästen? Ja, die meisten unserer Gäste sind Langzeitgäste (Gäste, die länger als 30 Tage bleiben). Wir heben gewöhnlich Studenten, Praktikanten und Leute vor, die vorübergehend nach NYC für einige Monate zu einem Jahr bewegen. Wir berechnen den Preis der Zimmer für Langzeitgäste und der Rabatt wird aUTOMATISCH angewendet, wenn Sie Daten von mehr als einem Monat eingeben. Wir hoffen jedoch, dass sie bei Ihrer Reiseplanung weiterhilft. Original auf Englisch Language Weaver Bewerten Sie diese Übersetzung: Vielen Dank für Ihre Bewertung Mangelhaft Gut Nachdem wir über 400 Menschen auf dieser Philosophie gehostet haben, haben wir uns sehr gut gefreut, tolle Leute zu treffen, um unsere Häuser zu füllen und hatten nur tolle Erfahrungen mit unseren Gästen! Wir lieben es, unsere Gäste persönlich kennenzulernen und wir versuchen, mindestens eine Veranstaltung pro Monat zu veranstalten, wo wir Menschen aus den verschiedenen Häusern einladen, um uns kennen zu lernen. Im letzten Jahr haben wir mehrere Karaoke-Nächte gemacht, zum Strand gegangen, zu Sportspielen gegangen, Picknicks, internationale Potluck-Dinner, Spielnächte, Pizza-Nächte, Biergarten-Trip etc. Wir haben eine Gruppe für unsere Gäste im berühmten sozialen Netzwerk Das beginnt mit einem F, und die Leute können über Ereignisse in der Stadt, Museen, die sie gerne gehen möchten, etc., und finden Sie andere Leute, die daran interessiert sind, mit ihnen zu gehen. Unser Ziel ist es, eine wirklich warme, positive und freundliche Gemeinschaft von interessanten Menschen in unseren Häusern zu schaffen, die Art von Menschen, mit denen wir uns freuen möchten. Es kann schwer sein, in eine neue Stadt zu kommen und kenne niemanden, also versuchen wir, ehrfürchtige Leute zu wählen, von denen wir denken, dass sie wunderbare Freunde machen würden, dann geben sie den Menschen die Möglichkeit, sich gegenseitig durch Gruppenereignisse kennen zu lernen. Ist Union City sicher? Union City ist ein äußerst sicheres, ruhiges, weitgehend Wohngebiet, das überwiegend aus Familien lateinamerikanischer Abstammung besteht, die in New York oder in der Nähe arbeiten. Ich arbeite oft sehr spät in New York (oft nach 23 Uhr nach Hause) und gehe immer allein von der Bushaltestelle nach Hause. Viele unserer bisherigen und aktuellen Gäste sind gleich. Wir hatten noch nie Probleme und, wenn wir jemals getan haben, gibt es eine Polizeistation etwa 2 Blocks von unserem Haus. John arbeitet zu Hause und ist immer in der Nähe. Ist Union City ein Stadtgebiet? Ja. Wie alle von New York City und seine Umgebung
You MUST click "+More" below to see ALL of the info I provide about Union City, our house, and our expectations before messaging me. In this detailed description you will find the answers most of your questions.
You MUST respond to the questions I ask you here when you message me, or your reservation will not be accepted or will be canceled, no exceptions. I know it can be hard to choose a good room near NYC! So here I have included all the information that, if I were you, I would like to know prior to booking this room. Honesty is the best policy, so I try to tell you the positives and negatives of each room that I would want to know if I were you.
First, please copy and paste THIS link to see all of my 325+ reviews:
https://www.airbnb.com/users/show/2028149#reviews

If you are interested in seeing my other available rooms, please copy and paste THIS link to see the other listings that I have:
https://www.airbnb.com/s?host_id=2028149

On that page, you can enter your dates and number of guests to see which rooms I have available. The only way to see your actual price is to go to the individual room page and enter your exact dates there.

ABOUT UNION CITY
Union City is a hidden gem just across the Hudson River from Manhattan, in New Jersey. It is CLOSER to midtown Manhattan (a very quick bus ride, during good traffic) and major tourist attractions (like Times Square, Rockefeller Center, Central Park, the Broadway/Theater District, Grand Central, the Garment District, tons of museums) than anywhere in Brooklyn, Queens, and even much of Manhattan. In addition, Union City is vastly quieter, more affordable, and, in our opinion, friendlier than New York City.

WHY STAY WITH US:
* Secure housing with extremely involved, Ivy-league educated hosts who take care of your every need.
* Real home that your hosts own and care for.
* Great for interns, students, or young professionals.
* Buses to New York City (Times Square) 3 blocks away.
* Buses come frequently (every 2 minutes during rush hour), run throughout the day and night, and are $2.75-$3.50 per trip. Most buses are operated by a private company and therefore don't appear on "G" maps or other online mapping services.
* Supermarket, restaurants, pharmacy, post office, gym, movie theater, and beautiful skyline views all within easy walking distance.
* Private room with key.
* Special deals for longer term guests (discount is automatically applied for stays over 1 month).
* We do events with our guests (lunches, dinners, karaoke), because we love getting to know people!
* Unparalleled value for the amenities and location.

ABOUT THE ROOM:
Pros:
* Queen-sized mattress in a sun-drenched room with views of a beautiful monastery across the street
* Original details and modern furniture with everything you may need
* Dresser and closet
* Super fast reliable wifi.
* We provide linens, towels, hair dryer, iron, ironing board, pots, pans, kitchen and bathroom amenities.
* On-site, free laundry in the basement.
CONS:
* This room is occupied almost entirely by the bed, there is not a lot of room to move around.
* Shared kitchen and bathroom with other 3 other rooms (we are very selective and ensure we only choose very nice guests).
* No desk/laptop workspace
* No parking
We want you to feel as comfortable as possible while you're here, so we'll do anything and everything we can to ensure your enjoyment.

ABOUT US:
We have hosted well over 400 guests, and have loved every minute of it. John and I met during college, and we are both lawyers. I work as an attorney practicing corporate law at a big law firm in Manhattan. John left law to run his own technology startup full time. We love movies, wine, travel, and having a good time. We own two dogs (Ted and George) and one cat (Hugo). We love Disney, karaoke, and getting our hands dirty on house projects! Education is very expensive in the U.S., so we use the extra income that Airbnb provides us to help pay student loans from school.

ABOUT YOU/OUR EXPECTATIONS:
If you stay with us, we expect you to be friendly, easy-going, and independent. We expect that you will have read everything about our room, and that you understand that this is a BUDGET accommodation, and that we are extremely competitively priced for the New York City area. Accordingly, you should expect a budget experience similar to staying in a youth hostel. You should be an excellent communicator, and let us know if you need anything at all, understanding that we have full time jobs but are happy to take care of you if you make your needs known. Finally, you must be friendly and courteous to everyone else who is staying at our house (our other guests). Since several people live in the house, you should expect the bathroom and common areas to have a communal, "lived-in" feeling. If you've had bad experiences living with others before in this type of situation, you should consider "entire apartment/home" listings on Airbnb or a hotel, our listing is not for you. Please also have reasonable expectations about what you're getting for the money that you're paying. Recognize that things in the New York City area are more expensive than almost everywhere else in the United States and many parts of the world, and the value you get in your hometown is different than what you may get here. We provide affordable/budget accommodations to (mostly younger) travelers. That means that, try as we might, sometimes someone may leave a dirty dish in the sink, or there will be hair in the shower drain. We provide a weekly, professional cleaning of the common spaces, and additional cleaning if issues arise, but you should not expect a truly immaculate home at all times, simply because this is not possible in a group living situation. We are more than happy to fix or address any problems that come up during your stay. Our #1 goal is to make you happy. Just let us know early and often how you are doing or if there is anything we can do better, because we cannot fix what we do not know about.
OUR QUESTIONS FOR YOU:
We like to get to know our guests, so in your message to us, please tell us the following info about yourself:
- Your age
- Where you're from
- What you study/do for a living
- What brings you to NY, and what you'll do during the days?
- Have you ever lived with other people? If so, please describe the experience.
- Have you owned cats and dogs? If not, do you like them?

PAYMENT:
All transactions are done through Airbnb. Airbnb collects payment, which includes the amount that we get as a host, Airbnb's fee (6 to 12% of the total cost), and any applicable taxes (Airbnb may charge a VAT for guests from Europe). For longer-term guests: Airbnb will verify you have the ability to pay the first month of the reservation when you book. You'll be charged for your first month a few days prior to your arrival. When you check in, Airbnb releases the money to us. Every subsequent month, you'll be charged for the upcoming month through Airbnb. Unfortunately, we don't have any control over the billing process or over Airbnb's fee or taxes so, if you're experiencing any issues with billing, only Airbnb can help.

FREQUENTLY ASKED QUESTIONS:
Do you allow long-term guests?
Yes, most of our guests are long-term guests (guests that stay for more than 30 days). We usually host students, interns, and people moving temporarily to NYC for several months to a year. We discount the price of rooms for long term guests and the discount is applied AUTOMATICALLY if you enter dates of more than a month. We are VERY selective with long term guests to make sure that people are a good personality fit for our houses, we would rather a room be empty than take someone John and I are not completely comfortable with. Having hosted over 400 people on this philosophy, we have gotten really good at choosing great people to fill our houses and have only had great experiences with our guests! We love getting to know our guests personally and we try to host at least one event per month, where we invite people from the different houses to get to know each other. In the last year we have done several karaoke nights, gone to the beach, gone to sports games, picnics, international potluck dinners, game nights, pizza nights, biergarten trip, etc. We have a group for our guests on the famous social network that starts with an F, and people can post about events in the city, museums they would like to go to, etc, and find other people who are interested in going with them. Our goal is to create a really warm, positive and friendly community of interesting people in our houses, the type of people that we'd like to be friends with. It can be hard to come to a new city and not know anyone, so we try to choose awesome people that we think would make wonderful friends, then provide people the opportunity to get to know each other through group events.
Is Union City safe?
Union City is an extremely safe, quiet, largely residential area mostly comprised of families of Latin American descent who work in New York or nearby. I frequently work extremely late hours in New York (often arriving home after 11 PM) and always walk home alone from the bus stop. Many of our previous and current guests are the same. We've never had any issues and, if we ever did, there is a police station about 2 blocks from our home. John works at home and is always nearby.
Is Union City an urban area?
Yes. Like all of New York City and its surroundings, Union City is a densely populated area. This means that homes are built next to each other or very close to each other, most houses are duplexes (2 families) or triplexes (3 families) (or more) with a full basement. Parking can be difficult, and you'll encounter lots of people walking on the sidewalks during the day. Public transit is heavily used and, although is safe and efficient, isn't always kept in pristine condition. Although our home has been renovated, most homes in the area are over 100 years old, and some are substantially older. Guests from other areas of the United States or more suburban areas of the world may experience something of a culture shock in the New York City area because of this—but don't worry, John and I understand (we both grew up outside the northeast in the suburbs) and, if you don't already, you'll come to love it!

Is it really 15 minutes to New York City?
The stated listing time is in GOOD traffic, and if you leave at the same time everyone else leaves (rush hour is between around 7:45am-10am, 5pm-8pm), you'll probably face a bit of a delay. That said, it's EXTREMELY easy to get to NY! I make the commute everyday and all of our 400+ guests have come to visit NYC! The best time to catch good traffic going to New York is around 7am and after 10am. The buses run 24/7. Most locals take a private bus called the "jitney" which is $2.75 per trip if you buy tickets in advance, or $3.25 on the bus. There is no monthly bus pass for the jitney, but it is the best option to get to New York. There is also a more expensive public bus, run by New Jersey Transit, which is $3.50 a trip or for which you can buy a monthly unlimited pass, and a multitude of other options (including a ferry and the PATH train—both of which are longer than the bus into the city, but can be used if you'd like). Union City is situated around the Lincoln Tunnel, which crosses the Hudson River into Manhattan, letting you off at Times Square. Rarely, there may be traffic accidents or delays on the tunnel that can make traveling longer (however, this is also the case on virtually any transportation option, including the subway in New York). We'll give you all the information on how to get to and from New York, and to other parts of New Jersey (such as Hoboken and Jersey Gardens (a great outlet mall) when you arrive).

Are there grocery stores and restaurants nearby?
Yes, there are several grocery stores within walking distance, and tons of restaurants two blocks away.

Can I use the kitchen?
Yes, of course: feel free to store food in the refrigerator, and to cook to your heart's content!

Can I park my car?
NO. We do not have parking at our house. Street parking is free, but requires a permit which we are NOT ABLE to provide and which is NOT EASY to obtain, and there very few garages in this area. Please do not bring a car, it will not be necessary or advisable to drive into NYC.
Do you live in the house?
No, we don't live in this house. We live in another house nearby, but stop by frequently usually in the evenings. John works from home and, if any issues arise, we can be here within a few minutes. We are extremely responsive through Airbnb, phone, text messages, or any other form of communication you'd like to use.

How far is it from Newark airport, JFK, or LaGuardia?
Newark airport is a 15-30 minute taxi ride (public transit is possible, but will take longer). Both JFK and LaGuardia are a substantial distance from our house, and also from Manhattan in general (over an hour). You can use a variety of public transit to get from JFK or LaGuardia to us (the subway, a public bus, a private bus, a taxi, or any combination of these options). We'll give you detailed instructions when you book. Almost all of our international guests fly into JFK airport, and it is not a problem to get to there from our house – just expect the trip to take about 2 hours to be sure. (Unfortunately, JFK is far from everything cool in Manhattan!)
ABOUT THIS ROOM:
Room Includes:
* Single bed, with drawers underneath for storage
* Small desk
* Small garment rack to hang clothing
* Big windows
* TV with Netflix and Hulu (not cable)
* Air conditioning unit in window in summer, electronic heater in winter

Positives:
* Price
* Cute, classic design
* Lots of natural light
* House is on a quiet, tree-lined street close to lots of restaurants
* Bathroom on this floor is brand new and renovated
Negatives:
* VERY SMALL. Not a great room for somebody who is messy, has a lot of stuff, or intends to spend a lot of time at home.
* Room is facing the street, so you may sometimes see lights from cars passing, but it's not frequent.
* Cannot accommodate guests.
* Shares kitchen and bathroom with 3 other rooms.
We want you to feel as comfortable as possible while you're here, so we'll do anything and everything we can to ensure your enjoyment.
Zugang für Gäste
Die Gäste bieten einen vierstelligen Code, so etwas wie "9308" vor der Ankunft. Dieser Code ist allein, und eröffnet die elektronische Vorhängeschloss-Tastatur an der Haustür. Im Inneren des Hauses, haben Sie ein privates Zimmer mit einem regelmäßigen Schloss und physischen Schlüssel. Sie können Ihr Zimmer sperren, wenn Sie verlassen, oder sperren Sie es, wenn Sie zu Hause sind, wann immer Sie möchten. Im Inneren des Schlafzimmers, haben Sie das Bett, den Schreibtisch, begrenzte Lagerung unter dem Bett und ein Kleiderständer, um Ihre Kleidung auf Kleiderbügel zu hängen. Die Gäste haben auch Zugang zu unserem Gemeinschaftsbad und unserer Gemeinschaftsküche. Dieses Zimmer teilt das Bad und die Küche mit vier anderen Zimmern.
Guests provide a four digit code, something like "9308" prior to arrival. This code is yours alone, and will open the electronic padlock keypad on the front door. Inside the house, you'll have a private room with a regular lock and physical key. You can lock your room when you leave, or lock it when you're home whenever you like. Inside the bedroom, you will have the bed, the desk, limited storage underneath the bed, and a clothing rack to hang your clothing on hangers. Guests will also have access to our shared bathroom and our shared kitchen. This room shares the bathroom and kitchen with four other rooms.
Interaktion mit Gästen
Wir Gastgeber auf Airbnb, weil wir lieben, andere Leute aus anderen Kulturen kennen zu lernen und unsere amerikanische Kultur mit anderen zu teilen. Wir interagieren mit den Gästen so viel oder so wenig wie sie wollen. Beide sind beschäftigte junge Profis. Manchmal arbeiten wir sehr lange und sind nicht immer zu Hause. Wir sind vielleicht nicht zu Hause, wenn Sie ankommen, je nachdem, wann Sie hereinkommen, aber wir bereiten das Zimmer für Sie vor und geben Ihnen einen sicheren Zugangscode, damit Sie jederzeit einchecken können. Wir lieben es, mit unseren Gästen zu interagieren, und wenn Sie Fragen haben oder etwas brauchen, können wir entweder sprechen, während wir zu Hause sind, oder Sie können anrufen, Text oder E-Mail und wir werden sofort antworten. Viele Gäste haben Fragen zu NYC, was zu tun ist, und wir freuen uns, mit Gästen so viel zu reden, wie sie es über diese Dinge mögen.
We host on Airbnb because we love getting to know other people from other cultures, and sharing our American culture with others. We interact with guests as much or as little as they like. Both of us are busy young professionals. Sometimes, we work really long hours, and are not always home. We may not be home when you arrive, depending on when you get in, but we will prepare the room for you and give you a secure access code so that you can check in at any time. We genuinely love interacting with our guests, and if you have questions or need anything we can either speak while we're at home, or you can call, text, or email and we'll respond right away. Lots of guests have questions about NYC, what to do, and we are happy to talk to guests as much as they like about those things.
Weitere wichtige Infos
John und ich trafen uns an der Yale University, wo er Geschichte studierte und ich studierte portugiesische Sprache. Wir beide gingen weiter zu studieren, er bei Cornell und ich an der University of Michigan. Ich arbeite als Anwalt üben Gesellschaftsrecht in Manhattan. John verließ das Gesetz, um seine eigene Technologie-Inbetriebnahme Vollzeit zu laufen. Wir lieben Filme, Wein, Reisen und eine gute Zeit. Wir freuen uns, Sie bei uns begrüßen zu dürfen!
John and I met at Yale University, where he studied History and I studied Portuguese language. We both went on to study law, he at Cornell and I at the University of Michigan. I work as an attorney practicing corporate law in Manhattan. John left law to run his own technology startup full time. We love movies, wine, travel, and having a good time. We're excited to welcome you to our house!
---
---
Zusätzliche Personen 13 € / Nacht nach dem ersten Gast
Kommuniziere immer über Airbnb
Um deine Zahlung zu schützen, solltest du niemals außerhalb der Airbnb-Website oder -App kommunizieren oder Geld überweisen.
Erfahre mehr
---
Schlafzimmer 1
1 Doppelbett (mind. 1,50 x 2 m)
---
Nicht für Haustiere geeignet
Keine Partys oder Veranstaltungen
Nicht sicher oder ungeeignet für Kinder (0–12 Jahre)
Der Check-in ist jederzeit nach 13:00
Eigenständiger Check-in mit keypad
There is no smoking anywhere on the property. If you are a smoker, please do not book the room.
No additional overnight guests than those specified when you make the reservation, unless you have our prior permission.
Außerdem musst du Folgendes beachten:
Dog(s) und cat(s) live in the house
---
---
20 Nächte Mindestaufenthalt.
---
Union, New Jersey, Vereinigte Staaten
Mitglied seit März 2012
I'm a young professional who loves traveling, soccer, wine, and learning about people from other cultures. I have lived in several places in the US, and also in Brazil, Spain, and Switzerland, so I know what it's like to live out of a suitcase and want to make you as comfortable as possible. I speak English, Spanish, Portuguese, and am learning French. I've used Airbnb all over the world and have enjoyed every stay!
Sprachen:
English, Español, Français, Italiano, Português
Antwortrate:
100%
Antwortzeit:
innerhalb einiger Stunden
Entdecke weitere Optionen in und um Union City
Noch mehr Unterkünfte in Union City: