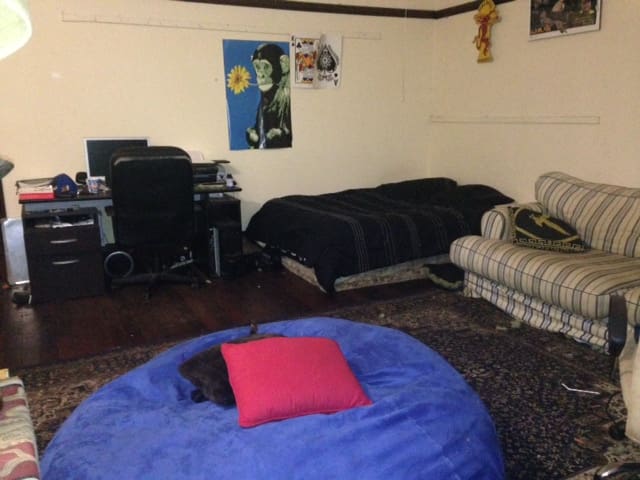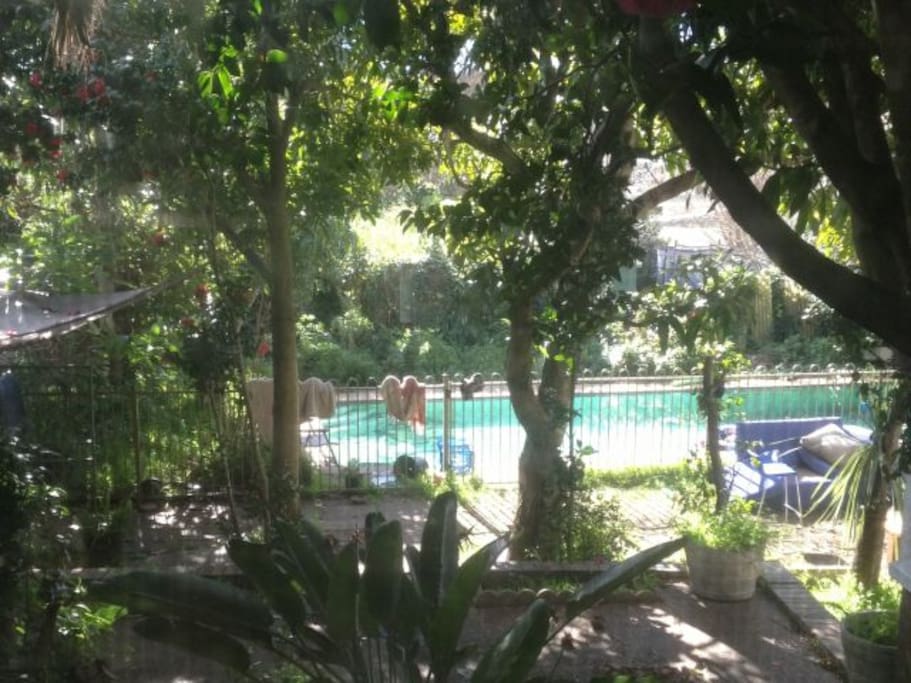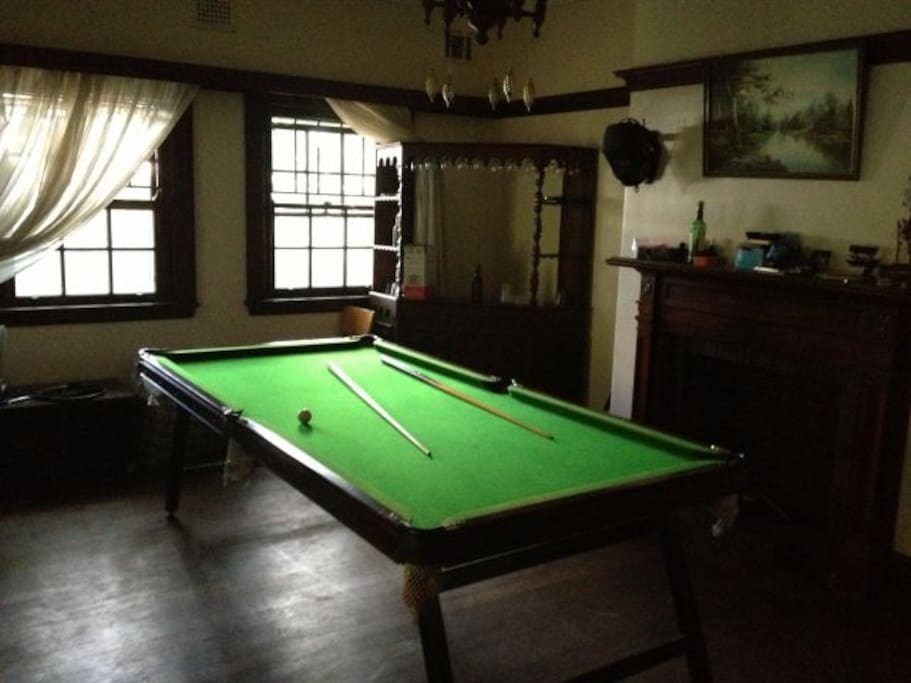 Up for rent is my bedroom over the New Years period.
There are double bay windows facing the pool/backyard. It also has a 4 person couch and a giant beanbag.
Room is located in Croydon Park, near Ashfield.
Der Wohnraum
This room has lots of space for activities. You could fit 4 people quite comfortably. My giant beanbag and large and super comfy couch sit on top of a warm persian rug, with views of the pool outside.
The rest of the house is a massive 6 bedroom single story free standing home. There are plenty of fun things to do in this house, with a pool table and ping pong table in one room. And a projector that can plug into your laptop to play movies in another room.
The backyard is filled with beautiful mango trees and a grape vine. The pool is well maintained and 60,000L. There is also seating outside and you will find 2 working BBQs in the back, and 1 out the front.
There is plenty of parking in the front and a garage out the back.
Zugang für Gäste
The only thing off limits are the other bedrooms.
Interaktion mit Gästen
I and most of the house will be away during these dates..There will be only a few other people who will be sharing the house for some of the days. But most of the house will be quiet.
---
Kostenloser Parkplatz auf dem Grundstück
---
Axel wasn't around so his friend showed us around the house. His friend was pretty friendly. My first visit to Sydney was sullened by this "accommodation". At a price of $136 per night, my friends and I were appalled by the state of the "house" when we checked in. The front door wasn't locked so we walked right in. We could have easily walked in through the backyard since 80% of the doors can't be locked in this house. The remaining 20% were broken. Cobwebs and broken glass were common throughout the house, oh yeah, not forgetting the ocasional dirty underwear and fall-inducing skateboard hazard. Axel's room was incredibly dusty, had a staled smell and to be honest, we considered sleeping out in our car. The door knobs were broken and the only standing fan was a light breeze at best. The bed was infested with bedbugs (tested and proven by 3 nights on it), the beanbag had stains (I shudder to think what had caused it) and the last mattress looked like it had more dust than fluff. The swimming pool filled with slime on the inner walls, and there are dead leaves floating around. If you fancy a swim in a swamp, there you go. The "entertainment" room was barely more than a table with a ping pong net laid across it. We had a few goes on it, well, at least the ball sort of bounce so I guess it sort of works. The kitchen sink was filled with dirty dishes from the previous decade from the looks of it. I didn't even bother to look in the washing machine and dryer. The toilet looked like the scene from "The Shining", so movie enthusiasts will probably enjoy walking down the corridor in the night. The bathroom was gloomy and dark, a buddy system was used during our stay as we would rather not find out what caused the stain in the bathtub. All in all, we were rather glad to get out of that hellhole after 3 nights. To future travellers, there are better places anywhere else in Sydney. Seriously.
Thank you dearly for your feedback, me and the other housemates have had a good laugh. I can't speak for what your security measures are at your own abode, but I suspect the front door was unlocked because there was somebody home, who was aware of your impending arrival. I can't speak for the kind of community you come from, but there are some that exist where there is enough trust to not need security codes. A locked door is not going to stop a thief who wants to break in. After an inspection of the house today for cobwebs and broken glass, none to few were found, only in the most inhumanly possible reaches. Unless you refer to the backyard, where there are enough, yes. Welcome to Australia. Thank you for pointing out there was underwear in our house, I forgot I put that there. Incredibly dusty is an exaggeration where truth has lost its temper, unless you took some dust with you, as I can't find an incredible amount. That staled smell is the result of the room being closed up for a week prior to your arrival, I apologize for that, that's my smell and I left that there. As for my poor fan, please leave him out of this. Did it not tell you that he has settings? Light, Medium, High? There are no bedbugs in my bed, I appreciate that you had a go 3 nights on it, but my years of experience outweighs your temp residential status, I would have long ago burnt and disposed of it if they existed. I can refer you to plenty of women who have also shared the same bed that we have now also shared, if you are not satisfied with just my word. As for the bean bag, I"m going to assume you havn't ever owned a lovesac or equivalent. If you have, you'd know that washing it isnt as easy as putting it in the washing machine (which you were too afraid to look at, for some reason). It's 2 years old now and has got some food and beverage stains, sorry for that too. For an outdoor swimming pool surrounded by mango trees, It's irrational to think you can catch the leaves before they die and fall in the water. The "swamp" situation is a product of your hyperactive imagination, an hour after putting chlorine in it after being away for 2 weeks and it's delightful. Your expectation of entertainment must far exceed ours, how can a ping pong table "barely" be a ping pong table if its got a table top, legs, a net, balls and rackets? Also if you cared to look, you would of found a pool table underneath, a projector to plug your laptop or our PS3 into, and a massage chair in the corner. Now that's entertainment. The kitchen sink did have dishes in it, but I think you need to steer clear of it's Archaeology and stick to writing reviews, as those dishes weren't there when I left the house. There are other guests, mind you. Some things are out of my control. The bathroom has a light, turn it on. I got a report of multiple people being in the bathroom from other guests, but I am glad that it turned out to be nothing more serious than just you being frightened. That stain in the bathtub is a mystery to me too, but with a bit of logic, my imagination settles and declares that it could just be aged tiles losing colour. The house is over 100 years old. All in all I'm glad you were able to escape your bubble and see a small percentage of what Australia is, you got a look behind the scenes. Perhaps next time you should spend more cash and get a hotel or an apartment in the city.
---
Entdecke weitere Optionen in und um Croydon Park
Noch mehr Unterkünfte in Croydon Park: