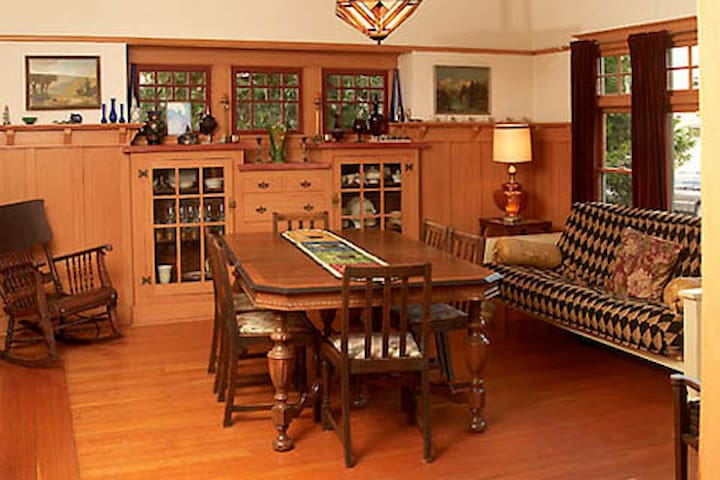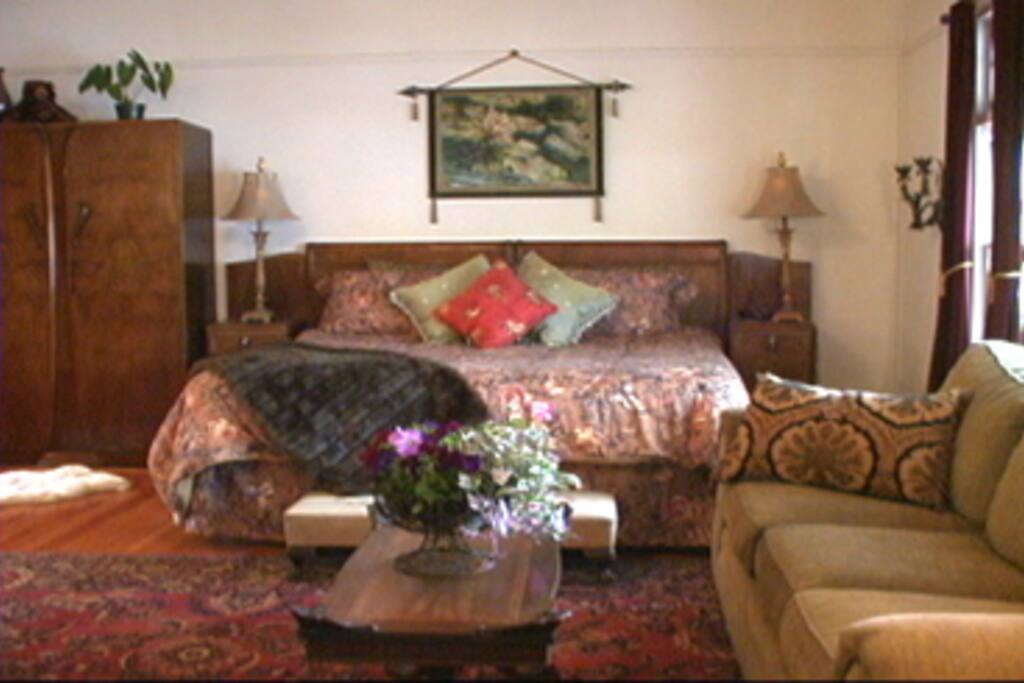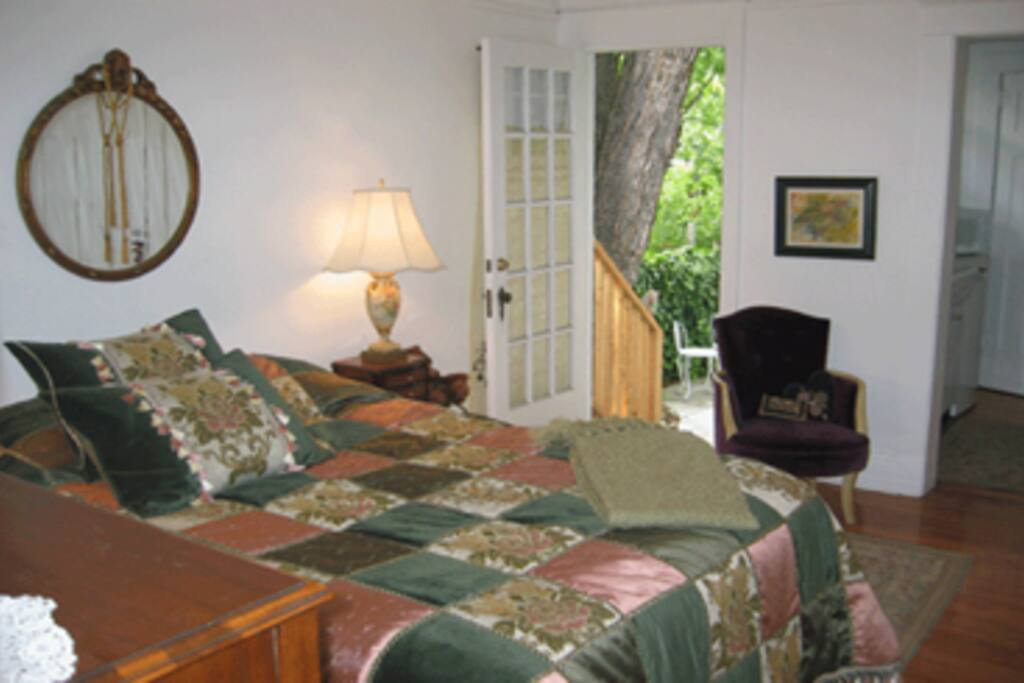 Pioneer + Harmony Suite

Pioneer Suite Includes

•Queen Bed
•Kitchenette
•Full Bath
•Private Garden Entry & Patio
•Heirloom Antiques
•Please note laundry room access at back porch and private patio with BBQ.
•Floor Plans

My Great Grandmothers vanity and dresser from the Victorian era rests here in this lovely yet simple room. The set came to me as a 14 year old and while looking in the drawers I came across a WW2 "Ration Book" and inside were stamps in an envelope when postage was only 3 cents and post dated July 31, 1947 and a letter appointment dated 1962 with a 4 cent stamp with Lincoln on it.
The letter is typed and on the front it's a addressed to Mrs. John Rose and the letter reads about her glass eye and how to care for it then asking if she would come in and have it examined, kind of a disturbing letter. Then I found a pair of round wire framed glasses with dark tinted lenses reminding me that my great grandma was blind. I was fortunate to meet her one time and remember her dark glasses and her feeling how tall I was. I since learned she was blind at 30 years old and raised 4 children! The other things I found were wooden spools of thread and different sized needles. I imagined her like my grandma doing needlework at an earlier time in her life or did she somehow master this as she did so many things, raising children and caring for the household.
How times have changed so quickly and profoundly in 100 years as I reflect and realize I am writing this on a BlackBerry phone. I scroll back and reminisce all the different technology changes in this house's lifetime and realize it has its advantages. For instance, being built pre-electricity all the rooms even the closets have windows so natural daylight was very important- just as energy conservation and green building is going back to.
The vanity is a treasure to me, I love the detail and interesting shapes that were cut for the mirror and in such great condition the looking glass is. These pieces were made before the Arts and Crafts movement when this house was built as the Victorian era that was just before the Arts& Crafts era and for being over 100 years this original glass is nearly as clear as it was when made!
My great grandmothers name was Ann Rose. She lived to be 101 and was a twin and despite her going blind at 30 and managed to raise 4 children and do all the domestic chores woman did…I can't help but wonder about her sewing! That's all I can find out about her. Oh, I was so wishing to find a diary or some pictures and know some secrets ad insights to her and the family. But if we listen maybe the years and times past will somehow speak to us. For me it spoke to me and guided me to slow down and breathe. Keep good connections with family and nature to nurture the soul. I invite you to come and listen to this old house and the old furniture …feel the breeze on the porch and imagine.

Harmony Suite Includes

•Luxurious King Bed with Adjoining Room (Sleeps 2-6)
•Back Patio with BBQ and Seating
•Full Kitchen
•Full Bath
•Mountain Views
•Private Entry
•Laundry Room Off Bathroom
•Floor Plans

"Harmony" harmonious is the space with its feeling of home. You walk in and feel the ahhhh and relax into the space. Hang your clothes in the amour and tuck away in the old oak dresser noticing the oak leaf handles.
I'm from a town back east called Royal Oak and when I moved my mother the antique collector she hobbied gave me that dresser. The chair next to upholstered in flocked blue velvet and hand carved was my Aunt Iliene's, I have such fond memories of going to her farm house in Rochester Michigan from Royal Oak which back then was going to the country, the farm house had a hill going down to a small creek and we would sled down that hill and sometimes sled successfully right over the creek to the other side. Oh such Norman Rockwell times .
This is my wish for anyone that stays in the Harmony suite. It warms the house infusing it with love .Each Christmas, each wedding, family reunion,graduation and summer Shakespeare play . Oh if these walls could talk. Each of the items I notice have a story the little rocker with "Renee" painted at the top, my daughter now all grown but when I imagine other kids using that rocker it warms my heart to share. As it is so wonderful to be able to share the heirlooms with respectful travelers it has always been one family at a time since it was built in 1909.
You will enjoy the full .modern" kitchen that was put in we think in the 70s and the stove a 40s Wedgewood . Unfortunately, they covered the dumb waiter to the dining room as cooks and chefs were not to be seen back then they would pass the tea or food through and it would magically appear in the formal dining room! Oh the beautiful built ins all made from fir (as the whole house) and over the years sadly painted over still boasts the warmth and character of the true Craftsman it is.
I love the french pocket doors to close off the parlor or living room as its easier to heat a smaller room and seeing the old gas line by the old rocker indicates at one time a small gas stove. The old rocker is a 1904 and came from the DeLaunay family over from Windsor Ontario. The needlepoint framed roses on the plate ledge were from Grandma DeLaunay.
The stories go on and on and now you get to journal your experience. Please leave a note either in the bedside tables the guest book in the foyer or on the website, (Hidden by Airbnb) , Tripadvisor, etc. etc my how times have changed! We do appreciate hearing from you and what you liked or had to forgive-as old houses have many quirks but it somehow adds more patina and love to the mix and one can never have enough love!
DeLaunay House has 4 suites each has a private bath and fully equipped kitchenette suites range from $135-$250 per night or rent a whole floor $355 or the whole house $695 DeLaunay House is voted best house for reunions whether a gal getaway or a family reunion! DeLaunay House …
Antwortzeit:
innerhalb einiger Stunden
Kommuniziere immer über Airbnb
Um deine Zahlung zu schützen, solltest du niemals außerhalb der Airbnb-Website oder -App kommunizieren oder Geld überweisen.
Entdecke weitere Optionen in und um Ashland
Noch mehr Unterkünfte in Ashland: