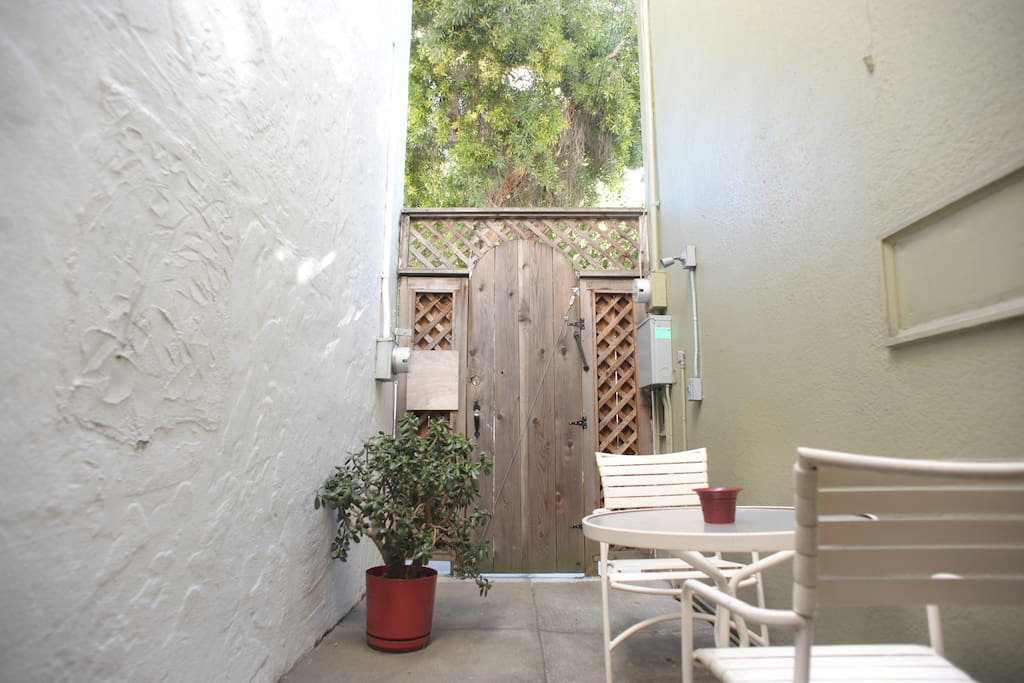 Herzlich willkommen! Unser Zimmer hat einen privaten, separaten Eingang. Ideal für 1-2 Gäste, die hier zu erkunden sind, nicht hängen im Zimmer die ganze Zeit, weil das Zimmer ist 10x12 plus ein Bad und Duschkabine. Es gibt eine kleine, private Außenterrasse. Kaffee, Tee, heiße Schokolade, Wein, Wasser in Flaschen inklusive. Das Parken ist in einem Parkhaus in einem Block und die Hälfte entfernt. Allerdings brauchst du hier kein Auto wie Public Transport, Walking, Taxis oder On-Demand-Taxi-Services wie Lyft und Uber einfacher.
Welcome! Our room has a private, separate entrance. Ideal for 1-2 guests who are here to explore, not hang out in room all the time because the room is 10x12 plus a bathroom and shower stall. There is a small, private outdoor patio area. Coffee, Tea, Hot Chocolate, Wine, Bottled Water included. Parking is available at a parking garage a block and a half away. However you don't need a car here as Public Transportation, Walking, Taxis, or on-demand taxi services like Lyft and Uber are easier.
Der Wohnraum
Want a private room with your own bathroom and a separate entrance? Look no further. You're home.
Want to jump to the frequently asked questions and answers (FAQ)? Scroll to the bottom.
Escape to a private entrance off of our home's in-law unit, with a small outdoor space at ground level (street level).
PLEASE READ AS WE WANT YOU TO KNOW WHAT TO EXPECT upon your arrival and naturally we want you to be happy! The only natural light source is through the front door's window. The ceiling is low but has recessed lights. If you're 6'2" (1.876 metres) or taller, you'll have to duck.
I'm 5'11 and have no problems walking around the room. There is no kitchenette, but there is a mini-refrigerator and a electric hotpot. The bathroom is clean, has a shower (no bath tub), and a euro style shower head with great water pressure. The room has a a spacious closet, and the very comfortable, full-size, brand new Sealy Posturepedic mattress and box spring. (Purchased 2/3/14).
Both are protected with brand new dust mite/bed bug/allergy cases and comfortably sleeps two.
IF YOU DON'T WANT THE MATTRESS TOPPER you don't have to use it. Some people love it, others don't. It's a matter of personal preference. Yes there is FREE WIFI. We have fiber optic 1 Gig service (1,000 Mbps).
As of 6/17 we added a Nest Protect, a smart carbon monoxide and smoke detector. Very cool. We also have an earthquake emergency kit for two people to survive on for up to a week which provides food, water, first aid and more in the event of an earthquake.
As of 10/23/14 we added a Keurig machine so you can make your own fresh coffee, cappuccino, mocha, hot cocoa, tea and cider. Coffee accoutrements are provided.
Also as of 10/23/14, there is also a pneumatic lift (tres chic) leather chair, new fluffy pillows with dust mite protectors and new bed sheets, duvets and bed spreads.
As of 5/2017 we have LED lights with a dimmer switch, new bed frame and headboard, new towels and sheets, USB 2.0 outlet/electrical outlet.
We stock the fridge with bottled water and offer an assortment of coffee, tea, cider, and hot chocolate in a convenient and easy to use Keurig machine. You might also discover a bottle of California wine waiting for you to toast your stay here.
As far as locations go in San Francisco, ours is hard to beat.
Whether you're here on holiday, relocating, want to be a block away from the (rhymes with boogle) shuttle bus pick up, or just want to be in the center of all the fun, culture, and food scene, you will love this location!
We are only 1/2 block to dozens of restaurants, bars, shops and 1.5 blocks to the 24th Mission BART station. We are in the heart of the Mission's hot Valencia corridor, walking distance to Dolores Park, nightlife galore, mural tour, Noe Valley, and just 15 minutes to Union Square. Bartlett Street is a quiet, tree lined street.
The room has 100% cotton towels, Egpytian cotton 600 thread count sheets, hypo-allergetic mattress pad, comforter, Micron mattress protector, mini refrigerator, spacious closet, shoe rack, new, super comfy pillows, an outdoor table and chairs (mini oasis), digital alarm clock/radio. There is also a sound machine in case you like the sound of waves, rain, or white noise to lull you to sleep.
You'll also find guides to all of San Francisco's fantastic arts, culture, cuisine and more.
The room itself is simple, clean, berber carpet, and has mirrored sliding closet doors. The room is pleasant, though there's so much to do in the area, you'll want to get out and explore the Mission, Noe Valley, and other San Francisco neighborhoods.
MUNI and bus lines run a block away and can take you all over San Francisco.
As for breakfast? The Crepe House is a mellow scene and breakfast items served all day with Free Wi-Fi on Valencia between 23rd and 22nd Street. Walk a few blocks and you'll discover amazing scones, pastries and more at Arizmendi Bakery on Valencia at 24th Street or down to Craftsman and Wolves (also on Valencia Street near 18th) for outstanding hand crafted sweet and savory pastries and more in an oh so cool setting (and more seating than Arizmendi).
Here for the weekend? For delectable baked goods, try Craftsman and Wolves on Valencia Street near 19th. For brunch, try Grub, American comfort food also on Valencia. The Vestry is also a fine spot with outdoor seating for brunch.
We have a wonderful farmer's market just a half a bock away on our street held every Thursday from 4 - 8 pm. Live music, prepared foods and other goodies await you in addition to fantastic organic/sustainably farmed produce from the Bay Area and Central Valley.
There are many events and festivals held in the Mission along with art exhibits, live music, film festivals, and more. Like coffee shops? We're close to a dozen (at least). Book shops abound up and down Valencia street along with eclectic shops ranging from art galleries and book stores to trendy clothing boutiques, a pirate themed shop and everything in between.
You're close to so much activity and cultural diversity, you'll be glad you stayed in the heart of the Mission, San Francisco's oldest, most vibrant, and culturally diverse neighborhood with added Latin flare.
That said, you can find a variety of Asian, European, Indian, and of course California cuisine restaurants, many considered to be the best in San Francisco. The room is remarkably temperate, not too cold or hot. Fresh towels and linens are provided of course.
Please note THIS IS A SMOKE FREE ROOM. If you smoke, it will waft right into our daughters' room. Sorry, we can't compromise on this.
Also, please note that since we have teens (smart and sweet) and the room is below our home, you may hear us getting ready in the morning -- the girls leave for school by 8:15 am.
AS FOR PARKING: We suggest you park in the inexpensive (the same price as the street meters) secured parking lot just a block away in the Bartlett Street Garage. You can enter that garage from 21st street between Bartlett and Valencia Streets.
We have had guests from around the world stay in this room from days to months and have told us how much they loved both the room and the vibrant and exciting neighborhood.
If there's anything you need, let us know and we'll do our best to accommodate you. We look forward to hosting you soon!
FREQUENTLY ASKED QUESTIONS FROM OUR PAST AIRBNB GUESTS:
Q: How do I get the keys?
A: We have a lock box on the gate.
Q: When do I get the code for the lockbox?
A: The day you arrive or the night before if necessary. We change the code with every guest for the safety of our guests.
Q: When can I check in?
A: 3:00 PM or later
Q: When do I have to check out?
A: Noon
Q: Can I check in late?
A: Yes, we use a lock box so you can check in as late as you need.
Q: Can I check in early?
A: It depends. Oftentimes, we have a guest checking out and in on the same day. We have a cleaning service that cleans the room between Noon and 3:00 PM. We do need to give them the time and space to make the room perfect for you,
Q: How comfortable is the bed?
A: We just bought a brand new Sealy Posturepedic mattress and box spring (2/3/14). Both are protected with brand new hypo-allergenic/dust mite/bed bug cases and there's a mattress protector as well. The bed is very comfortable. Not too firm. Not too soft.
Q: Is there free street parking?
A: Yes, but only for an hour. Beyond that you need a residential parking sticker and they are not sold to visitors. If you are renting a car, it is best to park it in the Bartlett Street Garage. You can enter from 21st between Bartlett and Valencia.
Q: Can I leave my bags in the room if I have a late flight out of San Francisco?
A: If no one is checking in that day or the next, yes. If not, no.
Q: Can I smoke in the room or in the area outside?
A: No.
Q: What is the cost of the room?
A: $99/night for one person. $25 extra/night for two people.
Q: What is the cleaning fee?
A: There is a one time cleaning fee of $50
Q: Who cleans the room?
A: Hostwell, a local company owned and operated by Airbnb hosts (not employees of Airbnb). The majority of their clients are Airbnb hosts.
Q: Are any meals included?
A: No, sorry.
Q: How do I get on WIFI?
A: We have two networks. One is ChitaP and the other is ChitaP_EXT. We will email you the passwords when you arrive.
Q: Can we text, call you when we are here for help and advice?
A: Absolutely.
Q: Can we communicate with you outside the Airbnb site/app?
A: Ideally, it is best to keep all requests within Airbnb so we can contain it. We prefer to keep Airbnb separate from the rest of our work and personal emails.
Q: How far are you from the airport (SFO)?
A:15 minutes or less by car. 30 minutes by BART.
Q: How far are you from Union Square/Downtown SF?
A: 5 minute walk to the 24th BART station followed by an 8 minute BART ride to Powell or Montgomery BART stations.
Q: How far are you from Noe Valley?
A: 5 minute car ride, 15-20 minute walk
Q: How far are you from the Castro?
A: 5 minute car ride, 15-20 minute walk
Q: How far are you from the Golden Gate Bridge?
A: 20-25 minute car ride, Around an hour by Muni/Bus as it involves a few transfers. Best to drive or cab it.
Q: Where is the closest bank?
A: Wells Fargo is a block and a half away on Mission at 22nd Street. Bank of America is on Mission and 23rd Street
Q: Where is the closest Pharmacy?
A: Wal-greens is a national chain Pharmacy, photo lab, general convenience store and is on Mission and 23rd Street, just around the corner.
Zugang für Gäste
Ihr eigenes Privatzimmer, privater Eingang, privates Badezimmer und kleiner privater Außenbereich, der zwei sitzt.
Your own private room, private entrance, private bathroom and small private outdoor area that seats two.
Interaktion mit Gästen
Einige Gäste sind zu beschäftigt, um uns zu treffen. Wir haben ein bisschen zum Abendessen, Getränke oder einfach nur Hallo sagen. Es hängt vom Zeitplan des Gastes und bis zu einem gewissen Grad ab. Wir lieben es, zumindest sagen, hallo und treffen Leute aus dem ganzen Land und der Welt.
Some guests are too busy to meet us. We've had some up for dinner, drinks or just to say hi. It depends on the guest's schedule and to a degree our own. We love to at the very least say hello and meet people from around the country and the world.
Weitere wichtige Infos
Der Bauernmarkt zieht mehr als 2.000 Menschen jeden Donnerstag von 4-8 PM ungefähr zwischen dem 18. Januar und dem 18. Dezember. Bartlett und ein Teil der 22. Straße ist zum Verkehr gesperrt. Es gibt Live-Musik, fantastische lokale und oft Bio-Produkte zusammen mit leckeren Brot, Desserts, Käse, Fisch, Blumen, Kunst und mehr. Es ist ein großartiger Ort, um die Prämie von Kalifornien zu probieren. Die meisten Speisen sind organisch oder nachhaltig gezüchtet. Alles ist saisonal und lokal. Sie brauchen wirklich kein Auto hier als Public Transportation, Walking, Taxis oder On-Demand-Taxi-Dienste wie Lyft und Uber sind sehr effizient und erschwinglich. Wohnparken sind erforderlich, um auf der Straße in der Mission zu parken. Ohne Sie werden Sie tickten, wenn Sie für mehr als 2 Stunden zwischen 8 Uhr und 18 Uhr parken. Dazu gehören samstags. Ihre beste Wette ist, in der Bartlett Street Garage zu parken. Dies ist im Besitz und betrieben von der Stadt San Francisco. Gehen Sie auf der 21. Straße zwischen der Valencia Street und der Bartlett Street. Dies ist ein Block entfernt von unserem Haus. Wenn Sie hier parken, bitte wissen wir, Ihre Gastgeber, sind nicht verantwortlich für die Stunden des Parkhauses, Preise, Richtlinien oder Wertsachen, die in Ihrem Auto verbleiben. (Also lass sie nicht in deinem Auto). Wie jede größere Stadt irgendwo in den USA oder auf der ganzen Welt, können Autounternehmen und passieren. Puh. Froh, dass ist aus dem Weg. STR-0000549
The farmer's market attracts more than 2,000 people each Thursday from 4-8 PM roughly between January 18 and December 18. Bartlett and part of 22nd street is blocked off to traffic. There is live music, fantastic local and often organic produce along with delicious breads, desserts, cheeses, fish, flowers, art and more. It's a great place to taste the bounty of California. Most of the food is organic or sustainably farmed. All is seasonal and local.
You really don't need a car here as Public Transportation, Walking, Taxis, or on-demand taxi services like Lyft and Uber are very efficient and affordable.
Residential parking permits are required to park on the street in the Mission. Without one you will be ticketed if you park for more than 2 hours between 8 AM and 6 PM. This includes Saturdays. Your best bet is to park in the Bartlett Street garage. This is owned and operated by the City of San Francisco. Enter on 21st street between Valencia Street and Bartlett Street. This is a block away from our home. If you park here, please know we, your hosts, are NOT responsible for the parking garage's hours, prices, policies or valuables left in your car. (So don't leave them in your car). Like any major city anywhere in the USA or around the world, car break ins can and do happen. Phew. Glad that's out of the way. STR-0000549
Familien- / kinderfreundlich
Zusätzliche Personen 31 € / Nacht nach dem ersten Gast
Wochenendpreis 92 € / Nacht
Kommuniziere immer über Airbnb
Um deine Zahlung zu schützen, solltest du niemals außerhalb der Airbnb-Website oder -App kommunizieren oder Geld überweisen.
Schlafzimmer 1
1 Doppelbett
Nicht für Haustiere geeignet
Keine Partys oder Veranstaltungen
Der Check-in ist jederzeit nach 15:00
Eigenständiger Check-in mit lockbox
Smoking IS NOT allowed in the room, outside the room or within 50 feet of our home. The smoke will make its way into our home and we're not fans of second hand smoke.
You really don't need a car here as Public Transportation, Walking, Taxis, or on-demand taxi services like Lyft and Uber are very efficient and affordable.
Residential parking permits are required to park on the street in the Mission. Without one you will be ticketed if you park for more than 2 hours between 8 AM and 6 PM. This includes Saturdays. Your best bet is to park in the Bartlett Street garage. This is owned and operated by the City of San Francisco. Enter on 21st street between Valencia Street and Bartlett Street. This is a block away from our home. If you park here, please know we, your hosts, are NOT responsible for the parking garage's hours, prices, policies or valuables left in your car. (So don't leave them in your car). Like any major city anywhere in the USA or around the world, car break ins can and do happen. Phew. Glad that's out of the way.
No loud music, no pets, and no parties. Please throw your trash in the bin. Please try to leave the room the way you found it.
Please turn the heater off when you're not in the room and be sure to return the keys to the lock box when you check out. Also make sure you take all of your belongings with you! We've had guests leave behind clothes and beyond. It's always fun to try them on. Kidding.
We're a family of four with twins (age 11) so our ideal guests are those who can be respectful of these simple rules. We're pretty easy going, but we're not on vacation so you won't hear much from us after 8 PM during the work week. We ask that you keep the noise down as well.
2 Nächte Mindestaufenthalt.
Preis-Leistungs-Verhältnis
Nice and cozy place in the heart of the mission district. Close to both public transport and the highway which both offer great connection to the airport or other parts of the city - the place itself is surrounded by restaurants, bars and shops. The host makes sure you're comfortable and that everything is perfect, offers information about local stores and restaurants, even a forecast of the local weather. Really nice feature in the room: USB outlets in the wall - no need for travel adapters anymore to charge your phone. Great experience.
---
The place was the perfect spot for experiencing SFO. I felt welcome right from the first moment: a little chocolate, water in the fridge, a bottle of wine. It was clean, had just the right size got a lost with useful things to do in the neighbourhood and everything was very well organized. Thanks to the host!
---
My daugter (16) and me travelled for 6 days to SF. Everything was exactly as described. Geoff and his family were very friendly and helpful, no question was left unanswered. The neigborhood is very nice, a lot of restaurants nearby and it felt always safe. Buses and the next BART station can be reached within minutes. No problem to explore SF from here. After 2 days of our stay it happenend that something in our room needed to be repaired. Geoff was so generous to let us use his house (while he was on vacation) with no extra fee. Thanks Geoff that you trusted us ! If we ever come back to SF we will use Geoffs room again. We recommend this place definetely.
---
The room was perfectly located: the mission is a great district to start sightseeing tours and go out for dinner and drinks at night. The private entrance made our first airbnb stay really flexible. The room itself is clean and functional. We didn't meet Geoff but he always replied really fast and gave us good insider tipps. Thank you!
---
Great place in SF, very good located. It is close to BART 24th Mission St. Also you can just walk from there to great places. Lots of cafés and shops close by. Geoff is a great host who responds immediately if you have questions. You have a lot if privacy in the place as it is separate from the rest of the house and you have your own entrance. The room is small, but for us it was totally fine. We can very much recommend it.
---
Geoff's place is absolutely perfect for a stay in the heart of the Mission. The street lays between Valencia and Mission, and is residential, quiet, and safe. It felt tucked away from the chaos of the busy streets, but still convenient enough to get to shops, restaurants and cafes with ease. You really can't ask for a better location. The room itself feels very secure and as a single female traveler, feeling safe is of utmost priority to me. The space itself is cozy and has everything you need. I loved having the mini fridge and the coffeemaker in the room - not having to rush out in the morning to grab coffee is very convenient. The bed was very comfortable, as well. Geoff was so easy to communicate with and offered so many great recommendations, as well as helpful heads-up about general goings-on in the community. On my final night, I got food poisoning and made a bit of a mess. Of course I tried to clean up what I could (and paid for the damages), but Geoff was very understanding and didn't make me feel embarrassed. I really appreciated that. My overall experience was really enjoyable!
---
I've now stayed at Geoff's twice! He is a fantastic host who is always quick with responses. This is definitely my go to when in town for work. It's a great private space with a super comfortable bed and private bath. The room has almost everything you'd ever need (water, coffee, a mini fridge, books, heater, fan, blow dryer, makeup wipes, shampoo, conditioner, body wash etc.) The apt is also extremely close to Bart, which makes it really convenient to get into FiDi and the airport. Great space!
---
San Francisco, Kalifornien, Vereinigte Staaten
Mitglied seit August 2012
My wife and I have traveled the world, but have called San Francisco home for nearly 20 years. We invite you to stay with us in our 1896 Edwardian home in the middle of the Mission District, San Francisco's oldest and arguably most vibrant neighborhood filled with a diverse range of some of the City's best restaurants, bars, parks, shops, and more. Not to mention our neighborhood is the warmest, flattest, and fog free part of San Francisco. Our twin daughters (age 12) are as delightful as they are cute, funny, smart, and entertaining.
They love having guests from around the world. The girls are in bed quite early so you are unlikely to hear them after 8 PM in the evenings but you may hear the pitter patter of small feet on the mornings before they leave for school at 8:20 AM.
We're 15 minutes from SFO by taxi, a block and a half from the 24th Bart Station and close to many bus and MUNI (subway) lines. Having visited Southeast Asia, Oceania, Europe, Central America, and of course North America, one theme holds true for all our adventures: discover the true culture and flavor wherever we are.

As your host, we'll do everything we can to make sure you get off the beaten path. We're happy to share our favorite restaurants, local hangouts, and ensure you see the true San Francisco, not just the typical touristy sites. We're into everything from biking, kayaking, hiking, wine, art, music, food, festivals, museums, all things kids, parks, and more. Whatever you're into, we'll point you in the right direction so you have an authentic and memorable time in San Francisco. My motto is from the great Mahatma Ghandi: "Be the change you wish to see in the world." Our style of hosting reflects the needs of our guests. Whenever possible, we like to meet our guests. However we understand that many of them are busy on a tight schedule or not interested to meet us so we respect that. We want to make sure every guest is comfortable and part of that is respecting boundaries and their personal space.

We look forward to hosting you soon! If you have any questions, please feel free to ask. We're just a click away.
Sprachen:
English
Antwortrate:
100%
Antwortzeit:
innerhalb einer Stunde
Entdecke weitere Optionen in und um San Francisco
Noch mehr Unterkünfte in San Francisco: