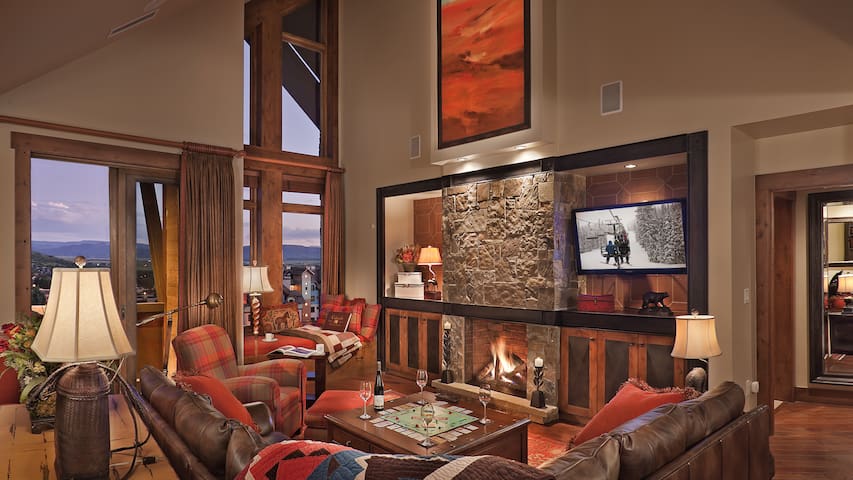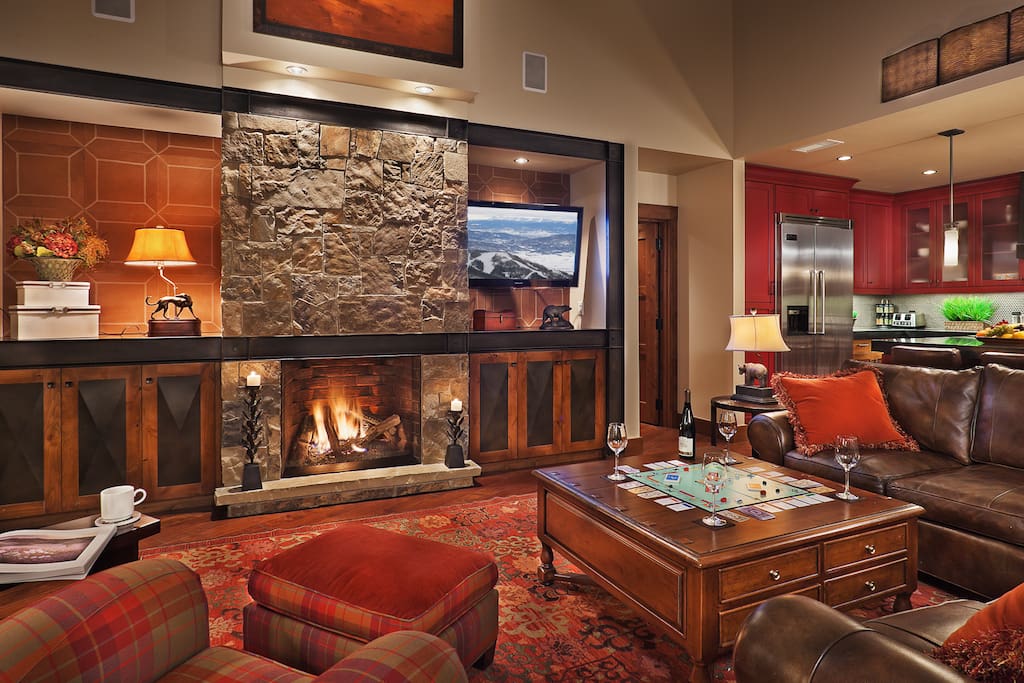 Ask about our specials and discounts.
The slope side Private Residences at One Steamboat Place are located at the Gondola and offer ski-in/ski-out ease. Diamond Peak Penthouse has two views: the breathtaking view of the Yampa Valley, and the plaza view - so you can see what's happening in the base area.
We offer discounts on any stays over 3 nights. Please contact us for more information.
Der Wohnraum
Art lovers will appreciate the original artwork selected by the owner that brings out vibrant colors found throughout the residence.Walk into Diamond Peak Penthouse and you will be drawn to the vaulted ceiling and large living room window overlooking the south valley. State of the art a/v equipment provides hi definition entertainment after a full day of activity.
A professionally equipped kitchen with Viking appliances will delight any aspiring chefs; or grill in the great outdoors at the built-in Viking gas grill on the deck.
The adjoining dining area features a handcrafted dining table that beautifully complements the fine craftsmanship of the contemporary interior.
There are four bedrooms in this grand residence, each master bedroom offers a gas fireplace and the master bath features a steam shower and Jacuzzi tub. Each of the four bedrooms also feature vaulted ceilings and their own bathroom. The master bedroom with King bed has an oversized bathroom. The Guest Master also offers a King bed. The third bedroom offers two full beds and the fourth offers two sets of bunks with twin beds over queen beds.
All One Steamboat Place residences feature luxurious furnishings and décor throughout the home. The home office boasts an iMac home computer & high-speed Wi-Fi allowing Internet service for all guests. A printer is available at the front desk, and guests can also videoconference with the front desk from the home office.
Enjoy all the signature touches throughout One Steamboat Place provided by Timbers Resorts including exquisite gathering areas, wine cellar and tasting room and one of the greatest mountain spas in the West. In addition to Steamboat's recreational opportunities, One Steamboat Place has a state-of-the-art fitness facility, pool and hot tubs, a community game room and Little Tykes room for the kids. With numerous in-residence catering options, concierge and ski valets, the Private Residences at One Steamboat Place have defined the first-class experience at Steamboat.
Interaktion mit Gästen
We are in Steamboat and available to meet your needs at any time.
Familien- / kinderfreundlich
Nicht für Haustiere geeignet
Keine Partys oder Veranstaltungen
Der Check-in ist jederzeit nach 16:00
We ask our guests to respect our home and the investment we have made to offer luxury accommodations so close to the mountain. No smoking. No pets without our approval (cleaning fees apply).
Terms and Conditions:
Effective March 1, 2017
1. Your Contract
1.1 Parties: Your contract is with Moving Mountains, Inc., a Colorado corporation (MM). These Terms & Conditions will apply to any booking or reservation outlined in Booking Documents signed by you for Home Rentals, catering services, and vacation planning arranged and confirmed by MM.
1.2 Any property rented – private home, condominium, townhome, ranch or residence will be referred to in these Terms & Conditions as a Home. Any person staying in a Home managed by MM is referred to here as a Guest, regardless of the terms of the stay.

1.3 Unless otherwise stated in writing, these Terms & Conditions are valid for all confirmed Home reservations.
1.4 Modification: We reserve the right to modify these Terms & Conditions at any time, and without prior notice, by posting an amended and dated Terms & Conditions that is always accessible through the Terms & Conditions link on our website.

1.5 Prior to receipt of your signed Booking Documents and deposit, all prices are subject to change without notice. Signed Booking Documents and deposit must be received by MM within 24 hours of Booking Documents being sent to you in order to guarantee pricing and availability of home. Once we receive the booking deposit, along with signed Booking Documents, the price is guaranteed for arrangements stated.
1.6 Accidental Rental Damage Insurance (ARDI) is required with all bookings. This insurance provides up to $5000 coverage against accidental damage that occurs during the stay. This does not cover against any act deemed to be intentional and Guests will be held liable for damage to the Home and contents occurring during their stay. The cost of the policy is $159 and this is applicable to every individual Home rental agreement.
1.7 Jurisdiction and Venue: The courts of Routt County in the State of Colorado, USA and the nearest U.S. District Court shall be the exclusive jurisdiction and venue for all legal proceedings arising under these Terms & Conditions.
2. Your Contract
2.1 Home Rental, which may on occasion be referred to as Nightly Rental or Vacation Home Rental of a Home, only includes rental of the Home described on the Booking Documents for the stated dates and times.
2.2 Homes offered by MM are not interchangeable once there is a confirmed reservation. If you choose to change Homes once a booking is confirmed, regardless of reason, the original reservation must be cancelled, subject to our cancellation policy, and a new booking must be made at an alternative Home, which would also be subject to the cancellation policy.
2.3 The maximum overnight group occupancy total for each Home is specified on the MM website. The number of Guests in the Home at any one time cannot exceed twice the stated overnight occupancy of the Home. Failure to observe this restriction, such as for an unauthorized event or party, will result in immediate termination of the rental and forfeiture of all monies paid and a $2500 Unauthorized Event Fee will be charged to the group.
2.4 Guests agree that all members of their party and any visitors to the Home during the stay will be advised that outdoor shoes are not to be worn inside the Home. This is to protect carpets and floor surfaces.

One Steamboat Place Rentals
2.5 Check-in for Guests staying at One Steamboat Place is at One Steamboat Place, 2250 Après Ski Way, Steamboat Springs CO 80487. Check in time is from 4:00pm.
2.6 At One Steamboat Place, if the group exceeds the overnight group occupancy total as specified on the MM website, the group will be charged $250 per person, per day for each guest over occupancy. Children under 5 will not be taken into consideration when determining occupancy numbers.
2.7 No more than two vehicles may be parked in the garage at One Steamboat Place. No more than two vehicles per residence are permitted at one time unless given prior authorization from general manager of One Steamboat Place. If Guests have more than 2 cars, they are required to inform MM prior to arrival. Oversized vehicles must be preapproved in advance of arrival and may need to be parked offsite.
2.8 It is preferred that Guests renting ski and snowboard equipment while staying at One Steamboat Place use Black Tie Ski Rentals, which is the designated manager of the onsite ski valet. The handling of equipment from other equipment rental providers is subject to daily handling fees payable by Guests at Guest's expense.
2.9 Guests staying at One Steamboat Place are required to pay a service fee per residence of $20 daily / $125 weekly. A credit card is required at check-in for this fee.
2.10 Residences at One Steamboat Place are individually owned and as such are provided with the furnishings, amenities and equipment that is specific to that residence. Any additional furnishings, amenities and equipment required by Guests, such as additional fans, pillows, blankets, humidifiers are at the expense of the Guest. This property is not a hotel with a stock of spares.
2.11 Room service is not available at One Steamboat Place. We recommend having groceries and drinks stocked prior to arrival, and private chef services or our VIP Catered package. A light continental breakfast and daily après ski (winter only) is offered downstairs in the members Wine Room.
2.12 Your 24 hour contact during your stay is One Steamboat Place front desk: (PHONE NUMBER HIDDEN) Light daily housekeeping is included at One Steamboat Place along with a weekly linen change for longer stays. Additional services can be provided at Guest expense.
2.14 One Steamboat Place has a strict no-smoking policy for anywhere within 100 yards of the building which includes the decks and balconies of each residence.
Homes and Non OSP Residences
2.15 No more than four vehicles may be parked outside overnight at any rental home in Steamboat Springs. If the Home has a garage, Guests are advised to use the garage for overnight parking. Home Guests are not permitted to park at any time in the public right of way (on the street) or an access easement. Home Guests are responsible for any parking citations and fines that they incur.
2.16 Quiet times in Steamboat Springs are from 7pm to 7am. Homes are in residential areas and any violation of City noise or disturbance ordinances could result in a fine or immediate termination of the rental and forfeiture of all monies. Guests are responsible for all fines or citations issued.
2.17 Prohibited activities include: outdoor sleeping, any activity at which more than twice the number of allowed overnight occupants are in attendance, tents or other outdoor structures, whether deemed temporary or permanent, commercial kitchens, the preparation of any food on site for persons other than occupants and their Guests, parking RV or other large camper vans in driveway, use of snowmobiles around the property or neighborhood.
2.18 Your 24 hour contact during your stay is Moving Mountains: (PHONE NUMBER HIDDEN). For after-hours emergencies, please phone our office and follow the instructions to leave a message. This will be forwarded to an on-duty staff member who will contact you as soon as a possible.
2.19 Our standard housekeeping service is included with the cost of a rental stay. This includes the full-exit clean based upon the Home or Residence being left in a reasonable condition (see 5.7). A light mid-week clean including towel change is provided for stays of 6 or more nights. A full linen change is provided every 7 nights for longer stays. Additional housekeeping services are available at Guest expense and are priced based on the individual Guest request and the size of the respective Home.

3. Catered Packages
3.1 Catering or Catered Chalet packages are offered as an add-on to a Home Rental.
3.2 Unless otherwise stated, the price of a Catered Package does not include: airfares, transport from Denver International Airport, ski lift tickets, equipment rental, alcoholic beverages, the cost of any activities undertaken by Guests during the stay, babysitting, nor the cost of meals eaten outside the Homes.
3.3 Prices for Catered Packages are based on a specified number of Guests. Increases to the number of Guests will result in adjustments to the package price.

4. Confirming a Reservation
4.1 Confirmation of any reservation by MM is subject to acknowledgement by MM of the required deposit in cleared funds being received and receipt of the Booking Documents with the guest's signature, which confirms acceptance of these Terms & Conditions. In the event of an on-line reservation booked through the MM website, authorization to charge a credit card for the required payment is deemed to indicate acceptance of the booking Terms & Conditions.
4.2 To confirm a reservation(s), a deposit of 50% of the total package cost along with signed Booking Documents is required. The remaining 50% is due 60 days prior to arrival date. Bookings within 60 days of arrival require full payment at time of reservation.
4.3 MM reserves the right to cancel any reservation if the payment schedule is not met.
4.4 MM reserves the right to refuse or cancel, without penalty, the reservation of any guest who has previously breached the MM Terms and Conditions.
5. Check-in / Check-out
5.1 Check-in for Guests staying in our private Homes and Residences at Edgemont, Chateau Chamonix, The Olympian, Storm Meadows and any other location offered by MM (Not One Steamboat Place) in Steamboat is at the MM office at 445 Anglers Drive, #1B, Steamboat Springs, CO 80487. Guests arriving after 6:00pm should make alternative arrangements with MM Staff. Access to the Rental Home will not be granted unless MM has signed check-in documents on file.
5.2 Check-in time is from 4:00pm - 6:00pm Please call ahead to advise if arrival will be later than 6:00pm. If Guests arrive prior to 4:00pm, it may be possible to leave luggage at our office and other activities off-site can be arranged until 4:00pm.
5.3 Check-out is by 10:00am.
5.4 Early check-in or late check-out is only possible by prior arrangement and can only be guaranteed within 48 hours prior to arrival.
5.5 A valid government issued photo-ID is required at check-in. The Group Leader must notify MM if the first guest to check-in at the MM office will not be the Group Leader. Failure to do so may result in delays or refusal of check-in by that person.
5.6 MM requires a credit card to be kept on file during your stay with written authorization for up to $500 for incidental charges and extra costs related to the reservation.
5.7 Homes are inspected after every stay and additional cleaning charges will apply if the Home is not left in the same condition it was prior to arrival.
- Windows and doors must be left closed.
- Trash must be in trash receptacles and/or taken to the garage rolling bins.
- Dishes must be washed and put away, or left in the dishwasher.
- Used towels are to be left in the bathtub or shower.
- Garage doors (if applicable) must be left closed.

6. Our Commitment to You:
6.1 Guest satisfaction is our highest priority. We will strive to provide exceptional accommodations, meals and services as described in brochures and our internet websites. To the best of our knowledge, this information is accurate.
7. Your Commitment to Moving Mountains Inc.:
7.1 The person making the reservation and signing the Booking Documents is referred to as the "Group Leader". The Group Leader must be 25 years of age or older.
7.2 The Group Leader is responsible for advising all Guests in their party of the Terms and Conditions in this document. At the time of reservation, the Group Leader accepts full responsibility for the actions of all other Guests in their party.
7.3 Individual group members must communicate any special requests and additional services or activities directly with MM Staff. Please confirm any verbal communications via E-mail or fax so that this can be documented in the booking file for future reference. Undocumented communications are non-binding and cannot be referred to as the basis for any guest request not arranged.
7.4 Travel to mountain areas, including but not limited to outdoor activities, at any time of year involve risks about which the Guests must make themselves aware. The responsibility of MM does not extend to cover any liability for personal injury or Home damage that occurs while participating in any activities on-site at a Home or off-site arranged by our staff. Participation in any activities is at Guest's own risk. Guests accept the risk of slippery conditions, falling snow and ice, freezing or high temperatures at all times inside and outside of the Home.
7.5 All Guests, jointly and severally, at their cost, agree to be responsible for and to replace or repair any injury, damage or destruction to the Home, its furnishings, equipment, and/or vehicles caused by themselves or by any member of their party.
7.6 All Guests agree to act in a responsible and respectful manner toward other Guests, MM Staff, One Steamboat Place staff and neighbors of adjoining properties. If at any time during the stay a Guest acts in an unruly or malicious manner with verbal or physical abuse, this will result in immediate termination of the rental and forfeiture of all monies paid.
7.7 Use of illegal drugs, in the Home or in the Company's vehicles, will result in immediate termination of the rental and forfeiture of all monies paid. Marijuana, which is now legal in Colorado may not be consumed by vapor pipe or smoked inside any Home. Edible marijuana products are a hazard that must be removed at check-out.
7.8 The under-age consumption of alcohol or drugs by Guests, or driving while intoxicated or any accident involving intoxication of Guests shall not be the responsibility of MM or its employees.
7.9 Guests driven in a MM vehicle agree to abide by Colorado's Motor Vehicle Laws, including the requirements where applicable regarding seat belts. Front seat passengers are required to wear a safety belt and all children in the vehicle must be properly buckled in a seat belt or seat. As of August 2010, Colorado law requires that babies ride in a rear-facing car seat until they are one year of age and at least 20 pounds. Children ages one to four and between 20 and 40 pounds must ride in an appropriate rear- or forward-facing car seat. Colorado law also requires that children who are over age 4 but under age 8 ride in a forward-facing car seat or a booster car seat, unless they are over 4'9" tall or weigh more than 80 lbs. Children who are not required to be in a car seat or booster seat, but are under 16 years old, must be buckled in a seat belt. Parents traveling with infants should bring their own car seat or arrange to rent one before arrival. Guests are solely responsible for ensuring that arrangements are made to provide adequate equipment to comply with these requirements.
7.10 Smoking of any kind is not permitted in any part of the Home or in the vehicles operated by MM. Decontamination and littering charges at a minimum of $500 will be assessed.
8. Pets / Service Animals
8.1 Guests are prohibited from bringing any pets or service animals into any Home without the written approval of MM which should be requested at time of reservation and will not be granted without advance notice at check-in.
8.2 Homes marked as Pet Friendly on the MM website allow animals solely by written approval and on a case-by-case basis. No more than two animals will be approved.
8.3 All approved pet stays, including service animals, are subject to a taxable Pet Cleaning Fee of $950 payable at time of reservation to cover the cost of returning the property to a pet allergy-free environment. These charges may include, but are not limited to, steam or dry cleaning of all carpeting, area rugs, drapes, bedding, linens, and other furnishings at the discretion of MM.
8.4 Guests and their dogs (or other approved animal) must adhere to the following rules expected of a responsible owner and a well-behaved dog:
o Service animals must be approved after review of legitimate service animal certification documents. Documents obtained for a fee without verification of their training or verification of the disability that they are supporting will not be accepted. Emotional support animals are not considered service dogs.
o No barking – if neighbors or adjacent Guests are disturbed, the animal will have to be removed from the Home.
o Damage to the Home or furnishings by an animal brought by the Guest is not considered accidental and as such, Guests are fully responsible for repairs for damage to the Home which would include scratches to wood furnishings and doors.
o If the dog disturbs or threatens another Guest or MM employee, the dog will be required to leave.
o The owner is responsible for picking up after the dog. Failure to pick up after your animal is subject to a $500 fine and immediate cancellation of your stay.
8.5 If a Guest is found to have brought an unauthorized animal into a Home (including animals brought into a Home by Guest visitors), an additional charge of $500 per day for each day of the reservation will be payable by the guest and will result in immediate termination of the stay and forfeiture of all monies paid.
8.6 Guests are responsible for the costs associated with boarding an unauthorized pet at an offsite location.
9. Hot Tubs
9.1 MM places a high priority on safety and cleanliness with hot-tub maintenance. Private homes managed by MM that include a hot tub are provided with fresh water, sanitized and chemically balanced prior to each stay. This does not include communal hot tubs and pools at One Steamboat Place, Edgemont, Chateau Chamonix, Storm Meadows or other condominium property where MM is not responsible for maintenance.
9.2 Guests will hold harmless and indemnify MM, and the Home or property owner against any and all claims and actions arising out of the use of the hot tub, including, without limitation, expenses, judgments, fines, settlements and other amounts actually and reasonably incurred in connection with any liability, suit, action, loss, or damage arising or resulting from the Guest use of the hot tub, other than claims arising from the gross negligence of MM, its agent or employee, or any third party under the control or supervision of MM, other than MM or its agent, employee or subcontractors.
9.3 A chemical balance check will be performed after three days on any reservation of five or more days. This chemical balance is included in the cost of your vacation rental. If the water is sufficiently out of balance due to use and has to be changed during the Guest stay, the Guest will be charged $110.
9.4 It is the Guest's decision to use the hot tub during their stay. If there is any concern regarding the condition of the hot tub water, contact the MM office immediately. Additional chemical checks can be arranged at the Guest's expense of $25 per check.
9.5 There are times when hot tubs are not available due to cleaning, maintenance, and repairs. There are no refunds or credits if a Home's hot tub or pool is out of service. Similarly, any equipment in a Home may, on occasion, may require service or repair and we will endeavor to facilitate this as quickly as possible. There are no refunds for times when amenities or equipment are being repaired.
10. Taxes and Fees
10.1 Vacation Home Rental is currently subject to resort fee, sales tax, LMD tax* and lodging tax. Should the tax rate change, taxes applied to the stay will be adjusted.
• Sales tax: 8.4%
• Lodging Tax 1%
• LMD Tax 2% *
• Resort Fee 10.50% (non LMD), 8.75% (LMD) .
*LMD Tax applies solely to properties in the Local Marketing District
10.2 Catered Home packages and other catered options are taxed at 8.4%.
11. Cancellations and Refunds
11.1 In the case of cancellation, all payments that have been received are non-refundable.
11.2 We highly recommend purchasing Travel Insurance to protect your vacation investment. We offer policies with Red Sky Travel Insurance that are available to you at the time of making your reservation. Please indicate this on the Booking Documents or in writing if you wish to add this to your reservation. This can be added anytime up to 60 days prior to arrival, although additional pre-existing condition coverage applies if the insurance is added within 21 days of reservation confirmation. Please note that if arriving less than 30 days out, travel insurance needs to be purchased at time of booking to cover pre-existing conditions.
11.3 Notification in writing (email or fax) is required to cancel any lodging or additional services and activities. Group Leaders are responsible for making all Guests in their party aware of these Terms & Conditions.
11.4 There are no full or partial refunds for late arrivals or early departures.
11.5 In the event that any kind of refund is provided, MM will retain 10% of any amounts received to cover administration costs and credit card fees.
12. Zoning and Municipal Codes
12.1 Vacation Home rentals are subject to the zoning and municipal codes applicable to the Home location. Current regulations are displayed on the MM Wesbite. If municipal regulations change or can be interpreted to prohibit or to restrict the use of the Home after your reservation is made, we will immediately inform you and you shall be offered the opportunity to:
i. cancel your reservation and receive a complete refund of payments received
ii. continue the reservation at the booked Home subject to the new or reinterpreted regulations.
iii. cancel the reservation at the Home you currently have booked and rebook into another Home with all payments received applied to the new reservation.
13. Force Majeure
13.1 If we are prevented or delayed from performing any of the obligations on our part to be performed hereunder or if the normal operation of a booking agreement is adversely affected by reason of an act of God, strike, labor dispute, lockout, threat of imminent strike, fire, avalanche, blizzard, flood, interruption or delay in transportation, war, insurrection or mob violence, injunction, requirement or regulation of government, or statute, unavoidable casualties, shortage of labor, equipment or materials, plant breakdown or failure of operational equipment or any disabling cause beyond our control or our representatives or which cannot be overcome by the means normally employed in performance, then and in every such event, any such prevention or delay will be deemed not to be a breach of our Agreement, but performance of any of the said obligations or requirements will be suspended during such period of disability and the period of all such delays resulting from any such causes will be excluded in computing the time within which anything is required or permitted by MM or our representative to be done hereunder, it being understood and agreed that the time within anything is to be done, or made pursuant hereto will be extended by the total period of all such delays.
14. Website
14.1 Subject to these Terms and Conditions and our Privacy Policy, you may use the public areas of this site, but only for your own internal purposes. You agree not to access (or attempt to access) this site by any means other than through the interface we provide, unless you have been specifically allowed to do so in a separate agreement. You agree not to access (or attempt to access) this site through any automated means (including use of scripts or web crawlers), and you agree to comply with the instructions set out in any robots.txt file present on this site. You are not authorized to (i) resell, sublicense, transfer, assign, or distribute the site, its services or content; (ii) modify or make derivative works based on the site, its services or content; or (iii) "frame" or "mirror" the site, its services or content on any other server or Internet-enabled device. All rights not expressly granted in this Agreement are reserved by us and our licensors.
14.2 Website users are granted a limited, revocable, and nonexclusive right to create a hyperlink to this site provided that the link does not portray us or our products or services in a false, misleading, derogatory, or offensive matter. You may not use any logo, trademark, or tradename that may be displayed on this site or other proprietary graphic image in the link without our prior written consent.
14.3 We do not review or control third party websites that link to or from this site, and we are not responsible for their content, and do not represent that their content is accurate or appropriate. Your use of any third party site is on your own initiative and at your own risk, and may be subject to the other sites terms of use and privacy policy.
Steamboat Springs, Colorado, Vereinigte Staaten
Mitglied seit März 2014
Moving Mountains specializes in luxury vacation home rentals and catered ski chalets for families, groups and corporate entertaining in Steamboat Springs, CO. Family-owned and operated, Moving Mountains goal is to help guests create memories to last a lifetime in an exceptional …
Sprachen:
English, Español
Antwortrate:
100%
Antwortzeit:
innerhalb eines Tages
Entdecke weitere Optionen in und um Steamboat Springs
Noch mehr Unterkünfte in Steamboat Springs: