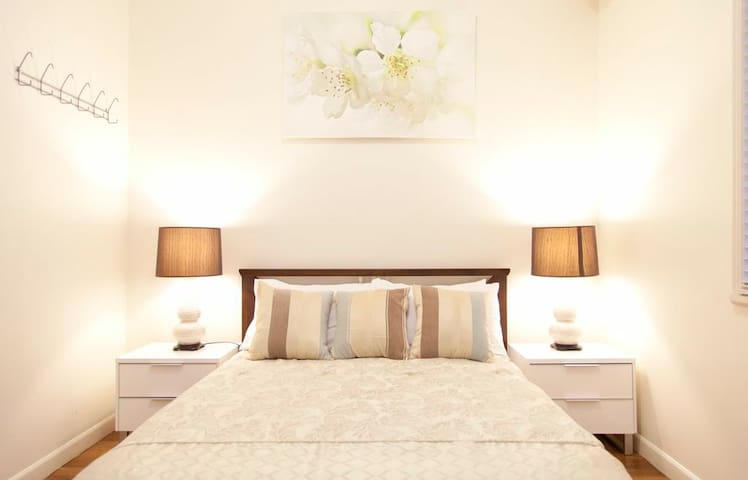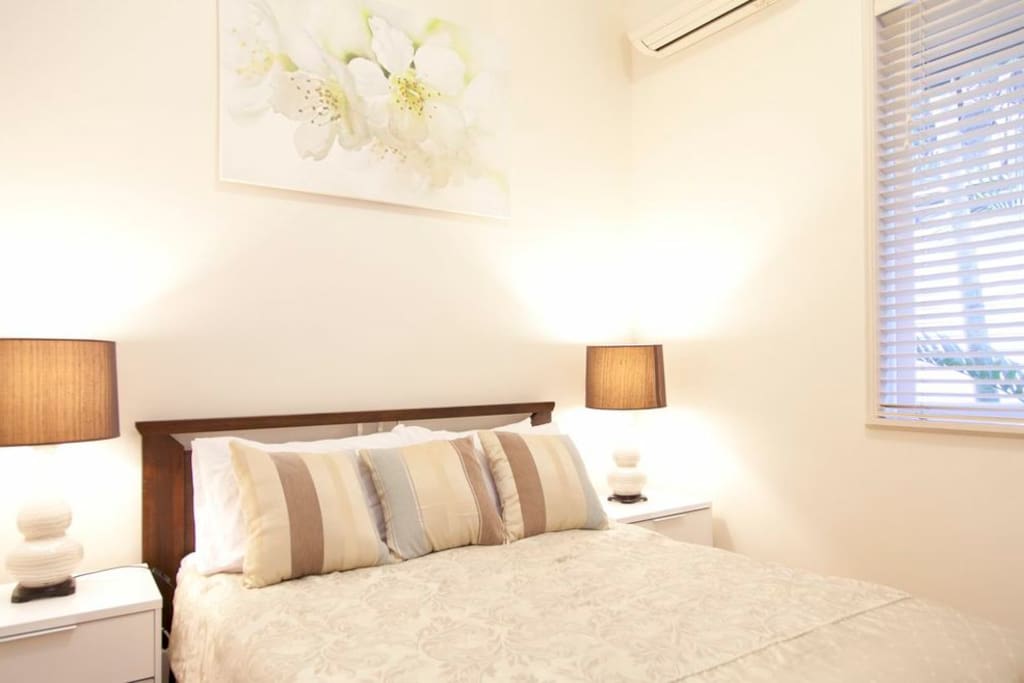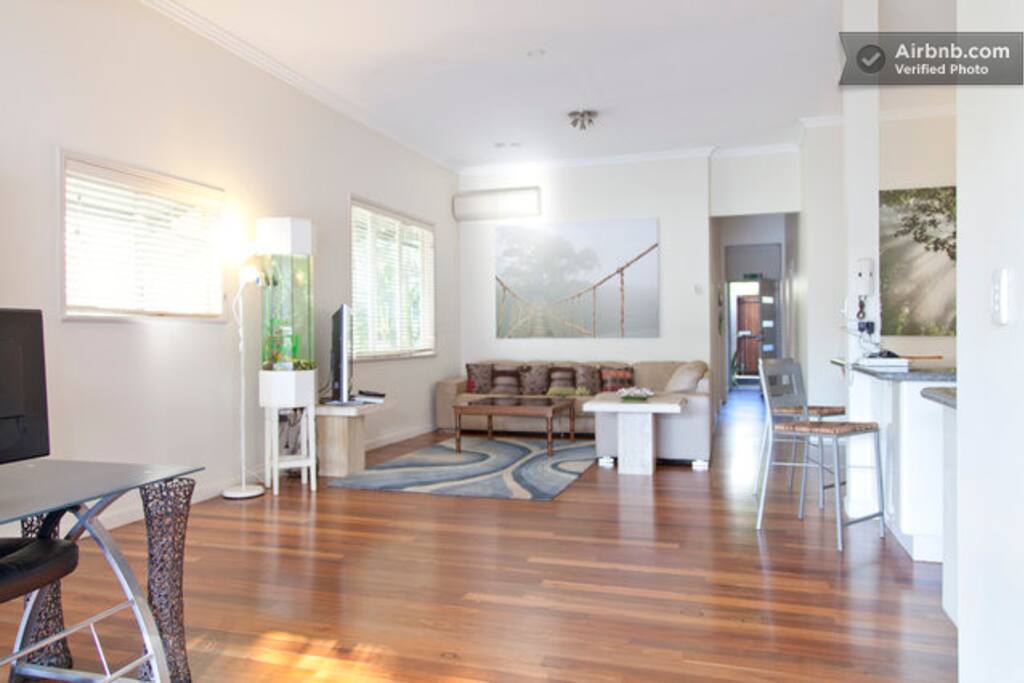 Dieses große, zentral gelegene Haus befindet sich in der begehrtesten Gegend in Brisbane. Die Gegend ist bekannt für Restaurants, Geschäfte, Cafes und Bars. Ruhig aber nur ein paar Blocks zum CBD und Fortitude Valley. Das Schlafzimmer verfügt über ein Doppel- und Einzelbett.
This large centrally located house is in the most desirable area in Brisbane. The area is known for restaurants, shops, cafes and bars. Quiet yet only a few blocks to the CBD and Fortitude Valley. The bedroom features both a double and single bed.
Der Wohnraum
Hallo, Vielen Dank für die Überprüfung unserer Seite. Wir sind Leon und Andi und wir sind hier, um Ihnen zu helfen, während Sie Ihre Zeit in Brisbane genießen. ** VIER große Mappen voller Dinge zu sehen und zu tun in Brisbane einschließlich Restaurants, was zu tun und was ist in Brisbane, Tagesausflüge zu den Inseln und Delfine, Ausflüge zum Strand und mehr, zusätzlich zu einem detaillierten Check-in und persönlich Karte für Sie, um auf Ihre Ankunft zu halten, einschließlich, wie man zu den lokalen Supermärkten, Cafes, Anlagen, Riverwalk und alle Info, um das Beste aus Ihrer Reise nach Brisbane ** ** frei zu leihen 4 Fahrräder und Helme stehen zur Verfügung Picknick-Set Sportausrüstung Strandbedarf Und vieles mehr, frage einfach :) ZIMMER VORTEILE: * Großes Schlafzimmer mit Fenster und Jalousien * Split System, Reverse-Zyklus Klimaanlage und Heizung * Keyed Lock auf Tür * Flatscreen-TV mit kompletten Paketkanalkanälen * Gratis Wifi * Vollständig möbliert - 1 x bequemes Doppelbett, 1 x bequemes Einzelbett, Bettköpfe, Nachttische, Nachttischlampen, Kleiderschrank, zieht, Spiegel, Kunstwerk) * Qualitätsbettwäsche (Matratzenschutz, Bodenblech, flaches Blech, Deckel, vier Kissen, Kissenschutz, Ersatztücher und Handtücher) HAUS VORTEILE: * Voll ausgestattet und möbliert * Täglich gereinigt * Waschmaschine * Küche mit Kochutensilien und Ausrüstung * Kontinentales Frühstück - Toast, Aufstriche, Müsli, Obst, Milch, Tee & Kaffee zur Verfügung gestellt * Lounge mit Ledercouch und Foxtel Kabelfernseher mit Kanälen wie Sport, Kino, Musik, Unterhaltung und vieles mehr. * Sehr zentral, zu Fuß zu Cafes, Restaurants, Transport, Fähre, Parks, CBD, Nachtleben, Bars, Nachtclubs, 24/7 Essen, viele Lebensmittelgeschäfte usw. sehr einfach zu Fuß zu. * BBQ auf dem hinteren Deck mit Blick auf tropische Gärten * WiFi Internet im ganzen Haus Mindestens einer von uns ist immer zu Hause, also wenn du etwas Tag oder Nacht brauchst einfach nur fragen Sie uns, wie wir immer gerne helfen Ihnen. Wenn du ankommst, wirst du deine eigene Karte erhalten und dort gezeigt, wo die Dinge sind und wie man dorthin kommt. Es ist eine gute Zeit für Sie, weiter zu planen, was Sie in Brisbane machen möchten. Ich habe sicherlich viele Anregungen zu Sachen zu machen und werde Sie wissen, dass lokale Ereignisse während Ihres Aufenthaltes auftreten. Als lebenslange Bewohner, die auch Weltreisende sind, wissen wir, wie nützlich es ist, diese Informationen zu erhalten, und du kannst Dinge haben, die du gerne mehr darüber erfahren würdest, dass du dieses Profil gelesen hast. Wir sind in der Regel immer zu Hause und zur Verfügung, um Ihnen zu helfen, jede Zeit Nacht oder Tag. Während deines Aufenthaltes, wenn du uns aus irgendeinem Grund kontaktieren möchtest, ist es so einfach wie manche fragen, eine Airbnb-Nachricht senden, die Gegensprechanlage abholen oder einen Text / oder E-Mail senden (was wir sofort bekommen), also lass uns bitte kennt. Ich hoffe, Sie freuen sich über Ihre bevorstehende Reise nach Brisbane - denn es ist sicherlich der Ort zu sein, da ist immer etwas los und die Lage hier ist sicherlich unter der Aktion. Es gibt so viele Dinge zu sehen und vor Ort zu machen. Wir sind in einem wunderschönen Baum gesäumten Bereich von wunderschönen Häusern in einer wunderschönen Tasche ("der prestigeträchtige" Teneriffa-Hügel), obwohl so nah an alles, ist es überraschend ruhig und ruhig. Wir haben auch einen wunderschönen, ziemlich privaten Park mit Blick auf die Stadt und Buswanderungen gleich um die Ecke, es ist ein toller Ort zum Chillen mit kostenlosem Grillplatz und Spielplatz mit Blick auf die natürliche Landschaft, die Buschspuren zeigen Ihnen einige einheimische australische Fauna und Flora. River Spaziergänge sind in der Nähe und sind eine gute Möglichkeit, um auch zu bekommen. Es gibt so viel zu tun in dieser örtlichen Umgebung (leicht zu Fuß entfernt), dass Sie die Qual der Wahl haben werden. Inmitten reichlich preisgekrönten Cafes, Bars, Märkte, Restaurants, Bäckereien, Metzger, Nachtleben, Kunstzentren und einer riesigen Auswahl an vielen verschiedenen Restaurants, alles nur einen kurzen Spaziergang entfernt. Es gibt sieben (große und kleine) Supermärkte innerhalb einer 15-minütigen Wanderung Hier gibt es viel zu tun, in der Tat können Sie zu vielen verschiedenen lokalen Attraktionen und Einrichtungen zu Fuß. Am Ende des Blocks befindet sich ein lokaler Markt mit Café-Bereich, der einen Besuch wert ist. In der Tat, gehen in jede Richtung und Sie sind verpflichtet, auf Cafés und Geschäfte usw. von einem hohen Standard zu stolpern. Wörtlich ein 5-minütiger Spaziergang ist die City Cat Ferry Haltestelle (diese sind sehr in Brisbane umgewandelt) und sind wunderbar, um Sie friedlich in die CBD zu bringen, während Sie auf der Rückseite eines hoch angetriebenen Katamaran-Bootes (von 6 Uhr bis Mitternacht) stehen und nehmen In den Sehenswürdigkeiten, wie Sie den Brisbane River (AKA the River City) reisen. Es gibt auch viele andere Busse, die von noch näher an unserem Standort abfahren. Neben der City Cat Stop sind die Express Busse in die CBD (genannt 'City Glider') in weniger als zehn Minuten in der Stoßzeit. Es gibt auch andere Busse noch näher an unserem Standort. Wenn Sie in die CBD gehen wollen, dann können Sie leicht dorthin kommen (in der Hauptverkehrszeit ist 5 Minuten zu Fuß) zu Fuß in 25 über den Fluss und unter der Story Bridge. Oder wenn Sie die lokalen Attraktionen genießen möchten, gibt es sicherlich viele davon innerhalb von 15 Minuten zu Fuß. Neben der Stadt Katze Haltestelle ist Vernon Terrasse, die mit vielen Bars, Restaurants, Cocktail und Bier spezialisierte Orte bevölkert ist, auf jeden Fall einen Blick wert. Bei der City Cat Stop haben wir dann einen River Walk, der Sie über die Oberseite des Wassers hinunter zum New Farm Park führt, einem wunderschönen Park am Fluss, der Heimat der vierzehntausend großen Farmers Markets und der PowerHouse, die ein funky umgebautes Gehäuse ist Spielt, komödie, bands, kunst, gespräche und so weiter Auch etwa zehn Minuten zu Fuß von unserem Platz haben wir die brandneue Gasworks Komplex, komplett mit großen Lebensmittelgeschäft, ein Bio-Markt, Schokolade Restaurant und große Cafes und Restaurants und eine Erwähnung wert. Das erstaunliche historische Waterloo Hotel wurde wiedereröffnet und ist sehr beliebt. Die Bar / Restaurant hat ein Art-Deco-Gefühl und ist toll zu genießen. Vom Haus in die andere Richtung, haben wir auch die berühmte James Street innerhalb von fünf Minuten zu Fuß. Es ist mit Sachen zu sehen und zu tun, einschließlich Palast Kino, Pizzeria, Bars, Restaurants, Kleidergeschäfte, Boutiquen, Bauernmärkte, Cafés. Auf jeden Fall der Ort, um gesehen zu werden und gesehen zu werden, kann am Wochenende ziemlich beschäftigt sein und Leute aus Brisbane strömen zu diesem Bereich. Nicht nur das, wir haben auch das "Emporium", das uns nahe steht und mit wunderbaren Restaurants von höchster Qualität und erstaunlichen Boutiquen und Geschäften gefüllt ist. Sie können auch zu Fortitude Valley, das ist das Nachtleben und Wochenende Marktbezirk, die auch China Town Mall, wo es erstaunliche asiatische Restaurants zu guten Preisen. In Fortitude Valley gibt es eine Fußgängerzone mit 24 Stunden Essen Orte und alle Ihre üblichen Take away Orte. Es gibt auch einige tolle Plätze, um $ 8 Steaks mit all den üblichen Begleitungen zu bekommen, also ist es einen Blick wert. Die Wochenendmärkte sind lustig und es gibt ein paar "$ 2 Shops" hier auch, wenn Sie irgendwelche Grundlagen einschließlich Rabatt Souvenirs benötigen. Brunswick Street, verbindet sich mit unserer Straße leicht und ist mit Restaurants, Bars, Kunstgalerien, Mitnehmen Essen, Burger Gelenke, IGA, Night Owl Convenience Store geöffnet 24/7 gefüttert. Neben der Kreuzung mit der Brunswick Street und der Kent Street (unsere Straße) ist die Aussicht auf die Storybrücke, wo man den Park und die herrliche Aussicht genießen kann und auch den * Kurzschnitt in die CBD * von unserem Standort aus starten, wo man den Fußweg nimmt Direkt, die unter die Story Bridge selbst und durch das Zentrum der Stadt über einen River Walk (zehn Minuten vom Park) Sie können die City Cat (fünf Minuten zu Fuß von unserem Platz) zu vielen großartigen Orten in der Nähe von Brisbane, einschließlich der berühmten South Bank, die wirklich wunderbar ist, einschließlich ein riesiges Schwimmbad und ein Mann gemacht Strand, wie Sie die Stadt Skyline, umgeben von Freie BBQs, erstaunliche Parklandschaft, Performance Center, Kunstgalerie, Museum, Science Center, Galerie der modernen Kunst und Staatsbibliothek, es ist einfach, die Stadtkatze hierher zu fangen und es ist wirklich spät geöffnet. Auch nicht vergessen, die kostenlose Innenstadt Fähre! Wenn Sie irgendwelche Notwendigkeit, einen Platz zu essen wissen müssen, fragen Sie uns einfach. Wir haben auch eine riesige Menge an Menüs für Ihren Blick zu sehen (sowie auch Brocken von Sachen zu tun), also seien Sie sicher, sie zu überprüfen. Es gibt wunderbare Ausflüge mit einer 1 Stunde oder so fahren ... und schöne Tagesausflüge zu denken: Optionen gehören Delfine, Inseln, Regenwälder, Strände, Schwimmen und vieles mehr. Wenn es etwas Besonderes gibt, das Sie gerne tun möchten, ist es sicher, es uns zu nennen, da wir vielleicht einige Insider-Infos für Sie haben können. Wir haben viele Informationen über Dinge zu sehen und zu tun, wenn Sie möchten, dass einige Inspiration, lassen Sie uns wissen, welche Art von Urlaub Sie suchen und wir werden einige Vorschläge und zeigen Ihnen einige Flyer. Der einfachste Zug ist Brunswick St Station (Fortitude Valley), wo ist das Nachtleben, das ist einer der zentralen Hauptstationen, was bedeutet, dass man in jede Richtung von hier aus mit dem Zug (einschließlich der Goldküste, Roma Street Bus Terminal) fahren kann Und die Flughäfen) Der Zug zum Flughafen ist ein spezieller Zug und ist $ 16 / jeder. Wenn man einen Lift zum Flughafen möchte, kann man für $ 30 arrangieren. Diese lokalen Orte, die ich erwähnt habe, sind so nah, wenn Sie nicht dort zu Fuß sind, schauen Sie sich um ei(URL HIDDEN)10 Taxi KOCHEN Sie kochen für sich selbst und genießen Sie die Spitze der Linie Küche mit Granit-Tischplatten und alles, was Sie brauchen, um zu kochen.
Hi,
Thanks for checking out our page. We are Leon and Andi and we are here to help you while you enjoy your time in Brisbane.
**FOUR large binders full of things to see and do in Brisbane including restaurants, what to do and what's on in Brisbane, day trips to the islands and dolphins, trips to the beach and more, in addition to a detailed check in and personal map for you to keep upon your arrival including how to walk to local supermarkets, cafes, facilities, riverwalk and all info to make the most of your trip to Brisbane**
**Free to borow
4 Bikes and helmets available to borrow
Picnic kit
Sporting gear
Beach supplies
and much more, just ask :)
ROOM BENEFITS:
* Large bedroom room with windows and blinds
* Split System, reverse cycle air conditioning and heating
* Keyed Lock on Door
* Flatscreen TV with full package cable channels
* Free WiFi
* Fully Furnished - 1 x comfortable double bed, 1 x comfortable single bed, bed heads, bedside tables, bedside lamps, wardrobe, draws, mirror, art work)
* Quality Bedding (mattress protector, base sheet, flat sheet, top cover, four pillows, pillow protectors, spare blankets and towels)
HOUSE BENEFITS:
* Fully Equipped and furnished
* Cleaned Daily
* Washing Machine
* Kitchen with cooking utensils and equipment
* Continental Breakfast - Toast, Spreads, Cereal, Fruit, Milk,Tea & Coffee provided
* Lounge with leather couch and foxtel cable tv with channels including sports, movies, music, entertainment and more.
* Very Central, walk to cafes, restaurants, transport, ferry, parks, CBD, nightlife, bars, nightclubs, 24/7 food, lots of grocery stores etc very easy to walk to.
* BBQ on the back deck with view of tropical gardens
* WiFi internet throughout the property
At least one of us is always home so if you need anything day or night just please simply ask us as we are always happy to help you. When you arrive, you will receive your own Map and shown where things are and how to get there. It's a good time for you to plan further what you would like to do in Brisbane. I certainly make plenty of suggestions on things to do and will let you know of local events occurring during your stay. As life long residents who are also world travellers, we know how useful it is to receive this information and you may have things you would like to know more about that you have read on this profile.
We are usually always home and available to help you any time night or day. During your stay if you would like to contact us for any reason, it is as simple as asking in person, sending an airbnb message, picking up the intercom or sending a text/or email (which we get straight away) so please let us know.
I hope you are excited about your upcoming trip to Brisbane - as it is certainly the place to be, there is always something happening and the location here is certainly amongst the action. There are so many things to see and do locally.
We are in a beautiful tree lined area of gorgeous houses in a beautiful pocket ('the prestigious' Teneriffe Hill) although so close to everything, it is surprisingly tranquil and quiet.
We also have a beautiful fairly private park with city view and bush walks located just around the corner, it's a great place to chill out with free BBQ area and playground overlooking the natural landscape, the bush tracks show you some native Australian fauna and flora.
River walks are near by and are a great way to get around as well. There's so much to do within this local vicinity (easy walk away) that you will be spoilt for choice.
Set amongst plentiful award winning cafes, bars, markets, restaurants, bakeries, butchers, nightlife, arts centers and a huge selection of many different restaurants, all within an easy walk away. There are seven (large and small) supermarkets within a 15 minute Walking Distance
There is plenty to do here, in fact, you can walk to many different local attractions and facilities. At the end of the block is a local market with cafe section which is worth a visit. In fact, walk in any direction and you are bound to stumble upon cafes and shops etc of a high standard.
Literally a five minute walk is the City Cat Ferry stop (these are very converted in Brisbane) and are wonderful to take you peacefully into the CBD, while you stand on the back of a high powered Catamaran boat (from 6am til midnight) and take in the sights as you travel the Brisbane River (AKA the River City) There are also lots of other buses that leave from even closer to our location.
Next to the City Cat stop are the express buses into the CBD (called 'City Glider') in under ten minutes in peak hour. There are also other buses even closer to our location.
If you want to go into the CBD then you can easily get there (to drive in peak hour is 5 minutes) walk in 25 via the river and under the Story Bridge.
Or, if you want to enjoy the local attractions, there are certainly plenty of them within a 15 minutes walk.
Next to the City Cat stop is Vernon Terrace, which is populated with lots of bars, restaurants, cocktail and beer specialist places, definitely worth a look.
At the City Cat stop we then have a River Walk that takes you across the top of the water down to New Farm Park, a beautiful park on the River, home to the fortnightly large Farmers Markets and the PowerHouse which is a funky converted building housing plays, comedy, bands, art, talks and so on.
Also, about ten minutes walk from our place we have the brand new Gasworks complex, complete with large Grocery Store, an organic market, chocolate restaurant and great cafes and eateries and worth a mention. The amazing historic Waterloo Hotel has been reopened and is very popular. The bar/restaurant has an Art Deco feel and is great to enjoy.
From the house in the other direction, we also have the famous James Street within a five minute walk. It is lined with things to see and do, including palace cinema, pizza place, bars, restaurants, clothes stores, boutiques, farmers markets, cafes. Definitely the place to be seen and get seen, Can get quite busy on the weekend and people from Brisbane flock to this area.
Not only that, we also have 'The Emporium' which is close to us and is filled with wonderful restaurants of the highest quality and amazing boutiques and stores.
You can also walk to Fortitude Valley, which is the night life and weekend market district, which also has China Town Mall where there is amazing Asian Restaurants at good prices.
In Fortitude Valley, there is a pedestrian mall with 24 hour food places and all your usual take away places. There are also some great places to get $8 steaks with all the usual accompaniments so it's worth a look. The weekend markets are fun and there are a few '$2 shops' here as well if you need any basics including discount souvenirs.
Brunswick Street, Connects to our street easily and is lined with restaurants, bars, art galleries, take away food, burger joints, IGA, Night Owl Convenience store open 24/7.
Next to the intersection with Brunswick Street and Kent Street (Our street) is the outlook of the story bridge where you can enjoy the park and amazing view and also start the *short cut into the CBD* from our location, where you take the footpath direct, which goes under the Story Bridge itself and through to the center of the city via a River Walk (ten minutes from park)
You can take the City Cat (five minutes walk from our place) to lots of great locations around Brisbane including the famed South bank which is really wonderful including a huge swimming pool and a man made beach as you look at the city skyline, surrounded by free BBQs, amazing parkland, performance center, art gallery, museum, science center, gallery of modern art and state library, it's easy to catch the city cat back to here and it's open really late. Also, don't forget the FREE inner city Ferry!
If you have any need to know a place to eat, just ask us. We also have a huge amount of menus out for your to look at (as well as brouchers of things to do) so be sure to check them out.
There are wonderful getaways with an 1 hour or so's drive....and beautiful day trips to think about: options include dolphins, islands, rainforests, beaches, swimming and more. If there is something particular you would like to do be sure to mention it to us as we may have some insider info for you.
We have lots of information about things to see and do so if you would like some inspiration, let us know what kind of holiday you are looking for and we will make some suggestions and show you some flyers.
The easiest train is Brunswick St Station (Fortitude Valley) which is where the night life is, this is one of the central major stops meaning you can go in pretty much any direction from here via train (including the Gold Coast, Roma Street Bus Terminal and The Airports) The train to the airport is a special train and is $16/each. If you would like a lift to the airport it can be arranged for $30.
These local places I've mentioned are so close, if you aren't walking there, you are looking at around a $5 - $10 taxi
COOKING
You get to cook for yourself and enjoy the top of the line kitchen with granite benchtops and everything you will need to cook.
Not to mention the BBQ on the large upper deck and the second outdoor garden BBQ equipped with party lights and music facilities and Insect Vac protection. Please ask to use BBQ so we can show you how they work.
WALKING DISTANCE TO SUPERMARKETS:
(Small Organic Market and Deli 5 minutes, Woolworths 10 Mins, IGA open til midnight 10 minutes, ALDI 15 minutes, Coles 15 minutes, Organic Market Gasworks 10 minutes, James St Fine food Market 10 minutes plus 24/7 convenience stores all walking distance.

YOUR ROOM
Lovely large comfortable room, comlete with everything you need for a great stay.
This generously sized large room, features a comfortable double bed, top quality bedding, Large flat screen TV with cable television channels (foxtel) bedside table with lamp, Draws, Bed side tables, Wardrobe, Timber floors, Art work and Airconditioning. The room measures 3m x 3.5m width by height and 3.2m in height (high ceilings)
All furniture and everything you will need to enjoy your stay, all you need to bring with you is your suitcase.
The house also has fast WiFi and foxtel cable TV.
Please contact us if the dates you are looking for are not available. There are other rooms you may be able to move to for part of your stay and please see our other listings.
The House:
Polished timber floors throughout, large open plan and high ceilings. Lots of windows and light. Large open plan granite fully equipped kitchen, large lounge with foxtel tv opening out onto the kitchen/lounge area leading out through bi-fold doors to the large back deck equipped with table and chairs and bar stools for entertaining or relaxing.
Kitchen:
Large, clean and new, the kitchen features granite benchtops, breakfast bar and seating, all pots and pans, oven, microwave, dishwasher, utensils with storage in the fridge and pantry.
Lounge Room:
Large Leather sofa, fish tank, rug, tv, foxtel, bright, airy leading out to the outdoor deck area with chairs and tables.
Bathroom:
Clean, large, modern, with amazing water pressure that cascades down freely, extra deep and large bathtub, granite tops, mirrors, top quality fittings and finished to a very high standard. The bathroom is kept immaculately clean. If you you would like to reserve the bathroom for a certain time this can be easily arranged.
Security:
The property is fenced by an eightfoot front fence with keypad entry. All the windows are lockable.
Gardens:
We have a very large back garden, fully lanscaped, benefit from the gorgeous tropical gardens, bbq areas and off street parking options.
The house has every modern convenience such as super fast wifi access throughout the property, complimentary cable tv, reverse cycle airconditioning, linen and bedding of a top quality and a fully equiped kitchen.
THE AREA
New Farm/Teneriffe where we are located are some of Brisbane's most desirable neighborhoods, with heaps of restaurants, cinemas, night clubs, cafes, shops, boutiques, bottle shops and more just a very short stroll away.
WHAT TO DO:
Want to relax?
We are in a residential area and yet within a very close walking distance from many different restaurants and entertaining establishments, we are in a quiet tree lined pocket of this desirable inner city suburb. Enjoy the beautiful greenery view from our upper level deck. Enjoy the bush scape serentity of Teneriffe Park, just a three minute walk will have you getting back to nature where you can enjoy a bush walk, playground and BBQ with some city views. Take a stroll along the teneriffe river walk taking you from the house to the renown New Farm Park, one of Brisbanes best parks which fronts the river.
Want to eat out?
We have three onsite BBQs, a cafe on each corner, a multitude of restaurants spoils you for choice all walking distance away, we have many different menus available for your perusal. Italian, Thai, Seafood, Chinese, Asian, Vegetarian, Indian, Australian, Fusion, pub food, bistros, cafes and more are all in the local area for you to enjoy can walk to these restaurants. For late night options, enjoy china town and the Brunswick street mall in Fortitude Valley. James street has great restaurants and the trendy Vernon Terrace is packed full of fantastic eateries and concept bars. The Emporium is another great restaurant and shopping precinct with loads of fantastic top notch restaurants and designer stores a 15 minute walk away.
Want to self cater?
We have the IGA supermarket a few blocks down open til midnight seven days, the 24 hour night owl, the very large coles supermarket open til 9pm, the Jan Powers Farmers markets (twice a month) at new farm park - take the river walk there, and the very fancy James Street Markets with amazing top notch quality produce on offer. You can cook in one of our two fully equipped kitchens.
Want to party/local entertainment?
Walk to the heart of the nightclub precinct Fortitude Valley "the valley" in 15 minutes, where there are heaps of clubs, china town and bars. There are also pubs/bars even closer which are lively and happening and packed full of locals. During the weekend are the valley markets with different stall holders, there are fashion strores in the valley by day. There is often live music in the Brunswick Street Mall. Further there are also great bars in Teneriffe including specialist cocktail and beer places. There are three bottle shops all a short walk away, take some back here with you and relax on the deck and enjoy.
Want to Park your car?
Free street parking on Kent Street, out the front of the house (unlimited this side of the street, two hours the opposite side of the street)
Want to Catch Public Transport?
The most fun is the City Cat, a fast catermaran boat, will wizz you up or down the Brisbane River, taking in the sights where you can stand on the open front or back deck and feel the wind in your hair. There are heaps of bus options including the central "City Glider" a bus stop on the corner, so many bus options: Buses include the 199, the Night Bus N199, 196 (Brunswick st and Kent st) 193 (chester Street exit) as well as the city glider (express bus into the CBD from the Tenriffe Ferry/City Cat)
The closest train station is Fortitude Valley ("the valley") 15 minutes walk away. We also offer airport pick ups or drop offs for $30 one way.

Want a great loop walk taking in some inner city sights?
The end of our street has a great view of the famous Story Bridge, on the top of the cliffs which offers a magnificent view, there is a park on the corner, with picnic tables and the ambience is great, day or night (there is also a public exercise station) this is often the backdrop featured on local TV shows. You could continue to walk underneath the story bridge, follow the path, then up the stairs to the story bridge,walk across for a good view (you can then stop off at the "Story Bridge Hotel" for a traditional Brisbane gastro-pub and then back continuing the along the same direction you as you were heading, to the top of the Kangaroo Point cliffs, amazing view across the river, free BBQs, exit down the stairs of the cliffs and continue in the direction you are heading away from new farm along the river to Southbank! Great walk, great views, check out the rainforestry, parks, playgrounds and amazing free pools, restaurants with river vview and weekend markets.
From here you could catch the city cat from Southbank to Teneriffe home or continue on....
From there you could either catch the city cat back or walk across to the Museaum, Queensland Art Gallery, State Library and Gallery of Modern Art. The cross Victoria Bridge and you are in the CBD known as the "City" where you find great shopping available, a cinema and casino. JoJos restaurant in the middle of the queen street mall up the escalators is a great option, lots of choice and a balcony looking over the middle of the queen street mall intercetion. Be sure to check out the newly renovated City Hall with its beautiful traditional features and large city clock tower.
From the Queen Street Mall head to the river walk some of our best restaurants are located on the river front or straight on Heading to the valley for dinner at China town and then on to some bars/night clubs if your up for that, head back home via James Street where you'll find a cinema, shops, cafes, bars, gastro-pubs and restaurants
From any point in this walk, you can catch a taxi, ferry or bus if you like.
Other walks?
Take the river walk to new farm park and back, walk to the valley in 15 minutes, walk to the center of the CBD in about 25 minutes, take a bush walk through the lovely local secret park called teneriffe park or anywhere you shoes choose to take you. At the teneriffe ferry, five minutes from the house, there is a great river walk along platforms placed in the river, which is a nice peaceful option to get to the famous New Farm park where there are fortnightly farmers markets, the powerhouse which has shows and restaurants.
Want a coffee?
We provide coffee and tea facilities, there is also heaps of cafes around including cafes in both directions no more than five minutes walk away for perfect Italian coffee (and cake)
Want local entertainment?
The James Street Centro Cinema is fantastic and James Street in general is great, Southbank is excellent, complete with man-made sand beach lagoon that is really stunning, where you can swim infront of the city skyline - take the city cat there, walk or take a bus to the "cultural center"- there are lots of restaurants, weekend markets and more to do. Enjoy the sites of New Farm park, the amazing local hotspot, the New Farm Bowls club, where you can do barefoot lawn bowls with a mixed age crowd and enjoy very affordable drinks and food with a great view of the Brisbane River. There are summer moon light cinema in the park showing movies after dark, relax on beanbags, watch a film and have snacks and drinks. The amazing Powerhouse Arts Center is an amazing venue for all kinds of performing arts, including comedy, performers, arts shows complete with riverside restaurant, take the river walk to New Farm park to get there. The Judith Wright Centre is also walking distance and has on many various shows. Or simply relax in your room (or lounge) with your own TV with foxtel (cable television) with a large variety of channels including movies, there is fast WiFi throughout the property and you can relax on the amazing deck or the BBQ area down the back. There is heaps more to do in Brisbane and the surrounding areas so get in touch if you want more info.
Want to Shop?
Don't miss James Street with its various boutiques, trendy cutting edge clothes can be found at the Valley, take the City Cat or City Glider Bus to West End where there are great local designers and fantastic clothes at good prices.
Anything Else?
More information is available should you like to message or ask us.
Your Hosts
We have travelled extensively throughout the world and love chatting with fellow travellers, we have all of the insider info about great places to go and things to do in the great city of Brisbane.
We had a great time travelling around with airbnb so when we got back home to Australia we decided to offer rooms in our gorgeous house so close you can walk to the CBD or Valley.
More information is available should you like to message us.
Thanks and we hope to see you soon!
Andrea and Leon.
Zugang für Gäste
Der Platz ist voll ausgestattet, Sie sind herzlich eingeladen: Alle Kochmöglichkeiten, Viele Serviertabletts und Platten Voll ausgestattete Küche mit Geschirrspüler Bügeleisen, Bügelbrett und Kleiderdampfer WiFi Internet Foxtel Kabelfernsehen mit allen Kanälen inklusive Filmen und Sport Waschmaschine und Trockner sowie Wäscheleine Großes Back-Deck mit zwei großen Speisesälen im Freien Zwei Gartentische Großer Grill Innen- und Außenleben Haufen Weingläser, Teller und Besteck usw Mixer Saftiger Weinkühler Reis Kocher Pantry liefert zum Kochen - in Körben Tee und Kaffee Frühstück: Müsli, Toast, Brot, Butter, Brotaufstrich, Milch, Saft, Obst Toilettenpapier Shampoo, Conditioner, Körperwäsche Saubere Bettwäsche, Decken, Handtücher und weitere Extras auf Anfrage erhältlich Erhältlich zu leihen Fahrräder und Helme Beach Kit - Brillen, Flossen, Schnorchel, Sonnenschirm, Decke, Handtücher etc Picknick-Set - Korb, Teller, Tassen, Besteck, Decke usw Sportausrüstung - Cricket, Baseball, Tennis, Bälle, Tischtennis usw 4 Massive A4 Binders für Sie zu lesen, voller Flugblätter und Informationsblätter von Sachen zu tun und zu sehen in Brisbane, einschließlich was ist auf, lokale Highlights, Touristenattraktionen, Inselreisen, Tagesausflüge, Strandbesuche, Restaurantmenüs und vieles mehr - bitte Frage einfach danach, damit wir es dir geben können :)
The space is fully equipped, you are welcome to use:
All cooking facilities,
Many serving trays and platters
Full kitchen with dishwasher
Iron, ironing board and garment steamer
WiFi Internet
Foxtel Cable TV with all the channels including movies and sport
Washing machine and dryer as well as clothes line
Large back deck with two large outdoor dining spaces
Two indoor dining tables
Large BBQ
Indoor/Outdoor Living
Heaps of wine glasses, plates and cutlery etc
Blender
Juicer
Wine Cooler
Rice Cooker
Pantry supplies for cooking - in baskets
Tea and Coffee
Breakfast: cereals, toast, bread, butter, spreads, milk, juice, fruit
Toilet paper
Shampoo, conditioner, body wash
Clean Sheets, blankets, towels provided and more extras available on request
Available to Borrow
Bikes and Helmets
Beach kit - goggles, flippers, snorkel, umbrella, blanket, towels etc
Picnic set - basket, plates, cups, cutlery, blanket etc
Sporting gear - cricket, baseball, tennis, balls, ping pong etc
4 Massive A4 Binders for you to peruse, full of leaflets and information sheets of things to do and see in Brisbane, including what's on, local highlights, tourist attractions, island trips, day trips, beach visits, restaurant menus and much more - please just ask for it so we can give it to you :)
---
---
Keine Partys oder Veranstaltungen
Check-in-Zeit ist flexibel
House Rules

The house rules in general include everything to do with being clean, tidy, quiet and mindful of others. Please exercise safety and caution at all times.

CHECK IN
As per your itinerary check in is at 12 noon and check out is at 10:00am. While we try to be as flexible with check in times as possible, it is very important you let us know what time you will be arriving so we can arrange to meet you.
For instance, if you would like to arrive at 4:30pm please let us know in advance so we can schedule our day accordingly. Also, if you are not going to be there on time, please also let us know as soon as possible by airbnb message, text message, email or phone call.
As a guideline, the room will be ready for you by 12:00 noon. If you would like to arrive earlier, you can request to drop your bags off in advance and come back for 12 o'clock however this may not always be possible.

CHECK OUT
Please check out of the room by 10:00am, if you would like this to be later it is with prior advance arrangement only. When you are leaving please: a) ensure you have your things, b) if you have happened to damage anything or stain sheets etc please let us know, c) leave the key in the room, d) switch off all appliances and close/lock the windows, e) lock the house up when leaving f) place your rubbish bag from the bin in your room in the appropriate garbage bin outside the front gate. For bonus points, remove the sheets and pillows slips etc from the mattress and place appropriately in the room.

CONTACTING YOU
Make sure you let us know your Australian telephone number when you get one or if you are still on your international number ensure that you can be contacted by us on that number.

US APPLIANCES
DO NOT WORK in Australia. Please do not try, there is different electricity systems and it is dangerous to try, this is whether you have a converter travel plug or not!!

CLEANING
There is all the cleaning equipment you will need to clean up your own mess, this includes food you spill on the floor while cooking or other mess made. There is a dyson vacuum cleaner available for your use, simply plug it back in to charge when you are finished. Similarly there is a broom, mop, bucket, cleaning liquids, clothes, rags etc supplied for you to take care of your own mess.
The common areas of the house are cleaned daily and we expect them to stay in that condition. We spend hours each day cleaning and maintaining the house and gardens you are enjoying so please don't deflate our spirits by leaving a mess in the house for us to come home to after work, it's just not fair.

INTERNET
Illegal downloads or illegal activity is strictly prohibited and not acceptable.

ELECTRICITY
We would really appreciate it if, you could please:
Not use US appliances here.
Turn your TV off, preferably at the switch.
Turn OFF other appliances, kettle etc at the switch.
Don't leave phone or internet charges plugged in.
Use your fan over the air-conditioning where possible.
Turn the house lights off, when last to bed, especially the deck light if you are last to sleep, there are nightlights plugged in which come on in the darkness so you can find your way if need be.
Absolutely turn off air conditioning when leaving the house and don't use air conditioning with other windows open.

DAMAGE
Please let us know if there has been damage to the house or contents, including things such as stained sheets etc. If you spill something on the sheets for example the faster your can soak, treat the stain and wash them the more likely it is to save them. Please be mindful of the house and treat it and others with respect.

BATHROOM
Please don't spend too long in the bathroom and no longer then ten minutes in the shower.

CHILDREN
Your kids are your own responsibility and must be supervised at all times. The house is not baby proof and you must be mindful and considerate of (EMAIL HIDDEN)ING INTO THE HOUSE LATE OR EARLY
Be mindful of people asleep, maybe take your shoes off and not stomp around if it is early or late and people are sleeping. Be considerate.

FRONT GATE
MUST be locked at ALL TIMES. Don't leave it off the latch.

YOUR THINGS
You are responsible for your own items and belongings, there is a keyed lock on the bedroom door and be sure to make use of it.

MAIL
Please DO NOT have your mail sent to this address, especially without prior permission. It will be returned to sender. The mail boxes are locked.

NOISE
Excessive noise between 10:00pm and 8:00am is not appreciated or allowed, please be mindful of others.

RESPECT
The kind of guests we appreciate are those who realise what a wonderful opportunity they are enjoying staying in a place like this, so close to everything and for such a good price. The least you can do is understand and appreciate these rules and be friendly, polite and considerate.

YOUR HOSTS
We are very busy people with many different activities and business interests keeping us busy all day and night. Although we are happy to help in anyway please be mindful that you didn't come all the way here to hang out with us and you will in general be left to your own devices to get on with your adventures in Brisbane.

NEED SOMETHING?
Let us know by intercom, email, text or phone call. If you have any concerns you must let us know straight away. If the first we hear about it is on a review, what's the point for you? You won't get the issue sorted straight away like you could if you informed someone. Not that we expect you to have any issues, if there are it is usually something that can be sorted so feel free to let us know.


---
We are Leon and Andi and we are well travelled Australians with a gorgeous house to shared with like minded people! At least one of us is usually always home if you need anything night or day please just ask as we are always happy to help you! Leon is a keen yachtsman and…
Sprachen:
English
Antwortrate:
100%
Antwortzeit:
innerhalb einer Stunde
Entdecke weitere Optionen in und um Brisbane
Noch mehr Unterkünfte in Brisbane: