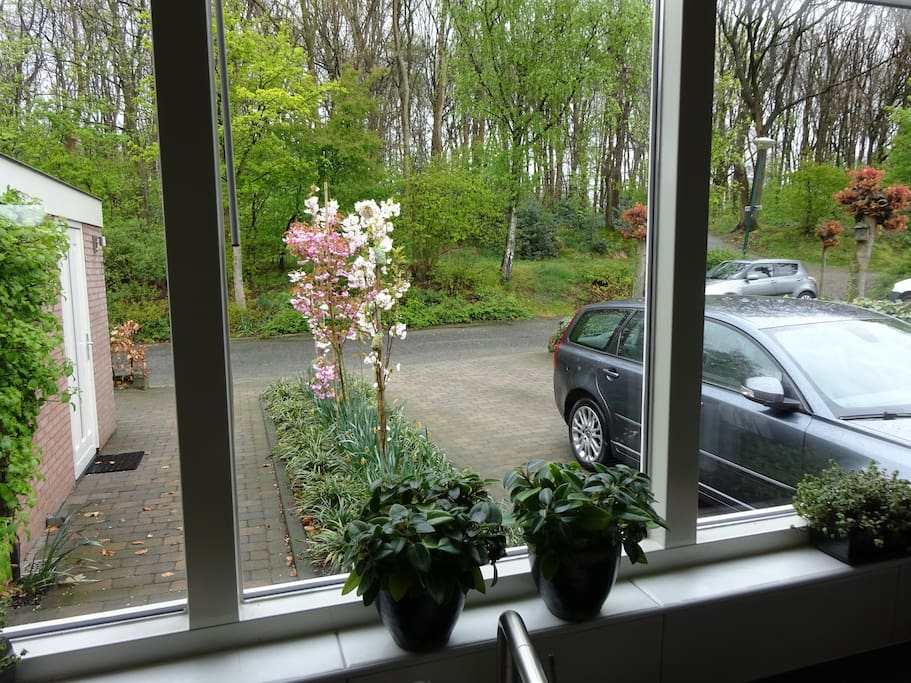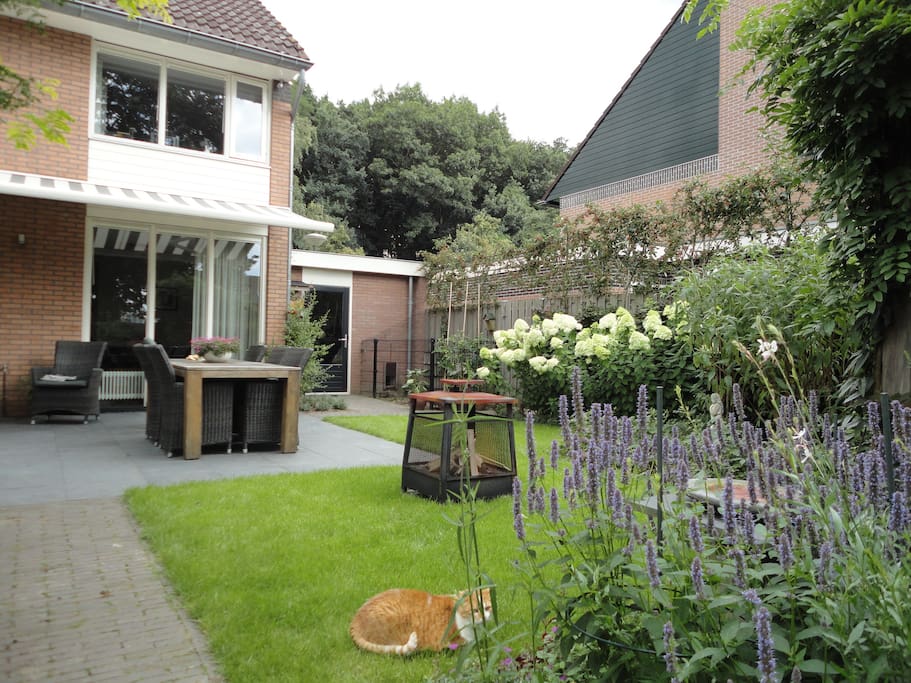 1 Gemeinschafts-Badezimmer
1 Gemeinschafts-Badezimmer
Einfache Wohn/Studier/Schlafzimmer (Waldrand)
Bahnhof: Rhenen (2 Km) / Kesteren (7 Km)
Ideal für eine Person - Student(in)
Einfaches Frühstück im Preis
Zwei Bushaltestellen nahebei
Alle Taxe einbegriffen
Wageningen (10 Km); mit Bus/Fahrad 30 Min.
Ankunft nicht am Sonntag
Überprüfe Reisezeiten von/nach Rhenen in Provinz Utrecht
Rhenen-Utrecht 50 Km / o.V. 1 St. # A'dam 1.45 - R'dam 1.30 (100 Km)
Extra Ermäßigung nach 2 und 3 Monaten
Der Wohnraum
Privatzimmer auf dem Dachboden mit zwei großen Velux-Fenster, Luxaflex und Insektenrolle. Zwei 1-Betten, eins mit Zugangsleiter. Sofa und Schreibtisch. Auf dem Dachboden befinden sich Waschmaschine, Trockner und Waschbecken mit heißem / kaltem Wasser. Wireless-LAN, DVD/ Video / Audio-System mit Monitor vorhanden.
Für Aufenthalte länger als eine Woche, müssen Sie selbst saugen.
Wir trennen Hausmüll: Glas; Papier; Lebensmittel; Öl; Kunststoff/Dosen/Packung; Abfälle.
Zugang für Gäste
Zugang zum zweiten Stock mit der Möglichkeit zum Waschen und Trocknen durch Gastgeber(in), für eine kleine Gebühr, je nach Menge private Kleidungstücke. Nutzung von Küche, Dusche / WC und Laube (Garten). Sie bekommen einen Schlüssel und damit Zugang zum Haus.
Für € 3 pro Tag, € 15 pro Woche oder € 45 pro Monat sorgen wir für Lunch (oder Paket). Möglicherweise warme Mahlzeit: Student(in) 5 € pro Tag mit Maximum € 30 pro Woche - sonst € 7,50 pro Tag, mit Maximum € 50 pro Woche). Nutzung von der Küche, Speisekammer, Kühl- und Gefrierschrank ist möglich. Bereiten Sie ein warmes Essen für sich und die Vermietern (auf unsere Kosten), dann ist die Mahlzeit frei.
Haben Sie bestimmte diätetische Bedürfnisse oder Allergien? Sind Sie ein Vegetarier? Sagen Sie uns bitte im Voraus!
Waschen mit Trocknen € 5-10 pro Woche, abhängig von der Menge / Sorte privat Wäsche und Verweildauer. Wir versehen mit Wäschebeutel für Unterkleidung. Möchten Sie aber doch ihre Wäsche separat waschen und trocknen, dann kostet das € 5 pro Wäsche (waschen und trocknen zusammen).
Bei einer Unterkunft von zwei Monaten oder mehr, für Student(in) keine Gebühr für Lunch, extra Tee, Kaffee, Saft und Obst und maximal € 20 pro Monat für das Waschen/Trocknen von privat Kleidung.
Bei einer Unterkunft von drei Monaten oder mehr, sind warme Mahlzeiten am Samstagen und Sonntagen für Student(in) kostenlos. Auch Waschen (mit Trocknen) ist dann kostenlos.
Für einen Gast, bei uns nur einen Teil der Woche für eine langere Zeit, bieten wir möglicherweise eine spezielle Angebot nach Überlegung.
Bei möglicherweise Beteiligung in der Haushalt (Dusche, Toilette z.B.), findet Siedlung statt mit Kosten Mahlzeiten/Waschen.
Interaktion mit Gästen
Während des Aufenthaltes sind wir im Prinzip täglich verfügbar. Damit wir uns wohl miteinander fühlen, respektieren wir die Privatsphäre von eineinder. Wir präferieren soziale Studenten / Arbeiter / Touristen. "Je mehr Verwandschaft / Affinität, die mehr zu Hause". Wir treiben ja kein Geschäft.
Weitere wichtige Infos
Sie haben Airbnb Verified Identification Badge. (Air BnB hat eine Online-Kennzeichnung.) Wir möchten Ihren vollständigen Namen empgangen, bevor wir Ihnen als Gast aufnehmen. Wir möchten auch sozialen Netzwerken austauschen. Siehe F*B: Kapteijns Kpt und sende eine Freundschaftsbitte.
Lesen Sie die Anzeige (und Beurteilungen) gut.
Ankunft nicht am Sonntag.
Nicht rauchen in/um Haus/Garten.
Ruhe im Haus zwischen 23.00 und 06.00 Uhr.
Zusätzliche Personen 17 € / Nacht nach dem ersten Gast
Kommuniziere immer über Airbnb
Um deine Zahlung zu schützen, solltest du niemals außerhalb der Airbnb-Website oder -App kommunizieren oder Geld überweisen.
Schlafzimmer 1
2 Einzelbetten
Nicht für Haustiere geeignet
Keine Partys oder Veranstaltungen
Nicht sicher oder ungeeignet für Kleinkinder (unter 2 Jahren)
Check-in-Zeit ist flexibel
In- en uitchecken heeft in principe niet plaats op zondagen.
In en om huis/tuin niet roken. Geen peuken en as-afval in en rondom huis/tuin.
Het is niet mogelijk eigen (huis)dieren als kat/hond mee te nemen.
Wij verwachten dat u goede sociale manieren heeft.
U geeft geen aanstoot door taalgebruik (God of Jezus/Christus e.d. als stopwoordje gebruiken; vloeken, schuttingtaal e.d.), gedrag, muziek en verschijning/kleding.
U bent een dierenliefhebber m.n. (onze) katten.
's Nachts tussen elf (23) uur en zes uur (6) graag rust in huis.
U lijdt niet aan verslaving(en) en u laat zich niet in met overmatig alcoholgebruik en/of drugsgebruik.
U heeft geen aanstootgevend computergebruik (zoals geweld, racisme, extremisme, porno, discriminatie).
De zolderruimte is ideaal voor 1 man/vrouw met/zonder kind/jongere. Omdat er geen twee-persoonsbed op zolder staat, is de ruimte niet geschikt voor een gehuwd echtpaar (en zeker niet voor ouderen), tenzij de gehuwde man en vrouw apart willen slapen.
Wij stellen onze ruimte niet beschikbaar voor ongehuwde stellen.
Außerdem musst du Folgendes beachten:
Treppensteigen ist erforderlich - De ruime kamer bevindt zich op de tweede verdieping en is bereikbaar met vaste trap.
Einige Räume werden gemeinsam genutzt - Badkamer, keuken en eetkamer worden gedeeld met verhuurders.
In diesem Haushalt lebt mindestens eine Katze
1 Nacht Mindestaufenthalt.
Preis-Leistungs-Verhältnis
I have stayed at Kess's and Roelanda's place for over 3 months and it was absolutely lovely. Both are very kind and loving and made me feel very welcome. Right from the beginning I felt home and comfortable around them and they immediately integrated me in their daily life. I enjoyed all our conversations and delicious dinners together. Roelanda is a very good cook. I was offered to cook for the three of us on some days within a week which was a such a nice experience. My room (the attic) was big and spacious and it was nice living in their. I also had a lot of privacy whilst staying in the attic because it is on the second level. What I liked about staying with Kees and Roelanda is that you can decide yourself whether you'd like some privacy or prefer sitting together in the living room. The house as well as the area was beautiful and calm. They have a beautiful garden which is very nice on warmer days and I was able to walk around the house freely. I liked having a forest right in front of the house to do little walks on the weekends. Utrecht was not that far from Rhenen. Due to my car it was easy to travel around which also made it much easier to go to University in Utrecht. Last but certainly not least Muffin and Ruskin are adorable little cats and I had a great time having them around me too. Especially Muffin was very friendly and cuddly. I am grateful that I was able to experience such a lovely host and definitely recommend staying with Kess and Roelanda. I will, for sure, miss all four of them.
Antwort von Kees & Roelanda:
Dear Eileen, Thank you for your kind and sincere review. We are glad that you found a place to stay (and to share with other people) in Utrecht city (as Rhenen is a town in Utrecht province and quite far from Utrecht city) close to your university. We also appreciate that staying in our house and at us (the cats included) was a positive experience. We will meet when you have returned from Germany to move your belongings. We're sure that Muffin is looking forward to it (= you) too. Ofcourse you can stay over and share R's dinner. Perhaps we can be of any help in moving to Utrecht city.
---
Kees & Roelanda are very nice people, the housing is clean, the neighbourhood is peaceful, nothing more to say : I had a very nice stay in Rhenen.
---
Kees and Roelanda are very open and warm people and they'll make sure you feel welcome. Staying with them for combined period of 2,5 months, they made me feel like at home. One thing, keep in mind that the attic room comes with all pros and cons of attic rooms - on a hot, sunny day it can get quite warm (in the evening temperature returns to pleasant range, though). ...but who would want to sit in a room on a sunny day! Once again, I'd recommend staying with K&R for everybody
Antwort von Kees & Roelanda:
Thank you for the honest review, Marek. We wouldn't like to sit or work in the second-floor attic room on very hot days either if there is the possibility to sit or work in the garden (if desired also under the arbour with electricity) or in the study on the first floor and even the ground floor (smiley 1). But having seen you in the garden, this is no news to you either (smiley 2). You might have used the fan as well (smiley 3), but whether that would have been enough if it's very hot day after day... We will repeat and repeat to future guests to keep the south window closed on hot days (and use the sunblind on that side) and only open the north window. That'll make some difference, however not all the difference... Unfortunately and fortunately (attic room temps) high temperatures don't last for many days in succession in The Netherlands due to maritime climate.
---
The attic was perfect as a quiet room to adjust from travel and prepare a presentation and for resulting meetings. The food was home cooking with lively banter and experienced perspectives. If you are attending an activity at Wageningen U. then seriously consider Kees and Relanda's place as a great option to the college town. When not attending the meeting, Rhenen offers some great NetherLands culture and scenery. If you need to get to Ultrecht not a problem as it only takes one trip to master the walk, bus and train system. Arrival and departure are easy as Kees shuttle makes customized finely tuned stops! Hope more conferences bring me to Kees and Roelanda's place.
---
THE Airbnb experience. Roelanda and Kees are the most hospital and friendly hosts you can find. You are welcome as a guest, given total freedom during your stay and help whenever you may need it (be it advice what to see in the neighborhood/country or first aid in case of a nasty cut - in both cases talking out of experience). They like to smile and laugh, making them a great company. Roelanda speaks English only a little, but she understands it well enough for good communication, never had any problems with that. House is very clean and comfortable, attic room even more so. Sunroofs let in abundance of light, making the room feel friendly and cosy. If you're a long sleeper, be not afraid, the blinds will keep you in the dark even at noon. Mattress is very comfortable and the desk is big enough to set up even a PC. Parking is just outside the door and has enough space to fit everybody. Shower is spacious and ventilation is sufficient. Food made by Roelanda is delicious and doesn't restrict you - hosts don't mind if you cannot make it on time and reheating doesn't take anything away from it. Cats are a part of this family and they don't mind you being here. They are not scratchers, you are perfectly safe. I highly recommend staying with Roelanda and Kees both for short and extended periods
---
My staying with Kees and Roelanda has been absolutely great! I spent almost 3 weeks in their house and from the first day they made me feel like at home and part of the family. Kees came to pick me up from wageningen as I was carrying big bags and then they offered me dinner:) the room was big, clean, nice and cozy with everything I needed. They offered me breakfast every morning asking me what I liked the most. For any question or advice a could count on them if they were at home, we had really nice conversations in front of a warm tea and a piece of cake :) Kees also fixed my bicycle!! They also hosted me for free one extra day for a my own mistake and Kees drop me and my stuff off at my new apartment. Thank you so much for everything!
Antwort von Kees & Roelanda:
Dear Gloria, thank you very much for your kind, positive and sincere review. It makes us feel good that your had a good time at our place. If you have any problems with your bike again (smiley) or any other problem, just let us know and perhaps we can be of any help. Nothing ventured, nothing gained! AND if you like to cook a vegetarian meal at our place, together with a friend of yours, with or without Roelanda's help, you are very welcome!
---
the room is big and clean. i enjoy live here
---
Wij zijn een christelijk (Christian/christlich/chrétien) echtpaar (married/verheiratet/marié) van 59/56 jaar. Hij is 18 jaar docent (teacher/Lehrer/professeur - BEd) Engels (English/Englisch/anglais) en daarvoor Maatschappelijk Werker (social worker/Sozialarbeit/aide social - BSW). Zij is al 39 jaar Verzorgende (geriatric helper/Geriatrie/gériatrie) en EVV-er en voleindigde in 2016 een vervolgopleiding Verpleegkunde (nursing/Krankenpflege).
De kinderen (children/Kinder/enfants) zijn allen uitwonend (living away from home/außer Haus wohnend/qui n'habitent plus chez leurs parents) al dan niet gehuwd (married/verheiratet, marié).

Wij houden (like/mögen/ aimer) van natuur (nature/Natur), zoals bergen (mountains/Berge/montagne) en bos (woods/Wälder/bois), meer (lake/See/lac) en strand (beach/Strand/plage), cultuur (culture/Kultur), zoals kerken (churches/Kirchen/église et temple), kunst (art/Kunst), sier/leeftuin (garden/Garten/jardin), wandelen (walking/wandern/faire), en winkelen (shopping/einkaufen), uit-eten (go out for dinner/essen gehen/manger dehors), huisdieren (pets/Haustiere/animal domestique m.n. katten/cats/Katze/chat), vogels, kippen en koijnen (birds, chicken and rabbits/Vögel, Hühner und Kaninchen/oiseau, poules et lapins), bijen en bloemen (bees and flowers/Biene und Blumen/abeilles et fleurs), hommels en vlinders (bumblebees and butterflies/Hummel und Schmetterling/bourdon et papillon).

Boeken/books/Bücher/livre: Lynn Austin, Jane Austen, J. Bunyan, Brönte, theologie/theology (J. Owen, Chr. Love, J. Calvin, Lloyd Jones, J.C. Ryle, P. Masters, J. Bunyan e.a.).
Historical books/(Auto)Biographies: Madeleine Albright (The Mighty and the Almighty; Madam Secretary), Kate Mosse (Citadel), Kenize Mourad (De la part de la princesse morte), Eleonore van Acquitanië (G. Pikkemaat), Farah Diba Pahlawi (Mémoires), Stalin (Simon Sebag Monefiore), De Overgave (Arthur Japin), Mary, Geliefde Vrouw van de Creeks/Creek Mary's Blood (Dee Brown), Napoleon & Josephine (E. Bruce), e.a.
Films (when we still used to watch movies): Pride and Prejudice, Sense and Sensibility, Mansfield Park, The Killing Fields, Warriors, The Impossible, Titanic, Sarah, Dresden, War of the Worlds, IP Man, Merchant of Venice, Saving Private Ryan, Crash, Wall of Silence, The Color Purple, Slumdog Millionaire, Lorna Doone, Little Dorrit, Babe, Courageous Heart, The Aryan Couple, Going Underground, Fifteen & Pregnant, Il y a longtemps que je t'aime, Un long dimanche de fiancailles, Skin, Jane Eyre and River Dance.
Muziek: Klassiek/classical music/klassische Musik/musique classique: J.S.Bach, F. Händel, F. Mendelssohn-Bartholdy, F. Liszt, e.a.
Favoriete vakantiebestemmingen (favourite holiday destination/bevorzugt Ferienziel/destination préféré pour les vacances): Zwitserland (Switzerland/Schweiz/Suisse), Oostenrijk (Austria/Östenreich/Austria), Engeland/Groot Brittainië (England/Great Britain-England/Grossbritannien-l'Angleterre/la Grande-Bretagne), Frankrijk (France/Frankreich/France).

We wonen (live/wohnen/vivre) in een hoekhuis (end house/Eckhaus/maison d'angle) aan bosrand (edge of a wood/Waldrand/lisière du bois), met sier/leeftuin (garden/Garten/jardin) met prieel (bower/Laube/tonelle) en tuinhaard (fire basket/Feuerkorb/torchère).

We houden (like) van wokken (wokking/Wokken/cuisiner au wok), barbecuen/BBQ (grillen/griller) e.a.
Sprachen:
Deutsch, English, Nederlands
Antwortrate:
100%
Antwortzeit:
innerhalb einiger Stunden
Entdecke weitere Optionen in und um Rhenen
Noch mehr Unterkünfte in Rhenen: