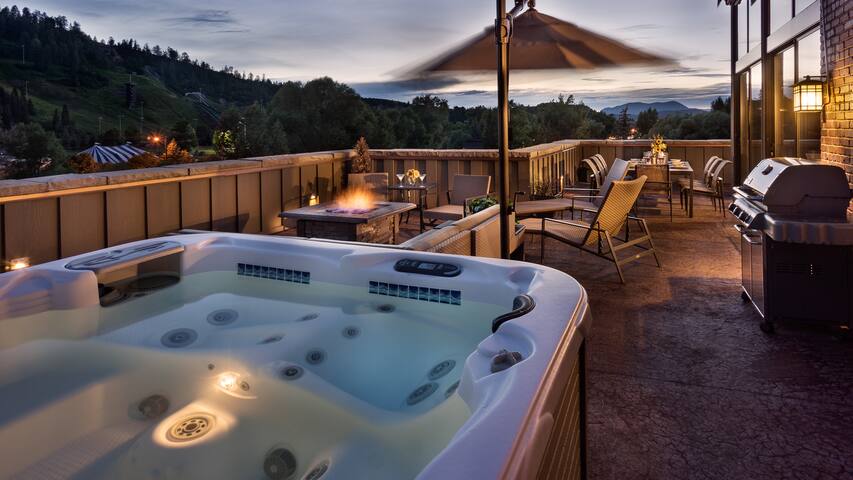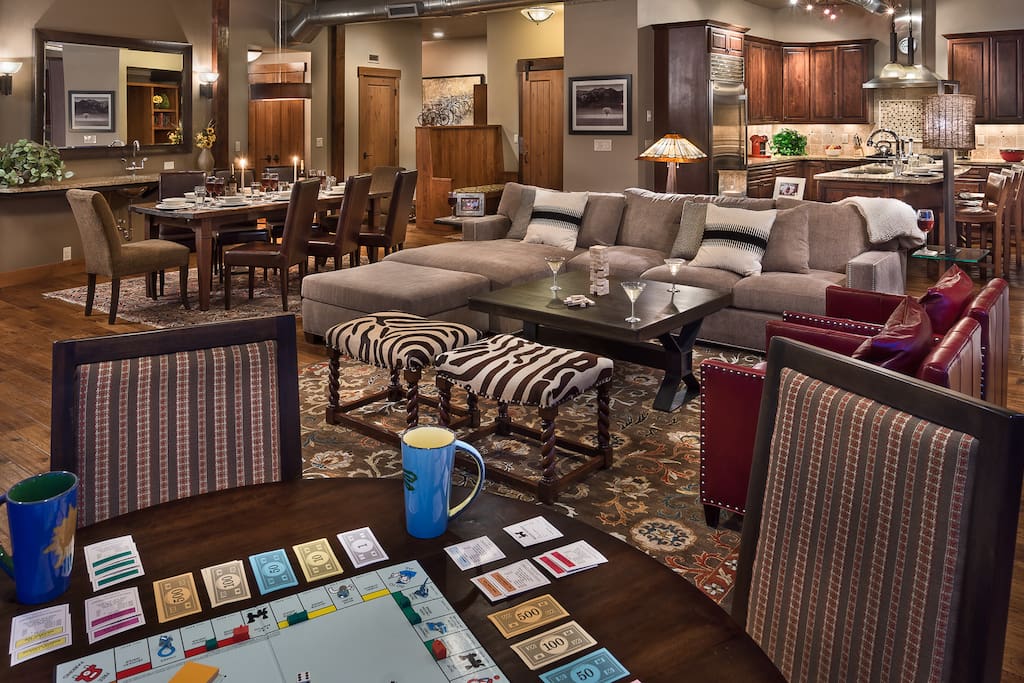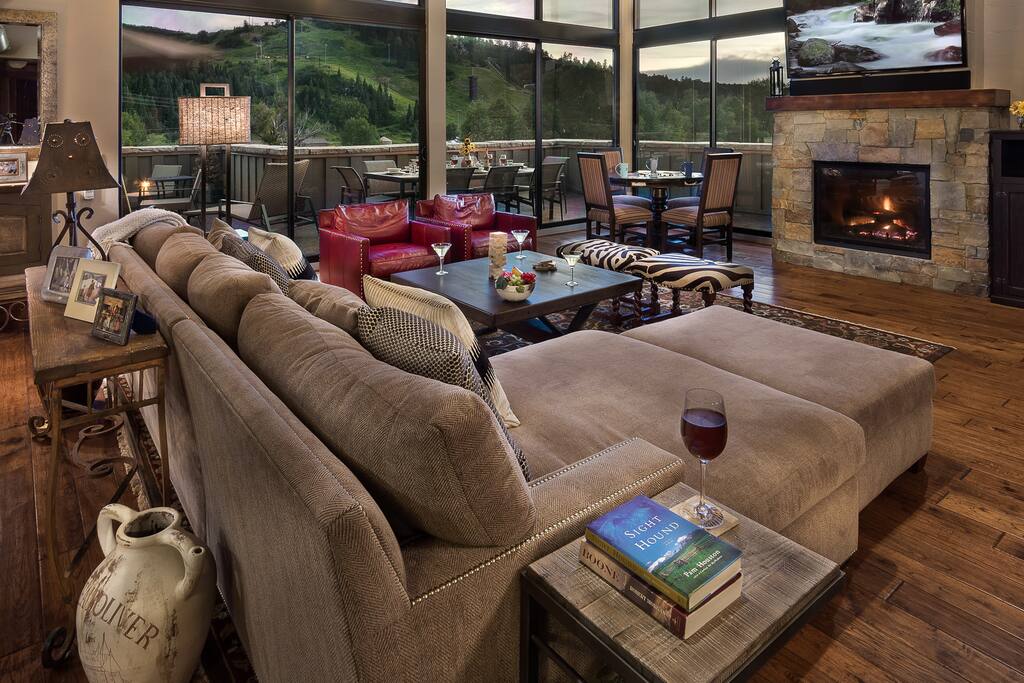 Über dieses Inserat
This beautifully appointed luxury penthouse offers ultimate access to the heart of downtown Steamboat Springs with its extensive shopping and a flourishing culinary scene and World-class skiing easily accessed by free bus or our on-call private winter ski shuttle service. Additionally you are just a stone's throw from the Rodeo grounds and the Yampa river.
We offer discounts on any stays over 3 nights. Please contact us for more information.
---
Check-in: Jederzeit nach 16:00
Art des Zimmers: Ganze Unterkunft
---
Familien- / kinderfreundlich
---
---
This beautifully appointed luxury penthouse offers ultimate access to the heart of downtown Steamboat Springs with its extensive shopping and a flourishing culinary scene and World-class skiing easily accessed by free bus or our on-call private winter ski shuttle service. Additionally you are just a stone's throw from the Rodeo grounds and the Yampa river.
We offer discounts on any stays over 3 nights. Please contact us for more information.
This beautifully appointed luxury penthouse offers ultimate access to the heart of downtown Steamboat Springs with its extensive shopping and a flourishing culinary scene and World-class skiing easily accessed by free bus or our on-call private winter ski shuttle service. Additionally you are just a stone's throw from the Rodeo grounds and the Yampa river. Floor to ceiling windows provide you with a panoramic view of your surroundings. The tasteful interior blends exposed timber, stainless steel appliances and granite slab counters with the large gas fireplace and flat screen TV at the center. The extensive deck offers you an outdoor courtyard to relax outdoors or access the hot tub to relax under the stars.
The fully equipped kitchen has everything that you will need to entertain and cook-at-home. Custom cabinetry and granite countertops create an elegant workspace for the aspiring chef in your group. The gas grill on the deck makes grilling-out year-round a reality.
The elegant dining table seats 6 guests with additional seating at the breakfast bar.
The master bedroom offers a King bed and flat screen TV. The ensuite private bathroom includes double vanities, glass shower enclosure and jetted tub. The second bedroom offers a Queen bed and TV and shares a bathroom with the third bedroom that has a bunk bed with a twin over a full bed. In the atrium as you enter this residence there is also a twin day-bed.
Although a vehicle is not a necessity this residence also offers the luxury of two underground heated parking spaces.
We are in Steamboat and available to meet your needs at any time.
Our free private winter ski shuttle service will collect you from the door and delivery you to ski trails, grocery store, and anywhere else in Steamboat. There is also a free city bus.
---
Nicht für Haustiere geeignet
Keine Partys oder Veranstaltungen
Der Check-in ist nach 16:00.
We ask our guests to respect our home and the investment we have made to offer luxury accommodations so close to the mountain. No smoking. No pets without our approval (cleaning fees apply).
TERMS & CONDITIONS:
1. Your Contract
1.1. Your contract is with Moving Mountains, Inc., a Colorado corporation. These terms and conditions will apply to any booking form signed by you for Property or Home Rentals, catering services, and vacation planning arranged and confirmed by Moving Mountains Inc.
1.2. Unless otherwise stated in writing these terms are valid for all confirmed Property or Home Rentals.
1.3. Prior to receipt of your signed booking form and deposit all prices are subject to change without notice. Signed booking form and deposit must be received by Moving Mountains within 24 hours of booking form being sent to you in order to guarantee pricing and availability of home. Once we receive the booking deposit, along with a signed booking form, the price is guaranteed for arrangements stated on the booking confirmation.
1.4. Accidental Rental Damage Insurance (ARDI) is required with all bookings. Policy details are provided with reservation confirmation.
2. Home Rental
2.1. Home Rental, which may on occasion be referred to as Nightly Rental or Vacation Home Rental of a Home, only includes rental of the Home described on the booking form for the stated dates and times.
2.2. Properties or Homes offered by Moving Mountains are not interchangeable once there is a confirmed reservation. If you choose to change homes once a booking is confirmed, regardless of reason, the original reservation must be cancelled, subject to our cancellation policy, and a new booking must be made at an alternative Home, which would also be subject to the cancellation policy.
2.3. The maximum overnight group occupancy total for each Home is specified on the Moving Mountains website. The number of guests in the Home at any one time cannot exceed twice the stated overnight occupancy of the Home and cannot exceed 32 people for any Home. Failure to observe this restriction, such as for an unauthorized event or party, will result in immediate termination of the rental and forfeiture of all monies paid and a $2500 Unauthorized Event Fee will be charged to the group.
2.4. n/a
2.5. Guests agree that all members of their party and any visitors to the Home during the stay will be advised that outdoor shoes are not to be worn inside the Home. This is to protect carpets and floor surfaces.
2.6. No more than four vehicles may be parked outside overnight at any Rental Home in Steamboat Springs. If the Home has a garage guests are advised to use the garage for overnight parking. Home guests are not permitted to park at any time in the public right of way (on the street) or an access easement. Home guests are responsible for any parking citations and fines that they incur.
2.7. n/a
2.8. Quiet times in Steamboat Springs are from 7pm to 7am. Properties are in residential areas and any violation of city noise or disturbance ordinances could result in a fine or immediate termination of the rental and forfeiture of all monies.. Guests are responsible for all fines or citations issued.
2.9. Prohibited activities include: outdoor sleeping, any activity at which more than twice the number of allowed overnight occupants are in attendance, tents or other outdoor structures, whether deemed temporary or permanent, commercial kitchens, the preparation of any food on site for persons other than occupants and their guests, parking RV or other large camper vans in driveway.
2.10. Your 24 hour contact during your stay is Moving Mountains Homes: (PHONE NUMBER HIDDEN). For after-hours emergencies, please phone our office and follow the instructions to leave a message. This will be forwarded to an on-duty staff member who will contact you as soon as a possible.
3. Catered Packages
3.1. Catering or Catered Chalet packages are offered as an add-on to a Home Rental.
3.2. Unless otherwise stated, the price of a Catered Package does not include: airfares, transport from Denver International Airport, ski lift tickets, equipment rental, alcoholic beverages, the cost of any activities undertaken by guests during the stay, babysitting, the cost of meals taken outside the Homes or chalet hosts gratuity or applicable taxes.
3.3. Prices for Catered Packages are based on a specified number of guests. Increases to the number of guests will result in adjustments to the package price.
4. Confirming a Reservation
4.1. Confirmation of any reservation by Moving Mountains, Inc. is subject to acknowledgement by Moving Mountains of: - the required deposit in cleared funds being received and - receipt of the Booking Form with the guest's signature, which confirms acceptance of these terms. In the event of an on-line reservation booked through the Moving Mountains website, authorization to charge a credit card for the required payment is deemed to indicate acceptance of the booking terms and conditions.
4.2. To confirm a reservation(s), a deposit of 50% of the total package cost along with a signed booking form is required. The remaining 50% is due 60 days prior to arrival date.
4.3. Multiple payments are acceptable based on one payment per every four people occupying a Home. Additional payments beyond one per four people will be charged at $25 per payment.
4.4. Moving Mountains reserves the right to cancel any reservation if the payment schedule is not met.
5. Check-in/Check-out
5.1. Guests must check-in at the Moving Mountains Office. Guests arriving after 6:00pm should make alternative arrangements with Moving Mountains Staff. Access to the Rental Home will not be granted unless Moving Mountains has signed check-in documents on file.
5.2. Catered Chalet package guests will be checked in at their Home by their hosts.
5.3. Check-in time is from 4:00 - 6:00 p.m. Please call ahead to advise if arrival will be later than 6:00pm. If guests arrive prior to 4:00p.m., it may be possible to leave luggage at our office and other activities off-site can be arranged until 4:00 p.m.
5.4. Check-out is by 10:00 a.m. 5.5. Early check-in or late check-out is possible by prior arrangement only and can only be guaranteed 48 hours prior to arrival.
5.6. Moving Mountains requires a credit card to be kept on file during your stay with written authorization for up to $500 for incidental charges and extra costs related to the reservation. Homes are inspected after every stay and additional cleaning charges will be charged if the home is not left in the same condition it was prior to arrival. - Trash must be in trash receptacles and/or taken to the garage rolling bins. - Dishes must be washed and put away, or left in the dishwasher. - Used towels are to be left in the bathtub or shower.
6. Our Commitment to You:
Moving Mountains Homes will strive to provide exceptional accommodations, meals and services as described in brochures and internet website. To the best of our knowledge, this information is accurate.
7. Your Commitment to Moving Mountains Inc.:
7.1. The person making the reservation and signing the booking form is referred to as the "Group Leader".
7.2. The Group Leader is responsible for advising all guests in his/her party of the Terms and Conditions in this document. At the time of reservation, the Group Leader accepts full responsibility for the actions of all other guests in his / her party.
7.3. Moving Mountains prefers that individual group members communicate any special requests and additional services or activities directly with Moving Mountains Staff. Please confirm any verbal communications via E-mail or fax so that this can be documented in the booking file for future reference. Undocumented communications are non-binding and cannot be referred to as the basis for any guest request not arranged.
7.4. Adventure mountain travel, skiing, snowboarding, and outdoor activities at any time of year involve risks about which the guest(s) must make himself/herself aware. The responsibility of Moving Mountains, Inc. does not extend to cover any liability for personal injury or Home damage that occurs while participating in any activities on-site at a Home or off-site arranged by our staff. Participation in any activities is at guest's own risk. Guests accept the risk of slippery conditions at all times inside and outside of the Home.
7.5. All guests, jointly and severally, at their cost, agree to be responsible for and to replace or repair any injury, damage or destruction to the Home, its furnishings, equipment, and/or vehicles caused by himself/herself or by any member of his/her party.
7.6. The guest(s) agree to act in a responsible manner toward other guests, chalet hosts, and neighbors of adjoining properties. If at any time during the stay a guest acts in an unruly or malicious manner and does not adhere to requests by chalet hosts or Moving Mountains staff to behave appropriately, this will result in immediate termination of the rental and forfeiture of all monies paid.
7.7. Use or possession of illegal drugs, (including marijuana), on the Home or in the company's vehicles, will result in immediate termination of the rental and forfeiture of all monies paid
7.8. The under-age consumption of alcohol by guests, or driving while intoxicated or any accident involving intoxication of guests shall not be the responsibility of Moving Mountains, Inc. or its employees.
7.9. Guests driven in a Moving Mountains vehicle agree to abide by Colorado's Motor Vehicle Laws, including the requirements where applicable regarding seat belts. Front seat passengers are required to wear a safety belt and all children in the vehicle must be properly buckled in a seat belt or seat. As of August 2010, Colorado law requires that babies ride in a rear-facing car seat until they are one year of age and at least 20 pounds. Children ages one to four and between 20 and 40 pounds must ride in an appropriate rear- or forward-facing car seat. Colorado law also requires that children who are over age 4 but under age 8 ride in a forward-facing car seat or a booster car seat, unless they are over 4'9" tall or weigh more than 80 lbs. Children who are not required to be in a car seat or booster seat, but are under 16 years old, must be buckled in a seat belt. Parents traveling with infants should bring their own car seat or arrange to rent one before arrival. Guests are solely responsible for ensuring that arrangements are made to provide adequate equipment to comply with these requirements.
7.10. Smoking is not permitted in any part of the Home or in the vehicles operated by Moving Mountains. Decontamination and littering charges at a minimum of $200 will be assessed.
8. Pets
8.1. Guests are prohibited from bringing any pets into any rental properties or on the premises of a rental Home.
Currently the only exception to this rule is the Creekside Chalet which allows dogs on a case-by-case basis. Guests and their dogs at Creekside Chalet (and any home in which this is specifically authorized by Moving Mountains) must adhere to the following rules expected of a responsible owner and a well-behaved dog:
The request to bring a dog must be approved in writing in advance of arrival.
No barking
If the dog disturbs or threatens a guest or employee of the Home, the dog will be required to leave.
The owner is responsible for picking up after the dog.
The owner is responsible for any damage caused by the dog or additional cleaning that may be required.
8.2. If a guest is found to have brought an unauthorized pet into a rental Home an additional charge of $500 per day for each day of the reservation will be payable by the guest and will result in immediate termination of the rental and forfeiture of all monies paid
9. Hot Tubs
9.1. Moving Mountains places a high priority on safety and cleanliness with hot-tub maintenance. Private homes managed by Moving Mountains that include a hot tub are provided with fresh water, sanitized and chemically balanced prior to each Home Rental. This does not include communal hot tubs and pools at One Steamboat Place, Edgemont, Chateau Chamonix or Trappeur's Crossing, or other condominium property where Moving Mountains is not responsible for maintenance.
9.2. It is the guest's decision to use the hot tub during their stay. If there is any concern regarding the condition of the hot tub water, contact the Moving Mountains office immediately. Additional chemical checks can be arranged at the guest's expense of $25 per check.
9.3. A chemical balance check will be performed after three days on any reservation of four or more days. This chemical balance is included in the cost of your vacation rental. If the water is sufficiently out of balance due to use and has to be changed during the guest stay, the guest will be charged $110.
9.4. There are times when hot tubs are not available due to cleaning, maintenance, and repairs. There are no refunds or credits if a Home's hot tub or pool is out of service. Similarly, any equipment in a Home may, on occasion, require service or repair and we will endeavor to facilitate this as quickly as possible. There are no refunds for times when amenities or equipment are being repaired.
10. Taxes and Fees
10.1. Vacation Home Rental is currently subject to resort fee, sales tax, LMD tax* and lodging tax. Should the tax rate change, taxes applied to the stay will be adjusted.
Sales tax: 8.65%
Lodging Tax 1%
LMD Tax 2%
Resort Fee 10.25% (non LMD), 8.25% (LMD)
* if located in the LMD zone
10.2. Catered Home packages and other catered options are taxed at 8.65%.
11. Cancellations & Refunds
11.1. In the case of cancellation, all payments that have been received are non-refundable.
11.2. We highly recommend purchasing Travel Insurance to protect your vacation investment. We offer policies with Red Sky Travel Insurance that are available to you at the time of making your reservation. Please indicate this on the booking form or in writing if you wish to add this to your reservation. This can be added anytime up to 60 days prior to arrival, although additional pre-existing condition coverage applies if the insurance is added within 10 days of reservation confirmation. Please note that if arriving less than 30 days out, travel insurance needs to be purchased at time of booking to cover pre-existing conditions.
11.3. Notification in writing (email or fax) is required to cancel any lodging or additional services and activities. Group Leaders are responsible in making all guests in their party aware of these terms.
11.4. There are no full or partial refunds for late arrivals or early departures.
11.5. In the event that any kind of refund is provided, Moving Mountains will retain 10% of any amounts received to cover administration costs and credit card fees.
12. Zoning and Municipal Codes
12.1. Vacation Home rentals are subject to the zoning and municipal codes applicable to the Home location. If municipal regulations change or can be interpreted to prohibit or to restrict the use of the Home after your reservation is made, we will immediately inform you and you shall be offered the opportunity to:
a. cancel your reservation and receive a complete refund of payments received
b. continue the reservation at the booked Vacation Home subject to the new or reinterpreted regulations c. cancel the reservation at the home you currently have booked and rebook into another Vacation Home with all payments received applied to the new reservation.
13. Force Majeure
If we are prevented or delayed from performing any of the obligations on our part to be performed hereunder or if the normal operation of a booking agreement is adversely affected by reason of an act of God, strike, labor dispute, lockout, threat of imminent strike, fire, avalanche, blizzard, flood, interruption or delay in transportation, war, insurrection or mob violence, injunction, requirement or regulation of government, or statute, unavoidable casualties, shortage of labor, equipment or materials, plant breakdown or failure of operational equipment or any disabling cause beyond our control or our representatives or which cannot be overcome by the means normally employed in performance, then and in every such event, any such prevention or delay will be deemed not to be a breach of our Agreement, but performance of any of the said obligations or requirements will be suspended during such period of disability and the period of all such delays resulting from any such causes will be excluded in computing the time within which anything is required or permitted by Moving Mountains Inc. or our representative to be done hereunder, it being understood and agreed that the time within anything is to be done, or made pursuant hereto will be extended by the total period of all such delays.
---
---
Der Mindestaufenthalt in dieser Unterkunft ist wechselnd.
Diese Unterkunft würde sich über eine Bewertung von dir freuen
Steamboat Springs, Colorado, Vereinigte Staaten

·

Mitglied seit März 2014
Moving Mountains specializes in luxury vacation home rentals and catered ski chalets for families, groups and corporate entertaining in Steamboat Springs, CO. Family-owned and operated, Moving Mountains goal is to help guests create memories to last a lifetime in an exceptional mountain home.

The unrivalled portfolio of private homes and slopeside residences are all located around the ski mountain area. Compared to hotels and standard condos these homes and residences offer:
-5-Star Amenities - Outdoor hot-tubs, high-speed wi-fi, professional kitchens, high thread count linens, plush towels, robes and slippers to provide comfort and luxury beyond any hotel or standard condo unit.
-Ultimate privacy - You are not sharing your hot-tub and gathering spaces with others outside of your group. Private for those that want privacy. Peace of mind for parents.
-Security - Homes are fully secure and supported by 24/7 maintenance coverage.
-Professional Management - All homes are professionally managed year-round ensuring reliability of systems and preparation of the highest standard for all stays.
Pre-arrival planning is handled by a dedicated Guest Services team who work hard to help guests plan for 100% vacation time when they get here. All aspects of the vacation stay are backed up by a professional management team that ensures a hassle-free stay.

Eliminate the guesswork and let Moving Mountains move-a-mountain for you!

Antwortrate:
100%
Antwortzeit:
innerhalb einer Stunde
Genaue Informationen zum Standort erhältst du, nachdem eine Buchung bestätigt wurde.
Entdecke weitere Möglichkeiten in und um Steamboat Springs
Noch mehr Unterkünfte in Steamboat Springs: