A cabin in the city! Enjoy your own studio space in our backyard, with private bath and access to our backyard patio. In a quiet Capitol Hill neighborhood with walking, bicycling, bus or metro access to the National Mall and downtown. You control the heating/air conditioning, so you'll stay warm in the winter and cool in the summer!
It's a cabin! It's a cottage! It's a shack! Whatever you end up calling it, it's a totally private studio space in our backyard. You'll have your own kitchenette, full bath, heating/ac, and plenty of light. Easy access to the National Mall either by foot, bike, or bus. Also hyper convenient to Union Station, Eastern Market, Barracks Row/8th Street, H Street/Atlas District,Library of Congress, Folger Theater, and the Capital buildings. Great for business trips, research trips or sightseeing. Enjoy a cozy room and private full bath in a newly built building in our backyard. You'll have Wifi, bikeshare across the field behind our house, bus & metro nearby, walk to tons of restaurants in two of DCs best neighborhoods for dining (Barracks Row/Eastern Market and H Street), museums and everything else great about DC. There is a small kitchen with tools to prepare a basic meal. We are happy to lend you what you need if you don't find it there. ABOUT THE ACCOMMODATIONS -Wifi -1 Bedroom - queen bed -1 Full Bath - private -Completely separate building -Private entrance -Window that opens -Heating/Cooling unit with your own temperature controls -New construction, very well insulated -TV streams Netflix and gets regular channels (not cable) -Total area is 180 SF (about 16 sq meters); we were inspired the Tiny House movement. -The cabin is cleaned with natural cleaning products -Backs up to a field that has a dog park on one side and a Capital Bikeshare station on the other -You are welcome to hang out on our garden patio ABOUT THE NEIGHBORHOOD/LOCATION -4 blocks from H Street (also known as the Atlas District), DC's hotspot for great food and nightlife -Capitol Hill is a village in a city: it's friendly, safe, great for families and professionals -Walking distance to tons of great restaurants -Easy access by bus, metro or bike to the National Mall and downtown -Great for going downtown during the day, coming home for a rest, then going out to a nice dinner at night TRANSPORTATION & PARKING -BUS - D6 & X8: Bus stops are 2 and 3 blocks away. In minutes you are at Union Station or Chinatown ("Penn Quarter) or downtown where you can walk or take metro. Use the app BusTrackDC to check bus times -METRO - red, orange and blue lines: Access metro at Union Station (red line) or Eastern Market (blue/orange); each a 20 minute walk through beautiful neighborhoods. -BIKE: Capitol Bikeshare lets you rent a bike from one of 110 locations around the city and park it at any other station. A great way to get to the metro and is just steps outside our back door. -CAR: Parking is plentiful on our block because DC utilizes a permit system. When you provide us with your state and tag number we provide a temporary permit for your stay, which entitles you free parking on our street and anywhere on Capitol Hill. THINGS TO NOTE -Free Wifi -You will have a private entrance, with maximum flexibility to come and go as you like. We will probably not know when you are coming or going. -We have been renting out a suite in our basement on Airbnb for about 2 years and renting out the cabin for nearly a year. -Sure, getting lost can be an adventure... but we do everything to help our guests avoid it! Let us know if you need help getting around and we are glad to advise. BUSINESS TRAVELERS: Transportation to Dupont Circle: there are 3 good options: a) D6 or X8 bus to Union Station, Metro to Dupont (no transfers); b) a pleasant 20 minute walk to Union Station, then Metro; or rent a bike from behind our house and drop it off at Union Station (7 min) -- or bike all the way to Dupont! (20 minutes). Transportation to Chinatown/Penn Quarter/Gallery Place: a) D6 bus goes there; b) rent a bike from behind the house and drop it off in Chinatown; or 3) start the day with a walk! It's 1.8 miles, will take you under 40 minutes, and you'll get a great view of the Capitol Building, Union Station, and many other DC landmarks. To the Senate/House buildings, Library of Congress and the Capitol Building: If you are coming to DC for business on the Hill, it's an easy walk to any of these destinations and you'll have company - in the morning the pedestrian traffic literally streams in this direction. The bus (D6 or X8) and Capital Bikeshare will also get you there. To the Convention Center: Take the D6 bus or walk to Union Station and hop on a Circulator Bus.
Capitol Hill is a village in a city. We love that we can walk a few blocks to great restaurants, theater, live music (for example The Atlas Theater, The Rock and Roll Hotel). The Capitol Bikeshare is a great way to get around, and we love that there is one just steps away from our door.
Super liebe Gastgeber und sehr, sehr schöne Unterkunft. Auf kleinem aber extrem gut durchdachten Raum ist wirklich alles zu finden, was man braucht! Und die Lage ist in Verbindung mit dem sehr praktischen Bikeshare in Washington perfekt!! Ich kann diese Unterkunft nur weiterempfehlen.
Jessica
2014-09-26T00:00:00Z
Ken und Nicole waren äußerst freundlich und zuvorkommend! Die Kabine war sehr gut durchdacht und eingerichtet. Alle Sehenswürdigkeiten sind schnell zu erreichen und die Wohngegend ist sauber und ruhig. Wir würden immer wieder kommen!
Marcel
2015-04-07T00:00:00Z
die Hütte ist genau wie beschrieben . freundlich, gemütlich, ruhig. wir haben unseren Aufenthalt in D.C. sehr genossen und es war eine fantastische Erfahrung in einem kleinen Haus zu wohnen :-)
Andrea
2016-09-16T00:00:00Z
Das kleine Häuschen der Familie Mogul ist zauberhaft. Meine Schwester und ich, wir fühlten uns sehr wohl und haben unsere Zeit sehr genossen. Wir empfehlen diese Unterkunft auf jeden fall weiter. Viele kleine Details machen das Häuschen sehr wohnlich und gemütlich. - ein schönes, großes und bequemes Bett - gut ausgestattete Küchenzeile - das Badezimmer besteht nur aus der Toilette und der Dusche, als Waschbecken haben wir das der Küchenzeile benutzt - es gibt keinen Kleiderschrank, dafür aber genügend Haken neben dem Bett und ein großes Regal - alles war unglaublich sauber - dank Nicole und Ken hatten wir einen Besucher- Parkausweis für unser Auto, der uns nichts gekostet hat Das Häuschen liegt in einer sehr ruhigen und sicheren Gegend mit wunderschönen alten Häusern. Fußläufig ist die H- Street mit Restaurants und Bars in 5- 10 Minuten zu erreichen. Im Haus lag auch eine Mappe mit Informationen, Straßenkarten und Restaurants Empfehlungen. Bei unserer Ankunft wurden wir von Nicole sehr herzlich begrüßt, am Abend haben wir auch ihren Mann Ken und Tochter Nora kennengelernt. Unser Aufenthalt bei der Familie Mogul war perfekt, wir kommen gerne wieder :-D
Anja
2014-06-07T00:00:00Z
Sehr schöne und gemütliche Unterkunft die zudem auch komplett ausgestattet war. Ken und seine Frau waren super gastfreundlich und hilfsbereit. Besonders hervorzuheben ist die völlige Unabhängigkeit die diese Unterkunft bietet. Volle Zufriedenheit und daher absolut empfehlenswert.
Valentina
2015-09-28T00:00:00Z
Welcoming & responsive hosts but not overbearing... everything swell!
Judy
2016-09-12T00:00:00Z
I really enjoyed our stay in this cozy little hut. Ken and Nicole were always nice and helpful. Even we had snow and it was freezing cold outside the hut became warm very quickly. A little kitchen provided everything for breakfast or a small snack in the evening. Maybe a bit far from public transport (but maybe that just felt so far because of the snow…) I highly recommend Ken and Nicole!
Melanie
2014-03-20T00:00:00Z
The cabine looked just like the photos. We had enough room. Perfect location and enough privacy! Thanks Ken and Nicole
Wendy
2016-09-30T00:00:00Z
Art der Unterkunft
Ganze Unterkunft
---
Objekttyp
Blockhütte
---
Unterkunft für
2
---
Schlafzimmer
Washington, District of Columbia, Vereinigte Staaten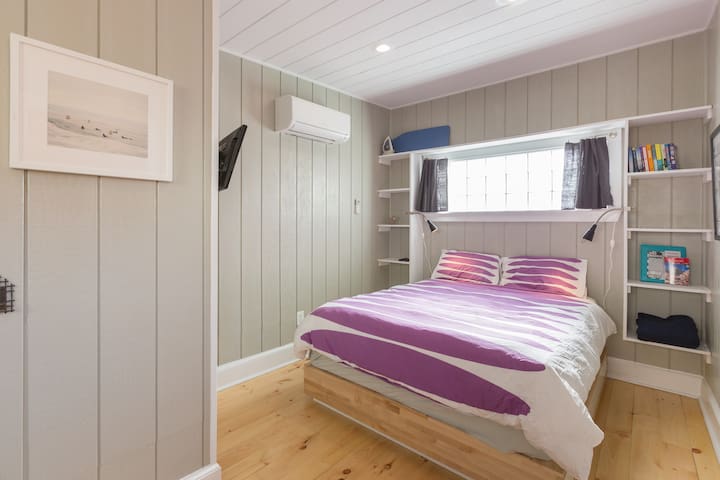 trtyr
Art der Unterkunft
Privatzimmer
---
Objekttyp
Blockhütte
---
Unterkunft für
1
---
Schlafzimmer
Falls Church, Virginia, Vereinigte Staaten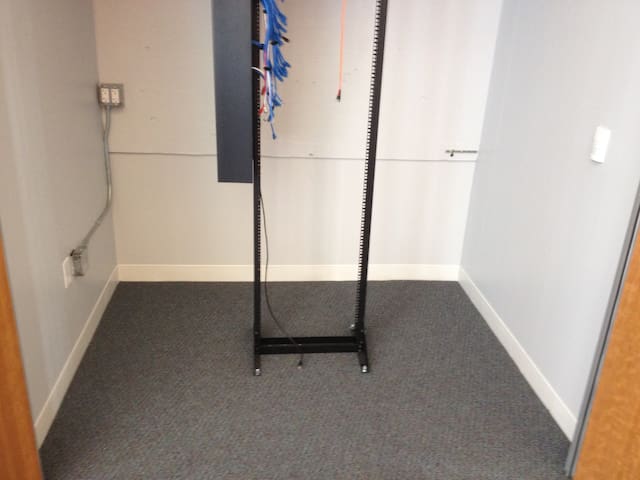 Se trata de un cabina de abeto 13'x18' independiente y privada. Es un 9 min. paseo en bicicleta a la estación de metro de Viena, a 5 min. conducir a la I-66/495 (y el metro), sin embargo, está rodeado por un jardín, manzanos y perales. Tiene un diseño luminoso, abierto con una pequeña cocina y baño, así como una cama plegable. Es un espacio privado que cuenta con 8 ventanas para dejar entrar el sol y la luna. Todos son bienvenidos a tratar de estar cabaña de madera en un barrio agradable diversa, cerca de los principales de tránsito en el área metropolitana de DC.
Nuestro barrio se encuentra al final de un callejón sin salida en la esquina de una comunidad de una sola entrada. Hay casas de millones de dólares, así como pequeñas casas antiguas en este desarrollo. Nuestro barrio es muy amigable en la familia y niño-. Existen tres áreas de juego dentro de 10 minutos a pie. La biblioteca más cercana (que es precioso) se encuentra a 10 minutos en coche. Hay varias tiendas de comestibles a 5 minutos en coche. Todos los museos Smithsonian (historia natural, historia americana, Aire y Espacio, indio americano, Zoo) son libres y dentro de un trayecto en metro 50 minutos o 45 minutos.
This is a very cool little cabin. It is rustic, extremely cool. Perhaps not for the highly pampered, but we absolutely loved it.
Jonathan
2017-03-28T00:00:00Z
Very cozy place to stay
Ruhet
2017-04-09T00:00:00Z
Great communication and location. Only thing I would suggest is bring towels. We forgot ours - whoops!
Jenna
2017-04-02T00:00:00Z
Dillon's cabin is amazing! What a great experience! Completely cozy full with a kitchen, bathroom, work space and bed. The sunshine beaming in made it a pleasure to work in the cabin, and Dillon was more than accommodating when I needed an early check in and late check out! The cabin did get fairly warm when the sun was out, but it wasn't too bad once I cracked some windows open. Definitely a cool experience!
Mallory
2017-04-05T00:00:00Z
Good-bye to Dillon and his family. It was an honor to spend the night at their beautiful, cozy, refreshing cabin. It felt like a home perhaps the raw nature and homie vibe it's what made it even greater but Dillion and his family are very welcoming which was a bright touch to our visit. High recommendations to anyone who plans on coming to Virginia for a day even weeks.Thank you for the great experience!
Joey
2017-04-10T00:00:00Z
The place was family friendly and environment friendly. My son enjoyed the kids playground in the backyard. The communication was absolutely great. We were able to get additional comforter and glass pot from Dillon in a minute. The electricity went off one time but Dillon fixed in a minute. It was a very different experience to us.
Luwen
2017-04-11T00:00:00Z
Art der Unterkunft
Ganze Unterkunft
---
Objekttyp
Blockhütte
---
Unterkunft für
4
---
Schlafzimmer
Fairfax, Virginia, Vereinigte Staaten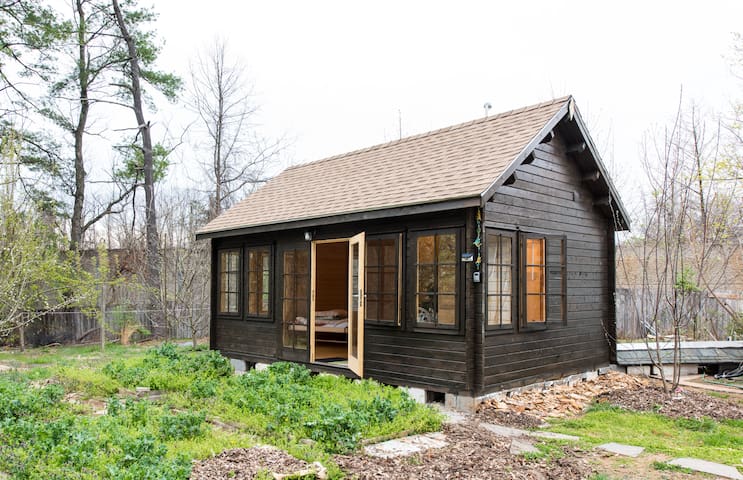 bed and breakfast μας είναι κοντά στο Olney Θέατρο, Olney Ale House, και Riccutis. Θα λατρέψετε το εξοχικό σπίτι επειδή είναι απομονωμένη, αλλά κοντά σε εστιατόρια, ιστορικά μνημεία, και σε ίση απόσταση σε DC και Βαλτιμόρη.
Το εξοχικό σπίτι που χρησιμοποιείται για να χρησιμεύσει ως υπηρέτες τέταρτα για την κύρια κατοικία. Έχει ψηλά ταβάνια και πολλά παράθυρα. Υπάρχει μια πλήρως εξοπλισμένη κουζίνα με πλυντήριο και στεγνωτήριο. Το υδρομασάζ είναι ανοιχτό όλο το χρόνο. Η πισίνα μας είναι πολύ μεγάλο, πολύ βαθιά και επενδεδυμένα με μαύρο φινίρισμα βότσαλο για να κρατήσει τη θερμότητα από τον ήλιο.
Ένα μίλι από την καρδιά του Olney, μονοκατοικίες σε ήσυχους δρόμους, φιλικό γείτονες, μερικά εξαιρετικά εστιατόρια και μια υπέροχη θέατρο. Οι πελάτες μας έχουν έκπτωση 25% σε Olney Θέατρο.
We needed some peace and that is exactly what we got Paradise in Olney Stunning pool, hot tub and a cute little cottage And a wonderful host that help with everything we needed Thank you so much
Riki
2016-07-19T00:00:00Z
Art der Unterkunft
Ganze Unterkunft
---
Objekttyp
Blockhütte
---
Unterkunft für
4
---
Schlafzimmer
Olney, Maryland, Vereinigte Staaten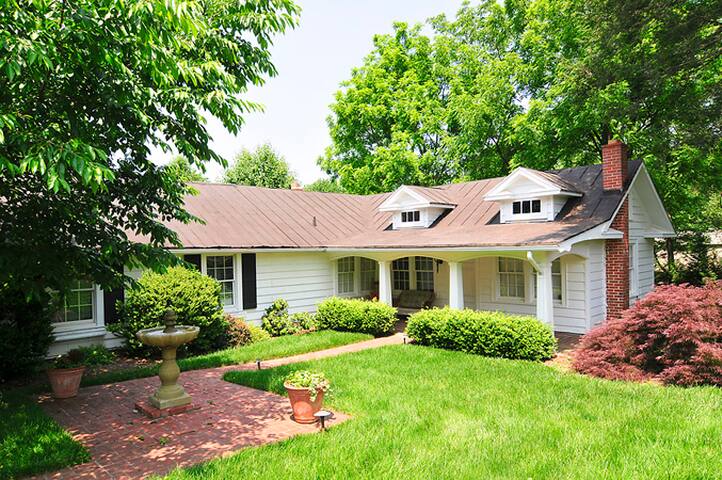 You'll love our cabin because of the peace, the tranquility and the modern amenities. My place is good for couples and business travelers. The best part is that you're just minutes away from Washington DC and all that it has to offer without all the commotion of the city.
Art der Unterkunft
Ganze Unterkunft
---
Objekttyp
Blockhütte
---
Unterkunft für
7
---
Schlafzimmer
Potomac, Maryland, Vereinigte Staaten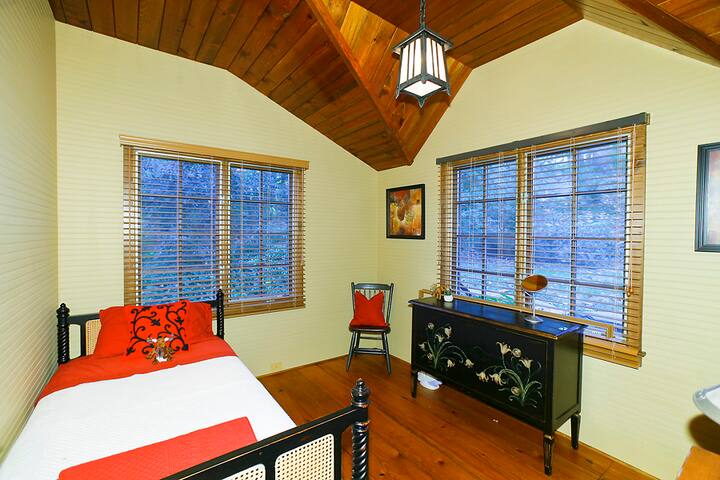 Gib deine Reisedaten ein, um den Gesamtpreis pro Nacht zu sehen.