Craftsmen's Inn KAJI is a more than 80 years old traditional townhouse offering lodging experience like a local. Available for 1-10 people. The displayed rate is for 1 person. Please send me a message first if you are a group of 2-10 people; the modified rate will be suggested. Free Wifi available. Use of towels and additional futon sheets will be charged. 3km away from the Shinkansen station, Tsubame-Sanjo.
You can feel the history of the 80-year-old building. KAJI can accommodate up to 7 people. When 2 or more people stay, the charge will be presented differently.
Tsubame-Sanjo district is famous for its exquisite techniques of metal processing. There are a lot of factories in which you can actually see how their products are made. Most importantly, people are very friendly, and if you wish, you can invite neighbors to cook and have dinner together:-)
Unique place with loads of history and recently renovated to high standard. Yasushi is a great host and very knowledgable about the area. He is working as a guide so I would recommend to hire him for a day or two to show you around and learn about local craft and sights.
Leo
2015-10-28T00:00:00Z
とても清潔で綺麗な宿屋でした。チェックインやチェックアウトも柔軟に対応して頂き、とても助かりました。昔の日本家屋とはどういうものか、体験するには凄く良いと思います。雪が降って寒い季節でしたが、ストーブで暖房するもの楽しかった。近くに美味しいラーメン屋があり、仲間3人で楽しい旅行が出来ました。
Umemura
2016-01-14T00:00:00Z
这个房子原来是一家文具店,后来空了十年,被政府拿来改造出租。可惜没有屋主住在里面,管理房子的是经理,他会在入住和走的时候过来。他们可以介绍附近所有好玩的地方。
Ting
2016-02-13T00:00:00Z
写真を見て一目惚れして決めました。写真の通り、清潔感と部屋の開放感があり、何と言ってもどこか懐かしさを感じました!!またチェックイン時間にも柔軟に対応してくださり、旅行の時間管理もスムーズに済みました!!宿に着いてからも、部屋の細部の説明をしていただけたので、より部屋の居心地も良かったっです!!暖房器具も各部屋にあり、新潟県は寒くて夜耐えられるか心配でしたが全く心配なかったです!!あまりに部屋の居心地が良かったので、仲間増やしてまたこれたらなと思います!!是非お勧めします!
Yuki
2016-11-27T00:00:00Z
Staying in KAJI and touring around all the magnificent artisan factories in Tsubame-Sanjio area is really the highlight of my first trip to Japan. Unique old craftsmen's house with well facilities. Historical and top quality metal works in this area with well connect and knowledge of Yasushi's tour service. This is the best combination you should enjoy. 燕三条是日本極富盛名的金工手工藝的發展重鎮。KAJI民宿,把具有歷史意義的木頭老建物,裝修成極富風味的工藝民宿。Yasushi對於當地區域的各種專業金屬手工藝業有深入的研究。對於喜好金屬工藝的人,KAJI民宿,加上Yasushi的導遊服務,是最好的選擇。
Eric
2015-12-03T00:00:00Z
My sister and I had a fantastic experience at KAJI. We can not say enough about how helpful and knowledgeable Yasushi-san was about the people and places of the Sanjo area. KAJI is a beautiful example of a well refurbished historic building. It had everything we needed to be comfortable. It was well located close to the main street and Kita Sanjo station. Yasushi-san is also a tour guide and we highly recommend arranging a tour. We visited the Echigo Tsumari Art Field and some local artisan factories. Yasushi-san was very open to customizing the tours to our interests. We definitely will be back to KAJI and with Yasushi-san's help will experience more of the beauty and history of the Sanjo area.
Carla
2015-08-05T00:00:00Z
Hiii future guests! This guest house was the best guest house that I have stayed at during my travels in Japan. Niigata is not so far from the KAJI house (with a planned itinerary it's ~30-45min) Nearby was so quiet and cool! (with some restaurants and little shops). The house was very clean and also, still, traditional japanese. Yasushi-SENPAI is a really nice guy. He texted us asking to know how we were and if we ever needed something, etc.. He took my friend and I to the bus stop (and many other places) because he's really courteous. I have never heard of such a nice host like him before. Domo Arigato for all Yasushi-san! I recomended this place to everyone who wants to take some holiday time in a good prefecture in Japan. +100% satisfaction ;D
Alexis
2015-08-11T00:00:00Z
He knows about Sanjo area well. I asked him a lot about Sanjo and Niigata. He is good guide of this area and has intelligence. Check in / out time is flexible. The house is old style, clean and comfortable. I like one room that ceiling is high. I slept this room. The hose is in the old city. It is quite and safety. There are many small street. It is fun to walk that small street. There are many restaurant within walking distance.
Hiroshi
2016-07-04T00:00:00Z
Art der Unterkunft
Ganze Unterkunft
---
Objekttyp
Haus
---
Unterkunft für
10
---
Schlafzimmer
Sanjō-shi, Niigata-ken, Japan
最寄りのスポットは公園。我が家の自慢はエリア。ひとり旅にぴったりです。
Art der Unterkunft
Privatzimmer
---
Objekttyp
Haus
---
Unterkunft für
3
---
Schlafzimmer
Sanjō-shi, Niigata-ken, Japan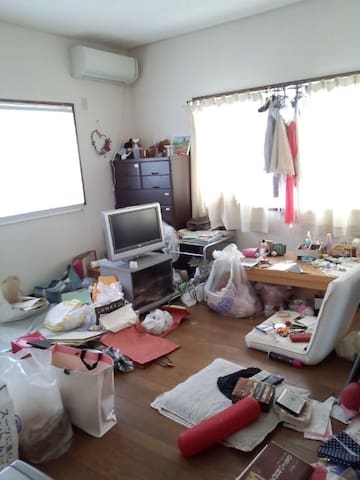 Azabu - Airbnb
:
Durchschnittlich

5

von

5

Sternen aus

23

Gäste-Bewertungen
1

–

2

von

2 Ferienhausvermietungen
Gib deine Reisedaten ein, um den Gesamtpreis pro Nacht zu sehen.