Gib dein Check-in-Datum im Format TT.MM.JJJJ ein
Gib dein Check-out-Datum im Format TT.MM.JJJJ ein
Inserate, die du buchen kannst, ohne auf eine Bestätigung des Gastgebers zu warten.
Gib deine Reisedaten ein, um den Gesamtpreis pro Nacht zu sehen.
Diesen Juli und August kannst du eine dieser 100 hervorragend bewerteten Unterkünfte aus jeder Preiskategorie ausprobieren, um Sonoma aus der Sicht eines Einheimischen kennenzulernen. Dank 24-Stunden-Check-in, Sofortbuchung sowie einheimischen Weinen und Snacks kannst du dich einfach zurücklehnen und deine Reise genießen.
The Inn at Calayo. Is a modern 3 storey building. The place is very comfortable, convenient, affordable and very relaxing. You can really enjoy and share your bonding time with family or friends. Filipino hospitality at its best.
It's the only 3 floor building in the entire barangay. With the height of a 5 storey building we boast of a unobstructed deck, wherein you can appreciate the spectacular view of the entire calayo cove. All our guest can enjoy our view deck and stargaze all night. We have a total of 12 rooms. 7 rooms that can accommodate maximum of 10pax per room (7 adults and 3 kids; as per our estimate) and 3 rooms that can accommodate maximum of 4pax per room ( 2 adults and 2 kids; as per our estimate). We also have a triple sharing room with bathroom and 1 triple sharing room without a bathroom inside the room. It's on the side of the room only. Each room has a 1 queen size bed and 1 single bed. Good for 3pax maximum of 4pax. As long as your group can fit, it is ok for us to follow, just the maximum pax per room rule. We also have a airconditioned function room that can be rented for small gatherings, occasions or celebrations. Guest has access to all of what Calayo has to offer. The beach is about 20 meters away from us. We provide tents by the beach so you can hang out there. Chairs and tables, common refrigerator, also the cooking utilities can be used by our guest. We allow our guest to cook for themselves. Also our guest can stay at the view deck. Purified drinking water is free. The Inn offers two options. The Inn Sea Adventure! Wherein they have the option to book a boat ride where they can do island hopping and snorkling! 2) The Inn Mountain Adventure. Wherein they have the option to trek and enjoy the sites of Mount Pico De Loro! Just ask for our assistance, and we will be more gladly to help. Guest can also buy the freshest catch of seafoods in the morning, by the beach. For more of our latest photos. Please check out our Face&Book page. Same name as here. The Inn at Calayo. Thank you.
Very laid back fishing village From manila. Any bus ride that goes to Nasugbu Batangas will do. Then when you get off the bus at Nasugbu town proper that's just 1 tricycle ride upto the Inn at Calayo. They have the option to either rent the upper loft only which is Php4000 that can accommodate 4 persons maximum of 6pax as per our estimate of 4 adults and 2 kids. (2 queen size beds). Or the lower loft only for Php3000 that can accommodate 2 persons, maximum of 4pax as per our estimate of 2 adults and 2 kids. (1 queen size bed). But if your a close group or family, and you can fit in the room, we will allow it, as long as you follow the rule of the maximum 10persons per room is enforced. We also have a triple sharing room with bathroom and 1 triple sharing bunk bed room without bathroom inside the room, but its just on the side of the room. Both triple sharing rooms have 1 queen size bed and 1 single bed on each room. 3pax maximum of 4pax. Cooking is allowed for only Php400 per day. Unlimited cooking already for LPG gas range and use of the entire kitchen utensils. For grilling. We have grilling equipment its free to use. Just bring your own charcoal. Or you can ask our staff to cook for you for a minimal charge.
Do not rely on pictures....ask for detailed information
Zel
December 2016
Staying at The Inn is a total package! Our host is very accommodating and made sure that whatever we need is there,I really appreciate his attentiveness and his prompt response . The place is superb! I would highly recommend the place.And for sure we will go back here.
Carren
March 2016
Art des Zimmers
Privatzimmer
---
Art der Unterkunft
---
Unterkunft für
8
---
Schlafzimmer
1
Nasugbu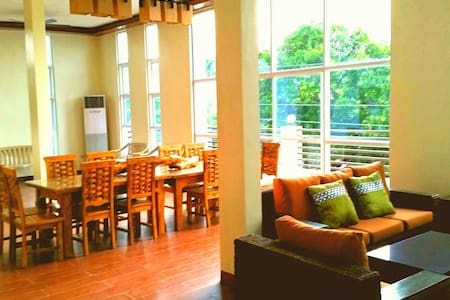 Our unit is a spacious 2-bedroom loft that comfortably fits 7 adults. It is located on the ground floor of one of Pico de Loro's newer condominiums with a beautiful view of the lagoon. Fully-equipped with everything you need for a peaceful stay-cation indoors or a fun-filled adventure outdoors!
Our contemporary designed resort-themed loft is the perfect place to stay for a quick getaway with either friends or family. It is located on the ground floor of one of Pico de Loro's newer condominiums with garden access and a most scenic view of the lagoon. Our loft can comfortably fit 7 adults, with two bedrooms, two bathrooms, a dining table fit for 8, and a sectional sofa fit for 7. There are also two outdoor areas where you can enjoy the open air. Guests may enjoy all the amenities available at Pico de Loro, however please note that rentals and entry to some areas may require an added fee. These fees/payments are not included in the condo rental fee and are to be settled directly with Pico de Loro during your stay.
At Pico de Loro you can enjoy the beach and the various amenities and activities available at the Beach and Country Club. There are many water and land activities to choose from- indoor sports such as bowling, basketball, tennis, table tennis, badminton, etc. and water sports such as kayaking, paddle-boarding, snorkelling, cove hopping, and so much more. Rentals are for a fee, of course! There are also a variety of restaurants to choose from. If you are into hiking, Mt. Pico de Loro or Mt. Palay-Palay is just a short drive from the place. Pico de Loro offers free shuttles to take you anywhere you need to go within the community. Pico de Loro is primarily a residential development and vital to its security is a mandatory authorization process for non-members. Upon your confirmed booking, we shall supply you with the necessary documents to ensure your smooth entry into Pico de Loro. Please also note that there is a separate entrance fee paid per person charged by the management that is not included in the condo rental fee. Registering with the Beach and Country Clubs, however, opens up a whole lot of amenities that you can enjoy including use of their showers, towel and locker rentals, and so much more!
Reisha's unit is very cozy! The price is reasonable for a loft type accommodation with such huge space. Our family enjoyed our trip as we felt relaxed during our stay. Thanks Ms. Reisha!
Arveegay
May 2016
It's my first time to try AirBnb so i've got a lot of questions. Reisha is super nice to guide me through the process and answered all my questions/concerns. Her place is just.. Ugh! So nice! :) My family really enjoyed our overnight stay there. Super worth it! ❤️ We will definitely go back to Pico and her place
Danelle Erika
April 2016
We had so much fun. The unit is big enough for groups. Price is worth it.
Eimaj
March 2016
It was a very fun and relaxing experience.I must say, this is one of the most beautiful place we have ever rented in airbnb. It was a long drive going to Pico but it was all worth it. The place it really cozy, clean and classy. Everything that we need was provided in the place and the kitchen is well equipped. The veranda had a very nice view of the lake. We will definitely go back to Pico and book Reisha's place in a heartbeat!
Cheska
February 2016
Reisha's unit is lovely! It's a lot more spacious and homey than its photos. We came as a big group and the place fit us well. Working in the kitchen was also comfortable. The unit is fully-equipped so you won't need to bring cleaning and cooking tools. Reisha is also an excellent host. She is very nice, accommodating, and replies to my messages as soon as she can even if she's at work. To prove how accommodating she is, Reisha even met my family at 7.30 in the morning just to hand over required documents at Hamilo, which I couldn't print due to a printer problem. Kudos to you, girl! ;)
Kate
March 2016
Art des Zimmers
Ganze Unterkunft
---
Art der Unterkunft
---
Unterkunft für
7
---
Schlafzimmer
2
Nasugbu