64 Ferienhausvermietungen
Dorka apartment is located few meters from the shore on the bicycle path. Ideal for 4-6 people with private pier and path to the lake. Separate semi-detached house, simple kitchen and grill, intimate terrace and garden. Parking in the garden for 2 cars. Gently deepening water, ideal with kids, for fishing, surfing. Two free public beaches, playground, pub, restaurant within few minutes. Late check-in and early check out is not a problem. Daily sailing can be organised with skipper.
Separate apartment to rent on the lake shore. Private path to the lake, pier for the guests. Beautiful view on the hills of Badacsony. The apartment is ideal for families with kids, for anglers (fishing), for windsurfers. The apartment houses 5-6 people. Three bedrooms, large living room, kitchen, bathroom, two toilets. Private terrace, simple grill, swing. Parking on the premises for two cars. Mobile bed and highchair for a child. The apartment is located next to the Balaton bicycle path so traffic is slow and moderate. Two child friendly beaches within two minutes walking. The apartment is close to Keszthely and Fonyód. A cosy restaurant and a small outdoor pub within few minutes of walking, the marina is one kilometer from the apartment.
Close to the waterfront, to Keszthely, Badacsony and Fonyod.
Netter Gastgeber, der in der Nähe der Unterkunft selber wohnt und gerne mit Ausflugstipps aushilft.
Carsten
2016-08-25T00:00:00Z
Janos and his wife are very friendly and willing. I felt here with my family very nicely. Around the house is suitable for cyclists, the lake isn´t deep,it is ideal for small children. I recommend this accommodation. Thank you János and Ibi!
Eva
2016-08-14T00:00:00Z
Had a great time, the apartment is very comfortable, in a great location and had everything we needed. It's literally located between the cycling path and the lake Balaton! Would love to stay there again and will certainly recommend it to others.
Zsófi
2016-08-01T00:00:00Z
Nagyon kedves hàzigazda volt. Rugalmasan fogadta a biciklis tàrsasàgunkat ès nagyon segítökèsz volt velünk. Mindenkinek jò szívvel tudom ajànlani.
Sara
2016-08-01T00:00:00Z
Pro náš krátký pobyt to bylo dobré ubytování. Vybení je jednoduché, ale svou funkci plní. Veřejná pláž je vhodná i pro malé děti, což bylo super. Hostitelé velmi přátelští, vždy připraveni pomoct nebo poradit.
Zdeněk
2016-09-05T00:00:00Z
Great location. House was clean, in good condition, and as described. Janos was friendly, responsive, and went beyond what was necessary to help when we had questions. Would recommend.
Greg
2016-08-16T00:00:00Z
Art der Unterkunft
Ganze Unterkunft
---
Objekttyp
Haus
---
Unterkunft für
5
---
Schlafzimmer
Balatonmáriafürdő, Somogy County, Ungarn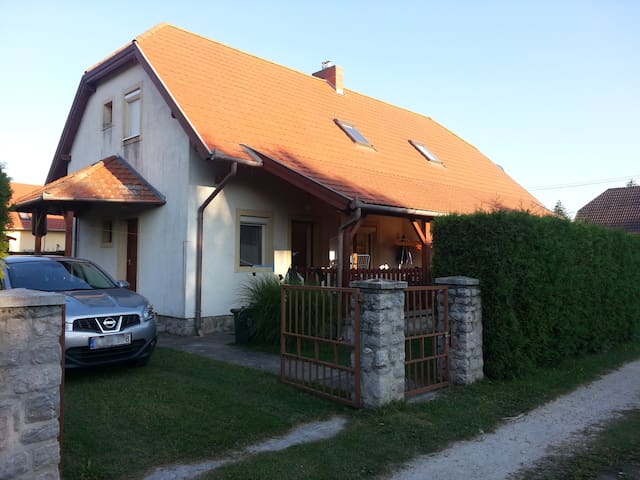 A helyem erre megfelelő: családok (gyermekekkel) és nagy csoportok.
The host canceled this reservation the day before arrival. This is an automated posting.
Terez
2016-07-02T00:00:00Z
A szálláshely megfelelt a hirdetésben látottaknak. A vendéglátó udvarias és szívélyes volt. Ajánlom!
Máté
2016-07-12T00:00:00Z
Art der Unterkunft
Ganze Unterkunft
---
Objekttyp
Haus
---
Unterkunft für
6
---
Schlafzimmer
Balatonmáriafürdő, Somogy County, Ungarn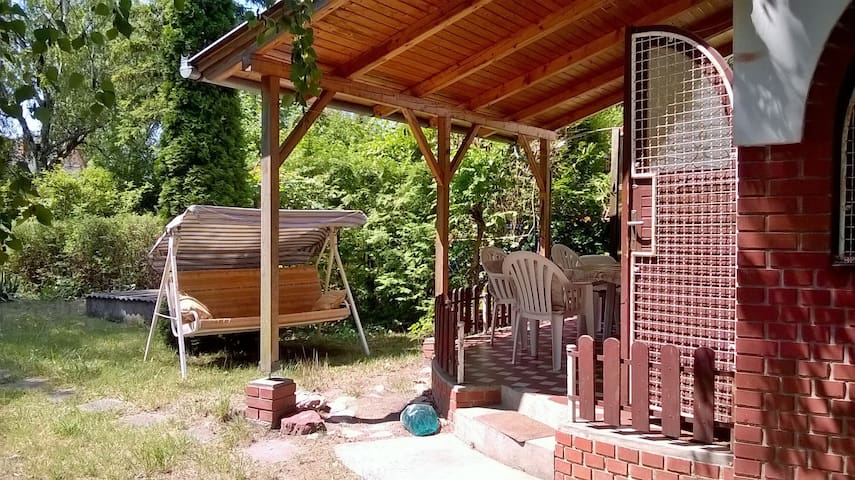 Our house is located on the southern shore of Lake Balaton at a distance of about 400 m from the lake. The house has a beautiful large garden with play and sunbathing area and a children's swing , outside shower , grill, etc. shopping, restaurant, about 400 m. The property is fenced with parking. Pets allowed . Line : near floor: Kitchen : fully equipped - Coffee Bathroom: WC , wash basin, bath with shower, washing machine Living Room : Pull-out three-piece suite - Sleeps 2 persons (extra beds) coffee table, chairs , wardrobe , stereo, color . TV with 25 satellite programs. 1 Floor left : bedroom with queen-size bed and sofa bed sleeping options 3 people 1 Floor on the right : Youth room with 2 Einzellliegen . Very nice large south-facing terrace with table and chairs , sun lounger , Sonnenmarkiese etc. ---------------------------------- The Balaton , for German Lake Balaton, located in Western Hungary , 90 km from Budapest, 190 km from Vienna. The 'Hungarian Sea' is an area of almost 600 km ², the largest lake in Central Europe . By the Tihany peninsula of 77 km long lake is divided into two basins . On average, he is only 3-4 m deep, the water heats up quickly according to pleasant temperatures (in summer up to 26 ° C) to provide good conditions for swimming. On the north shore to attract beautiful picturesque mountain ranges (up to about 440 m high ) along, mostly of volcanic origin, covered by large vineyards. Bathing facilities here are limited essentially to the beach baths . On the south bank the other hand, a seaside resort follows the other . It consists basically of a single beach - some free beaches , but mostly scale beach resorts, interrupted only by reed zones. The lake here at long distances has a sandy bottom , and the water is very flat from the middle of the lake down from . The beaches are mostly overgrown grass . Every place has its own beach with a beach or free beach . In contrast to the northern bank of the back country is flat . Note: Basically, in all beach resorts on the northern and southern dog ban. Furthermore, there is a dog ban on all open beaches on the south shore . Only in some recreational beaches on the north shore Dogs are allowed . Strongly ago in early July and early September reduced leisure and sports facilities .
Der Balaton, zur deutsch Plattensee, liegt in Westungarn, 90 km von Budapest, 190 km von Wien entfernt. Das 'Ungarische Meer' ist mit einer Fläche von fast 600 km² der größte See Mitteleuropas. Durch die Halbinsel Tihany wird der 77 km lange See in zwei Becken geteilt. Im Durchschnitt ist er nur 3-4 m tief, das Wasser erwärmt sich entsprechend schnell auf angenehme Temperaturen (im Sommer bis zu 26°C) und bietet so gute Voraussetzungen zum Baden. Am Nordufer ziehen sich malerisch schöne Bergketten(bis ca. 440 m hoch) entlang, meist vulkanischen Ursprungs und von großen Weingärten überzogen. Bademöglichkeiten sind hier im wesentlichen auf die Strandbäder beschränkt. Am Südufer hingegen reiht sich ein Badeort an den anderen. Es besteht im Grunde genommen aus einem einzigen Strand – teilweisefreie Strände, vorwiegend aber angelegte Strandbäder, unterbrochen nur durch Schilfzonen. Der See hat hier auf weiten Strecken sandigen Grund, und das Wasser fällt sehr flach zur Seemitte hin ab. Die Strände sind meist gras bewachsen. Jeder Ort hat seine eigene Strandanlage mit Strandbad oder Freistrand. Im Gegensatz zum Nordufer ist das Hinterland hier flach. Hinweis: Grundsätzlich gilt in allen Strandbädern am Nord- und Südufer Hundeverbot. Weiterhin besteht ein Hundeverbot an allen Freistränden am Südufer. Lediglich an einigen Freistränden am Nordufer sind Hunde gestattet. Vor Anfang Juli und ab Anfang September stark reduziertes Freizeit- und Sportangebot.
Art der Unterkunft
Ganze Unterkunft
---
Objekttyp
Haus
---
Unterkunft für
5
---
Schlafzimmer
Balatonmáriafürdő, Somogy County, Ungarn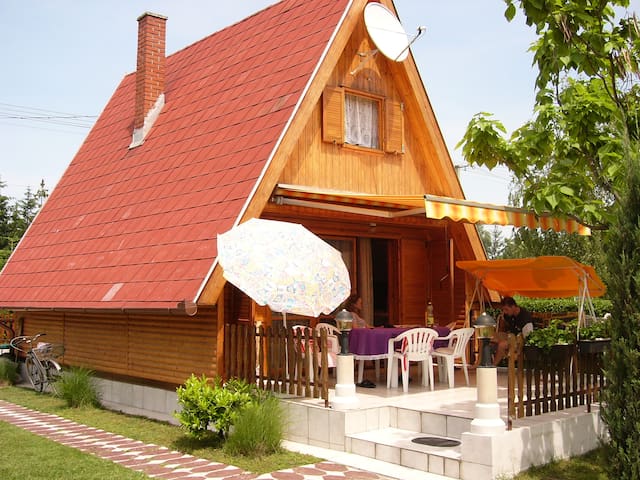 This friendly house is optimal for a family or group of friends who wish to have their own space. The 2 rooms, common areas , a kitchen and 2 bathrooms assures a comfortable stay even for 6 people. The garden is a great place to relax or barbecue.
Phoenix House with its 2 stores offers the space and facilities to spend your vacation in a friendly and calm environment. Well, the wall should be repainted at some locations, this will come... You can enjoy your time in the garden sitting in the hammock or dining at the back in the wooden pavilion. Balatonmáriafürdő is pretty and calm village at the western edge of lake Balaton. It provides many opportunities for enjoying your time: - nice beach - restaurants - port - clubs - wine tasting - local museum In the are it's deffinitely worth to visit: - Hévíz - Keszthely - Badacsony - Kis-Balaton ....
The house is very close to the lake, to reach it you only need to walk 2 mins through a cane-field which is the home of many birds, frogs etc. At the end of it there is a place where you can get into the water. The center of the village and the beach is 10 minutes, the train station is 15 minutes walk.
Jól éreztük magunkat. Akinek a net nélkülözhetetlen, annak problémás lehet a ház, de különben nagyon kellemes hely. Csendes környék, nagyon közeli fürdési lehetőség, kedves házigazda.
Éva
2016-09-03T00:00:00Z
Bardzo komunikatywny i dyspozycyjny Gospodarz. Domek w bezpośrednim sąsiedztwie Balatonu. Do dyspozycji różny sprzęt, w tym wodny ;).
Bartłomiej
2016-07-29T00:00:00Z
Nous sommes arrivé avec plus d'une heure de retard sur ce que nous avions convenu via le site, malgré cela notre hôte (Dorottya) nous attendait sur place. Accueil charmant. Maison sympathique, grand jardin avec Barbecue. La maison était conforme à la description. Le wi-fi est limité en volume et instable. Notre hôte nous a renseigné les adresses utiles. Nous avons pu garer notre voiture sur une place de parking privé. Nous étions cinq (deux adultes et trois enfants) et nous avons profité du lac tout proche. La maison peut encore être améliorée (comme indiqué dans le descriptif). Au final très bon rapport qualité-prix.
Quentin
2016-07-23T00:00:00Z
The house is a bit tired and needs lots of improvement.Uncomfy beds , room upstairs was extremely hot but no fan or a/c provided. Good location and nice garden on the positive side.
Viktor
2016-08-02T00:00:00Z
Art der Unterkunft
Ganze Unterkunft
---
Objekttyp
Haus
---
Unterkunft für
6
---
Schlafzimmer
Balatonmáriafürdő, Somogy County, Ungarn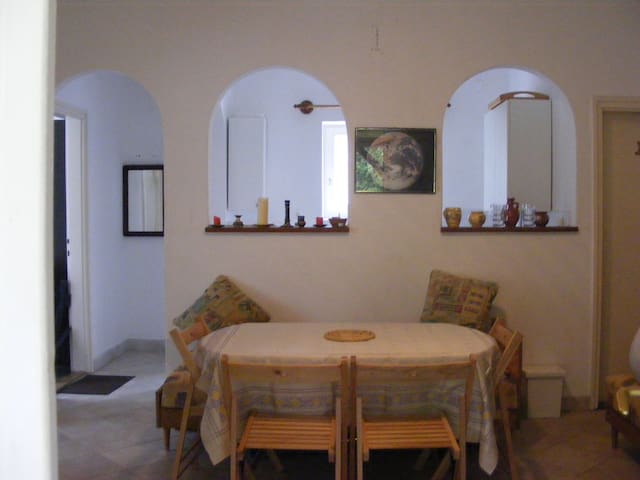 Különleges és hangulatos komplett 150 nm-es faház, nagyon kedvező elrendezéssel, gyerekbarát felszereléssel, családok számára ideális. Hatalmas kert, csúszda, hinta, homokozó, első és hátsó terasz. A házban 4-5 felnőtt és 2-3 gyerek fér el.
A Balaton déli partján, a szabad strandtól 10 perc sétára minden kényelemmel felszerelt kétszintes faház kiadó. Gyerekbarát felszereltség, akár több gyerekkel is kényelmes. Hatalmas sík kert, kiváló biciklitúra és kirándulási lehetőségek.
Balaton part és szabad strandok a közelben 10 percnyi sétára, kerékpározási lehetőség, Keszthely, Badacsony, Zalakaros, Hévíz fél óra távolságra autóval.
Es ist eine super Unterkunft. Sehr schön, groß und sehr sauber. Ein toller großer Garten und nette Nachbarn :-)
Isabell
2016-07-20T00:00:00Z
: )
Matthias
2014-08-03T00:00:00Z
It has been a real pleasure to spent my holiday in this house. Everything was superb and the area is a perfect place for children. Pictures and descriptions are truthful. The house is fully equipped and the garden is big enough for playing, grilling or doing whatever you want. Moreover, Anita is a very nice person with positive attitude. She speaks English well and her hospitality is on a very high level. I strongly recommend host and house to everyone who would like to take a rest, relax and spend a good time in quite place with friends or family.
Krzysztof
2014-08-13T00:00:00Z
Very nice place, clean. The hosts are very kind people, helped us a lot
Alla
2014-08-25T00:00:00Z
Nagyszerűen éreztük magunkat, ha ismét Máriafürdőre látogatunk biztosan Anita házát választjuk.
Daniel
2016-07-28T00:00:00Z
Art der Unterkunft
Ganze Unterkunft
---
Objekttyp
Haus
---
Unterkunft für
6
---
Schlafzimmer
Balatonmáriafürdő, Somogy, Ungarn
Direkt im Zentrum, nur 5 Gehminuten vom Strand entfernt.
ACHTUNG: Buchung nur ab 10 Personen möglich! Alles darunter wird abgelehnt! Wer keine großen Ansprüche hat, für den ist diese Unterkunft bestens geeignet. Besonders für Kinder-/Jugendgruppen bietet sich das Haus an, denn es ist auch eine Tischtennisplatte vorhanden. Vom Gebäude kann das komplette 200qm große Erdgeschoß genutzt werden. Es besteht aus einem großen Schlafraum (90qm) mit Stockbetten sowie einem 50 qm großen Ess-/Aufenthaltsraum (mit kleiner Küche). Das Haus hat eine Dusche mit modernem Durchlauferhitzer, so dass nie das warme Wasser ausgeht.
Art der Unterkunft
Ganze Unterkunft
---
Objekttyp
Haus
---
Unterkunft für
16
---
Schlafzimmer
Balatonmáriafürdő, Ungarn, Ungarn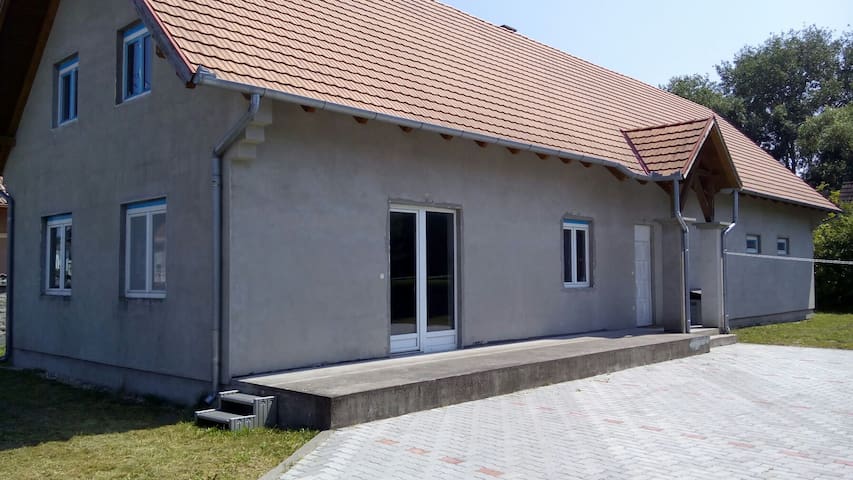 Balatonmáriafürdő is a beautiful settlement at the coast of Lake Balaton. It's a good choice for both who wants to relax with the family or want to explore the sparkling nightlife of Balaton at summer. Fishing, sunbathing, good restaurants, enjoy it!
The house has one bathroom and three bedrooms, and also a kitchen on the ground floor, and the same attributes on the first floor. The two floors are fully separated! Families enjoy priority at rental!
Balatonmáriafürdő has many good restaurants and bars, to pass your time. Also it offers you the experience of fishing, or going to the beach, where you can find a wonderful pier, which stretches deep in the lake, giving you an amazing panoramic view, both day and night. You can find here on of the best ice cream shops of Hungary too! Many beautiful places are waiting for you in the nearby county too, Héviz and Keszthely are just 30 minutes of travel, and from the port you can reach Szigliget and Badacsony by ship!
Nagyon kedves, segítőkész. Minden a megbeszéltek szerint zajlott! A ház szuper, tágas, a Balaton nagyon közel.
Eszter
2016-08-01T00:00:00Z
Péter was very friendly and was waiting for us with the key when we got there. The house was clean, big and the beds we nice. There was also a garden with table and chairs. I would recommend to stay here if you want to have a few quiet days in a nice house+garden! The neighbours were also very nice and brought us some fresh made fish (caught by themselves).
Cas
2016-07-18T00:00:00Z
Minden rendben volt, a hazigazda keszsegesen segitett mindenben a haz elhelyezkedese tokeletes kozel mindenhez. A szomszedok kisse kozel vannak ezert barmifele hang zavarja oket
Kata
2016-08-21T00:00:00Z
Nagyon kedvesen fogadtak. Az egész családunk maximálisan meg volt elégedve. Mindenben segítettek. Közel a Balaton az élelmiszer bolt, vendéglátó helyek, kikötő... Legfontosabb számunkra a tisztaság volt amivel 100% -an meg voltunk elégedve. Biztosan visszamegyünk ide. Családoknak pici és kis gyerekekkel kiváló hely. Nagyon szép a kert. Felszerelt a konyha.
Veronika
2016-08-09T00:00:00Z
Minden tokeletes volt!
György
2016-08-18T00:00:00Z
Gospodarze bardzo serdeczni, pomocni. Domek w super lokalizacji. Polecam.
Patrycja
2016-07-10T00:00:00Z
Wszystko w porządku, polecamy :)
Urszula
2016-08-04T00:00:00Z
Excellent place to spend a couple of days enjoying lake Balaton with a big group of friends. I would definitely recommend the place!!
Justina
2016-08-31T00:00:00Z
Art der Unterkunft
Ganze Unterkunft
---
Objekttyp
Haus
---
Unterkunft für
13
---
Schlafzimmer
Balatonmáriafürdõ, Somogy County, Ungarn
Kiadó nyaralónk Klímával széffel 2 kerékpárral.A Balaton 300 méterre van.A közelben gyógyfürdők 20-25 km Zalakaros Hévíz Kehida.
Art der Unterkunft
Ganze Unterkunft
---
Objekttyp
Haus
---
Unterkunft für
5
---
Schlafzimmer
Balatonmáriafürdő, Somogy County, Ungarn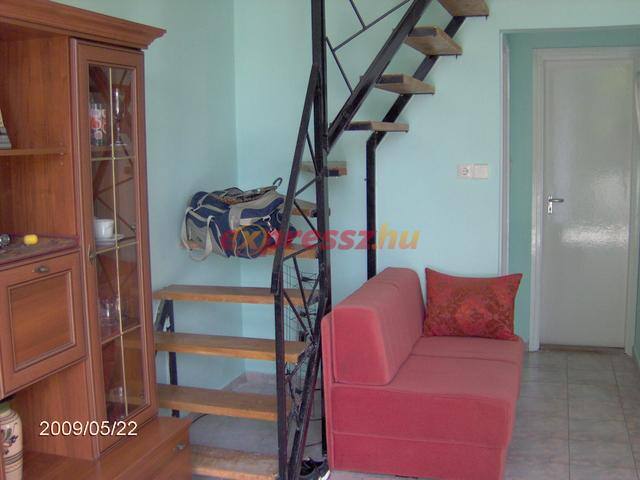 Balatonmáriafürdőn 6 fős szép berendezésű nyaraló 2 lakószobával, 3 hálószobával, 3 fürdőszobával, nagy terasszal, felszerelt konyhával, étkezővel, szép, ápolt kerttel szombattól szombatig foglalható. A vízparttól 300 méterre található.
Art der Unterkunft
Ganze Unterkunft
---
Objekttyp
Haus
---
Unterkunft für
6
---
Schlafzimmer
Balatonmáriafürdő, Somogy County, Ungarn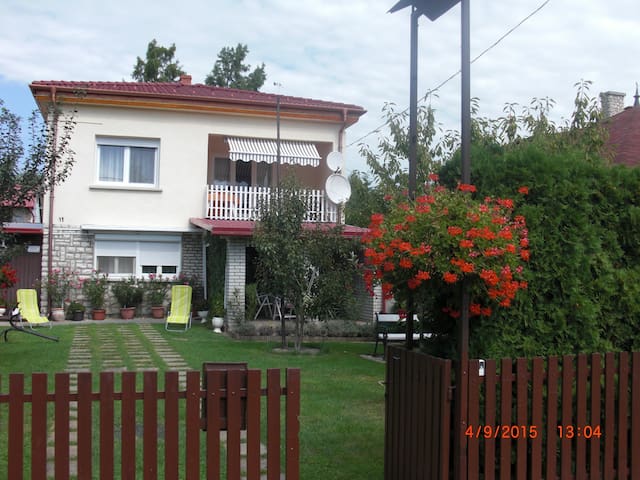 Do You know Balaton? Are you a group of 6-10 persons? Are you a family? Then this isperfect place for you. From sport to food from resting to make adventures our place 2-story flat is great for a summer to remember! Kids, young adults welcome!
Have you ever visited the Hungarian See! Not yet? Our appartement is a great choice for a group of six person (or more), or a whole family. Located at Balatonmáriafürdő, the street where the bicycle route around Balaton goes, our house is near to the lake and the centre. Shops, restaurants, buffets are all a ten-minute walk. Upstairs there are two dormitories, one for the kids and one for parents, downstairs you will find a well-equipped kitchen and a spacious living-room. The terrasse is the best place for breakfast or dinner. There are two bathrooms and two toilets, one at each level. We tried to make the house look friendly and cozy - and until now none of our guests ever complained:) IMPORTANT! the southern shore of the lake is shallow even if you go further in. so it's appropriate for little kids too! Since our family originated from a little village in Zala county, we are offering wine from our vineyard, or even a visit to the wine cellar. Ask about this if you are interested during reservation. Traffic: The train station is a 10 minute walk from the house. Airplane: Sármellék Airport is about 20 minutes by car. Thermal Spas in the near: Hévíz and Keszthely are 15 minutes by car, Kehidakustány, Zalakaros are cca. 30 minutes. Budapest is less then 2 hours by car. If you have any guestions don't hesitate to ask! If you are reserving for a longer period, we are happy to offer a special price! Ask for it! It's a must see! Come visit us this summer!
It's very relaxing - nice neighbors - good restaurants and ice-cream bars - and the lake with all the official beaches and the unofficial entrances - the lovely sounds of the frogs at the canal - the fisherman's at the pier
I definitely recommend this place! We spended there a great time. The owners are very nice and helpful. Neighbourhood is beautiful and there are friendly people. I hope that we come back there once. Greeting from Poland! ;)
Konrad
2013-07-11T00:00:00Z
We had great time in Balatonmáriafürdo, the house is big with very good layout. Very family friendly place, well- equipped, with a lot of toys and games. The beach is 5 minutes, the shops is 10. I did not meet Dénes, but got all the information on phone and was easy too find a place.
Eszter
2014-08-18T00:00:00Z
Fabulous location, helpful host who took on our suggestions for extra equipment (fan - we arrived during a heat wave). 3 mins walk to lovely free beach on Balaton, with cafes and shops nearby. Great for families. We didn't mind the trains which pass close to the back of the house.
Paula
2013-08-09T00:00:00Z
Une maison spacieuse, agréable, avec un jardin et adapté pour les familles (table de ping-pong, vélos etc) . Elle est située non loin des commodités et d'une petite plage. L'environnement est calme, seul un train se fait entendre de temps en temps. Denes a répondu à toutes nos questions, et s'est montré très agréable et très disponible.
O
2016-08-21T00:00:00Z
We had a great holiday in beautiful Balatonmáriafürdö. What can I say! The house was nice, cozy and well equipped. The Bíró family gave us a warm welcome and we even got a private tour in their family wineyard. The little town had all services we could wish for, including one of the best ice-cream parlours in whole Hungary. You really made us feel that we were among friends and not just strangers passing by. Our group consisted of two families (4 adults and 5 children) and we fitted in perfectly. Kids said that they would like to move to lake Balaton someday. Thank you for your hospitability!
Antti
2014-06-25T00:00:00Z
We enjoyed our short stay at Balaton a lot. Sara is friendly and easy to communicate with. The house is nice and well equipped. We would definitely choose this accommodation again :)
Viktor
2013-07-01T00:00:00Z
To miejsce jest naprawdę bardzo urocze i przyjazne wypoczynkowi, nawet nie przeszkadzają pociągi, które jeżdżą bardzo blisko :) polecam jak najbardziej :)
Rafał
2016-08-01T00:00:00Z
Art der Unterkunft
Ganze Unterkunft
---
Objekttyp
Haus
---
Unterkunft für
10
---
Schlafzimmer
Balatonmáriafürdő, Somogy County, Ungarn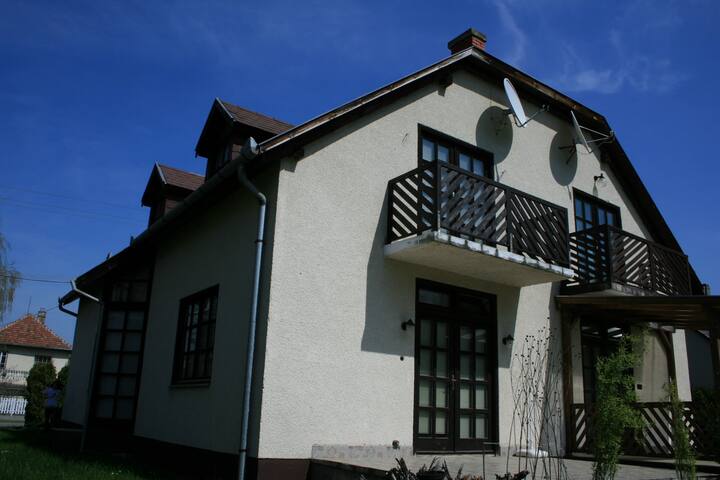 Ferienhaus direkt am Seeufer, direkt vom Haus in den See zum Baden, Ruderboot mit Bootsanlegestelle am Ende des 1600m² großen abgeschlossenen Grundstücks.
EG: großer Aufentahltsraum, Esszimmer, Küche, Dusche / WC, überdachte Terasse. OG: zwei Zweibettzimmer mit Balkon, ein Zweibettzimmer ohne Balkon, Bad / WC.
Art der Unterkunft
Ganze Unterkunft
---
Objekttyp
Haus
---
Unterkunft für
6
---
Schlafzimmer
Balatonmáriafürdő, Somogy County, Ungarn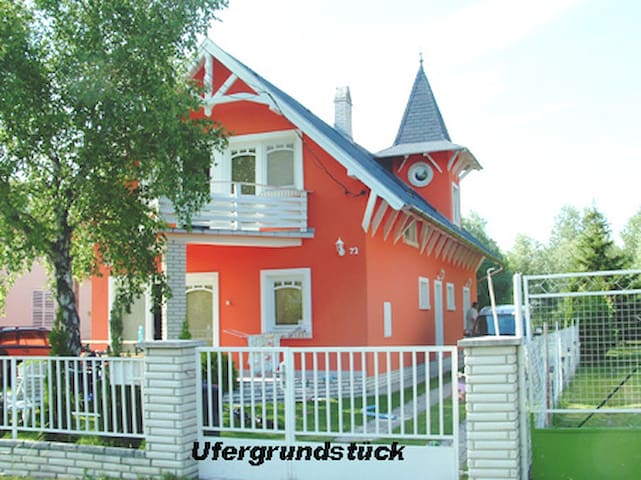 Balatonmáriafürdő központjában kínálom igényesen felújított apartmant kiadásra! Minimum éjszakák száma 5!
Art der Unterkunft
Ganze Unterkunft
---
Objekttyp
Haus
---
Unterkunft für
6
---
Schlafzimmer
Balatonmáriafürdő, Somogy County, Ungarn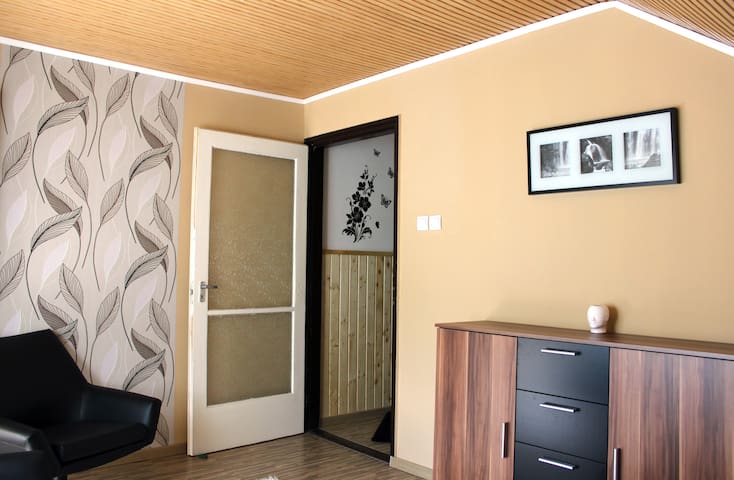 The house is located in the center of the historic lake-front village of Balatongyörök. Spacious living room, terrace, 3 bedrooms, 2 bathrooms and a wooden cottage in garden offer accomodation for max. 10 people. Beach and port within 5 minutes walk.
The place can accomodate max. 10 people. Both in the living room and on the large roofed terrace there are tables for 10 or more to dine. There are two bedrooms with double bed, one with two singles. There is a sofa convertable to a double bed in the living room too. In the garden there is a wooden cottage with two beds - adventurous place for kids! Wardrobes are available in all the bedrooms to store belongings. Out of the two independent bathrooms one is with bath, one with shower. Toilet is included in both. There is an open-air barbecue in the garden, with all grilling and cooking equipment.
The village of Balatongyörök: Cosy historic village on the coast of lake Balaton, with an award-winning beautiful beach, traditional houses, sycamore alleys, nice restaurants. Won golden medal at the European contest of the most flowery villages. (URL HIDDEN) Szépkilátó: One of the most beautiful viewpoints around lake Balaton is at the end of the village, walking distance from our house. (URL HIDDEN) Szent Mihály Templom (St. Michael Chapel): Built on a hill with a beautiful view next to the village. Golf club Imperial, with breathtaking Balaton panorama: (URL HIDDEN) Africa museum and zoo: (URL HIDDEN) Keszthelyi hills and forest: A large hilly area of forest starts right behind the village offer walking, biking and hunting opportunities. (URL HIDDEN) Keszthely - historic town with large baroque palace and garden, 8 km: (URL HIDDEN) (URL HIDDEN) Hévíz - unique thermal lake and bath, open around the year, 15 km: (URL HIDDEN) Szigliget - charming village and fortress with panoramic view: (URL HIDDEN) Tapolca - town with cave and under-ground lake, 10 km: (URL HIDDEN) Badacsony - fantastic wine, view and restaurants, 15 km: (URL HIDDEN)
We spent three weeks in Adrienn's lovely place with our baby and it was a perfect family vacation! Adrienn even provided us with a baby cot. She was very helpful and easy to reach via email. The house is very well equipped, the garden is sunny and spacious and what we loved most about the house is the hollywood swing at the large terrace. The lake Balaton is within walking distance and you can find lots of restaurants and eateries nearby. During the summertime there is free Wifi at the beach. If you are looking for a quiet hideaway to relax Adrienn's place is the perfect place. And last but not least: Although lake Balaton has lots of mosquitos we didn't get even one stitch inside the house thanks to the mosquito nets.
Gitte
2016-09-23T00:00:00Z
It was excellent stay in Balaton area. Great house in nice style, very clear and comfortable. Adrienn was reallu very helpful and elastic. I reccomend 100% :-)
Wojciech
2016-05-07T00:00:00Z
We had a wonderful stay at Adrienn and Gyorgy's cottage in Balatongyorok. We visited late in the year during the autumn as a family of 5 (children aged 9, 6 and 5). The cottage has been beautifully renovated in the authentic style, with tasteful and rustic furnishings throughout. There was lots of garden space for our children to play and Lake Balaton was just a short walk away (handy for free wifi!) and with a lovely children's playground. We easily made day trips to other bigger towns on the lake but we were always glad to return to the peace and tranquility of the cottage in the evenings. Our hosts went out of their way to make us feel welcome. They gave clear directions and instructions, opened up and heated the property in advance of our arrival, provided lots of games for the children and gave us many tips of things to do in the area. Supermarkets, restaurants and cafe's are all available in close proximity. The property itself has so many features that we could not use them all given the season in which we were visiting: BBQ facilities, lots of outdoor seating, bikes that we could have borrowed. We hope to return in the summer one day so that we can enjoy these facilities!
J. Leslie
2016-10-19T00:00:00Z
It was lovely. The house is wonderful and Adrienn is a wonderful person as well!!!!
Anna
2016-10-02T00:00:00Z
Csodaszép pár napot töltöttünk ebben a balatoni házban. A környék nyugodt, csendes, közel van a vízparthoz. A ház nagyon jól felszerelt, tiszta és kényelmes, semmi akadálya hogy az ember rögtön otthonosan érezze magát. A kert rendezett, bogràcsozàshoz és kerti sütèshez kiválóan alkalmas. Mindenkinek szívből ajánlom az itttartòzkodàst aki pihenésre vàgyik; nem fog csalódni! Jövőre visszatérünk!
Szilvia
2016-06-11T00:00:00Z
Art der Unterkunft
Ganze Unterkunft
---
Objekttyp
Haus
---
Unterkunft für
10
---
Schlafzimmer
Balatongyörök, Komitat Zala, Ungarn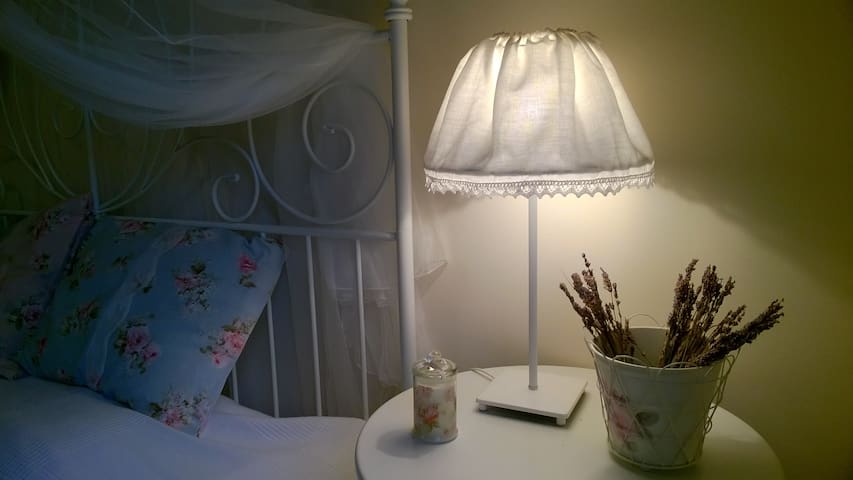 Südwestlichen Ufer des Balaton, einer ruhigen Stadt mit Stränden. Parkmöglichkeiten im Garten. Gartenmöbel und Grill. Und benötigt, wenn wir in der Lage, 2 zusätzliche Betten einzurichten. Innerhalb von 20 bis 25 km können Sie Spas und Badewanne finden (Zalakaros, Hévíz) oder beliebte Orte (Keszthely). Nahe gelegene Schlösser, Museen und Häfen sind für Touristen zur Verfügung. Kisbalaton Nationalpark ist 30 Minuten mit dem Auto entfernt. Strände und Kinderbereich innerhalb von 5-10 Minuten zu Fuß zu spielen.
Geräumiges Haus mit großem Garten in einer Familie wie Umgebung mit extra großen Wohnzimmer und mit voll ausgestattete amerikanische Küche. Kühlschrank, 40 Liter Gefrierfach, elektronische Fleisch Herd, Tee- und Kaffeemaschine, Toaster, Mikrowelle und Gemüse Dampfer. Für längere Aufenthalte eine Wahsing Maschine zu verwenden ist avaipable. Das ganze Haus ist bereit für Ihren Einsatz. Der Vermieter wohnt im Garten in separaten Haus mit eigenem separatem Eingang. Wenn Sie den Besitzer gehen Lust Angeln Sie gerne nehmen. Der Eigentümer hat einen kleinen Hund vor Ort.
verlieren mit vielen Dingen zu Keszthely, um zu sehen, und den Hafen. Der Zyklus Straße rund um den See Balaton wird durch diese Stadt. In einem Umkreis von 20 km gibt es Thermalbäder: Hévíz, Zalakaros und Marcali. Und der Sármellék Fly Flughafen ist von 16km der Immobilie
We had 5 wonderful days at Anna and Anita's home, a stones throw from Lake Balaton. All the previous reviews are spot on and Anna and Anita were the perfect hosts. The house was spotless and everything was in order. Anita produced a fish for us which Anna had caught on the lake and it was delicious. We had great chats and felt instant friends. This area is a great base for experiencing the region which is fantastic. If you're coming this way then come here to experience these kind, laid back, genuine hosts. You won't be disappointed.
Tim
2016-09-10T00:00:00Z
The host canceled this reservation 82 days before arrival. This is an automated posting.
Eefje
2016-04-25T00:00:00Z
We visited Balatonbereny in June (2 adults and 1 child) and stayed in Anna's wonderful house for 1 week. Anna is a very friendly person, always smiling. To meet her every time was a pleasure for us. Her house surrounded by flowers and rolling in verdure is located close to the Balaton lake. It impressed us by its cleanness. We should certainly recommend Anna's house for family vacations. There are spacious living-room and kitchen equipped by all the cooking utensils you may need - electric grill, coffee machine etc. There are three cosy bedrooms and a huge bathroom. When it got chilly, Anna gave us a heater which solved that little problem. Anna is fond of fishing and does it very skillfully. When we decided to buy fish and cook it at home and couldn't find it anywhere in shops and markets Anna kindly gave us a fish she cought herself, that was a very nice present. Balatonbereny is a small quiet place with well-kept houses, gardens, a church and a market. There are 2 small supermarkets with ATMs. A stroll or a bike trip there is a great pleasure. We rented a car and visited all the places of interest around. It takes about 15 min driving to get to Heviz with its healing thermal waters and 10 min only to get to the ancient town of Keszthely with royal palace. We had a great time in Anna's house!
Andrey
2015-06-24T00:00:00Z
Our vacation was just wonderful! When we arrived, Anna and her daughter Anita greeted us like family ... they're just wonderful spiritual and positive people. The house is located in a garden planted with flowers and peach trees on a quiet street in a beautiful village Balatonbereny. The house is very nice, large, clean, with a fully equipped kitchen. The house is suitable for a holiday with a baby. Anna loves fishing and she twice served us wonderful fresh fish and vegetables from her garden. We are very grateful to her for that! When we left, we had the feeling that we leave from home ... your grandmother. Anna and Anita, thank you very much and hope to return someday!
Liubov
2015-09-04T00:00:00Z
It was a great vacation. Hospitable hostess and her daughter. Cheerful dog and has become a traditional fish. The house is fully consistent with the description. Clean and lots of space. A great option for families with children. Near 2 supermarkets (open until 19:00), beach - 200m.
Vladimir
2016-07-08T00:00:00Z
Anna and her daughter Anita went out of their way to make us welcome. They met us off the bus, provided information about the local area and answered questions. Anna arranged cycle hire for us. The house was well equipped, clean and tidy. As described on the site. We particularly like being able to use the garden and eat under the gazebo. The location is in a quiet residential area in walking distance of bus, train, shops, lake. It is easy to access to cycle path network. We would visit this area again and consider staying at Bali Haus. Would recommend to other travellers.
Nick
2015-05-06T00:00:00Z
Anna's lovely house is without a doubt the best airbnb I have stayed in. The property is a beautiful 3 bedroomed home with an open plan lounge kitchen diner, and access to a gorgeous garden. There was a free bottle of wine waiting for us on arrival, and the house was perfectly clean. We can't wait to return!
Connie
2016-06-12T00:00:00Z
It was a wonderful stay... Anna and Anita are incredible and kind people, and did everything to see to our needs, including arranging a bicycle rental and helping us arrange travel. The home was spacious and comfortable, everything we could need. Close to the lake and offers all you could want in a scenic bicycle ride.
Emily
2015-10-07T00:00:00Z
Art der Unterkunft
Ganze Unterkunft
---
Objekttyp
Haus
---
Unterkunft für
7
---
Schlafzimmer
Balatonberény, Somogy County, Ungarn
The house is located in the recreation area of Balatonkeresztur. In close distance you can find the Lake Balaton, restaurants, different stores, a post office and the railway station. The property is located in a calm recreation area with a friendly atmosphere ideal for people looking for quiet and comfortable environment to relax. The house is situated in a dead-end street with no crossing traffic with a large covered porch that makes the house suitable for families with children. The nearest shallow beach of Lake Balaton is in 500 m distance reachable with an easy walk. In close vicinity there are several quality restaurants and a popular ice-cream place. Keszthely, the cultural centre of the area is only 20 minutes drive distance from the house offering great family entertainment and shopping opportunities. The thermal bath of Hévíz is in 40 km distance.
Ildikó and her family were really friendly, helpful. They are proud owners of the house and great hosts. They welcomed us personally at the house. They did their best in order to make us feel at home. The house was immaculately clean. Its ground floor is freshly redesigned: brand new and fully equipped kitchen, nice and new bathroom. We spent most of our time in its huge terrace: we started the day with breakfast there and closed the day there with long conversations at night. All in all: the house fits its description. The neighbors were also kind and nice. The house located ideally to discover the Western-basin of Lake Balaton by car or by bicycle. The bicycle route is close to the house, you can have wonderful tours from there – even with kids. We enjoyed being there. Thank you, Ildikó.
Istvan
2016-08-08T00:00:00Z
Art der Unterkunft
Ganze Unterkunft
---
Objekttyp
Haus
---
Unterkunft für
8
---
Schlafzimmer
Balatonkeresztúr, Somogy County, Ungarn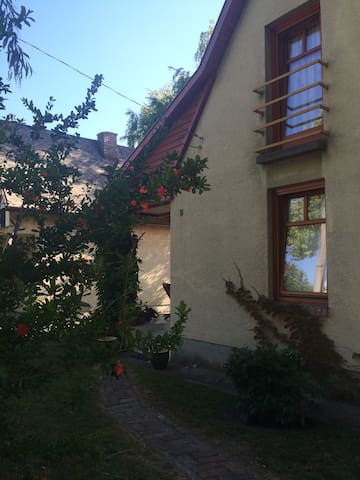 My place is close to Balaton, Fonyód, Csisztapuszta thermal bath, Keszthely castle. You'll love my place because of the location, free beaches, bikes, finnish sauna and big trampoline to use . My place is good for couples and families (with kids).
Sehr hilfreiche und stets zügige Kommunikation. Alles war wie beschrieben und hat uns sehr gefallen. Im näheren Umfeld gehört dieses Haus auf jeden Fall zum oberen Drittel bezüglich der gesamten Qualität.
Mark
2016-11-13T00:00:00Z
Egy idilli nyaralás helyszíne lett ez a ház. Már az utca hangulata, nyugodtsága tökéletes volt, de maga a nyaraló az udvarával,felszereltségével hiánytalan napokat varázsolt a családnak. Másfél éves kisfiunk nem győzött csodálkozni a sok a felfedezni való játékon. Nagyszerűen éreztük magunkat.
Márton
2016-07-02T00:00:00Z
Szuperül felszerelt (számtalan konyhai eszközzel, géppel), minden igényt kielégítő (szuper finn szaunával), tiszta, gyerekbarát, télen is kényelmes (jól befűtött), otthonos családi ház. Folyamatosan elérhető, segítőkész házigazdák, ezúton köszönjük a lehetőséget Nekik! Csak ajánlani tudjuk!
Balázs
2017-01-01T00:00:00Z
Very nice house in quiet area. Perfect for family vacations. Szabolcs forwarded a 'welcome guide' to us before arrival which was precise and helpful We used their bikes the intire week and it was wondeful to bike around the area and enhjoy the nice wheather and the lake. Our kids had the best time of our vacation We had a wonderful time and can at all time recommend the place
Claus
2016-07-24T00:00:00Z
Art der Unterkunft
Ganze Unterkunft
---
Objekttyp
Haus
---
Unterkunft für
6
---
Schlafzimmer
Fonyód, Somogy County, Ungarn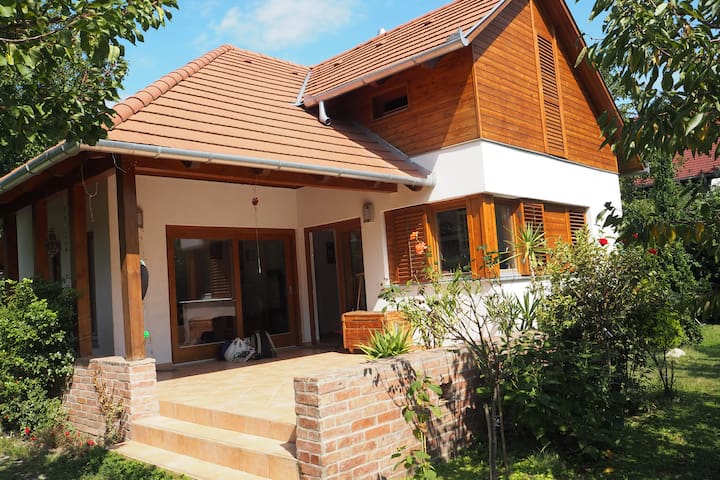 Spacious house with own garden ideal for families with children. Extra large sunny living room with fully equipped American kitchen.
This is a bright 100 square meter apartment on the ground floor. This is the one and only used appartment in the house, the other apartments are empty. The own and closed garden is for your exclusive use. Extra large sunny living room with fully equipped American kitchen. The apartment has two bed room with two single bed each, the living room has a sofa, and we can provide you with two extra beds. Bathroom is with toilet and there is an extra toilet too.
The house is 500 meters to the lake with small beach, and 1500 meters to the largest free beach. The nearest shop is 500 meters.
Maria ist eine ganz herzliche Gastgeberin, die uns alles wunderbar erklärt hat. Die Wohnung ist genau so wie beschrieben, man hat keine Nachbarn, da die anderen Teile des Hauses noch Baustelle sind (die Wohnung ist aber tipp topp!). Das Haus ist ohne Frage das Schönste in Balatonfenyves- wir haben kein Schöneres gesehen! Allein der Hinweis, dass die Wohnung nahe der Autobahn ist und man den Straßenverkehr im Garten hört, hat uns gefehlt. Aber da wir so viel Platz im Haus und im Garten gefunden haben und tagsüber eh unterwegs waren, war das nebensächlich. Maria, vielen Dank!
Jonna
2016-08-04T00:00:00Z
Wir hatten eine wunderschöne Woche in Balatonfenyves. Alles war sauber und schön! Maria und ihr Ehemann haben dafür gesorgt, dass wir diesen Urlaub nicht vergessen werden!
Christopher
2015-09-04T00:00:00Z
Mária und ihr lieber Mann haben uns fürsorglich umsorgt, uns sehr bei einem Autoproblem geholfen, uns reich beschenkt. Vielen Dank! Die Wohnung war zwar etwas kleiner als erwartet, dafür aber sehr sauber und genau wie beschrieben. Für unsere vier Kinder und uns selbst war es eine wunderbare Zuflucht im verregneten Plattensee-Sommer.
Erich
2014-09-06T00:00:00Z
The description was accurate, everything was fine. Mária was a very nice host. She is fluent in German and communicative in English. In addition to regular bed, there was a bed for baby prepared with fresh bedding, because Mária knew we are travelling with a baby. There was also a highchair for baby. It was very clean. The kitchen is fully equipped, including: fridge, oven, microwave, toaster, coffee maker. The house is close to route 7 (less than 100m, I guess) and the highway (maybe 0,5 - 1 km away), so you can hear the passing cars even at night, but it didn't feel inconvenient in any way. Other than that the neighbourhood is very peaceful and quiet. There is a nice beach with small sandy bays (perfect for small kids) in Balatonfenyves. There is also a bigger sandy beach with several playgrounds in Fonyod, just a couple minutes drive by car from the house. Overall, I would highly recommend this place, especially for a family with kids.
Tymoteusz
2016-09-16T00:00:00Z
Maria made us feel very welcome. House was clean, good location, well equipped. Perfect.
Alexis
2015-08-27T00:00:00Z
Maria and her family are wonderful hosts! They warmly greeted us on arrival and did their best to make our stay pleasant and comfortable. The house is really spacious and has all necessary facilities and conveniences. The garden around was our choice when we did not travel around the area - it is a perfect place for relaxing and sunbathing in the sun! Maria always showed concern and provided good advice when we asked about places to visit, cafes to dine at and even massage services to get in the neighbourhood. The family were always sociable and friendly which is a great advantage when you stay in a foreign country. The place itself is pretty quiet, has several local eateries that give you a choice of food - from national cuisine to world-popular pizzas. It is located about 20-40 km from different thermal and spa resorts which is not longer than a 30-minute drive. We stayed at Maria's place for 2 weeks and really enjoyed it. Thanks to the hosts and welcome to anyone who wants to explore rural Hungary and have a quiet relaxing time there
алексей
2016-08-26T00:00:00Z
Nice people. Maria is such a nice lady and we appreciate her welcoming and support. We stayed there for two nights. We do recommend the place.
Soheil
2014-08-27T00:00:00Z
We waren hier vorig jaar ook al geweest en toen was ook al alles in orde, Maria staat je echt bij zoveel ze kan. Toen we 's avonds nog een medisch probleem kregen, konden we haar vlot bereiken en heeft ze voor ons de dokter van wacht gebeld en is ze gebleven tot als die terug weg was. Het feit dat we dit jaar zijn terug gekomen spreekt voor zich. Het huis is gelegen dichtbij de autosnelweg, maar dat stoort zeker niet. Het is er heel zuiver en we hebben er een geweldige tijd gehad. In de buurt zijn er genoeg restaurantjes waar je heerlijk kunt eten en ook in de omgeving is er veel te zien of je kan ook gewoon naar het strand gaan. Wij komen zeker nog eens terug.
Ronny
2016-07-31T00:00:00Z
Art der Unterkunft
Ganze Unterkunft
---
Objekttyp
Haus
---
Unterkunft für
6
---
Schlafzimmer
Balatonfenyves, Somogy County, Ungarn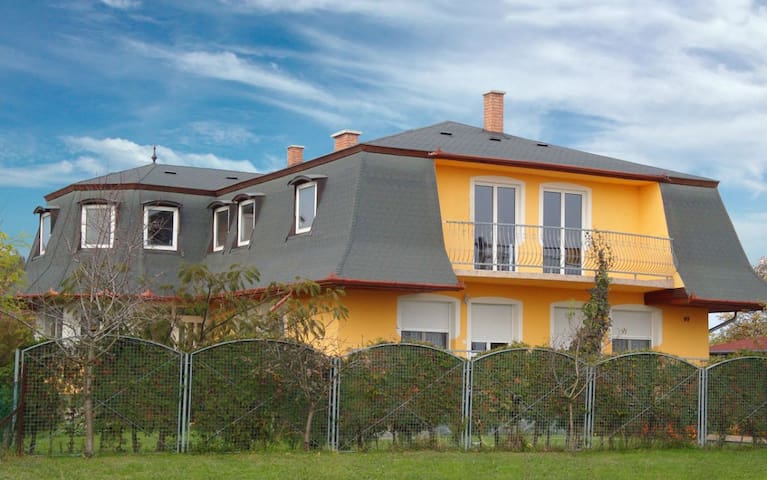 Forest house at the lake Balaton with amazing view to the lake. The house is located on the top of a hill. Your neighborhood is the National Park. The beach is around 1300 meters far the nearest shops and restaurants around 400 meters.
Art der Unterkunft
Ganze Unterkunft
---
Objekttyp
Haus
---
Unterkunft für
8
---
Schlafzimmer
Balatongyörök, Ungarn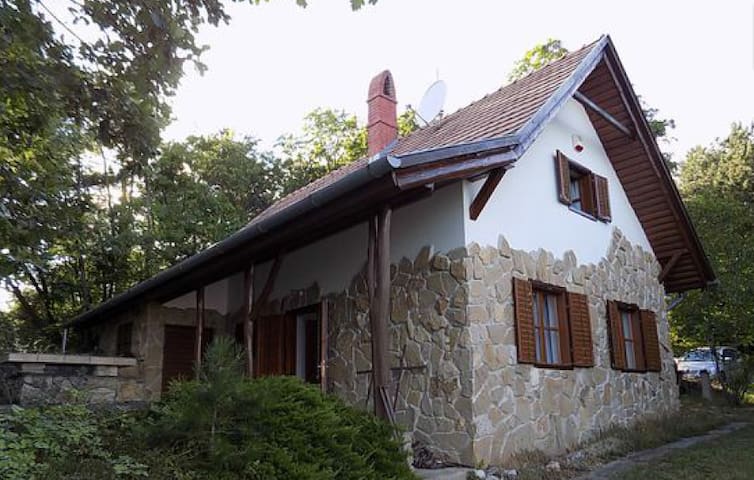 Balatonmáriafürdő - Airbnb
:
Durchschnittlich

4.39

von

5

Sternen aus

68

Gäste-Bewertungen
1

–

18

von

64 Ferienhausvermietungen
Gib deine Reisedaten ein, um den Gesamtpreis pro Nacht zu sehen.