Beautiful Skykomish Cabin just 16 miles from Stevens Pass. Featuring a Master Bedroom, Loft and sleeper sofa with 2 bathrooms. Come explore the alpine wilderness, go skiing or stay less than an hour from Leavenworth at this nice mountain home.
Make no mistake this is a full size home, with over 1300 sq feet, you wont feel cramped in this cabin. We have furnished the home with log furniture in most every room. We have log beds, night stands and coffee tables. With only 16 miles between you and stevens pass it is a great launch pad to skiing and other alpine wilderness adventures. The home features a full size washer and dryer, full size well stocked kitchen and extremely comfortable hotel quality mattresses, the perfect place to rest your head after playing hard in the outdoors.
Skylane is a nice little community with several mountain retreats on it. Its nestled near skykomish just on the other side of the skykomish river. Being near highway 2 plowing happens regularly in the community and its a very fast 16 mile drive to the summit.
The little cul-de-sac the cabin bookends is a nice, quiet area and quite easy to miss if you aren't paying attention. That said, I enjoyed the location very much as it is close to the Steven's Ski Resort and relatively close to some small towns both eastward and westward. The listing is spot-on accurate and the cabin is quite comfortable. Having dealt with David personally, I can say he is cordial and helpful but I doubt you would need to contact him at all as everything, in my experience, was well kept and in good order.
Nicolas
2016-01-30T00:00:00Z
The cabin was as expected, nice location and convenient to many beautiful hikes.
Joe and Nessa
2016-07-05T00:00:00Z
We loved the house! It was perfect for us and so well taken care of! We would definitely stay there again!
Cari
2015-08-17T00:00:00Z
Loved the cabin. Great place to come home to everyday after working in the rain all day. Absolutely would recommend staying if you're looking for an amazing cabin near Stevens pass!
Dincer
2015-12-18T00:00:00Z
Chalet Vino Rosso is a perfect place from which to enjoy the mountains! The house is comfortable in every way and well stocked and equipped. David generously shared information about places to find food and gas on the way to and in Skykomish. Our family had a grand time in the Mountains! Thank you, David for sharing your home.
Cynthia
2016-08-21T00:00:00Z
The house is great! David was flexible with our arrival and departure times. Also, the kitchen has everything you need - we cooked every night. The pantry was fairly well stocked and plenty of spices. Because we were here for a work retreat, the noise of traffic from route 2 didn't bother us much, but it's something to consider if your looking for quiet. There was construction happening nearby as well - but that's just bad luck. The fire pit and porch are relaxing places to hang outside and there is a path through the woods that leads to the ball field and park by the river. Furniture was pretty comfy. And they even have a small selection of DVDs to watch (including Knight Rider - ha! The 'Hoff' always makes me laugh). The internet connection is high speed and easily accommodated the four of us working online at the same time.
Nick
2015-08-29T00:00:00Z
David had a lovely cabin and was a great host. It was exactly as described and David was exceptionally responsive.
Mike
2015-12-15T00:00:00Z
This is a fantastic chalet. Better than advertised, definitely worth a visit. We would highly recommend.
Jason
2016-12-13T00:00:00Z
Art der Unterkunft
Ganze Unterkunft
---
Objekttyp
Loft
---
Unterkunft für
7
---
Schlafzimmer
Skykomish, Washington 98288, Vereinigte Staaten
Close to shops, stores and park. Quiet, Private 1 bedroom Loft apartment. This is a perfect getaway or corporate medium stay apartment. Only 3 years old and never rented.
Very clean and we'll equiped living room, dining room, bedroom and bathroom. This place is 2 years old and really cool.
Granite Falls is the gateway to the Mountain Loop Highway. this is where you will find nature, hiking, biking, climbing, rafting and more.
Every thing was well above excellent!!!!!!
Bunnie
2016-08-15T00:00:00Z
Kirk's is the perfect place to relax just outside of the scenic Mountain Loop. He and his family are beautiful, easy-going people. The room is spacious, full of amenities, and comfortable. It's a great place to stay if your hiking in the mountains, rafting on the river, visiting family in the town, or just looking for a bit of a change and relaxation.
Jonathan
2016-12-02T00:00:00Z
Art der Unterkunft
Ganze Unterkunft
---
Objekttyp
Loft
---
Unterkunft für
2
---
Schlafzimmer
Granite Falls, Washington 98252, Vereinigte Staaten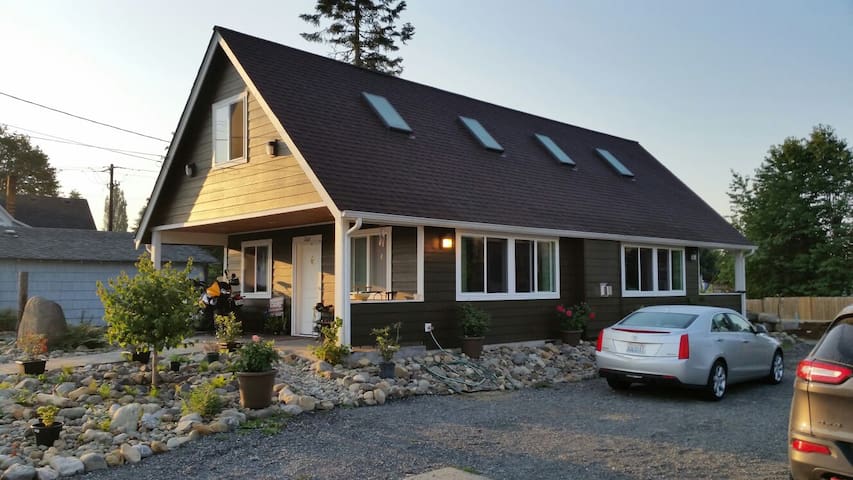 Gib deine Reisedaten ein, um den Gesamtpreis pro Nacht zu sehen.