Allawah, an Aboriginal name meaning 'make your abode here', is located between Carlton and Hurstville, with local shops, bus or train to Hurstville, Chinatown, Sydney City, surf beaches and historic Botany Bay. A fresh, modern bedroom and private bathroom in a well-appointed garden apartment within a small complex in a leafy street with easy parking. Lounge, dining and kitchen facilities available. A friend Bobbie enjoys the warm ambience. 'I love the charming bedroom and always sleep well'.
Relax in a fresh, clean, modern and homely space with comfortable queen size bed in the private bedroom. The private bathroom has shower and half-size bath. Enjoy a coffee in the leafy courtyard or covered balcony.
Carlton is a southern suburb of Sydney, only minutes to beautiful and historic Botany Bay with its beaches, cafes and promenade; surf beaches; and cosmopolitan Hurstville. For a delicious Italian meal and only minutes away, guests recommend 'Little Italy' at Allawah. They enjoyed a wine with dinner and didn't have to worry about driving back here!
Gillian was a warm and thoughtful host. A relaxed and easy to be with companion. She was always ready to provide information re transport and if she didn't know she would find out. Always willing to help if I needed to know more. The house was clean, tidy and welcoming. Everything listed was available including a cooked breakfast if wanted. Gillian's scrambled eggs perfect. I would highly recommend Gillian and the facilities. The unit is a 25 min train trip from the CBD and an easy few minutes walk to the station. Thank you Gillian I felt very relaxed and welcome and highly recommend you as an AirBNB host.
Anna
2016-07-27T00:00:00Z
Gillian is a very nice and thoughful person. Her house is very clean and comfortable in a convenient location. I spent one week traviling on Sydney, seeing, feeling, and sharing things with all of my friends and also my host. That was great and unforgettable. I highly recommend this room.
Humphrey
2016-10-04T00:00:00Z
Gillian was a wonderful host - very friendly and helpful. The flat is very clean and tidy and the bed is comfortable. Breakfast or a refreshment is always offered. The location is close to both Allawah and Carlton stations. I strongly recommend this place.
Osmond
2017-03-07T00:00:00Z
I would recommend Gillians place to my friends, she was a great host the Unit was spotless and she made our stay very enjoyable.
Frank
2017-02-12T00:00:00Z
We stayed here for four days. Gillian is very nice and friendly. The place is clean and tidy. We enjoyed our time here.
Siqi Isky
2017-01-31T00:00:00Z
We spent 1 week in Gillians home. She is a wonderful host. She provided us always with helpful tips to explore Sydney. The room was well equipped, clean and very quiet with a big and comfortable bed. Mobile Internet connection is now very good and fast. The unit is close to a railwaystation and it is easy to reach Sydney CBD. Thank you Gillian, we felt like at home. Dietlind & Volkert
Volkert
2017-01-07T00:00:00Z
Gillian was a marvelous host, attentive and gracious. We were treated like old friends and felt very much at home with her. Gillian's living area, to which we had free access, is open plan and very cosy with gas heating. The bedroom is adequately proportioned. The bathroom, located directly opposite, was clean and well appointed. Gillian's eggs, bacon, tomato, mushroom and Turkish bread breakfast was superb. She spared no effort to supply us with our needs. We highly recommend a stay with Gillian! :-)
Gregory
2016-07-04T00:00:00Z
Gillian is a great host, very organized, helpful and always available and easy to talk to. During my 2 nights stay, Gillian has offered me a lot of food options but I have unfortunately been to busy being away to taste more than breakfast once. Gillian's flat is amazingly clean and full of character. I can highly recommend staying there. The only point, future guests should be aware is that there is minor to no mobile internet connection in this area, and you should check with Gillian in how far she allows you to use her home WLan.
Sandra
2016-11-20T00:00:00Z
Art der Unterkunft
Privatzimmer
---
Objekttyp
Bed & Breakfast
---
Unterkunft für
2
---
Schlafzimmer
Allawah/Carlton, New South Wales, Australien
Home located in high value residential area on beautiful Botany Bay 15 km from city with public transport 100 metres from door. Ground floor bedroom with own ensuite in large home. Downstairs areas are available for guest use as required (as shown in photos). Complimentary continental breakfasts, tea and coffee and free airport transfers. Easy walking/cycle pathways along bay. Complimentary bikes and helmets available. Overseas guests especially welcomed. View Sydney through locals eyes.
The accommodation is in the ground floor bedroom of a large home which has just been redecorated. It includes a new queen bed full en suite and walk in robe. Free WI-FI and large LED TV with DVD player and movies are available.
The owners are well versed in the quality of local restaurants and cafes, golf courses beaches shopping centers and clubs. Additionally, we have a good knowledge of Sydney attractions.
Jan and Paul were such lovely hosts, I even got to see photos from their Antarctica trip! They were very hospitable and generous, offering to drop me off and pick me up from places, including the airport. Very flexible in terms of what time I got home. Also had a good balance of being friendly and at times giving me my space. Felt extremely welcome. Their house is beautiful, and the seperate bathroom was very convenient and well maintained. I was able to visit the beach a lot, being such a short walk from the house. Next time I will ride my bike along it :)
Perin
2016-03-21T00:00:00Z
Jan and Paul made us feel very welcome from the minute we walked in the front door. The accommodation space is lovely and neat and very clean. They allowed us our privacy and catered for breakfast as well as gave us a lift to the airport. They were very friendly hosts and highly recommended by my partner and I.
JULIE
2017-01-30T00:00:00Z
We were more than happy with our choice. The fact that we were collected from the airport was a bonus. Jan and Paul provided the perfect place, they are amazing hosts. They were happy to leave us but there friendly natures made it easy to converse.
Sue
2017-03-10T00:00:00Z
It was an amazing short stay. Paul and Jan made me truly feel at home. Their home was beautiful located in a very lovely area close to the waterfront. They had me for dinner on the final night and it was amazing especially Jan"s pear salad and apple pie. Paul made a mouth watering (URL HIDDEN) experience was nothing shot of amazing!!.
Kudzaishe
2016-08-11T00:00:00Z
My stay with Jan & Paul could not be surpassed! Spotless, spacious & very comfortable, a real "home away from home". Jan & Paul provided accommodation & services above & beyond all expectations, including airport pickup & a drive around the locality. Highly recommended!
Karla
2016-04-17T00:00:00Z
Jan and Paul were very helpful with lifts to places and information
Jill
2017-02-26T00:00:00Z
Fantastic location. Paul and Jan were very welcoming and made us feel at home. Our room and bathroom were very clean and comfortable. We had off street parking which made us feel safe and secure. Great company!
Clare
2016-12-17T00:00:00Z
Great hosts Very close to sailing club & walkways We will definitely be back!
Tracey
2017-04-09T00:00:00Z
Art der Unterkunft
Privatzimmer
---
Objekttyp
Bed & Breakfast
---
Unterkunft für
2
---
Schlafzimmer
Sandringham, New South Wales, Australien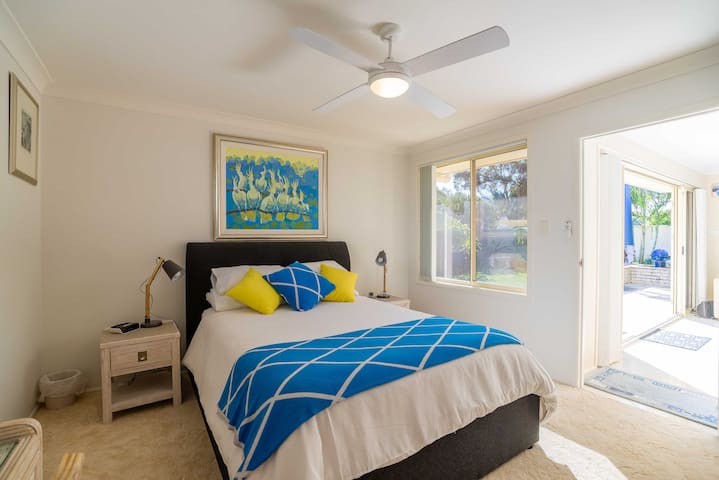 My place is close to Strathfield station, Burwood station, IGA Plus Liquor - Enfield, Domino's, bus stops. You'll love my place because of the comfy bed, the friendly people. My place is good for solo adventurers and business travellers.
The room is big, wifi works well and Joy is cool
Charles
2017-02-01T00:00:00Z
Perfect place! Lovely joy!
Virginie
2017-01-23T00:00:00Z
Good, clean and affordable place.
Hani
2017-02-19T00:00:00Z
Joy is a kind and easygoing person. The Place is clean, tiny & Comfortable. Good experience. Thanks
RYAN
2017-02-05T00:00:00Z
Joy's place was great - with other roommates from around the world! Joy was super welcoming and so helpful. I really enjoyed staying here.
Melissa
2017-02-27T00:00:00Z
Art der Unterkunft
Privatzimmer
---
Objekttyp
Bed & Breakfast
---
Unterkunft für
1
---
Schlafzimmer
Enfield, New South Wales, Australien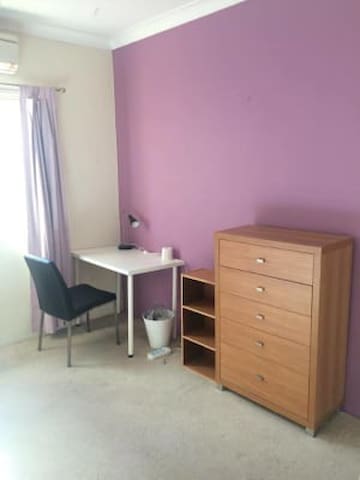 My place is close to Kogarah library . You'll love my place because of the location and the views. My place is good for couples and solo adventurers.
a friendly family!
Huanxin
2016-12-06T00:00:00Z
Art der Unterkunft
Privatzimmer
---
Objekttyp
Bed & Breakfast
---
Unterkunft für
2
---
Schlafzimmer
Kogarah, New South Wales, Australien
Ideal für einen oder Paare, die einen ruhigen privaten Raum mit 600 m Entfernung zum Strand suchen - Modernen Wohnraum und moderne, geräumige Küche -voll eingerichtete Privatzimmer -Zen Garten und Meditationsraum - Fuß entfernt, um den Strand
sehr schön und ruhig Nachbar
We stayed overnight visiting the area for a wedding and found Vinh's airbnb to be a beautiful and peaceful home with excellent facilities. We didn't meet Vinh, but his family is very very welcoming, kind, and helpful. We were pleasantly surprised by facilities for music as well as the meditation room, and were supplied with fruit, tea, coffee, and offers of breakfast :) Our room was very comfortable. We would have liked to stay longer, and would love to go back!
Orion
2016-11-26T00:00:00Z
非常好的一家人,热情好客,给予我很多帮助,麻烦了他们很多事情,下次如果还来悉尼,我还会住在这里,我们全家都很喜欢这家人。
荔
2017-04-02T00:00:00Z
We really enjoyed our stay at Vinh's place! It's a quiet neighbourhood with beach and supermarket nearby. The bus stop is only 3 mins away and it takes about an hour to the city. Our room was very comfortable and the bed was really big :)
Tanja
2017-01-04T00:00:00Z
真的是很贴心的房东,给我很多帮助,我有很多不懂的都教我如何去做,给我借公交卡,叫我如何坐车,我的电话卡一直不通,他们一直帮忙我开通电话卡,以后我还会住在这里。真的是既温馨又舒适的家人的感觉。
荔
2017-03-26T00:00:00Z
I would definitely recommend staying at Vinh's place. The family went out of their way to make us feel welcome, and to accommodate our needs. The house is very peaceful and calm. Great location, walking distance to beach and easy access to public transport. It was really such a pleasure to stay at Vinh's - you wont be disappointed if wanting a peaceful place in busy Sydney.
Nicola
2017-02-19T00:00:00Z
Did not manage to meet Vinh but his family is very welcoming. Safe parking, quiet house for a good rest Short distance to the airport (15 mins) even in the morning peak Close to beach (not a very nice one though) Coles nearby
Ying Hou
2016-09-25T00:00:00Z
The host canceled this reservation 3 days before arrival. This is an automated posting.
Neil
2017-04-07T00:00:00Z
Zen Lifestyle is a beautiful space to stay and the hosts are gracious, delightful and welcoming. They did all they could to ensure our comfort. The meditation room, Zen garden and lounge area are freely available and have a lovely energy. Proximity to restaurants, coffee shops and walks by the water added to the experience. The house was clean, warm and quiet. Our privacy was respected. We really enjoyed our stay
Michael
2016-07-09T00:00:00Z
Art der Unterkunft
Privatzimmer
---
Objekttyp
Bed & Breakfast
---
Unterkunft für
2
---
Schlafzimmer
Sans Souci, New South Wales, Australien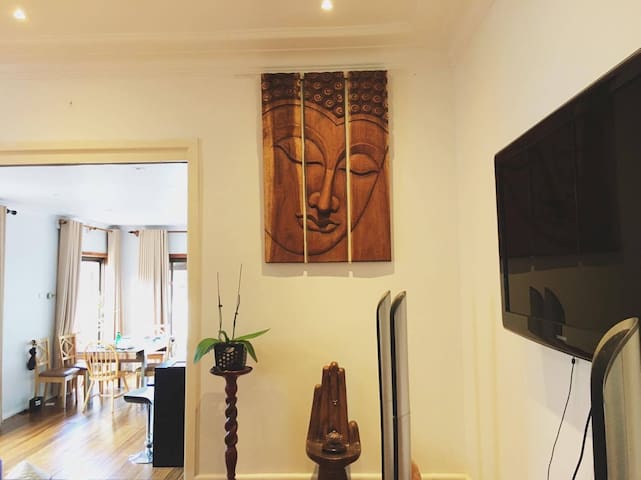 BUDWOOD GUEST HOUSE ACCOMMONDATION Long term (At least 8 weeks) address: 33 Angelo St, Burwood NSW 2134 Room for rent: Private Room - $230-260/Week/person Share Room (2 people) - $150/week/person Share Room (3 people) - $130/week/person Sercurity bond: 2 weeks plus
About the house: Two stories with 52 rooms, cozy, and clean accommodation, located on quilt street, sharing 4 big kitchens, 8 shower rooms, 8 toilets, car parks, and big commom area. we have professional person to clean common area to maintain house clean, the accommodation provides free wifi, electricity, gas and water, you can just walk in, every room has their won sink and fridge pillow and blanket. It takes 3 minutes to walk to bus station, 15 minutes to walk to train station, convenient and near everything, IGA, variety of Restaurants, shopping center. Please text (PHONE NUMBER HIDDEN) Kara to arrange the time to have a look we will arrange for you asap. Thank you.
We are located quilt street, walk 10-15 minutes to everything.
Art der Unterkunft
Privatzimmer
---
Objekttyp
Bed & Breakfast
---
Unterkunft für
3
---
Schlafzimmer
Burwood, New South Wales, Australien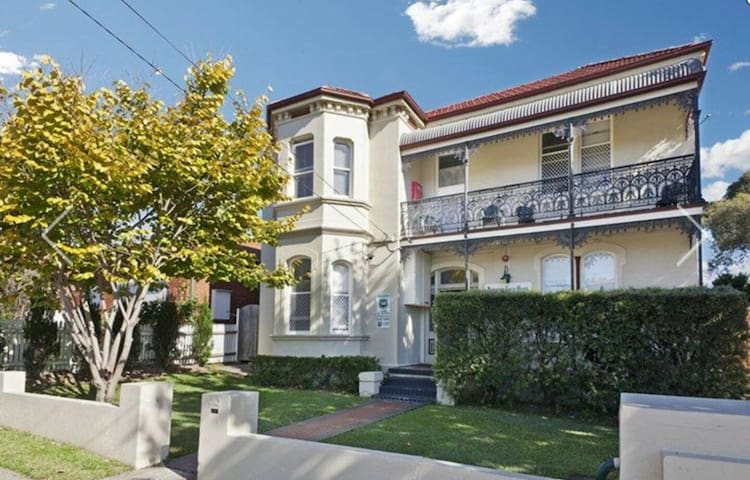 Nah an allen Transportzüge, Busse, Stadtbahnen zu Stadt. Light Rail 2 Minuten zu Fuß vom Haus. Bushaltestelle 5 Minuten zu Fuß. Züge in die Stadt 15 Minuten. Der Nähe von Restaurants, Cafés und Parks. Neu eingerichtet, hohe Decken mit Blick auf den Garten.
Schön, sauber, ruhig komfortables Zimmer und Haus. Betten und Matratzen sind neu. Großer Kleiderschrank. Schreibtischstuhl.
Die Nachbarschaft ist ruhig während des Tages und der Nacht. Es ist eine sehr beliebte, einzigartige Café (gewann viele Auszeichnungen) 30 Sekunden vom Haus. Der Friseur ist offen, auch montags. Supermarkt, andere Gaststätten, Fitness-Studios, Massagesalons, Friseure, Pubs und Geschäfte 7 Minuten zu Fuß entfernt, wo ein Bus in die Stadt zu fangen, Bondi Junction usw. Summer Hill Village und Bahnhof ist ca. 15 Minuten zu Fuß Lewisham Station näher. Wir sind von 5 Parks umgeben, von denen direkt hinter unserem Haus ist, wo Bahn Arlington Licht. Arlington oval ist in der Nähe. Zur Liste um nur einige der vielen Einrichtungen, die im Park Fitness-Einrichtungen für Erwachsene, Yoga-Kurse, Grill und Kinderspielplatz.
Sandy made us both feel very welcome in her home. We enjoyed our stay in a great size room with comfy beds! Bathroom and kitchen facilities are all perfect. Location is close to public transport and had no problem getting parked on the street. Sandy was very helpful with advice and we enjoyed a nice chat after work. Would recommend to anyone!!
Jordan
2016-05-02T00:00:00Z
I was made to feel very welcome. All was as advertised. Nice neighbourhood. Walking distance to shops. Choice of public transport.
Anna
2016-06-29T00:00:00Z
We lived for 4 days with Sandy. She is a lovely person. The room was realy nice, we had internet and breakfast. She helped us as good as she could with everything. We would come back.
Sophie
2016-01-02T00:00:00Z
Sandy is a very welcoming, co-operative and helpful host. I enjoyed the stay in her house. The place is quiet and peaceful, away from the hustle and bustle of a place like Sydney. Also, the light rail station and shops nearby, made it the most convenient place to stay. Above all, Sandy is the best host I have ever met! Thanks again, Sandy!!
Syed Ahsan
2017-01-01T00:00:00Z
Nice and clean house and a really friendly household
Mattia
2017-03-05T00:00:00Z
Art der Unterkunft
Privatzimmer
---
Objekttyp
Bed & Breakfast
---
Unterkunft für
2
---
Schlafzimmer
Dulwich Hill, New South Wales, Australien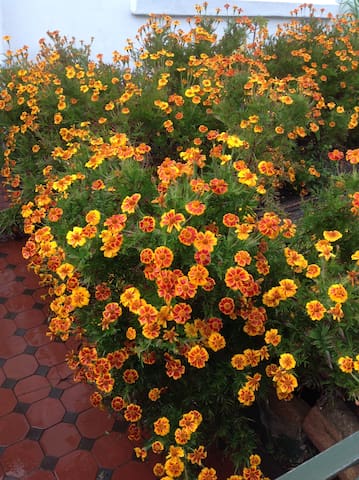 A warm, comfy spacious bedroom awaits you in my freshly renovated home engulfed in sunshine. It's situated in an elevated position overlooking the Bay at rear & golf course at front. 1 minute to cafes, shops, banks transport & 1/2 hr to the city
Virginia was a very gracious and welcoming host who made us feel right at home straight away. Her house was very clean and tidy and the room was very comfortable. We would certainly stay again.
Kay
2015-11-07T00:00:00Z
Virginia was a warm and friendly host with nothing too much trouble. Virginia provided us with excellent local knowledge and recommendations. The room was comfortable and spacious with views overlooking the water. The location was perfect for the airport and short travel via train to the city. We would recommend this accommodation to all travellers.
Neil
2016-10-04T00:00:00Z
Virginia was very hospitable and focused on making my stay as comfortable as possible. The room was spacious, clean and well equipped. I couldn't have asked for much more. Thanks very much Virginia
Ryan
2015-11-25T00:00:00Z
Virginia was very welcoming, friendly and helpful even going as far as picking us up from the Sailing Club. The room was clean and tidy and the breakfast amenities were good.
SANDRA
2015-10-05T00:00:00Z
Nice view, great place. Had a pleasant stay. Would definitely come back again.
Celeste
2016-02-16T00:00:00Z
Clean spacious quality comfortable home. Virginia was friendly and welcoming. Pleasant stay.
Don
2017-02-27T00:00:00Z
房子位于一个安全的街区,离海边很近,房间有一些海景。房东Gina非常友好,健谈。订完住宿,立即就联系上了她。在我到达前Gina准备好了舒适,干净的房间,还询问了我早餐想要吃的东西,并特意为我准备了。房间和介绍的一致。我的车子可以在房子前作短暂停留以便装卸行李,但一般需要停在离开房子大约200米的街道上。住在Gina的家就像在自己的家里一样舒服。我喜欢干净,舒服,漂亮的房间和健谈友好的Gina。 谢谢Gina!我很愿意介绍其他朋友去她的家里,并期待着再次入住Gina的家。
julia
2015-01-03T00:00:00Z
Art der Unterkunft
Privatzimmer
---
Objekttyp
Bed & Breakfast
---
Unterkunft für
2
---
Schlafzimmer
Sans Souci, New South Wales, Australien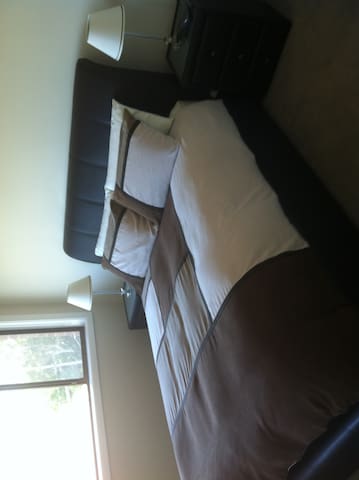 Our home is located 15min from the International Airport train station, we are 20 min by car from Sydney Harbour or 20min by train. We have hotel style bed linen with very quiet rest night sleep followed by a fresh home made breakfast.
One of the things that we love about home is our veggie patch. According to the time of the year and we can eat loads of veggie from it and you must surely make at least a salad while visiting our home.
When we travel we always hope we can meet some cool people with some useful information so we can make the most of our short stay the most fantastic moments of our lives, for that reason I hope I can provide the same to you. We will get you to places that even the sydney siders havent been and done!
Art der Unterkunft
Privatzimmer
---
Objekttyp
Bed & Breakfast
---
Unterkunft für
2
---
Schlafzimmer
Earlwood, New South Wales, Australien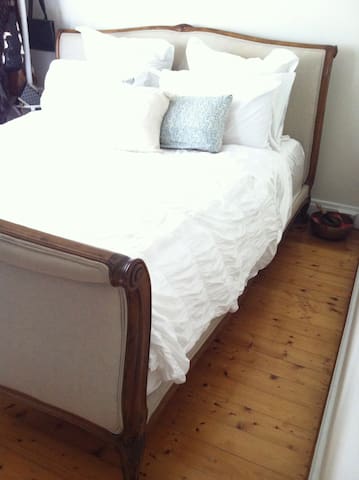 Close to all transport, shops, cafés, restaurants and parks. Rail to city takes 15 minutes. Light Rail to city 2 minute walk from house. Bus stops to city and shops 7 minute walk. House single story detached with high ceilings and timberfloors
Really nice short time stay at S's home! The house is very tidy and S is very thoughtful and warmhearted to us. The location of house is convenient for people who taking flights because it roughly have same distance to the city and airport, which cost 37$ for taxi from airport to the house. And it is 5 minutes walking distance to Light Rail station which heading to city directly. Have a wonderful experience with Airbnb and S's lovely hosting :-)
Canna_Xiaojing
2016-01-02T00:00:00Z
Art der Unterkunft
Privatzimmer
---
Objekttyp
Bed & Breakfast
---
Unterkunft für
2
---
Schlafzimmer
Dulwich Hill, New South Wales, Australien
My place is close to 423 bus stop only 10mins walk, takes u to the city & places like Newtown that have a lot of cheap eat cafes, close to Tempe train station & nice walk to Earlwood shops or bus it on the 423. You'll love my place because of the views, the outdoors space, and the location. My place is good for couples, solo adventurers, and business travellers. recommended to hire a care if u don't have a car, so that u can drive to the beach, which is about 20mins during non peak times..
Art der Unterkunft
Privatzimmer
---
Objekttyp
Bed & Breakfast
---
Unterkunft für
2
---
Schlafzimmer
Earlwood, New South Wales, Australien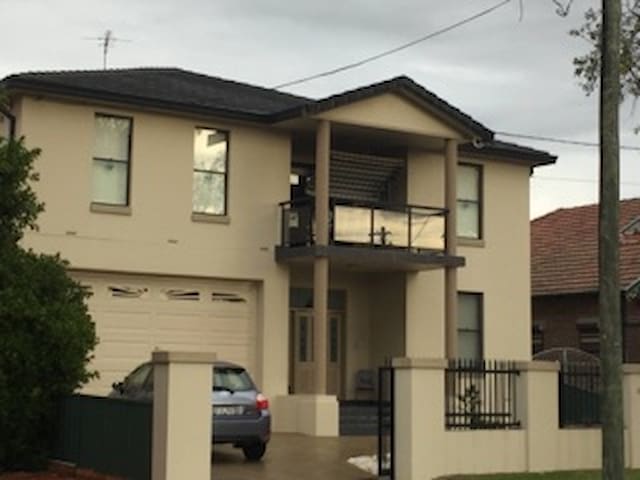 We are a young couple whit a lovely and friendly dog, we have a nice and clean bedroom to rent whit a queen bed. share bathroom . We provide , sheets, towel, toilet paper, shampoo, soup etc. You can use , kitchen,living area, backyard .
its 5 minutes walking to train station, 10 minutes to the airport and 20 min to the city and opera house. 10 min to brigthon beach. we no provide breakfast..
Sehr gute Unterkunft! Sehr sauber und ruhige Lage. Nette und hilfsbereite Gastgeber!
Carla
2016-12-06T00:00:00Z
Lovely hosts who respected our privacy and allowed us the flexibility to come and go as we needed to. Their place was super clean and they had a lovely friendly dog who loves a cuddle. Thanks guys! :)
Robyn
2016-11-11T00:00:00Z
A wonderful place to stay in Sydney. This house is very clean and the bed is very cosy. And their dog is very friendly and cute. Thank you (:
Florence
2016-11-19T00:00:00Z
We received a warm welcome at Lucias and Claudio's. They had a laid-back approach, allowing us to use their kitchen and do our laundry. (We contacted several other hosts beforehand who were extremely restrictive with kitchen use despite advertising it) The bed was super comfy with a choice of a hard or soft pillow. Costillas was the sweetest dog ever who loves a cuddle but leaves you alone unless you approach him. The place was absolutely spotless too!! There was plenty of parking or it is a 10-15 minute walk to the station. It was perfect for our 12 night stay and we would happily stay again.
Maria
2016-06-19T00:00:00Z
Cosy bedroom. Very clean and tidy house (bathroom, kitchen, ...). Lucia and Claudio are friendly hosts. Good location within walking distance of public transport - direct trains to the airport and city centre (not every train from the airport stops at Bexley North!). Wifi works but is slow. Recommended!
Lieze
2016-12-02T00:00:00Z
The hosts were kind and the house very comfortable. We felt very welcome and we were able to do our laundry too. And the dog was lovely too.
Emily
2016-01-19T00:00:00Z
Lucia and Claudio are amazing hosts with a friendly dog that we loved. They helped us with everything we needed. The house is very clean and tidy located in a great and quiet neighborhood. We had an amazing time there and definitely recommend the stay.
Luciana
2016-04-29T00:00:00Z
Claudio and Lucia are very kind and helpful! The premises were clean and comfortable and, although the accommodation is a bit on the outskirts, the train stop (Bexley North) is 10 minutes walk and from there, you will be in the centre in about half an hour.
Nicola
2016-03-08T00:00:00Z
Art der Unterkunft
Privatzimmer
---
Objekttyp
Bed & Breakfast
---
Unterkunft für
2
---
Schlafzimmer
Kingsgrove, New South Wales, Australien
Beverly Hills - Airbnb
:
Durchschnittlich

4.8

von

5

Sternen aus

83

Gäste-Bewertungen
1

–

12

von

12 Bed & Breakfasts
Gib deine Reisedaten ein, um den Gesamtpreis pro Nacht zu sehen.