Gib dein Check-in-Datum im Format TT.MM.JJJJ ein
Gib dein Check-out-Datum im Format TT.MM.JJJJ ein
Inserate, die du buchen kannst, ohne auf eine Bestätigung des Gastgebers zu warten.
5 Blockhütten
· Bolivar Peninsula
5 Blockhütten
· Bolivar Peninsula
Gib deine Reisedaten ein, um den Gesamtpreis pro Nacht zu sehen.
Diesen Juli und August kannst du eine dieser 100 hervorragend bewerteten Unterkünfte aus jeder Preiskategorie ausprobieren, um Sonoma aus der Sicht eines Einheimischen kennenzulernen. Dank 24-Stunden-Check-in, Sofortbuchung sowie einheimischen Weinen und Snacks kannst du dich einfach zurücklehnen und deine Reise genießen.
1500 sq foot cabin built in 2012. Large open living, dining, kitchen area Fully equipped kitchen Washer/dryer/iron/ironing board Living room TV-satellite dish, downstairs sand shower, covered parking No pets allowed! No Wifi, but has satellite cable.
Great experience, house was clean and tidy. We had fun with the kids; location is very convenient, close to the beach and grocery shop. Thanks Julie
Camilo
September 2015
Our stay at the Ca-Co Cabana exceeded our expectations. Your beach house is so cute, modern, spacious, and like new. The subdivision was so nice along with the neighbor and within walking distance of the beach. We had such a nice time here we are hoping to make this an annual trip. Our host, Julie, was so nice and gracious with all her information and all she had to offer within her home. There's toys, movies, games, and so much more. I would definitely recommend this rental to anyone. Thanks so much for a great stay !!!!!
Staci
September 2015
Julie was great! She was responsive and made sure we knew everything we needed to know before arriving. The place was beautiful and very comfortable for a special birthday weekend. Great location and close to the beach.
Jerri
October 2015
Julie made us feel welcome and checked up on us during our stay to make sure that everything was going well. The house was beautiful and spacious and would definitely stay here again.
Kathy
May 2016
Julie and her husband were incredibly attentive. The house was perfectly clean and spacious and relaxing - we will definitely be returning. They even had Legos that our two boys enjoyed one afternoon :) Know before you go that the instructions for turning on the water (etc) are on the hallway cork board, and that turning on the water to the house is via a handle by the hose downstairs.
Hannah
August 2015
Ca-Co Cabana is a cozy and cute place near the beach that is perfect for a family getaway. Our boys loved the bunk bed room and we all slept comfortably. Julie responded quickly to messages and the house had everything we needed. We would stay here again!
Maggie
March 2016
The location was perfect - right behind the church and across the street from the Big Store. The price for the rental was spot on! Check in was easy. Check out took a lot of time and careful planning trying to wash and dry and fold all the bedsheets. I might suggest only having the renter strip the bedsheets and then asking the housekeeper to wash and dry them while she/he cleans up the house. The house had everything we needed and decorated well. Master bed was small for two adults to fit and the air vent blew directly in our face. We ended up turning the AC off for the night and everyone woke up hot, muggy and with headaches as a result. The second night we slept backwards in the bed. It helped a little. Julie was super easy to work with and very friendly. We will rent again from Julie. We will just sleep in the other bedroom across from master bedroom.
Alison
July 2016
Hi Julie! I planned on touching base with you, but we've just been having too much fun to even pick up the phone. We thoroughly enjoyed our stay! You have a very nice place and we'd love retreat there again. You've been a fantastic host! Jesse
Jesse
April 2016
Art des Zimmers
Ganze Unterkunft
---
Art der Unterkunft
---
Unterkunft für
8
---
Schlafzimmer
3
Bolivar Peninsula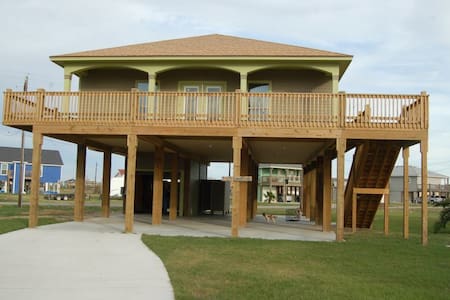 Holiday Hideaway vacation beach home in the heart of Crystal Beach, TX. This 2-story beach home offers 4 spacious bedrooms and 2 full baths. It is perfect for all occasions and has beach access in the subdivision.
Holiday Hideaway is perfect for your upcoming vacation and sleeps 14. There are 4 large bedrooms and 2 full bathrooms as well as a sand shower downstairs. We wanted to build a place to make memories for years to come for families. Holiday Hideaway is located in Holiday Beach Subdivision which is in the heart of Crystal Beach. The subdivision has beach access that allows you to walk or drive there in a couple of minutes. Master Bedroom- King-size bed with satellite TV. Master bathroom has large tub and a separate walk-in shower. Bedroom #2- One queen-size bed with dresser and closet available for your belongings. Bedroom #3- Two queen-size beds with dresser and closet available for your luggage. Upstairs Bunk Room- Open room with built in bunkbeds. Two full XLs on the bottom and two twin beds on the top bunks. Guest Bathroom- Offers a full bathroom Downstairs Sand Shower- We request our guest use this shower when returning from the beach. We are on a septic system and large amounts of sand can cause problems. Guests have full access to all areas except: *the owner's closet located in the hall *the attic We love being able to greet guests on their arrival and walk them through the home while answering any questions. In the event we are unable to meet at your arrival we have a lockbox onsite that allows you access to the home. We are always available in case of emergencies or for further questions but once we hand over the keys we will leave to allow you to enjoy your stay.
The ferry to travel to Galveston is approximately 12 miles from our location. There are also golf cart rentals that will deliver a cart to your door. Crystal Beach now requires a $10 permit to park your vehicle on the beach. It is a one time fee and is good for the entire year. You can purchase this at the local super market or from the local issuing authority when they are driving along the beach.
First time but trust me not my last. Noelle was available,friendly, professional. The property was fantastic. Well worth every penny! Thx again Noelle!
Jennie
November 2016
She was amazing, very helpfull, the place is great, we had some problems with the internet, that weren't that important since that allow us to enjoy our vacations even more without being contact or having acces to the media. We would definitely comeback soon. The house is amazing we loved it, specially the kitchen. Thank you so much for everything.
Sugey
August 2016
We had a beautiful time celebrating the Christmas season at Holiday Hideaway with extended family. Thank you, Noelle!
Jennifer
December 2016
The place was very nice, and the island was very relaxing
Gary
February 2016
Noelle, I am so glad we got to meet you. The cabin is absolutely beautiful!!! The open kitchen and living area is spacious. We spent a lot of time out on the extra deep deck soaking up the warmth of the January sun talking and laughing. The outside sound system was amazing!!! We will be back!!!
Carrie
January 2016
The house was great and very spacious. It had everything we needed. Quiet neighborhood with great deck. We enjoyed our stay very much!
Emily
March 2016
Just want to say thank you to Noelle for making her Holiday Hideaway available to our family. The place is gorgeous! It was perfect for us. Everything is so convenient, stores, restaurants and most of all the beach. The home had everything she stated it would. Rooms where very clean and spacious....loved, loved, loved it!
Cassandra
June 2016
From the minute I requested to book our trip, Noelle was nothing short of a great host. Quick to respond to any questions or concerns that I had and quick to elaborate or clarify anything if I needed it. Noelle made it incredibly easy for us to check-in when the time came for our trip to the coast. Check-out was a breeze, minimizing the stress of getting everything packed up and in the car. We were not rushed at all during check-out and had time to enjoy our final morning on our vacation. The Holiday Hideaway was exactly as it looked in the photos and in the description of the property. We had 6 adults and 1 child staying in the house for the week, so there were a few extra beds. The house was spacious and none of our group felt cramped during our week long stay. The bathrooms, kitchen, bedrooms, and living areas were all very clean and the kitchen had all we needed to cook our meals during our time there. The location of the house was perfect for what we wanted. Just a short walk down to the beach, which we took advantage of. There was a grocery store just down the main road which made it easy to get everything we needed for our stay. A BBQ grill was available for use, so we grilled burgers one evening. A sand shower behind the garage made clean up from a day at the beach all too easy. Having breakfast and coffee in the mornings on the outdoor patio was as treat. The neighborhood was quiet and the beach was not too crowded during the time we were there. I would like to say again that Noelle was a fantastic host. During our stay, Noelle was quick to respond to any concerns or problems we had. There was one issue that came up during the week, but Noelle was on top of it and got it sorted out quickly, minimizing any inconvenience to her guests. The Holiday Hideaway was a comfortable, welcoming space for our little getaway for the week. I would, without a doubt, recommend Noelle and the Holiday Hideaway to friends and family if they are considering a similar trip, and I would absolutely stay there again.
Chuck
August 2016
Art des Zimmers
Ganze Unterkunft
---
Art der Unterkunft
---
Unterkunft für
14
---
Schlafzimmer
4
Crystal Beach
My place is close to the city center. You'll love my place because of the ambiance and the neighborhood. My place is good for couples, solo adventurers, business travelers, families (with kids), big groups, and furry friends (pets).
This new cabin is decorated tastefully and ready for your stay. Everything is brand new and ready to be enjoyed! Located just a short walk to the beach and centrally located in town, you will be sure to enjoy your stay! Guests will have access to the entire home. Please make yourself at home! Please call with any questions or issues you may have during your stay so we can do our best to make your stay the best it can be!
The neighborhood is centrally located in Crystal Beach. Beach access is available to everyone in the neighborhood so there is no need to even get in your vehicle while you are visiting! Be sure to get a parking pass should you decide to drive on the beach or bring a golf cart or utv. The Big Store sells them for $10.
Super clean and well decorated space that is fully stocked with everything you might need! Matt was a fantastic host, responded immediately to any questions. It's a 5 minute walk to the beach. We loved it here and are already planning another booking!!
Elaine
November 2016
House was brand new and in excellent condition. The furniture and bedding was top notch. Host was very responsive and fairly flexible.
Justin
August 2016
Amazing house just a few blocks from crystal beach. The neighborhood has beach access if you want to drive and the house had everything we needed. The patio was great and we enjoyed grilling out our first night there. Our friends and pup had a wonderful time! Matt was very helpful and easy to work with! We will be coming back to this great vacation spot!
Megan
July 2016
Matt is awsome love the quiet neighborhood and easy access to beach. Love this house and we will be back!
Renee
November 2016
The stay was lovely. We had such a great time, and Matt did everything and more to ensure that the trip went smoothly. The house is wonderful, well appointed, and a couple minute walk from the beach. Also, it was great that we could bring the pup along for the fun!
Sarah
October 2016
I'm proud to have been Matt's first guest at this wonderful beach house. I stayed here with friends over July 4th weekend and it could not have gone better. The first thing to note is how great of a location it is. It's located less than half a mile from The Big Store, the area's main grocery store (you will end up coming here), and a short walk to the beach itself. If you're into fishing, it's located almost halfway between Rollover Pass and the North Jetty. Location aside, the house itself was beautiful. The pictures do not do the please justice, the color on the walls was incredibly calming. It feels very spacious and its 3 bedrooms can sleep a lot of guests. The bathrooms are large and very roomy. The kitchen was well stocked with serving ware and kitchen ware and the open layout is great for entertaining. The house had all the expected amenities such as washer and dryer, wireless internet (WIFI), and an exterior 'beach' shower outside on the ground floor. Each room has a flat screen TV complete with cable and Roku boxes for streaming TV. One great thing we found out was that we could cast to the TVs from our mobile devices. All in all, staying here was an excellent time and it made for a great memories of a July 4th weekend at the beach. Matt was an excellent host; he was nice and responsive. I would definitely consider staying here again.
Andrew
July 2016
This house was everything we expected and more. Very spacious. A few rows back from the beach which is a huge plus. Salt and sand isn't in everything. We will definitely be back!
Brent
September 2016
This was our first experience and we weren't sure what to expect. Once we arrived, the home exceeded our expectations. Matt was very attentive and accommodating from start to finish. The finishings and detail given to the entire home were wonderful making it really fee like our home away from home. We can't wait to come again!
Clarencia
July 2016
Art des Zimmers
Ganze Unterkunft
---
Art der Unterkunft
---
Unterkunft für
8
---
Schlafzimmer
3
Crystal Beach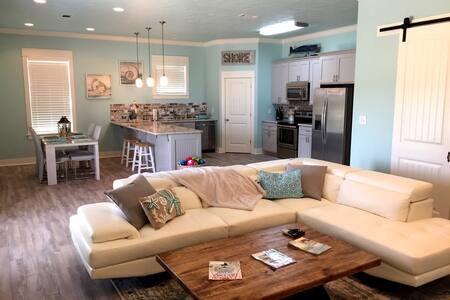 My place is close to The beach, parks and Galveston is just a ferry ride away. You'll love my place because it is cute and cozy. My place is good for couples and families (with kids).
The host canceled this reservation 23 days before arrival. This is an automated posting.
Rick
Art des Zimmers
Ganze Unterkunft
---
Art der Unterkunft
---
Unterkunft für
7
---
Schlafzimmer
2
Galveston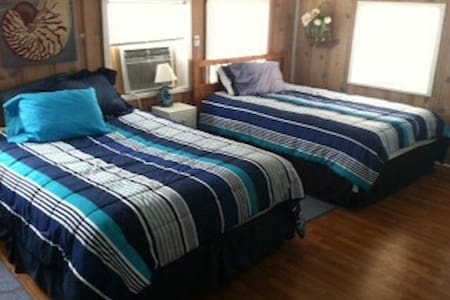 Come Stay at Chompy's Beach Cabin in the heart of Crystal Beach! With walking distance to the beach, fishing, shopping, and even frozen drinks, you are sure to enjoy yourself!
Chompy's is not a typical cabin where anything beach related is thrown into it and the mattresses should not be called as such. All mattresses are memory foam and the decorations coordinate with each other. The location of Chompy's allows you to walk to the beach, drive to the big store, or even get a frozen cocktail before the a/c in your car will even cool you down! Our home is your home. We have a fully stocked kitchen with the majority of utensils and accessories you need to make a big Sunday breakfast or to cook up your fresh catch of the day. We will only interact with guests upon request. We like to make sure your stay is as private and fun as possible so if you ever need anything then please let us know!
Close access to everything Crystal Beach! There is normally not any public transit available but you are at the beach so who cares?
We decided to take a last minute trip to Galveston and ended up staying in Crystal Beach. The home was nice and perfect for what we wanted. There were a few items that were broken (table downstairs, toilet paper holder in master bath, etc.) but nothing major. The beach was nice and only a short drive (less than 5 mins in the neighborhood). Lots of people just park on the beach so it's not difficult to drive there (no need to find parking, etc.). I would recommend staying here - just be sure to bring bug spray. The mosquitoes are no joke!! Also try Steve's Landing for food - a great restaurant.
Sue
June 2016
Went for a girls weekend getaway. Matt was easily reached and very helpful. The condo is perfect, very clean, tastefully decorated, comfortable beds, it felt like staying with friends than a rental. High quality towels, ROKU, internet and everything you'd need to be at home.
Brenna
October 2016
Matt was really accommodating as I contacted him the day I was arriving in Galveston to book the house. The location of the house was within a short walk to the beach. The whole place was laid back and not crowded. Accommodation was better than I had expected. The placed is well decorated, I should know I am an interior designer, clean and comfortable. I've already recommended the Chompy's to several friends.
Kris
June 2016
They home was clean and welcoming. It was exactly as described. It rained the whole weekend we were there so we spent plenty of time inside. The amenities were impressive and the beds were so comfortable. We were already palming another trip before we left.
Monica
December 2016
Our family thoroughly enjoyed our first trip to Crystal Beach and our stay at Chompy's! Matt was very responsive to questions and had great tips (like avoiding the ferry to get to the house)! The house was just as pictured, if not better. We'd definitely stay again.
Delia
August 2016
Matt was a great host. The house was spacious and very clean. The house was walking distance from the beach and was located in a great neighborhood. Overall great place to stay. Would recommend to anybody.
Dustin
July 2016
Matt is an amazing host. Excellent communication and he quickly responded to any questions I had ( within minutes). Chompy's is an awesome beach house. Close to the beach and the big store. The memory foam mattresses were great to sleep on after a long day at the beach. Our kids loved the big tv and roku for Netflix ( also a nice distraction when we needed a break from the beach). The golf cart was great for getting to the beach. We had a blast and can't wait to be back again soon.
Shawn
August 2016
Great communication with Matt - everything as described in the listing. Fantastic cottage near the beach. We will definitely stay here again!
Jenny
December 2016
Art des Zimmers
Ganze Unterkunft
---
Art der Unterkunft
---
Unterkunft für
8
---
Schlafzimmer
3
Galveston County