GRIMPOBRANCHES vous propose un concept bien connu mais unique dans la Marne: dormir dans les arbres! Nichées à 4 et 5 mètres du sol, les cabanes perchées vous offrent un confort rustique mais douillet au cœur de notre forêt. site Grimpobranches com
This listing is a scam. The "tree house" is astoundingly overpriced for what it is, but that's not the worst of it. The location of the house isn't anywhere near where it says it is in the listing, and it isn't even in the location given in the directions once the place is booked (you have to meet someone from the company that runs this listing and follow them out into the woods to find it). The hosts I dealt with were passive aggressive and dishonest. They also slapped a surprise charged one me—in violation of Airbnb policy, I believe—for bedding materials after the place was booked, and when I tried to back out of the listing after discovering that it was nothing like what was advertised refused to issue me a refund. I'm shocked Airbnb allows this listing to stay on the site. The company that runs this listing is running a scam, pure and simple.
Denver
2016-08-05T00:00:00Z
We spent one brilliant night sleeping in the forest canopy. Kids loved it and it's definitely an experience worth doing. Hosts were very helpful and polite.
Danny
2016-08-09T00:00:00Z
Art der Unterkunft
Ganze Unterkunft
---
Objekttyp
Blockhütte
---
Unterkunft für
5
---
Schlafzimmer
Witry-lès-Reims, Alsace-Champagne-Ardenne-Lorraine, Frankreich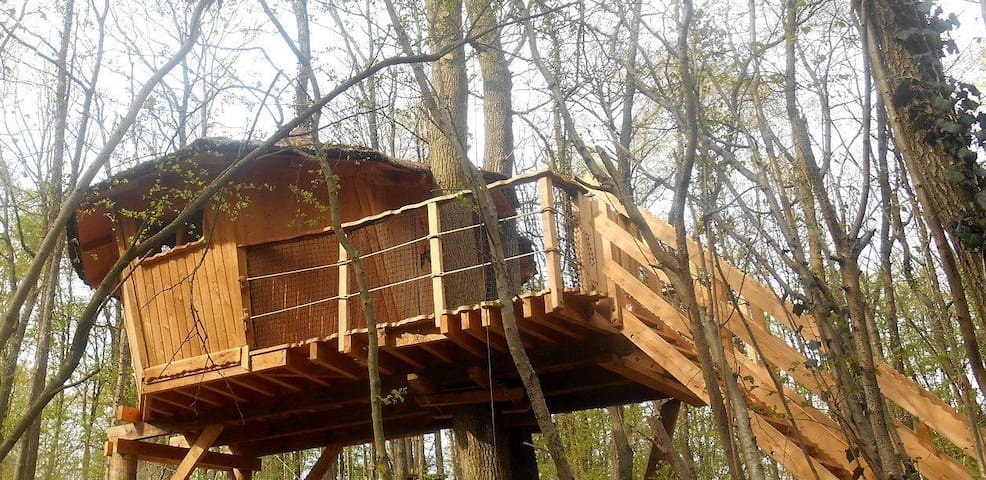 Chalet en bois sur le bord du potager du centre équestre, mini cocon chaleureux, cuisinette, toilettes sèches intégrés . Terrasse orientée au sud avec vue sur le potager et les pâtures des chevaux. Le chalet n'est pas équipé de l'eau courante mais vous avez accès à une salle de bains privative et aux toilettes du club , le petit déjeuner est compris dans le prix de la nuitée et il y a possibilité de paniers repas ou table d'hôte, parking privé.
notre village d'AOUGNY compte à peine une centaine d' habitants c'est la véritable campagne au milieu des pré et des champs, le calme y est absolu et les nuits silencieuses !
Accueil excellent et week-end très sympathique!
Christian
2016-10-09T00:00:00Z
Chalet insolite comme nous le souhaitions, confortable et au calme! Un accueil impeccable de la part de nos hôtes et le petit déjeuner compris dans la formule était un réel plus! Quel bonheur de se réveiller au milieu de ce centre équestre : une bien belle expérience!
Sidonie
2016-10-16T00:00:00Z
Je recommande très vivement le chalet de Martine! Un dépaysement total et une des meilleures expériences Airbnb. Ce chalet avec beaucoup de charme est idéal pour se reposer.
Anastasiia
2016-08-28T00:00:00Z
Très bien!
Joke
2016-07-24T00:00:00Z
Très disponible, très serviable ! Superbe logement, je recommande !
Thibault
2016-06-20T00:00:00Z
Très bonne accueil dans un lieu sympathique.
Michel
2017-03-29T00:00:00Z
Martine et Jacky sont des hôtes disponibles à l'écoute et très accueillants. Apéritif offert à l'arrivée cela ne se refuse pas ! Le chalet et un petit cocon parfait pour se détendre.
Cecil
2017-04-09T00:00:00Z
NIce small chalet in front of the vegetable garden of an equestrian center located in a small village near the Champagne road. The hosts were very kind and helpful. They gave us very good advises on what/who to visit in the region. One important thing to underline though is that the chalet is not equipped with indoor water and sewer. There is a dry toilet in the chalet + shower and toilet available in another building.
Cédric
2016-08-01T00:00:00Z
Art der Unterkunft
Ganze Unterkunft
---
Objekttyp
Blockhütte
---
Unterkunft für
3
---
Schlafzimmer
Aougny, Alsace-Champagne-Ardenne-Lorraine, Frankreich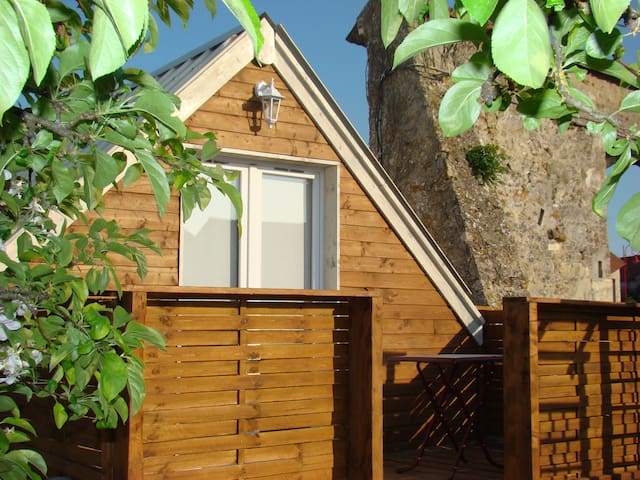 Charming old and renovated country house with big private garden (3000 m2) ideal for walking, reposing, gazing at the stars beside the campfire,.....
living room : 2 woodstoves + plenty of wood (no central heating) bedroom 1 : double bed + baby bed + electrical blankets (very hot even in winter) bedroom 2 : double bed + single bed + electrical blankets bathroom : electrical heating + plenty of hot water kitchen : electrical heating + plenty of hot water dvd player with 200+ dvd's, toys for children no wifi Wood stoves are ignited the morning of arrival to heat up the house before you arrive
Reims : 40' Center parcs Laon : 40' Elfy park (for the children) : 45 ' rozoy sur serre : restaurant, supermarket, bread : 10'
Endroit très paisible pour ce reposer lors d'un voyage pro où lors d'un voyage familial
Kevin
2017-03-03T00:00:00Z
Heerlijk plekje. Rustig. Gezellig. Knus huis. Ideaal met honden. Je loopt zo de velden in achter het huis.
Viola
2017-02-14T00:00:00Z
Art der Unterkunft
Ganze Unterkunft
---
Objekttyp
Blockhütte
---
Unterkunft für
5
---
Schlafzimmer
Chaumont-Porcien, Grand Est, Frankreich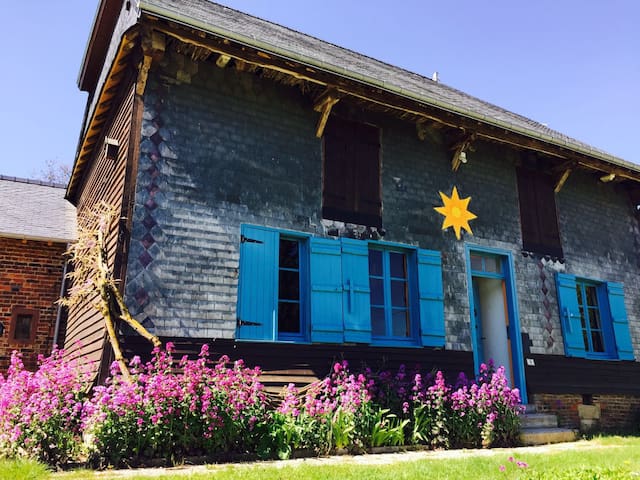 The Cab'Âne is located in the village of Saint-Jean-aux-Bois (08220) on the edge of a forest and bordered by the river Malaquise (1st category).
You can rent a wooden chalet of 30 m² (20 m² basement plus 10 m² mezzanine floor) for 2 adults plus 2 children. Situated in the community of Saint-Jean-Aux-bois (08220) at the border of a forest and at the bank of the river Malaquise (1st category), the wooden chalet is a very special location, with its closeness to the river source, far away from the abundance of modern life...off grid. During your stay you benefit from smooth light coming from candles or oil lamps and cooking on an ancient stove. To respect the special environment at this place we decided to install dry toilets. An outside shower gives you refreshment during the hot days. There is no electricity in the lodge,and no wifi too. The river "La Malaquise" pleases you with its soft atmospheric whispers and the pond invites you to fish. Due to security reasons and to respect guest staying after you in the chalet, we kindly ask you to respect the no-smoking-rule (for the smokers: Thank you for not throwing the butts into nature). Renting of duvet covers and towels is included.
En pleine (URL HIDDEN) pas oublier les chaussures de marche!
La Cab'âne was prima in orde, Emmanuel heel behulpzaam en sympa, back to basics zoals het hoort!
Ruth
2015-12-30T00:00:00Z
Emmanuel nam rustig de tijd om alle specifieke eigenschappen van de hut weer te geven: hoe de kachel werkt en hoe je hem snel aankrijgt, hoe het composttoilet werkt, hoe je veilig de olielampen en kaarsen laat werken. Daarenboven kregen we een uitleg van toeristische trekpleisters uit de regio met kaarten en mogelijke wandelingen... Een hele fijne ervaring!
Bart
2016-02-14T00:00:00Z
Nous avons apprécié la grande disponibilité d'Emmanuel et de sa compagne qui ont su répondre à toutes nos questions avant et pendant le séjour. La Cab'âne est conforme à la présentation qui en est faite sur le site, c'est à dire pleine de charme et avec un côté "retour à l'essentiel" qui est très rafraichissant ! Nous n'avons malheureusement pas pu profiter des extérieurs car la météo n'a pas été favorable.... Nous reviendrons pour pêcher au bord de l'étang et faire un feu de camp. Petit "plus" de notre séjour : la balade organisée avec un âne, activité très appréciée par les enfants. Merci également à nos hôtes pour les bons conseils en terme de restos et activités alentours.
sabine
2016-07-04T00:00:00Z
Super séjour! Nous avons été bien reçus par Emmanuel qui nous a tout expliqué. Quel bonheur un week end en pleine nature et sans rien de superflu! Le pied
Pauline
2017-01-07T00:00:00Z
Perfect place to spend a few days off the map, simply enjoying the stunning surroundings and the serene environment. Very charming little cabin, suited even for us (three adults). The amenities are basic but functional, and there's of course a special charm to heating the hut on a woodfire heater :)
Dion
2017-03-12T00:00:00Z
Un très chouette endroit, au milieu de la nature. Une très belle petite cabane en bois et un hôte accueillant et disponible. L'endroit idéal pour un weekend en amoureux dans la nature et la tranquillité.
Bertrand
2016-05-30T00:00:00Z
Amazing place. The cabin is very welcoming, warm and has everything you need. Great walks in the surrounding area, highly recommend!
Elisabeth
2015-11-16T00:00:00Z
Merci à Emmanuel pour son accueil et ses conseils. Nous avons passé un excellent moment dans la Cab'âne, au cœur de la verdure, une super soirée Chamallow grillés au feu de camp pour l'enterrement de vie de célibataire de notre amie. A bientôt!
FANETTE
2015-06-07T00:00:00Z
Art der Unterkunft
Ganze Unterkunft
---
Objekttyp
Blockhütte
---
Unterkunft für
4
---
Schlafzimmer
Saint-Jean-aux-Bois, Champagne-Ardennen, Frankreich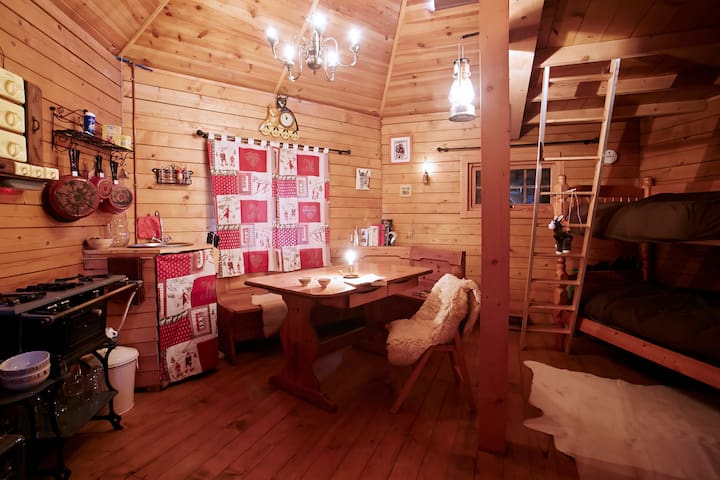 Zeer rustig gelegen huisje met wijds uitzicht aan de rand van een klein boerendorp. Het huisje beschikt over een tuin van zo'n 300 m2 waar je ongestoord kunt genieten van het buitenleven. Er is een BBQ aanwezig evenals een buitenterras met tuinmeubels. In het huisje zijn alle voorzieningen voor jong en oud aanwezig om zorgeloos de vakantie door te komen: WIFI, Apple TV (mogelijk om met je Netflix account in te loggen), DVD speler, Nespresso & senseo apparaat, combi magnetron / oven, sap centrifuge, vaatwasser en open haard
Zeer rustige omgeving met een ruime tuin van zo'n 300 m2
De Thierache is een groene streek met kleine romantische Franse dorpjes. Het dorpje Parfondeval ligt op de grens van de Champagne Ardennen en op zo'n 70 km van Reims
Art der Unterkunft
Ganze Unterkunft
---
Objekttyp
Blockhütte
---
Unterkunft für
4
---
Schlafzimmer
Parfondeval, Aisne, Frankreich
Gib deine Reisedaten ein, um den Gesamtpreis pro Nacht zu sehen.