Gib dein Check-in-Datum im Format TT.MM.JJJJ ein
Gib dein Check-out-Datum im Format TT.MM.JJJJ ein
Inserate, die du buchen kannst, ohne auf eine Bestätigung des Gastgebers zu warten.
3 Bed & Breakfasts
· Cajamarca
3 Bed & Breakfasts
· Cajamarca
Gib deine Reisedaten ein, um den Gesamtpreis pro Nacht zu sehen.
Diesen Juli und August kannst du eine dieser 100 hervorragend bewerteten Unterkünfte aus jeder Preiskategorie ausprobieren, um Sonoma aus der Sicht eines Einheimischen kennenzulernen. Dank 24-Stunden-Check-in, Sofortbuchung sowie einheimischen Weinen und Snacks kannst du dich einfach zurücklehnen und deine Reise genießen.
Beautiful private Don Simon's Farmhouse peaceful little hacienda.
A typical 100 years old building made out of traditional mud bricks, surrounded by beautiful hills, green fields, and a lovely private flower and bird garden that overflow with peace, charm and ambiance. Located 500m from Baños del Inca main square, and a 10-15 minutes drive from Cajamarca's Plaza de Armas (10-15PEN for taxi ride). Don Simon's Farmhouse is ideal for couples, small groups of friends, nature lovers, hikers and people who enjoy peace and goodness of country living. We offer 2 rooms, each one with its own wood-burning stove and private bathroom with plenty of hot water. Every day breakfast is included in the price and we also provide you with the complementary basic salt/pepper/sugar and drinking water (our glass bottled water comes directly from our rain water collecting system , however we supply with boiled water in glass bottles for those who prefer not to drink Cajamarca's rain water). Additional to this, our main house stove/oven kitchen and all private garden areas can be shared. The owners may or may not be in the main house. There is 1 other suit in the main house that is available for rent when the owners are away at Christmas and in the summer holidays (June-July). We have a guinea pig farm, a vegetable garden and fruit-trees from where we obtain the majority of our daily consumed products. There is a horse, a turkey, a few ducks, chickens, some sheep, all in the back yard away from rooms. Plenty of parking space, as well as a couple of bicycles are available if needed. We are happy to make the reservation for the house's private taxi service to pick you up on arrival date at airport or bus station. If you'd like us to do so, within 24 hrs before checking in please confirm to us your arrival time as well as the name of your bus/airplane line, so that our guy will be there for you. This service has a fare rate of 15PEN that you can pay directly to the taxi guy. We find people's company lovely and of course every guest is for us an opportunity to share and enjoy, so we would always be honoured to delight in their stories. But we also appreciate those who seek peace and might desire total privacy and isolation, therefore, we leave the door open to our guest if they happen to decide to join us for our tea and biscuits time, or for a picnic lunch, or for dinner under the constellations with a fire and candles, or for camping expeditions, or for our weekend walks/horse riding to our secret non spoiled places hidden in the hills around Cajamarca.
We are a property surrounded by hills and green fields only. In the distance from our home you can watch the milking of the cows that take place everyday at 6:00am and then 5:00pm, Nice walks can be done at our surroundings. We are just 500m. from Baños del Inca where you will find not only the ancient royal Incan thermal baths site but also a lovely fruits and vegetables market, butcheries, a couple VTM withdrawal bank machines, a bank, a petrol station, a couple of Deli markets, wine shops, bakeries, pharmacies, typical and international restaurants, clothing shops, and more... Right from our main home private road entrance you can also take the public transportation combies (for just 0.08 PEN cents one way) that drop you off right at the main square of Baños and/or at three blocks from Cajamarca's Plaza de Armas, when you are ready to come back home or Baños you just take the same combies at three blocks from main square, you will get off right at Baños or at our main entrance road. -There is wireless internet access at no charge. -We don't have and or provide any television equipments. -Our cleaning lady can do your laundry at home at a cost of 8.0 PEN per dozen, but you are also welcome to bring you own clothes washing soap and use our laundry facilities to hand wash your clothes at no cost. -Breakfast is served at 8:30am at the garden of roses or at the birds garden, it all depends on weather, but if by any reason you are not planning to have breakfast, we would appreciate if you let us know the night before.
Welch ein fantastischer Ort ! Ileana, Alfonso, Elena & Edison sind so herzlich und offen, daß wir uns sofort sehr wohl gefühlt haben ! Jeden Morgen gab es ein anderes leckeres Frühstück am schön gedeckten Tisch im Garten. Die Räume sind sehr groß und mit einfachen Mitteln sehr fantasievoll und creativ gestaltet. Uns hat es riesig gefallen, abends den Holzofen anzumachen, um es schön warm zu bekommen und morgens heiß duschen zu können. Es ist uns schwer gefallen, diesen schönen und erholsamen Ort nach 4 Tagen wieder zu verlassen ! Absolut empfehlenswert !!!
Eloy & Heike
August 2016
Desde nuestra llegada Iliana nos hizo sentir como en casa, el lugar muy confortable y acogedor. Para los que quieren escapar de la ciudad y descansar en el campo es 100 % recomendable. Mi hijo y yo quedamos muy satisfechos con todas las atenciones, definitivamente volveremos todos los años. Iliana es una gran persona, además de acogernos nos apoyo en todo momento. Gracias por todo Iliana. :-)
christiam
February 2016
Buen lugar para desconectarse del bullicio del centro. Alojamiento rústico, con lo básico para descansar unos días. La Sra encargada fue muy amable en todo momento. Mis hijos disfrutaron mucho del jardín y alrededores.
Yuri
August 2016
I spent five wonderful days at Ileana's. Me hizo sentir en casa, su finca es un lugar hermoso, tranquilo e Ileana es una persona encantadora. It's easy to reach Cajamarca, my room was very confortable, everything was just perfect.
Anke
July 2016
It was my first airbnb experience and Ileana made it memorable, she is the best host ever! Thank you very much Ileana for made our trip unforgetable! Your house is lovely, and sharing time with you and your son was the best part of the experience. Thank you for caring about us, you made us feel part of your family! We were heartbroken when we left and we will come back for sure. You offer a very high customer service and you really connect with the guests. Thank you for the delicious meals, the cooking lessons, the "lunada", the picnic, the excursion advices but overall for your friendship. We miss you already! Si van a Cajamarca este es el lugar para ir! Es una casita de campo adorable y lo mejor de la experiencia son Ileana y el pequeño Alfonzo. Ellos te reciben con mucho cariño como si fueras parte de la familia. El desayuno es muy rico y el lugar es encantador, rodeado de paisajes naturales y mucha energía! Además Ileana se preocupa por todos los detalles para hacer que tu estadía sea memorable. Muchísimas gracias Ileana por todo! Sin duda volveremos!
Chanazya
March 2016
Me di cuenta que tome la decision correcta, cuando la primera mañana sali con mi hijo del cuarto y vimos un precioso arcoiris, ver la cara de sorpresa de mi hijo fue priceless, luego salimos de la casa a caminar por la granja a ver como ordeñan las vacas, los cerdos, los gallos, gallinas, gallinetas, patos, etc. y esa experiencia la repetimos todas las mañanas puesto que mi hijo nunca se canso de explorar la granja. Las habitaciones rusticas y con bonitos detalles, las camas muy comodas y lo que mas me encanto de la habitacion fue la estufa, uno mismo tenia que meter leña, prenderla, a fin que a los minutos tuviera agua caliente para bañarse y ademas se calentaba la habitacion y olia muy rico. Los desayunos muy ricos, con su toque mexicano, ya que Ileana es de alla, sus tortillas muy ricas y la vista preciosa, comer al aire libre con cielos celestes, aire puro y sin bullicios de ciudad es realmente relajante. Ileana dias antes que lleguemos estuvo al tanto de nosotros y siempre busco que la pasemos bien, muy servicial y muy atenta, su hijito muy lindo y muy jugueton, con el haciamos mancha y nos ibamos tambien a ver la granja. De verdad que la pasamos muy bien, Cajamarca es una ciudad preciosa pero es ciudad, si van a relajarse recomiendo que se queden a las afueras de Cajamarca, como hicimos nosotros en Baños del Inca y si van a estar por ahi la casa de Ileana es de lo mejor, es seguro, tranquilo, bonito y la gente realmente calida y servicial.
Franz
October 2016
Ileana y su familia, son unas bellisimas personas. Mi familia y yo nos sentimos como en familia, nos hubiera gustado quedarnos mas tiempo. La casa es super cómoda y gracias a los hornos que tienen, no se siente frío. Tiene todo lo que necesitas. Caminando llegas a los baños del inca. Si les gusta el campo, relajarse, y vivir una experiencia real, les recomiendo 100% que se hospeden con ella. Elegí quedarme aquí, porque a mis papas les encanta estar en contacto con la naturaleza, los animales, que recuerden su infancia, y no me equivoque. Ileana muchas gracias por todo, y regresare pronto!
Liz
May 2016
We had a wonderful stay with Ileana at this beautiful farmhouse in a peaceful location and would recommend to everyone.
Denise
November 2016
Art des Zimmers
Privatzimmer
---
Art der Unterkunft
---
Unterkunft für
4
---
Schlafzimmer
1
Baños del Inca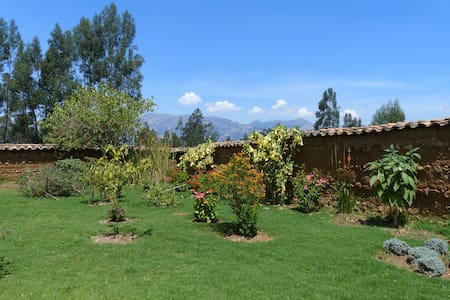 Hotel Cajamarca, ubicado a solo media cuadra de la Plaza de Armas de la ciudad, una casona colonial, ofrece el mejor servicio de confort para nuestros visitantes, en nuestro Restaurant Los Faroles degustará de la mejor comida típica de la región, comida criolla, e internacional. Además de un selecto bar con finos vinos nacionales e importados y cocteles elaborados a base de frutos nativos de la zona.
Art des Zimmers
Privatzimmer
---
Art der Unterkunft
---
Unterkunft für
5
---
Schlafzimmer
1
Cajamarca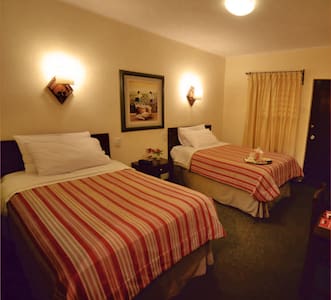 Hotel Casa de Campo is a hacienda turned into a hotel. It has been completely renovated in such a way that it maintains the charm of its original architecture. The hotel rooms are surrounded by gardens and trees. During your stay you will be able to
De lejos el mejor lugar para hospedarse en Cajamarca, la atención de Fernando y Fiorella fue excelente. Fui con mi familia (al rededor de 13 personas). El hotel es perfecto. Los cuartos están muy bien equipados y cuenta con áreas comunes muy simpáticas para relajarse. Se encuentra a 5 minutos de la plaza de armas. Si vuelvo a Cajamarca de todas maneras me hospedo ahí.
Santiago
August 2016
Nos alojamos en este maravilloso hotel y todo han sido facilidades. Los dueños nos atendieron estupendamente y nos guiaron para hacer las excursiones en cajamarca . Su atención única con mi hijita de 3 años que se divirtió como nadie en el hotel jugando por sus preciosos jardines con sus empleados muy cariñosos. Tiene habitaciones cómodas , es amplio, hecho con gusto y amor. Wifi rapidísima , servicio de habitaciones . Desayunos en el jardín buenísimos ( queso de cajamarca) Los dueños nos fueron a buscar al aeropuerto y nos llevaron incluso de excursión con carro , si deseábamos algo nos lo iban a buscar etc etc. El hotel está a sólo 5 minutos del centro de la bella ciudad de Cajamarca. Ideal para niños por sus excursiones cercanas a lugares de ensueño , Cumbemayo, granja Porcón (Zoo) ,hacienda La Colpa , baños del Inca, ventanillas de Otuzco etc. No tengo palabras de agradecimiento para esta familia. Hemos ganado una familia nueva en Perú.
Pablo
July 2016
Art des Zimmers
Ganze Unterkunft
---
Art der Unterkunft
---
Unterkunft für
16
---
Schlafzimmer
10
Cajamarca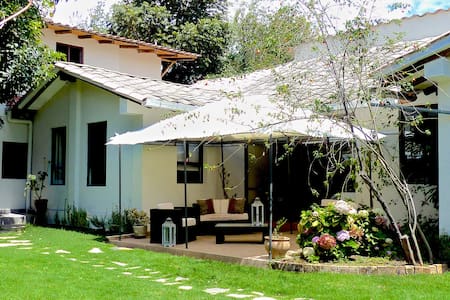 1

–

3

von

3 Bed & Breakfasts