Gib dein Check-in-Datum im Format TT.MM.JJJJ ein
Gib dein Check-out-Datum im Format TT.MM.JJJJ ein
Inserate, die du buchen kannst, ohne auf eine Bestätigung des Gastgebers zu warten.
Gib deine Reisedaten ein, um den Gesamtpreis pro Nacht zu sehen.
Diesen Juli und August kannst du eine dieser 100 hervorragend bewerteten Unterkünfte aus jeder Preiskategorie ausprobieren, um Sonoma aus der Sicht eines Einheimischen kennenzulernen. Dank 24-Stunden-Check-in, Sofortbuchung sowie einheimischen Weinen und Snacks kannst du dich einfach zurücklehnen und deine Reise genießen.
80+ private acres nestled on Cobscook & Passamaquoddy Bay, 1.5 Miles Ocean Frontage. Retreats and events for 300+ are available. We can sleep 2-64 people, in 32 bedrooms in 12 privately located Cabins, Cottages and Houses.
Ocean-Bay Loft (Sleeps 2) 2nd floor expansive loft, 1/2 bath with deck overlooking Cobscook Bay.
Ross' property was an idyllic respite from the hustle and bustle of the rest of the world. The property is lovingly maintained and unusually appointed. It is the perfect setting for a wedding (rent out the entire camp!) or a quiet weekend like the one we had. Be prepared for little cell phone coverage. We found wifi in town at the Waco diner but thoroughly enjoyed the beautiful view and opportunity to unplug and enjoy true R & R.
Dani
August 2015
Ross is a friendly guy and seems like quite a character. He warmly welcomed us and showed us the place. The view is even better than the picture. Sunset was awesome. I got up early in the morning and had coffee on the deck, saw lots of birds, very quiet and relaxing. Stars at night were unbelievable. Felt kind of like staying in a hunting camp and I mean that in a very positive way. We loved our stay.
Timothy
September 2015
My girlfriend and I stayed in Ross's loft for just one night, but it was great nonetheless. What nice and quiet surroundings. Too bad we weren't there to see the eagle washing in the pond, but hiking up to the old pier we saw two baby deer. Ross was a very welcoming host and even gave us a couple of fresh eggs (still warm) as a parting gift. I'd definitely recommend Rossport Farms if you're looking for a relaxing place to stay.
Harm
August 2015
Art des Zimmers
Privatzimmer
---
Art der Unterkunft
---
Unterkunft für
3
---
Schlafzimmer
1
Eastport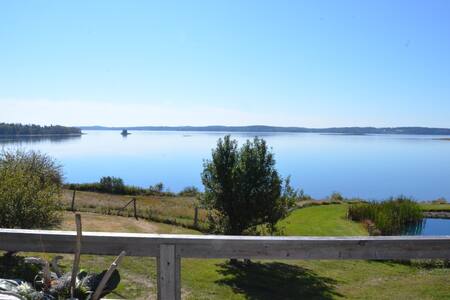 80+ private acres nestled on Cobscook & Passamaquoddy Bay, 1.5 Miles Ocean Frontage. Retreats and events for 300+ are available. We can sleep 2-64 people, in 32 bedrooms in 12 privately located Cabins, Cottages and Houses.
We thank Ross for a comfortable stay at Tide-Water Loft. Beautiful surroundings ocean-side, peaceful. Ocean air was cool enough there on a hot weekend. Wild and domestic creatures- eagle, deer, cats, cows, loons, seal...and a few art statues provided extra interest. There's great views of the bay and open fields, perfect for events. Ross offered a tour of the property and even around town. Our lodging had a half bath with the shower up the hill- not a problem. While heading to the shower one can view a little of Ross's collections at the barn or gaze at the bay. After being in town at events or shopping, head back to Rossport Farms' location for a quiet side of Eastport.
Jacki
September 2015
This whole property is magical, serene and worth a trip in it's own right. The hens lay your breakfast eggs, the pigs eat your food scraps, and the gentle cows welcome being hand fed hay and crabapples. The VIEWS from the Tidewater Cottage and Loft are breathtaking. If you can afford to spend the extra $$ and if it's available, I highly recommend the Tidewater Cottage. It's got a very comfortable kitchen, living space, shower and two separate bedrooms. Just bring slippers or socks - the concrete floors are cold! The loft is perfectly comfortable too, but we were spoiled by the cottage :) If you book one of the properties here without a kitchen, there is a full kitchen, showers and laundry in the big red barn just a short, beautiful walk away. Lubec is about a 30-40 minute drive away. We had a lovely time at the beach at Quoddy Head State Park. I would come back here in a second. Ross is a perfectly friendly host. Reach out to him in advance and be sure you have directions - reception is spotty! Oh - and the Rossport Farm Blend coffee from Carrabassett Coffee Co is so good! Best of the locally roasted Maine coffee we tried along the entire coast.
Marina
August 2016
Last minute need for a place to stay for myself and middle school aged son and Ross knocked it out of the park. Super responsive, kind, generous, and helpful. He saved the day!!
Merri
August 2016
Wow! Hanging out on the bay was awesome in the Tide-Water Loft. The smell off salt water, the bald eagles flying by and the breeze from the bay made this a memorable trip. We will be back!
Ray
August 2016
Art des Zimmers
Privatzimmer
---
Art der Unterkunft
---
Unterkunft für
3
---
Schlafzimmer
1
Eastport