Weeknights only - this pricing NOT available Friday & Saturday nights. **Two night minimum** Bring the family and stay with us on our beautiful 80-acre private property! With lush, oak forest hills and abundant wildlife, this is the perfect place to relax, connect and have some fun! Close to the beach, Hearst Castle, wineries, zoo, Paso Robles and San Luis Obispo, Dancing Deer Farm is an oasis for the entire family. The family suite offers a private section of our 6,000 square foot Hacienda. You will enjoy two adjoining bedrooms (Flicker room: 1 queen + 1 twin and Jay room: 2 twins) and 1 full bathroom, all to yourself. You will also have access to the media room / library with 50-inch large screen flat HDTV, VCR, DVD player, Dish Network Satellite Receiver with 500 channels, lending library and games. There is iPod plug in and Wii plug in. Also high speed wireless internet is provided. Sofa converts to pull-out bed. (Please see our other listing for access to kitchen, price increases to $168/nt.) You can also enjoy several patios & decks, ping pong tables, basketball hoop, swing, hammock, and swimming pool (seasonal). Wander the property on trails that wind through 80 acres of oak forests, take a stroll through our 1-acre organic garden, play in our Children's Tipi, and watch the sunset along with the many deer who call this place home. There are several superb restaurants close by, and many other local attractions and activities that we will be happy to tell you about! Come see what makes this place so special!
Art der Unterkunft
Privatzimmer
---
Objekttyp
Villa
---
Unterkunft für
5
---
Schlafzimmer
Templeton, Kalifornien, Vereinigte Staaten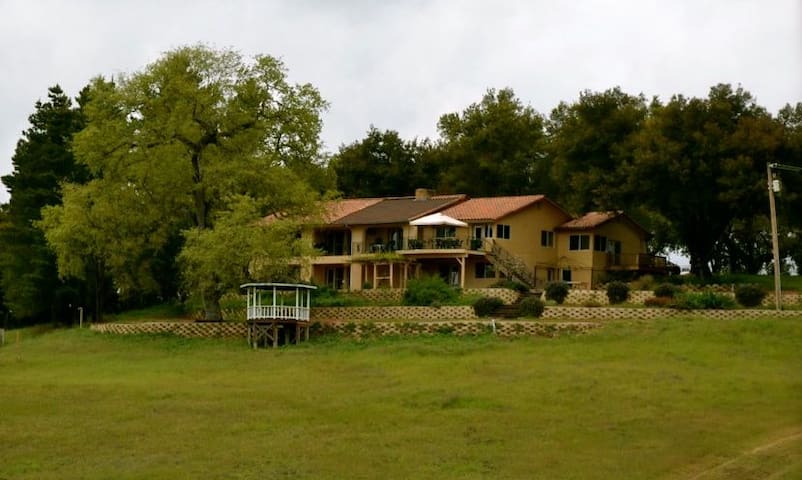 Elegant, spacious 4 bedroom, 3.5 bath wine country villa with picturesque views and walking distance to downtown Paso Robles. The open living space includes multi-level decks, a full kitchen, BBQ, free WiFi and cable TV.
This elegant, spacious 4 bedroom, 3.5 bath villa is one of the only houses in Paso Robles with views of the countryside and walking distance to downtown Paso Robles. The villa sleeps 10 comfortably with 4 queen beds and a King spread across 2 master suites and 2 additional guest bedrooms. The open living space includes all amenities including towels, a full kitchen, BBQ, free WiFi and cable TV.
Stayed at the house with a large group of friends to celebrate my birthday. The house was perfect and we had a blast staying there! Location was very convenient as we were wine tasting in Paso Robles. It was raining the whole weekend, but the house was large enough that had we room to do things inside. I hope to book again in the future and make use of the decks outside and enjoy the views.
Shawn
2015-02-09T00:00:00Z
The house was great and very spacious. My husband and I stayed with our daughter and her boyfriend and we could easily have had room for 2 more couples. We walked down the hill behind the house and into paso every morning. Great kitchen, decks and firepit. A great home base from which to explore the wineries of paso.
Susan
2015-05-04T00:00:00Z
We were very well informed of the home before we arrived. Ryan had a welcome book for us to review prior to our arrival. The home itself was amazing! We had a group of 8 (4 couples) and there was enough room for us to mingle together or have time apart. The living room was very big and the kitchen area was open. The amount of decks this house has is more than enough to relax and take it all in. Would stay at this location again in a heart beat. Thanks!
Nancy
2015-08-10T00:00:00Z
The house is wonderful! It was beautiful, comfortable, and well equipped for our group of 8. It is located on a little hill, providing pretty views but still close enough to walk into town. I would definitely like to return!
Ainara
2016-04-25T00:00:00Z
We came to Paso Robles for the annual classic bicycling event, Eroica. We had such a wonderful time at Ryan's beautiful home and could not have been happier with our accomodations!
Stacy
2016-04-11T00:00:00Z
Ryan was a great host, we exchanged emails and texts several times leading up to my stay at his place. Ryan's house was perfect, very clean and organized. There was ample space for my party of 8, definitely would recommend this place to anyone who has a large group to accommodate. Also the house was centrally located to the town which made for easy trips back and forth. I would definitely give Ryan a 5 star rating and would stay at his place again!
Dylan
2015-08-03T00:00:00Z
Ryan and Denise have a beautiful home! We got a group of friends together for a reunion weekend, and the house comfortably accommodates 5 couples. It's close to downtown, the kitchen is fantastic, the view from the back deck was awesome. I could go on and on. I can't recommend this place highly enough.
Adrienne
2016-06-20T00:00:00Z
This place is better than the descriptions and the photos. We hosted my friends bachelorette weekend here and there were 12 of us. We fit comfortably (2 stayed on an air mattress). There is SO much space everywhere! The house is beyond clean and they have everything to make guests feel comfortable (extra sheets, pillows, coffee, utensils, toilet paper, etc). I would definitely book this place again in a heart beat and recommend it to all my friends! The house is a 3 minute drive to the downtown area with many great restaurants and a few bars. Thank you Ryan for hosting us!
Jennifer
2016-02-29T00:00:00Z
Art der Unterkunft
Ganze Unterkunft
---
Objekttyp
Villa
---
Unterkunft für
10
---
Schlafzimmer
Paso Robles, Kalifornien, Vereinigte Staaten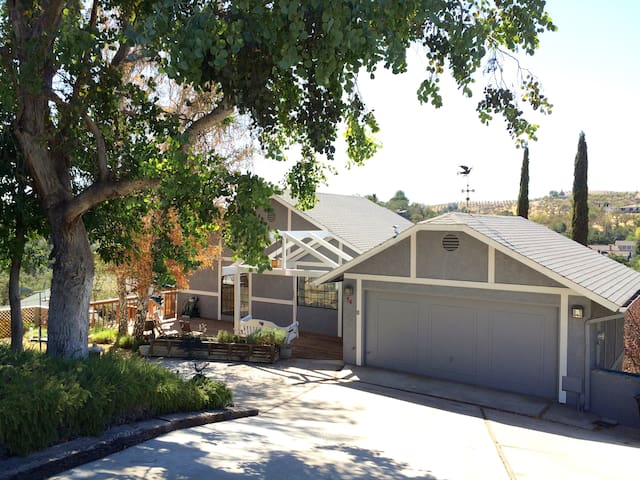 Overlooks the Old School Vineyard on a gated winery on Paso Robles Westside. Enjoy privacy in your own casita with private patio, full kitchen, bar bq, and all the accoutrements of home. Easy access from 101 & 10 minutes from downtown Paso.
Beautiful and modern casita with full kitchen , step down baja shower and all the comforts of home. Enjoy a glass of wine overlooking the vineyard and distant panoramic views to live for. Onsite wine tasting available by appointment.
Beautiful view of vineyards, olive trees and 40 mile vistas.
This place is wonderful, set in a rural vineyard setting but only a pretty 10 minute drive from the center of town. Quiet, peaceful and dog-friendly! Denis was kind and hospitable and his dog, Coltrane was super sweet!
Rochelle
2015-05-22T00:00:00Z
The Mojo Room was exactly what we were looking for in an escape to wine country. Denis couldn't have been more helpful and accommodating. The cottage, the views, the wine, the hospitality…everything was wonderful. Can't wait to go back.
Heather
2015-06-21T00:00:00Z
We had a great stay at Denis' cozy hideaway! A perfect place to "unplug" for a weekend and rejuvenate. We visited his tasting room downtown which was great and he gave us some good recommendations for winery visits the next day. Thanks for the hospitality.
Cheri
2016-08-21T00:00:00Z
Denis' cottage is perfect --- warm, spotless, comfortable, secluded and private but only minutes from Paso Robles! I highly recommend.
Ansel
2016-05-30T00:00:00Z
Lovely stay on the vineyard. Make sure to check out the tasting room in downtown Paso - thanks Denis!
Justin
2016-07-05T00:00:00Z
We had a fantastic stay the Denis' Bed N Bottle! Beautiful views of the vineyard from a private casita, a few minutes off 101. Highly recommended for visiting Paso Robles!
Brandon
2016-04-05T00:00:00Z
What a great place! Denis was very welcoming and had everything all set up for our arrival. The location, the view...the wine!! We just had the best weekend.
Gwen
2015-04-26T00:00:00Z
Denis was really nice and his place was beautifully set in his vineyard. He left us a bottle of Rose which we promptly consumed upon arrival -- awesome!! As was the invite to a complimentary wine tasting at his cellar downtown PR. It was our first time in Paso Robles we totally fell in love with the area... we will be back!
Katie
2016-05-22T00:00:00Z
Art der Unterkunft
Ganze Unterkunft
---
Objekttyp
Villa
---
Unterkunft für
2
---
Schlafzimmer
Paso Robles, Kalifornien, Vereinigte Staaten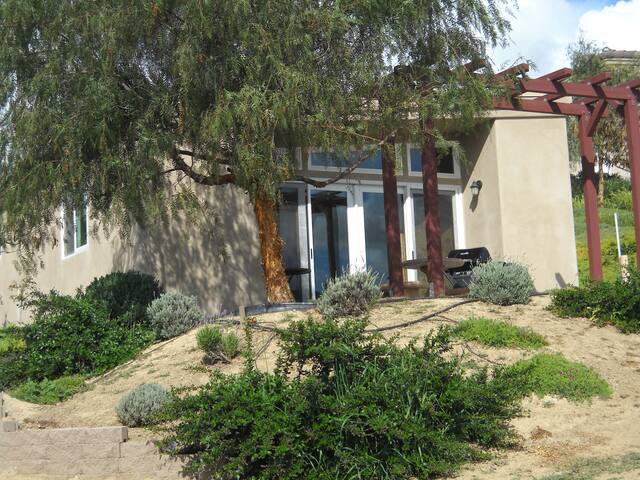 Beautiful authentic Adobe home in wine country! Professionally decorated featuring 2 fireplaces, New Mexican tile & original oak flooring. Full kitchen with all cookware, dishes, glasses and appliances. Outdoor gas BBQ & outdoor furniture.
Free wifi, cable tv, professionally decorated, scenic location, tvs in every bedroom... La Hacienda has it all! Located across the street from Hearst Ranch Winery and Vineyard. Tours and tastings available upon availability and with advance notice. Please inquire for more details!
The house sits along the Salinas River, on a country road. The house is peaceful and very private. A beautiful 10 minute drive on a country road will take you into the picturesque downtown of Paso Robles!
"La Hacienda" was an amazing experience. The posted photos do not begin to do it justice. Jim and Debi's Adobe Home was immaculate, fully equipped with all possible needs, a quiet and private location with beautiful vineyards all around but still close enough to town for purchasing those forgotten items. Jim was so thoughtful, having sent text messages and calling to make sure we could find the location and to make sure we had his phone number in case we needed anything. This was our first experience Airbnb but definitely not be our last. Thank you Jim and Debi for helping to make our Holiday Family vacation a perfect experience.
Lisa
2016-12-26T00:00:00Z
Jim and Debi made us feel very welcome! Jim checked in on us, to ensure we had everything we needed! The house is wonderful, and great for multiple couples. I would highly recommend it!
J.R.
2016-12-30T00:00:00Z
Art der Unterkunft
Ganze Unterkunft
---
Objekttyp
Villa
---
Unterkunft für
8
---
Schlafzimmer
Paso Robles, Kalifornien, Vereinigte Staaten
"Viento de Robles" An Elegant Villa overlooking Laetitia Winery with spectacular vineyard anda peak of ocean view. On 6 acres, private . This estate is filled with glass doors and windows. Office has option of having a queen air mattress on a frame. (Guest would have their own bathroom.) 2 Queen , 1 full , 1 CalKing A beautiful estate.
Hardwood floors, filled with glass doors and windows. 24 foot ceilings , circular staircase. Antique furniture and painting's of local artists. Sunken tub with view of vineyard .
It's in the country , yet close to the freeway entrance. Walking distance to Windmill farms . Fresh eggs , fish and berry picking. The farm also has sweet animals to visit with a lovely gift store.I have a lovely view of our neighbors horses on one side of the villa and on another our neighbors zebra. All who come to the fence with an apple. Come sit under an old oak tree with lanterns to light and enjoy a glass of wine or a long lunch. I also have 2 tire swings that any child would love to swing on . The master has a balcony with a view of Laetitia winery , ocean and sunset views. Enjoy grilling with farm view and a large lawn with croquet set. Love where you stay
Our time spent at Mia's home was fantasic. The home and grounds were impeccable, beautiful views and tastefully decorated. She was a wonderful host and I would recommend this home to anyone looking. I hope to have the opportunity to stay again in the future. Rosie
rosie
2016-08-01T00:00:00Z
This home was absolutely gorgeous, newly built and well maintained. As soon as we arrived, we fell in love with it. She made us feel very welcomed by texting me prior to trip to advise information about the neighborhood for any accomodations around that we needed to know. Also it was very sweet of her leaving a bottle of apple cider on tabletop in kitchen with welcome note and home was very clean and everything was beautiful. I got so many compliments from my friends went on this trip together for the great taste that I chose this home for the weekend! THANKS TO YOU, MIA All of us LOVED this home for the weekend and very comfortable. Driving was within 10 min from beach and nearest grocery.
Julie
2016-05-31T00:00:00Z
Mia was quick to respond and her villa is stunning. It was very clean and and seemed well kept up.
Julie
2016-09-25T00:00:00Z
My friends and I stayed at Mia's place for 4th of July weekend. We were all very impress and enjoyed staying here. Mia made us feel very welcome. Mia knew we were going to have kids so she left beach toys and booster seat with a placemat on the dinner table. She had fresh flowers all around the house. The house had everything we needed. We were always out doing things, but luckily the very last night we were able to enjoy the beautiful sunset. It was an amazing view. It is a must stay if you are in the area.
Quyen
2016-07-05T00:00:00Z
The house was beautiful and looked just like the pictures. There were plenty of clean linens and it was close to Pismo Beach and SLO so we could enjoy the beautiful Central CA coast. Would not hesitate to stay here again.
Danny
2016-06-27T00:00:00Z
Property was beautiful, serene, and private. We had a great stay.
Stacy
2016-09-06T00:00:00Z
The home is in a beautiful setting and was maintained impeccably clean. The home was made available to us well before the check in time. It was conveniently stocked for our needs. Our host Mia was available via messaging for assistance with local information.
Sundari
2016-08-08T00:00:00Z
Such a great home! The house was more beautiful than the pictures!
Eve
2016-09-12T00:00:00Z
Art der Unterkunft
Ganze Unterkunft
---
Objekttyp
Villa
---
Unterkunft für
8
---
Schlafzimmer
Arroyo Grande, Kalifornien, Vereinigte Staaten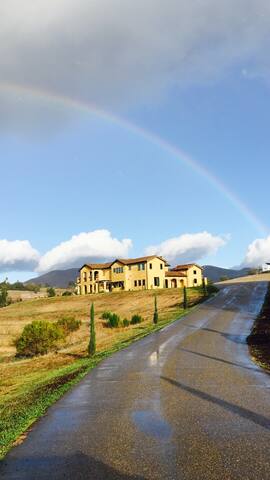 Light House View Estates offers an exquisite opportunity to enjoy your own private part of the California Coast.
These homes are engulfed in a 360 degree view from the Santa Lucia Mountain range and the ocean. These luxurious homes will create an incredibly private and rare retreat…with views and tranquility. Located 20 minutes north of Cambira, on the east side of Historic Highway 1, Tuscan Villa gives guests the opportunity to enjoy nature at its best. Wifi is available but because of location is not guaranteed. There is a picnic table outside in the back that seats 6 people as well as a table and 4 chairs in the front.
Art der Unterkunft
Ganze Unterkunft
---
Objekttyp
Villa
---
Unterkunft für
6
---
Schlafzimmer
San Simeon, Kalifornien, Vereinigte Staaten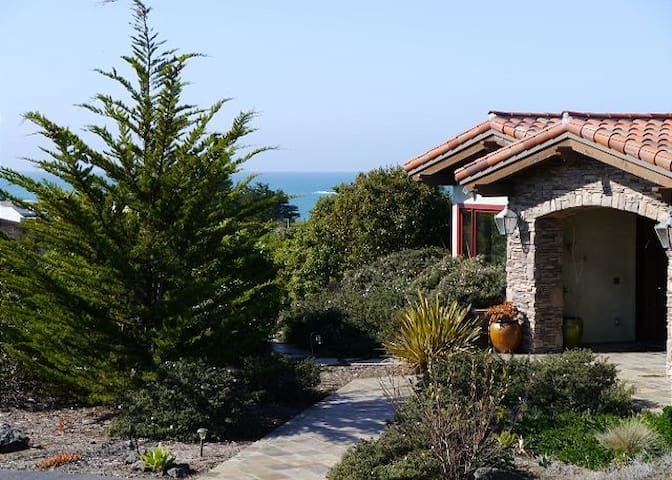 Gib deine Reisedaten ein, um den Gesamtpreis pro Nacht zu sehen.