87 Ferienhausvermietungen
Il mio alloggio è adatto a coppie, avventurieri solitari, chi viaggia per lavoro e famiglie (con bambini).
Art der Unterkunft
Ganze Unterkunft
---
Objekttyp
Haus
---
Unterkunft für
4
---
Schlafzimmer
Cecchina, Latium, Italien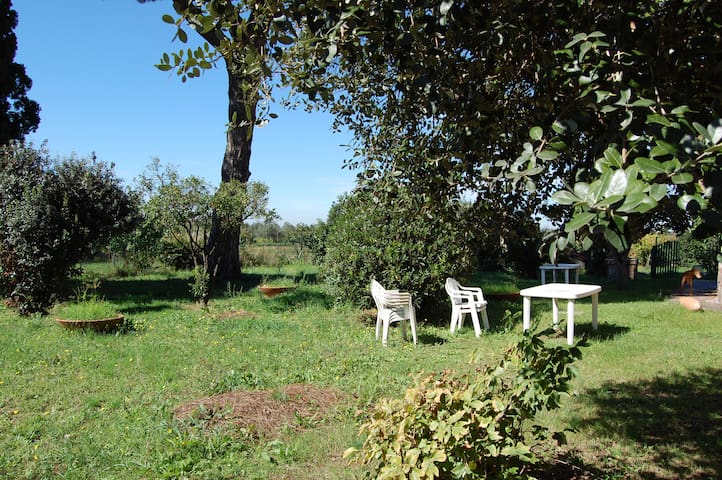 Located in the historical park of Villa Grazioli, the house offers all the comforts for an ideal holiday, in the outskirt of Rome The location is only 1km far from the railway station of Frascati, allowing its guests to easily reach Rome.An unforgettable experience between the unique vibes of the "Eternal City" and the peacefulness of Grottaferrata
The building is composed by a large and spacious living room , two bedrooms, 2 bathrooms (one with Jacuzzi) and a furnished kitchen with dishwasher. Moreover, television and wifi are present in the house
The neighborhood is composed by villas, surrounded by the typical olive trees of the area. The house is absorbed by the quietness of the Roman Castles and in the summer nights it is possible to admire fireflies
Wir wurden sehr herzlich empfangen. Die Beschreibung der Wohnung trifft zu, sie ist für vier Personen sehr geräumig und ruhig gelegen. Die Ausstattung, insbesondere der Küche (mit Spülmaschine) ist sehr gut. Wir hätten uns nur noch ein Tablett für das Raustragen des Geschirrs auf die Terrasse gewünscht. Entfernung zum Bahnhof in Frascati beträgt 20 Minuten zu Fuß, von dort in 30 Minuten am Bahnhof Roma Termini. Vielen Dank für die schöne Zeit!
Georg
2016-04-08T00:00:00Z
Ho soggiornato qui una notte, con tre amiche, ci siamo trovate bene e la casa ha un bellissimo giardino. Il doppio bagno è sicuramente un punto a favore. Casa accogliente e fresca anche a luglio inoltrato. Lucilla è stata molto gentile e disponibile, è venuta a prenderci alla stazione e ci ha mostrato i luoghi di nostro interesse.
gaia
2016-07-14T00:00:00Z
het huis en de omgeving zijn fantastisch. Lucilla vriendelijk en behulpzaam. Huis is netjes en comfortabel en een prachtige tuin. We hebben er van genoten.
H
2016-09-13T00:00:00Z
Casa meravigliosa! Silenziosa e piena di confort! Letti comodi e cucina funzionale con tutte le comodità. Nel salone abbiamo trovato anche una wii per intrattenerci! Lucilla ed il Marito sono persone corrette e disponibili! Consiglio l'appartamento a tutti quelli che vogliono rilassarsi in un ambiente silenzioso e confortevole.
Stefano
2016-03-30T00:00:00Z
Lucilla and her husband are very friendly and helpful. The apartment is beautiful. Looks like new, very clean. Big living room with Nintendo Wii for the children (TV only has SCART but no HDMI). There are two bedrooms and two bathrooms one with massage tub . Kitchen is well equipped with dishwasher. Unfortunately we were there after the cold front so it was very cold. First day in apartment was only 16 degrees and Lucilla couldn't help us. Next day they called some technical assistance so it was 17,5 degrees but not more. We are quite tough and we practically only slept there but it could be a problem for someone else.
Bojan
2016-05-02T00:00:00Z
Lucilla is a very nice person, very welcoming, and made every effort to make us as comfortable as possible. The area is nice and quiet, the description of the house accurate.
Marie-Estelle
2015-10-26T00:00:00Z
Art der Unterkunft
Ganze Unterkunft
---
Objekttyp
Haus
---
Unterkunft für
4
---
Schlafzimmer
Grottaferrata, Latium, Italien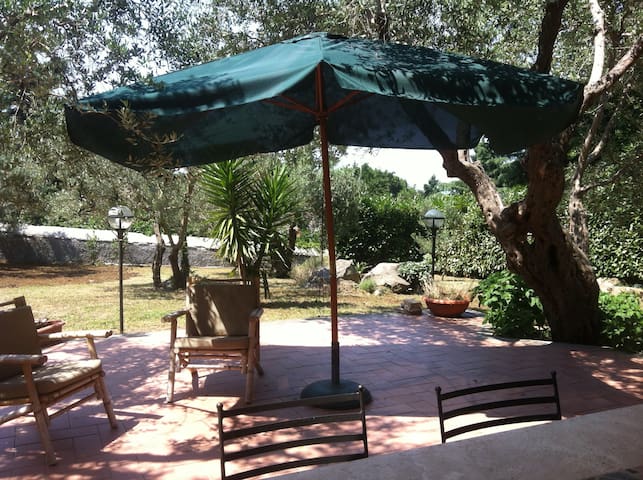 In the magical setting of Grottaferrata (Roman Castles), a few steps from Rome, is located this romantic cottage, a little piece of paradise surrounded by an hectar of green, between olive trees and suggestive cypresses. It is an intimate, special, welcoming place, where couples or families can spend unforgettable moments. The pretty cottage of 62 square meters is composed by two romantic bedrooms, a sunny kitchen, a welcoming living room, a private bathroom with bathtub. When you enter this cottage there's a comfortable living room with a big sofa and antique forniture, in front of this space there's a romantic bedroom decorated with blue floral patterns. To the left of living room there's a bathroom with bathtub and washing machine. Then, on the other side there's a big kitchen with dining table decorated in country style. Finally, to the right there's the second bedroom decoreted in orange color wih imagines of mountain and sea sunset. Outside the cottage there are more than 11.000 meters square of garden composed by a rocket garden in front of the house, a panoramic terrace, a principal garden with footbal field, a typical street in roman style which take to a delicious square, near it there's a vast expanse of park with fruit trees and an old woodshed and a little private church. A minute's walk from the location there are a Bar and a supermarket and two tipical and delicious italian restaurant. The position where is located this cottage is strategic for start you Rome's tour and visit Romans Castles towns. The breakfast is included and will be served into the cottage or in the surrounding garden. Outside the Cottage, outdoor furniture where you can relax while enjoying the wonderful view. The breakfast is included and will be served into the cottage or in the surrounding garden. Possibility for large groups to book also the other Cottage within the same property or to request availability for the other house even if the desired dates are not available. Services: - Free pick-up service from/to Frascati railway station - 5 minutes from Frascati railway station - 10 minutes from Metro Anagnina by bus  - Bus Stop for Metro Anagnina in front of the property  - 15 minutes from metro stop to the center of Rome - Breakfast served into the cottage  - Free parking inside the property  - Free wireless network  - 32 inch flat screen tv  - Air conditioning - Fan system into the rooms - Heating system  - Daily cleaning of the room  - Linens and towels  - Hairdryer  - Extra pick-up service from/to the airports and main train station  - Bed for small Children - Basketball hoop - Football goal Other nearby places: Castel Gandolfo and the lake of Albano, Frascati, Marino, Tivoli (Villa d'Este), Villa Adriana, Ostia antica and Ciampino airport (10 minutes).
Alessandro was nice, friendly and helpful. The cottage was nice and well furnished. A little bit dark maybe. But the weather wasn't that warm and sunny. Location: easy to get around Castelli Romani and a short ride to the metro in to Rome. We also took the train to Rome from Frascati, the village closest to Grottaferrata. The restaurant next door served really good pasta.
Anders
2016-05-05T00:00:00Z
Our visit was excellent. Alessandro was extremely helpful every step of the way. We feel he went above and beyond to make our stay enjoyable.
Andrew
2015-07-29T00:00:00Z
If you want to base yourself outside of Rome, but wish to remain accessible, this is a brilliant place to be. There is a bus service from just outside the main gate to the nearest metro, but we had a car and drove a couple of kilometres to Frascati where we parked for the day for €5 & got a train to Rome for €2.40 return! The trains run reasonably late into the evening too and it made our day in Rome a breeze! Also a great location for visiting Villa D'Este in Tivoli (highly recommended!) which was our main reason for coming here. The cottage is charming with a really homely kitchen dining area and a great coffee machine - the only one I've used that makes coffee taste as good as from a barista! Alessandro was a helpful and friendly host and responded quickly to all my transport queries during our stay! I'd definitely base myself here if I wanted to head to Rome again.
Debbie
2016-10-09T00:00:00Z
La Dolce Casetta is een prachtig huisje van alle gemakken voorzien, gelegen op een mooi landgoed. Het werd dagelijks schoongemaakt en de prima bedden voorzien van schone lakens. Alessandro was een goede gastheer de je alles over de vele bezienswaardigheden van de omgeving kan vertellen. Wij hebben er 2 weken van genoten.
Frans
2015-05-22T00:00:00Z
Alessandro was a wonderful host. The cottage is charming and the grounds are amazing. In all our travels through Italy it was our favorite accommodation. The neighborhood feels very safe, and the town of Grottaferrata is quaint and friendly while close and convenient to Rome.
Yvonne
2014-05-20T00:00:00Z
Spacious, clean and with beautiful garden. Alessandro was a great host with very good sense of humor. I recommend this place, especially if you´re travelling by car and your flight is to/from Ciampino.
Maarja
2015-10-13T00:00:00Z
Absolutely amazing place to stay! The best choice for travelers with cars, because you have a parking place in front of the house door and its easy to get to Rome. Fantastic huge garden around the house. Alessandro and his family are very pleasant and helpful. Every day you can be sure that you will have something for breakfast and your apartment will be cleaned up.
Denis
2013-05-19T00:00:00Z
The house was easy to find with good directions. It is in a good location for visiting Rome. Alssandro had a lot of tourist information in the cottage and was happy to pass on info. The property was clean and well presented, with all the basics and more. Would recommend it as a good base.
Brian
2016-10-03T00:00:00Z
Art der Unterkunft
Ganze Unterkunft
---
Objekttyp
Haus
---
Unterkunft für
4
---
Schlafzimmer
Grottaferrata, Latium, Italien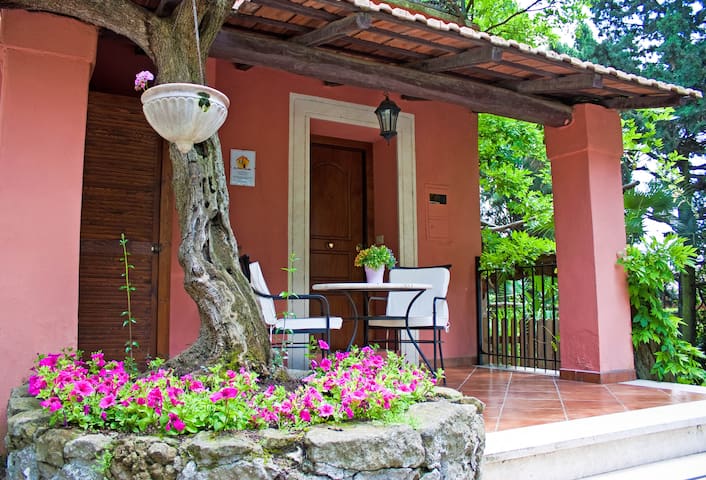 Charming cottage with private garden located in an exclusive area . The house consists of a beautiful dining room , table for 6 people , sofa bed , 1 bathrooms and bedroom with a double bed and barbecue.
The villa is very fresh but for the winter there is heating sistem
A few minutes drive takes you to Grottaferrata . If you like to walk, 10 minutes to get to Frascati which is a typical city of the Castelli Romani where you can find shops , bars , restaurants , parks and beautiful Historic villas of 1600 . The view of Rome by night and by day it's lovely.
Die Region Grottaferrata und Frascati ist wunderschön. Der Pool ist toll und ist 10 m vom Haus entfernt. Das Appartement befindet sich auf einem privaten Gelände und ist direkt über den Hof erreichbar. Bei Ankunft musste ich mich über die Nummer am Briefkasten melden, dann kam Antonio und hat uns auf den Hof gelassen. Er ist sehr nett. Es entspricht alles den Beschreibungen und Bildern. Es war eine super schöne Woche. Tipp: ihr braucht ein Auto. Die Anfahrt ist etwas holprig :)
Ryan
2015-10-01T00:00:00Z
Grottaferrata is a great place to stay (quiet and green neighbourhood) and ideally situated for visiting Rome (train). Nice appartment with everything you need. There is wifi but very slow...
Steph
2016-07-19T00:00:00Z
We were greeted by Alisia, who was incredibly welcoming and friendly. She gave us a tour of the apartment and swimming pool, and even gave us a gift basket with snacks and two bottles of delicious white wine. She was very helpful and recommended some local places to visit during our stay. The apartment itself exceeded our expectations, and everything we needed was included. We felt very at home during our visit. We also greatly enjoyed the pool (shared with a hotel across the road), where we could usually be found for at least a few hours each day. We would definitely recommend having a car when staying here, as the roads up to the property are rather hilly. The location was also excellent, with Frascati and Grottaferrata very nearby. Even our day trip to Rome was easy with trains traveling from Frascati to Termini Station every half hour or so. We had a great time here and definitely plan to visit again. Thank you for everything!
Alexandra
2016-08-21T00:00:00Z
We had a great time at Ema's and Dru's apartment. From here we visited Rome in half an hour bij train. The apartment was very clean and had a very nice ambience. We were welcomed with wine, drinks, sweets and cookies and we had a swim in the nearby swimmingpool. Thank you very much for yours hospitality Ema and Dru! Maybe till a next time
doky
2016-08-16T00:00:00Z
Appartamentino curato, poco luminoso...
Alberto
2016-01-24T00:00:00Z
Excellent stay in a very well maintained apartment. Great welcome present. Would certainly use again.
Declan
2016-06-04T00:00:00Z
We had the most beautiful stay in this typically Italian apartment. We felt very welcome from the moment we arrived and had tea, coffee and breakfast bits available after our late arrival. We were also given wine and olive oil which were made on the premises and really made us feel we were staying in real Italy. Our host Alicia was excellent! She was most welcoming and provided us with a helpful list of places to explore. We had a hire car which made exploring the local areas easy and the Frascatti train into Rome takes just 30 minutes. We couldn't recommend this place more!! Thank you xx
Claire
2016-07-28T00:00:00Z
they welcomed us very nicely and helped us so nicely for the apt, the Place is really really nice and Clean , and we got such nice welcome present and breakfast. Sooo nice.
erika
2015-08-17T00:00:00Z
Art der Unterkunft
Ganze Unterkunft
---
Objekttyp
Haus
---
Unterkunft für
4
---
Schlafzimmer
Grottaferrata, Latium, Italien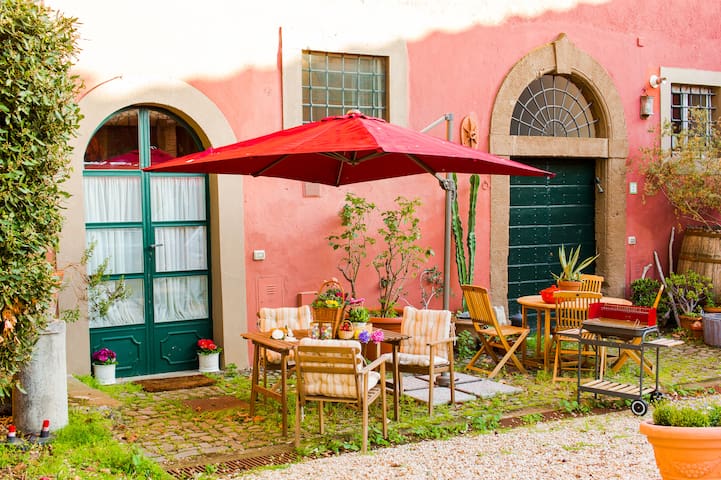 La posizione nella quale si trova questo Villino è davvero strategica per visitare Roma e i paesi dei Castelli Romani. Esso infatti si trova nella magica cornice di Grottaferrata (Castelli Romani ), a pochi passi da Roma, ed è un vero e proprio angolo di paradiso circondato da oltre un ettaro di verde, tra secolari ulivi e suggestivi cipressi. Luoghi vicini: Castel Gandolfo e Lago d'Albano, Frascati, Marino, Tivoli (Villa d'Este), Villa Adriana, Ostia antica e Aeroporto di Ciampino (10 mins).
L'appartamento di 40 metri quadrati, arredato in stile shabby, è composto da uno spazioso soggiorno con cucina e divano letto matrimoniale, una camera con letto a baldacchino e un bagno con cabina doccia All'esterno dell'appartamento ci sono più di 11,000 metri quadrati di giardino composti da un giardino roccioso, una terrazza panoramica, un giardino principale con campo di calcio e area giochi, una tipica strada in stile romano che conduce verso una magnifica piazza, vicino ad essa c'è una vasta distesa di parco con alberi da frutto e un'antica legnaia ed infine una piccola chiesa privata. Ad un minuto a piedi dalla struttura ci sono un Bar, un supermercato e due tipici ristoranti romani. Nel giardino mobili da esterno dove poter rilassarsi e godere del panorama. La colazione è inclusa e sarà servita nel Villino o nel giardino circostante. Possibilità per i gruppi numerosi di prenotare anche l'altro Cottage all'interno della stessa proprietà o di richiedere disponibilità per l'altra casa, anche se non risultano disponibili le date desiderate. Servizi: - Trasporto gratuito da/per la Stazione Metro Anagnina - Trasporto gratuito da/per stazione ferroviaria di Frascati - 10 minuti dalla Metro Anagnina con autobus - Fermata Bus per Metro Anagnina davanti la proprietà -15 minuti dalla fermata della metropolitana al centro di Roma - Prima colazione servita nel Villino - Parcheggio all'interno della proprietà - Connessione Wi-fi gratuita - TV Schermo piatto 32 pollici - Sistema di riscaldamento - Sistema di Ventilazione - Aria condizionata - Riordino giornaliero dell'appartamento - Lenzuola e asciugamani - Asciugacapelli - Servizio extra di trasporto da/per gli aeroporti e da/per le principali stazioni ferroviarie - Area giochi per bambini - Lettino per bambini piccoli - Canestro da basket - Porta da calcio
Art der Unterkunft
Ganze Unterkunft
---
Objekttyp
Haus
---
Unterkunft für
4
---
Schlafzimmer
Grottaferrata, Latium, Italien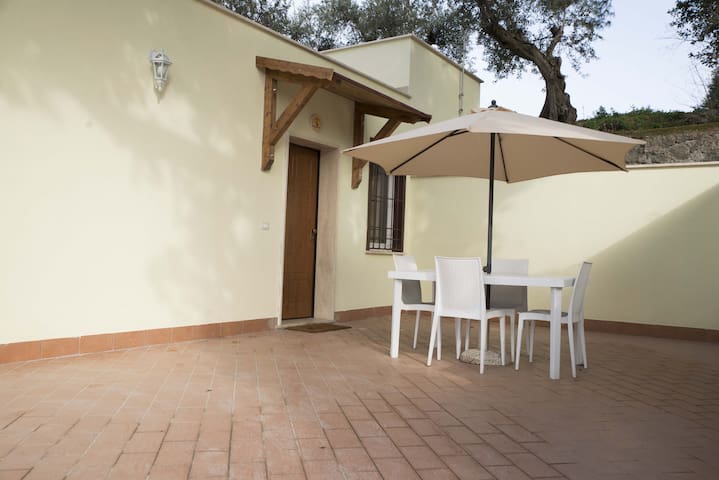 Il casale di campagna è situato nel Comune di Grottaferrata in prossimità del Parco Regionale dei Castelli Romani e a soli 25 km dal centro di Roma. Immerso tra vigneti e uliveti fa parte di un'antica azienda agricola risalente all'epoca romana.
la casa dispone di un cortile e di un giardino con prato e alberi da frutto dove è possibile utilizzare il barbecue, in entrambi i luoghi potrete trovare tavoli spaziosi e comode panche.
La zona dei castelli romani è nota per le innumerevoli opportunità di svaghi. Si possono fare meravigliose escursioni naturalistiche nei boschi o nei laghi del Parco con entusiasmanti passeggiate a piedi, in bici o a cavallo. Le bellezze artistiche e architettoniche dei Paesi circostanti insieme al celeberrimo patrimonio di tradizioni enogastronomiche fanno di questo luogo una meta imperdibile!
Art der Unterkunft
Ganze Unterkunft
---
Objekttyp
Haus
---
Unterkunft für
7
---
Schlafzimmer
Grottaferrata, Latium, Italien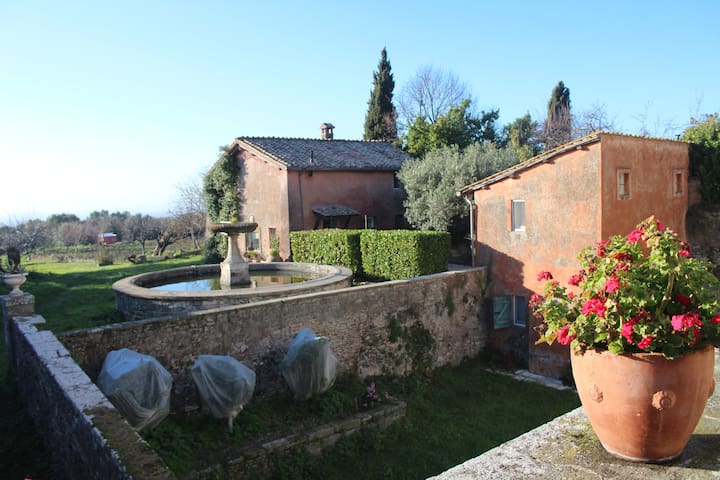 In villa situated in a quiet residential area, just minutes from the center of Grottaferrata, within walking distance. Frascati train station at 5-minute drive with hourly connections to the center of Rome (Termini Station). Rome's Ciampino airport at 20 minute drive. Will always welcome you with respect and enthusiasm, the atmosphere will be still friendly and familiar, the garden and the views of the Roman Castles will fill your eyes. My accommodation is suitable for couples.
Tranquility, scenery and hospitality will cheer your stay in the house. You will visit important and interesting historical sites such as the Abbey of San Nilo, enjoy typical local cuisine, taste the best wines of Frascati.
Art der Unterkunft
Privatzimmer
---
Objekttyp
Haus
---
Unterkunft für
2
---
Schlafzimmer
Grottaferrata, Latium, Italien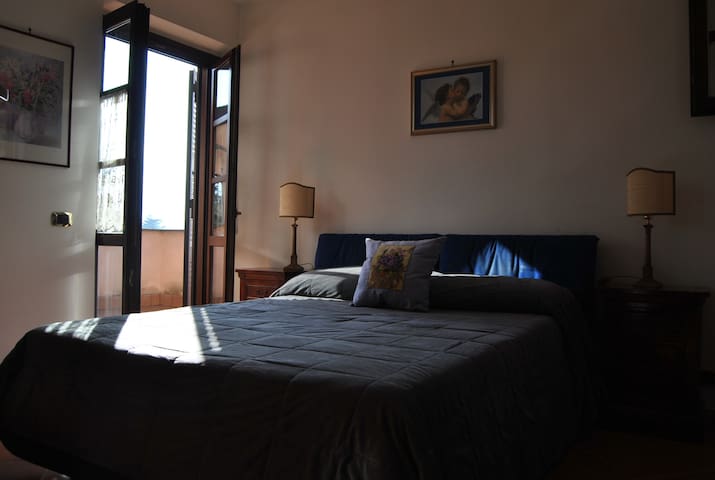 Solo per donna 15 euro a notte bagno privato Frascati centralissimo vicinissimo treno e bus servizio aggiuntivo lezioni di pittura e arte. Only for woman singol room with private bathroom, in frascati center near the train station close to everything. Extra service art lesson.
Centro Frascati vicino a tutto
Eliza was an awesome host! Always caring about my welbeing and offering for help at any time. She was picking me up from the station and I spended a great holiday visiting rome several times. The house is clean and prince/value is more than perfect! :) Eliza est super sympa et toujours interesse d'aider ou c'est possible. J'ai passe des vancances d'ete avec quelques visites a Rome. La maison est propre et prix/valeur est plus que parfait! Eliza war eine super Gastgeberin. Stehts um mein Wohlergehen bemüht, sehr freundlich, offen und herzlich. Ich habe ein paar Tage Urlaub gemacht und war fast jeden Tag in Rom unterwegs. Das Haus ist sauber und das Preis/Leistungsverhältnis ist unschlagbar.
Barbara
2016-09-27T00:00:00Z
My stay with Elisa was lovely,I felt like I was at home. The house was really nice and clean and she was very helpful. It was also very inexpensive to stay (URL HIDDEN) was well worth it. Elisa era gentilissima,la casa era pulita e grande.Mi sono sentita a casa.
Alessandra
2016-10-08T00:00:00Z
Elisa was really nice and was making everything to make me feel comfortable. The house wasn't in the centre but Elisa was riding me to the train station so it wasn't a problem. The room is cosy and everything I needed was at disposition.
Claire
2016-09-16T00:00:00Z
Art der Unterkunft
Privatzimmer
---
Objekttyp
Haus
---
Unterkunft für
1
---
Schlafzimmer
Grottaferrata, Latium, Italien
Villa nella campagna di Albano Laziale. La Villa è di recente costruzione, edificata tra il 2007 e il 2014, dispone pertanto d'infrastrutture recenti e ottima qualità nelle aue rifiniture.
Impianti riscaldamento a pavimento e aria condizionata. L'abitazione dispone di un ampio panorama sulla campagna dei Castelli Romani e del litorale romano (la costa dista a 20 km). La villa si trova in un contesto di campagna, ampio terreno di 3.500 Mq con alberi da frutto e uliveto secolare. Gli ospiti alloggieranno nella mansarda della villa. La mansarda è costituita da un open space, una stanza da letto ed un bagno per il totale di 50 Mq. L'altezza massima della mansarda è di 2,20 metri, a degradare sino ad un minimo di 1 metro. Il bagno ( altezza di 2,20 metri per tutta la superficie) è di utilizzo esclusivo, cosi' come la terrazza panoramica. I posti letto sono 4, di cui un letto matrimoniale nella stanza da letto e due lettini nella zona open space. Si intende precisare che trattandosi di una mansarda ad uso esclusivo degli ospiti, il prezzo dell'uso dela stessa si differenzia nel modo seguente: 1. una persona, prezzo per notte: 60 euro 2. due persone, prezzo per notte: 80 euro 3. ogni persona supplementare per un massimo di due, prezzo per notte: 20 euro a persona. L'ingresso alla zona ospiti è unico con quello della villa e si accede con la scale interna della casa. L'abitazione è dotata di impianto di allarme perimetrale e interno.
SI tratta di una zona a vocazione agricola, nel cui contesto si trovano differenti villette tinteggiate con colori tenui tipici della campagna romana.
Art der Unterkunft
Privatzimmer
---
Objekttyp
Haus
---
Unterkunft für
4
---
Schlafzimmer
Albano Laziale, Latium, Italien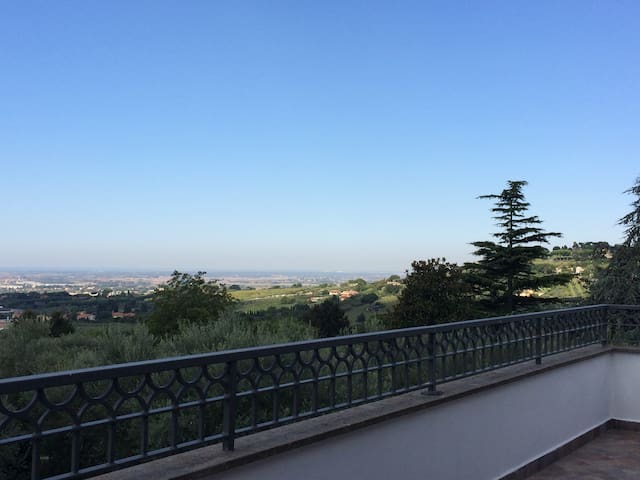 Nice Room in Villa, in Albano Laziale, in the heart of Castelli Romani. Beautiful garden and great view till the sea.
Art der Unterkunft
Privatzimmer
---
Objekttyp
Haus
---
Unterkunft für
2
---
Schlafzimmer
Albano Laziale, Latium, Italien
Half an hour far from the centre of Rome, in a beautiful apartment located in a quiet private street, B&B Albalonga offers a double room and private bathroom, breakfast and parking included in the price.
Art der Unterkunft
Privatzimmer
---
Objekttyp
Haus
---
Unterkunft für
2
---
Schlafzimmer
Albano Laziale, Latium, Italien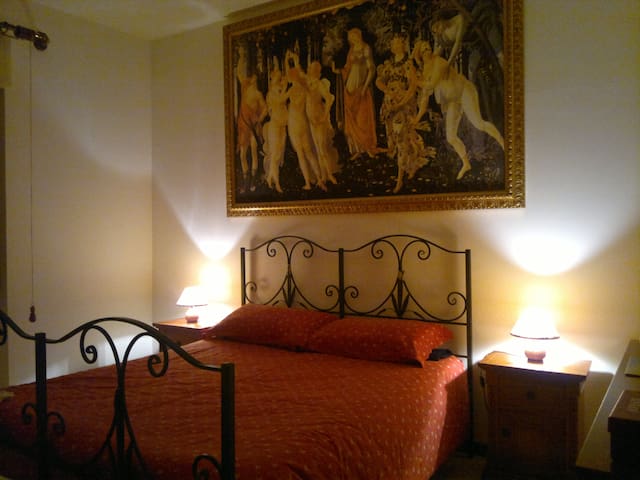 L'appartamento è totalmente ristrutturato e arredato con stile moderno. La cucina è attrezzata con frigo, forno e tostapane.L'appartamento presenta un ampio balcone,giardino per barbucue e 2 posti auto.E' situato in una zona residenziale.
L'alloggio può ospitare comodamente 5 persone. Ha un parcheggio interno per 2 auto, giardino e sala hobby.
La zona è molto tranquilla e ben collegata con Roma, il lago di Castel Gandolfo e il litorale pontino.
Art der Unterkunft
Ganze Unterkunft
---
Objekttyp
Haus
---
Unterkunft für
5
---
Schlafzimmer
albano laziale, Latium, Italien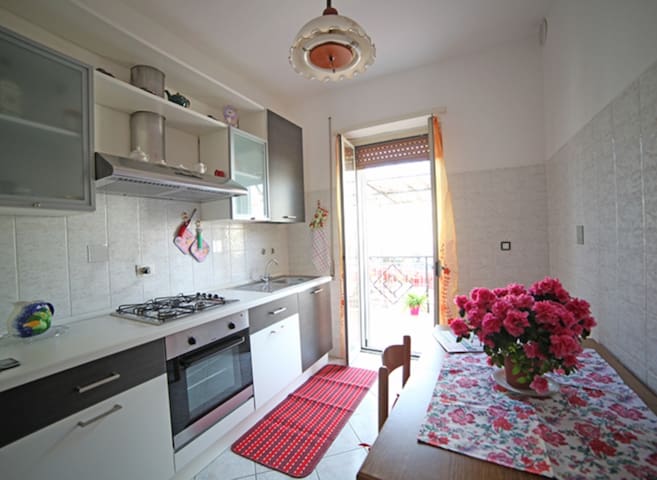 Casa con giardino immersa nella campagna romana ideale per vacanze rilassanti a 2 passi da Roma
Immersa nel verde dei Castelli Romani, ad Albano Laziale, a pochi passi da Roma, è disponibile questa casetta di campagna, circondata da 2000 m di verde e olivi in un paesaggio rilassante e suggestivo. Ideale sia per coppie che per famiglie con bambini. La posizione in cui si trova è ottimale per effettuare tour di Roma e visitare i Castelli Romani.
Art der Unterkunft
Ganze Unterkunft
---
Objekttyp
Haus
---
Unterkunft für
2
---
Schlafzimmer
Albano Laziale, Latium, Italien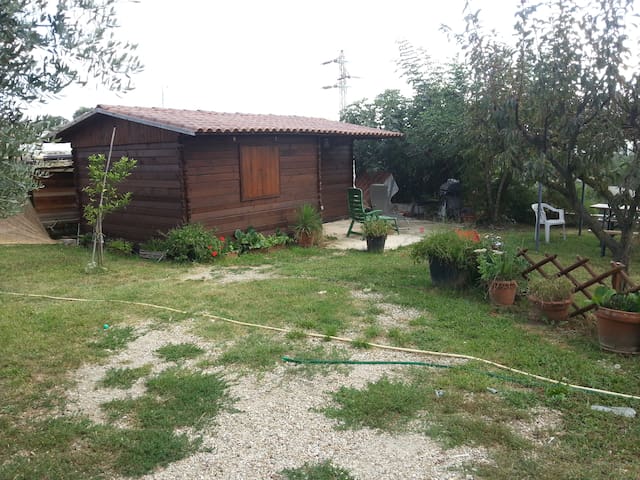 Very large and luminous room with two beds (1 queen, 1 single) and space to add an extra bed or a crib. The room has two wide terraces -1 est, 1 west- to enjoy a breathtaking view over "Castelli Romani" and sunbathing in complete privacy. The kitchen is fully equipped (fridge, stove, oven, microwave, kettle). The bathroom has all the necessary, a bidet and a large bathtub as well. An extensive garden with barbecue is available. TRANSFER FROM AND BACK TO CIAMPINO AIRPORT INCLUDED! Easy holiday!
Art der Unterkunft
Privatzimmer
---
Objekttyp
Haus
---
Unterkunft für
4
---
Schlafzimmer
Ciampino, Latium, Italien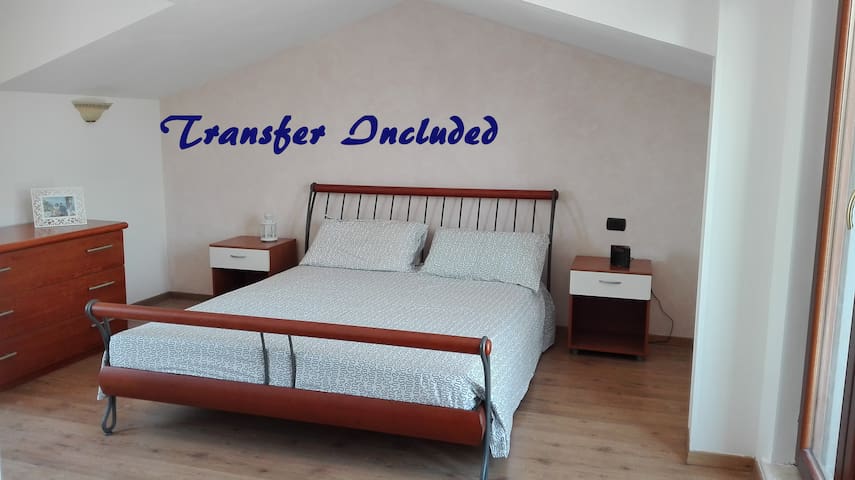 Il mio accogliente alloggio è nel centro città Si trova in una piccola e graziosa via molto tranquilla e pedonale. E adatto a coppie, avventurieri solitari, chi viaggia per lavoro e famiglie con bambini.
Il nostro appartamento è tranquillo e accogliente. Il camino lo rende speciale e riesce a creare una calda e piacevole atmosfera anche nelle più fredde giornate invernali. Nelle vicinanze è possibile gustare la nostra tipica cucina regionale, passeggiare in una zona pedonale e affacciarsi per godere del meraviglioso paesaggio del lago Albano. A 100 metri c'è la possibilità di visitare il Palazzo Pontificio e i meravigliosi giardini della villa del Papa. Con una piacevole passeggiata è possibile arrivare anche a piedi al lago ( balneabile nella stagione estiva con spazi liberi o attrezzati ). La stazione ferroviaria, che permettere di raggiungere Roma in 45 minuti, si trova a 400 m.
Art der Unterkunft
Ganze Unterkunft
---
Objekttyp
Haus
---
Unterkunft für
4
---
Schlafzimmer
Castel Gandolfo, Latium, Italien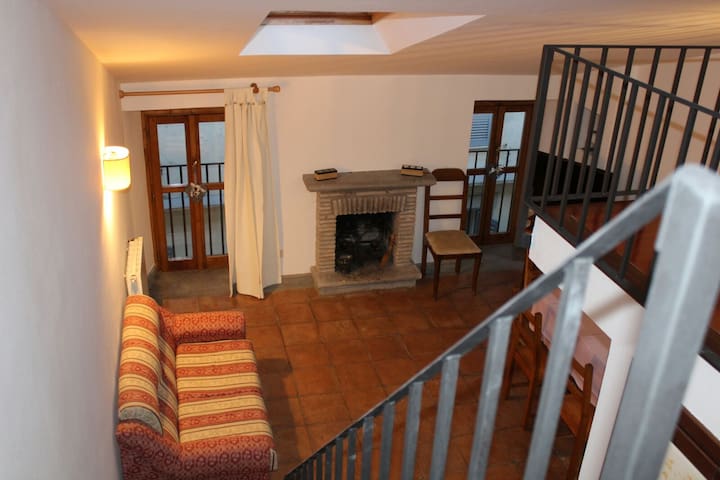 Il nostro splendido e accogliente trilocale in villa è ciò che serve per il vostro relax! Può ospitare comodamente 4 persone ed è posizionato tra i comuni di Genzano di Roma e Nemi, a due passi dall'omonimo lago. Giardino,cucina attrezzata e camino
We were warmly welcomed by Leonardo's mother, who lives upstairs in the building and was endlessly helpful and cheerful. The property is a self-contained flat with one double bedroom and another queen (?) bed in the reception area. The property worked well for my husband and two children for one night. Kitchen was helpfully available with basic ingredients, and all was clean and tidy. The area is lovely and quiet, off-street parking on a private road was welcome. We didn't ask for the WiFi password, nor did we see a TV; both are listed as available. We were in the area for one day, and so were absorbed in exploring and enjoying the gorgeous surroundings. We were caught up in the joy of swimming in Lake Albano and requested a late checkout in the late afternoon before we left for the airport. Our hosts were very understanding and let us stay until the last minute before the next guests arrived. Of course we were happy to pay extra to do so! Good value in a beautiful region.
Margaret
2016-08-16T00:00:00Z
We were very comfortable at Leonardo's. Mirella was great to deal with and very helpful with advice about the area and public transport into Rome.
Eva
2016-08-19T00:00:00Z
for six people it was just 49 (URL HIDDEN) is really awesome... Although it was outskirts of rome, it is only 1.5 euros to travel to rome.
Surya
2016-09-08T00:00:00Z
Great hosts that were very friendly and flexible. The apartment is as described and in a very convenient location. Was perfect for 3 adults and children.
Kayley
2016-09-05T00:00:00Z
Tutto come da descrizione. Ottima accoglienza e cortesia. Posizione comoda per visitare Nemi, un gioellino di paese..
Francesco
2016-08-07T00:00:00Z
Leonardo's mother Mirella was waiting for us. She was pleasant and even though her English was limited, she did a very good job communicating with us. Rather than just giving us directions to the supermarket, she drove us there. She shared vegetables, fruits and herbs from her garden with us.
Theresa
2016-08-14T00:00:00Z
Art der Unterkunft
Ganze Unterkunft
---
Objekttyp
Haus
---
Unterkunft für
4
---
Schlafzimmer
Nemi, Latium, Italien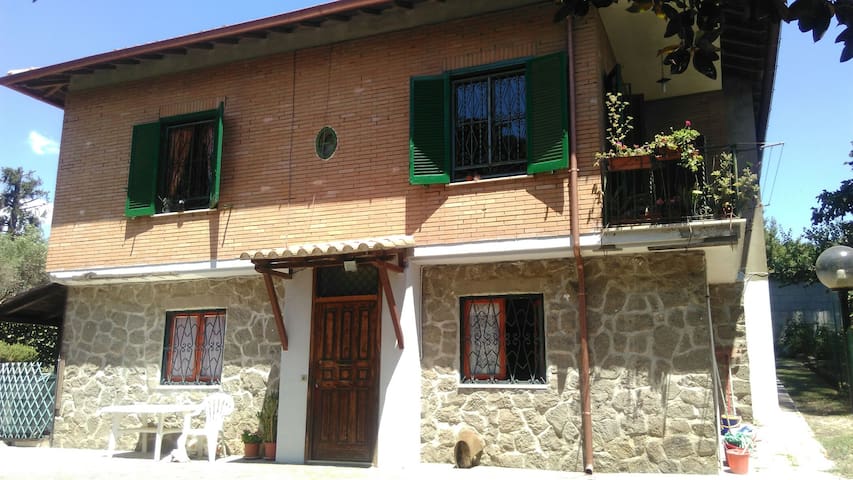 Haus mit Garten nur 20 Minuten vom Zentrum von Rom nur wenige Schritte von der Castelli Romani der reichen Kultur vor den Toren der Hauptstadt. Große Grünflächen und saubere Luft nach dem Chaos unserer schönen Städte in aerporto kommen wir zu Ihrer An- und Abreise.
Art der Unterkunft
Ganze Unterkunft
---
Objekttyp
Haus
---
Unterkunft für
6
---
Schlafzimmer
Stazione di Pavona-palazzo Margana, Latium, Italien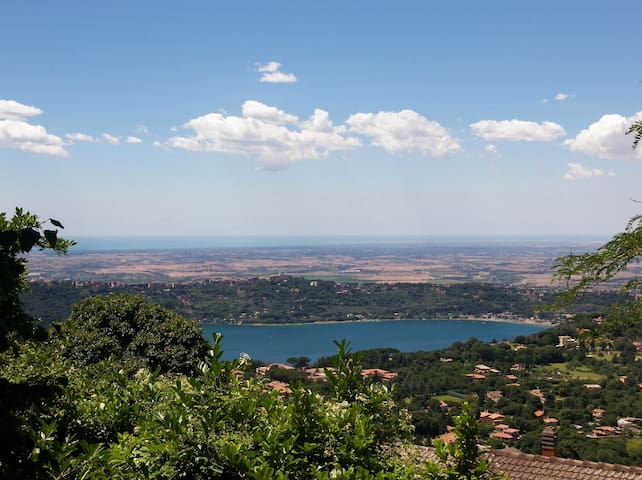 WONDERFUL HOST AND NICE APARTMENT...I WILL COME BACK AGAIN AND GUILIANA ALWAYS READY TO HELP
Sudip
2017-03-20T00:00:00Z
L'alloggio è molto confortevole e accogliente. C'è tutto quello che serve per passare un piacevole soggiorno. Tutto è curato nei minimi dettagli. Giuliana è stata precisa e gentilissima. Proprio vicino all'alloggio, inoltre,si trova un bel parco dove poter portare i bambini o i propri animali. Esperienza più che positiva.
Simona
2017-02-12T00:00:00Z
ce logement convient tout a fait a une famille et est proche des commerces
Abdelhakim
2017-04-06T00:00:00Z
Nous avons été très bien accueilli, l'hôte est très serviable (elle est venue nous chercher et nous à ramener à l'aéroport) La maison est très spacieuse et très propre. La maison et située à 5 minutes du train pour se rendre à Rome. Nous recommandons vivement ce logement!
Jessica
2017-03-16T00:00:00Z
La signora Giuliana è stata a dir poco fantastica
Lucio
2017-02-19T00:00:00Z
Art der Unterkunft
Ganze Unterkunft
---
Objekttyp
Haus
---
Unterkunft für
4
---
Schlafzimmer
Ciampino, Latium, Italien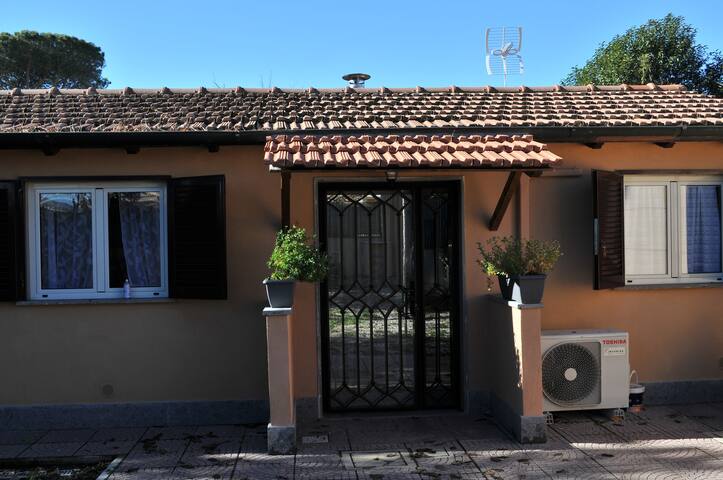 Cecchina - Airbnb
:
Durchschnittlich

4.54

von

5

Sternen aus

63

Gäste-Bewertungen