Tenemos casas del árbol de la cabina a través de nuestra propiedad. Nuestros camarotes pintorescas son privadas, sencillo, rústico y están ubicadas en 23 acres de pinos y robles a pocos minutos de Bass Lake y la entrada de la puerta sur de Yosemite Parque de la nación.
Bienvenido, venir a visitar el Sierras..we están a pocos minutos del hermoso Lago Bass y el portal de la entrada sur del Parque Nacional de Yosemite.
Tranquilo y privado. Acres entre vecinos. La propiedad está en cul-de-sac.
Michele was very responsive and flexible when I had to change my arrival time a couple times. This cabin is magical! If you're an Airbnb warrior, treat yourself to a really special stay and book with Michele. It was also really convenient to come here before or after hiking in Yosemite!
Emily
2016-06-16T00:00:00Z
We stayed at Michale's place for 2 nights. Michale and her family were very welcoming. She did her best to make our stay pleasant. We could use their kitchen for breakfast and she made some coffee for us :-) The cabins are very basic as described. We had to walk to the house to use the family's bathroom, which was fine. However, Michale told us they are planing to build a bathhouse next year, which will be more convenient than walking around the property to the house for using the bathroom. Overall we had a great time. Thanks!
Stefan
2015-11-11T00:00:00Z
Michele was a excellent host. We were nicely greeted and instructed. We had our own cabin with separate bathroom. It was clean, very cosy and comfortable. Communication with Michele was good. As no one was staying at the apartment we were allowed to use its kitchen and bathroom, which was nice. I would definitely recommend staying here.
Felix
2016-09-21T00:00:00Z
The place is beautiful, in the middle of nature, surrounded by rabbits and little frogs. Michele was very kind and helpful. She made us feel as we were at home and also she help us a lot with a problem we had with our car.
Albert
2016-07-29T00:00:00Z
Great experience with a glamping vibe near Yosemite. The accommodation was simple but perfect for what we wanted - to be close to nature. Very comfortable bed for a good night sleep. We loved that there was only mosquito nets on the Windows, no glass, meant we got the beautiful fresh air and nature. Michele is a super host, a lovely family! It's around 40 mins drive to the park, but well worth it for the peace and quiet. Check out redwood trees 2700 years old at Nelder Grove very close by.. A great stay!
Rosie
2016-07-15T00:00:00Z
We had a great time staying at Michele's cabin and would absolutely recommend it. The cabin was clean, comfortable, and adorable, just as described. It was an affordable option close to Yosemite, where we had spent the day exploring. The bathroom is a short walk from the cabin, outdoor, clean, and functional. The patio is available to guests, with a lovely view. Michele and her husband had coffee and snacks for us in the morning. A shower indoors is available to guests. They are very nice people, would have loved to stay longer!
Kristin
2016-08-07T00:00:00Z
Michele and Shaun were wonderful hosts and made us feel right at home. Their friend helped us BBQ and we had some beers and watched the sunset and it was quite magical! Cabins are basic but very cute and would be perfect for a romantic getaway. As the outdoor showers weren't up and running yet we were allowed to shower in their house. The outdoor toilet was very clean and probably the nicest outdoor toilet I've seen. Would definitely recommend staying in Coarsegold, it's nice and close to Bass Lake which was a great day out before going into Yosemite. Thanks!
Alice
2016-06-06T00:00:00Z
We stayed at Michele's place for two nights. The cabin we stayed in was very cosy. Michele and her family were very welcoming and friendly, they are excellent hosts! Since there's no shower at the cabins yet, we showered in the house. The outdoor toilet is nice and clean and quite spacious. We had a great time, thanks!
Sanne
2016-06-05T00:00:00Z
Art der Unterkunft
Privatzimmer
---
Objekttyp
Blockhütte
---
Unterkunft für
2
---
Schlafzimmer
Coarsegold, Kalifornien, Vereinigte Staaten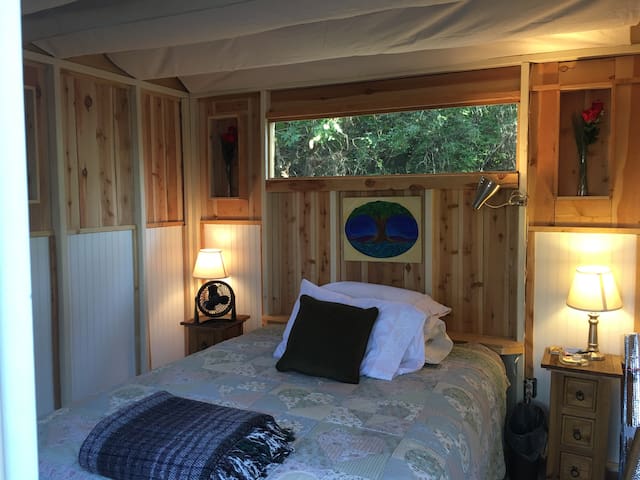 Great place and a quick drive from Yosemite!
Radhika
2016-10-09T00:00:00Z
Beautiful, neat, clean and comfortable apartment on the 2nd level of the garage, close to he owner's house but very private with its one gate. Day bed is awesome. Christian was very nice and welcoming.
Yaro
2016-05-31T00:00:00Z
Christian is truly great to work with. He was extremely accommodating and allowed us to check-in early. The photos of this location don't do it justice. The view of the mountains is gorgeous. The location of this property is aaesome! 20 min from Bass Lake and 40 from the entrance of Yosemite. We would come back again.
Pricilla
2016-09-06T00:00:00Z
Christian greeted us at night after our long drive and helped us get settled in right away. He left us a carton of milk which was a huge help getting the baby to bed after a 14 hour drive. The house was everything we thought it would be and our stay was amazing.
Michelle
2016-06-06T00:00:00Z
Christian was very accommodating - the place was exactly as described, very well maintained. We loved the apartment especially the viewing bed in the living room. Thanks for having us!
Vineel
2016-02-15T00:00:00Z
Christian was a great host and his place is charming. I especially enjoyed the window seat views, a great place to relax and read a book or nap! He was easy to communicate with before and during our stay. He made sure we were settled in and knowledgeable about the cabin and readily gave suggestions about the area when we asked. He went above and beyond and shared his personal patio view and a bottle of wine with us. Then, he lent us his binoculars to use the next day for our hiking trip. Everything was very clean! Thank you for hosting us!
laura
2016-08-09T00:00:00Z
Very smooth process on arrival and place was well kept, safe and nice neighborhood
David
2016-07-26T00:00:00Z
Thanks Christian. LOVED our first ever Airbnb experience! The hospitality, accommodations, and Yosemite recommendations were all wonderful! Only downside - it was too brief!
Carrie
2016-10-02T00:00:00Z
Art der Unterkunft
Ganze Unterkunft
---
Objekttyp
Blockhütte
---
Unterkunft für
2
---
Schlafzimmer
Coarsegold, Kalifornien, Vereinigte Staaten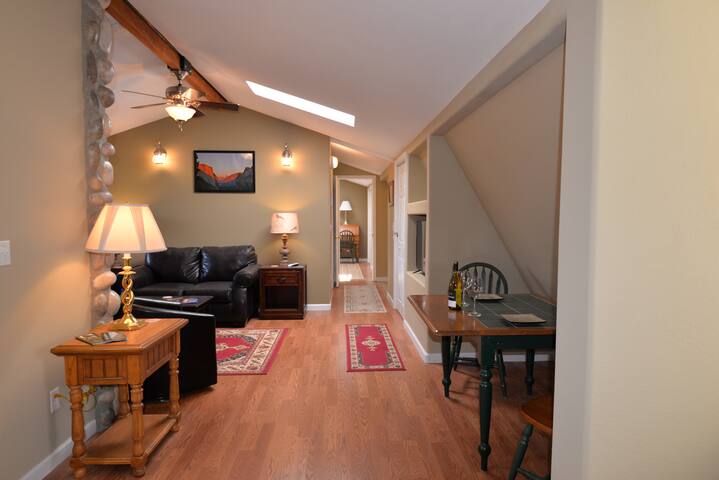 Unser Haus ist in einem schönen Tal am Highway. 41. Die Häuser sind meist Ranch Eigenschaften snd die Nachbarschaft in der Regel sehr ruhig und sehr sicher. Wir haben Zugang zu meinem Nachbarn ungewöhnlich blauen Augen Appaloosapferde, die Menschen zu lieben, die zu unserem Zaun kommen sie Karotten zu füttern. Wir haben in der Regel Möhren auf der Hand - einfach fragen. Leider sind diese Pferde nicht zum Reiten. Achten Sie darauf, auf unserer Seite des Zauns zu bleiben. Wir haben auch ein Rettungs Schaf namens Gladys. Sie bleibt mit den Pferden und schützen sie vor Räubern. Sie ist wild und unantastbar, aber tut Karotten schätzen, auch. werfen sie einfach in ihrer Nähe, aber nicht auf sie. Schließlich sieht Gladys bunt, weil niemand ihr zu scheren fangen kann. Sie hat nichts dagegen. Sie denkt, sie ist ein Pferd, sowieso :-)
it was AMAZING! cooles haus mit allem was es braucht und sehr nette Gastgeber. war sehr gut mit dem kommunizieren hatten immer sehr schnell geantwortet vielen dank für das tolle Wochenende! André
andré
2016-05-02T00:00:00Z
Wir hatten zwei Nächte in der Casita. Definitiv zu wenig! Die Casita ist sehr schön und toll eingerichtet. Mehr als genug Platz. Das Areal ist unheimlich schön und sehr ruhig. Morgens beim Frühstück auf der Terrasse kann man den Erdhörnchen beim Spielen und den Kolibris zusehen, abends kommen Rehe. Absolut idyllisch. Ginger und Michael waren sehr freundlich und hilfsbereit. Gingers Tipps für Yosemite waren klasse. Bis zum Parkeingang sind es ungefähr 30 Minuten. Absolute Empfehlung!
Jörg
2015-07-15T00:00:00Z
A welcoming stay in a lovely, rustic spot. This casita is a great spot to detach yourself from external worries, experience beautifully engaging scenery, and relax. Good kitchen, cosy room with a great view. Highly recommended
Tal
2014-10-26T00:00:00Z
The drive there is a beautiful from the time you approach the casseta. As people of the land, we really chose the best place. Serene, peaceful, and fresh are mere words to describe this place. We would live there now. Ginger and Michael are gems, more so, lovely beings.
Martina & Marvin
2015-04-14T00:00:00Z
The house was clean and inviting. It is located in a very peaceful idyllic setting. Our host, Ginger took time to give us very helpful detailed information about Yosemite National Park and local eateries.
Ana
2015-07-04T00:00:00Z
We had a wonderful stay, found everything we were looking for. Peace, nature, quiet, and a comfortable bed. Ginger and Michael were lovely hosts and were there when we needed them. Was a little far from Yosemite Valley, but well worth the trip and we'd stay here again over the more touristy/expensive places further in. Ideally located to get to Mariposa Grove and Wawona Valley.
Ben
2014-03-26T00:00:00Z
Me and my father stayed in Ginger's home during two days. She was very charming and helpful, she explained us all the information we needed about Yosemite Park. The house was cosy with a good heating system and the surrounding area is beautiful. It's about 1 hour drive to the Yosemite Valley through a very nice and safe road (less time to the beggining of the park) The only thing you should take care is if you use the (SENSITIVE CONTENTS HIDDEN) maps app to get there because the name of the road where the house is has changed and that can be confusing. All the rest very advisable. Enjoy!
Jaime
2014-04-04T00:00:00Z
The casita is shown in the pictures and described in the listing. Ginger and Michael are wonderful hosts, very attentive to our needs. It is like a home away from home. What will remain etched in our fond memories of this trip are Michael's kind generosity and Ginger's warm friendship. Thank you Ginger and Michael for sharing not only your home but your experiences with us.
Adeline
2015-12-11T00:00:00Z
Art der Unterkunft
Ganze Unterkunft
---
Objekttyp
Blockhütte
---
Unterkunft für
4
---
Schlafzimmer
Coarsegold, Kalifornien, Vereinigte Staaten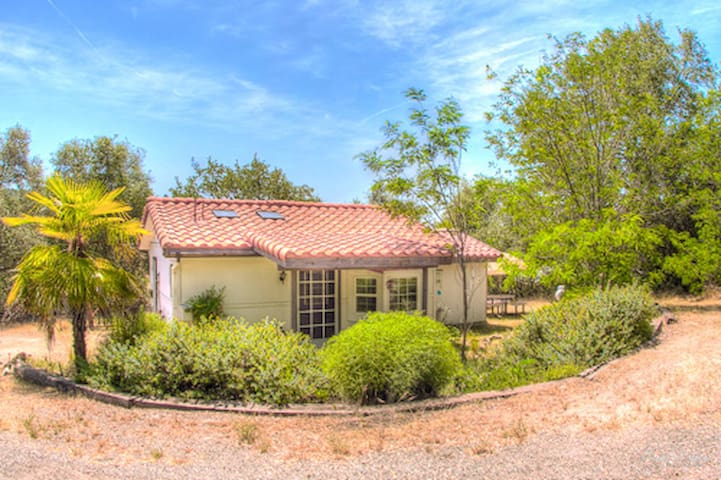 Gib deine Reisedaten ein, um den Gesamtpreis pro Nacht zu sehen.