Gib deine Reisedaten ein, um den Gesamtpreis pro Nacht zu sehen.
Diesen Juli und August kannst du eine dieser 100 hervorragend bewerteten Unterkünfte aus jeder Preiskategorie ausprobieren, um Sonoma aus der Sicht eines Einheimischen kennenzulernen. Dank 24-Stunden-Check-in, Sofortbuchung sowie einheimischen Weinen und Snacks kannst du dich einfach zurücklehnen und deine Reise genießen.
Found in the heart of historical Nafplion's old city, this one bedroom apartment is the perfect place to rest after an exciting day of sightseeing and exploring. At night, make sure to take in the breathtaking view of the moonlit Palimidi Castle.
The apartment is a one bedroom with a rooftop and ample space. There is a private terrace with a beatiful view to enjoy your breakfast and soak in the ethereal moonlight. The apartment is a simple three minute walk from the local KTEL bus station. Free parking is available at the port of Nafplion. The school parking lot also offers free parking but only on weekends (until 6 am Monday). I am available to pick up guests and drive them to the apartment. If you would like to use this service, please inform me of any changes (ex. delays) concerning your arrival!
The Historic Nafplion neighbourhood makes this apartment the perfect location for your trip! Cultural museums, mouth-watering restaurants and shops carrying everything from handmade leather sandals to jewelry are a minute walk away! Most attractions are a short walking distance away, including the famous Arvanitia beach and beautiful Port of Nafplion. The bus station is a simple three minute walk away. Taxis can be found across the street. If you would like to take day trips around the region, the buses and boats at the port can take you to archeological sites, Epidarus Ancient Theatre, as well as the beautiful islands of Spetses and Hydra.
Le titre de l'annonce parle vrai ; un endroit idéal, avec une vue magnifique.
Catherine
October 2016
This is a good budget place to stay. The location and security are great. Historical area. Nice views from bed room of fort on hill. Big roof deck. Host works to be helpful such as special trip at night to fix acting up washing machine and TV. Provides free coffee. Note need to use e mail and text only to contact host as he has hearing problem. Full coverage cable TV. Good bed. Good heat in winter, good as I had a cold. Place is a bit run down. Kitchen could use more small pots etc. Would stay again or send friends. Was prompt about partial refund for one day delay per boat strike.
Laura
December 2016
Thank you Sotiris, I had a great time in Nafplio ! The flat is clean and ideally located, awesome sight from the rooftop. Cheers
Martin
September 2016
Me and two friends spent a lovely 4 days staying in Sotiris' apartment in Nafplio. The apartment was well equipped and perfectly located near to the bus stop (we were taking lots of day trips to nearby sites by bus). we spent lots of time on the roof terrace! Sotiris was a great host, quick to reply to our questions and I would recommend his apartment to anyone wanting to stay in Nafplio.
Henriette
August 2016
The host canceled this reservation 2 days before arrival. This is an automated posting.
Paige
Sotiris est un hôte parfait , très disponible et discret. L'appartement est très bien situé et la terrasse est superbe. Nous avons passé trois jours excellents. Merci
yolanda
August 2016
Nafplio is a lovely city, and there couldn't be a more perfect place to stay than Sotiris's top-floor apartment. We went to Santorini after our visit to Nafplio, and found the sunset on the island underwhelming after experiencing the view of Nafplio from the rooftop. The building is quiet, and the whole top floor is private with an outdoor table and chairs. The apartment is less than minutes from countless restaurants and shops, and a short walk to the waterfront and the bus station. Sotiris is the very best host: understanding of our inconsistent arrival plans as we navigated the KTEL system on a Sunday, made sure we were comfortable in the apartment and had everything we needed for our short stay, and continued his hospitality after we left (I left a bracelet in the apartment and Sotiris was very helpful to ensure it was returned to me). You cannot find a better place in Nafplio or a better host. We only wish that we could return sooner!
Nícolá
September 2016
Sotiris was a helpful host with good communication. The apartment was a good size for two people and was well equipped with everything you would need for a longer stay. The location in the old town was perfect and the private, large rooftop terrace was an amazing place to relax with excellent views. It is good to be aware that there are a few flights of stairs up to it but this wasn't a problem. We loved our stay here and Nafplion is a gorgeous town to spend a few days in.
Joshua
September 2016
Art des Zimmers
Ganze Unterkunft
---
Art der Unterkunft
---
Unterkunft für
3
---
Schlafzimmer
1
Nafplion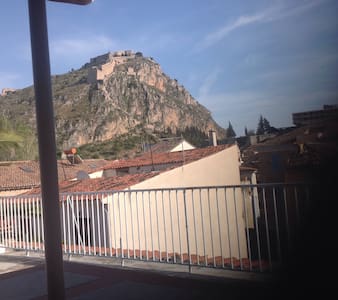 Cute and cosy attic, ideal for relaxing holidays in a quiet neighborhood close to the historic center of Nafplio. It offers a cute kitchen, shower and access to a wonderful terrace with great view of Palamidi.
Welcome to Nafplio, the first capital of Greece, a city full of history, beauty and life. The attic is situated at a lovely neighborhood of the city in new Nafplio ideal for families, it is nicely and simply decorated and it can offer a relaxing stay when at the same time you are very close to the center of the city. It is cosy and comfortable and it can accommodate up to 2 people. There is a possibility of adding an extra bed with extra charge upon request. - Size: 40m2 -Cozy big room with a comfortable double bed (150x200) and a small sofa -Cabinet with drawers and big closet for your clothes -Fully equipped kitchen (medium size fridge,electric stoves with small oven, cutlery, utensils) -Cute attic bathroom with shower, shampoo and shower gels -Wonderful terrace with outdoor furniture and view to the city -Clean bed linen and towels are included during your stay -Air Conditioner -Hot water (solar panel or thermostat) -Very easy parking in the neighborhood I will definitely meet you in order to give you the keys and show you the place. I am living in Nafplio for a long time so I can give you a lot of information about the surroundings and what to do here during your stay. My presence will be as discreet as possible in order for you to enjoy your privacy. In case you need any information, my house is very close and you can reach me anytime.
What is lovely about the neighbourhood, is that it is quiet, friendly and peaceful when at the same time it is close to the historic center of Nafplio (around 20 minutes on foot or 5 minutes by car). Apart from that, you can easily have access to supermarkets, pharmacies and cafes around so you will not miss anything during your stay. In 5 minute distance from the room, there is super market "Coop, cafe, burger house "Anoka" and laundry "Bourboulithres". Nafplio is an ideal city where there are a lot of things to do. A visit to Palamidi and Bourtzi is a must and of course a walk around the city and a coffee at a nice and traditional cafe. There is also a variety of activities offered in the city like sports activities that will make your stay more pleasant. Epidaurus and Mycenae are very close to the city by car and a guest should definitely pay a visit to these places of great historic interest. During summer, Nafplio is a hot spot to visit due to the nearby beaches with beach bars where you can relax. Nafplio is a small city so that makes it easy to move around on foot or by bicycle. There is no public transport inside the city but you can rent car, motorbike or bicycle by plenty of stores. There is a bus station in the city where you can take the bus to the villages around and discover the surroundings. You can also take the bus for visiting Epidavros, Mycenae, Tolo and all the surrounding area. In case you come by car, there is plenty of parking places near the house. The access from Athens is very easy as it is only 180 km away. You can either come by car via Olympia odos or by bus from Kifisos station. -Free maps and information of the city are provided. -Flexible hours of arrival and departure. (upon availability) -Please take into account that the room is at the top of the building. There is an elevator till the 3rd floor and then you need to take some stairs to the top of the building (it is one more floor). -Please take into consideration that due to the fact that it is an attic the ceiling is a bit lower at some parts of the room.The bathroom is also adjusted to fit in an attic and the shower and toilet are located at the same place. Also as it is an attic, there is only one skylight window. I would like my guests to feel as comfortable as it is their own home and have a nice time during their stay in the city. In case you need any information before your arrival, please feel free to ask me in order to provide you with as much information as possible.
Alles sehr gut. Sehr freundlich und hilfsbereit. Auch unsere spontanen Änderungen unserer Reisepläne waren kein Problem. Danke!
Oswald
August 2015
We had a great time
Nikolas
June 2016
The loft was so cozy and the balcony with a view over the town, bay and mountains is beyond amazing. Would definitely recommend staying.
Nick
July 2016
Danai's apartment was a funky little practical space accurately described. Danai was an extremely generous host with lots of local information. We even went to see a show at the Epidaurus Theatre with her and partner! Easy walk into town and a lovely neighborhood.
Justin
July 2016
Danai was very attentive and helpful at our arrival. The apartment is very functional and clean - with a nice terrace as a bonus !
Jeremy
August 2015
A really cute attic. It's kind of far from the old town (aprox. 20 mins walking).
Maria
September 2016
We had a pretty staying in Danai's apartment, the whole is spacious and is possible to find all what is needed. The problem of the flat is that it is in the top of the building , so if you will decide to not keep the air conditioned turned on for the all night , it will be very hot. There is also a problem of ants in the kitchen ,and if u leave the staff open , I'll find it full of them. Good view from the outstanding. Danai have been very kindfull with us and gave us many helpful info. About the position ,it is not far from the centre.
Federico
August 2016
Danai was a super host, she is very easy-going and the communication was perfect, the place is just as described - maybe even better then in the pics, somehow larger than what you can imagine, what's about the terrace, it has an amazing view! We really felt well there, we loved the small decorations which bring a personal touch. Good location, easy reachable from the center with lots of supermarkets and small terraces not far. Once again, thanks Danai, everything was just perfect!
Octavian Dan
July 2016
Art des Zimmers
Ganze Unterkunft
---
Art der Unterkunft
---
Unterkunft für
2
---
Schlafzimmer
1
Nafplio
Air-conditioned apartment with a kitchenette, TV, iron and safe. Breakfast essentials, such as coffee, tea, jam ,butter and bread, are offered daily in the room.
Right in the centre of the old city and within a few steps of the historical monuments of Nafplion,this spacious room which is part of "Pension Filyra" can be found nestled in between the wonderful old buldings and narrow streets. Renovated with love and care the building was restored to its former glory in boutique hotel style and opened its doors to offer top class accommmodation in Nafplion with a cosy, romantic atmosphere. Is the perfect place from which to visit and explore the wonderful sites of the Argolida and the Peloponnese whilst having a superb base to return to. Room facilities: Patio, TV, Safety Deposit Box, Air Conditioning, Iron, Hardwood/Parquet floors, Shower, Hairdryer, Toilet, Bathroom, Kitchenette, Refrigerator, Microwave, Electric kettle, Kitchenware, Toaster, Coffee machine. We are always available by phone. You can contact us whenever you want during your stay , and we will be help you in whatever you will need. Reception Hours 09:00-17:00
In the very heart of the city stands the Italianate Syntagma Square where you can admire important historic buildings and monuments and enjoy a cup of coffee in the all time classic haunt in Syntagma Square "Modus Cafe". Very close to Pension Filyra stand the church of Agios Spyridonas, in front of which Governor Ioannis Kapodistrias was assassinated, and the church of Agios Georgios boasting important murals such as a copy of the famous Leonardo Da Vinci work "The secret Dinner". A visit to the Komboloi Museum, housed in an old neoclassical building, just 50m far from our guesthouse is necessary in order to get the best quality chaplet Next stop: the Palamidi Castle, which proudly stands 216 m above sea level. In order to reach it you have to climb all of its 999 steps carved into the rock or use the tourist bus and taxi. The most photographed spot of Náfplio –and its point of reference as well– is Bourtzi, the Venetian small fortress standing on the rocky islet of Agioi Theodoroi.You can reach the fortress by boat departing regularly from the port. Also worth visiting: The War Museum, housed in the buildings of the former (first) Military Academy/ the houses of regent Armansberg and Mauer/ the "Lion of the Bavarians" standing in the suburb of "Pronia"/ the prestigious Peloponnesian Folk Art Museum/ The Children's Museum / The Town Hall in the Trion Navarhon square/ The statue of Ioannis Kapodistrias, modern Greece's first prime minister in the square bearing the same name/ Theodoros Kolokotronis Park with his statue standing there/ the recently renovated "Pili tis Ksirás" (Shore Gate). Activities: at sunset take a romantic stroll around the so-called "Arvanitia Promenade", the most popular walk in town (1 km in length) dominated by the rocky landscape of Akronafplia/ use the tourist trains to enjoy a leisurely tour around the town/ buy some souvenirs from the Old Town's souvenir shops, sip a drink at the port taking in the amazing view of Bourtzi – always lit up at night. Náfplio is approximately 140 km far from Athens. You can reach the town either by car or by suburban buses (KTEL) departing regularly from Kifissos bus station. (More information at www. ktel-argolida .gr). Also we can arrange your transfer from Athens or other towns to Nafplio by private taxi with extra cost. Clean Sheets,towels,blankets and pillows are included in the price. Room maid service everyday. Change towels every 2 days. Linen change every 3 days.
Das Appartement von Tania und Magda liegt in einer kleinen Gasse in der Innenstadt. Es ist sehr gemütlich und trotz Innenstadtnähe mit Geschäften und Restaurants sehr ruhig. In 5 min Fußweg befeindet sich ein kostenlosen Parkplatz. Tania und Magda sind sehr nett. Die Kommunikation ist schnell und einfach. Wir haben uns sehr wohlgefühlt.
Anna
October 2016
Unkompliziertes Einchecken, central gelegen, sauber freundlicher Empfang.
Klaus
April 2016
Super Lage und sehr schnuckelig eingerichtet. Wir waren nur zu dritt da. Zu viert wäre es wohl doch etwas sehr eng und auch die Ausstattung (Besteck usw) ist für vier Leute etwas wenig. Mein Highlight war Frühstück (Gebäck von den Gastgebern gestellt) auf der Dachterasse! Immer wieder gern!
Julia
October 2016
Very highly recommended! Hosts are friendly to a degree out of the ordinary. Lovely town, appartment centrally located.
Kari
October 2016
The attic apartment was perfectly located in the town centre with everything in easy reach. We received a very warm welcome with lots of pastries and juice to us in the morning. the loft is quant and spacious for two with a nice private balcony and a great shower. It was also super quiet at night, we had a really restful sleep.
Fiona
October 2016
The apartment is very nice we enjoyed allot, location is amazing, the ceiling can be tricky you need to remember where they are low if not youll get a reminder in your head :) other then that it was amazing
Idan
July 2016
This pension was perfect for our four night stay in Nafplio! Raina and Magda were very helpful with the arrival process, from providing directions from the airport in Athens to carrying our bags up the stairs to the room! Every morning they brought us a box of fresh pastries and made sure we had enough towels, toilet paper, etc. The location is awesome - in the old city near tons of amazing shops and restaurants and a fairly short walk to an incredible beach. And it's very close to the Nafplio bus station. Overall a great experience. Thanks Rania and Magda!
Kristyn
August 2016
L'appartement de Rania et Magda est situé dans le centre de Nauplie, à 5' de la gare routière et de la place centrale. Il est vraiment très agréable, notamment grâce à sa terrasse et au séjour spacieux, avec beaucoup de charme. Rania et Magda ont été très attentives tout au long de notre séjour, nous conseillant à plusieurs reprises sur les visites ou nous apportant le petit déjeuner. A recommander sans hésitation !
Antoine
October 2016
Art des Zimmers
Ganze Unterkunft
---
Art der Unterkunft
---
Unterkunft für
4
---
Schlafzimmer
1
Navplion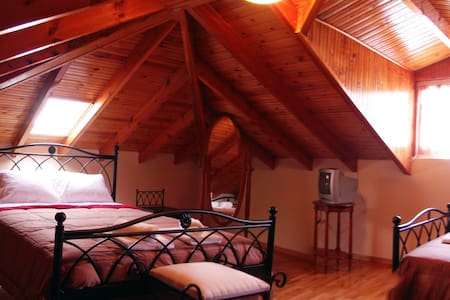 Our Studio / Loft Unit is a large loft space area of about 80 square meters. It is tilled throughout and has a dining / living area, a sleeping area and a fully equipped kitchen, and a bathroom. It has verandas with great views of the sea and gardens
Our Poseidnos Beach Studio / Loft Unit is a large loft space area of about 80 square meters. It is tilled throughout and has a dining / living area, a sleeping area and a fully equipped kitchen, and a bathroom. It has verandas with great views of the sea or the mountains. It is designed to accommodate a couple or at maximum four guests Is air-conditioned and has a fireplace and   have exclusive use of the outdoor Jacuzzi hot tub.  Private access to acclaimed Poseidonos Beach. Our vacation home is very much accessible by transportation. A local bus stop and a taxi cab station are nearby. There is also plenty of parking available.   About an hour away from Athens either by car on Attiki Odos superhighway or by train on the Athens to Corinth Proastiakos Commuter Rail. Our guests will have exclusive access to the entire studio-loft Private access to the sea and beach, air-conditioned and have a fireplace and have use of the outdoor Jacuzzi hot tub We will be there to meet and greet and have you settle. We are then only a phone call away if you need us. Enjoy your stay at your loft by the beach at Loutraki Greece
Our small European spa and beach resort town, you can walk through a pleasant private access way, to our acclaimed Loutraki Poseidonos Boulevard Beach, a few meters away. or stroll nearby to the sophisticated and cosmopolitan holiday resort Being on Poseidonos Boulevard at Loutraki we are close to a number of restaurants, and several great waterfront tavern's, deli's, bakeries, pharmacies, small artisan shops and other stores within walking distance from the home. There is plenty to do at Loutraki. and the surrounding areas. Enjoy the Poseidonos Beach a few steps away, and compare it with the dozens of equally spectacular beaches near-by. Relax with a very affordable spa treatment, at the world re-known and centuries old Loutraki spa. Take one of the several guided tours for day trips in the surrounding sights or for day cruises through the Canal of Korinth and the Alkyonides islands near by. Or go at the water-park at the Isthmus for fun and thrills for kids of all ages, athletic courts and sport centers used by professional teams but which are also open to the public. And depending on the season you can catch a round or two of the Rally Acropolis or a performance in the ancient theater of Epidayros… Our vacation home is very much accessible by transportation. A local bus stop and a taxi cab station are nearby. There is also plenty of parking available. About an hour away from Athens either by car on Attiki Odos superhighway or by train on the Athens to Corinth Proastiakos Commuter Rail. Proastiakos has regular service to and from Athens , which then connects to Athens Metro Subway system. Proastiakos by the way, starts at Athens International Airport and ends at Corinth You can not only enjoy the excitement of Athens, an ancient city, refreshed though, with classic but also great new places and museums the day trips to most "must do" Greek spots, Ancient Corinth, Mycenae, Delphi, Olympia, any nearby Greek island or the Parthenon of Athens, but also our Poseidonos Avenue Loutraki beach, the olive trees, the orange trees the geraniums and the jasmine, the thyme, the oregano, the cool breeze from the sea at dusk time, the towns and villages nearby.
Art des Zimmers
Ganze Unterkunft
---
Art der Unterkunft
---
Unterkunft für
4
---
Schlafzimmer
1
Λουτράκι
New mountain 3 floor house(built 2013) with the most amazing rooftop view you have ever seen!54km from Athens and 15km from crystal clear beach of Porto Germeno and Psatha. Fully furnished,modern dacoration. Rooftop of 75m2 with kitchen and bathroom.
Το σπίτι βρισκεται σε σημείο που προσφέρεται απόλυτα για χαλάρωση, με απεριοριστη εκπληκτική θέα. Το σπίτι είναι ημιτελές, γι'αυτό και νοικιαζεται η σοφιτα 75 τετραγωνικών που είναι σαν αυτόνομο διαμέρισμα, Με Ενα King size κρεβατι, δύο καναπέδες, δυνατότητα προσθήκης έξτρα ράντζων, κουζίνα πλήρως οργανωμένη, τραπέζι, τζάκι και μπάνιο. Οι επισκέπτες θα μπορούν να εκματαλλεύονται ελεύθερα και τα υπόλοιπα μέρη του κυρίως σπιτιού, απλά αυτά δεν είναι πληρως επιπλωμένα. Πρόσβαση θα μπορεί να υπάρχει σε όλο το σπίτι 250 τετραγωνικών χωρίς περιορισμούς. Για οτιδήποτε χρειαστειτε θα είμαι στη διαθεσή σας.
Η περιοχή προσφερεται για χαλάρωση αλλά και για γαστρονομικές κρεπάλες, αφού οι ταβέρνες των Βιλίων είναι πολύ γνωστές για την ποιότητά τους. Η χρήση αυτοκινήτου θεωρείται σημαντική για την πρόσβαση στα Βίλια,και την εξερεύνηση των γύρω παραλαθαλάσιων κοντινών προορισμόν όπως το Αλεποχώρι, η Ψάθα και το Πόρτο Γερμενό. Παρ'ολα αυτά υπάρχει λεοφορείο από το Θησειο για Βίλια καθημερινώς, αλλά και από Βίλια προς Πόρτο Γερμενό.
Art des Zimmers
Ganze Unterkunft
---
Art der Unterkunft
---
Unterkunft für
3
---
Schlafzimmer
1
Vilia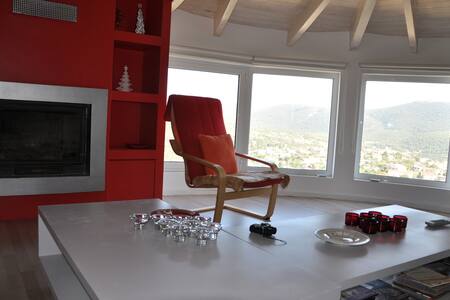 Our host upgraded us to a higher standard room and it was in outstanding condition. The location near the sea was wonderful. A great destination with a tremendous view.
Jim
October 2016
Very nice place about 150 meter away from the beach. Arrival and departure went smoothly. the place was clean and newly decorated. Definitely to recommend for a stay at Astros!
Philippe
August 2016
Art des Zimmers
Ganze Unterkunft
---
Art der Unterkunft
---
Unterkunft für
5
---
Schlafzimmer
2
Παράλιο Άστρος