Sehenswürdigkeiten: Die besten Strand und Korallenriffe in der Front. Ein tropischer Wald voller Früchte und Blumen. Sie werden meinen Platz wegen unserer köstlichen Küche, die gemütliche Raum lieben, die wir geschaffen haben, die Aussicht, die Lage, der Strand und die Natur, die uns umarmt .. Unsere Unterkunft ist gut für Paare, Abenteurer, Familien mit Kindern.
Paradise!
Jochen
2017-03-22T00:00:00Z
Nice location no food that is not super expensive nearby
Thomas
2017-01-21T00:00:00Z
Tel que décrit! Superbe endroit
Veronique
2017-03-29T00:00:00Z
A Little paradise close to the beach ! very quiet place ! We lived as Robinson Crusoe ! We had fun ! A pity to leave this Island !
David
2017-01-27T00:00:00Z
This place is amazing! Great beach, very quiet and relaxing. Ramon, his family and dogs are great hosts. Good snorkeling, and there is equipment to rent, which is handy. The tree hut is very cool, although small. So there's not much room to spread out your gear. The meals are great, but a little expensive. But there is an outdoor kitchen to do your own cooking if you travel on a budget. We would have loved to spend more time here but only had one night.
Joel
2017-02-09T00:00:00Z
We stayed at the casa Piramide for 2 nights, and more than a hotel, staying at Ensuenos is an experience: very few electricity, cooking by the fire, sleeping in a tree a few meters away from the best beaches on the island, eating coconuts and fruits from the trees around... Amazing place to disconect from this crazy world!
Ben
2017-03-19T00:00:00Z
Ra and Jud created a perfect place to relax.
Jonas
2017-01-01T00:00:00Z
I had a great time staying at Ramon's. The cabana Piramide is just perfect for a solo traveler or a couple looking to experience some rustic island accommodation up in the trees :-) Ramon was very helpful and accomodating of me! It was quite windy during my stay but I still enjoyed the natural beauty very much. hope to make it back to Little Corn Island to stay at Ensuenos again! I would recommend taking the little panga boat to Ramon's place upon arrival to the island vs. trying to walk there.
Anni
2017-01-10T00:00:00Z
Art der Unterkunft
Ganze Unterkunft
---
Objekttyp
Blockhütte
---
Unterkunft für
2
---
Schlafzimmer
Corn Island, Región Autónoma de la Costa Caribe Sur, Nicaragua
estamos frente a la playa mas hermosa. Los habitantes de Ensueños procuramos mantener una relacion armoniosa con la naturaleza que nos rodea. Nuestro alojamiento es bueno para parejas, aventureros, familias con hijos, grupos de hasta 25 personas.
Uns war es kurzfristig, aufgrund des hurricanes otto, leider nicht möglich zu little corn island zu reisen. Obwohl wir erst am Tag unserer Anreise absagen konnten, haben wir 75% unseres Geldes wiederbekommen.
Henrik
2016-11-23T00:00:00Z
Ein wunderbarer Aufenthalt fernab von jeglichem Stress. Ein einzigartigen Strand direkt vor der Hütte inkl. der besten Schaukel der Welt machen die Unterkunft zu etwas ganz besonderem. Man muss beachten, dass es etwas rustikal ist und man ca. 20-30 Min zu den nächsten Restaurants benötigt. Und man sollte auf jeden Fall eine Taschenlampe bereithalten, da es Nachts sehr dunkel ist und nur der Mond Licht spendet. Alles in allem war es aber ein wunderbarer Aufenthalt den wir sehr genossen haben. Wir würden immer wieder bei Ra und seiner sehr netten Frau buchen.
Julia
2017-02-06T00:00:00Z
Sehr schöne Unterkunft, vielen Dank für die Gastfreundschaft.
Eva
2016-12-22T00:00:00Z
Ensueños ist ein wunderschöner Ort! Doe einzige Schwierigkeit war manchmal die Essensbeschaffung, weil das Dorf ziemlich weit entfernt ist (wenn man mit einem Kind unterwegs ist).
Lisa
2017-03-30T00:00:00Z
Posto meraviglioso da rimanerci a lungo ! Complimenti a Jud e Ramon per la creazione di questo piccolo villaggio immerso nella natura. Padroni di casa ospitali e molto simpatici. Speriamo di ritornarci presto !
Zita
2017-03-17T00:00:00Z
Simple, but really beautiful beach. Nice people. The real Robinson Crusoe Experience :-)
Julia
2017-02-25T00:00:00Z
Little jungle hideaway on the far side of the island. Awesome if you want off the beaten path. Not good if you are not keen for good trek through the jungle to get to anything. No shop to buy a snack or a beer, so that means trekking back to town again. You have to order dinner in the morning, so you must have a plan for the day, otherwise having dinner there is not an option. Overall, a good place if you are the kind of person who would enjoy this kind of thing.
Nico
2016-12-28T00:00:00Z
We very much enjoyed our stay! Ramon was very accommodating when we arrived a little earlier than expected, and was even able to squeeze us in for lunch. The breeze on the north side of the island keeps the whole area a very comfortable temperature, and our room had a beautiful view of the ocean from the bed (coco down). The facilities were clean and well maintained, and the artistic details were beautiful as well. The meals we had were some of the best on the island. We truly felt rejuvenated by our stay after 10 days of travel through the mainland of Nicaragua. Will be recommending to our friends and family.
Bill
2017-02-01T00:00:00Z
Art der Unterkunft
Privatzimmer
---
Objekttyp
Blockhütte
---
Unterkunft für
3
---
Schlafzimmer
Autonomous Region of the Southern Atlantic, Autonomous Region of the Southern Atlantic, Nicaragua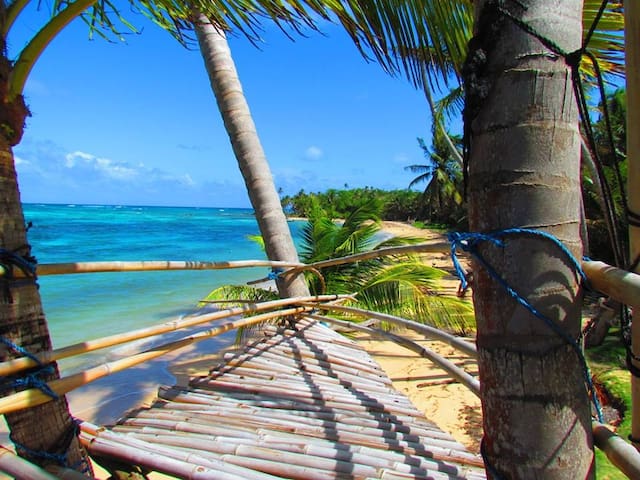 Lugares de interés: La playa más bonita en frente y el bosque más exhuberante a la espalda.. Te va a encantar mi lugar debido a Nuestra cocina, nuestras playas, la naturaleza y la amabilidad de los isleños. Mi alojamiento es bueno para parejas, aventureros y familias (con hijos).
Ensuenos is a great and quiet place to flee from stress and hectic! This place is like one piece of art in the caribean. You can go snorkeling, diving, have a walk around the island or just let the sunny day pass in one of the many hammocks. So good!
Sebastian
2017-02-11T00:00:00Z
Perfect location (far from the center so really quiet but you have to be ready to walk 25min for every meal) However quite expensive for a small room and common bathroom (don't be shy : there are no doors at the toilets!) and lot of bugs !
Emma
2017-02-15T00:00:00Z
Perfect place to relax and recover
Jonas
2017-01-03T00:00:00Z
Great place to just sit, and relax, in front of a beautiful view.
Sherani
2017-03-30T00:00:00Z
Little paradise, great place to stay for total calm, with the possibility to get back to the village anytime
Stijn
2017-02-26T00:00:00Z
Endroit paradisiaque . Agréable sentiment de retour en enfance ... on dort dans de vraies cabanes dans les arbres . Repas délicieux et personnel au top ! Encore un grand merci Raphael
Raphael
2017-03-26T00:00:00Z
Ensueños es un lugar hermoso, casi magico, esta ubicado frente a la playa más linda de la Isla y esta lleno de hamacas y lugarcitos en los cuales relajarse y disfrutar del lugar. La cabañas tienen un diseño muy creativo, son rusticas pero muy comodas, estan muy limpias y las sabanas tienen un olor agradable . Ramon y su esposa son anfitriones amables, se mantuvieron en contacto previo a nuestra llegada y nos proporcionaron lo necesario para sentirnos comodos. Recomiendo mucho este lugar, me encanto.
Dorian
2017-01-01T00:00:00Z
Hemos estado encantados con el sitio, el alojamiento y en general toda la estancia. Justo como esperábamos encontrar. Un lugar hermoso, en consonancia con el entorno, salvaje, autentico. Las cabañas originales y cómodas, en contacto total con la natura. La cocina estupenda, cocinar en la barbacoa "tradicional" junto a la cocinera local no tiene precio. Lo único que añadiríamos a las instalaciones, aun conociendo la idea de seguir estando en un ambiente totalmente natural y salvaje, seria contar con una nevera comun donde poder guardar alimentos frescos, bebida, o comida ya cocinada. Por lo demás todo fantástico, esperamos poder volver en otra ocasión, y ver acabado el templo de meditación. Sentimos no poder habernos despedido en persona. Muchas gracias por todo. Jorge y Elena.
Jorge
2017-04-06T00:00:00Z
Art der Unterkunft
Ganze Unterkunft
---
Objekttyp
Blockhütte
---
Unterkunft für
2
---
Schlafzimmer
South Caribbean Coast Autonomous Region, South Caribbean Coast Autonomous Region, Nicaragua
Secluded paradise beach bungalows on wooden stilts. Breath taking views of the sea where you'll catch unforgettable sunrises. Snorkeling, fishing, island boat tours and sunset trips available.
Art der Unterkunft
Ganze Unterkunft
---
Objekttyp
Blockhütte
---
Unterkunft für
13
---
Schlafzimmer
Little corn, RAAS, Nicaragua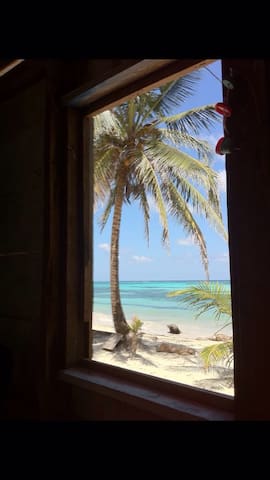 Estamos frente a la playa mas hermosa de la isla. Pura naturaleza, buena comida y los mejores arrecifes. Nuestro alojamiento es bueno para parejas, aventureros, familias con hijos o grupos de amigos.
Ensuenos is a beautifull place. It's quiet and full of nature. Ramon and his wife are friendly and warm. The cabins are handmade and very artistic. The village is a 30 min. walk. After 18.00 it will be very dark on the road and at ensuenos. Bring flashlight with you.
Vivian
2016-08-21T00:00:00Z
I little hideaway on the far side of the island. We unfortunately had a very rainy & windy week of weather, which made the trek to town quite interesting through the mud. All good, just know that it's very wet & slippery. Don't expect much in terms of amenities... Go there to get away from all the luxuries you are used to and you'll love it, just know what to expect.
Nico
2016-12-30T00:00:00Z
It was a great time at Ensuenos! It`s a wonderful place to relax a bit in paradise!
Nicola
2017-03-25T00:00:00Z
Lovely quiet place! If you want isolated paradise and leave wifi and such behind, this is perfect. Judith and Ramon with family are very welcoming and caring. Made me feel like home. The animals who are brought up with love are also wonderful. Just be prepared. Bring flashlight and be ready for longer walks. Totally worth walking to different places of the island. Like the lighthouse, the village and a long the beaches. There are plenty of fun places and good food all over. And if you wish to save some money you can always cook for yourself in the out door kitchen.
Beatrice
2017-01-09T00:00:00Z
Leave your phones and doo-dads behind. just enjoy Ensueños for what it is. a amazing place to relax and open your mind a bit. there is no power so bring a battery bank if you must. bring a flashlight and good shoes. pack light. this is a trek though the Forrest up hill. easy things are rarely good. and this place is amazing.
Bart
2017-02-10T00:00:00Z
This place is truly magical. We had a wonderful time staying at Ramon's place. Everywhere you look you find pieces of creativity and happiness, he has done an amazing job creating a great space. While staying in town can be convenient it will never compare to being on the north side experiencing this little piece of heaven. We recommend looking at the stars and swimming under the moonlight while here! We are already saving to come back :)
Mirey
2017-02-16T00:00:00Z
Staying at Ensuenos for 3 nights was all I needed to disconnect during my trip to Little Corn Island. Completely secluded from town in the north side of the island, a 25 minute walk through an unmarked path will bring you to one of the nicest beaches and unique accommodations of Little Corn Island. The room was basic, as advertised, climbing wooden steps to my attic room brought the inner child in me every time. I could roll out of bed and walk steps to go swimming in the morning, and lay in one of the many hammocks to relax. I was traveling 'solo', which wasn't an issue for me, as I could socialize with other friendly travelers during breakfast or dinner. I ate there a couple of times and the food was excellent and freshly prepared, a bit on the expensive side, but worth trying. You can always go to town for other food options and a more lively drinking environment. Ramon and Judith were excellent hosts, being helpful when needed and staying out of your way for you to enjoy nature and soak it all in the little paradise they've created
Joel
2016-12-26T00:00:00Z
Art der Unterkunft
Privatzimmer
---
Objekttyp
Blockhütte
---
Unterkunft für
2
---
Schlafzimmer
Autonomous Region of the Southern Atlantic, Autonomous Region of the Southern Atlantic, Nicaragua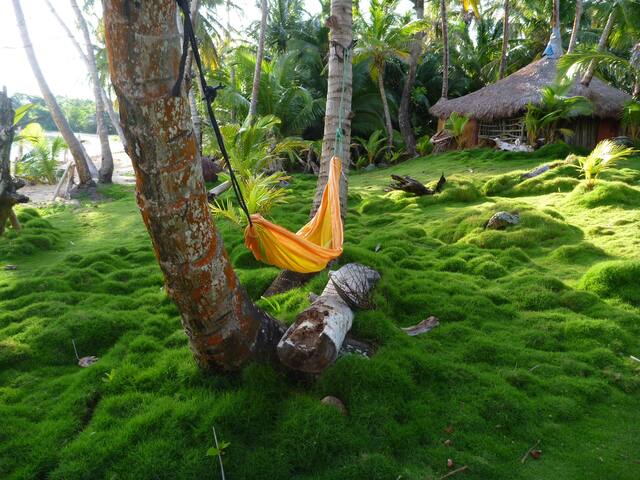 Corn Island - Airbnb
:
Durchschnittlich

4.93

von

5

Sternen aus

50

Gäste-Bewertungen
Gib deine Reisedaten ein, um den Gesamtpreis pro Nacht zu sehen.