Gib dein Check-in-Datum im Format TT.MM.JJJJ ein
Gib dein Check-out-Datum im Format TT.MM.JJJJ ein
Inserate, die du buchen kannst, ohne auf eine Bestätigung des Gastgebers zu warten.
Gib deine Reisedaten ein, um den Gesamtpreis pro Nacht zu sehen.
Diesen Juli und August kannst du eine dieser 100 hervorragend bewerteten Unterkünfte aus jeder Preiskategorie ausprobieren, um Sonoma aus der Sicht eines Einheimischen kennenzulernen. Dank 24-Stunden-Check-in, Sofortbuchung sowie einheimischen Weinen und Snacks kannst du dich einfach zurücklehnen und deine Reise genießen.
4 miles inland, large windows overlook meadow, redwoods and adjacent state forest with walking paths. 2nd story fully furnished barn loft studio apt. offers privacy and quiet in beautiful natural setting. Kitchen is fully equipped. 2 nite minimum.
The studio apartment is a 2nd story loft in a barn on our 5+ acre property. It has a private entrance and the space is private. It overlooks a meadow surrounded by redwood trees, is a beautiful, quiet space for one or two people to share. The car port is available for your use and you are welcome to roam the meadow and to discover the delight of standing in a "fairy ring" beneath a circle of redwoods. We expect to be around, in and out, during the day. Someone is home a lot, although we do walk in the forests daily. If there's anything you need or any question needing answering, we're available to help. Your space is your own, we live next door.
We're 10 minutes from downtown Ft. Bragg; 15 minutes from downtown Mendocino; located in a meadow surrounded by redwoods and forest; pygmy and transitional forest is across the way; hiking trails, paths and logging roads are available in both forests for walking, hiking, and biking.
We loved the place! Great kitchen, good advice from Susan. We had a wonderful walk in the woods behind the house in the Redwoods.
Jean
July 2016
Solitude Redwood Tree forest retreat for quiet nature lovers. This unique property is surrounded by majestic Redwood Tree forests that provide a heavenly embrace of stillness and quiet that is a deep gift of gentleness, for those of us that seek quiet and nature. A perfect place to turn off the cellphone and disconnect from the wifi world and plug into Nature's song. Our time only allowed a few short ventures onto the endless adjacent forest trails but we thoroughly enjoyed the timeless allure of Coast. Susan and Don McNeil were awesome to meet and hear their history of nurturing this beautiful retreat. You will find they are gracious hosts that built this hand crafted spacious vacation apartment situated above their barn. The space offers immaculate comforts and room for two guest. A fun bonus feature are the Windows that run the length of the apartment offering a birds eye view of the birds. With a longer stay we would have further explored the local forest trails where we experienced Osprey, Ravens, Humming birds, Robins and Deer. Thank you Susan and Don for offering your hospitality to seekers of Nature and quiet!
Chris
May 2016
We booked this studio for our stay in the Ft Bragg/Mendocino area. It was close to both places, very spacious, Susan was very polite and gave us our privacy. When I wanted to talk to her, she was very responsive. All in all a fantastic stay and would absolutely stay again.
Clancy
September 2016
Susan was very sweet and available to greet us when we arrived. She was very easy to communicate with while we were on our way there and back. The studio itself was clean and beautiful. Susan even left some fresh grapes for us on the table! It was very easy to get to Fort Bragg, Mendocino and MacKerricher State Park from this location for some amazing walks and tide pooling. Overall, we loved our stay!
Aditi
June 2016
The Barn Loft is a great spot to get some sleep and make a few meals near all the parks and beaches of Mendocino and Fort Bragg. Susan was there at check-in to welcome us and point out some of the walking trails on the property itself. The home is cleverly designed and well-appointed; it had everything we needed for a long weekend of R&R. As a bonus, they have a flexible check-out policy, and the noon check-out feels quite generous when you're trying to savor your last few moments of a getaway trip!
Jeremy
July 2016
Quiet, beautiful place, good privacy, close to town, overall a very comfortable stay at a charming loft-style guest house. It's kind of like the upper half of a barn, and Susan and her husband did a wonderful job with the interior conversion. They were also very friendly and helpful.
Jin
September 2016
Very much enjoyed our stay at the loft. Excellent location. Clean and tranquil place with all the amenities shown in a beautiful environment. We hope to visit again soon.
Wade
July 2016
The area was beautifully serene, yet not too far out of town. Very cozy and unique little cabin, perfect for a couples getaway. Susan was very kind and accommodating.
Shelby
January 2016
Art des Zimmers
Ganze Unterkunft
---
Art der Unterkunft
---
Unterkunft für
2
---
Schlafzimmer
0
Fort Bragg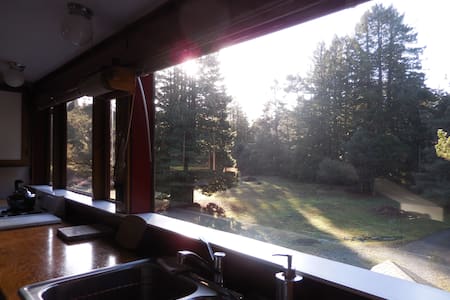 Seaside Studio is a spacious second floor studio apartment with dramatic ocean views on Main Street in Mendocino. Immerse yourself in the culture & natural beauty of one of Northern California's most historic and picturesque seaside villages.
Come visit Seaside Studio! Spacious upstairs studio apartment with amazing ocean views and a balcony overlooking the Pacific. Convenient central location allows walking through town or strolling down beaches and around headlands. Village shopping and Headlands hiking are steps away. Includes a simple, compact kitchen to prepare meals at home. Park the car and put on your walking shoes as everything Mendocino has to offer is within an easy stroll through town. This is a perfect home base from which to enjoy Mendocino's many fine restaurants, shops and galleries. Our bright, modern, 900 sq ft open floor plan studio features 14 foot ceilings, skylights, cork floors, a queen size bed, flat screen with direcTV, kitchen / dining area, full bath with over sized tub / whirlpool jets and complimentary wireless internet. Step out onto one of two exterior balconies offering dramatic views of the Mendocino Headlands State Park and the Pacific Ocean. Situated above the owner's eco boutique, you have a local concierge available daily from 10:30 until 5:30 while the shop is open. We are happy to assist you with all the ins and outs of the town and help make your Mendocino experience a cherished memory. Children are welcome. We have a small single bed in a nook off the kitchen. Our additional guest fee does apply to children. Please let us know if they will be included in your visit. Children must be included in the total guest count when you make your reservation. This friendly, modern space is bright and airy... morning sun is abundant! There is some daytime noise from the small shop located below the apartment. The shop is open from 10:30 until 5:30 daily. Our compact kitchen is equipped with a 4 burner propane stove/oven, dishwasher, granite counter tops, toaster, coffee maker, and an eclectic collection of pots, pans, basic cooking utensils, assorted dishes and silverware. We have most everything you might need for a simple meal. Edible amenities include organic instant oatmeal, coffee and tea. There is no land line telephone here but cell phone reception is great. No smoking. No pets. The studio is a separate space. You will enjoy complete privacy.
We are located on Main Street. The north side of Main Street has the best shops and restaurants in Mendocino. The south side of Main Street is the magnificent Mendocino Headlands State Park overlooking the Pacific Ocean. You can access Big River Beach and Portuguese Beach from the Headlands as well as miles and miles of spectacular hiking throughout. Walking is the best way to get around. Bring comfortable walking shoes and discover the amazing details of this historic town! Please note that we have a two night minimum stay. Exceptions are made only when the calendar has 1 night openings. Connect! We provide hi speed wireless internet and an aux cable on the Bose stereo for your iPod. We are required to pay an 11% TOT tax to Mendocino County. Unfortunately there is not a way to include this in the Airbnb system yet. We can either send you a paypal invoice for this or you can give us a check upon arrival. Please let us know your preference. Children are welcome. We have a small single bed in a nook off the kitchen. Our additional guest fee does apply to children. Please let us know if they will be included in your visit. Children must be included in the total guest count when you make your reservation. Get Social! Like us and follow us on several Social Media sites. Search for MendocinoSeasideStudio.
Perfect weekend getaway! The apartment is open & airy. The view is spectacular! Loved it!
Jessica
August 2016
This is a cozy loft studio above a shop on the Main Street in Mendocino. The hostess Deb has thought of everything you need for a wonderful stay in this beautiful scenic coastal town. You have great wifi if you need it, Direct tv, a well-equipt kitchen and comfy queen bed. Deb even provides yoga mats and other exercise equipment and binoculars to watch the sea birds and whales if you're lucky. Just beware of the fabulous chocolate shop next door and a tempting bookstore in the next block. I've been there before....I was there this year for Christmas with my daughter....I'll be back!
Mary
December 2016
Ideal location with a wonderful ocean view. Clean and perfect size for my wife, young son and me. We'll be back next time we're in Mendocino!
Jeff
November 2016
We had a perfect time at Deb's place in Mendocino! The location is ideal, right across from the ocean and short walks away to anything you could need; coffee, restaurants and a grocery store. The studio is so comfortable, gets great light and had all the tools necessary to cook a great dinner. It's also so quiet and peaceful which gave us a much needed break from the constant noise of the city. Deb was very easy to communicate with, any questions I had were either answered before I needed to ask them or shortly after I messaged her. Overall, a wonderful and relaxing trip! I would absolutely stay at Deb's place again, thanks Deb!
Sophie
June 2016
The apartment was beautiful exactly as described. Host was very accommodating. Wished we had more time to enjoy. Mendocino is gorgeous!
Val
June 2016
Had a great two night stay at Deb's place a week ago. Deb was prompt in responding to notes in advance, and the place was wonderful. Lots of light in the apt, the deck is as great as it looks in the pictures (even if we couldn't coax the sun out as much as we had hoped), quiet especially at night, just an all around great place.
Nathan
July 2014
Amazing location. Amazing view. Amazing host. Amazing experience. I will recommend this place to all my family and friends.
Darius
September 2016
A great space with a killer view. Wonderful location! Very comfortable bed. Complimentary wine waiting for us was a nice treat. The kitchen is lovely, though there's no microwave, something that would have been very handy for heating up coffee and leftovers from restaurants. It's very quiet at night but no window coverings in front (or on skylights) so it was really too bright for us at night and in the morning. If that doesn't bother you, you'll be fine. Good heating system, which we needed in March.
Anita
March 2016
Art des Zimmers
Ganze Unterkunft
---
Art der Unterkunft
---
Unterkunft für
4
---
Schlafzimmer
1
Mendocino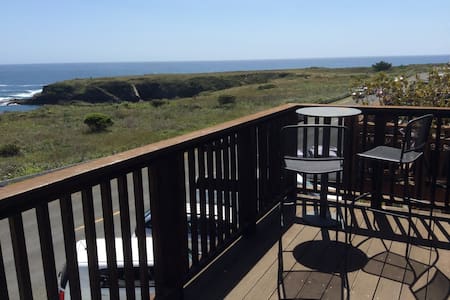 The Penthouse is a luxury residence in the heart of the Mendocino, It the home of art dealers and suitably appointed. The open concept studio apartment features 20' vaulted ceilings, a gas fireplace,a very private south-facing deck for viewing our amazing night skies, entertaining guests,dining,or loafing in the sun. Direct TV, audio, Full kitchen, large ensuite bathroom with heated floors, organic cotton sheets, linens, and robes. 270 degrees of views of sunrise, sunset, village and the sea.
The Penthouse is an 1100 square foot studio apartment with 20' vaulted ceilings with exposed beams, a gas fireplace, a generous and sheltered south- facing porch for outdoor entertaining, full kitchen, office space with wireless high speed internet, a voluminous en suite bathroom with tiled shower and heated floors, flat screen tv with Direct TV, a full audio system, organic sheets and linens, all of the this surrounded by the art dealer owner's private art collection. The entire 1100 sq ft. apartment. Our manager, Jill is available to answer questions and help with problems. Just text her!
The Penthouse is in the center of Mendocino's famous victorian architecture with easy walking access to theatre, shops, art galleries, gourmet dining, the beach, the headlands, redwood forests, and a thirty minute drive from world class wineries down California's justifiably famous Highway One. We are located in the center of town. One block from the grocery store, and the many shops. We are surrounded be many restaurants, a short walk to the beaches and the to the headlands to view the sunset. We even provide a special off street parking place. Just leave your car for your stay and walk everywhere. We are required to pay on 11% TOT, (Bed Tax) to Mendocino County. Unfortunately there is no way to include this in the airbnb system as of yet. We accept separate payment of the 11% TOT (Bed Tax) by credit card. Guest will be asked to sign a contract for damage and theft.
Wonderful place! We have been to Mendocino numerous times and each time in a different place. This time we went for my husband's bday and we absolutely loved this place. It's quiet, private and big. We felt like we were at home for the weekend. This will be a place that we visit again. Thank you for providing such an amazing escape!
Kimberly
May 2016
We absolutely adored The Penthouse. Its furnishings and decor are beautiful. We loved sitting by the fire on rainy mornings. I could have spent hours just looking through the dozens of art books in the bookcases. The location was perfect, with the entire town of Mendocino within easy walking distance. I'll be back!
Janice
November 2016
This is a great place right in Mendocino in walking distance to the headlands and shops and restaurants. It's quiet and comfortable.
Maggie
September 2016
We were very very pleased with the accommodations - The Penthouse is an amazing place in a fabulous location. I would go there again. The host was available during our stay to help with a couple of questions we had and was very responsive to us. I highly recommend The Penthouse.
Genevieve
August 2016
Everything was exactly as described. The Penthouse was very homey and the location was great - everything in the town of Mendocino was within walking distance. It was also great to have a dedicated parking space. Jill was very responsive to any questions we had. We look forward to staying here again soon!
Megan
August 2016
Outstanding , beautiful apartment right in the centre of Mendocino. It was all that we hoped for, and more.
Sheila
June 2016
Great location! Super clean! Amazing
Brooke
June 2016
Everything was great from the communication to the lodging itself. My husband and I traveled up for a wedding with our 4 year old daughter. The Penthouse was in the perfect location — centrally located to food and shopping and a short walk down to the beach. We couldn't have asked for a better spot!
Jennifer
October 2016
Art des Zimmers
Ganze Unterkunft
---
Art der Unterkunft
---
Unterkunft für
4
---
Schlafzimmer
0
Mendocino