Gib deine Reisedaten ein, um den Gesamtpreis pro Nacht zu sehen.
Located in Seaside proper. Prime location with a 1 minute walk to the beach. This one bedroom cottage provides lots of privacy snuggled in a cozy abundance of trees and Florida vegetation. Located on the side of Seaside's Rosewalk; an arrangement of cottages around central courtyard with lush vegetation and pedestrian footpaths. It is a very quiet location perfect for one person or a couple. The bed is located on the second floor loft. Marble countertops and modern appliances added July 2016.
Seaside is a lovely example of New Urbanism design and exploring the community did not disappoint. The Sweet Haardt cottage still felt private and secluded even while central to beach and amenities. We had our pick of great shopping and restaurants and the perfect little oasis to return after each adventure. Thanks to our host for his suburb organization.
Anne
September 2016
Excellent little cottage for a couple's getaway. Everything was just as it said. Haardt was expedient and pleasant to deal with. We parked our cars and didn't move them during our stay. Would love to stay again sometime!
Janet
August 2016
Beautiful little guest house. Perfect location!
Rachel
October 2016
Great location with walking or biking distance to almost everything. However, accommodations were basic in every way. The pictures of the cottage are deceiving in that it is much smaller than it appears in the pictures.
Richard
January 2017
Small and quaint cottage with a perfect location. Walk to all you need In Seaside. Private beach access and parking is a great benefit. It rained while we were there but did not matter a bit. Walked around in the drizzle and the tree covered paths between the houses provided just the right amount of coverage to not get too wet. Love this town and all the great restaurants.
Courtney
July 2016
We arrived in Seaside for one night - to get away from our current home renovation project - and felt like we ended up managing another home renovation project. When we arrived at the cottage, the house was an icebox. The mini-split in the wall was belting out cold air (temperatures the previous 2 nights had been in the low 30s). While we were able to get in touch with Haardt right away, it took several hours and multiple phone calls - with me following up not the other way around - to get the heat turned on. I even watched a Youtube video in how to reset the unit (which was covered in dust and dirt). The place warmed up relatively well - except for the bathroom - as we were out to dinner while the repairman came - and he left the bathroom door closed - which meant that anytime we used the bathroom - the toilet was ICE cold until morning. For the price we paid, it really felt more like camping. This was a total bummer - because for half the waking hours that we had the house reserved - we couldn't use it! I would agree with other reviews about the basic amenities (the sofa is very uncomfortable, the mattress is hard - and just regular size - not queen - so not comfy for 2 tall adults). Additionally, other things were not disclosed like the beach access was closed - so we had to walk 2 blocks to the public access area, the bikes have rusted chains/not tightened handle bars - so not really usable, etc. We were also in Seaside during winter, so you want to be able to relax a bit in the home - as the town shuts down early. And we couldn't really do this. I think with a little bit more attention and work, this could be a nice place to rest your head - but for what we paid - it wasn't really worth it. Some of these issues were maybe just our bad luck - some were not communicated - some were burdens placed on us (for instance, my phone # was given to the AC repairman - when there was a passcode to be given to him - instead of the host just dealing directly). So, overall, this trip was a bit of a bust - and not relaxing - and by first bad AirBnB experience.
Rachelle
January 2017
The cottage was great. I really liked the small house vibe and could live this way year round. It was so nice to be such a short walk to the beach. Seaside's city center was a short walk away as well. I hope to return to the cottage again one day.
Richard
September 2016
He was a great host! The location is amazing!
Kristy
August 2016
Art des Zimmers
Ganze Unterkunft
---
Objekttyp
---
Unterkunft für
3
---
Schlafzimmer
1
Santa Rosa Beach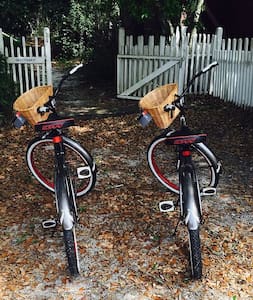 Our loft is inviting w/ bunkbeds to rest your head. Sleeps 6. Private owners dock for Sunning, fishing and relaxing. Located on the waterfront in a quite cul-da-sac neighborhood. You will have access to the Loftroom, a bathrm, kitchen, laundry, living space. Hopefully you will want sun your buns & put your toes in the sand on the beach. Just over 5 miles from Navarre beach area. Make yourselves at home, coffee provided.
Loft area with two sets of bunk beds. Full size and twin size beds available. Waterfront property on the Bay with Private dock and 5 miles to Navarre Beach & Pier, pier, restaurants & bars, shopping. 20 minutes to either Pensacola West or Fort Walton East. Fully furnished, full kitchen. full bath, Cable TV, DVD player, washer/dryer available. Bedroom, bathroom, kitchen, living room area, screened patio, dock to waterfront fishing and sunning area, kayak and paddle boarding. Available when needed.
Home placed in a cul-da-sac on the water side. Beautiful area, beautiful live oak trees, Paddle board and kayak available to use on the Navarre East Bay. 325 sqft screened in patio to over look the water. Uber and taxis available in the area. See house rules. Do not remove the paddle board and kayak from the property to use elsewhere other than the bay.
The host canceled this reservation 22 days before arrival. This is an automated posting.
Zarina
I loved to spend time with Gina and her daughter, they are so friendly. They're living in a very nice house. Great place to discover Navarre as well as enjoy Pensacola and Destin: it is right in the middle of the two. I'll definitely come back and see you guys when I'll be traveling in Flordia. A très bientôt !
David
August 2016
The house is nice and I love the back yard but she never cleaned the house, the bathroom was very dirty. The loft is not safe at all ( and I told her). The sheets were not changed and the dog attacked me twice. I will never go back there again!
Luljeta
July 2016
We had a lovely time and enjoyed staying there. The beds were comfortable, the view from back yard was amazing, and fishing from the dock was fantastic. Thanks Gina for hosting us.
Frank
July 2016
Gina's place is so beautifully located, and not too far from the beach - about a 20 min drive (also you can cross the Narrave bridge instead of the Pensacola bridge so you don't have pay the toll!) the house was clean and while the loft was quite small and cozy, downstairs was very spacious and comfortable. Gina was also very helpful and always responded quickly and kindly. Thanks for the stay and I'd recommend to anyone:)
Kirstin
May 2016
The house is beautiful and the space is just as depicted . The outdoor living space was amazing
Bethaney
May 2016
Art des Zimmers
Gemeinsames Zimmer
---
Objekttyp
---
Unterkunft für
6
---
Schlafzimmer
1
Navarre