Gib dein Check-in-Datum im Format TT.MM.JJJJ ein
Gib dein Check-out-Datum im Format TT.MM.JJJJ ein
Inserate, die du buchen kannst, ohne auf eine Bestätigung des Gastgebers zu warten.
4 Blockhütten
· Everglades City
4 Blockhütten
· Everglades City
Gib deine Reisedaten ein, um den Gesamtpreis pro Nacht zu sehen.
Diesen Juli und August kannst du eine dieser 100 hervorragend bewerteten Unterkünfte aus jeder Preiskategorie ausprobieren, um Sonoma aus der Sicht eines Einheimischen kennenzulernen. Dank 24-Stunden-Check-in, Sofortbuchung sowie einheimischen Weinen und Snacks kannst du dich einfach zurücklehnen und deine Reise genießen.
This tiny cabin is great for a comfortable nights sleep in the Everglades. Nothing fancy this rustic cabin offers air-conditioning and a centralized bathhouse with hot showers. Perfect for one person who is traveling light and on a budget .
Located in the big cypress national preserve minutes from all area attractions.This cabin offers a true old Florida getaway. Our gift shop and eco-tour company is open seven days a week and offers travel information and other resources to visitors.
We are located in the heart of the Everglades.
Great little cabin. Nothing fancy, but there's A/C and a twin mattress and bathrooms/showers close by. View from the front porch is a beautiful pond, great for reading next to. Perfect location close to Everglades City and all of the parks and attractions. Skunk Ape Headquarters is a fun stop for souvenirs. Will definitely be back.
Elizabeth
November 2016
Great spot that really makes you feel at home in the Everglades. It is simple rustic in style and really the only thing guests should be heads up on is taking bug spray with them. Don't go without it.
Tanner
September 2016
Great place, small caban with a fire place for the perfect end of the day
David
December 2016
"Tiny cabin in the Everglades" is about half-right: it's in the Everglades and is fer shur tiny. If you have a visitor, one of you will have to stay on the porch. These closet-sized 'cabins' may eventually be something close to Rustic-once they finish the inside walls and get the electric cables off the floor. Wouldn't be habitable without the AC-but neither would any other habitation in the 'Glades. DO check out the Snakarium-they've got some beautiful boas, pythons, and other critters. Make sure they're fed first!
Lawton
October 2016
Jack and his wife were such nice people! They were highly accommodating - offered ibuprofen when I had a crippling migraine that evening. This little cabin is perfect for the simple traveler - there's a bed, electricity, AC & towels provided inside with an adorable porch & chair outside. There's an option to build a little campfire on your site with a picnic table, space for parking. One feels secluded with trees surrounding the cabin but you're a part of a camp site and will see others randomly. Community bath & showers available - and also kayaks for rent ! I loved the family-oriented feel. Just don't forget the bug spray - even after you shower! (For those unaccustomed to Florida humidity and wetland life). Will stay here upon returning!!
Kimberly
October 2016
You definitely need to like the outdoors, if you don't bring insect repellent you're an idiot.
Colin
September 2016
Use this address to find the cabin 40904 Tamiami Trail E, Ochopee, FL 34141 which is located within the Skunk Ape Campground. The Hwy 41 address is 30 miles from the correct location. Wonderful little cabin located in the heart of Big Cypress. I thoroughly enjoyed my stay and will be back.
Braxton
August 2016
This cabin really is right in the heart of the Everglades. It is located at SkunkApe campgrounds in Ochopee, FL. Jack was unreachable the day of the reservation, but someone who worked at the campground helped me find the cabin. The AC works great! There is a comfortable twin bed inside with sheets, pillow and blanket and a towel is provided. There's a nice little pond directly across from the cabin. Overall, it's a very nice place to stay.
Timothy
July 2016
Art des Zimmers
Ganze Unterkunft
---
Art der Unterkunft
---
Unterkunft für
1
---
Schlafzimmer
1
Ochopee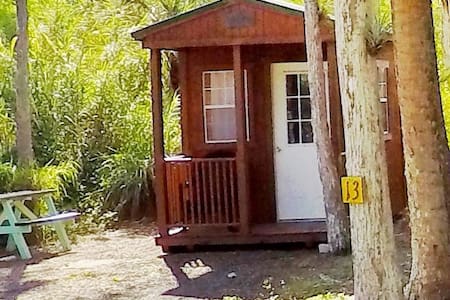 This rustic cabin offers an easy nights rest in the Everglades. This air-conditioned alternative to camping is perfect for visitors traveling light and on a budget.
For me, this place was more like staying at a hotel than a typical than Airbnb place, but than doesn't mean it wasn't an amazing place to stay. The cabin was comfortable, and in a great location to check out the everglades, everglades city and back country areas. I would definitely recommend this place to others.
Jess
August 2016
Thank you Jack for a lovely night! Before someone books, they should know that the area is mostly about nature and not so much about attractions or entertainment. We were here on a Thursday night and everything including gas stations and grocery stores closed at 7pm. We really wanted a campfire and couldn't find any wood. That's where Jack rescued us! He set up our fire and gave us lighter fluid and a lighter so we were guaranteed to have a nice evening! We were also allowed to walk the grounds and see inside the other beautiful cabins. Our cabin was small, just a bed and AC and some end tables, but it was what we needed. We were located right next to the campgrounds' bathrooms. There was wifi available. Overall I'd say this experience was much more like camping than like staying at a hotel, so if that's what you're looking for then I highly recommend this awesome site! Also, don't forget your bug spray!
Kathleen
September 2016
Was an adventurous experience and will definitely come back. Mosquitos were terrible - but that's to be expected in that area during summer. Bathrooms were less than ideal and could certainly be improved. It was a fun experience for an overnight getaway with my boyfriend - bed was comfortable and window AC unit worked well. Certainly a quaint adventure and by no means luxurious. Would be fun to rent a few cabins with other couples and cook on a grill during the winter.
meredith
August 2016
The cabin was a described. Jack was unreachable before and during the whole stay, fortunately the grounds keeper was helpful in directing us towards the correct cabin.
Juan Francisco
August 2016
Art des Zimmers
Ganze Unterkunft
---
Art der Unterkunft
---
Unterkunft für
2
---
Schlafzimmer
1
Ochopee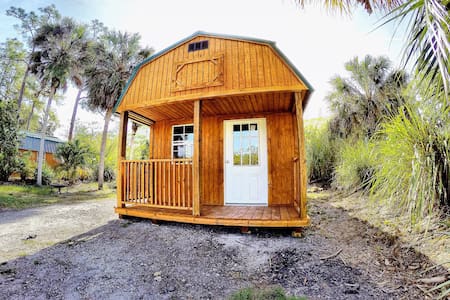 Take advantage of this amazing opportunity to stay in a Native American styled chickee cottage on stilts overlooking the prairie. Has a main floor with a queen bed and a loft with 2 more flat beds. Perfect for a familiy of 4. Truly Awesome!
Many travelers to the Florida Everglades appreciate the opportunity to experience authentic adventures and a stay at our Native American chickee huts offer just that. The property is located within the Trail Lakes Campground, an established, old Florida styled campground. We have casual interaction with our guests and there is usually someone available at the office in the front of the campground for questions and recommendations on places to visit and things to see nearby. Our outfitter headquarters is also located in the front office to book guided pole boat, canoe and kayak tours.
Our campground is located in the heart of the Big Cypress National Preserve. Our visitors travel to us via private vehicles. The chickee hut has no running water or electric. We provide towels, wash cloths, bedding and there is a bathhouse with hot showers and restroom facilities walking distance nearby.
The host canceled this reservation the day before arrival. This is an automated posting.
rob
This is the most dirty place we have ever stayed with air bnb. Animal droppings in the toilet shower and dishwasher area. The hut is small and although the view is nice the campground is so run down that we felt that this tourist trap is a dangerous dirty and unwelcoming
Jenny
August 2016
Absolutely amazing. The hut was perfect and the campground in a fantastic location. They provided firewood for a campfire and the zoo at the location was awesome. Wish we could have stayed longer.
Bent
February 2015
Our stay in the chickee was unforgettable. The building itself was adorable & my daughters were thrilled to stay in a structure they'd learned about when they learned about native Americans. The landscape was beautiful & I got to watch a lovely sunset & sunrise over the swamp. However, the bugs are unfortunately the most memorable part. They were intense... so much so that we were somewhat trapped in the chickee once we arrived. We were eaten alive when we cooked on our camp stove & when we went to the bathroom which is in a separate building & is camp style. As long as you stay in the chickee, it's fine & quite lovely, although the bathrooms leave much to be desired for the price.
Kari
January 2016
Art des Zimmers
Ganze Unterkunft
---
Art der Unterkunft
---
Unterkunft für
4
---
Schlafzimmer
1
Ochopee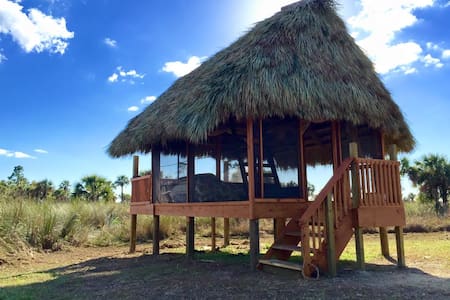 Enjoy the experience of staying in a Native American built Chickee hut. This unit overlooks a beautiful prairie in the Florida Everglades and has plenty of space for parking and additional tents outside, along with a nearby firepit for cooking.
This chickee hut is styled after authentic Native American chickee huts still being used and lived in nearby by the Miccosukee and Seminole Indian tribes. There is ONE queen size been in the unit and an additional 2 camp cots can be added to accommodate a total of 4 guests. You will be staying at the same location as the outfittter headquarters for Everglades Adventure Tours. We offer many types of eco-tours including guided pole boat, kayak and canoe tours as well as rentals. You can make your tour/rental reservations at the same office as your check in for the chickee hut. Our staff is onsite at the front office of the campground. There is usually someone there to assist guests during regular business hours, usually from 9-6EST.
Our chickee hut is located at the Trail Lakes Campground in Ochopee, FL which is an old Florida style campground. It is a family owned and operated facility. You will need to arrive by private vehicle/rental vehicle. Important information to consider: this chickee hut has NO running water or electricity. The unit is located very nearby the Trail Lakes Campground bathhouse where there are restrooms and hot showers. We supply bed sheets and bath towels as well as solar lights and lanterns for walking around after dark.
Jack was away but his mom helped us out and she was very helpful corresponding before arrival and ever after arrival making sure we had everything we needed. Bring heavy duty bug spray and also scandals for showers. The hut is on a campground which is a little underwhelming with appearance especially inside the bathrooms. The hut itself is simple and the picture does a great job of describing the sunset. There are also great places to eat in town if you don't grill.
Brian
October 2015
Wonderful peaceful gateway with a scenic view of the Everglades!
Samantha May
March 2015
The place wasn't the exact same but as in pictures but was the same style and was very happy with it. It's exactly as promised and as cool as it seems. We had a bonfire that night (stayed one night) and wood is provided near entrance although they had wood already next to fire pit. Other then the public bathroom and shower being a little creepy for the price of the stay it was a very cool experience and would do it again. Took a little getting used to seeing the alligator eyes staring and creeping at you at night when sitting by the fire but just added to the experience. Do it, cool experience and yes it's glamping. Host was helpful and checked us in right away and gave us a quick tour despite it being dark out already. Bathrooms are very close by.
Yanni
November 2016
The Chickee Hut at Trail Lake Campground is awesome!!! We went for New Year's eve and got there after dark and really didn't even need to unpack the car. Lovely bed and bedding, a basket of towels, and a lantern was provided. The campground itself is clean and quiet. The general store has anything you may have forgotten and very friendly and helpful staff. I was actually lost in the area last year and stopped at that very same store and Jack was very helpful, so I was glad to return.
chelsea
January 2016
The hut was exactly like on the photo. It is located at the end of the campsite and there is a small lake in front where we spotted an alligator. There is a bed in the hut, the host provided repellent and a lamp. You can walk to the bathrooms. However, I wouldn't go there during the night due to the walk through the dark. The bathrooms could be better, especially when you think about the price for the stay. Nevertheless, we had a great time in the middle of the Everglades. We also did the canoe tour with Joe and we had a blast. I can recommend this accommodation, it was a real adventure!
Anna
January 2016
Jack and his crew were friendly and helpful. They gave us a lot of information on stuff to do in the Everglades and the kayak tour on the river was fantastic. Ask for Joe, he's the best! Staying in the Chickee hut is a great experience, but brace yourself for the bugs. the hut itself is mostly bug free (but hey, you're in a swamp).
Rik
November 2015
Jack was a great host--there were too many bugs because of recent rain so Jack suggested that we come back a different time. He gave us a full refund and also some great suggestions about what to do in the Everglades and where else we might stay. Truly a kind and generous host!
David
November 2015
Great place to stay in the Glades. Remember if you want luxury this ain't the place for you - but if you want a real authentic Glades experience you found the right spot. Highly recommend for the outdoorsy and adventurous.
Chris
December 2016
Art des Zimmers
Ganze Unterkunft
---
Art der Unterkunft
---
Unterkunft für
3
---
Schlafzimmer
1
Ochopee