Gib deine Reisedaten ein, um den Gesamtpreis pro Nacht zu sehen.
Unique free-standing studio/loft apartment located immediately adjacent to a canal, leading to the bay and beach. Very private guest space, adjacent to main residence.
This space is immediately adjacent to the canal and has access to a private dock. Great views of Thompson's Island and the marsh. Ideal for birders, outdoorsy or those seeking solitude and quiet. The structure is made of block, with exposed concrete flooring. It's a simple, rustic, mid-century design. Access to off street parking, dock. Yard space adjacent to unit. Space is detached and adjacent to main house, connected by a patio/trellis as show in the pictures. House is occupied by owner and guests.
The area is within a mile from town and the beach yet far enough to offer incredible quiet, birds, nature and solitude in a friendly residential neighborhood of family homes. Easy to bike or scooter into town. Access to adjacent bay by water along the canal. Bikes are not provided, however there are mnay bike rentals in the area and the nearest is a short walk away. Ideal space for romantic getaway at the coast. Special rates for weekly renters posted. Rehoboth is lovely in the fall as well. Space equipped with a kitchenette including a microwave and mini fridge.
My girlfriend and I had an absolutely wonderful time at Terry's place over memorial day weekend. The studio is comfortable and thoughtfully designed (the king sized bed is so comfortable), and the canal was a wonderfully unique place to spend an evening, sitting and watching the water flow by. The place is minutes from all the action downtown but feels very tucked away and peaceful. We brought our bikes with us and biked all around town and down the coast. Terry was very helpful with recommendations for restaurants and etc. but otherwise we felt we had the place to ourselves. Thanks again.
Samuel
May 2015
This amazing little loft apartment sits at the edge of a beautiful canal and is a five minute drive from Rehoboth beach. Everything from its private location to the windows that look out onto the trees was perfect. The host provided everything needed for a gorgeous getaway.
Laura
May 2016
Great spot on the water with a nice quiet dock to launch kayaks or paddle boards from. Studio had everything you needed and small kitchenette was perfect for making breakfast and coffee in the morning.
George
June 2016
T's place was great for a quiet getaway for my husband and me. Just far enough from the beach to be relaxing, but a short and easy drive to the Rehoboth Boardwalk. It has a stove, microwave, and refrigerator, but you will need to bring pans if you want to cook (silly oversight on my part). The bed was super comfortable. We enjoyed our time there and hope to return in the future.
Madalyn
November 2016
We had a wonderful weekend at T's studio. It's so beautiful! We enjoyed sitting on the dock, taking in the lovely views of the marshland and the canal. The neighborhood was very quiet, attractive, and pleasant to walk around. It felt as though we were far from town, but downtown Rehoboth is just a 5-minute drive away. We loved the mid-century modern style of the studio, with a high ceiling and lots of glass, and we liked waking up to the light shining through the windows in the morning. We thoroughly enjoyed our stay, and we highly recommend T's studio.
Judy and Eric
October 2015
Listing and pictures are accurate. Host was very accommodating and welcoming. Communication was good and prompt before/upon our arrival and throughout the stay. Nice location! Serene canal side spot where we were able to see deer, many birds, jellyfish, crabs, etc. -- if you like getting to nature, but near an urban location, this place is for you. Very comfortable bed. Plenty of light in the space. Easy trip to the ocean/boardwalk. Great café and seafood restaurant down the street and close to the outlet stores. I would stay here again.
Christopher
June 2015
This was the perfect place to stay for our weekend girls getaway. The place was very cozy and had everything we needed. It was a short distance to the beach and very close to the outlets and other restaurants. It was great to look out every morning and see the sun rising up over the water behind the house. T was always available for questions and I highly recommend this place to others looking to stay at Rehoboth Beach!
Brittany
October 2016
Great location, check-in and check-out went smoothly; everything was as described.
Matthieu
October 2016
Art des Zimmers
Ganze Unterkunft
---
Objekttyp
---
Unterkunft für
2
---
Schlafzimmer
0
Rehoboth Beach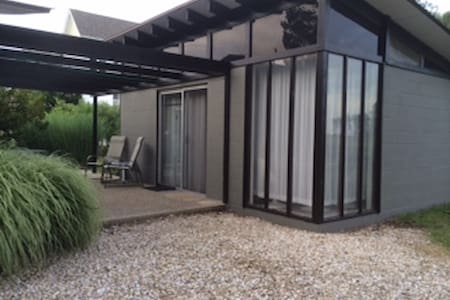 Studio type, only 5 to 7 minutes from ocean city maryland or Assateague island. With Assateague bay view, with private entrance. Seasonal, summer rental (or year round maybe considered). Adults and kids ages 10 and above only please. NO BREAKFAST.
Adults and kids ages 10 and above only please. Studio type for rent, only 5 minutes from ocean city maryland (West Ocean City Maryland) and 7 mins to Assateague island. With Assateague bay view, with private entrance. Seasonal, summer rental. Comfortable,simple but clean and cozy room. 1 full & 1 twin beds, own bathroom with shower, mini fridge ,microwave oven,coffee maker, toaster,cable TV, walk in closet. And studio room is located in residential resort development with close easy access to town and beaches within 5 to 10 miles. Parking space also available. WiFi internet available: SORRY, but NO PETS or any animals :-( Though we love them, we can't have them for a ton of reasons.) Includes utilities, and outdoor amenities use, tennis court, fishing and crabbing. Not a party house. Responsible people only. Nonsmoking inside the room. No pets allowed. Maximum 2 people. No kitchen. AND NO BREAKFAST SERVE. Please read the description before booking. . Thank you. Note: For short term a security deposit of $100 for daily or weekly rental and $200 for monthly rental will be hold and be released after checkout. For long term(at least 3 mos. a security deposit of 1.5 of monthly rental) * No smoking in the bedrooms, * towels and bedlinens provided * Shoes should not be worn inside the room, please bring slippers, and your own shower produ cts... No breakfast. Thank you. Has a private entrance (separate access) to the studio Room. Separate from the owner's home. When needed.
It is located in Bayside community resort. It is a safe development. Maximum of 2 adults and can cater 1 additional adult with a extra $15 dollars. It has a steep stairs(about 15 steps)
This space was wonderful! Clean, open, awesome view of a little bay with docks. My boyfriend and I stayed here last minute and literally booked it the night before we arrived. Augustus was so accommodating with our plans. We only saw Augustus and his wife for a few minutes but they were very sweet hosts! Would definitely suggest checking out the little nature trail that can be reached by a sidewalk a few houses down and takes you to the end of a walkway out on the water with a picnic table - lovely spot to eat dinner and watch the sunset. Thanks again for a solid stay!
Emily
July 2015
This room was an excellent launchpad for our trip to the Assateague national seashore minutes away (and Ocean City nearby, and Chincoteague about an hour away). It was very spacious, with nice window view of the nearby shore. Note it's in a separate building from the house, so practically a private apartment. Also there's no kitchen but there's a mini-fridge and microwave so we were able to stock some supplies and make sandwiches for lunch, also the room includes a private bath with excellent shower heat/water pressure. We also had thermostat control which was very convenient, and the area was nice and quiet at all times and beds were very comfortable. Augustus kindly stopped by once to make sure everything was fine, otherwise we were left to ourselves which was fine by us. Overall great trip made better by this great room!
Liron
June 2015
Augustus (Csar) and his wife Joyce were very friendly and helpful, but I should have read the details of the listing: no towels and no nearby parking. The public parking they use is a hundred yards away from the house and takes a one- mile drive to get to. The bedroom has two small twin beds, which isn't what I expected. I think it was my fault for not checking more closely.
Dave
May 2014
Great location. We came in for the half marathon in Ocean City. This house was 15 minutes from the start location and right along the race trail. Our needs: Location (check) 2 Beds (check) Minifridge & Microwave (check) Clean (check) Parking (check) The room was perfect for our purposes. There was even cable (didn't check for wifi) and individual bath soaps / shampoo in the bathroom. The view of the water was a plus. Although Augustus was not at home we were easily able to get the keys and check out early (way before daylight) the next morning.
Ashley
April 2014
This was my first time using Airbnb and this will not be the last. Augustus was very nice, pleasant, helpful and informative. He made me feel like I was at home. The place was also great and I felt safe. It was very roomy, clean and close to a lot of shops. The place felt more cleaner than a hotel room. Even tho it is very dark on the street at night, Augustus made sure you were able to see the place by having lights around the house. I would definitely stay there again.
Melody
July 2016
Another great stay here. Thank you for a wonderful stay and accommodations. Augustus was a great host and room had everything we needed, as it did last time. Close to everything and private with a great view! Loved staying here.
Matt and Jacqui
July 2015
I really appreciated the location, being a 5-10 minute drive from OC and close to the quaint little town of Berlin. (Great coffee and yoga studio!) The room itself was a find. It's a huge bedroom/private bathroom in carriage house style overlooking the bay. Very clean and a good place for people who like privacy. Augustus was very hospitable, going out of his way to welcome us and offer suggestions for nearby attractions.
Justin
June 2016
Augustus was there to greet us as soon as we arrived. He was very helpful with suggestions on places to eat and great sight seeing. Hia home was exactly what was pictured and conveniently located close to both Asdatuegue Island and Ocean City. What a great place to stay!!
Jennifer
July 2016
Art des Zimmers
Privatzimmer
---
Objekttyp
---
Unterkunft für
2
---
Schlafzimmer
1
Berlin
Beautifully designed to lift your spirit. This magnificent space is a wide open vista of comfort and zen elegance. High ceilings, 9 windows to the river, a grand kitchen and dining area flowing into the welcoming living room, plus two cozy bedrooms.
New windows ring the east and south sides of main room, and some of the original windows have been used in the design of interior rooms for natural light throughout. Modern touches in the interior design are complimented by timeless architectural elements like exposed brick and high open ceilings. Park easily in our private lot. Enter thru the tower. Use our stocked laundry room. We are always just a phone call away-and frequently working down stairs in our gallery, studio store- which is full of unique gifts and local artwork. Hours 11-5 Wed.-Fri. and Sat. 10-3 or by appointment
Our building is in a walkable neighborhood which is rare in Salisbury. The college is just blocks away or you can take the riverwalk to the Salisbury zoo and city park. Pemberton Historic Park is 5 minutes west and offers lovely nature trails along the river. There are taxis, a trolley and buses in town. Salisbury is bike friendly. The Salisbury airport is nearby and if you are coming from Baltimore or Washington bay runner vans are within view of our building. There is a delicious cafe/bakery with topnotch coffees downstairs. Marie opens at 6:30am to 4- serving breakfast and lunch. There is also a paint your own pottery studio down stairs for a fun activity-same hours as our store. A riverfront park is across the street for kayaking, fishing and walks. A restaurant/bar & marina just west of us and the Plaza with more restaurants bars and shopping is to the east. direction
This loft was really amazing. It's just like the photos, with really thoughtful and artistic decorations that make you feel cozy. A truly marvelous restoration. Convenient to Ocean City, and other local attractions. And the owners are really nice and helpful. They left nice pamphlets with information about things to do in the area and were more than willing to give advice. I will definitely consider going back.
Mark
June 2016
Everything was perfect. We were all very impressed with every aspect of the place from the comfortable beds to the wide open kitchen. Dana had provided us with bagels and cream cheese which made for a very welcoming experience. Overall really enjoyed the stay. Gave a 3 for the area only because we ended up traveling to ocean city quite a bit which was a long drive. We couldn't really find the same sort of vibe in Salisbury which obviously was not the host's fault.
Shahab
July 2016
The handsome apartment is right in the center of Salisbury, surrounded by interesting restaurants, bars, and 30 min drive to other amenities (cove road beach if I may suggest an alternative to Ocean City, kayaking in Berlin, the city of Berlin itself, wine tastings). The kitchen is fully stocked, bathrooms are clean and completed of all you might need, tv works, sofas are comfortable and so are the beds. Dana was so kind to us and had a list ready to go of nearby points of interests You're gonna have a great time when you decide to book this trip!
Valentina
August 2016
The loft is very spacious and perfect for our 14 month old grandson to run around in. It's decorated in an eclectic style with personal touches from Dana 's own art and pottery. It was a very hot weekend and the local electric company was interrupting service for conservation so the high ceilings combined with old architecture couldn't keep up and the unit was very warm. Dana and her husband did everything they could including talking to their HVAC people and the electric company and even offered us another unit but it was just hot everywhere. There is a new Greek cafe downstairs with a delicious lunch. Check the hours on weekends if you are counting on it for breakfast. Don't forget to go to Dana's shop downstairs, Chesapeake East. You might see her work in larger cities but you get a great selection right there.
Gayle
July 2016
Host needs to improve security with better door locks.
Andrew
January 2017
Dana is a lovely host, friendly and helpful. Everything we needed, she sorted. There were some minor maintenance issues going on in the building, and she made us away of everything we might need to know. Parking is simple. Access is simple. The kitchen is highly useable and well provisioned. The living space is large and comfortable. The space is quiet and well sound proofed from the traffic. We had everything we needed on site, and we quite enjoyed this stay. From the location, it was very easy to get to anywhere in Salisbury, plus access to the main N and S routes. Area felt safe. Walk down Main Street - it's a hidden gem, oddly. Two unexpected negatives: (1) the space is a loft space with two bedrooms. The walls separating the bedrooms do no extend to the ceiling, so noise moves between bedrooms. Fine for some. If acoustic privacy is desired, that is something to think about, and (2) the air conditioning for such a large space is on the industrial side and the mechanics of that system makes a lot of noise. I don't use a/c in my home, so this was new to me. The on/off process certainly was noticeable and clunky - this was something they were working to resolve. We were there is high, hot summer so the a/c was most welcome, and the noise was a necessary evil.
Joe
August 2016
Dana was super responsive, and filled us in on everything we needed to know for us to have a smooth stay! The place is very spacious and is great for a family or smaller group of friends staying in town for a night or more. The location is good, and you can walk easily to cafes and restaurants nearby.
Hanna & Jordan
November 2016
Dana was an amazing host! We were visiting from seven hours away an anxious about staying in an unfamiliar place. All of her communications prior to arriving were very helpful and calming. We felt welcomed from the time we arrived and were made even more comfortable with the accessibility to Dana. The pictures and descriptions were very accurate. We were a little nervous when we saw the building but were in awe once we entered the loft. We will be visiting my daughter at UMES at least once a month for the next four years and hope to stay here for each stay! I plan to share with the other basketball parents. The loft is the best kept secret!
Keya
October 2015
Art des Zimmers
Ganze Unterkunft
---
Objekttyp
---
Unterkunft für
4
---
Schlafzimmer
2
Salisbury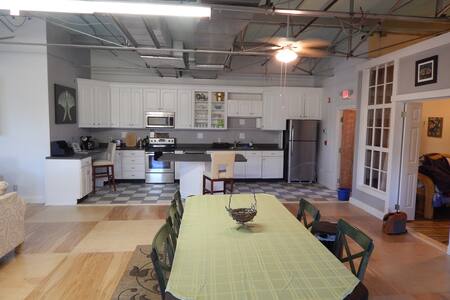 My "cottage" is located in the "Coolest Little Town in America..Berlin Maryland", it is 10 minutes from Ocean City MD, Ocean City Airport and Assateague Island National Park; 15 minutes from Fenwick Island, DE. Art and culture is found in my little town as well Ocean City, MD. My place is good for couples, solo adventurers, and business travelers.
What makes my home unique is the renovations that have been completed thus far. I have a lovely front porch where you can enjoy a cold beverage and relax. My back deck is lovely in the morning for coffee. You have access to the entire home including eating what is is my refrigerator!!, I consider it to be my little trophy as it brings joy to others. Guest have access to the entire home including eating my food in the refrigerator. It is a 1200 square-foot renovated home. It is quaint and well-kept by me. Because my work schedule is different weekly, I may or may not be able to greet my guest upon arrival. However, keys are made available for your entry and instructions will be given to enter my home. While guest are here, I too will be in the home but will stay in my room to allow you to relax.
The little town of Berlin is quaint, historical and has character throughout the community. My neighbors are wonderful and respectful of one another. Our community is visited and loved by tourists. We even have a Chamber of Commerce in the little town of Berlin.
Judys little beach house was just what we were looking for, absolutely perfect! The place was so beautifully done inside and out. Her sweet notes throughout the house were very inviting. Finding her house was very easy and access was simple. Her adorable pup Precious was so pleasant and peaceful. Our room was perfect for just the 2 of us for our one night stay. Judy was very friendly and we will definitely stay again if we're back in the area!
Jamie
August 2016
If you need a place to crash near OC this is the one! Judy is a wonderful and thoughtful host. Her home is beautiful, clean and gives a relaxing vibe. Judy goes above and beyond with extra towels, toiletries, water and even daily breakfast. Will always be my first choice when I'm heading down the ocean.
Beth
August 2016
Thank you so much, Judy, for hosting me and my mother! We had a short, yet very restful stay at Judy's place, which was perfect for our escape to the Delaware/Maryland shore. Close to many great beach areas (15 min by car to Assateague and Ocean City), it's a homy, lovely space that Judy puts a lot of care in. And Precious was so cute!!!! Highly recommended.
Angela
August 2016
Amazing, super clean, cozy, what a beautiful place to stay. Is just 15 minutes drive to the Boardwalk in Ocean city. Judy is a generous woman plenty of fine details to make your stay the most comfortable time. Highly recommended.
Jairo
July 2016
Judy's home was darling, as was she herself! And she included sweet touches like water, chocolates, coffee and pastries in the morning. Her house was immaculate and her dog was the icing on the cake, so sweet! I would highly recommend Judy's place to anyone, and Berlin is a cool little town too!
Shelley
August 2016
Judy's home is so lovely that the pictures did not do it justice! The neighborhood was beautiful and we felt very safe there. It was near to the beach, the town center was so fun and interesting, and everyone we came across was helpful and as sweet as could be to us. She stayed in communication with us the whole time and went above and beyond to make sure we had everything we needed and felt welcome. She left us notes, texted with us, and took precious time out of her busy day to chat with us and tell us about her favorite things in the area. We were so impressed and inspired by her as a person and as a hostess!
Lauren
July 2016
Thanks for having us over Judy, we felt like home, cozy,clean and well decorated home where you can only relax, took us your morning coffee to leave the bed lol, I like to meditate and was great to read daily quote throughout your lovely home, you provided us with everything we needed, such a great host, I'll miss precious(little puppy) while watching the news in the morning, can't wait to come back!
Jean Claude
August 2016
My wife and I absolutely loved our stay at Judy's place! We would definitely stay again. Judy was out to dinner when we arrived, but we felt very welcome by the notes and chocolate she had waiting for us. Her home is naturally welcoming just by the care she takes decorating it. She is truly gifted with hospitality. Judy is very kind and welcoming and we enjoyed sharing our lives with her. She was extremely thoughtful and gave us our space when we wanted that. We would love to visit again sometime!
Andrew
August 2016
Art des Zimmers
Privatzimmer
---
Objekttyp
---
Unterkunft für
2
---
Schlafzimmer
1
Berlin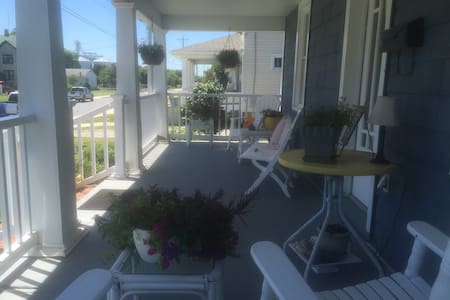 A true architectural gem located in the heart of downtown Salisbury, MD and about a 30 minute drive into Ocean City. The building itself dates back to 1906 and sits on a beautiful tree lined street within walking distance to great bars/restaurants.
The space has a loft like feel to it with original exposed brick walls and high ceilings with exposed beams and ducts. There is parking right on Main Street as well In the lot adjacent to my property. Parking is free on weekdays after 430 PM as well as on weekends. The entire place is available to rent out as I have another place just down the street. Whether or not I'm in or out of town, I'll always have my cell phone with me and make sure that I'm reachable at a moments notice.
My loft and location is as close to "city" as it will get on the Eastern Shore! It sits along a very well manicured and landscaped "downtown" Salisbury, with brick lined one way streets along with a great coffee shop (Main Roots) and amazing sushi restaurant (Sushi De Kanpai) all within short walking distance. Uber is now available throughout Salisbury
The place was large and fun and well appointed. Our multi-generational group enjoyed this unique, comfortable and well designed two floor accommodation. Great location except for late night noisy bar scene across the street. Nice host, easily available by text.
Trudy
May 2016
This was my first time using air bnb and Josh made it a very easy experience. He was extremely responsive to text messages/emails and provided instructions for everything. He made a recommendation for dinner our first night there and we were glad we went. The house was impressively spacious and very well decorated. It was just my husband and I, along with my parents but the house could accommodate more people with air mattresses. There were 2 bathrooms with showers. Josh provided extra towels, which was great since we didn't bring enough. Everything was cleaned and ready to use, we brought a lot of disposable products but Josh had plenty of dishes. The location is about a 30-40min drive to Ocean City and Assateague island, which was doable for a weekend trip if you did not intend to spend most of your time directly in Ocean City. Josh's place is very walkable to a few bars and restaurants, which is great if you want to have a few cocktails at dinner. There is a bar directly across the street from the house. This was the only aspect of the place I did not like. They had an outdoor area and played live music extremely loud during the day and through the entire night, lasting until the 1 or 2am in the morning. It is audible from the downstair's bedroom as well as the upstair's bedroom, which made it difficult to sleep. If you are a light sleeper, it will be a disturbance so bring earplugs. We stayed Friday and Saturday night, and they had that entertainment both nights, I do not know about weekdays though. There is parking behind his apartment that is free AFTER 5pm and on weekends, which works for short weekend trips. We arrived Friday morning and used a free 2 hour lot and moved the car until 5pm, which we then were able to use the lot. I don't think the fee is much if you had to pay for a few hours but not sure about more than that. Overall, great experience with Josh, who was responsive and a great host with a wonderful home.
Annie
August 2015
This was a great apartment, and Josh made our stay very easy. I would definitely stay here again.
Shana
October 2016
We really enjoyed our stay. Had no idea the loft was situated in such a charming part of Salisbury! The apartment was very clean and comfortable. The loft has so much character. The decorating is very cool , gave me decorating inspiration. Would love to stay here again next year.
Maria
August 2016
Listing was accurate, we had a wonderful time at Josh's place and was exactly as described. Place was clean and spacious and we would definitely go back again! Had a collection of movies and songs that we enjoyed! Def recommend!
victoriiamt
May 2015
Josh's place is amazing! We spent a weekend here and had a lot of fun. The loft is modern, clean, and very comfortable to stay. It's very close to Assateague island and Ocean City. A few of us was able to watch sunrise by the sea. Josh gave very clear instructions and is very reachable.
Siran
May 2015
Josh has one of the most incredible places I've ever stayed on AirBnB. From booking through leaving, the experience was nothing but pleasant. If you're traveling to Salisbury, this is definitely the place to stay!
Ryland
July 2016
Josh's place was great just as described, and we enjoyed our time there. Haven't met him personally, but he was very responsive, and he left clear instructions how to use everything and his number. Would strongly recommend staying there.
Nilyufar
September 2016
Art des Zimmers
Ganze Unterkunft
---
Objekttyp
---
Unterkunft für
6
---
Schlafzimmer
2
Salisbury
Comfortable elegant LOFT overlooks the river. Close to restaurants, art and culture, marina, parks, the city center, and public transport. High ceilings, open rooms, gorgeous details and art make it a showplace for living. Historic building with delicious cafe, pottery studio and gallery downstairs. Excellent for couples, friends and families. Fully furnished and loaded with everything you need for a comfortable stay. The unique loft layout feels airy and spacious but affords privacy too.
Dana was a great host. We stopped into her shop for a quick arrival visit and chat. We stayed at the loft with our son's family for the weekend. The loft allowed us to spend the weekend in the comfort of a homelike setting. What a great alternative to a hotel. And the Riverwalk Cafe downstairs is perfect for breakfast and lunch.
Betsy
October 2016
The pictures do not do this loft justice, it is far more spacious and beautiful than it presents on line. Very clean, and tastefully decorated. Situated perfectly between the bay and the ocean, granting easy access to whatever suits you. I highly recommend this location, and if I'm back in the area, this will be the first place I look to come back to.
Tara
July 2016
The place is perfect for a family . Very spacious, clean, and cozy . The loft is close to various restaurants. The coffee shop on the bottom floor is awesome. The store in the building also has beautiful art work. The Host Dana was wonderful and helpful. We had a wonderful labor weekend ❤️
Dora
September 2016
Art des Zimmers
Ganze Unterkunft
---
Objekttyp
---
Unterkunft für
5
---
Schlafzimmer
3
Salisbury