Gib deine Reisedaten ein, um den Gesamtpreis pro Nacht zu sehen.
Diesen Juli und August kannst du eine dieser 100 hervorragend bewerteten Unterkünfte aus jeder Preiskategorie ausprobieren, um Sonoma aus der Sicht eines Einheimischen kennenzulernen. Dank 24-Stunden-Check-in, Sofortbuchung sowie einheimischen Weinen und Snacks kannst du dich einfach zurücklehnen und deine Reise genießen.
Stunning upstairs loft features exposed brick walls, local art, and a cozy modern feel in downtown Benton Harbor. 1 br, 1.5 baths, features beautiful KitchenAid appliances, dual-head shower with river rock, and skylights throughout the unit.
This is a unique urban loft in the arts District of Benton Harbor. The building is an old candymaking factory that is about 100 years old and my unit even has an elevator in it that used to be used to bring flour and sugar up-and-down to make candy. CAT: My partner's cat Nomi is here most of the time as well. She is very mellow and we leave pre portioned food to set out. She does not go in the bedroom. Guests have access to the entire unit as well as a full suite of appliances, dishes, AppleTV and connecting applications, and more. I do not have Live TV but do have Apple TV, Netflix, and Hulu that can be watched. I'm fairly fast at responding to any guest concerns or comments or questions. I normally respond within a few hours.
Benton Harbor has been through a revitalization over the years so this is a new emerging feel in the community. There are certainly abandoned buildings and some challenging areas a few blocks away but the downtown area is art galleries, coffee shops, an LGBT resource center, thrift stores, and unique restaurants. Benton Harbor does not have public transportation. Trust me you probably don't want to try dial-a-ride. My place is in great proximity to wine country and many guests have enjoyed visiting the local wineries.
Brad's place was immaculate, arty, tasteful, quiet, private, convenient, and felt like home. We felt the experience far exceeded what a luxury hotel could offer us in the Benton Harbor / St. Joes area. We also felt that the Benton Harbor Arts district was charming and full of potential, and creative like-minded people.
Richard
July 2016
We had a wonderful time in Brad's loft! It was such a nice relaxing "home away from home" and Nomi made it even more welcoming. Brad was super helpful and responsive to anything we needed! We had a great time and hope to get back again!
brandon
July 2016
What a great place! So cute and comfortable! Great loft with all the amenities you need. Walking distance to a few local pubs for grub and a short drive into St Joseph for more local entertainment. Brad was great to work with. His cat was cuddly and sweet - a welcome addition. Highly recommend his place - we'll be back! Thanks
John & Melissa
May 2016
A terrific space!! Modern and spotless. The kitchen is fantastic. Light from the big windows let the glorious sunshine in on this rare and mild November weekend. Took two yoga classes right downstairs from the loft, and walked all over Benton Harbor. It is heartening to watch how this art district continues to be revitalized. Brad's Loft is easy to recommend. A great visit.
Erin
November 2016
Brad's space is totally amazing! its In close proximity to great food and an awesome yoga / coffee shop downstairs. we look forward to our next stay there.
justin
August 2016
Super urban loft in good location. Clean with very modern design. Brad is a perfect host! Walking distance to an amazing breakfast restaurant, short drive to lots of shops, restaurants and beautiful Lake Michigan. Thoroughly enjoyed our visit and can't wait to return to the Candy lofts.
Dawn
October 2016
The pictures don't do it justice, the decor is great. Loved the well-equipped kitchen and character of the place. Very clean. Brad was great with answering questions and even left beer for us to enjoy! Wifi was a tad slow but other than that would definitely stay here again.
Liz
November 2016
Brad greeted us upon our arrival and had decorate the space for us. No kitty in house (bummer) but we did love the space. Very cool old Candy Factory made into an amazing apartment. Although Benton Harbor is mid-renaissance - there is such a lively Arts Scene. We ran into a Painted Lady (lady literally painted head to toe) on the street outside the apartment, who told us about an art benefit at the Krasl Art Museum in St. Joseph- which we promptly bought tickets for. We showed up to a silent disco, food trucks, & drinks. The museum was open with bonfires on the lawn. Such fun. We then had a photoshoot with Kelsey Maiko, a local photographer - (URL HIDDEN) - which I am sure will be breathtakingly gorgeous. Visit the Krasl, Silver Harbor Brewing Co for smoked beers, the Mason Jar for breakfast (use the NoWait App to get a table), and go to Jean Klock Park for the best beach. Also - see if you can catch the Antiques on the Bluff in downtown St.Joseph - (SENSITIVE CONTENTS HIDDEN) it. Oh - and the 6 layer chocolate cake from Chocolate Cafe in St. Joseph. Mai. God. My Husband & I had a lovely stay for our 1st Wedding Anniversary.
Hayley
October 2016
Art des Zimmers
Ganze Unterkunft
---
Art der Unterkunft
---
Unterkunft für
2
---
Schlafzimmer
1
Benton Harbor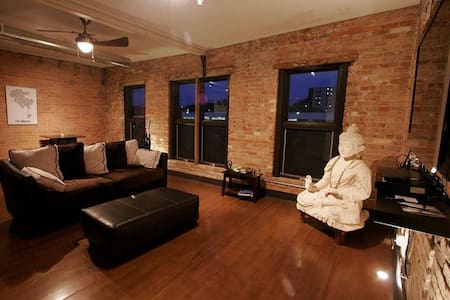 WANDERLUST LOFT is located in the Michigan City Arts District, within walking distance to beautiful Lake Michigan and Washington Park. On the way is the Washington Park Marina, the Lubeznik Center for the Arts. You'll love the location, the colorful interiors, and the open living space of the WANDERLUST LOFT. It's a great place to explore your inner wanderer and to discover the good life. Perfect for couples, solo adventurers, business travelers, and furry friends (pets).
1200 Sq Ft Loft with open living, dining and kitchen area. Separate bedroom with king bed. Bathroom has plenty of storage and an oversized shower. The living room has comfortable seating for entertaining 6-8 and a king-size murphy bed. The dining room seats 6-8. The entire loft is for guest use except one closet, which is for the owners personal items If you have any questions or concerns upon arrival or during your stay please contact us anytime.
My husband and I spent four nights at Wunderlust Loft on Lake Michigan and we can't wait to go back ! Great location - within easy walking distance of a variety of good restaurants, unique shops, art galleries, and, of course, Lake Michigan. The hosts have decorated the loft with artistic flair and it was stocked with everything we needed. Five stars!!!!
Evie
November 2016
We have traveled many states and have stayed in a lot of B&Bs over the years...This air B&B was by far the most spacious, comfortable, & well equipped we've ever stayed in!! Lisa's eclectic decorating style and her collection of art work was so refreshing. Even on day 5 I continued to find something new that I had not noticed the day before!! We really did appreciate that the loft was decorated for Christmas as this was our home away from home for 5 days. We WILL be back! Thank you Lisa and John you truly BLESSED us this's Christmas! Bill and Carole
Carole
December 2016
Art des Zimmers
Ganze Unterkunft
---
Art der Unterkunft
---
Unterkunft für
4
---
Schlafzimmer
1
Michigan City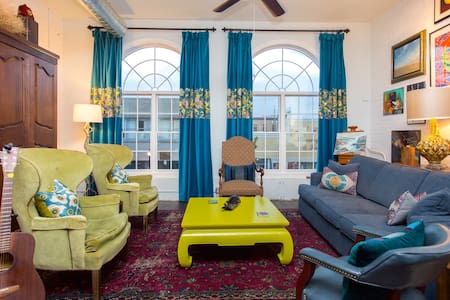 Located 90 miles from Chicago, Skyway provides a unique vacation experience. Mid-Century Industrial Farm Chic style, located in a turn of the century tin ceiling clad bakery, turned candy store, turned creative live / work space with a recording studio - Skyway offers a stay like no other. Bicycling, Beaches, Wineries, Breweries, Distilleries and fantastic restaurants all within close proximity - or stay in for the night, and prepare your own meal from one of the many roadside produce stands or grass fed farms in the area. Skyway isn't for everyone. You either want a traditional vacation home in Harbor Country, or you're looking for something a little out of the ordinary and off the beaten path. Located on a dead end main street, cars drive by on the vintage brick pavers. Residents and visitors walk by on evening strolls. Curious passersby stare down the modern facade with inquisitive looks. Secluded on acres of land it is not, but hey - we love it, and think you will too. Did we mention it's only 30 miles to the Notre Dame Campus? You'll find inspiration amongst Skyway's large open floor plan living space with original maple flooring. The sunlight obtained from floor to ceiling windows truly inspires, while the acid etched glass provides complete privacy. Bring your creative projects that never seem to get done. Do something for yourself - something you love. Also available at Skyway is the recording studio space (Extra charges apply). Bring your own digital audio workstation, and rent a few microphones, or have an experienced engineer take care of duties on our Pro Tools HD system. The choice is yours. Finish that record you never started. Skyway has been home to many diverse businesses over the years. At the turn of the century, after a devastating fire to the Village of Baroda, Ray Stover built the existing building, which was the general store of the era - farm implements were sold out of the back room. After Stover's demise, Ess Swope ran Ziegert's Bakery in the space through the 20's. The building then changed hands many times - Gus Nelson had the store for a short period. It's rumored the pot belly stove was the unofficial village hall - where men discussed politics and more than likely dreamed up the secession from Lake Township. The last great business was Emil Tollas's Red and White store - aka Tollas Brothers Grocery. Movies were played on the side of the building for the village's citizens until an addition to the store was erected out of bricks salvaged from the school explosion of 1946. After the economic collapse of Southwest Michigan, the space was occupied by an antique collector, until the current owner's purchase in 2004. 8 years of blood, sweat, tears and elbow grease has turned this vintage building into what it is today. Skyway is ideal for a couple, but can accommodate up to four people. Six can comfortably dine in the living space. The main bedroom, which is located inside the drum recording room of the studio, contains a queen size murphy bed (don't worry, it's a real mattress / bed) with high quality linens and pillows. Being that it's a recording studio space, it's quiet. Very quiet. The kitchen contains a medium size refrigerator and freezer for your convenience, along with ample counter space and an apartment-size electric range. One bedroom with comfortable queen size bed (traditional style mattress) , kitchen, dining / living room area. Full bathroom. We have a lock box you'll get the key out of - we stay out of your way the entire time! Our building manger is close by if any issues arise.
So much to love... The brick street, breweries, wineries, classic country farm supply store, classic old school bar and the deli! No public transport, but lots of great roads for bike riding.
Our experience with Brian and Melissa was outstanding! We needed a place last minute and could not have been happier! We had no real notion of the location, but this unique property proved to be the highlight of our trip. I was exhibiting my work at the Krasl Art Fair and with the Baroda location it was perfect to avoid the heavy crowds and ridiculous hotel prices. Even when friends invited us out we decided to just go back and hang in the space! We checked out some of the local places that our hosts suggested and while Baroda is no 'foodie' town, we found a couple of good meals and an abundance of incredibly nice people! I cannot say enough about Skyview. Loved everything about it. Love Brian and Melissa's taste...thinking we might have been separated at birth! To anyone thinking about staying here, do it. It was a great departure from the usual hotel experience and the best thing about Airbnb.
Su
July 2015
The Skyway is a unique, modern residence, in the heart of a small town. There were so many supplies that were provided for us that I didn't expect (coffee, cooking staples, nice shampoo and conditioner from Whole Foods) - they went way beyond a basic, boring hotel room. The residence itself was clean, with everything in its place, and the deco was intriguing. There were little touches of the small turn history that were contained in the living space - it was nice to see that history preserved. We, my husband and 6 month old daughter, had a comfortable stay, having easy access to beaches and parks in southwestern MI. All in all, the Skyway was a wonderfully charming place to stay!
Kelsey
August 2016
Everything was as described, they were receptive to questions pre-arrival and gave us good ideas about the area. We thoroughly enjoyed it! Baroda fireworks were exceptional!
Karen
July 2016
Such a great place to stay for a getaway. We went nuts over the decor! Communication with the hosts was easy. Had a minor glitch getting in with phone/Internet which was quickly resolved. Great location, just minutes from Lake michigan. We've already been talking about when we can go back!!!
Christina
August 2016
The Skyway was top notch. It was a perfect place for getting away for the 4th of July. Not only were we able to see the Baroda fireworks just 2 blocks down from the apartment, we were able to watch the St. Joseph fireworks at Silver Beach the following night which was just a short drive away. The beaches and wineries were just a short drive away, and it was awesome to come back to what felt like home after exploring during the day. All in all, it was a great experience and would recommend this place to anyone.
kevin
July 2015
Everything was easy—great communication and instructions from hosts. The space is a cool as it looks; I knew I'd love staying there when I walked in and spotted the Jay Ryan print! The space is great!! Baroda is charming, with great access to great food, drink and beachy fun. We will be back!
stacey
July 2014
Love! Love! Love! This was my first time using Airbnb and I have to say I am very pleased. The accommodations were not as described---they were BETTER than described. It felt like a home away from home. My husband and I were in town for a triathlon, so comfort was important. I slept as soundly as I would at my own home and was not bothered by other guests as I would be at a hotel. Very impressed! I would stay here again if I found my way back to the area.
Sharon
August 2015
Skyway was in every way the perfect getaway! The space was airy and welcoming, and the perfect option and excuse for truly doing nothing for the weekend. There was plenty of room to cook a nice breakfast, and pack a picnic for the beach later. The decor in the loft evokes a kind of quaint, regionless, and most of all quiet vibe so you feel you could be anywhere. We wanted for nothing, as Brian and Melissa thought of everything! We simply cannot wait to return to try all of the places we missed the first time around.
Sarah
June 2014
Art des Zimmers
Ganze Unterkunft
---
Art der Unterkunft
---
Unterkunft für
2
---
Schlafzimmer
1
Baroda