Relax in a gorgeous renovated barn with stunning views of Hood Canal & Olympic Mtns. Graze fresh organic fruits and veggies in season, feed the chickens. Explore miles of hiking/biking trails, historic Port Gamble, Olympics. Play pingpong, do crafts or kick back with an art book from our library. Connect with friends or family in sunny, rustic loft: 2 small sleeping rooms separated by curtains from large open space with futons for 2-8 more. Cook together in well-stocked kitchen with huge table.
Relax and rejuvenate in this inspiring, creative open space with a loft-like ambiance. Built in 1927, this former chicken coop has original wood floors and walls with modern furnishings and comforts. Kick back with extensive games, arts supplies and books.
The Barn is located in a small private community, a former 40-acre farm. We live in the original 1927 homestead farmhouse, a short walk away. Explore the private trails, wildlife, natural beauty, and close access to four nearby beaches (maps provided). It's a 5 minute drive or 30-40 minute walk to Port Gamble, with fun antique stores, historic museums, great restaurants such as the Port Gamble General Store and Cafe with seashell museum upstairs. Great drive-thru espresso. ------- About Historic Port Gamble A waterfront jewel on the shores of scenic Hood Canal. Founded in 1853, this National Historic Landmark features picturesque, turn-of-the-century buildings, shops, an historic church, breathtaking views, and New England style houses on tree-lined streets. Popular for weddings, Port Gamble also offers live theatre, local museums, craft & antique shops, a tea room & chocolatier, great BBQ, and the fabulous Port Gamble General Store & Cafe. - Sunday Farmers market April-October - Annual events include Medieval Faire in June, Muddy Dog Agility Trials in July, 5k runs and marathons, Old Mill Days & Forest Festival in Sept., Ghost Conference in October, and more.
This was a great value with beautiful views. Tim and Christine were so friendly! So available for my many pre-arrival questions and more than willing to allow a couple hours of early arrival. Having fresh eggs and cider was so much fun. And fresh berries to pick. We had 8 people and found the Great Room and huge dining table to be perfect. There was room to visit and two separate sitting areas in the room to allow people to curl up with a book or have a conversation. The Barn is fully stocked with games/dishes/glasses/pin pong! We were here for a wedding in Port Gamble and had 3 other family members drop in from their hotel for snacks and breakfast and there was still enough room! We enjoyed making family breakfasts and appreciated all the supplies/condiments/staples to use. Of course, sleeping communally isn't for everyone, but for a family reunion, it is perfect.
Judith
2016-08-02T00:00:00Z
We had the most wonderful ladies weekend retreat at Christine's barn. The barn was clean and charming, sunny and airy. It easily accommodated eight women without feeling cramped. The kitchen had absolutely everything we needed for cooking and baking. There is a large stash of games to play. Ping pong was a huge hit!! Christine took great care to make sure we had everything we needed, and was available for any questions we had with a very quick response time. I would absolutely recommend it to anyone looking for a quiet retreat in the wilderness.
kate
2016-04-17T00:00:00Z
We had a fantastic time at the Barn with a View! Christine and Tim were great hosts and we felt very comfortable and welcomed. The barn was well stocked with cookware, dishes, spices, towels, bedding, and even medicine cabinet! It is in a very quiet and peaceful location. We had a blast with the ping pong table. Between the house manual and the notes throughout, everything was very easy to figure out. It was a great place to stay!
Lindsey
2016-07-11T00:00:00Z
We enjoyed our time at the Barn and were amazed by the before and after pictures. Very comfortable with lots of things to do. We had never played ping pong in a barn before, so we can cross that one off the list. Great hosts and location. Many thanks for your hospitality.
Victoria
2015-08-10T00:00:00Z
We had a very lovely and rejuvenating experience. Christine was a great host, and made sure we were comfortable. The view is really stunning, and it's super convenient to Seattle for a quick get away. Plus, their ginger beer is really tasty!
Liz
2014-02-26T00:00:00Z
Christine and Tim are very gracious and helpful. Their location is cozy and relaxed and makes for a great base to explore Kitsap County and the nearby Olympic Peninsula. There are hiking trails behind the property and you can put your boat or kayak in the water only a few minutes down the hill.
Mark
2013-11-07T00:00:00Z
We had a marvelous time at the Barn with a View. The barn itself is very comfortable and quiet. My boys loved the ping pong table and the space. We picked fruits from trees, and tomatoes and basil from the greenhouse and they were delicious. The area is also gorgeous. Poulsbo has the best ice cream we ever had at Mora Ice Cream, and we found Point-NO-Point at the tip of the peninsula a marvelous place.
Isa
2014-08-23T00:00:00Z
We, a family of four from Amsterdam, had a great stay at the Barn and felt very comfortable. It is quiet, spacious and clean. Beautiful views. Christine is a good host, available and flexible. We definitely recommend staying there. Thanks, Christine!
CATHY
2016-08-10T00:00:00Z
Art der Unterkunft
Ganze Unterkunft
---
Objekttyp
Loft
---
Unterkunft für
8
---
Schlafzimmer
Poulsbo, Washington, Vereinigte Staaten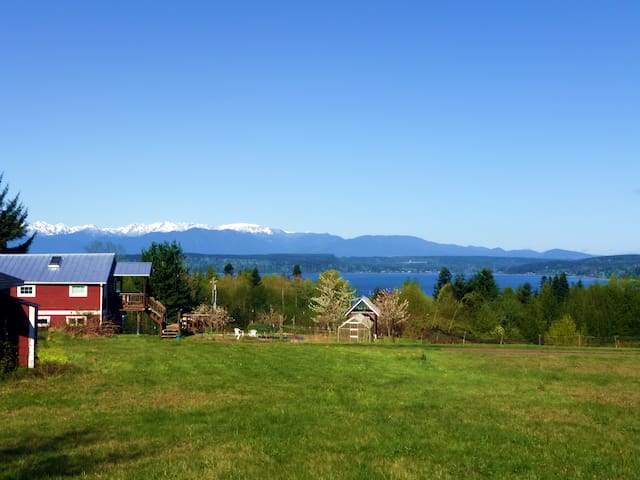 Zwei Schlafzimmer, 2 Bad Haus in ruhiger Lage auf 3acres. Radfahren, Wandern, Kämmen Strand für Achate, Bauernmärkte, für die in der charmanten Langley, Coupeville, historische Greenbank geneigt einkaufen. Wir sind 3 Meilen von der Pt. Townsend Fähre, walk-on und die älteste Stadt in Washington genießen.
Ich mag, dass am Ende einer Sackgasse ist, kaum Verkehr. Ich verliebte sich in den Bäumen auf dem Grundstück, die saubere Luft und klarem Himmel die Milchstraße zu sehen!
We spent three wonderful days in Erik's beautiful craftsman cottage... wish we could have stayed longer. The cottage is beautiful, with lots of unique touches throughout. I enjoyed the breakfast cubby for my morning coffee and art journaling... So much here to inspire!! The skylight in the upstairs bedroom allowed me to drift off to sleep while stargazing... I just couldn't keep my eyes open because the bed was so darn comfy. Bathrooms were spotless with fluffy, clean towels. The washer and dryer were critical for us because we only brought a few changes of clothes. The kitchen is capable of supporting even the most creative cook, and lends itself well to entertaining... My kids came by and we enjoyed relaxing around the mantle with some wine, cheese and dessert! I can't think of a better location to hit lots of points of interest and quaint shops! We loved, loved, loved our time here!! Thank you Erik!!
Debra
2015-09-16T00:00:00Z
A snug, cozy winter oasis. Lots of walking trails close by. Wonderful star viewing. An owl hooting in the evening. We are looking forward to staying again in the summer.
Clare
2017-01-01T00:00:00Z
Beautiful property beautiful home! Great location on Whidbey Island. We enjoyed the wood burning stove (which was all stocked and ready to go), and our dog loved hanging out on the property.
Linda
2017-02-20T00:00:00Z
We had a great stay at Erik's home, he was very easy to work with and responded promptly to all of our questions. He was so kind as to mention that when we arrived there were fresh tomatoes in the garden and ripe plums on the tree for us to enjoy. The house was very clean and well appointed. I believe Erik did much of the woodwork in the home on his own- beautiful! An off the beaten path place for quiet rest, yet a reasonable drive to the quaint and charming town of Coupeville and it's history, Langley which is a bit bigger but still adorable with festivals and great restaurants and also an easy ferry to Port Townsend. Also a few minutes drive to a great farm and winery, I believe it is called Greenbanks farm with a pie shop, park and cheese shop as well. We let the kids have the upstairs room with the cool skylight the first night, what a view of the stars!! Thank you Erik!
melissa
2015-08-13T00:00:00Z
Erik was a great host. Very prompt reply to any question and willing to accommodate needs well. The house was exactly what our family of five needed for a few days. Quiet, clean, peaceful and not far from activities.
Andy
2016-03-06T00:00:00Z
Thank you for sharing your home with us. It was very comfortable and peaceful. We enjoyed our stay in the area. And hope to return again in the future.
Annette
2016-08-28T00:00:00Z
We had a wonderful time at this gorgeous cabin! I brought my family from the Midwest, and it was a beautiful setting to spend time; exploring whidbey island and cooking dinner together by the fire. Highly recommend this getaway!
Josie
2015-11-27T00:00:00Z
We would stay here again in a heartbeat. They pre-make the fireplace so all you have to do is light a match! There's many lil details throughout the home that immerse you and make the place fun and cozy.
Nicholas
2017-02-12T00:00:00Z
Art der Unterkunft
Ganze Unterkunft
---
Objekttyp
Loft
---
Unterkunft für
4
---
Schlafzimmer
Coupeville, Washington, Vereinigte Staaten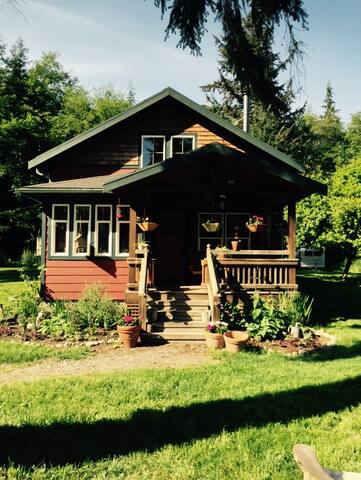 Gib deine Reisedaten ein, um den Gesamtpreis pro Nacht zu sehen.