A new, beautiful cabin with incredible view over Eyjafjörður and Akureyri. The cabin is situated aproximately a ten minutes drive from the town of Akureyri, the capital of the north of Iceland. Two bedrooms with double beds, both queen size, and a sleeping loft with another double bed, queen size as well. Additionally there is a sleeping sofa in the living room, so in all the cabin can accommodate up to eight people, although that might be a bit tight. There is a fully equipped kitchen, a great dining area and a beautiful living room with the sleeping sofa. Also, a very nice bathroom with shower. Outside you will find a big veranda with an outdoor jacuzzi (icelandic style !) and the most incredible view. Perfectly located for traveling around the north of beautiful Iceland. The cabin is also very close to Iceland's best skiing facilities in the winter, as Akureyri is Iceland's finest ski resort. In Akureyri you can find all sorts of attractions like one of Iceland's finest swimming pools, art galleries, restaurants, cinemas, museums and so on. The most popular tourist attractions on the northern side of Iceland like Lake Mývatn and Dettifoss are quite close by. Mývatn 1 hour and Dettifoss less than 2 hours by car.
Das Ferienhaus war eines der Highlights unserer Reise. Es liegt traumhaft am Hang mit atemberaubendem Blick auf die Bucht und die Stadt Akureyri. Wir haben hier unsere 1. Nordlichter beobachten dürfen. Die Beschreibung entspricht dem Haus voll und ganz. Uns hat es an nichts gefehlt, es war sauber, warm, es gab W-Lan und das Highlight - den Whirlpool, den wir auch täglich genutzt haben :) Als Ausgangspunkt für weitere Ausflüge und als Zwischenziel absolut zu empfehlen, auch für längere Aufenthalte. Wir werden auf jeden Fall wieder kommen! Vielen Dank für alles!
Claudia
2016-09-01T00:00:00Z
Wir hatten einen wunderschönen Aufenthalt mit unseren drei Kindern in diesem Haus. Es ist mit allem ausgestattet was man benötigt und die Terrasse sowie der Hot Tub und der einmalige Ausblick waren einfach phänomenal. Unsere Kinder haben es geliebt. Wir kommen sehr gerne wieder.
Thorsten
2016-06-25T00:00:00Z
Sehr gut ausgestattetes Ferienhaus mit tollem Whirlpool und einer atemberaubenden Aussicht. Perfekt für den Norden Islands. Wir waren zu dritt in dem Ferienhaus, unserem Sohn (9 Jahre) hat es das Studio angetan. Das Haus entspricht genau der Beschreibung, nur die Lage ist noch schöner (wunderbarer Block nach Akurery und in die Bucht). Es war das erste Mal, dass wir über Airbnb eine Wohnung gebucht haben, es hat alles wunderbar geklappt. Das Haus und vor allem die Wärme und freundliche Betruung können wir nur weiterempfehlen.
Thomas
2016-08-17T00:00:00Z
Es war einfach fantastisch! Die Aussicht von diesem Haus ist wirklich Atemberaubend! Wir kamen am Abend an und die Kulisse die sich uns auf der anderen Seite des Fjordes bot und sich im Wasser spiegelte war einfach nur einmalig! Total Kinderfreundlich. Wir kommen wieder! :)
Tobias
2015-10-14T00:00:00Z
In der Beschreibung die ich per Mail bekommen habe, stand alles wichtige drin, und sogar noch mehr. Wir fühlten uns sehr wohl und würden jederzeit wieder kommen.
Benjamin
2015-10-02T00:00:00Z
Wir haben eine ausführliche Beschreibung über Anfahrtsweg etc. bekommen und auch der telefonische Kontakt funktionierte reibungslos. Das Häuschen liegt traumhaft am Rand einer kleinen Ferienhaussiedlung mit fantastischem Blick über den Fjord. Die Einrichtung entspricht voll und ganz den Erfordernissen und sogar Tee, Kaffee und Gewürze standen zur Verfügung. Insgesamt ein wundervoller Aufenthalt!
Valeska
2016-05-31T00:00:00Z
Das Haus ist hervorragend und läßt keine Wünsche offen. Der Blick über den Fjord ist klasse .. insb. aus dem Hot Pot. Sehr neues und gepflegtes Ferienhaus. Die vorher geschickte Beschreibung (incl.Anfahrt) ist perfekt. Die Beschreibung stimmt mit dem tatsächlich Zustand total überein.
Alexander
2015-08-09T00:00:00Z
This was without any doubt one of the best places we have ever stayed in. The views are wonderful, the house is warm and comfortable, and it has everything in it that you could ever need. The hot tub on the front deck is delightful, and Akureyri is only 10 to 15 minutes away. We hope to come back and stay in the future when the Northern Lights are showing. Thank you Adolf for a memorable stay.
Vince
2012-09-03T00:00:00Z
Art der Unterkunft
Ganze Unterkunft
---
Objekttyp
Blockhütte
---
Unterkunft für
6
---
Schlafzimmer
Svalbarðseyri, Akureyri, Island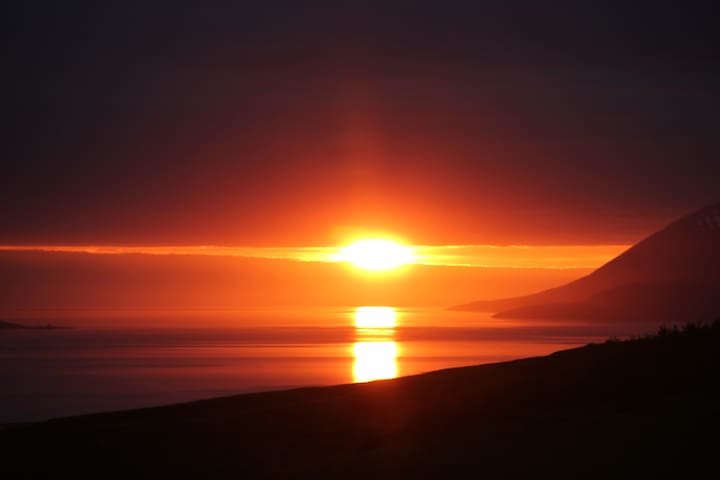 Gemütliche Hütte mit Blick auf Akureyri. Ausgezeichnete Aussicht, ruhige und entspannende Lage. Nur 5 km von der Innenstadt Akureyri. Ein Queen-Size-Bett. Zwei zusätzliche Matratzen können auf dem kleinen Dachboden zur Verfügung gestellt werden.
Die Kabine ist 30 qm. und wurde im Jahr 2014 gebaut.
Tolle Aussicht über Eyjafjördur und Akureyri und das Haus in in einer ruhigen und romantischen neigbourhood gelegen.
Wir haben die Hütte ziemlich gut gefunden, dank der Beschreibung. Es war alles da was man braucht, die Hütte ist super ausgestattet und dann noch super nette, hilfsbereite Gastgeber.
Maria Isabella
2017-03-30T00:00:00Z
Very friendly owners, extremely helpful to get us there and when we had to leave b/c of an incoming storm. The cabin is very nice and quaint, the views were amazing no northern lights for us but still worth it. Anything we needed was there, no wifi unless you pay for it but that's ok we were able to disconnect and enjoy the scenery and then use our car wifi for when we were leaving for road alerts and directions to our next destination.
Karl
2017-02-24T00:00:00Z
Petra was an amazing host and made our stay unforgettable. The cottage is very cosy, located on top of a mountain and provides a stunning view over the fjord and the city of Akureyri. We were also lucky and spotted the northern lights. Simply beautiful :)
Nathalie
2015-10-01T00:00:00Z
Clean, cozy cottage! Great place to stay near Akureyri. I had difficulty locating the cottage because it was getting dark when I arrived, but a quick call to Petra and she helped me find it. I would highly recommend a stay here!
Ashley
2016-10-25T00:00:00Z
Highly recommend. The view is the best part, especially in autumn. It's also nice to have a whole cabin with a porch. Petra is also very helpful and the family is friendly. It was my favorite Airbnb that we stayed at in Iceland.
Briana
2016-10-02T00:00:00Z
Highly recommend this cottage to all the people who have plan to stay in or around Akureyri This is absolutely amazing place with great view of Akureyri. Very cozy and my wife was so satisfied. Even price is very good compared with others. One of the best stay to me in Icelance.
Dae Seok
2016-11-10T00:00:00Z
Great place to stay. The view of the city of Akureyri across the fjord is beautiful by day and by night.
Delwyn
2016-10-14T00:00:00Z
Easy check-in, best views, beautiful stream, cozy house. Convenient location if doing ring road.
Jeffrey
2016-10-18T00:00:00Z
Art der Unterkunft
Ganze Unterkunft
---
Objekttyp
Blockhütte
---
Unterkunft für
2
---
Schlafzimmer
Akureyri, Northeast, Island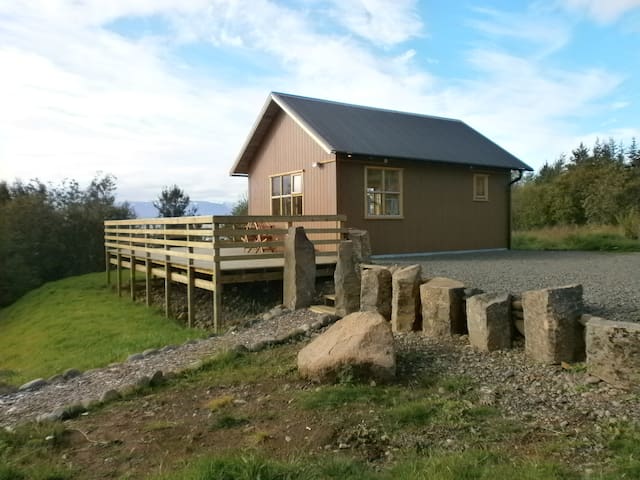 In dieser Kabine ein Wohnbereich gibt mit Küche (kein Ofen) und Bad gibt es ein Doppelbett. Handtücher und Bettwäsche sind im Preis inbegriffen. Wir bieten eine Extrabett und Kinderbett auf Anfrage. Akureyri ist nur 5 Minuten mit dem Auto entfernt.
Die Kabine ist in Vaðlaheiði exklusiver Wohnlage von Akureyri. Diese Lage bietet Ihnen eine ruhige Atmosphäre und einen Hauch von der Natur. Sie werden einen Blick über die Bucht und Akureyri haben. In der Winterzeit können Sie die Aurora Borealis und im Sommer die Mitternachtssonne genießen. Akureyri ist nur 10 min. Fahrt. In Akureyri haben Sie alle Arten von Geschäften, Restaurants, viele Cafés, verschiedenen Galerien und es gibt viele professionelle Musik-Konzerte sowie alle Sommer-Musikfestival Es gibt einen einfachen Zugang nicht nur zum Zentrum von Akureyri, sondern auch alle interessanten Seiten umgibt. Von der Kabine Sie ein Wandertouren zu nehmen, Sie zu Sulur gehen kann, dem Berg über Akureyri, man Pferde für Tagestouren oder einer Mitternachtssonne Fahrt, besuchen Sie natürlich beheizten Pool mieten können, können Sie Kajaks mieten oder professionelle Tauch beitreten, Golf spielen auf dem nördlichsten 18 Loch Golfplatz, gehen Sie auf eine Angelreise, einen Spaziergang am Fjord entlang und dann möchte ich Sie über den Geburtsort und Heimat von Heliskiing in Island zu sagen, der Troll-Halbinsel im Land knapp unterhalb der Nördlicher Polarkreis. Im Winter Ski fahren oder tun Skilanglauf im besten Skigebiet mit Blick auf den Fjord, erstaunlich! Oder Hund mit unseren Huskies und Schneeschuhwanderungen Rodeln oder Fischen durch Eis. Und dann ist es sehr beliebt, die Straße zu fahren die schöne Westufer des Eyjafjörður Fjord entlang, besuchen Sie die prächtige Wasserfälle, Goðafoss und Dettifoss, Dimmuborgir, Myvatn, den Grand Canyon von Jökulsárgljúfur und Wale in Húsavík zu beobachten. Es ist auch möglich, eine organisierte Tagesausflug von Akureyri nach der Insel Grimsey zu nehmen, die den Polarkreis spreizt. Es ist leicht zu Akureyri zu bekommen! Icelandair bietet Flüge nach Akureyri. So ist es auch nur 45 Min. Flug von Reykjavik nach Akureyri Innenstadt. Es ist nur eine 7 km Fahrt vom Flughafen zu unserer Kabine. Wenn Sie unterwegs sind, ist Akureyri auf der Umgehungsstraße und ist ein ca.. 5 Stunden Fahrt von Reykjavik. Um den Aufenthalt in Vaðlaheiði braucht man ein Auto. Das Hotel bietet eine ruhige Lage und eine tolle Aussicht. Es ist eine gute Anbindung zum Zentrum von Akureyri und den schönen Orten in der Umgebung.
Ein ruhiger, schöner und ruhiger Ort im Grünen.
Das Cottage ist wunderbar!
Madeleine
2017-03-28T00:00:00Z
Everything was great and Benedikt was very excited for us to stay at his cottage. It was a great view of Akureyri and was great space to stay after the many campsites we stayed at previously. Would reccomend for others.
Aaron
2015-05-24T00:00:00Z
Cottage was wonderful and the views spectacular. I would definitely stay there again on a trip to Akureyri.
Ross
2016-05-10T00:00:00Z
The most incredible view!!! The cottage was really really cute! Everything was amazing..... I cannot insist enough on the fact that the view itself is worth staying at Benedikt's cottage!! We really enjoyed our stay! Thank you!
Thara
2016-11-07T00:00:00Z
Benedikt was a great host and let us know everything we needed to know about the cottage as soon as we arrived. The house was perfect and only minutes from town. The view alone is breathtaking and the hot tub was great for relaxing after hiking all day. We will never forget our stay here and hope to visit again!
Alison
2015-10-19T00:00:00Z
Benedikt place is simply AMAZING, such a cozy place and very very well designed. If you like minimalistic / modern design this would be the place to book. We enjoyed it so much that we thought about changing the schedule and stay for another night. Best accommodation for us during this round Iceland trip. Definitely recommend this place!
Maggie
2016-04-14T00:00:00Z
Cozy cottage. Great location to view the northern lights.
BoBi
2016-09-03T00:00:00Z
My partner and I had a wonderful stay at Viking Cottage! We were fortunate to see the aurora borealis on the very first night! The view is stunning from the front patio, and the location is ideal for driving to/from different sights. We couldn't have asked for a better place in Akureyri, and Benedikt was super accommodating. We absolutely recommend this place!
Lindsay
2016-10-16T00:00:00Z
Art der Unterkunft
Ganze Unterkunft
---
Objekttyp
Blockhütte
---
Unterkunft für
3
---
Schlafzimmer
Akureyri, Northeast, Island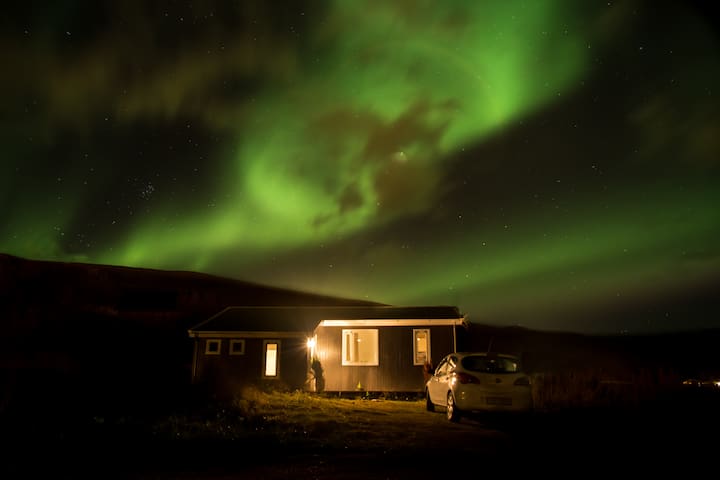 My place is just outside of Akureyri, close to family-friendly activities, the airport, and the city center. You'll love my place because of the outdoor space and the surroundings. My place is exellent for couples, solo adventurers, and families (with kids).
I had a feeling this place would be amazing but it was even more than we expected. Clean, super cozy and tucked away in a quiet yet extremely accessible part of Akureyri. My only regret is that we didn't stay longer!
Jessica
2017-02-14T00:00:00Z
maison très agréable; bien situé . toutefois il n'y a que 4 couchages(et non 5 comme annoncé). nous avons été très bien accueillis, chaleureusement. Thierry et pascale
thierry
2016-10-29T00:00:00Z
The cottage is lovely in every way! Well equipped for self-catering, fantastic views, secluded yet close to Akureyri for shopping etc, and very, very cozy. A genuine Icelandic experience. We'd love to stay again.
Kjartan
2017-02-21T00:00:00Z
The house is very beautiful, and host took with us kindly. The area is nice to live a long time. My father love here so much.
Haha
2016-08-10T00:00:00Z
I cannot recommend this place enough! It would be difficult to fault the setting as it is one of the most beautiful places to wake up in, however it was made that much better waking up in such wonderful accommodation. It has everything you might need, is very spacious and is close to town (having a car is advantageous, but a taxi back from town is super quick and not too expensive). Communication with the host was brilliant and they were extremely helpful (including meeting us rather late on our first night after a long drive from Reykavik). I would definitely stay here again.
Marguerite
2016-08-24T00:00:00Z
We telephoned an hour before our arrival and our host was at the cabin within minutes of us arriving. A short but complete introduction to the cabin was given - it is very quaint and fully equipped; there was nothing that we found we needed that was not there alreay. Bedroom two is quite small with a single bunk acros the bottom of the bed - there is almost no room for anything in that bedroom. The cabin is very pleasantly warm and cosy - plenty of comfy seating inthe kitchen/dining/sitting area. Kitchen is well equipped, nice big fridge/freezer. We had a good, peaceful week there - it was lovely to come back to the cabin after a long day travelling around the beautiful surroiunding countryside.
Ian
2016-11-10T00:00:00Z
This was a fabulous place to rest and enjoy beautiful views of the water. The property is well maintained, very comfortable, with wonderful grounds. I had a restful sleep and would have spent an additional evening if I could. Host was helpful, friendly, and accommodating.
Rosalia
2016-08-16T00:00:00Z
Art der Unterkunft
Ganze Unterkunft
---
Objekttyp
Blockhütte
---
Unterkunft für
5
---
Schlafzimmer
Northeast, Northeast, Island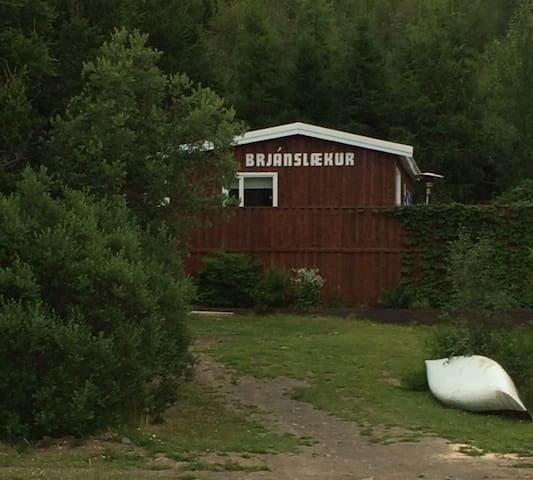 Diese schöne Hütte liegt nur 3 km außerhalb von Akureyri in ruhiger, ländlicher Umgebung Im Winter ist dies ein großartiger Ort, um das Nordlicht zu sehen, wenn das Nordlicht Prognose wegen wenig Verschmutzung gut ist Licht
Die Kabine ist auf dem Land gelegen, nur wenige Minuten mit dem Auto in die Stadt Die Kabine verfügt über 2 Schlafzimmer mit Betten für 5 Personen, Küche, Bad und Wohnzimmer. Es gibt eine Ausziehcouch, dass 2 weitere Personen im Wohnzimmer schlafen können Es gibt eine große Terrasse mit Whirlpool, die im Winter als auch verwendbar ist.
The place is very close to town. The hot tub was excellent and was the main reason we splurged on the private cabin. There is no internet however, so be prepared. The host was not there when we arrived which left us a bit confused, but she was responsive on the app and let us know to head inside.
David
2016-07-08T00:00:00Z
The House was very clean but one of the bedrooms rather small. Unfortunately the owner was abroad, so we couldn't have a talk. Street Nr. 1 is nearby and we felt disturbed by the noise as we love the silence of Iceland in other places. That's the reason why we left a day earlier than planned. The dog and the chickens were big fun.
OS
2016-07-15T00:00:00Z
The cabin was equipped with everything we needed to have a nice stay for 4 days. Everything was clean and tidy. The best thing is the hot pot outside. That's exactly what we needed after our long trips around that area.
Wilhelmi
2015-09-13T00:00:00Z
Spacious two bedroom. We stayed here two nights and it worked for our needs. We wished we stayed in the north longer but spent more time in the south of Iceland. Close to some great attractions and served us as a jumping off point to husavik, and other towns close by. Hot tub was great, natural water pumped in on demand. Thanks for the stay!
Ethan
2016-05-26T00:00:00Z
The cottage was decently sized, but view of the northern lights from the hot tub was insane.
Kshitij
2017-02-03T00:00:00Z
Kristin was wonderful and the cabin was adorable with such an amazing view of the bay and Akureyri. We had some car trouble after we arrived and Kristin and her husband were so helpful, letting us use their wifi and offering to help us if we needed anything. We loved playing with their dog, who greeted us every morning when we walked outside.
courtney
2015-05-25T00:00:00Z
The cabin was great and comfortable. Nice view, very good space. Kristín was very friendly and hospitable. She even gave us a bigger cabin and we could enjoy 4 bedrooms (even a separate bedroom for our little son) and a hot tub. Our stay in Akureyri was a great experience and we can recommend it to anybody. Iceland is a wonderful country with an exclusive nature.
Krystyna
2016-01-08T00:00:00Z
Humble and cozy home. The hosts were incredibly friendly and helpful. They helped us get the hot pot working and checked in on us periodically. Close to lots of wonderful activities in all directions.
Mikayla
2015-08-16T00:00:00Z
Art der Unterkunft
Ganze Unterkunft
---
Objekttyp
Blockhütte
---
Unterkunft für
5
---
Schlafzimmer
Akureyri, Northeast, Island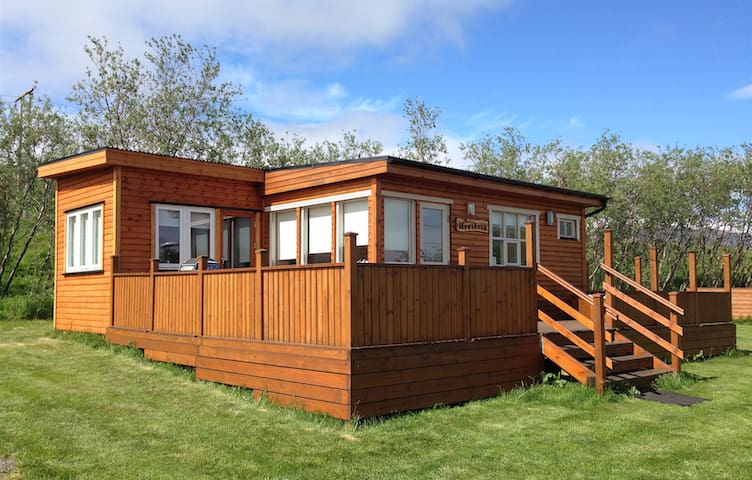 Dieser große, schöne Kabine in einer ruhigen Landschaft gelegen befindet sich nur 3 km von Akureyri und passt bis zu 10 Personen, hat die Kabine eine gemütliche Whirlpool außen mit herrlichem Blick auf die Stadt
Die Kabine verfügt über 4 Schlafzimmer, alle von ihnen mit einem Doppelbett und zwei haben ein zusätzliches Etagenbett oben Die Küche, Essbereich und Wohnzimmer sind alle zusammen in einem großen Bereich Es gibt ein Badezimmer in der Kabine und es verfügt über eine Dusche
Kristin was very communicative and the cottage was quite clean and well appointed -- everything we needed! It's not as remote as we anticipated -- very close to another cottage and directly behind a large house -- but still quite private. And the dog (who I believe lived in the house) was so friendly and playful! I would recommend this property.
Tanya
2017-02-27T00:00:00Z
We had a fantastic experience at Kristin's cabin. She is a warm and engaged host ensuring you have a great experience. The cabin was perfect, beautiful, clean and well organized. The hot tub was really a bonus.
Nancy
2016-08-10T00:00:00Z
Everything was just as described! We had a great experience in Akureyri and Kristin and her husband were wonderful hosts.
Christopher
2016-08-01T00:00:00Z
Art der Unterkunft
Ganze Unterkunft
---
Objekttyp
Blockhütte
---
Unterkunft für
10
---
Schlafzimmer
Akureyri, Northeast, Island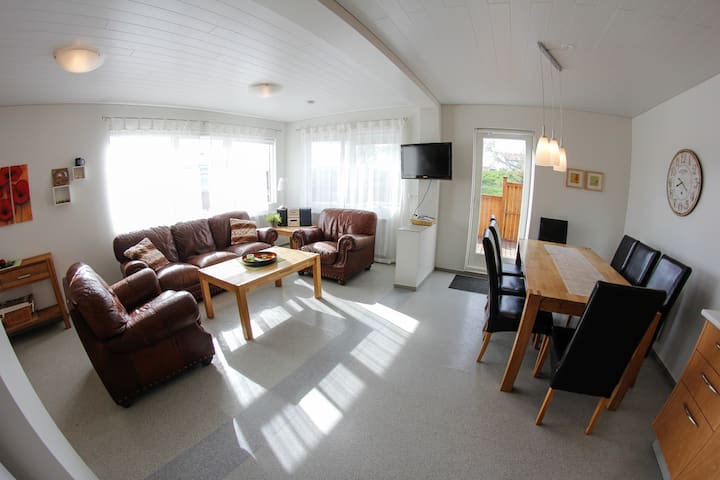 Akureyri - Airbnb
:
Durchschnittlich

4.94

von

5

Sternen aus

271

Gäste-Bewertungen