Unser B & B liegt in einer ruhigen Waldgebiet mit herrlichen Sonnenuntergänge vom Deck. Sie können rund um Sie die Klänge der Natur genießen, auf einer der vielen wandern Trails Idyll zu bieten hat, einkaufen gehen oder einfach Lounge auf dem Deck oder in Ihrem eigenen Wohnzimmer und zu lesen. Ich habe ein anderes Schlafzimmer Sie auf Anfrage nur aufgeführt, wie die Ein-Zimmer zu mieten. Sie werden die Sitzecke und Bad teilen, und es wäre für zwei weitere Gäste eine zusätzliche $ 100 pro Nacht.
Wir haben zwei private Schlafzimmer nebeneinander und ein Einzelbett im offenen Loft-Bereich von den Schlafzimmern. Wahrscheinlich würde der Familie oder Freunden die beste Situation, da es nur ein Bad ist. Sie können nur mit einem Schlafzimmer oder zwei oder 2 Schlafzimmer und Dachboden verwenden. Dieses Haus ist 4 Meilen nördlich des Dorfes von Idyll neben dem Highway von 243. Ein helles grünes Schild mit dem Straßennamen Fosteriyah auf der rechten Seite des Highway ist, schalten Sie es, und das ist das einzige Haus auf dieser Straße. Wenn Sie die Natur und die Berge genießen, werden Sie dieses Zimmer oder mehrere Zimmer Liebe habe ich für Sie. Unser Haus ist in der Mitte eines Waldes mit einem weiten Blick, ein See in der Nähe, Wanderwege Berg, einem malerischen Dorf zu erkunden Decks zu überprüfen, auf dem man lesen kann und genießen Sie die Natur um Sie herum, schlürfen Kaffee, entspannen oder nehmen schöne Bilder letztere zu genießen. Crickets werden Sie einzuschläfern und Ihre Kingsize-Bett ist so bequem, dass man den ganzen Tag zu schlafen versucht sein werden, aber man kann nicht wegen all der "Berg Dinge" werden Sie tun möchten. Bevor Sie Ihr Tag beginnt, haben Sie ein Frühstück, um den Start.
Wir genießen die Wildnis und Natur unserer Heimat. Wir haben Nachbarn, aber man kann sie nicht sehen. Der Himmel ist so hell in der Nacht, funkeln die Sterne schön. Aus den Decks können Sie die Lichter der Stadt in der Ferne zu sehen. Manchmal ist die Wolkendecke bedeckt die untere Höhe, aber wir können in den Bergen strahlendem Sonnenschein haben. Uns wurde gesagt, es ist ein Millionen-Dollar-Blick.
Angela is the sweetest and kindest host. She was very helpful with directions and keeping me updated with weather conditions. Upon our arrival Angela showed us to our room and waiting for us was s fresh batch of homemade cookies. It was a very nice treat after struggling to put on snow chains at night. Her breakfast in the morning was delicious (can't go wrong with her French toast). Our room was warm and ver comfortable. Plenty of room for more than two people. We will definitely be back. I highly recommend Angela's place.
Maria
2017-01-29T00:00:00Z
Nice for a couple that have a car and want to explore the beautiful area. Plenty to do if you like the outdoors and small town USA.
Sal
2017-04-01T00:00:00Z
Angela's place was really marvelous! It was just what we expected and wanted which was a quiet stay in the woods of Idyllwild. Angela and her husband Jim were the perfect hosts, welcoming and accommodating. We arrived just in time to see a gorgeous sunset and slept more peacefully than I have in a long time in the dark, quiet woods with the cool mountain breezes. In the morning, Angela made a super special biscuits and gravy breakfast as a surprise for my husband who grew up in Louisiana. Needless to say, he was delighted and stuffed himself on the generous portions. Angela and Jim's beautiful place and their thoughtfulness as hosts will keep us coming back to this wonderful BnB!
Susan
2014-07-20T00:00:00Z
It was a very nice experience. Angela is very kind and sweet. She bakes the bread for breakfast every day and you feel is not a regular B&B but your own favorite aunt´s home. The house is warm and cozy and around the house the nature is beautiful and wild.
Jorge Hernando
2015-01-03T00:00:00Z
Angela was an amazing host! Her place is situated just North of Idyllwild in a nice, quiet part of the mountains. She makes great breakfast and her home is just what my gf and I needed for a weekend out of the city. Highly recommend!
Noah
2016-10-10T00:00:00Z
Angela was a great host, she was very sweet and welcoming. The room was small but cozy, and she even had movies for you to watch while on our stay. It was heartwarming that she had cookies waiting for us. I will mention that her breakfast in the description was under-rated. It was amazing, she made fresh french toast, and she also asked us if we had any food restrictions beforehand. I would definitely recommend staying here. She has a nice deck outside, so I do recommend checking it out and taking a blanket.
Juliana
2016-10-15T00:00:00Z
We wanted a quiet and peaceful New Year's get away in the mountains and Angela's private room was just what we were looking for. Angela is so sweet and kind spirited. We loved her hospitality and also making us breakfasts of our choosing! Her welcome treat basket was unexpected and those baked cookies were great! The views from her property are beautiful - especially with snow!
Joe
2016-01-02T00:00:00Z
My best friend and I stayed at Angela's place for the weekend to get away from the city and it was perfect. Angela is the absolute sweetest and kindest host. She was very helpful in suggesting good hiking trails and other things to do around the area. The room was excellent and well equipped with TV, DVD player, tourist maps, restaurant menus and everything we could have needed to be comfortable. Each morning Angela made us a very nice breakfast and catered to my friend's dairy free needs. The neighborhood was lovely and we liked that it was just outside of the town and yet only a very short drive if we wanted to go into town. We had an excellent experience and I would stay with Angela again in a heartbeat!
Becca
2016-09-06T00:00:00Z
Art der Unterkunft
Privatzimmer
---
Objekttyp
Bed & Breakfast
---
Unterkunft für
2
---
Schlafzimmer
Idyllwild-Pine Cove, Kalifornien, Vereinigte Staaten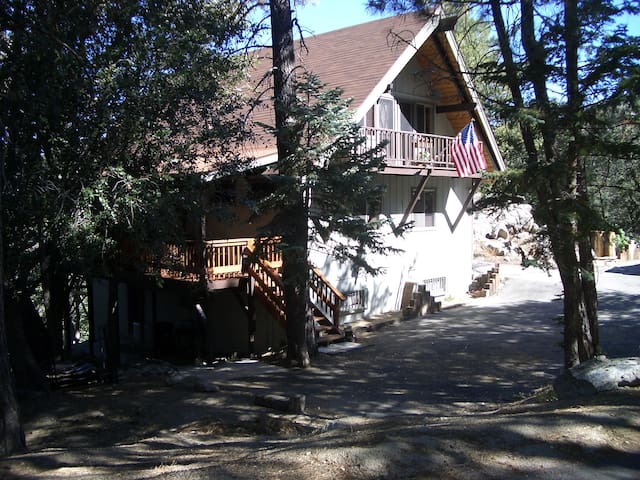 1

–

1

von

1 Bed & Breakfast
Gib deine Reisedaten ein, um den Gesamtpreis pro Nacht zu sehen.